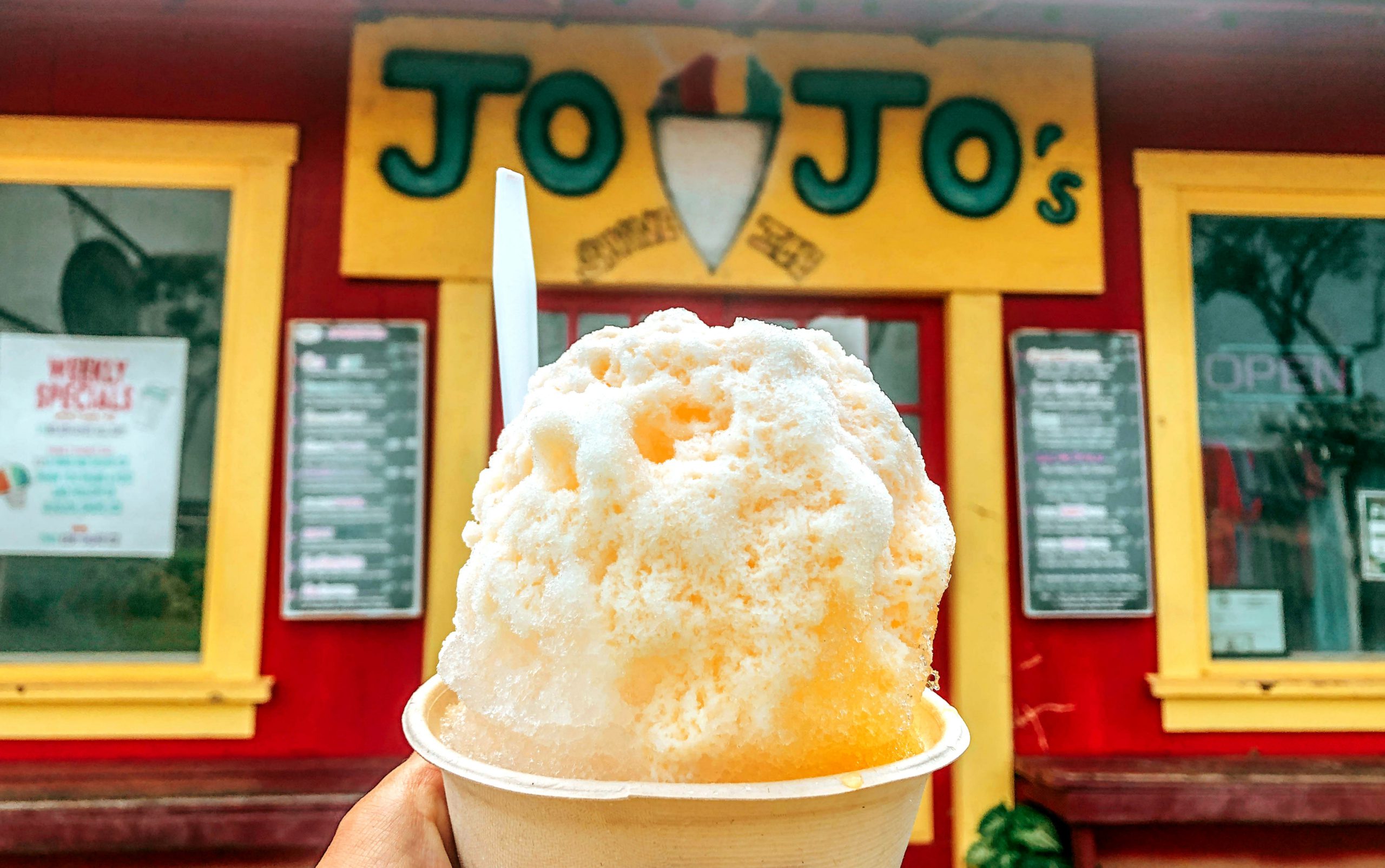 Hawaiian Food: 6 Best Places To Eat Like a Local in Kauai
If you're looking for the best places to eat local Hawaiian food on the island of Kauai you're in the right place. We hopped over to the Garden Isle in order to support local economy hit hard by the pandemic.
As you know, at Around the World in 80 Flavors we try to steer clear of cookie cutter resort dining and seek out small mom 'n' pop and local chefs-led gourmet restaurants anyways. This time it was more important than ever for us to patronize struggling independent Kauai food businesses.
Last updated: June 2023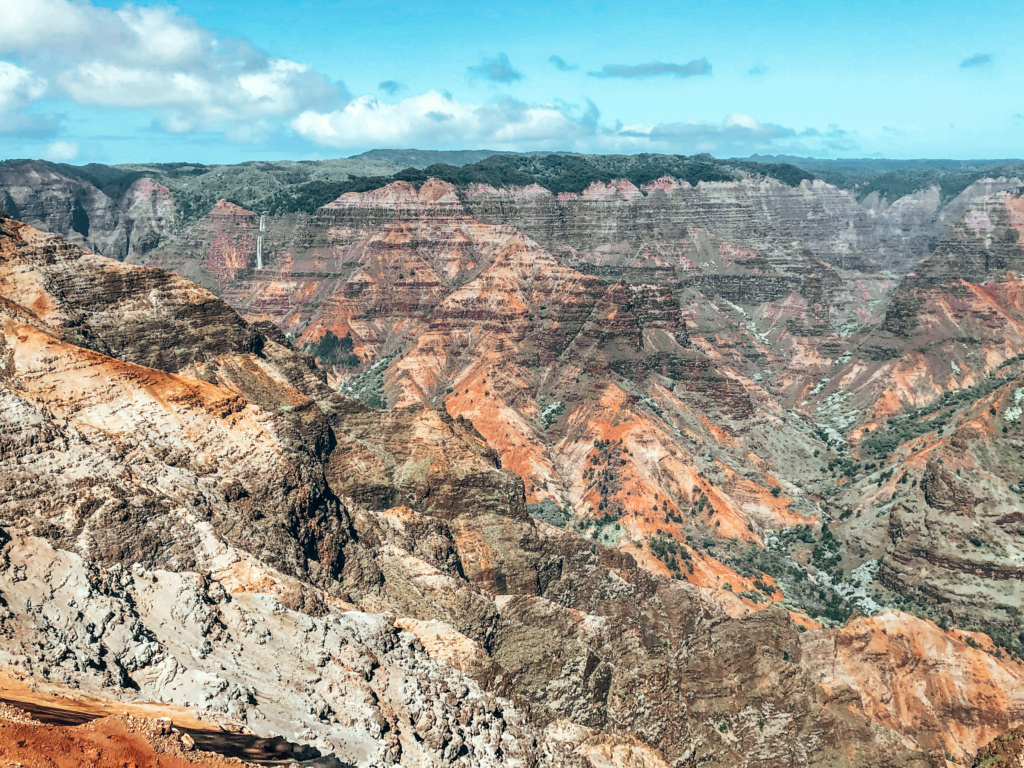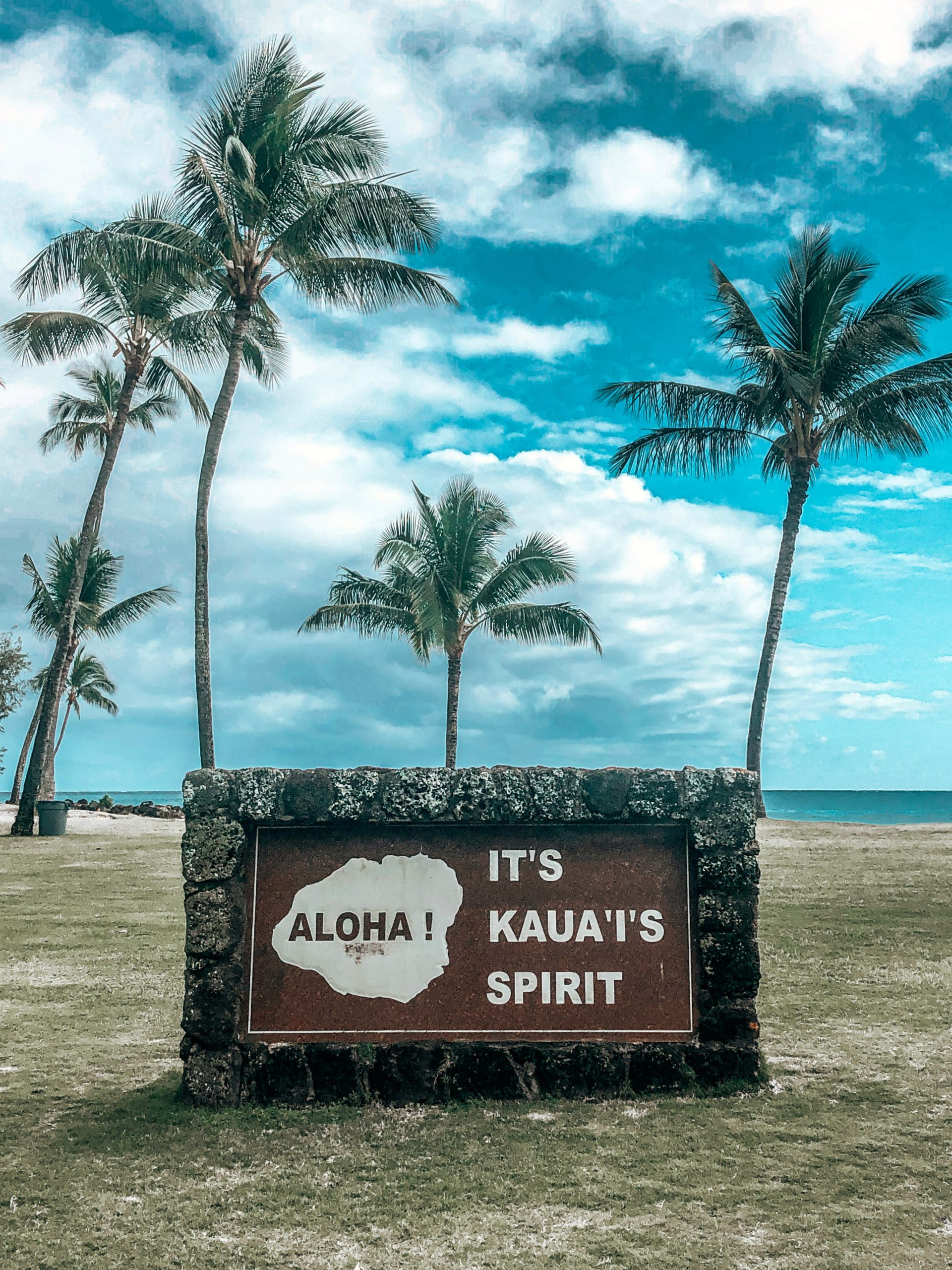 After weeks of research and several days of eating our way across the entire island, we bring to you our top recommendations for where to find the best food in Kauai, Hawaii:
1. Konohiki Seafoods, Lihue
Top quality and local vibe go hand in hand at this tiny strip mall take out poke and sushi joint. Go early as they sell out of the more popular items fast. We arrived around 10:15 am, by 10:30 there was a long line out the door. Poke there is great but the true star of the show is the inari sushi stuffed with a myriad of delicious ingredients.
You can create your own box, or even a party tray as is the tradition with local patrons. Have you ever been to a traditional Italian pasticceria, where you mix and match sweet treats, priced per item, and create your own pastry box? It's like that, but with sushi! Another popular item is their chirashi bowl. At $11.95, generously topped with fresh ahi sashimi and other seafood, it may just be the best deal on the island.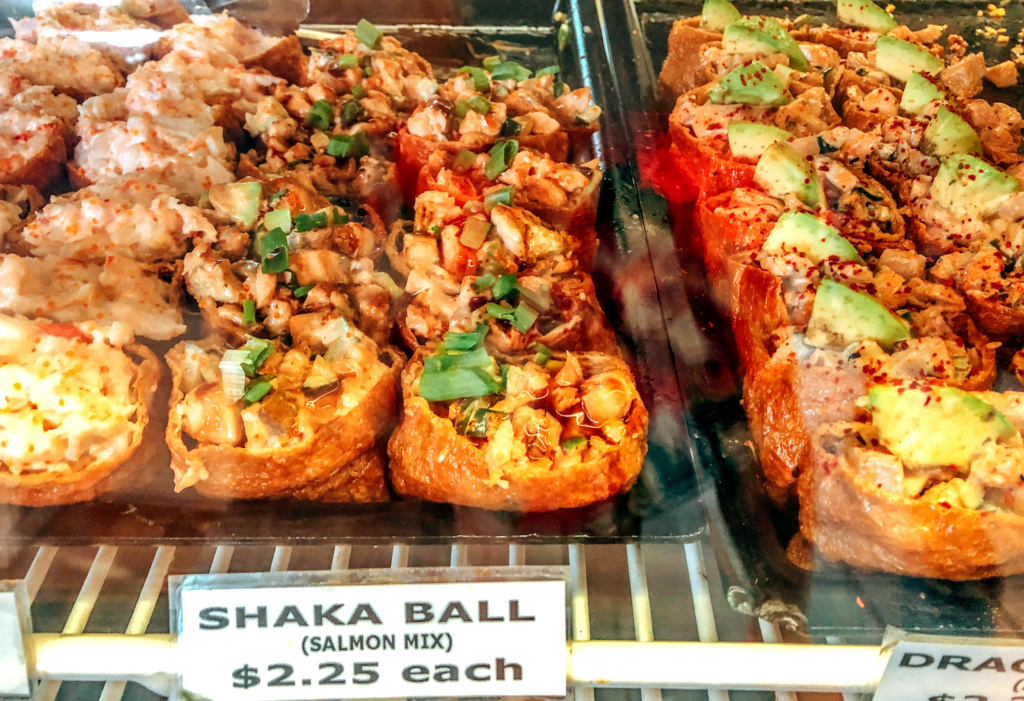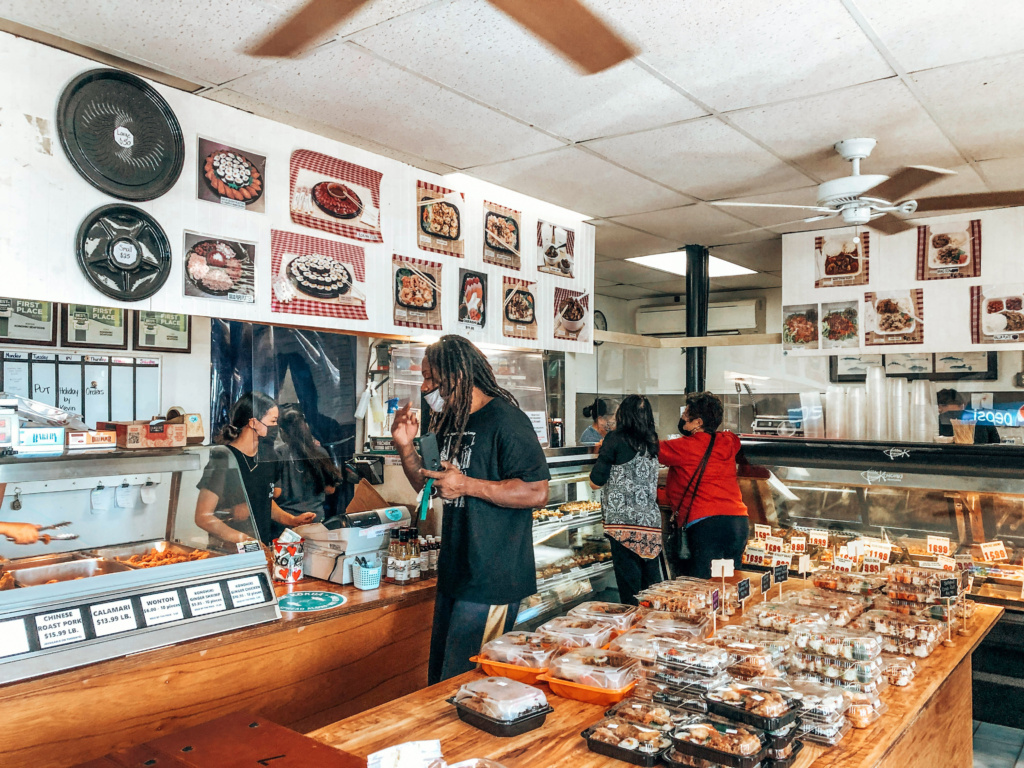 2. Pono Market, Kapa'a
If you want to try all of the Hawaiian classics in one place head to Pono. From poi and different varieties of poke to lau lau and plate lunch, it's all here. Do go early as they tend to sell out of the best stuff by noon. You'll have to line up and order your food at the deli style counter, pay, wait for it and either eat it in the small dine in room on site or – highly recommended – take it to the nearby beautiful white sand beach and have a picnic.
Top tip: check out their website to familiarize yourself with how the different combinations on the menu work so you're more confident when ordering. There is also a list of daily entrees.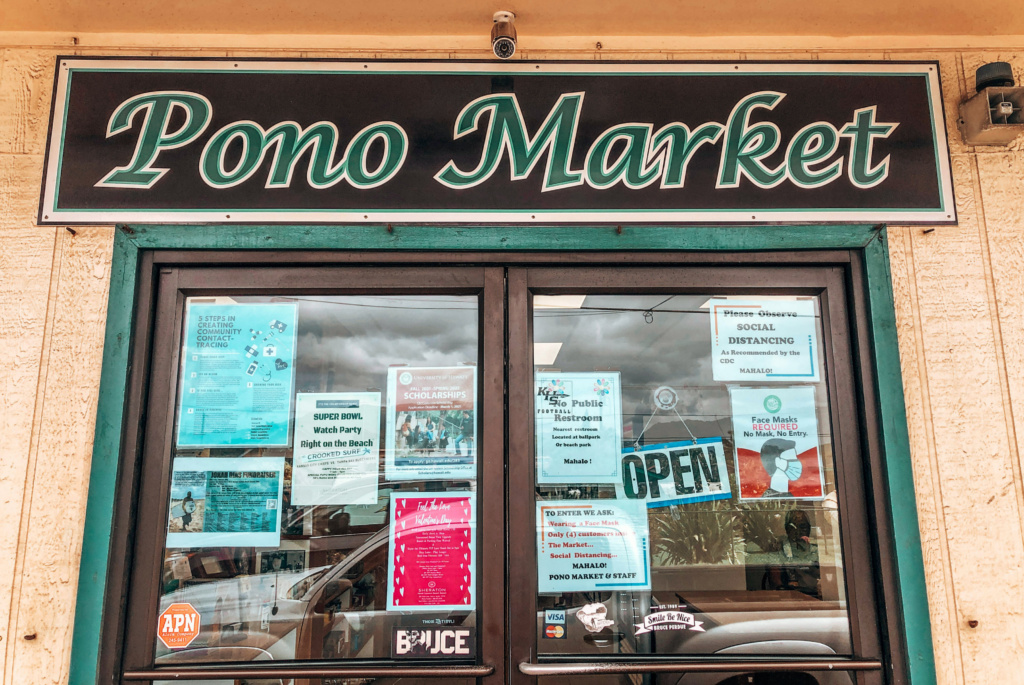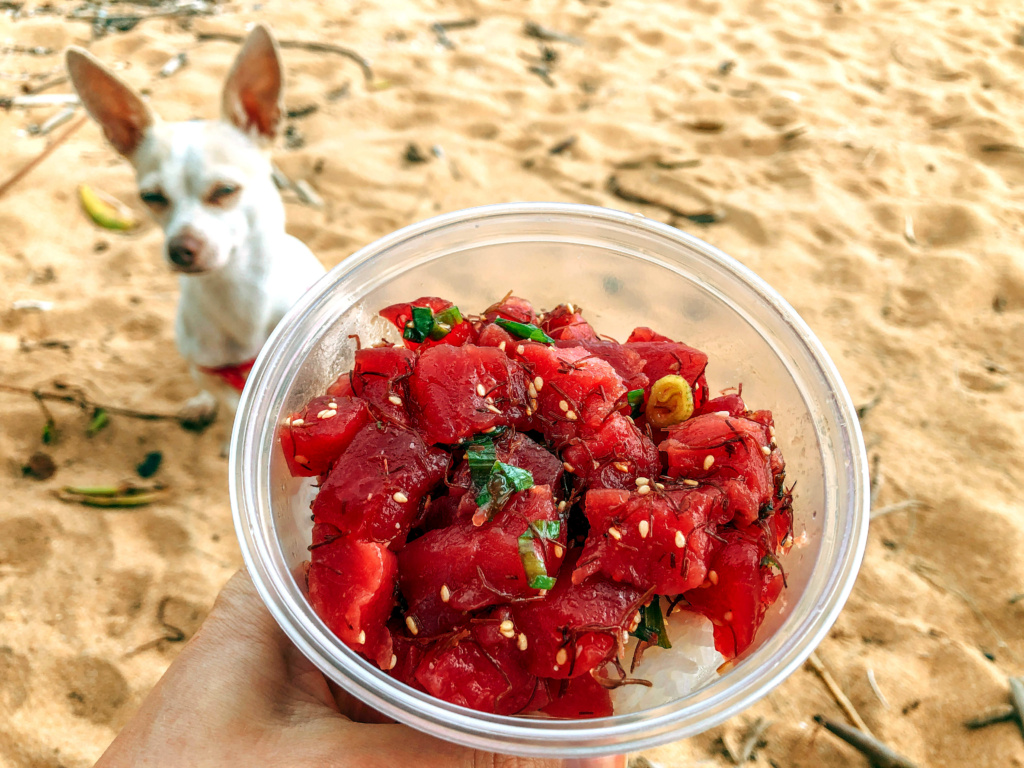 3. Saimin Dojo, Kapa'a
Two words: Vegan Saimin!!! As far as our research goes, this is the only vegan saimin in the state! You would not expect to find it at such a nondescript venue reminiscent of your average fast food drive through joint.
But it's there and it's rich and creamy and comforting and packed with flavor and it makes you want to pack up and move to Kauai! They really nailed the coconut milk broth, which is generously topped with Okinawan sweet potato, nori, kai choy, green onion and mushrooms. Aloha in a bowl!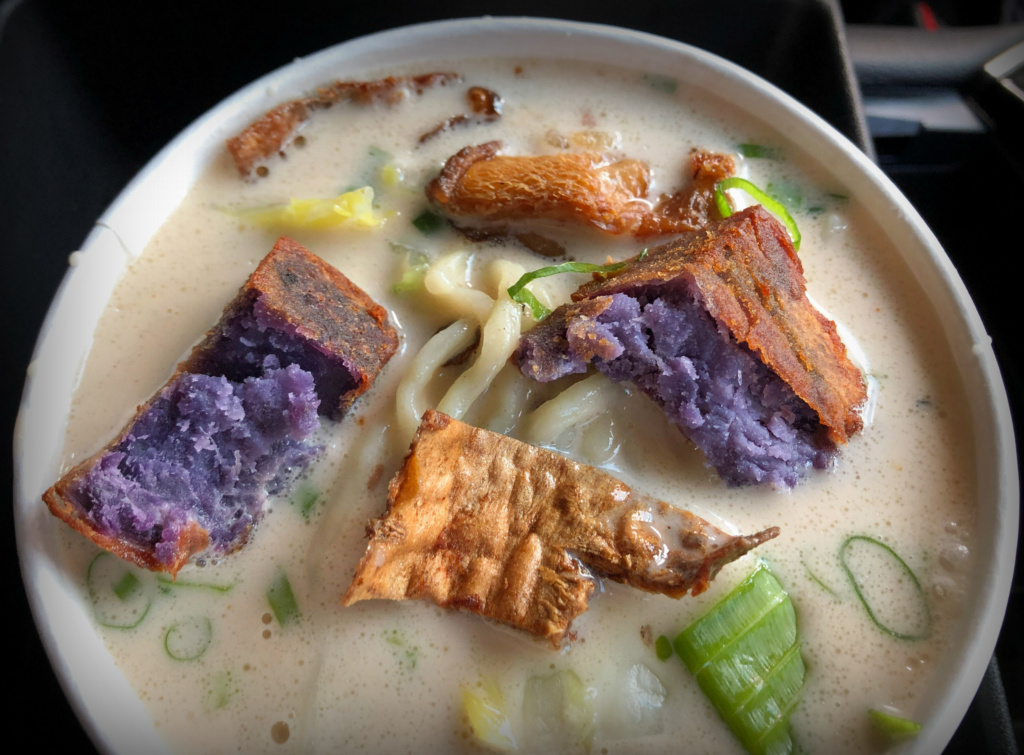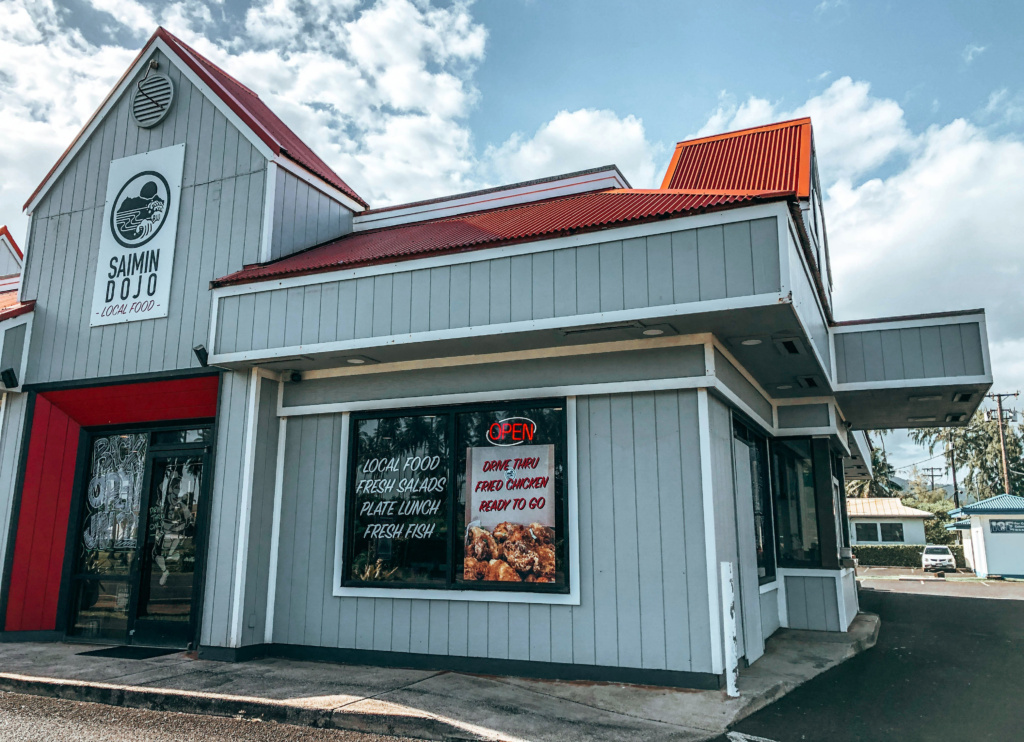 4. JoJo's Shave Ice, Waimea and Hanalei
We're not the biggest fans of shave ice truth be told. We eat it very occasionally and when we do we try to make it a good one. JoJo's was definitely a good one! We tried the Haupia Special and we both agreed it was the best shave ice we ever had! (Sorry Kula Hilo and Uncle Clay!) How can you resist light and airy coconut shave ice on a bed of rich macadamia nut ice cream topped with home made coconut (haupia) cream?
The original JoJo's was started in Waimea in 1992. That store is still there to this day and still has the original JoJo's sign. The secret is they don't use commercially made syrups. Their syrups are made in house using cane sugar (no corn syrup), water, and Hawaiian flavorings. Moreover, JoJo's donate all their profits to Makanalani youth camp! A shave ice that makes a difference in Kauai's kids' lives? Yes please!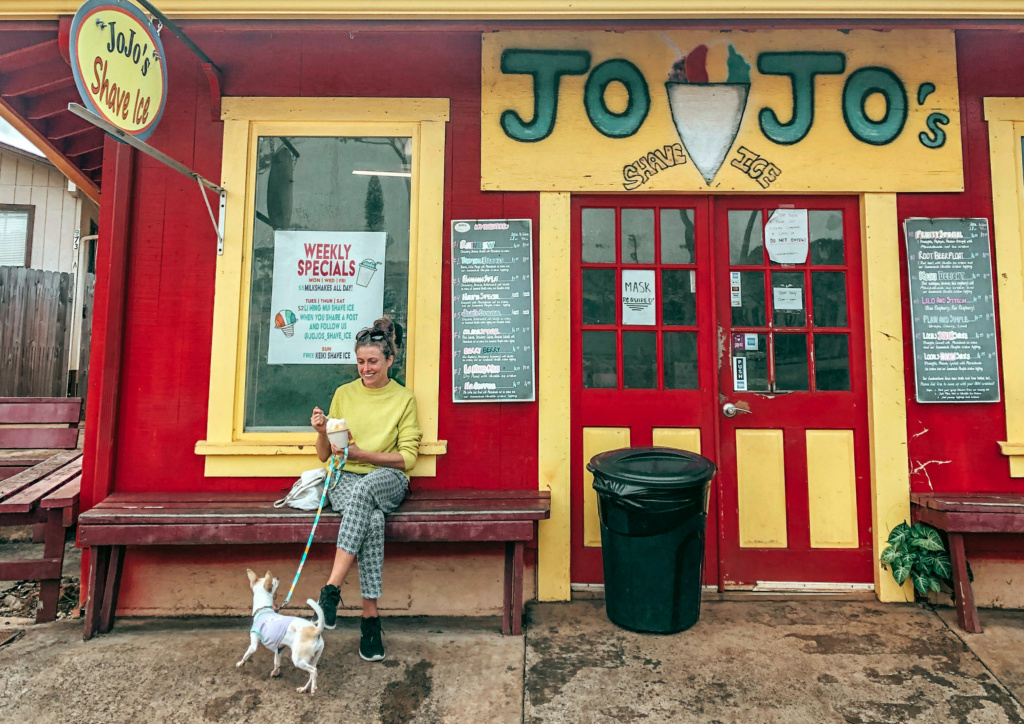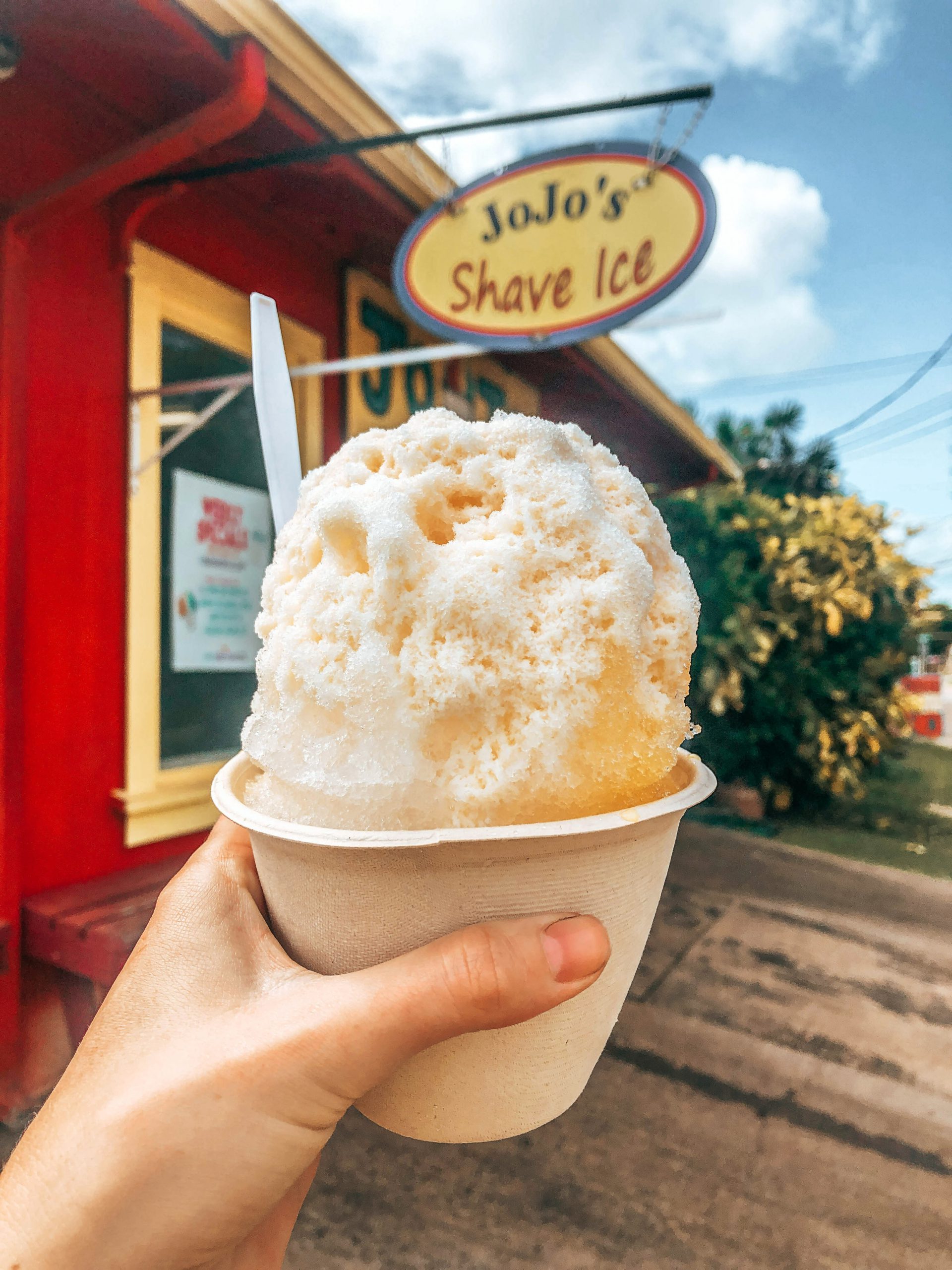 5. Hamura Saimin, Lihue
This no-frills, counter-serve space for saimin (a classic Hawaiian noodle soup) is an icon in Lihue. Start with shrimp tempura or crispy won tons and a bowl of saimin. End with Hamura's "legendary" lilikoi chiffon pie – and be sure to let us know how you liked it because… we didn't. We take our lilikoi flavored anything very seriously. Lilikoi should be a burst of flavor and this was anything but.
Opened in 1952, this Kauai landmark housed in a converted Army barracks has been serving what many say is the best saimin in Hawaii. We respectfully disagree, and we do appreciate a bowl of classic saimin. This one was rather flavorless and served lukewarm. Heaps of mustard and chili water didn't help much. Still, do check out Hamura. Once you enter you'll know why.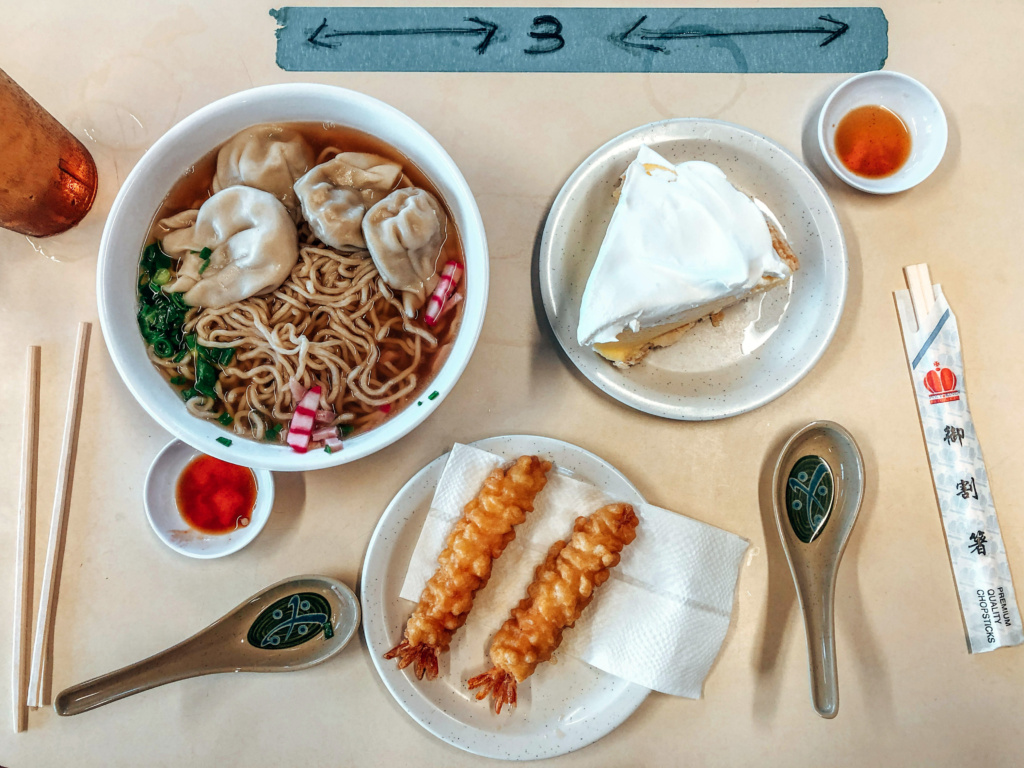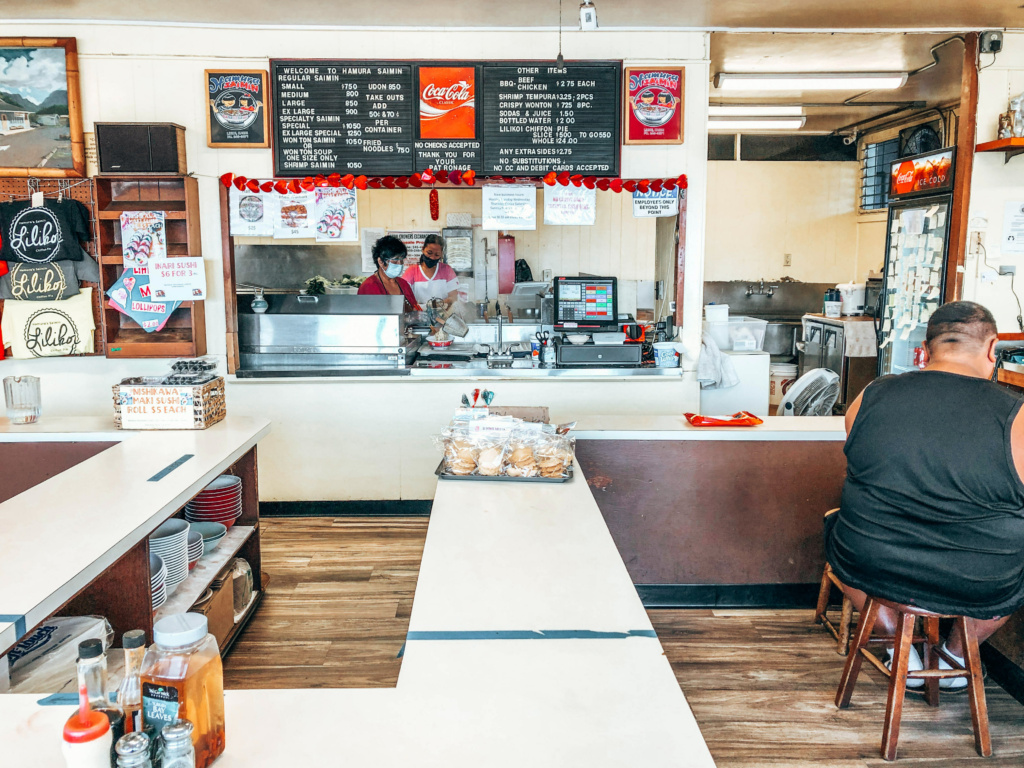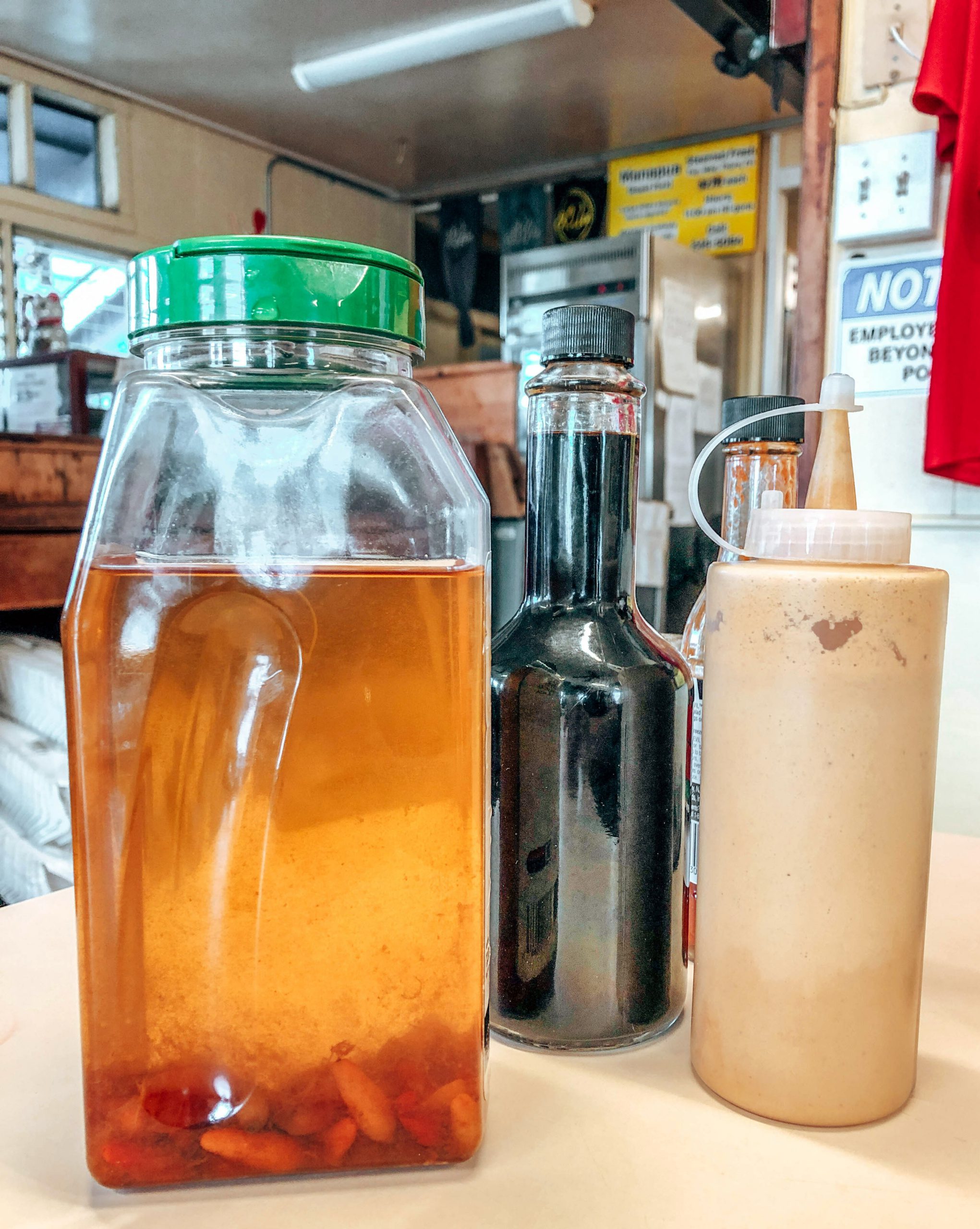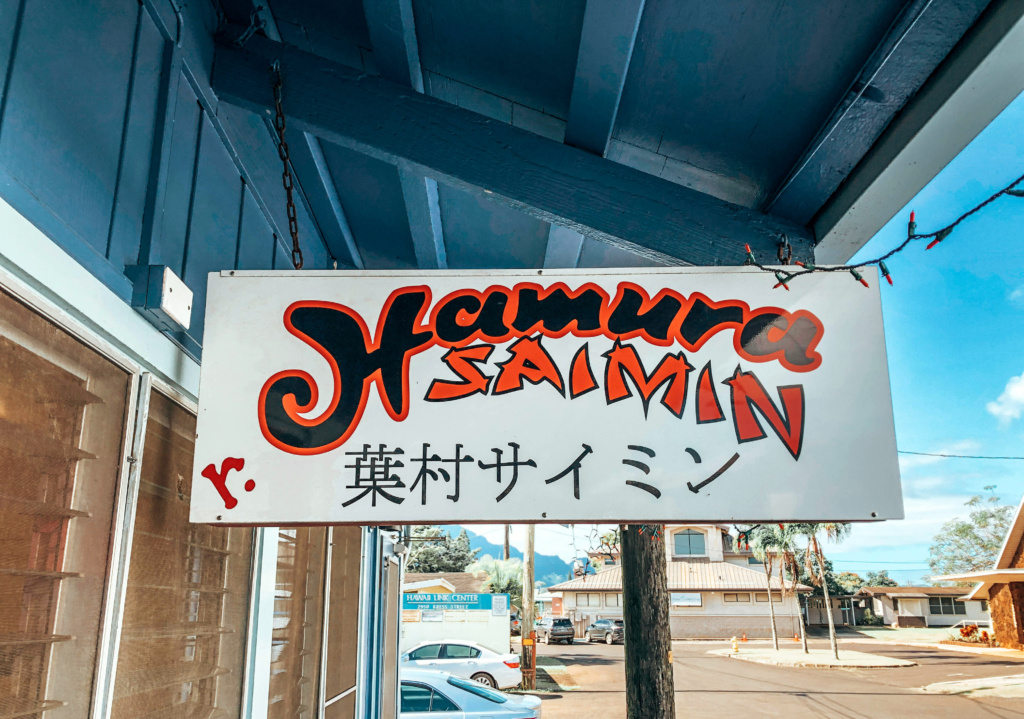 6. Holey Grail Donuts, Hanalei
Lastly, Hawaii's best donuts! Our Airbnb hosts kindly surprised us with a box of donuts from Holey Grail and boy was it a treat! Founded by a brother and sister team out of a little trailer in Hanalei, Holey Grail quickly developed a cult following and now has two additional locations on Oahu. Handmade to order, fried in coconut oil and with flavors like dragon fruit and taro, this is a must stop when visiting Kauai.
Not all flavors are available at all times. Look out for P.O.G. (passionfruit, orange, guava) or Strawberry Fields (Kula Farms Maui strawberries with green tea swirl). Also try their creative drinks with nut milks such as iced Cacao Latte with Manoa chocolate, or the refreshing Matcha Prophecy. Top tip: pre order your donuts online!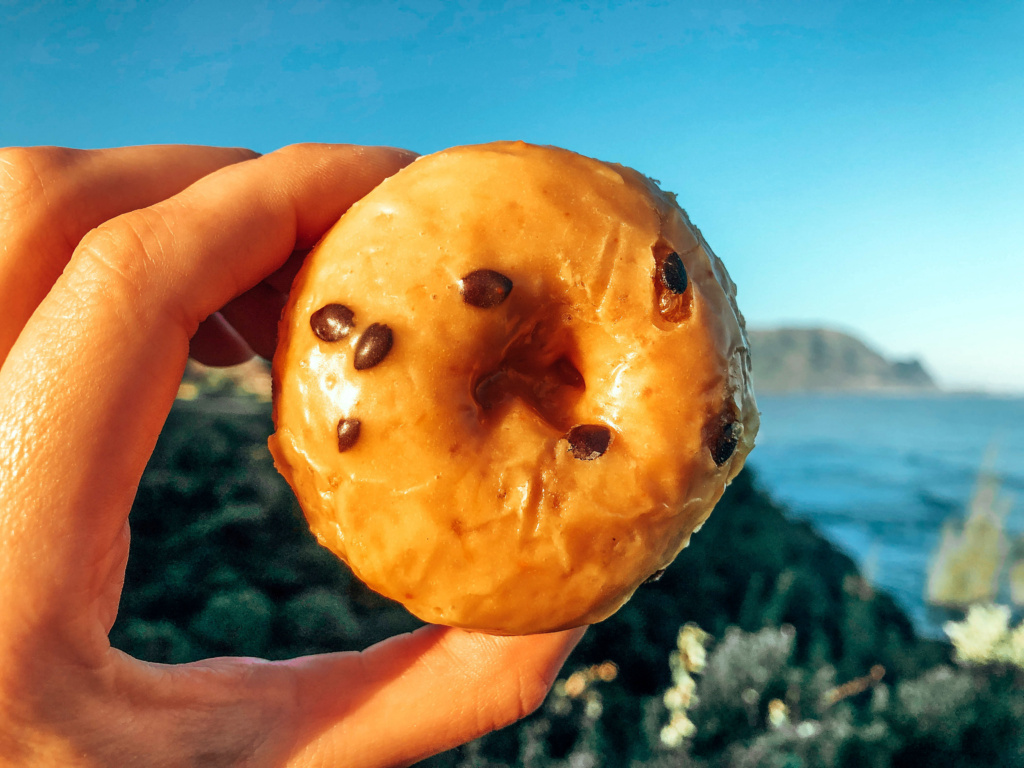 ---
Best places to eat in Kauai – honorable mentions
Here are a few more of our favorite places to eat like a local in Kauai. If you have extra time on the island they are definitely worth a visit.
Tip Top Cafe and Motel, Lihue
This place is another institution on Kauai. If you're after old school diner style comfort food with a Hawaiian twist this is your place. We braved the line and the haupia pancakes were worth it. Very meat heavy menu with few options even for pescatarians.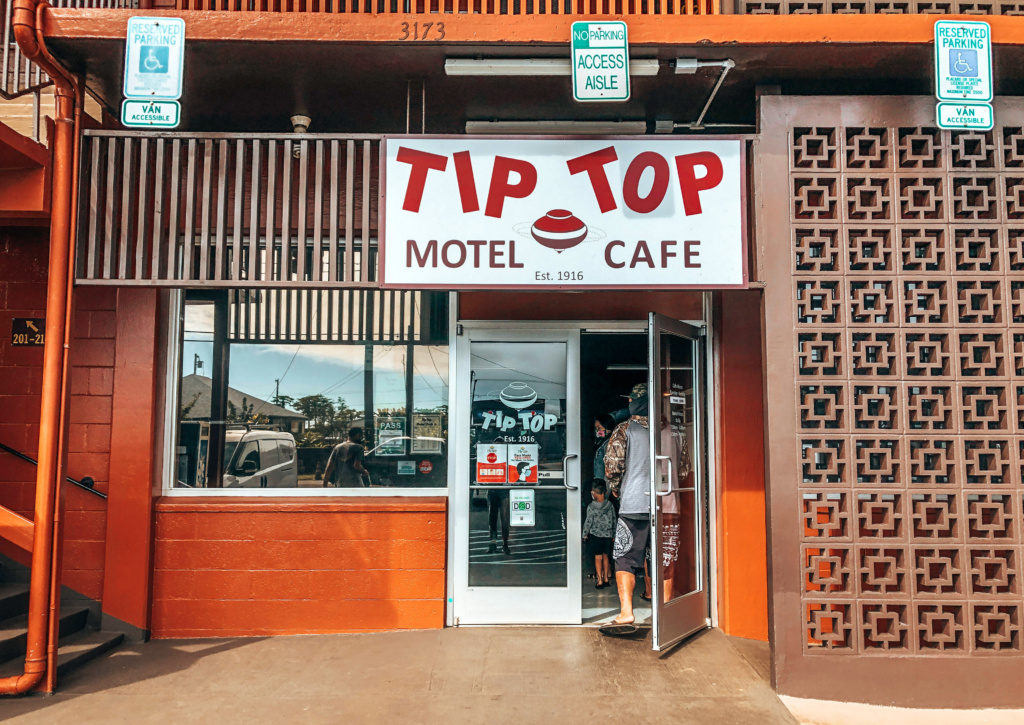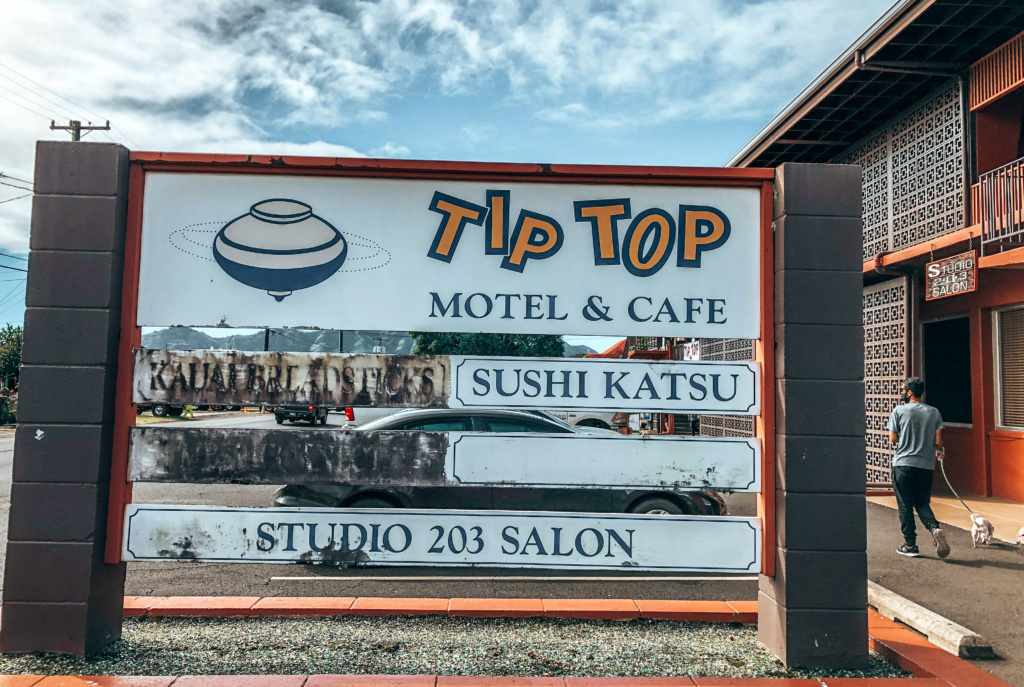 Mark's Place, Lihue
This spot, tucked away in a quiet industrial neighborhood of Lihue, is plate lunch haven. Sadly, we went after lunching elsewhere. We ended up trying Mark's butter mochi for dessert, and it was amazing. While you're in a sweet tooth mode, pop in next door to Ko Bakery and pick up a few lilikoi cupcakes, too!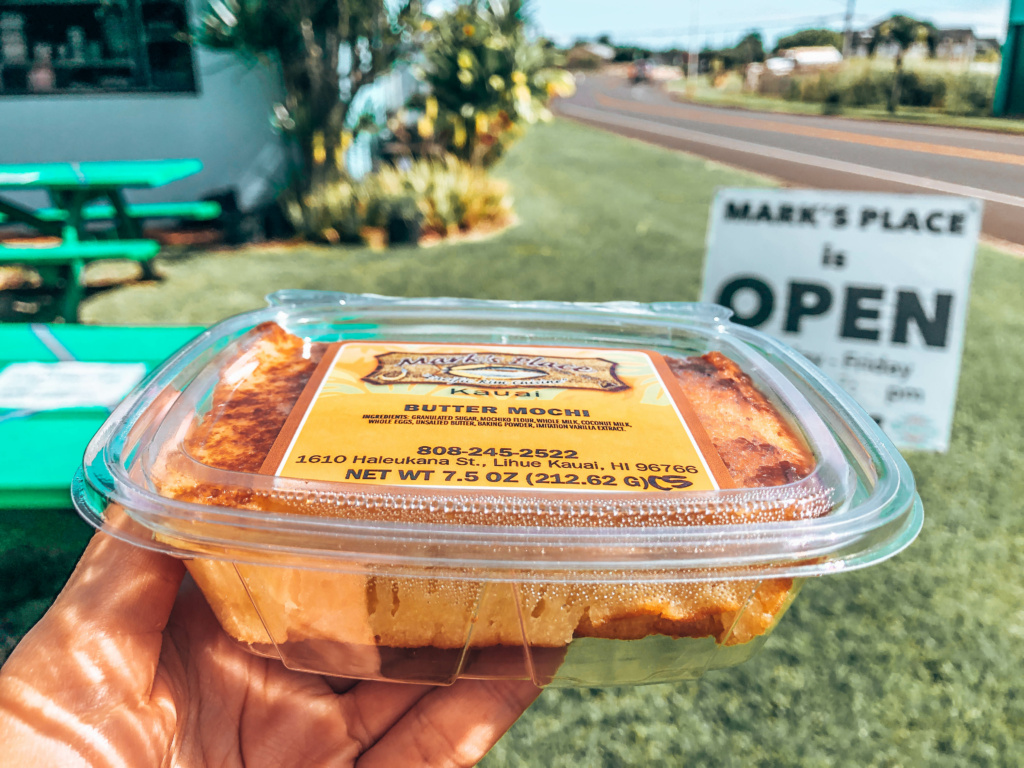 The Right Slice, Kalaheo
This old school village pie shop will satisfy all your sweet cravings but go very early because they sell out fast. Lilikoi cheesecake is still on our bucket list for that very reason. We got there late in the day and all that was left was mango pie. Not complaining though, it was as amazing as it sounds!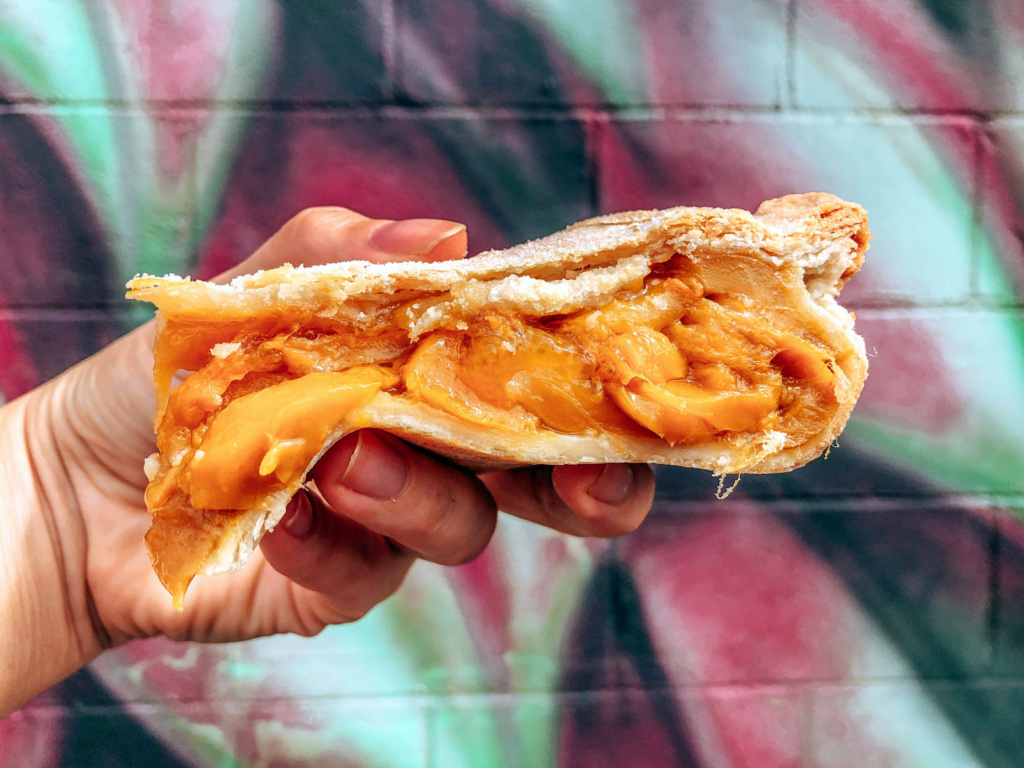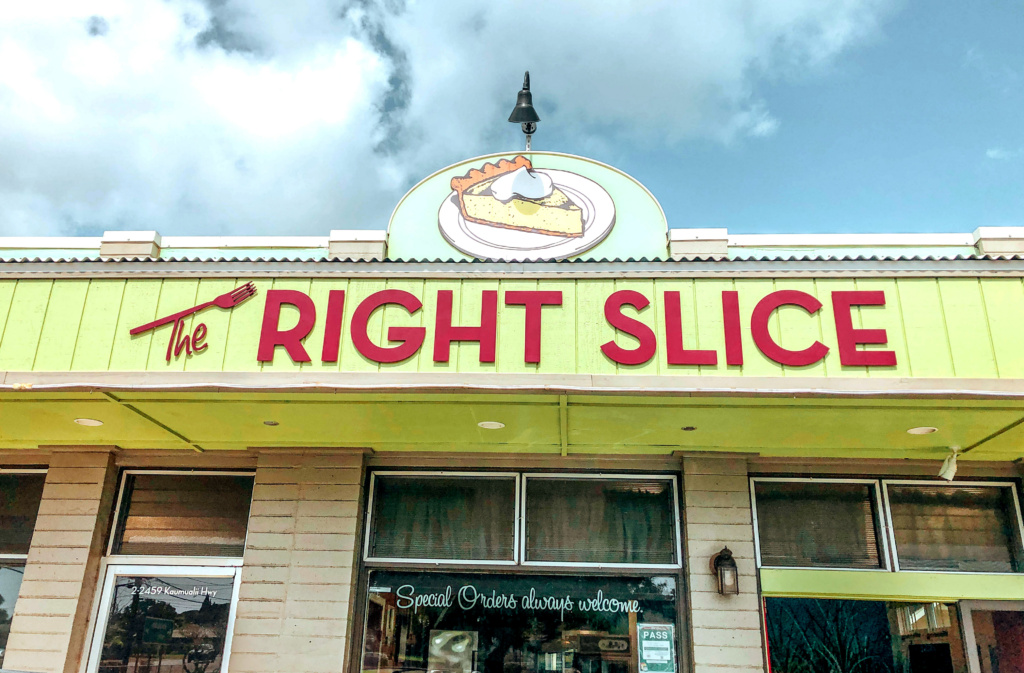 Village Snack Shop and Bakery, Hanalei
Tucked away in Ching Young Village Shopping Center in Hanalei, this was one of the few places open before our hike. An inexpensive (for Kauai) menu of breakfast favorites makes this place a safe bet to grab something quick in the morning before a day of adventures. Lunch (mostly plate lunch) is served from 11 am. We went all out with a full stack of "Tropical Pancakes" (banana, mac nut and coconut) and ate it watching the sun rise over the Hanalei Pier. Not the most elaborate nor healthy of breakfasts. But what a glorious morning.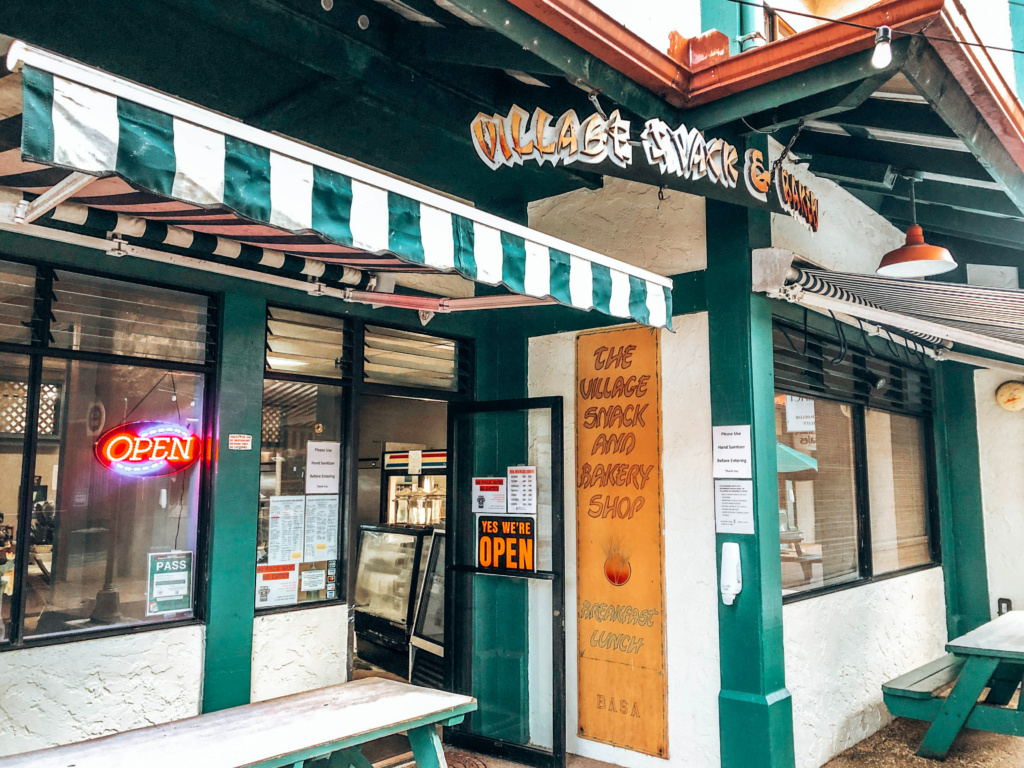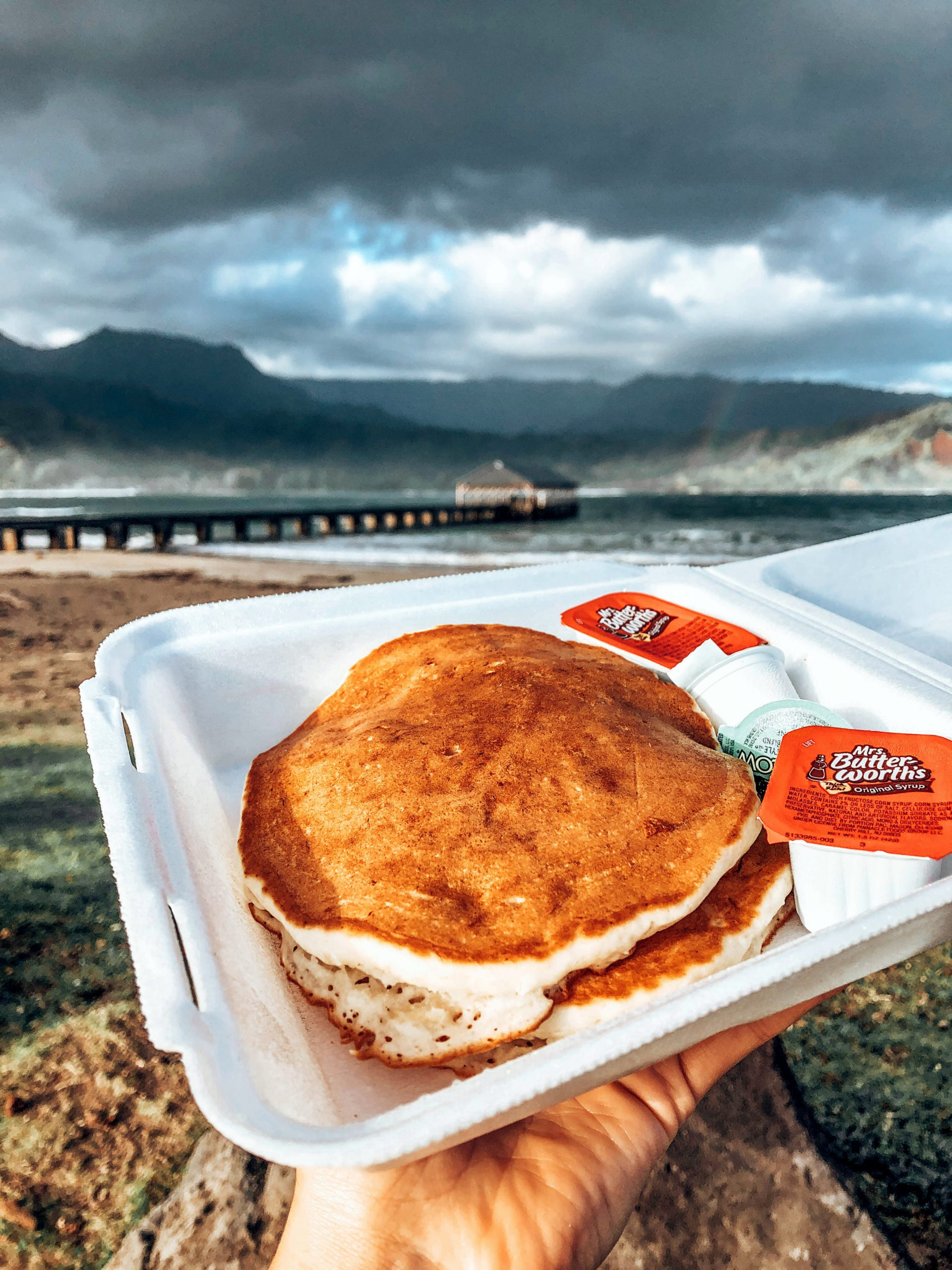 Bar Acuda, Hanalei
Underwhelming tapas. We had much higher expectations given the price point and excellent reviews. (Thanks again, Yelp…) The night was saved by their lilikoi cheesecake and specialty cocktails. The two that stood out were Hanalei Mule with lilikoi puree and possibly the best (Mai oh) Mai Tai on Kauai. Especially compared to the mediocre one across the street at Tahiti Nui. Verdict: get cocktails and dessert, skip dinner.
The Fish Express, Lihue
We thought the poke was ok quality wise but pricing is designed to confuse unfamiliar visitors. We've had poke in almost every poke joint in Hawaii and nowhere else do you get charged for sides extra by weight. Unless of course you get all items separately, deli style, not as part of a "bowl". So beware, the price you see is not the price you pay.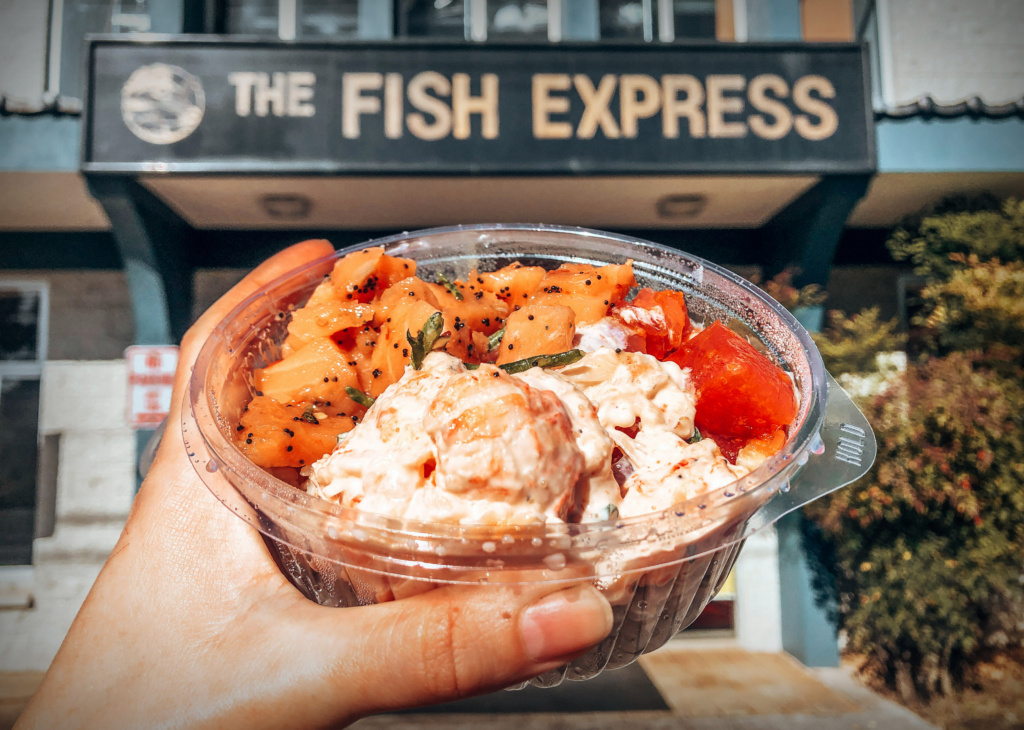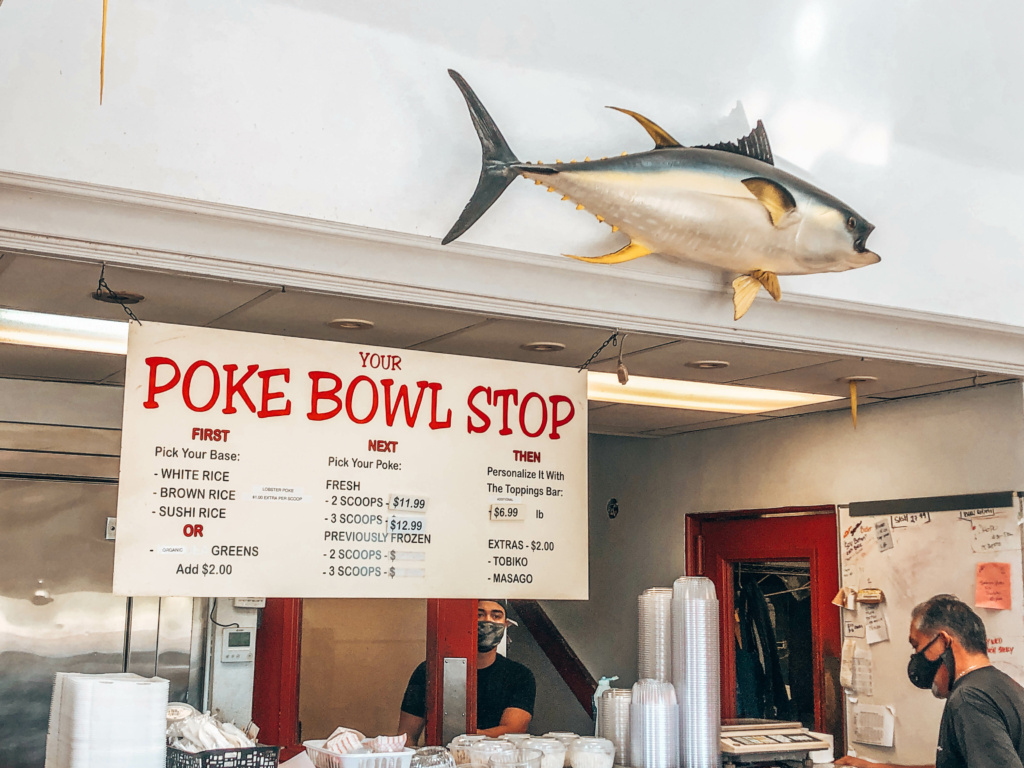 ---
Kauai Coffee Shops We Loved
Kauai, like the Big Island, grows their own coffee so you can expect top quality at the local coffee shops. These are the ones we loved the most : Midnight Bear in Hanapepe, Monkeypod Jam in Lawei, Java Kai in Kapa'a, Aloha Roasters in Lihue, Hanalei Bread Company in Hanalei, Kauai Coffee Company tasting rooms.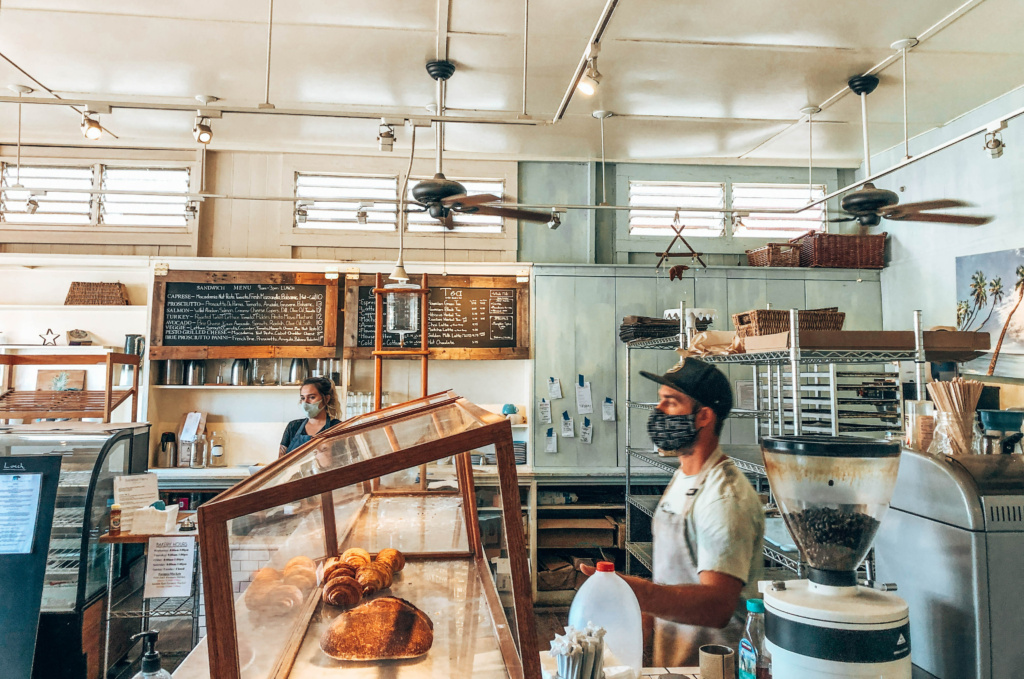 Best restaurants in Kauai that didn't get a chance to try
For such a small place Kauai food scene has quite a lot to offer. We spent three days eating our way across the island and it definitely wasn't enough time to try everything we had put on the list. We spent a lot of time researching so we thought we'd share our list. Here are a few more places to find the best food in Kauai that we have yet to try on our next trip. Hope it helps!
JO2 for refined farm to table Hawaiian fusion fare
Coconut crusted tofu and other plant based goodies at Russel's – sadly it was closed when we were visiting 😞
Taro hummus with taro chips at Hanalei Taro & Juice Co.
Ahi wrap at Kilauea Fish Market
Waipouli Deli and Restaurant for no frills Hawaiian classics
Tour and chocolate tasting at Lydgate Farms
Farm to table brunch at Kalaheo Cafe & Coffee Company
Kauai Beer Company for Sour Outage lilikoi sour and taro fries
Sushi and bento bowls at Japanese Grandma's Cafe
Kauai Sushi Station for very affordable sushi and sashimi by a former sushi chef from Grandma's
Green curry vegetarian ramen and ahi ramen at Ama
Ube French Toast at Kountry Kitchen
Coconuts Fish Cafe for coconut shrimp and happy hour
Fish tacos at one of many taco joints around the island: El Rey del Mar, Tiki Tacos, Da Crack, Tropical Taco or Island Taco
---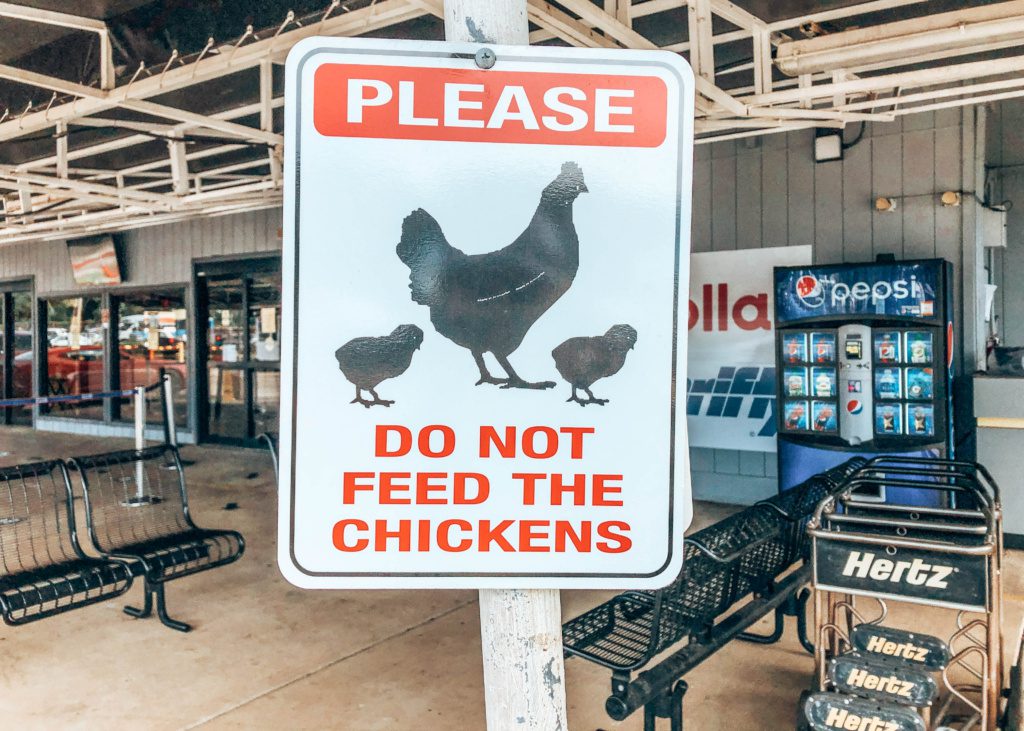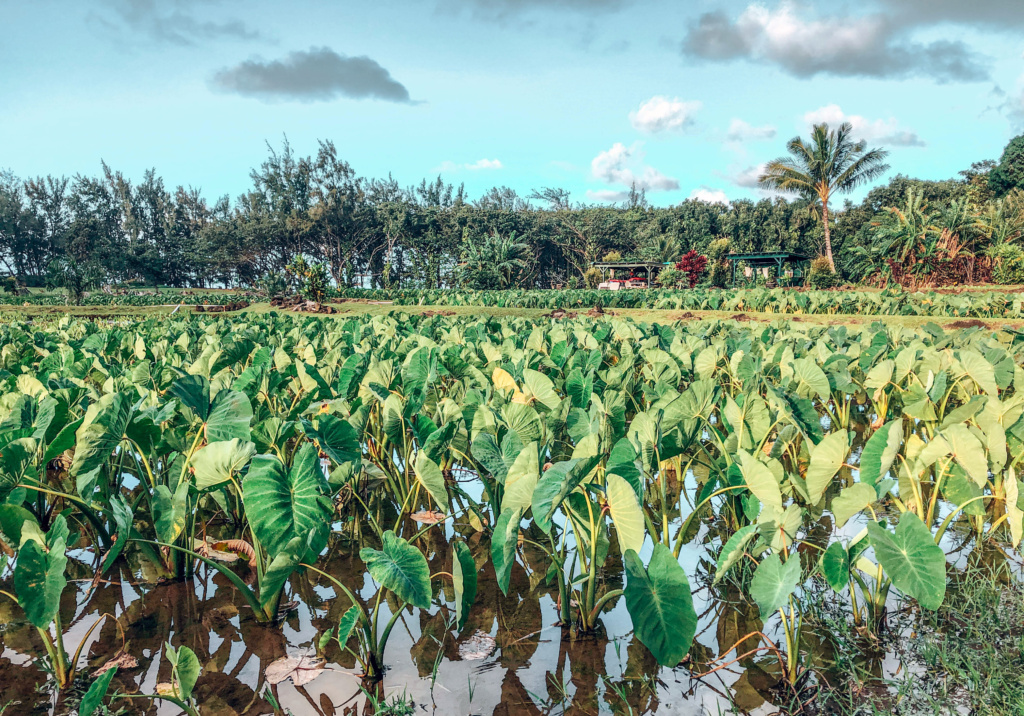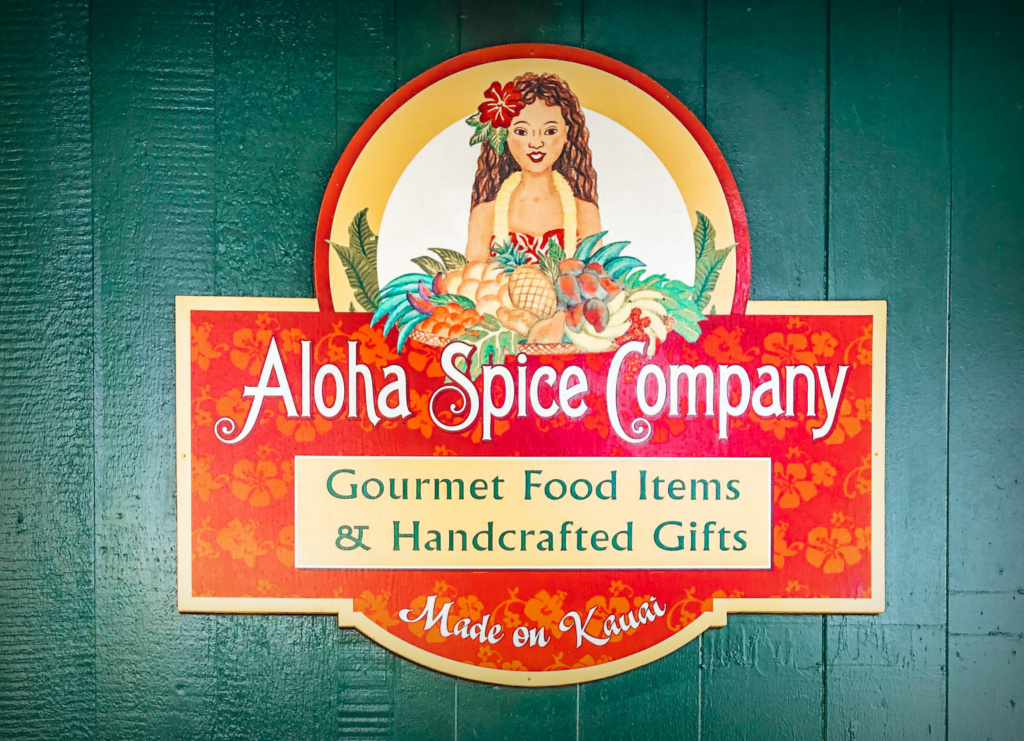 ---
Have you dined at any of the above? What did you think? Do you know of any other amazing places to eat in Kauai? Share your thoughts in the comments below or tag @eightyflavors on social media! We love hearing about your foodie adventures! Aloha friends!