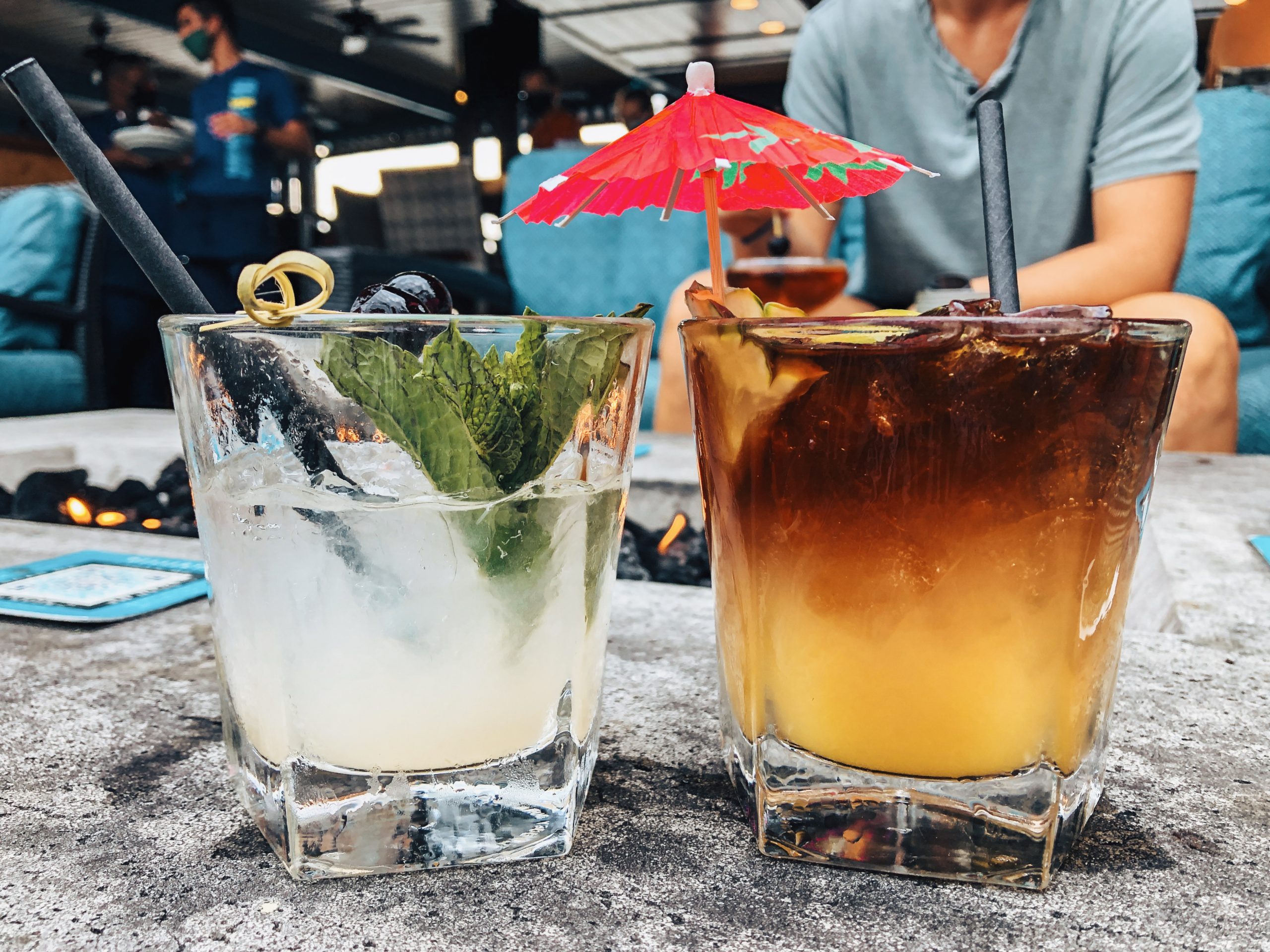 Mai Tai Origins (Plus The Best Mai Tais in Hawaii)
Mai Tai origins have been contested since its creation decades ago. Moreover, in the recent years the cocktail has been at the center of the tiki bars controversy. Indeed, the cultural appropriation conversation is real and a very valid one. (Read this Los Angeles Times article and this Eater piece for an excellent polemic on the topic.)
In the realm of tropical libations, few cocktails evoke a sense of adventure and exoticism quite like the Mai Tai. With its vibrant colors, tantalizing flavors, and a touch of Polynesian allure, the Mai Tai has basically become synonymous with vacations. But how did this iconic cocktail come to be?
Join us on a journey through time as we explore the fascinating history of the Mai Tai cocktail. Stick around for where to find the best Mai Tai cocktails in Hawaii, too! In over 2 years of living in the Aloha State we drank quite a few good ones. (And a few bad ones too).
Spoiler alert for the impatient: our number one favorite Mai Tai in Hawaii is Merriman's Lilikoi Foam Mai Tai in Waimea, Big Island.
Mai Tai Origins:
The birth of the Mai Tai can be traced back to Oakland, California, in the early 1940s. The man behind this legendary concoction was Victor J. Bergeron, better known as Trader Vic. A passionate restaurateur and tiki culture enthusiast, Trader Vic set out to create a drink that would transport his patrons to a tropical paradise. However, the Big Island locals often contend this version (see controversy below).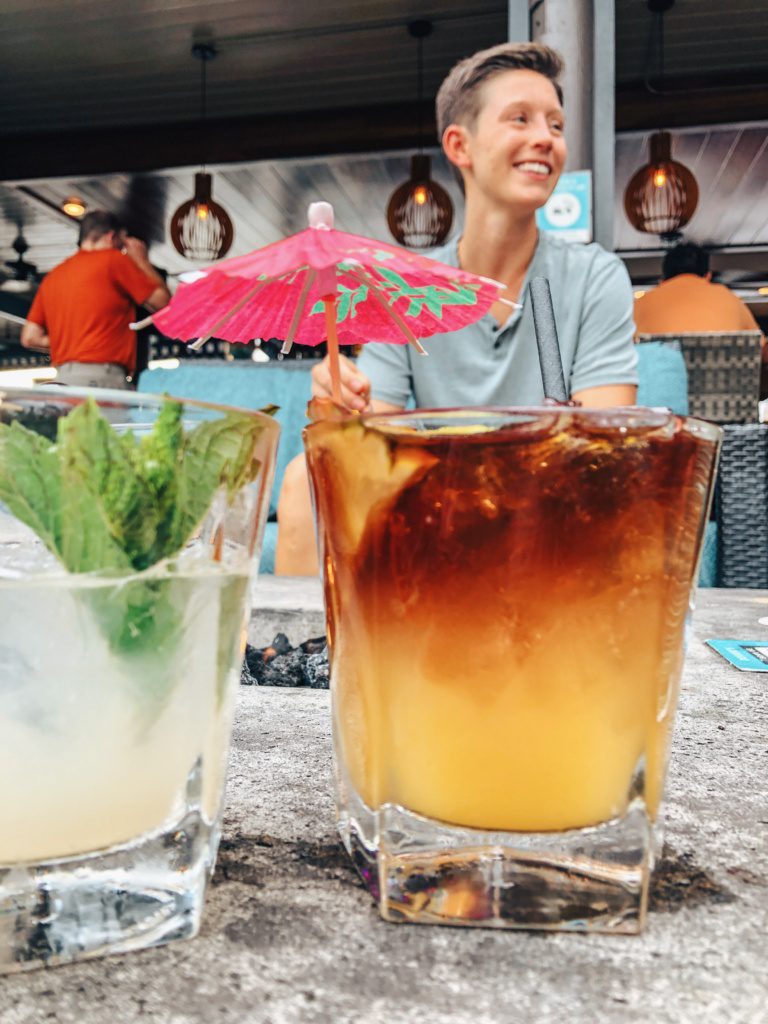 The Creation:
Legend has it that the Mai Tai was born in 1944. Trader Vic sought to impress his friends from Tahiti with a new cocktail. He mixed together a blend of premium Jamaican rum, fresh lime juice and orange curaçao. Added a dash of rock candy syrup, and a hint of orgeat, a sweet almond-flavored syrup. After taking a sip, Trader Vic's friends exclaimed, "Maita'i roa ae!" which translates to "Out of this world!" in Tahitian. Thus, the Mai Tai was christened, capturing the spirit of its creators' delight.
The Controversy:
While Trader Vic is widely credited with the creation of the Mai Tai, a dispute arose when Donn Beach, the founder of Don the Beachcomber restaurants, claimed that he had invented a similar cocktail years before. Beach's version, called the "Mai Tai Swizzle," featured rum, lime juice, grapefruit juice, falernum, and bitters. The debate over the true originator of the Mai Tai continues to this day, with each camp defending its claim.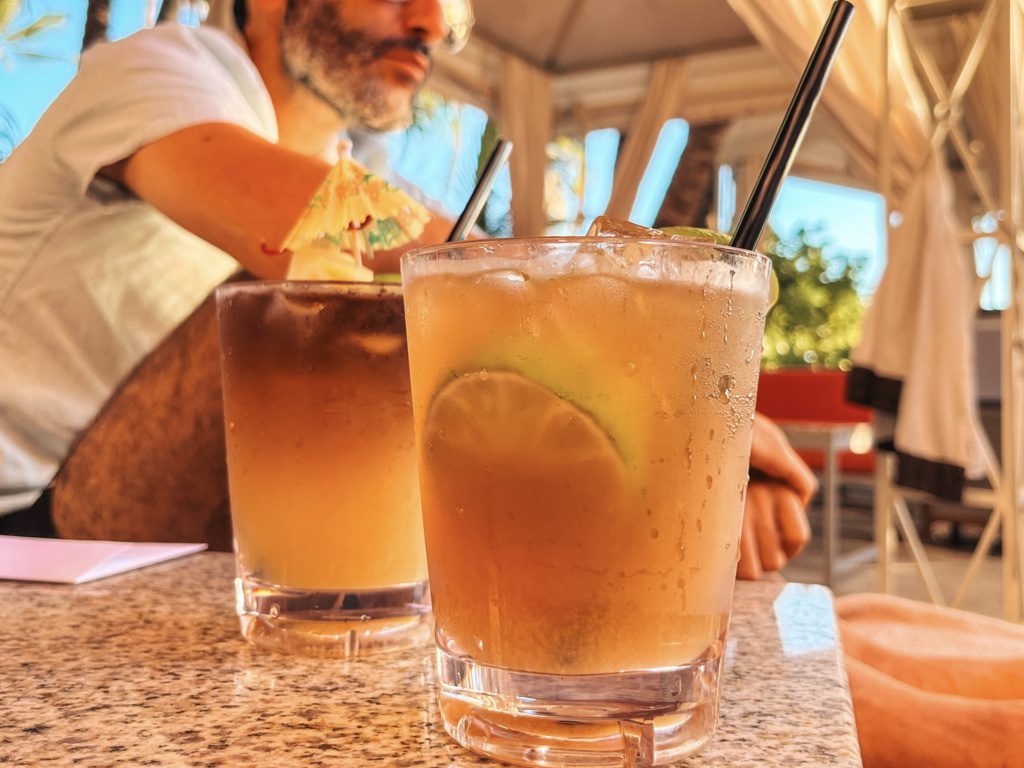 Popularity and Influence:
The Mai Tai gained popularity during the 1950s and '60s, coinciding with the rise of tiki culture in the United States. The allure of the South Pacific, showcased in Trader Vic's Polynesian-themed restaurants, drew in crowds seeking an escape from everyday life. The cocktail's tropical flavors and captivating presentation further fueled its popularity, as it became a symbol of indulgence and relaxation.
The Evolution:
Over time, the Mai Tai underwent various adaptations and interpretations. Some bartenders added pineapple juice, grenadine, or other tropical ingredients to enhance the flavor profile. (Read: to sell more cocktails to tourists craving refreshment over refinement). However, the original juice-free recipe devised by Trader Vic remains the most celebrated and revered version of this classic cocktail.
You might also like: WHAT IS POKE AND WHY YOU WON'T FIND POKE BOWLS IN HAWAII, BEST GARLIC SHRIMP IN HAWAII: TOP 5 SHRIMP SHACKS YOU SHOULD TRY, WHERE TO EAT MALASADAS IN HAWAII – OUR 5 FAVORITES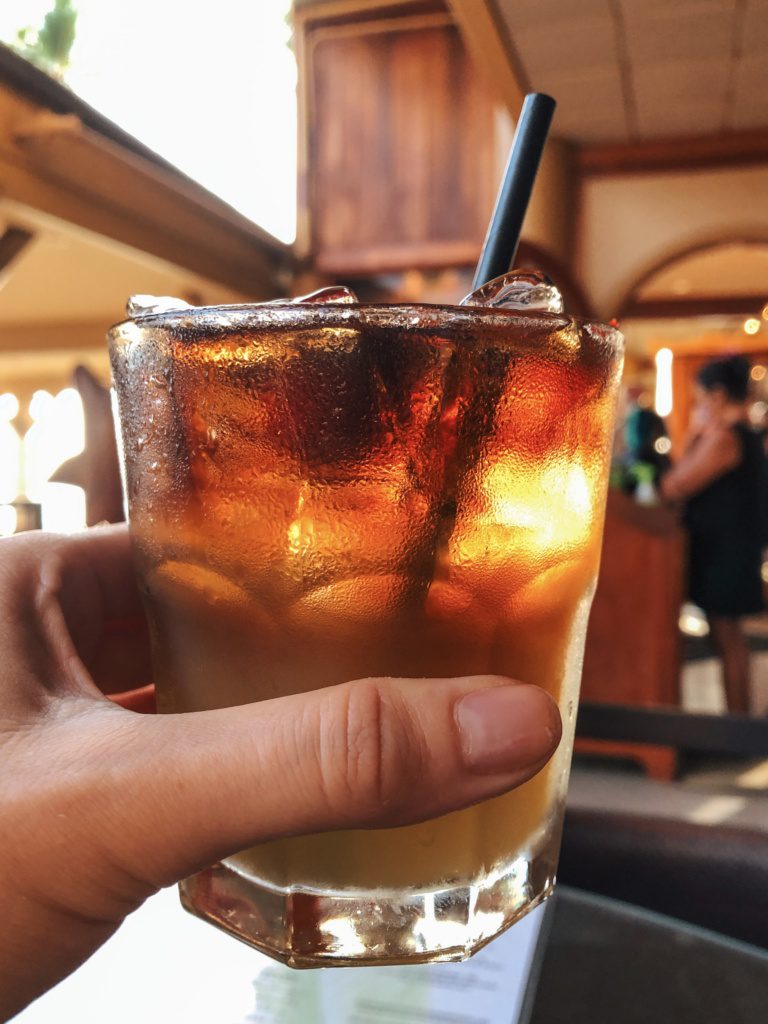 Best Mai Tais in Hawaii:
If you find yourself on the picturesque shores of Hawaii, allow us to guide you through an exploration of the best Mai Tai cocktails the islands have to offer.
You'll notice we're featuring the better known ones as that's where you're more likely to have just one drink. But the alternatives listed below are actually the ones we prefer!
Here's one Mai Tai for every one of the four main Hawaiian islands:
Royal Hawaiian Mai Tai in Waikiki, Honolulu, Oahu
Located in the heart of Waikiki, Honolulu, the Royal Hawaiian Hotel boasts a rich history and a mesmerizing waterfront location. Step inside the Pink lady and back in time as you sip on their renowned Royal Hawaiian Mai Tai. Crafted with a secret blend of rums, freshly squeezed lime juice, a touch of orange liqueur, and a splash of orgeat syrup, this cocktail is the epitome of balance and elegance. Enjoy the breathtaking sunset views from the waterfront tiki bar, listen to live island music and let the flavors of Hawaii transport you to a state of pure bliss. Pro tip: unless you're a guest at the hotel, it's first come first served seating. Be sure to come early to get a seat in time for sunset.
Oahu alternative: E Ho'o Pau Mai Tai at Bar Leather Apron. World's Best Mai Tai of 2015 by mixologist Justin Park.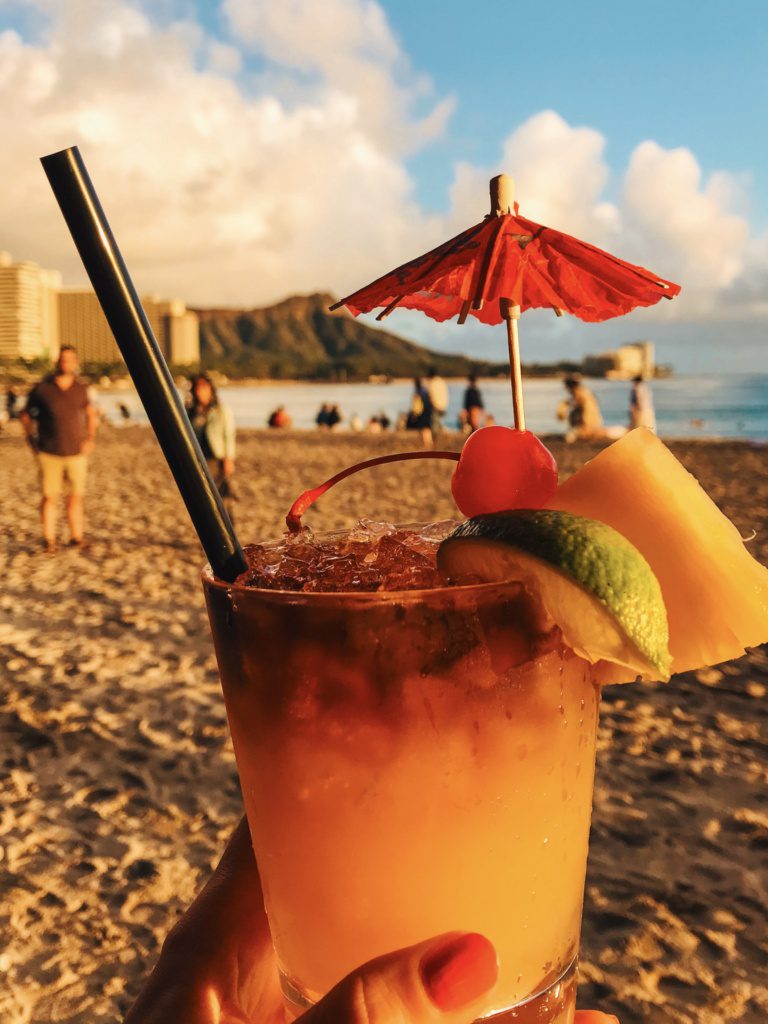 Don the Beachcomber at the Royal Kona Hotel, Big Island
Located in the heart of Kona, on the stunning island of Hawai'i (aka the Big Island), Don the Beachcomber bar is renowned for more than its captivating oceanfront ambiance and exceptional island-inspired cuisine. As you learned above, they actually hold the claim to have invented the Mai Tai! Is it the best Mai Tai in Hawaii today? Hardly, as the recipe has been adjusted for tourists' tastes. In other words, juiced down. Nevertheless, if that's your thing, their classic Mai Tai is still a delightful blend of premium Hawaiian rums, freshly squeezed lime juice, and orgeat syrup. Sip on this tropical libation while watching the sun disappear behind the tantalizing Kona black lava rock. Look out for live music nights, usually Thursdays!
Big Island alternative: Merriman's Mai Tai with Lilikoi Foam. This is actually one of our favorite Mai Tais in the state!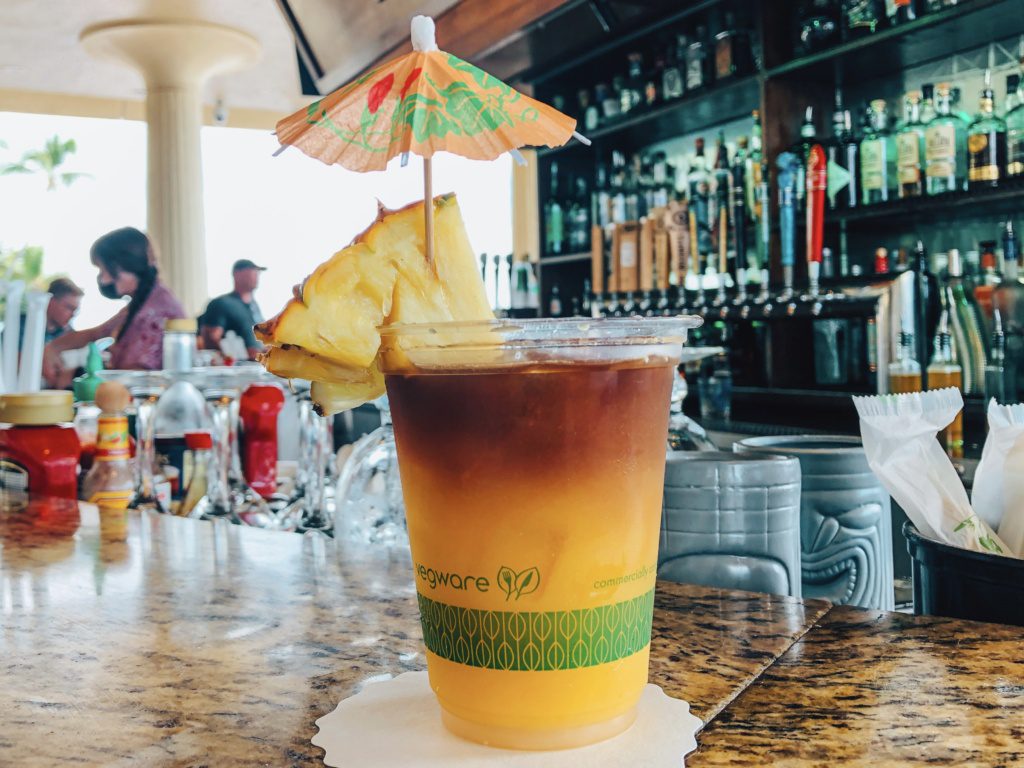 Monkeypod Kitchen Liliko'i Mai Tai, Lahaina, Maui
Located in the heart of Lahaina, on the somewhat touristy island of Maui, Monkeypod Kitchen offers a contemporary twist on the classic Mai Tai. The Liliko'i Mai Tai takes the traditional recipe to new heights by incorporating honey-liliko'i (passion fruit) foam, which adds a luscious tropical sweetness to the mix. Combined with a medley of premium rums, fresh lime juice, and a house-made macadamia nut orgeat syrup, this cocktail is a perfect harmony of flavors that will leave you craving for more. Pro tip: Monkeypod has locations on other islands too. Also, it's one of the few places in Hawaii serving a virgin Mai Tai mocktail.
Maui alternative: Tai Mai at Haliimaile General Store. HGS is a must visit for so many reasons! One day we'll dedicate an entire post to it – stay tuned.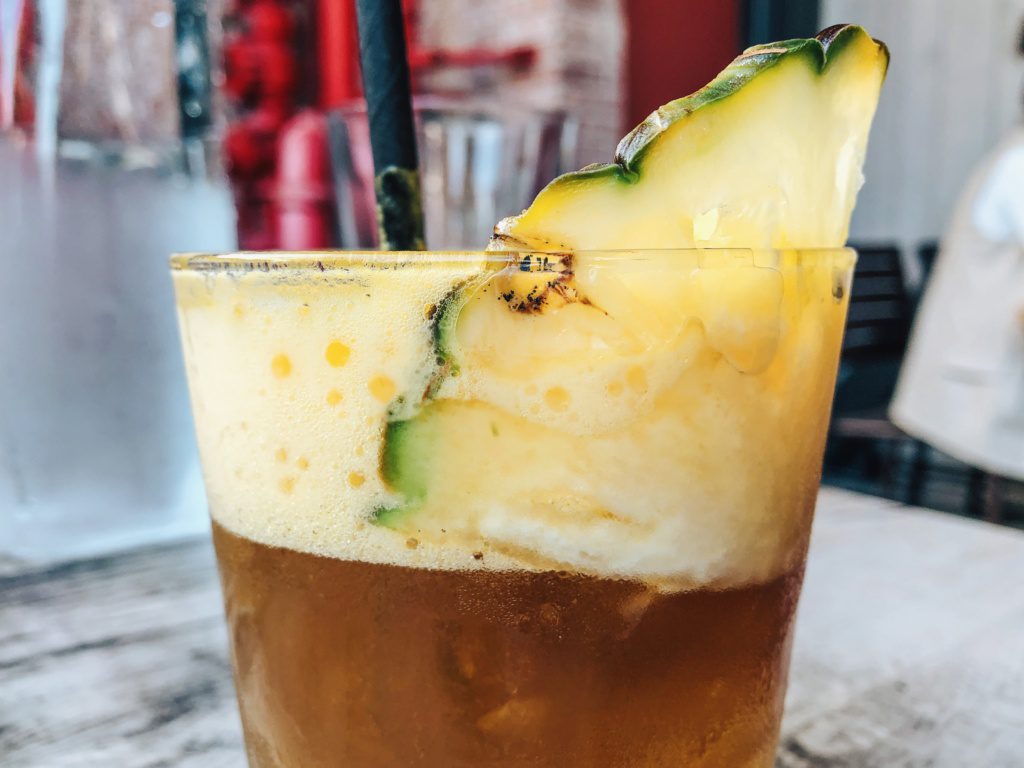 Mai Tai Magic
This storied cocktail stands as a testament to the magic of mixology and the power of a well-crafted libation to transport us to faraway lands. Mai Tai origins may be shrouded in controversy, but its enduring popularity is a testament to its classic taste and the sense of escapism it evokes.
Whether enjoyed on a sun-soaked beach or in a dimly lit speak easy, the Mai Tai carries with it a piece of Polynesian heritage. Indulge, but also honor Mai Tai origins and legacy.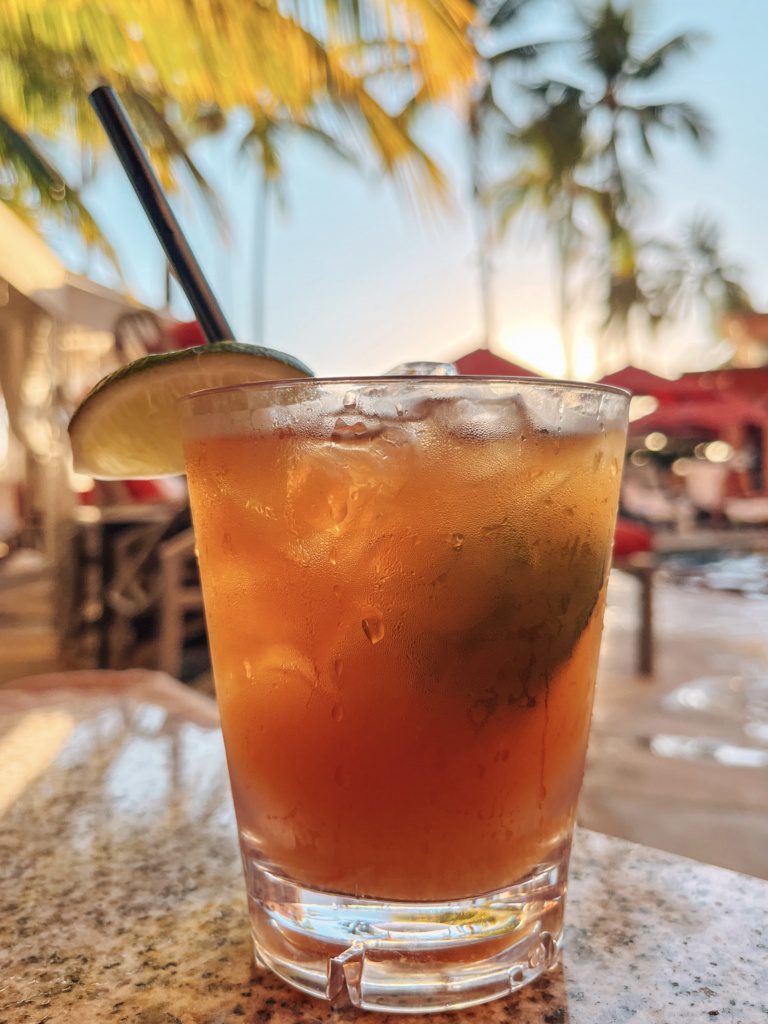 So, the next time you raise a glass garnished with a colorful umbrella, take a moment to appreciate the history and craftsmanship behind the Mai Tai—a truly iconic cocktail that has stood the test of time and continues to whisk us away to a world of tropical bliss. Cheers to the magic of Hawaii and the legendary Mai Tai!
---
You might also like: HAWAIIAN FOOD: 6 BEST PLACES TO EAT LIKE A LOCAL IN KAUAI , MEATLESS HAWAII: 6 PLACES TO FIND THE BEST LOCAL FOOD ON MOLOKAI , HAWAIIAN FOOD: WHERE TO EAT IN WAIMEA, BIG ISLAND