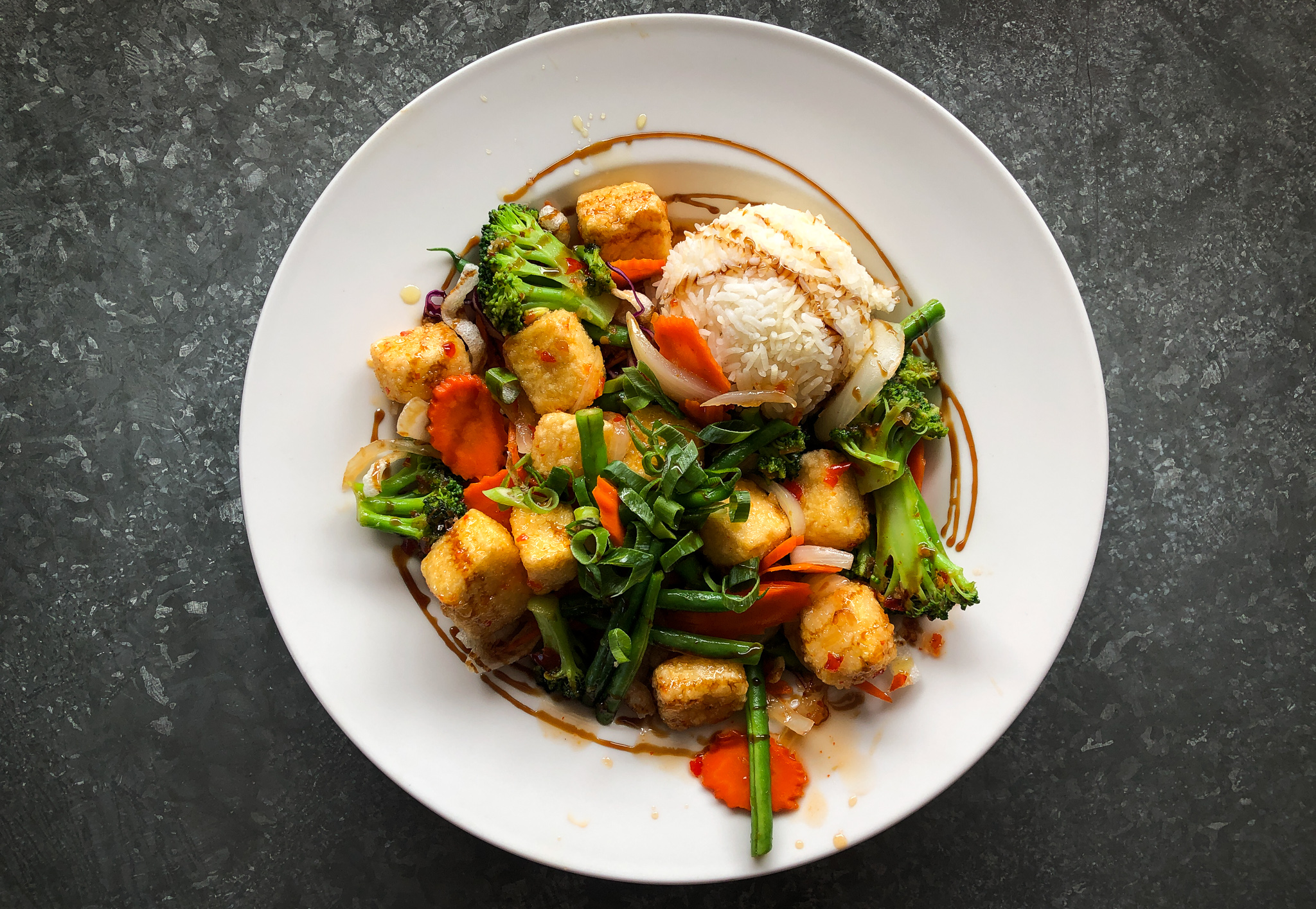 Plant Based Hawaii: 10 Best Vegan Eats In Kona, Big Island
If you're searching for the best vegan eats in Kona, Hawaii, read on. To be frank, it's not that hard to find vegan options in Kailua Kona. But it's harder to find really good vegan food. We actually thought there were more and better plant based food options on the other side of the island in the foodie underdog that is Hilo. (Check out our vegan Hilo blog post here.) It may be that Kona caters largely to tourists, digital nomads and expats, while Hilo restaurants are aimed predominantly at long time Big Island residents.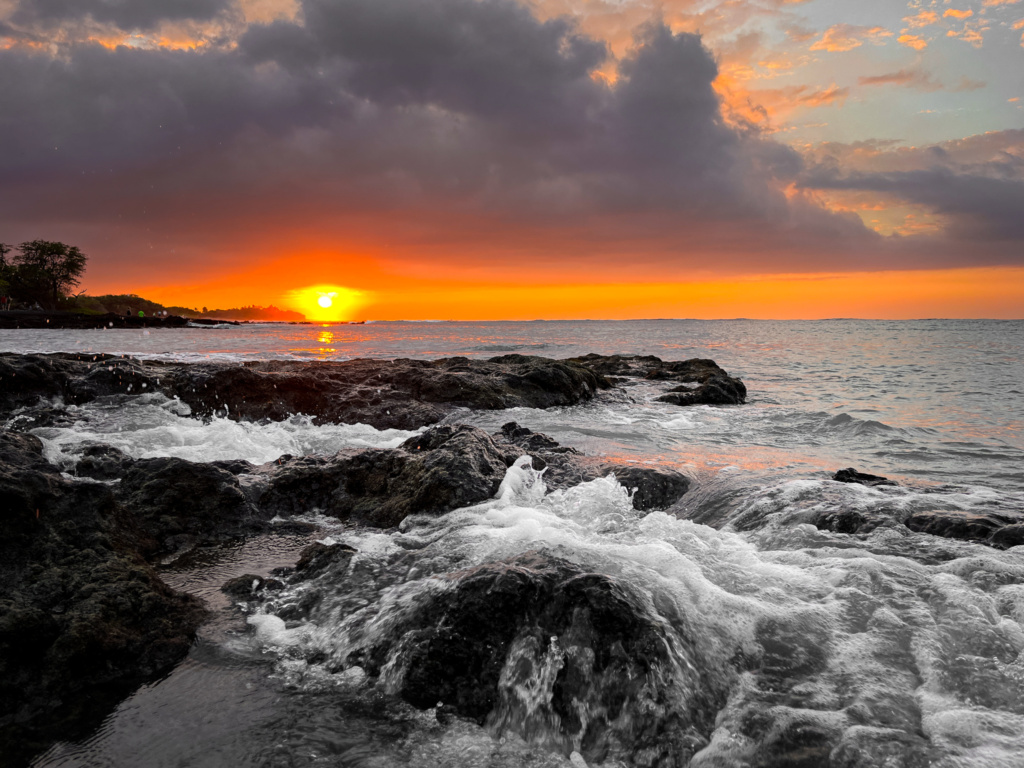 Either way, it took us a while to dig through the endless sunset happy hours, sports bars and resort restaurants to filter out the tourist traps and bring you creme de la creme of Kona vegan friendly dining. Be prepared to venture off the beaten path of Alii Drive for the most part.
In no particular order, here are our favorite 10 vegan eats in Kailua-Kona:
1. Sourdough Pockets at Journey To Good Health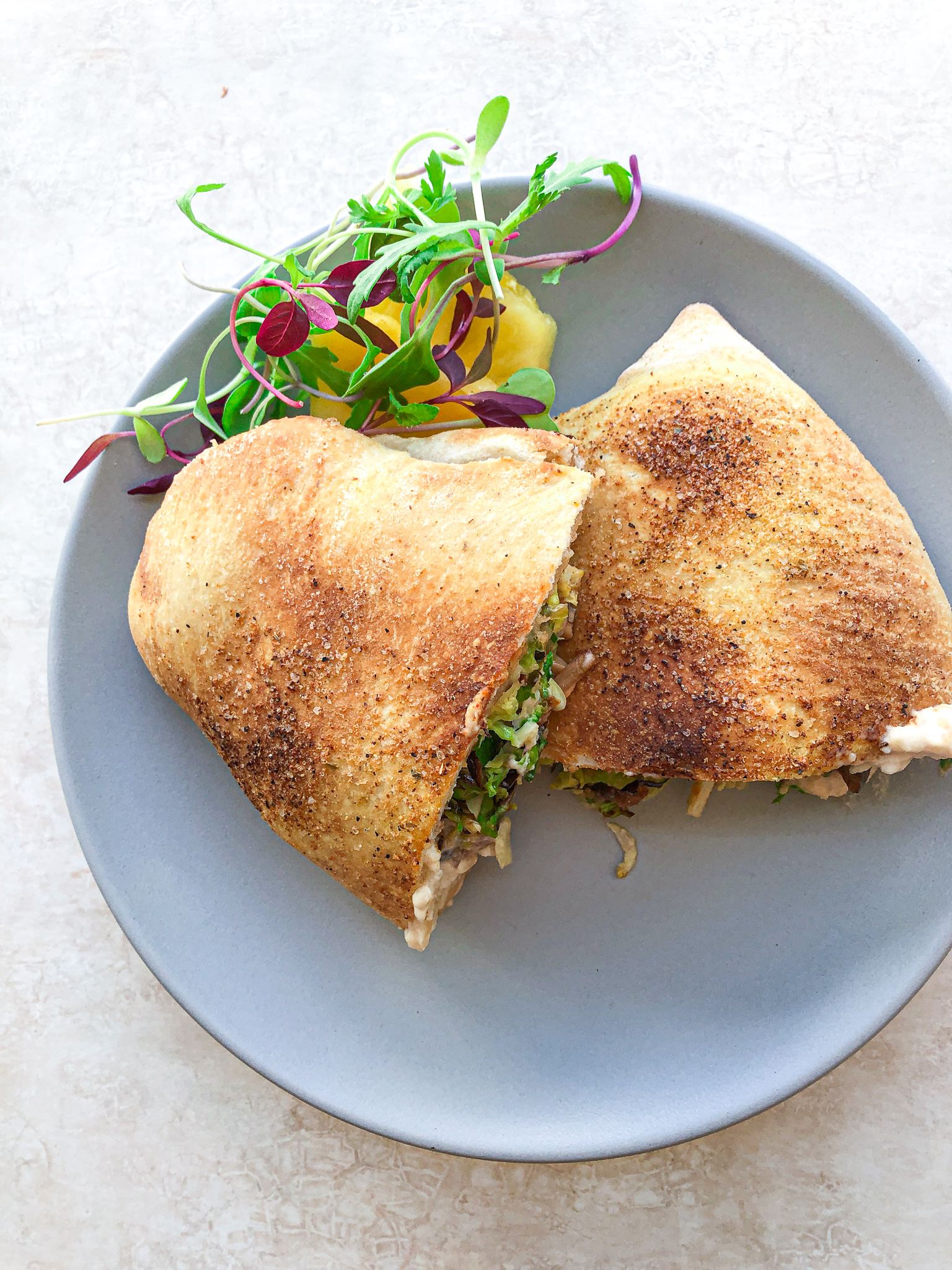 Fine, we'll stay at Alii Drive for this one. Certified by the Blue Zones Project, Journey to Good Health Cafe uses vibrant organic produce from Big Island farms for their artisan handcrafted 100% plant based cuisine and elixirs. Do not miss their soon-to-be famous sourdough pockets which are made with wild caught sourdough starter cultures. You know when you're in Europe and eat lots of bread and don't get bloated? Those sourdough bacteria cultures – when legit – are the reason why certain breads are so much more easily digestible, and actually good for you.
The founders of Journey believe that food can heal not only our bodies but also our land and our communities. That's pretty much our vision at Around The World In 80 Flavors which is why we love Journey Cafe and what they are trying to do. Save space for their vegan gelato for dessert, and be sure to ask for whipped cream topping (yep, it's vegan too!).
2. Musubi at HiCO Hawaiian Coffee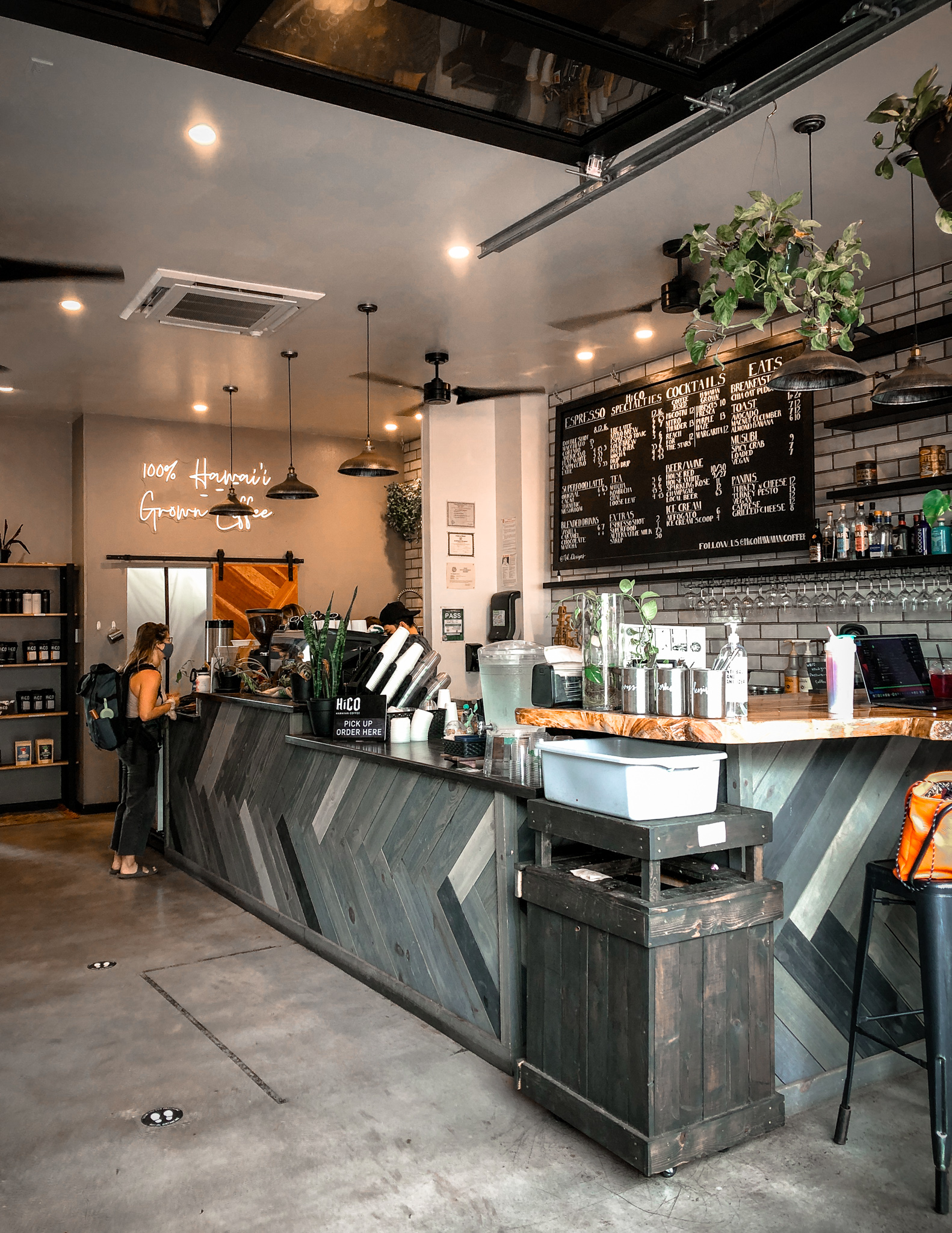 Arguably one of the most iconic Hawaiian foods, musubi can be really hard to find in a spam-less edition, let alone vegan. Enter HiCo Hawaiian Coffee and their vegan musubi loaded with tofu, pickled carrots, sprouts and topped with sesame seeds. Admittedly, at $9 it's quite likely the most expensive musubi in all of Hawaii. To sweeten the deal, keep in mind that they support the Ocean Clean Up non profit and are committed to keeping the oceans plastic-free by contributing to cleanup efforts, holding events, donating, fundraising and spreading awareness. Knowing this we were surprised to receive our drink-in coffees in single use plastic cups on more than one occasion.
That said, their 100% Hawaii grown coffee is some of the best in town (and that's saying a lot in Kona – the US coffee capital) and the vibe is irresistible. Good place to get some work done, though sometimes the wifi can be flaky. Try their Ube or Mushroom Latte too. They also have a liquor licence and though we didn't try it we can only imagine the espresso martini ("HiCOtini") is up there with the best. Other vegan food options include cucumber macadamia nut toast and vegan mac nut cheese panini.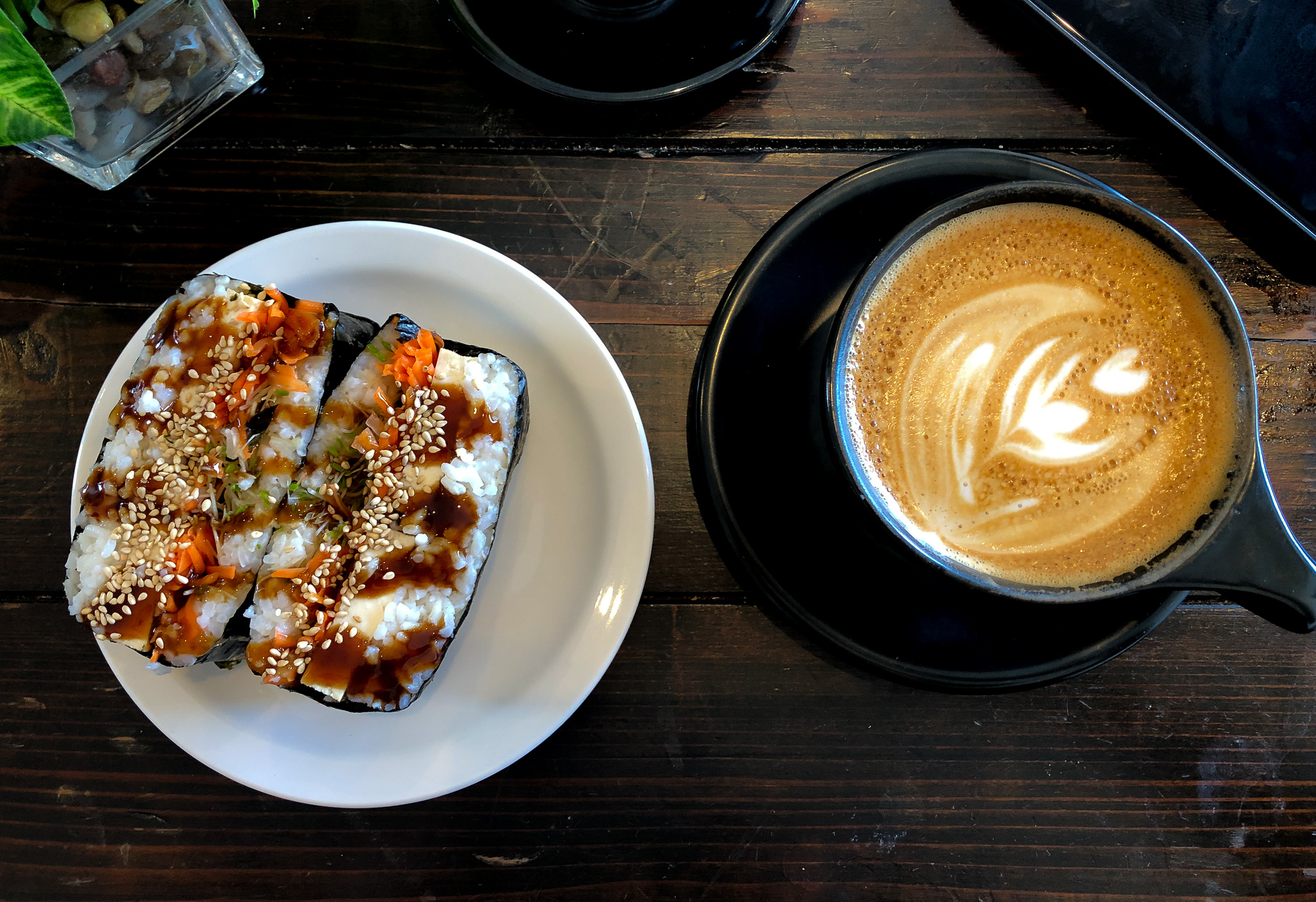 3. Veggie Bowls at Laulima Food Patch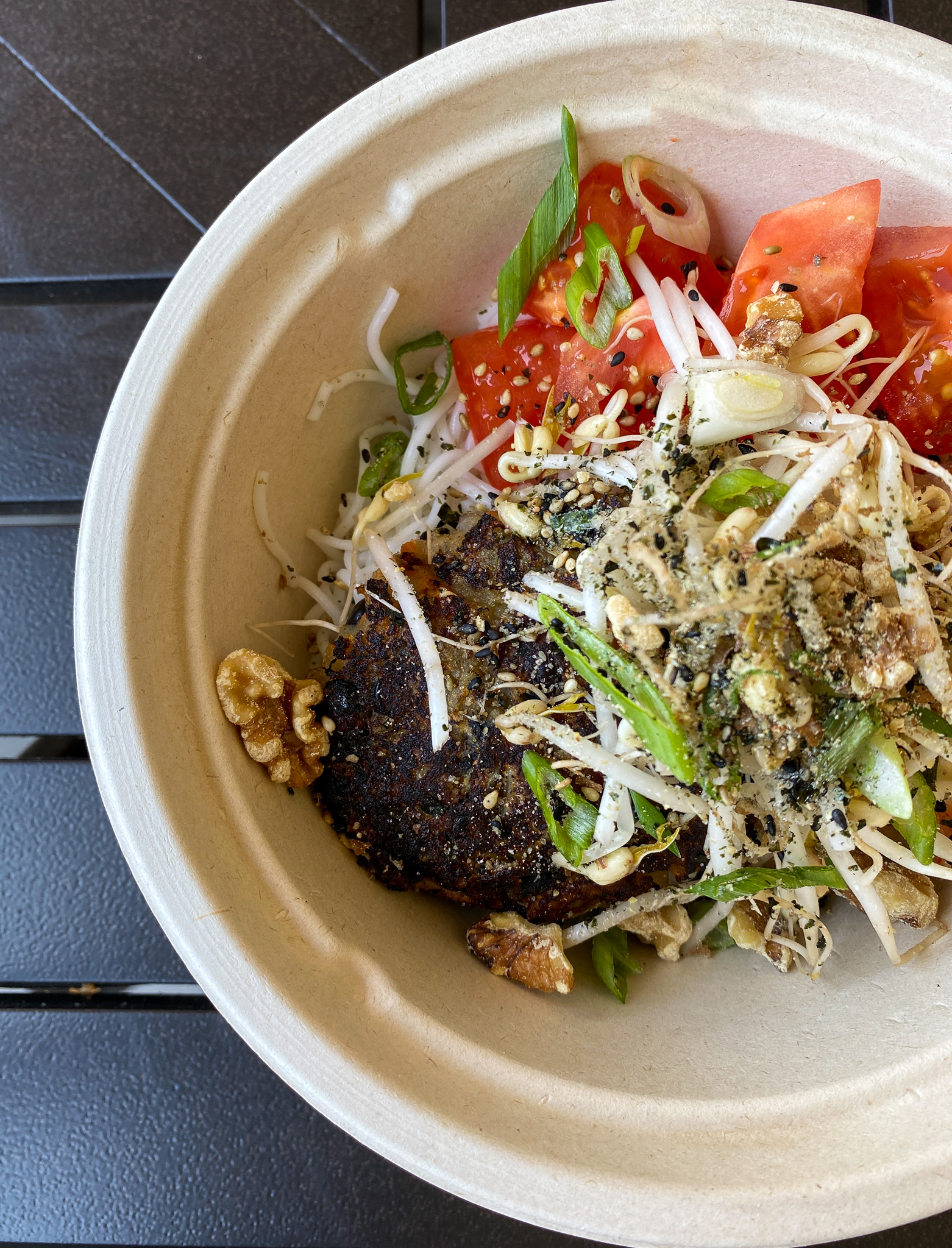 Tucked away in a tiny strip mall you find Laulima Food Patch. The food is simple, organic and fresh. From bowls and salads, to wraps, sandwiches and juices, there is something for everyone looking for a quick nutritious bite. We don't usually encourage to opt for the instagram era sensation that bowls have become, not while traveling anyways. It's the kind of food one can prepare easily at home and it rarely represents traditional local cuisine. But Laulima truly is an example of a group of people doing something good for their community by making it easier for the people to have a wholesome breakfast or lunch on the go.
They also support the fragile Big Island agriculture in the process. Build-your-own bowl is the way to go but be sure to order a side of their house made tsukemono and/or cucumber namasu. 4 out of the 5 dressings on offer are vegan so there's plenty of choice but trust us you don't want to miss the Lilikoi BBQ! Top tip: they are all made in house and sold to go – stock up on souvenirs for your foodie friends back home.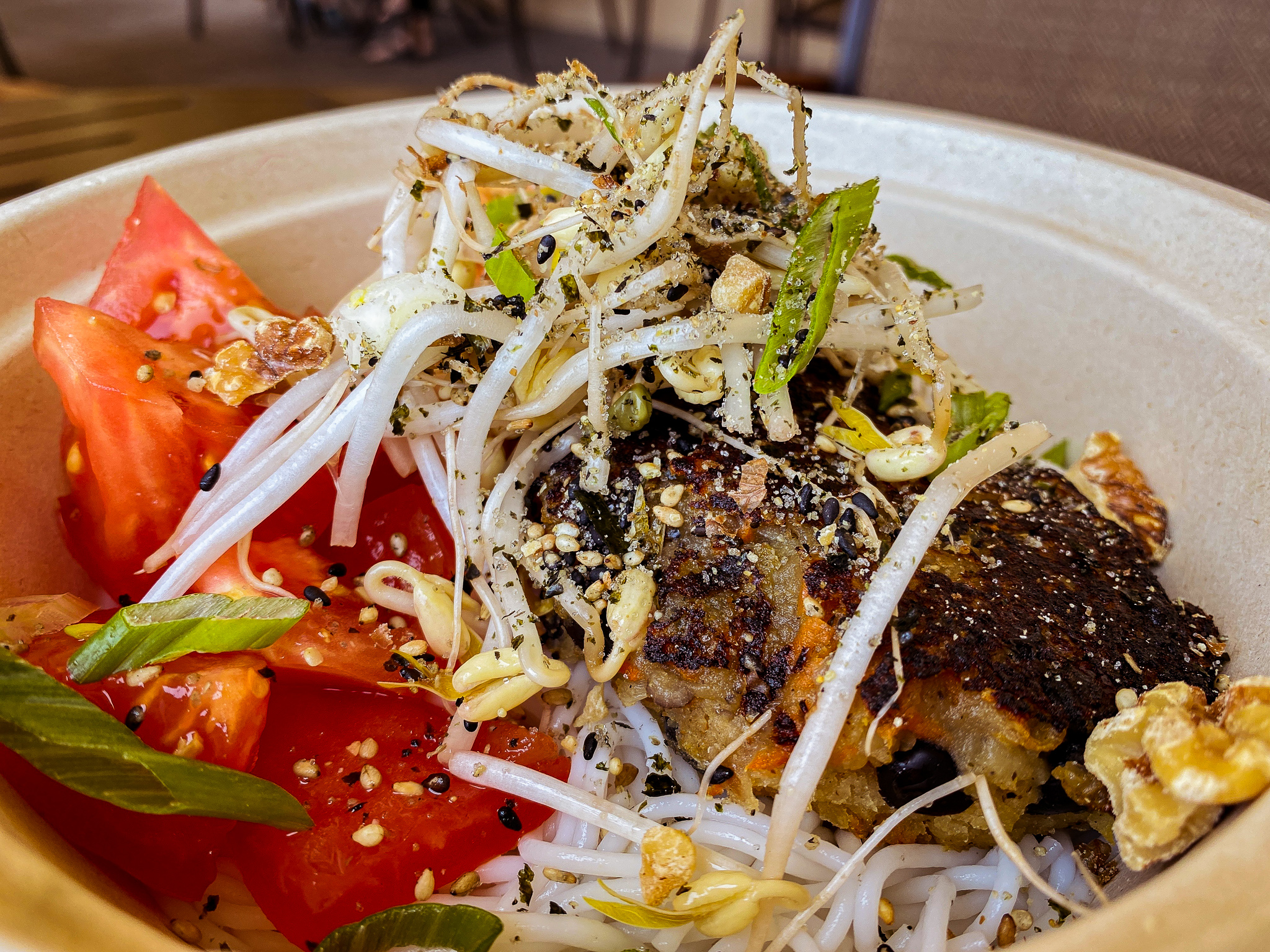 Also see: BEST VEGAN FOOD IN HILO, HAWAII: 25 PLACES YOU SHOULD TRY!
4. Macadamia Nut Crusted Tofu at TK Noodle House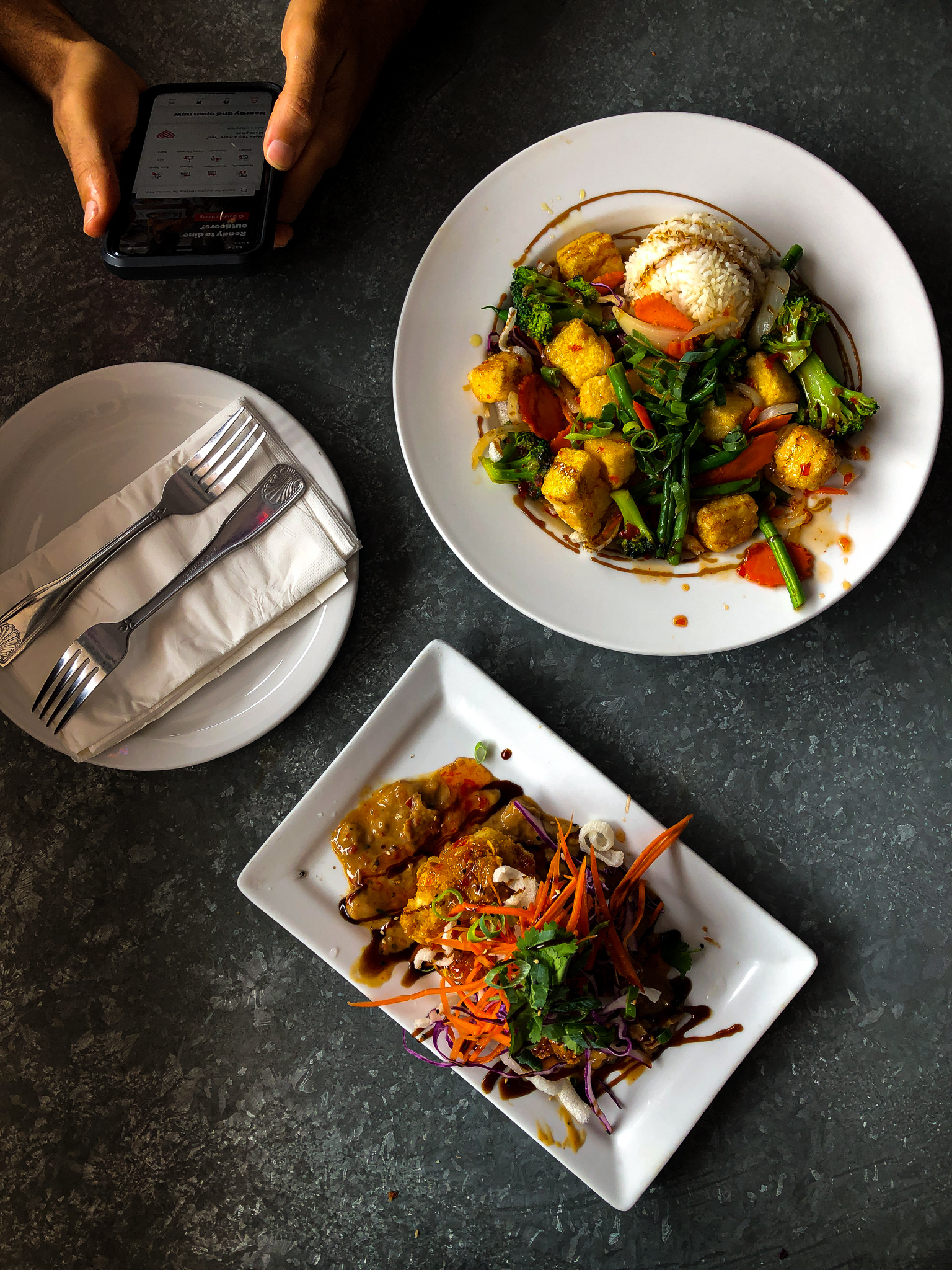 This strip mall Thai venue is not a vegan restaurant but as is the case with most Thai eateries there are plenty of vegan friendly options on the menu. Chef TK (Thepthikone Teosavang) was formerly Chef de Cuisine at the Fairmont Orchid in addition to gaining experience at multiple Las Vegas venues. He calls the cuisine at his dozen or so restaurants across the Big Island Asian-inspired and promises to use organic local ingredients as much as possible.
Even though as the name suggests fresh noodles are a star at TK Noodle House, our favorite thing on the menu is this indulgent mouth watering appetizer of macadamia nut crusted tofu served with sesame peanut dipping sauce – to die for! What a great tribute to the Big Island to incorporate mac nuts into this classic recipe. On that note, why not follow up with lilikoi tofu for your entree? Also keep an eye out for tempura green beans and excellent summer rolls.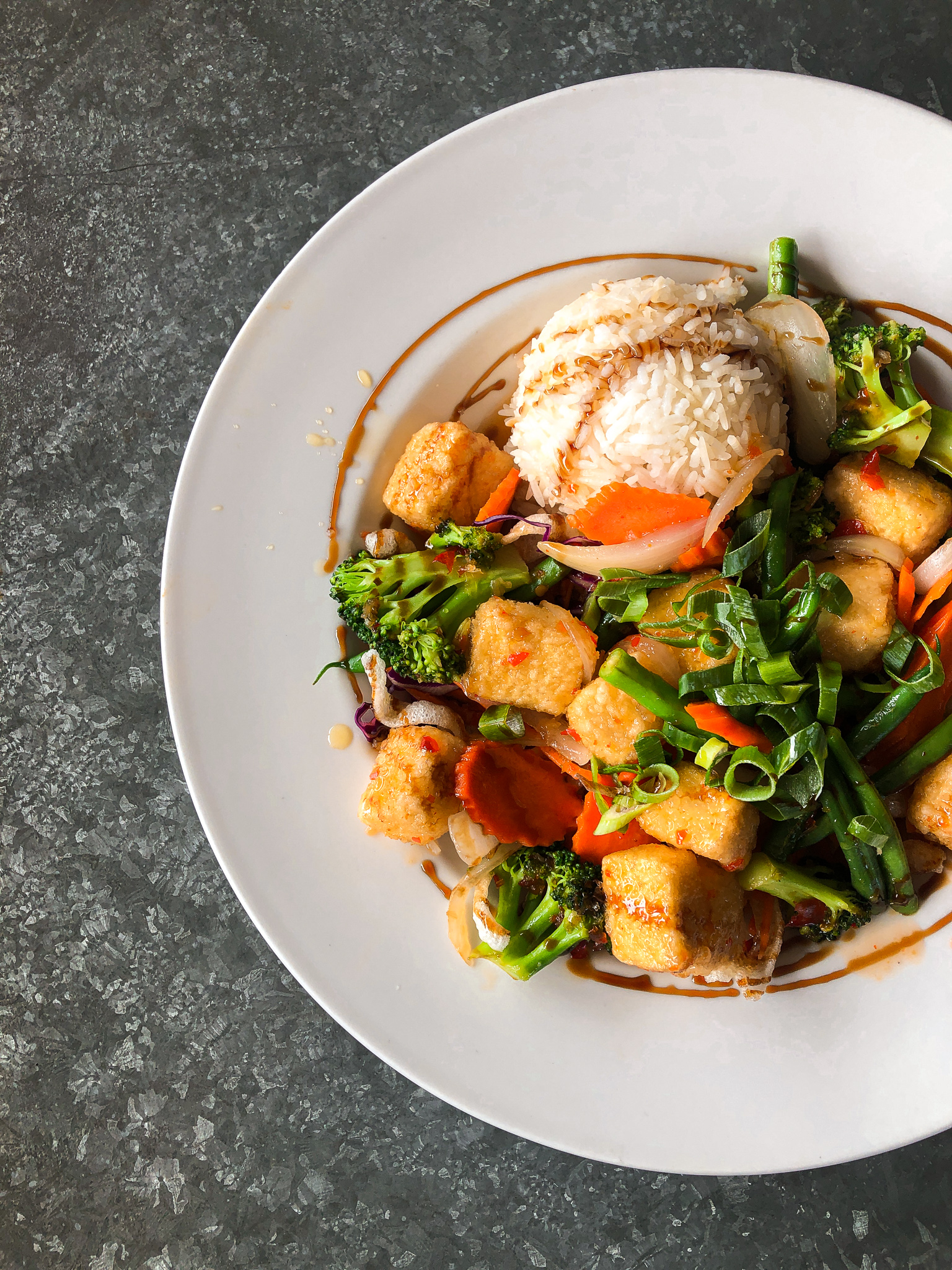 5. Veggie Sushi Set at Izakaya Shiono
HiCO's next door neighbor Izakaya Shiono specializes in ramen, sushi and kushikatsu, and while admittedly their focus is fresh fish, the vegetable sushi set is one of the most delicious vegan-friendly meals on the island. The exact flavors might change depending on seasonal availability but think tasty nigiri morsels featuring shitake and eringi mushrooms, grilled zucchini, daikon with shiso, asparagus, eggplant, tempura onion etc. The generous veggie roll is packed with local greens grown in nearby Waimea.
Treat yourself to a selection of plant based izakaya style appetizers such as taberu rayu (chilli oil) tofu, mozuku seaweed in black vinegar, spicy garlic edamame, kimchi or other pickled veggies. And don't forget the veggie tempura, or ask the Chef to prepare a special veg-only kushikatsu set! For sake lovers there is a fantastic selection of both sake and sho chu so you won't be thirsty either. With a location in Ginza, Japan, and a website in both English and Japanese, we came to Shiono expecting quality and authentic Japanese hospitality and we were not disappointed.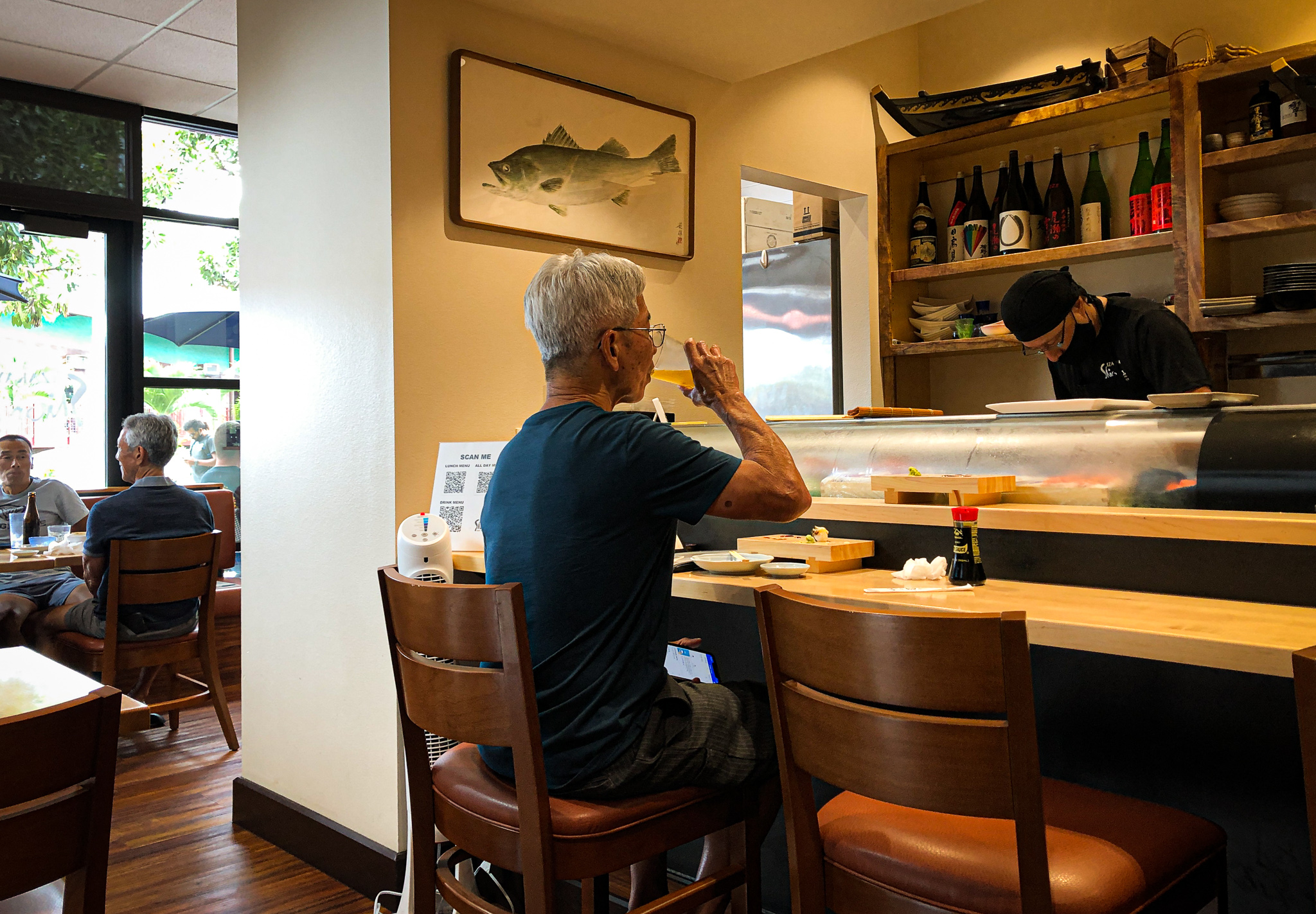 6. Tofu Sandwich at Ola Brew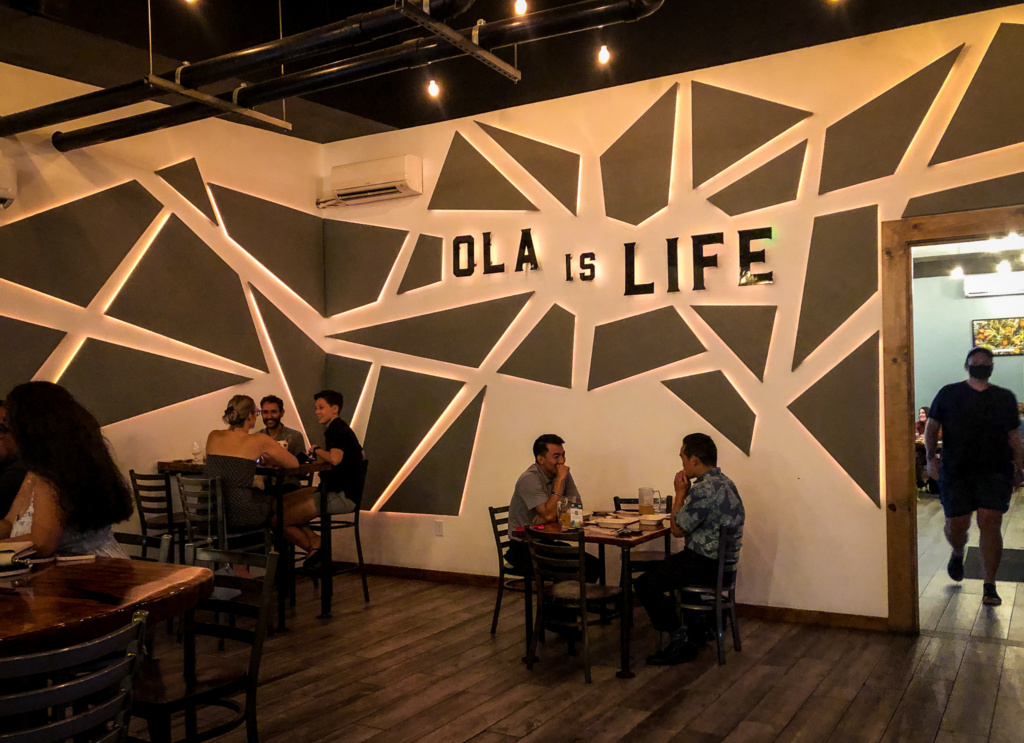 Like we said in our Hilo post, Ola Brew is a community and employee owned Big Island brand with a surprising selection of vegan food options and excellent brews to wash it down with. We loved their mouth watering tofu sandwich. Others rave about their Hamakua mushroom flatbread. While Lilikoi IPA is our favorite thing on tap, the seltzers in local flavors such as hibiscus and ginger come highly recommended too. So is the new seasonal edition jaboticaba (a type of Hawaiian berry) seltzer. All drinks are "Aina inspired and crafted with pride" so you can't really go wrong. Their mission is to encourage Hawaii's agriculture growth by purchasing and incorporating local ingredients into their beers and ciders. Extra points for the dog friendly patio!
7. Taro Burger at Herbivores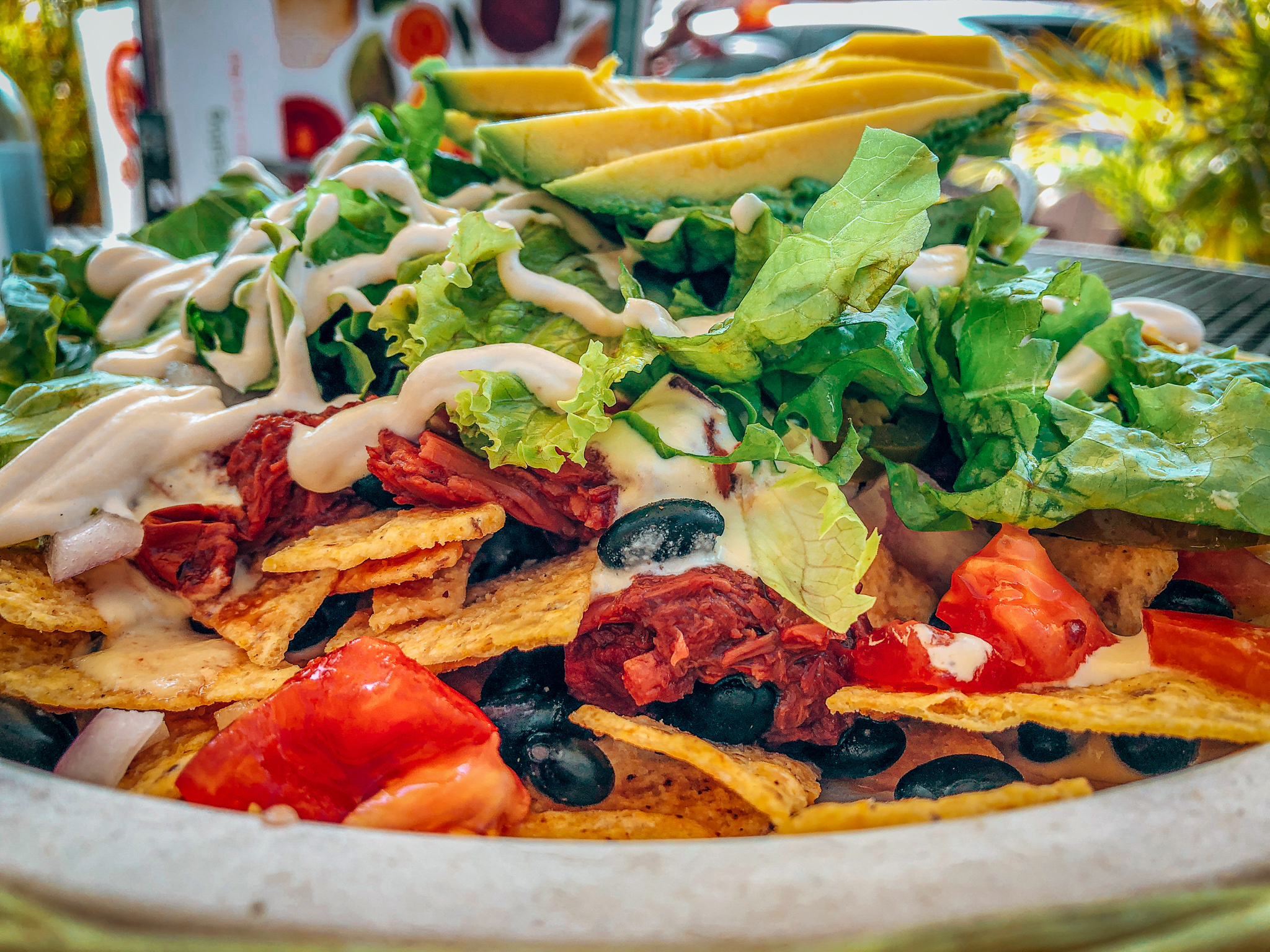 We're a bit conflicted about this one, but as a vegan in Kona you'll sooner or later end up at Herbivores Vegan Cafe so we may as well tell you about our experience. We love taro burgers and have tried most taro burgers across Hawaii. This one was OK but not our favorite. For starters it wasn't home made. Even the beef burger joint Ultimate Burger makes their vegan bean burger patty in house (see honorable mentions below). Plus, we didn't like that it was served with junky potato chips instead of at the very least decent french fries. We believe a plant as cherished and revered in Hawaii as kalo (taro) deserves way more love than that. The BBQ jackfruit nachos were heavy on the lettuce while the jackfruit was barely there. The plant based poke bowl saved the day.
On the plus side, we do like the fact that it's a mother and daughter run small local business. They also try to pay tribute to local dishes and ingredients where possible (tofu poke, purple sweet potatoes etc). It's just one of those massive crowd pleasing menus where you can find everything yet it's really hard to do anything really well. We hope the food quality improves. Top tip: there is sometimes live music Fridays and Saturdays from 6pm. Check their Instagram for updates.
8. Shave Ice at One Aloha Shave Ice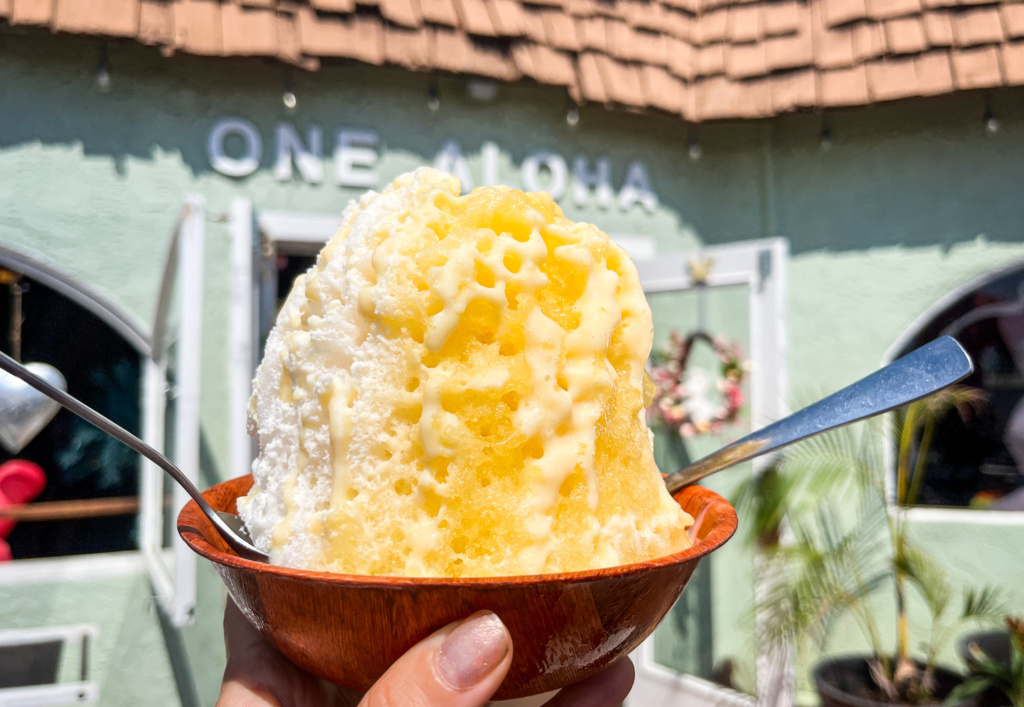 Shave ice at One Aloha Shave Ice is honestly some of the best in the state. In our humble opinion their only worthy contestant is Jojo's on Kauai and Kula over in Hilo. But One Aloha has something special going for them. It's pretty much summed up in their motto "Serving Aloha, one shave ice at a time". Also, it's one of the very few shave ice shops which offers dine-in as opposed to take out only. Not only does it result in a whole different vibe of the place – it's essentially a gathering space for the Kona community, but also offers them a chance to be a near zero waste establishment!
Indeed, the desserts are served in reusable bowls with proper silverware instead of plastic spoons. Shave ice is by definition vegan and their syrups are made using organic cane sugar which makes it vegan friendly. The condensed milk is coconut milk. Just be sure to avoid their ice cream which is dairy based. Don't panic, they do offer a few exciting sorbets such as ube or lilikoi.
9. BBQ Jackfruit Wrap at Loko Wraps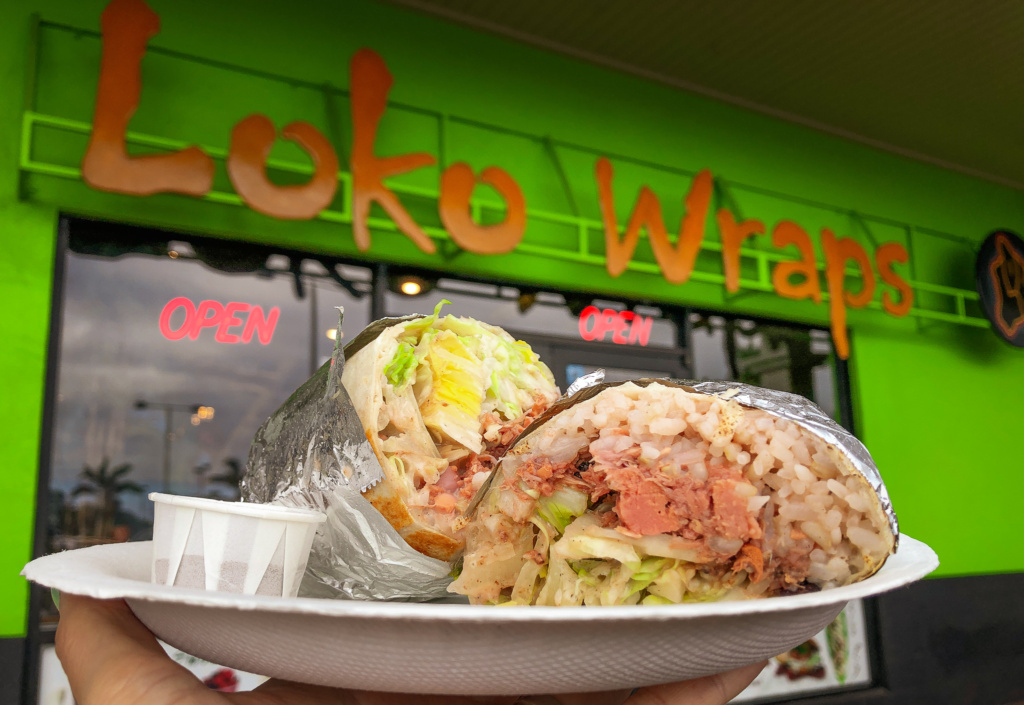 Located in a nondescript Kona strip mall, Loko Wraps is known for island fusion foods based on familiar favorites. Think local versions of Hawaiian and Mexican faire that is sure to please the senses. Expect the usual Mexican suspects like tacos, quesadillas and nachos, but with Hawaiian ingredients such as meaty BBQ jackfruit. As they themselves describe their cuisine: It's like a Piñata with a Luau inside – Mexican on the outside, but Island on the inside. We swear by the grilled jackfruit wrap which comes with coconut rice and pineapple slaw inside. And let's not forget the house made sauces, all of which are dairy free. Especially noteworthy is the tangy lilikoi lani dressing (who knew passionfruit and poppy seeds blend so well?!). Luckily it is also an ingredient of our favorite wrap.

Loko Wraps embrace the Hawaiian concept of responsibility (kuleana) to practice a sustainable life and business. They proudly use compostable utensil, plates, and cups. Much of their seasonal organic produce is purchased from local farmers, and many of their vendors and partners are small local businesses and family own operations. Aside from Mexican-Hawaiian fusion dishes, make Loko Wraps your go to place for smoothies and interesting vegan bowls such as Kahuna Bowl with Kona coffee beans.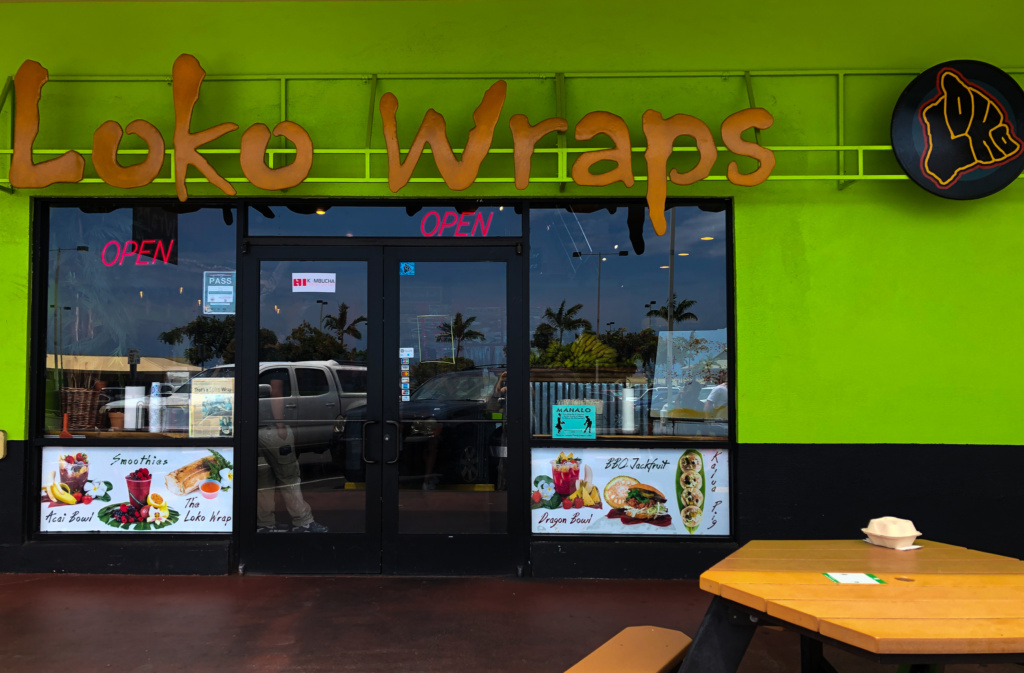 10. Mango Pizza at Kai Eats and Drinks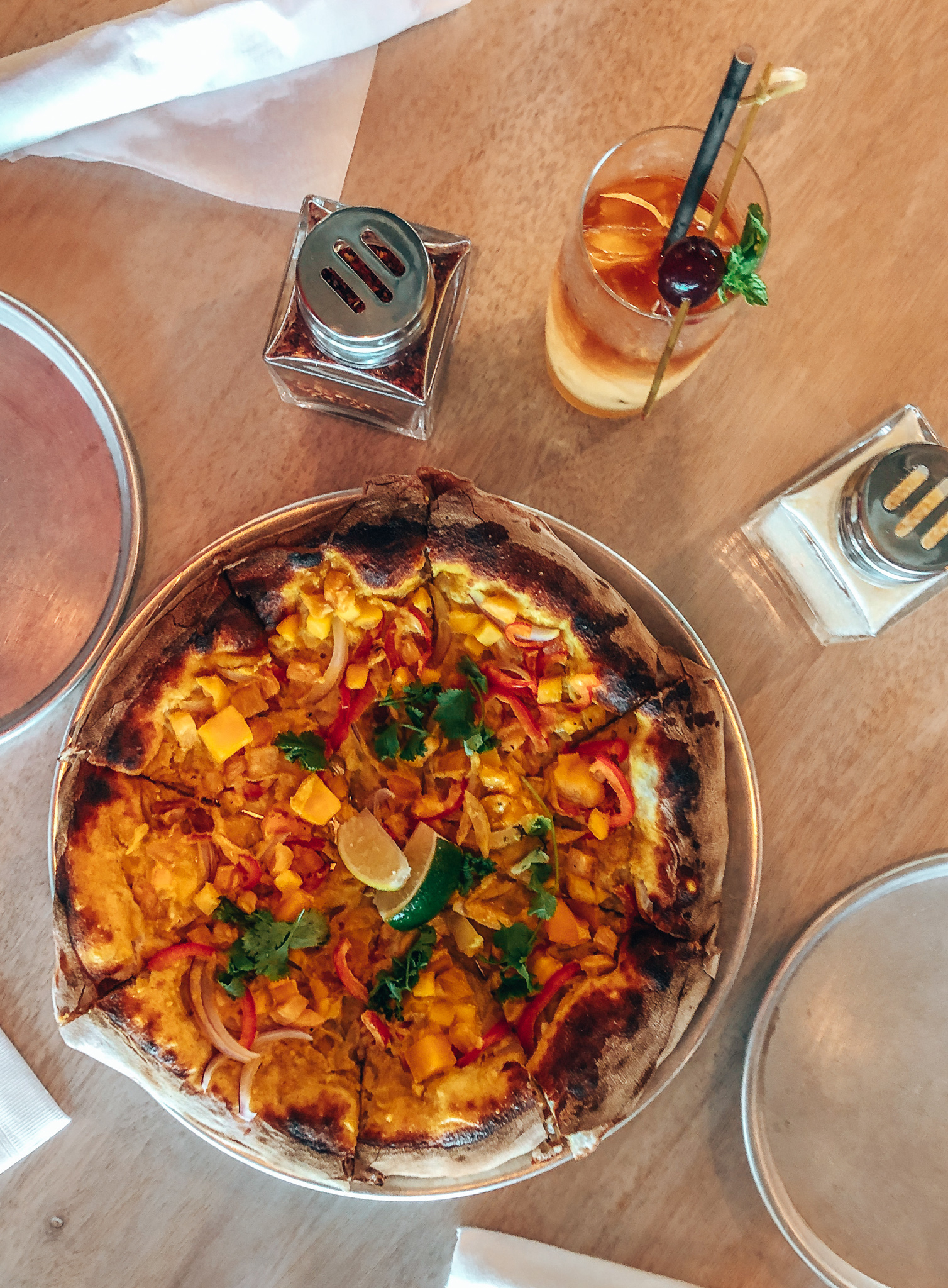 We end the list with a sunset dinner back at Alii Drive. The latest addition to the local restaurant family which includes Lava Lava Beach Club and Huggo's, Kai Eats + Drinks is slowly but steady garnering the reputation of the most accommodating of vegan needs. We appreciate that vegan options are clearly marked on the menu and wish more venues made the effort to do that. Yes, Kai is touristy as one would expect of the main drag oceanfront location in Kona. But it's also vibey and dog friendly and the ocean views are hard to beat. And the food? Well, they believe in – and serve – "5 major food groups: tacos, burgers, pizza, beer and mai tais." Hard to argue with this one, especially when you're on vacation.
It won't be a health food dinner, so you may as well indulge in their brick oven mango curry pizza (it's vegan unless you add mozzarella). The burgers have tempting local ingredients such as alii mushrooms and grilled pineapple. We've been told all of them can be made with a Beyond patty. Wash it down with a coconut mai tai or one of the 48 beers on tap from the Keg Room. If it's Tuesday, go for 100% plant based avocado tacos. As they say at Kai, every day is Aloha Friday unless it's Taco Tuesday…
---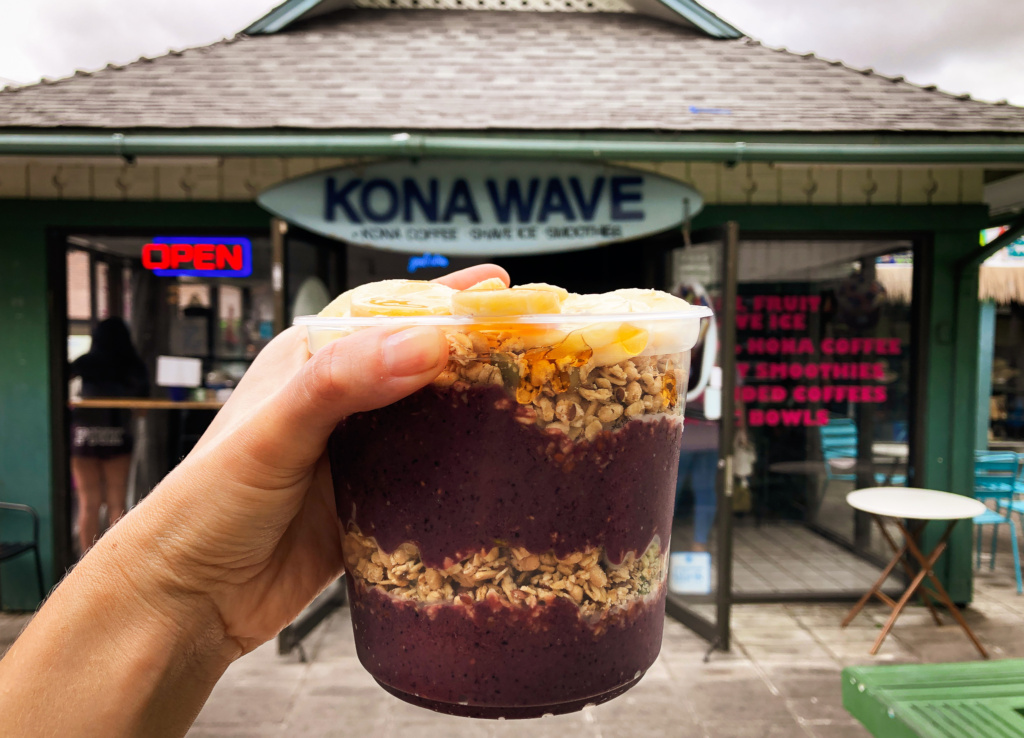 Honorable mentions:
You Make The Roll – hidden away build-your-own sushi roll spot with plenty of veggie ingredients to choose from
Cultivate Good Food for coconut BLT wraps & lilikoi lemonade
Orchid Thai – classic Thai joint with numerous vegan options such as mango curry
Ultimate Burger for house made black bean burger or local ali'i mushroom sandwich
Gypsea Gelato, some vegan options but beware – we were served a stale waffle cone – a big no no
Ume paste, daikon and other veggie rolls at Kyotoya Sushi Shop
The Feeding Leaf Kitchen & Okazuya – mix and match okazyua style cafe with several vegan friendly options
Kaya's Kawanui Inc – light vegan breakfast or lunch near Captain Cook, try the cardamom mocha!
Tofu banh mi at Ba-le Kona
Kenichi for grilled vegetable roll and natto (fermented soy beans) roll, great Happy Hour!
Fumi's Kitchen for vegetable tempura and excellent house made tsukemono
Basik or Kona Wave Cafe for açaí bowls
Ginger hummus at Kona Brewing
Both Swami's Dosa and Kamana Kitchen have vegan Indian options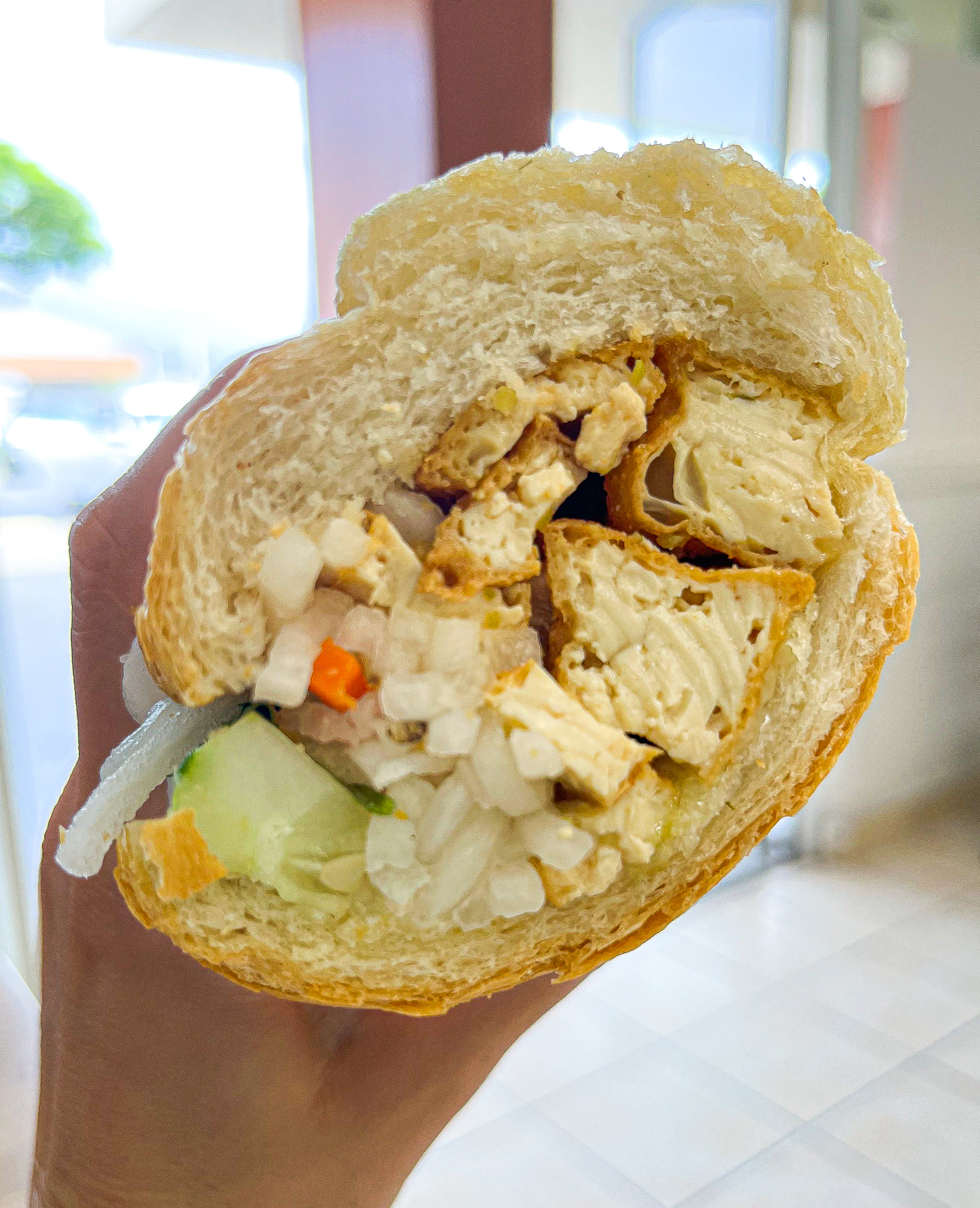 ---
The above are mostly small locally owned businesses. Show them some love when visiting Kona and don't forget to leave a review on your favorite review platform.
---
Have you tried any of the above? Did we miss anyone? COMMENT BELOW and share the love so others can try it too!
See also: WHAT IS POKE AND WHY YOU WON'T FIND POKE BOWLS IN HAWAII , HAWAIIAN FOOD: 6 BEST PLACES TO EAT LIKE A LOCAL IN KAUAI, BEST GARLIC SHRIMP IN HAWAII: TOP 5 SHRIMP SHACKS YOU SHOULD TRY , WHERE TO EAT MALASADAS IN HAWAII – OUR 5 FAVORITES , DINNER AT TIFFANY'S: BEST FOOD IN MAUI YOU NEVER HEARD OF