We Ate All The Vegan Currywurst In Berlin So You Don't Have To
Welcome to our top 5 places for best vegan currywurst in Berlin! You can't visit the German capital and not try the iconic currywurst, but what if you're a vegan?
You probably don't immediately think of Germany as a vegan friendly destination. But in the country with an estimated 1,500 varieties of sausage, Berlin is a true veggie oasis. There are over 500 vegan and vegetarian food spots in the city, and yes, the classic meaty Berlin street snack – currywurst – can also be enjoyed as a plant based version.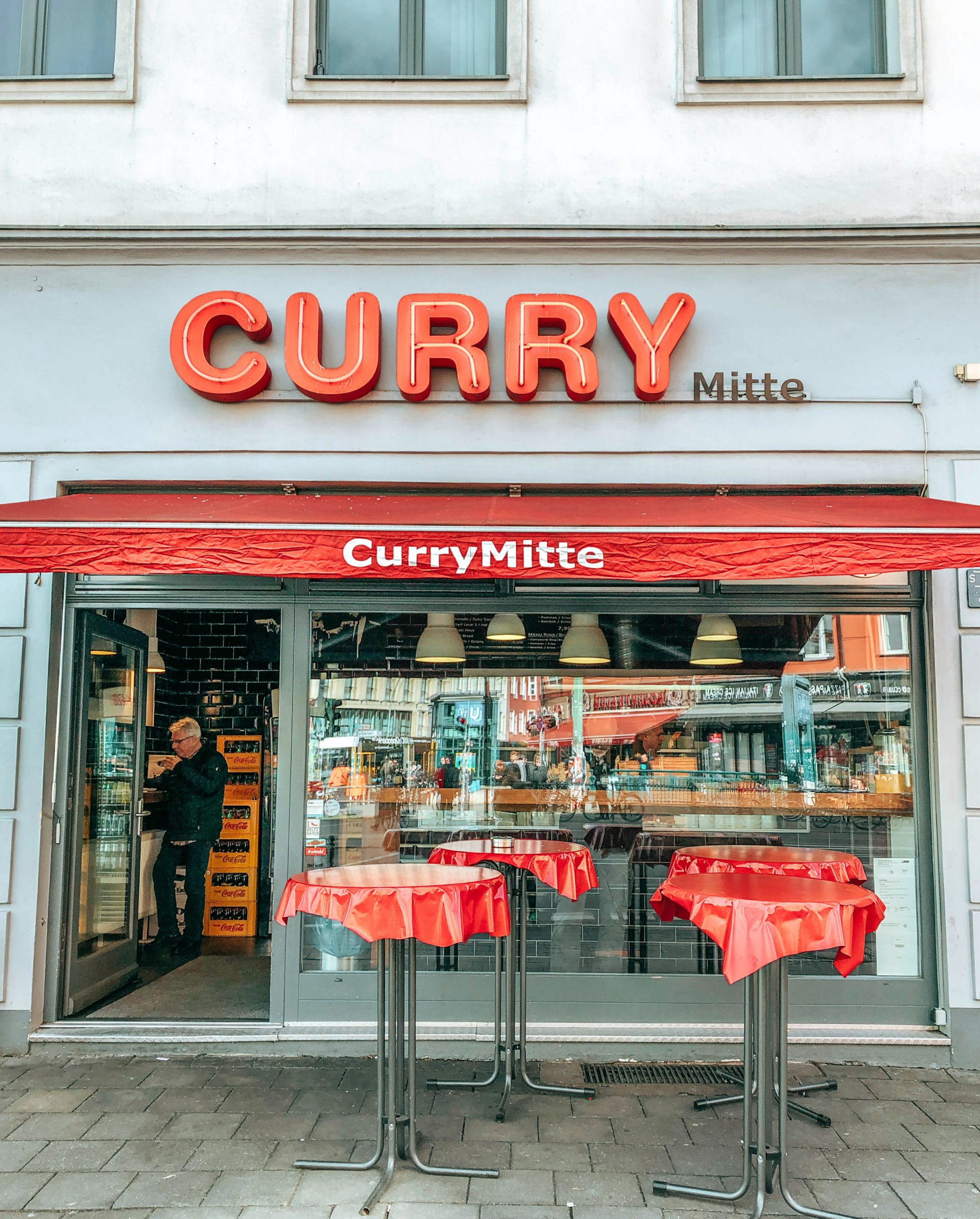 The invention of currywurst is attributed to Herta Heuwer in Berlin in 1949, after she obtained ketchup (or possibly Worcestershire sauce) and curry powder from British soldiers stationed in Germany post-war. She mixed these ingredients with other spices and poured it over a pork sausage. Or rather what was believed to be pork sausage – in the aftermath of WWII pork was hard to come by and was too often replaced by…other things. Which is why a strong flavored thick curry ketchup was welcome with much enthusiasm.
A plaque sits today where her imbiss (fast food kiosk) once stood in Charlottenburg (on the corner of Kant Strasse and Kaiser-Friedrich Strasse), in what was then West Berlin. One thing is certain – currywurst became a symbol of Berlin's post-war resistance and, as is the case with many of the world's most iconic foods, served its part in helping raise the city's spirit.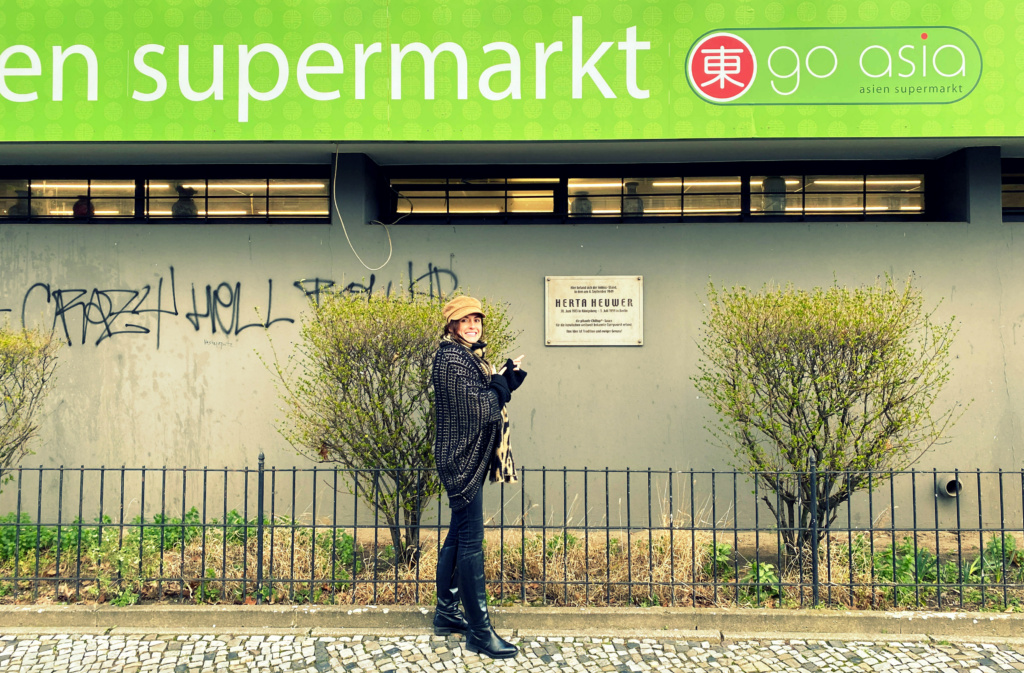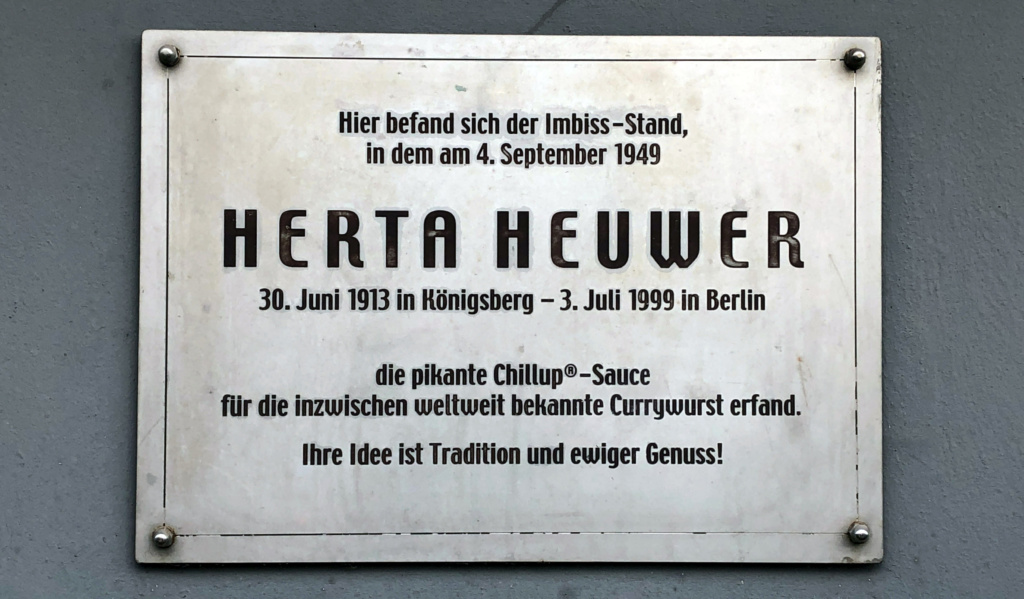 70 years later Herta's invention is still going strong and it seems that everyone in Berlin has their opinion on what makes the best currywurst. Just like in 1949, most agree that it's all about the sauce though – the sausage itself is of lesser importance. Which is good news for vegans but also for the planet: if it's all about the topping, why not give Beyond or seitan wurst a try every now and then, even if you're a meat eater?
We visited all of the most popular currywurst spots across Berlin to find the vegan ones worth writing home about. You're welcome 😉 In no particular order – here are our favorite finds:
1. Konnopke's Imbiss – Prenzlauer Berg
They claim to have been open since 1930 which goes against the story of currywurst's origin, unless of course they served plain wurst up until 1949. Nonetheless, this retro looking yellow metal booth under the iron arches of the train line is an institution in Berlin. The sausage was a little bit on the dry side but the curry ketchup was thick and lightly spicy and flavorful, the french fries very satisfying, and the ladies behind the counter just the right kind of grumpy to add to the experience. Good potato salad too!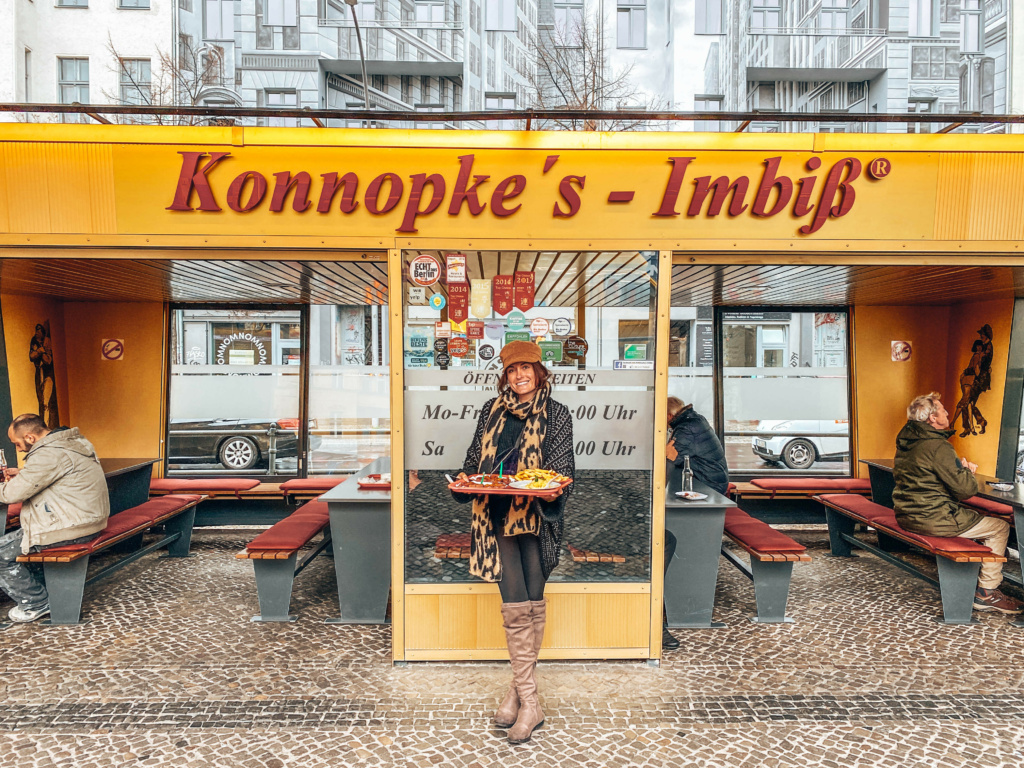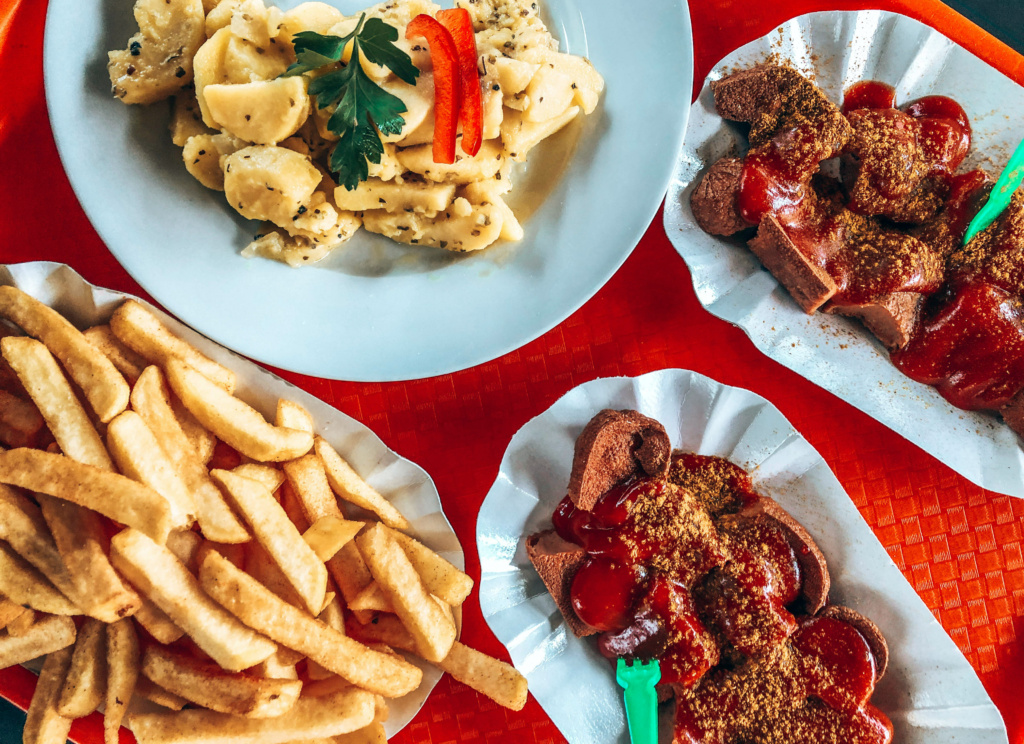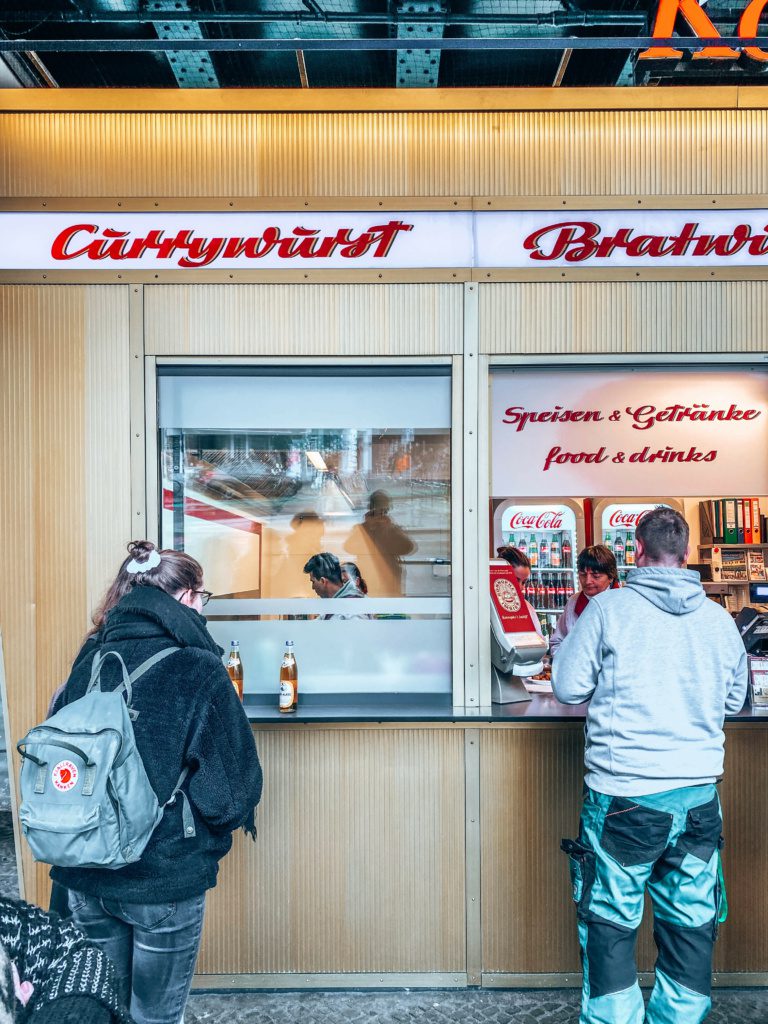 2. Curry 61 – Mitte
Our favorite of the five. The curry ketchup was perfect, sausage and french fries just right, and the vibe was great, largely thanks to their wall mural and a healthy mix of tourists and locals. Try the Kartoffelnsalat (potato salad) which can be veganised by opting for oil & vinegar instead of mayonnaise. They sell their curry ketchup to go which makes for a great souvenir. Why not recreate currywurst for your friends back home?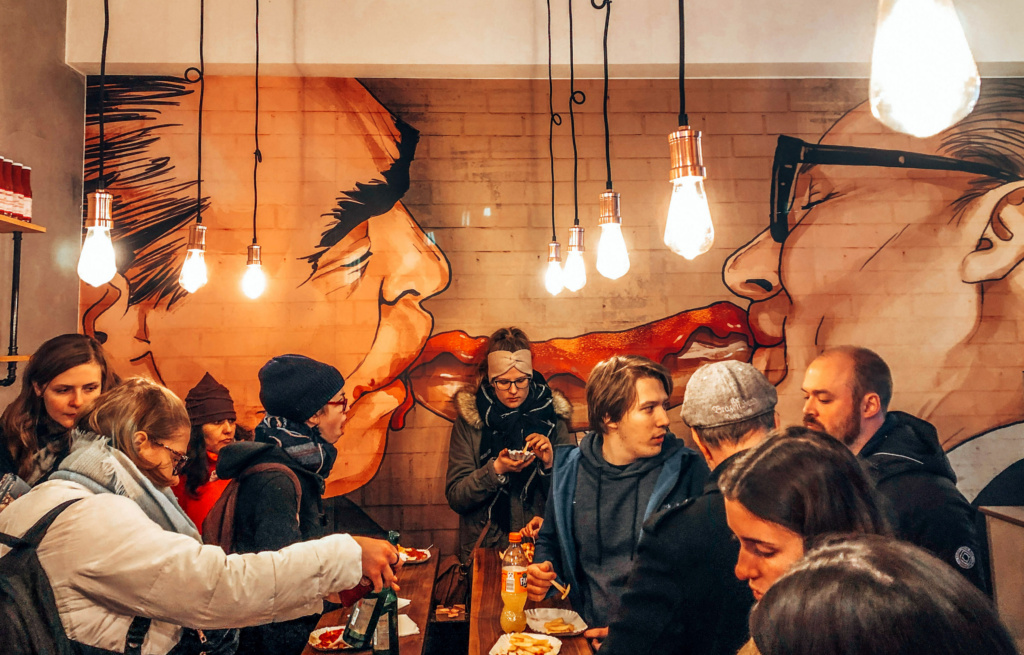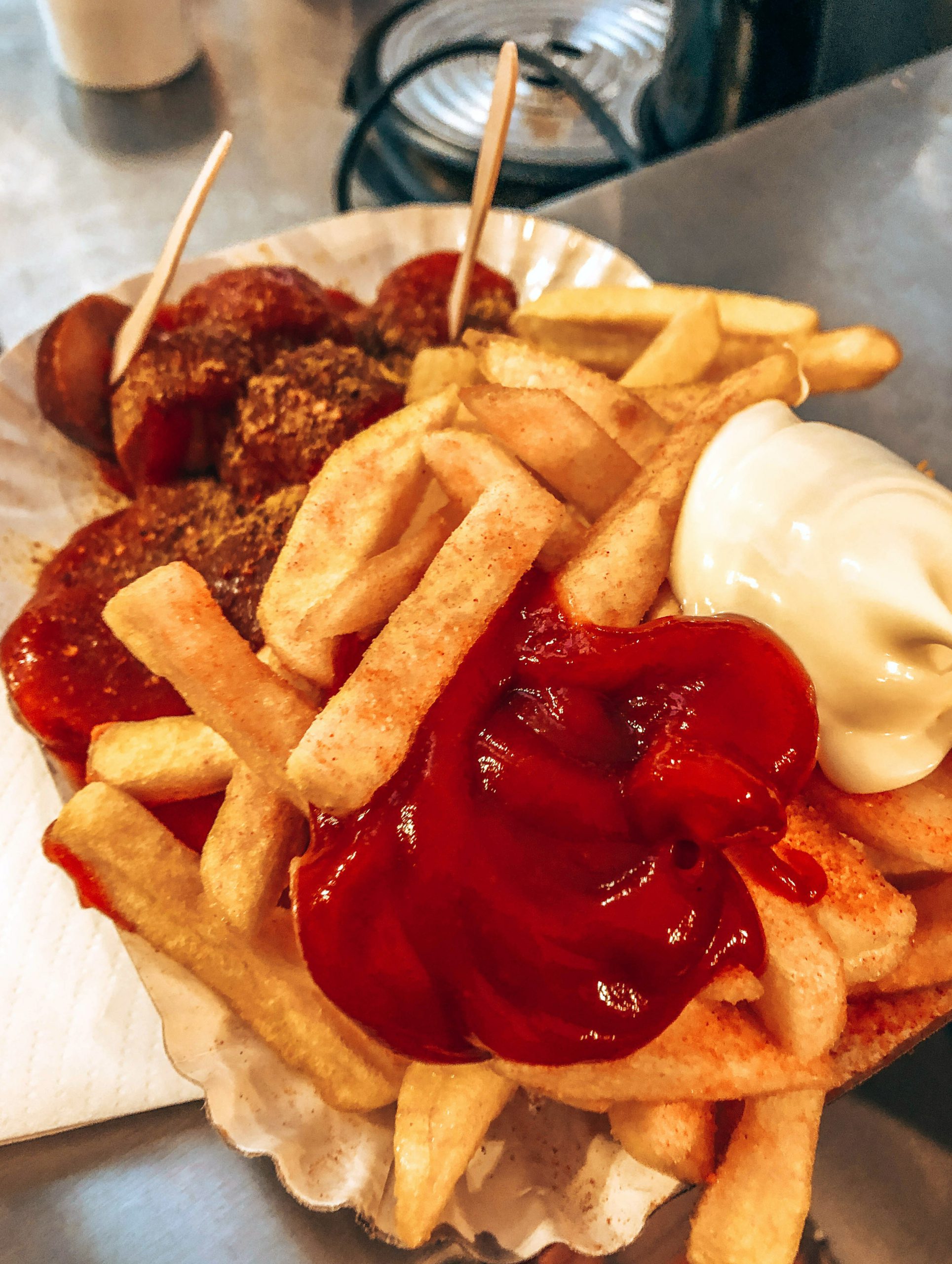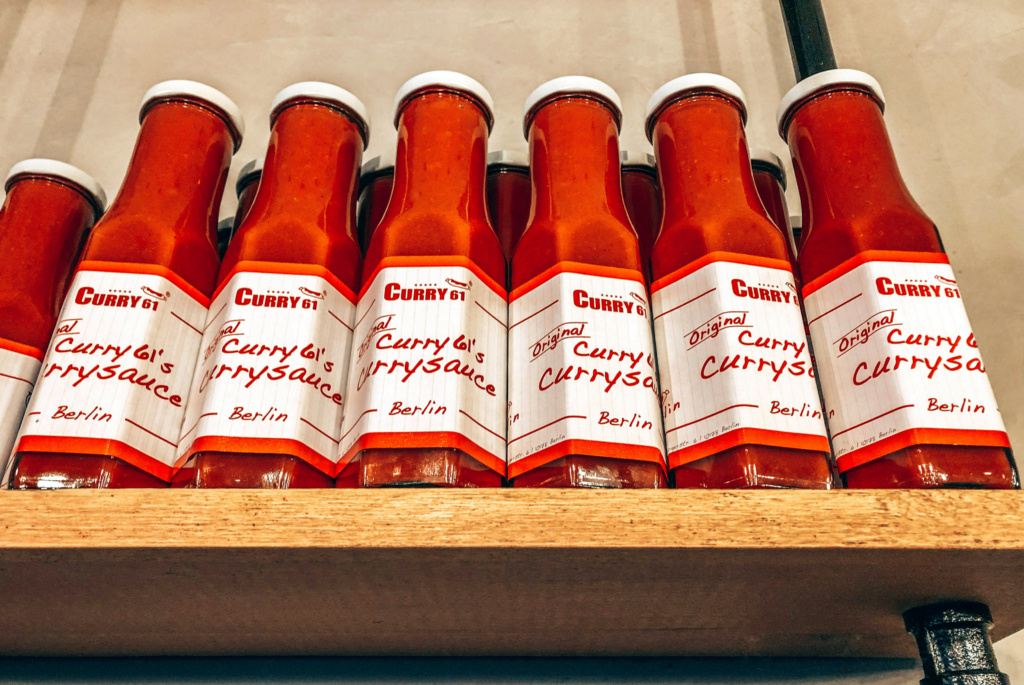 3. Yoyo Foodworld – Friedrichshain
Speaking of Beyond meat, Yoyo is the only place we came across in Berlin that serves Beyond currywurst. They also have awesome home made fries and a variety of home made vegan dips for your fries like curry mayo. I'd say this is not your typical Berlin currywurst experience though – this is a quintessential street food dish and must be eaten, well, on the streets. Paper plates, tiny flimsy forks, and eating outside in the cold are as much of a requirement as decent curry ketchup if you ask me.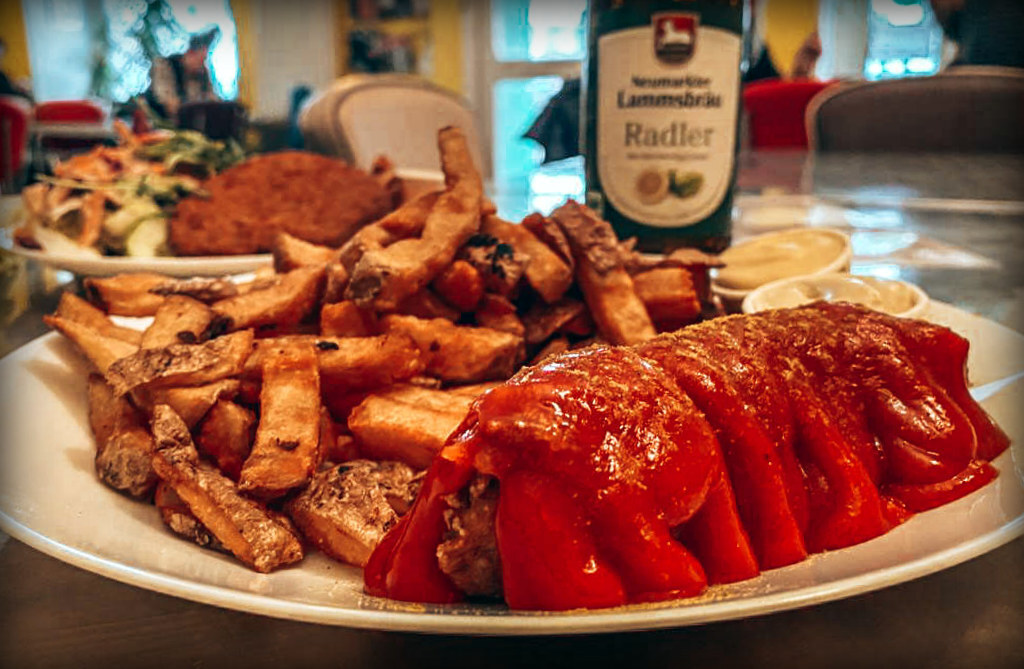 That said, Yoyo is a vegan icon, and serves up everything from a variety of burgers to seitan schitzels. Definitely pay them a visit, especially on a Sunday when the neighborhood flea market takes place on the nearby square.
4. Curry 36 – Mehringdamm and 3 other locations
To quote a random meat eater: "Their vegan currywurst was unexpectedly delicious." This is another Berlin tradition and if you go at a wrong time you'll spend a LOT of time waiting in line. But hey it's part of the experience. This place is open till 5am which tells you all you need to know. Like Curry 61, they also sell their famous curry ketchup bottled up to go. Try a side order of cabbage salad.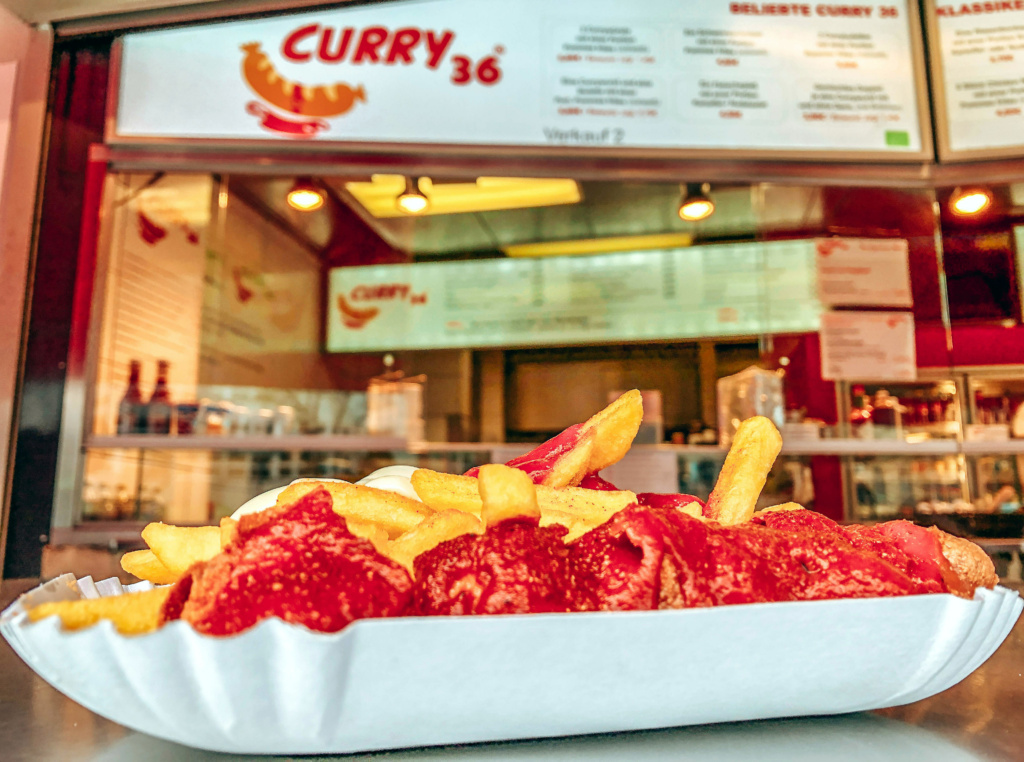 Oh and if the line really does get too long, check out Mustafa's Gemüse Kebap truck next door – their vegetable kebabs are somewhat of a legend.
5. Curry at the Wall – near Brandenburger Tor
The most touristy of the five but still enjoyable and with the most convenient location for most visitors, right next door to Checkpoint Charlie. Good quick bite in between visiting major attractions in the area. The sausage tastes sort of like tofurky and the ketchup is slightly on the spicy side. They also offer vegan bratwurst and their booth is a great photo-op.
Check out top 3 venues for an upscale vegan dinner in Berlin!
Honorable best vegan currywurst mention: Zur Bratpfanne & Curry Baude
Everyone raves about how good their currywurst is. Opened their doors in 1949 and 1989 respectively which means they were one of the currywurst trail blazers and have remained one of the most popular spots. BUT they don't offer plant based sausage options! Come on guys, jump on the veggie train! We'll be there as soon as you update your menus, bis bald!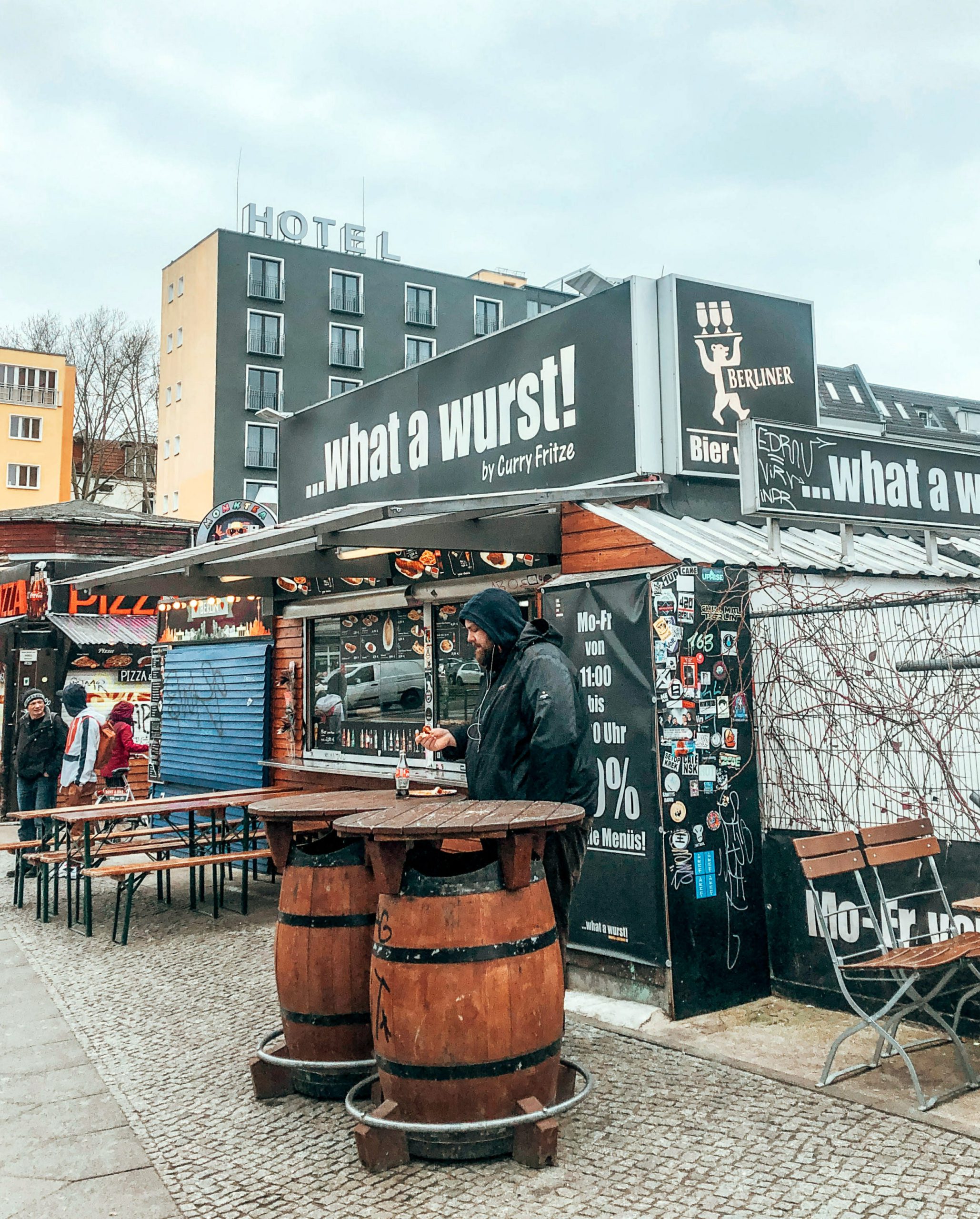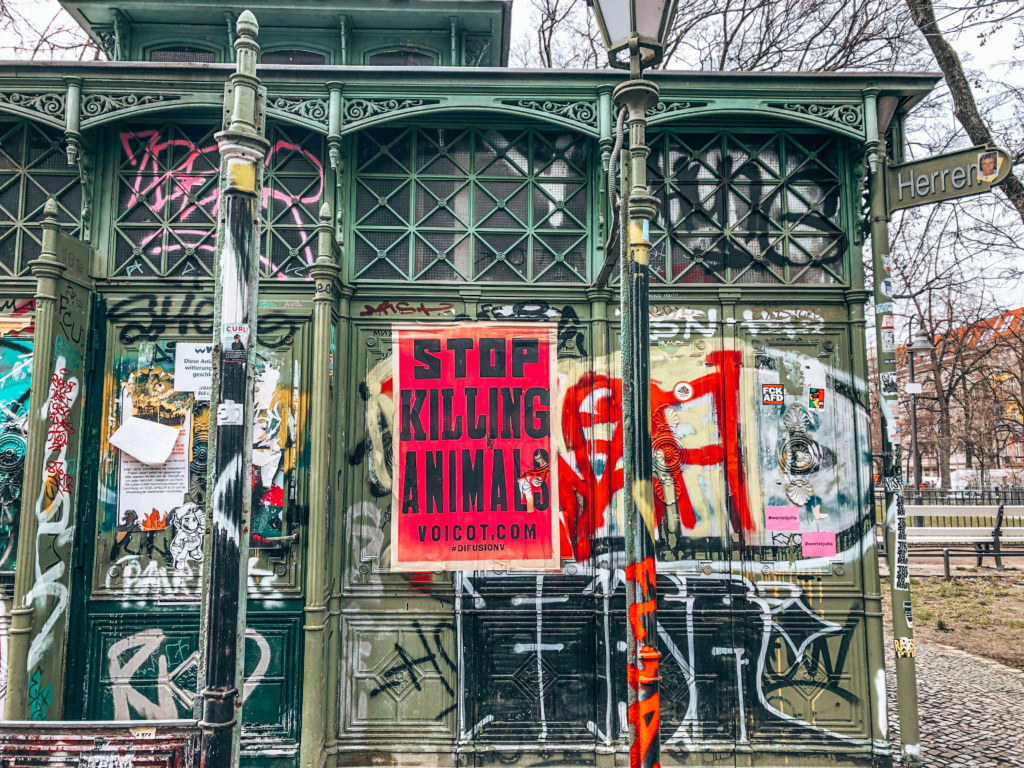 ---
Did we miss another amazing vegan currywurst in Berlin that you know about? Did you try any currywurst from the list? Let us know in the comments below or tag @eightyflavors on social!