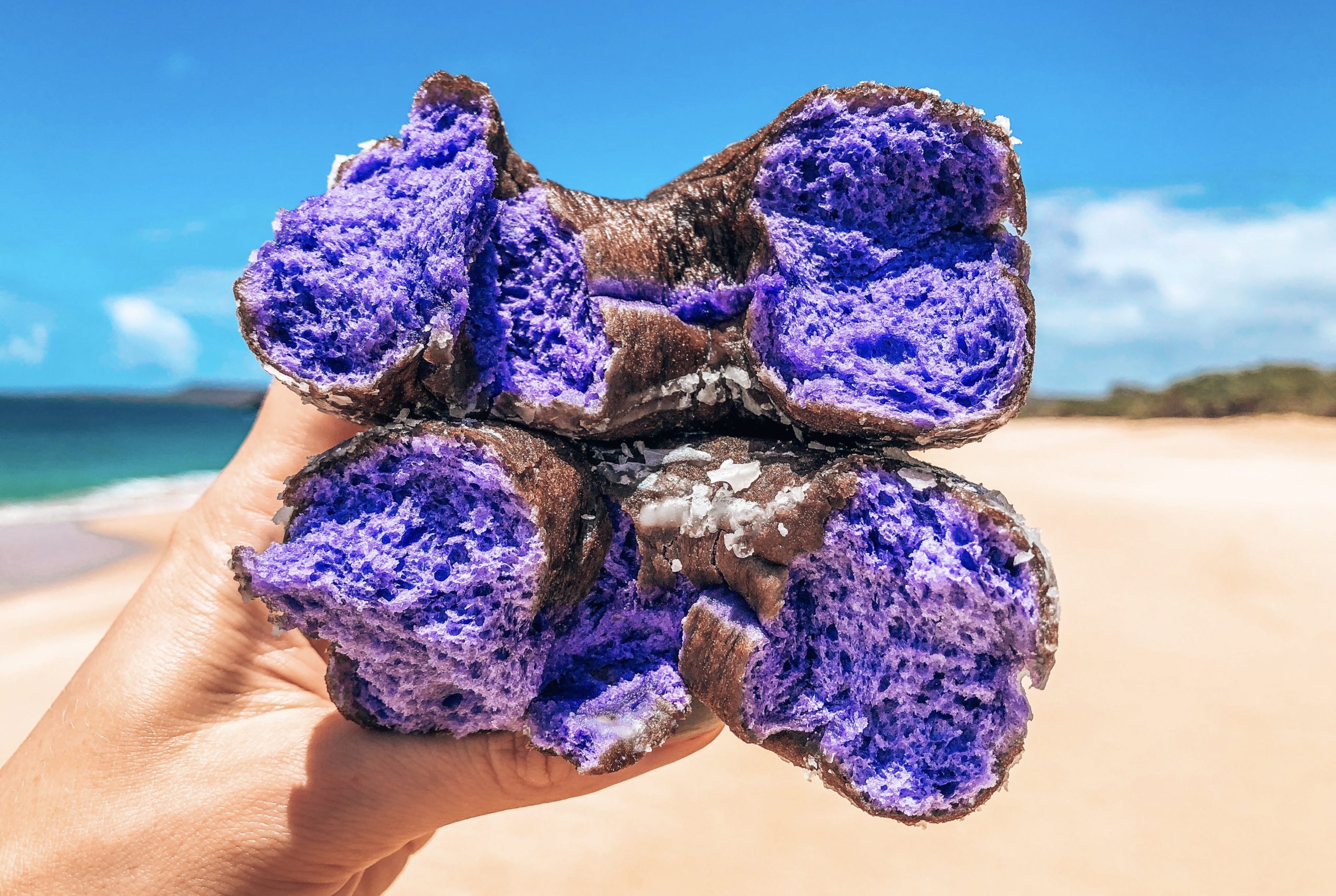 Meatless Hawaii: 6 Places To Find The Best Local Food On Molokai
Looking for tips on where to find delicious local Molokai food options? Read on.
Molokai is Hawaii's fifth largest and the least visited island. It's only 38 miles long and 10 miles across at its widest point and is home to the highest sea cliffs in the world and the longest continuous fringing reef.
Molokai remains true to its island roots, with a high percentage of its population being of Native Hawaiian ancestry. They continue to preserve their rural lifestyle thanks to their love of the aina – the land. It shows in the food. As much produce is home grown and most meals enjoyed at home, there isn't much of an eating out culture. Therefore, as a visitor, your dining options are very limited.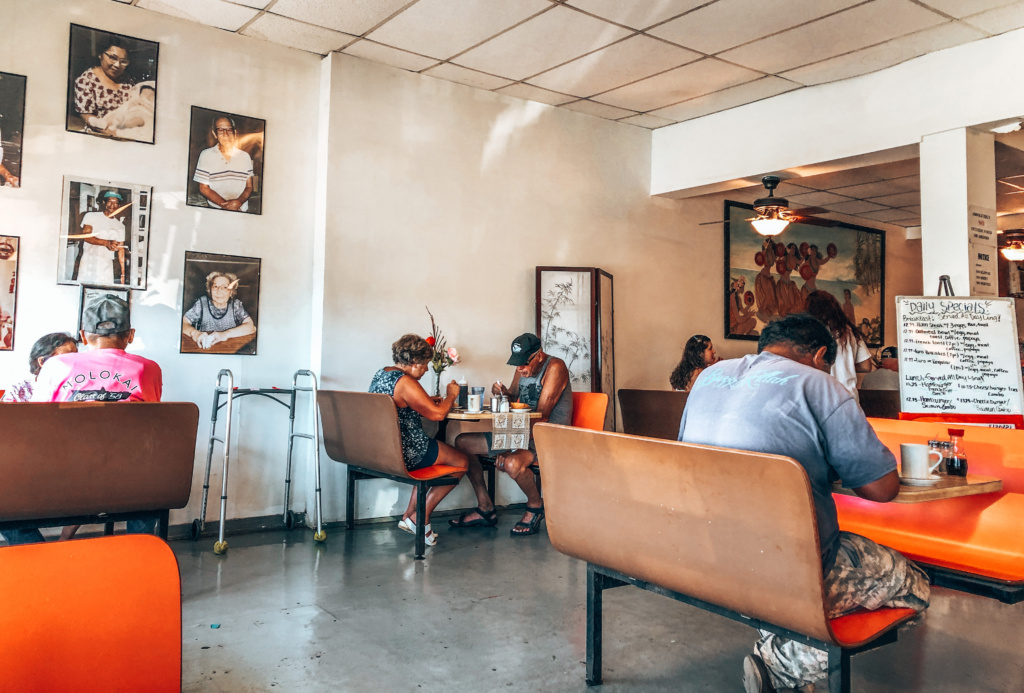 That said, you can still find meals and locally owned establishments that are much more worthwhile than others, both in terms of taste and ambience. Notice we stress locally owned as several popular restaurants on Molokai are owned by outside corporations. Supporting locally owned businesses matters anywhere but especially in a community as small and vulnerable as Molokai.
We have done some research and asked around and to the best of our knowledge the places we chose to patronize are all locally and often family owned. By dining there you will be directly supporting Molokai economy. Here are our top 6 recommendations:
1. Hot Bread Alley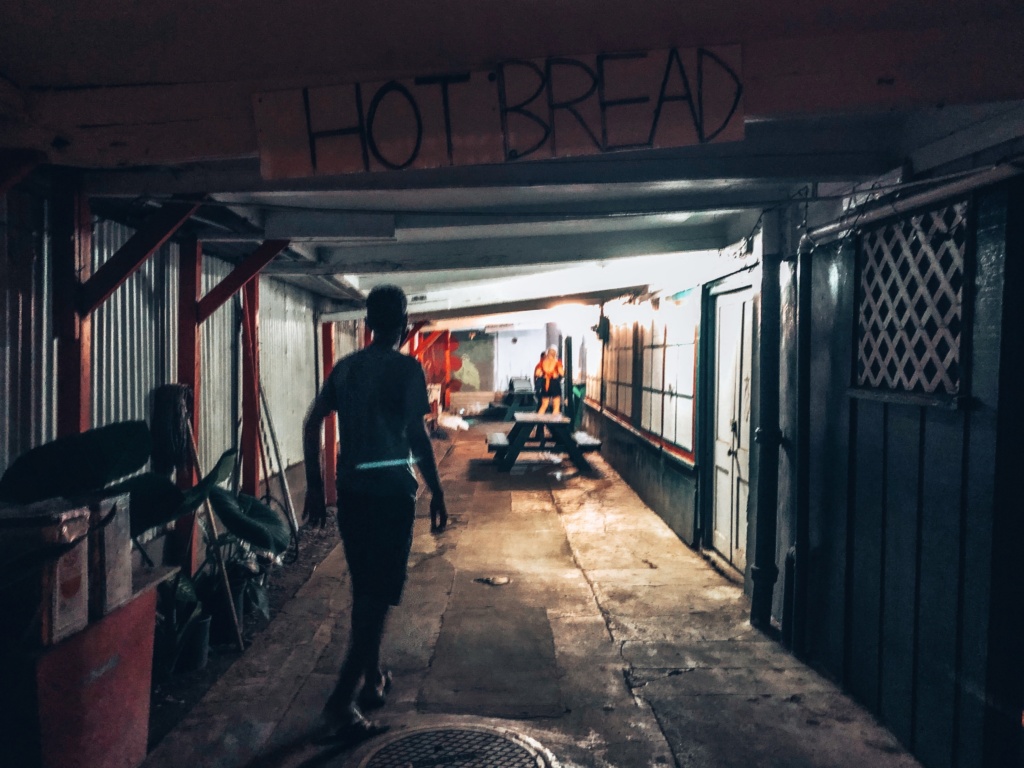 The culinary highlight of our trip. It's exactly what it sounds like: you follow a sketchy dark alley at the end of which you find a literal hole in the wall serving the most fragrant freshly baked loaves of bread. The choices are: a loaf of bread or a loaf of bread with things. "Things" include toppings such as butter, cinnamon, cream cheese or whatever is the special of the day. We got a yummy daily special of ube spread. The loaf is enough to share for 4 people, just a friendly warning. You'll find it easily by following the scent of freshly baked bread. Should your olfactory sense fail you it's right behind Kanemitsu Bakery. Curiously, the opening times are 7pm till 11pm.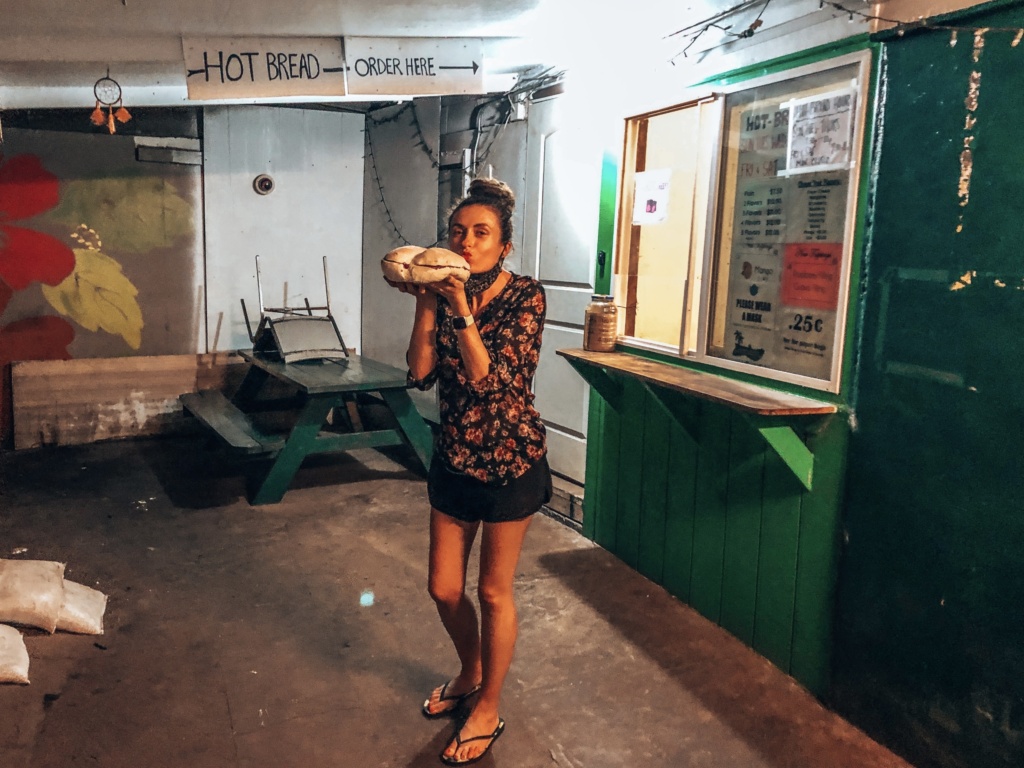 Molokai remains true to its island roots. They continue to preserve their rural lifestyle thanks to their love of the aina – the land. It shows in the food.
2. Kanemitsu Bakery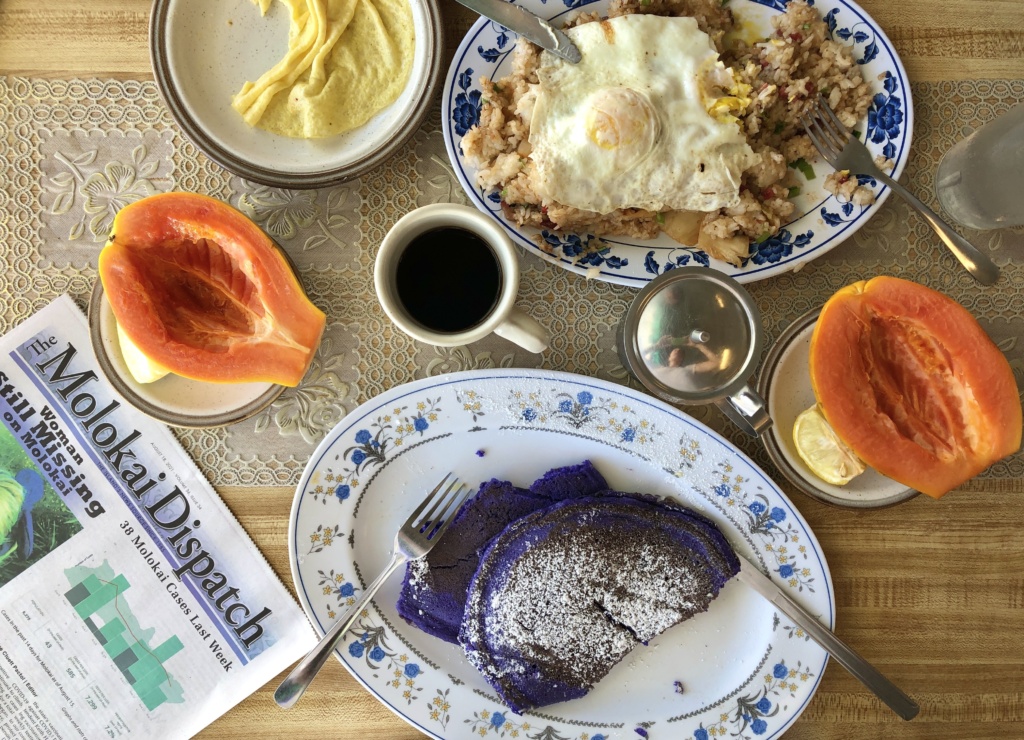 Delicious taro donuts (including mini donuts on a stick) and other baked goods to go. Also your best bet in town for breakfast. Afterall Kanemitsu was a James Beard Foundation 2018 semifinalist for both Restaurant Awards and Outstanding Baker! Arrive before 9am to secure a dine in table. The place was buzzing on a Tuesday morning! Taro pancakes with a side of papaya and kimchi fried rice hit the spot just right before a day of exploring. Be sure to ask for a side of papaya instead of the standard side of breakfast meat of your choice to make it veggie friendly.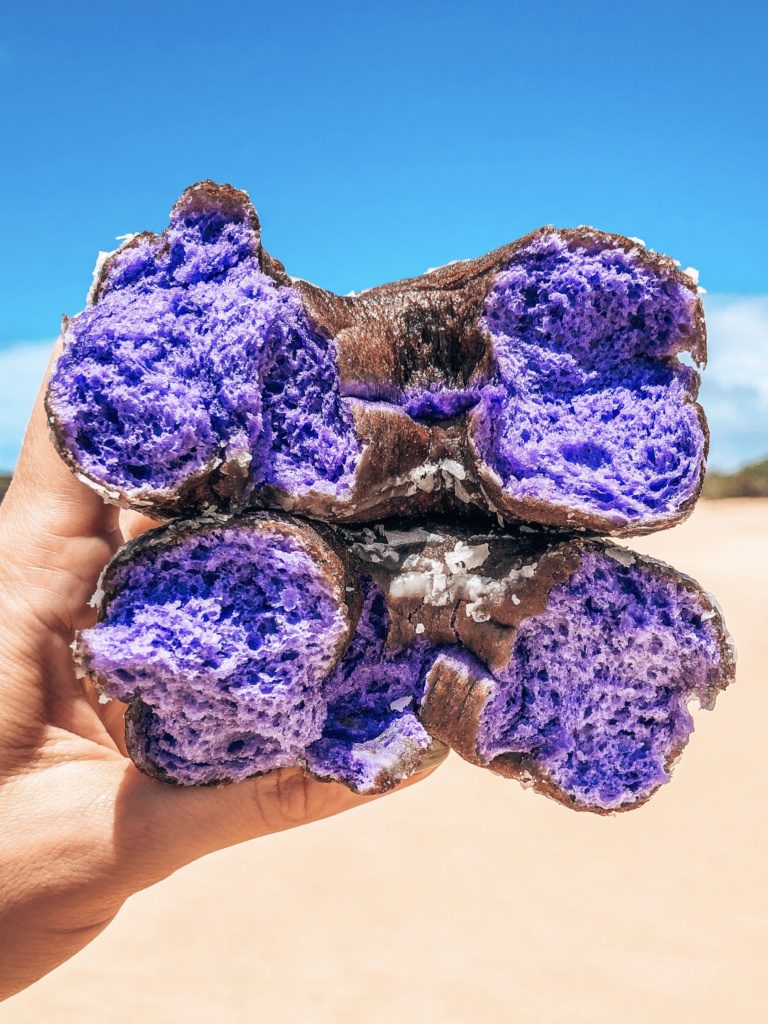 3. Manae Goods and Grindz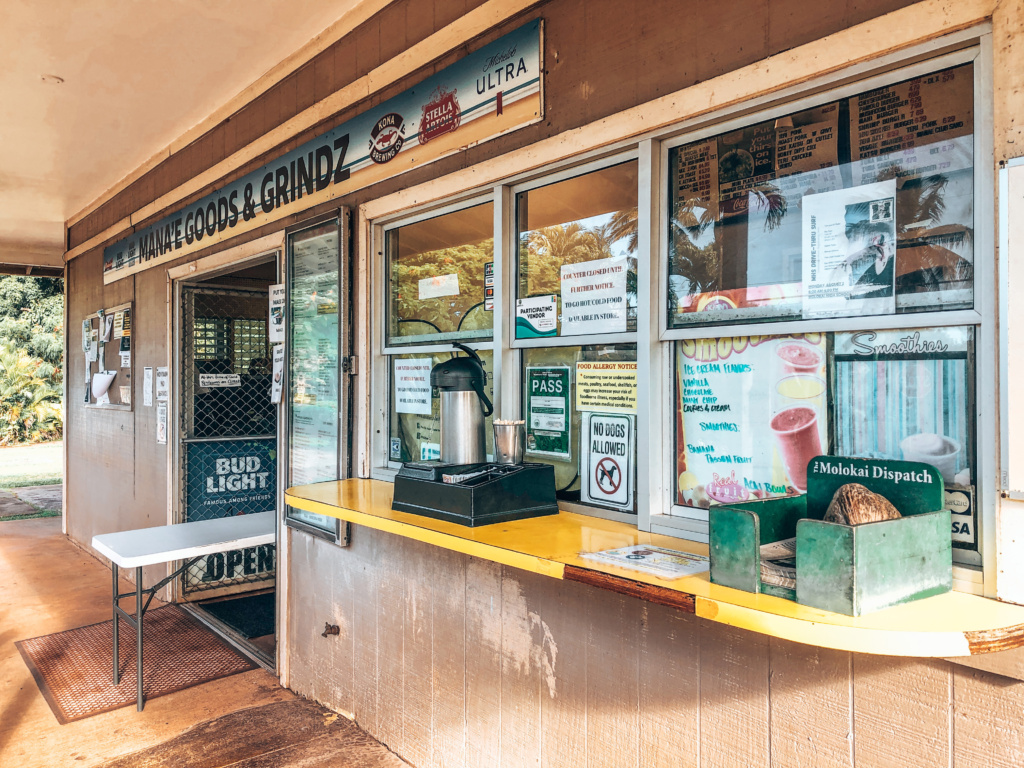 Pretty much your only option on the way to or from Greg's Halawa Valley tour. Hot coffee served in the morning. Also a general store. Expect all the usual suspects like fried rice, saimin and plate lunch (no vegetarian offerings but we recommend local mahi mahi for a meatless option). Take out only but there are several quiet beaches with picnic tables nearby.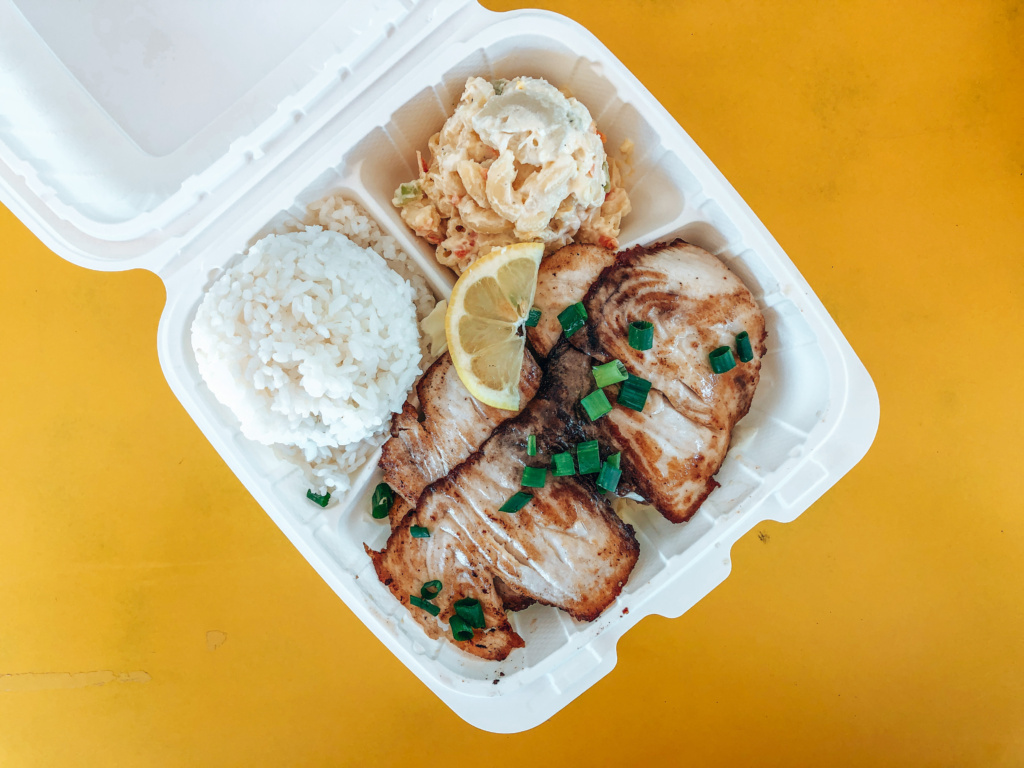 4. Dave's Ice Cream
Some say Dave makes the best ice cream in Hawaii. We're partial to Nicoco plant based gelato over on the Big Island but Dave's is a pretty close second! Hopefully sampling will be a thing again soon post pandemic because Dave's ice cream shop offers dozens of very exciting flavors. Make sure you opt for local favorites like taro, mac nut, coconut etc.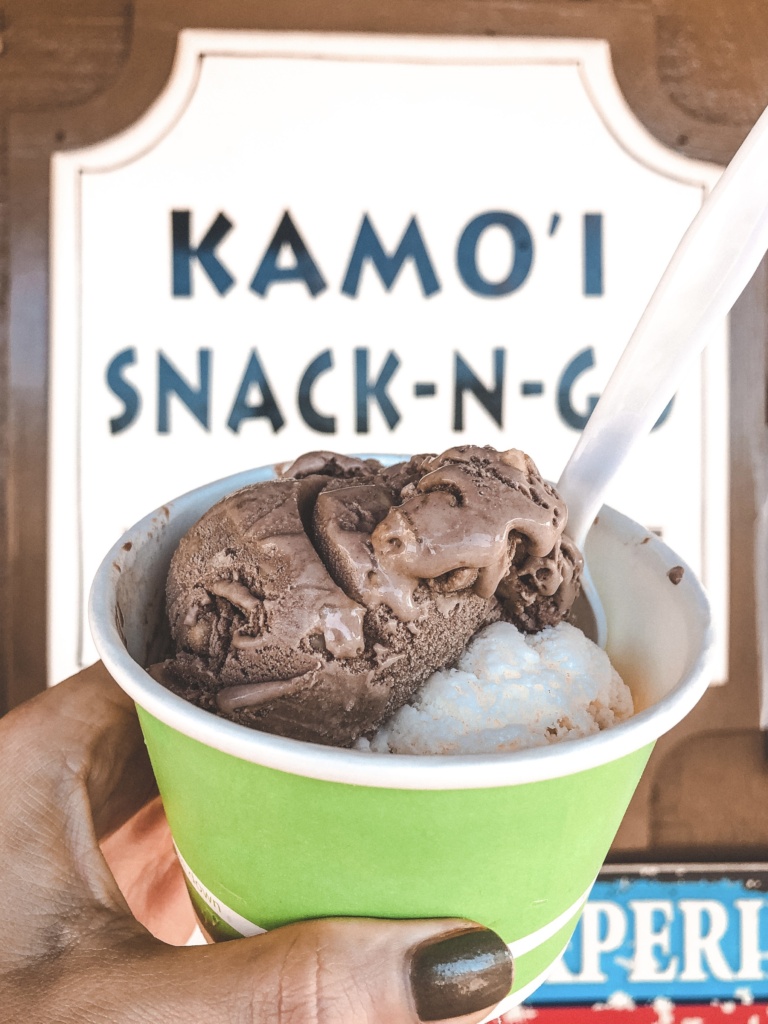 5. Hotel Molokai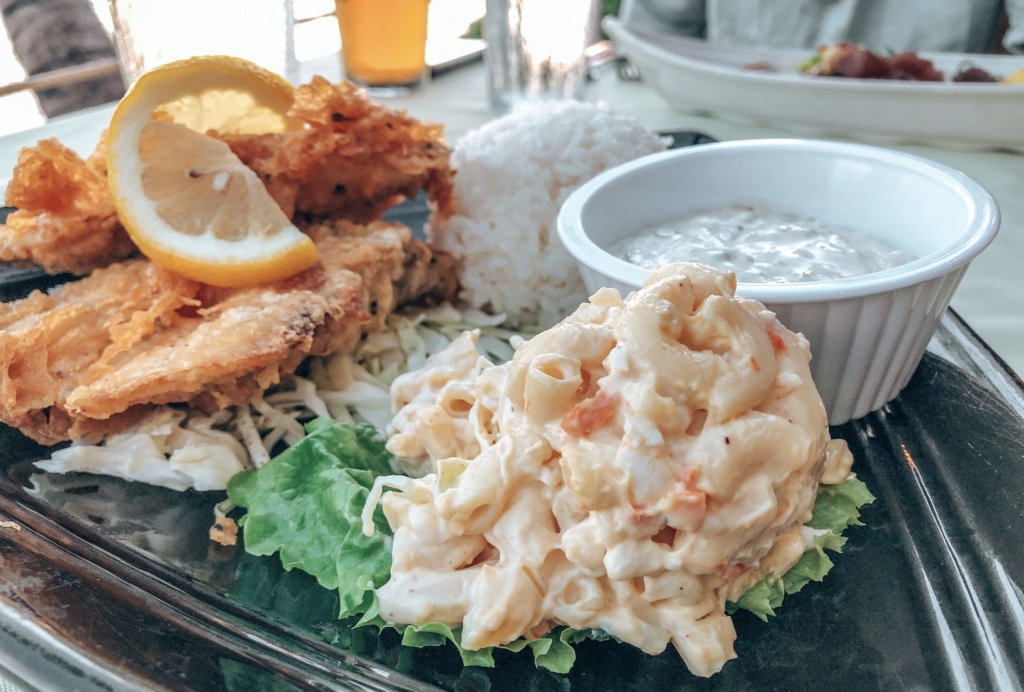 First thing that came to mind after being served our entrees was elevated plate lunch. In a good way. Poke, generous servings of mac salad and othe comfort food accompanied by nightly live music and the unforgettable Molokai sunsets. Can't go wrong. Make a reservation, this venue is beloved by local residents and visitors alike. If you can't get a table for dinner grab a cold Kona Brewing lager and enjoy the live music. Top tip: look up the performers on the website beforehand, each of them has a fascinating story!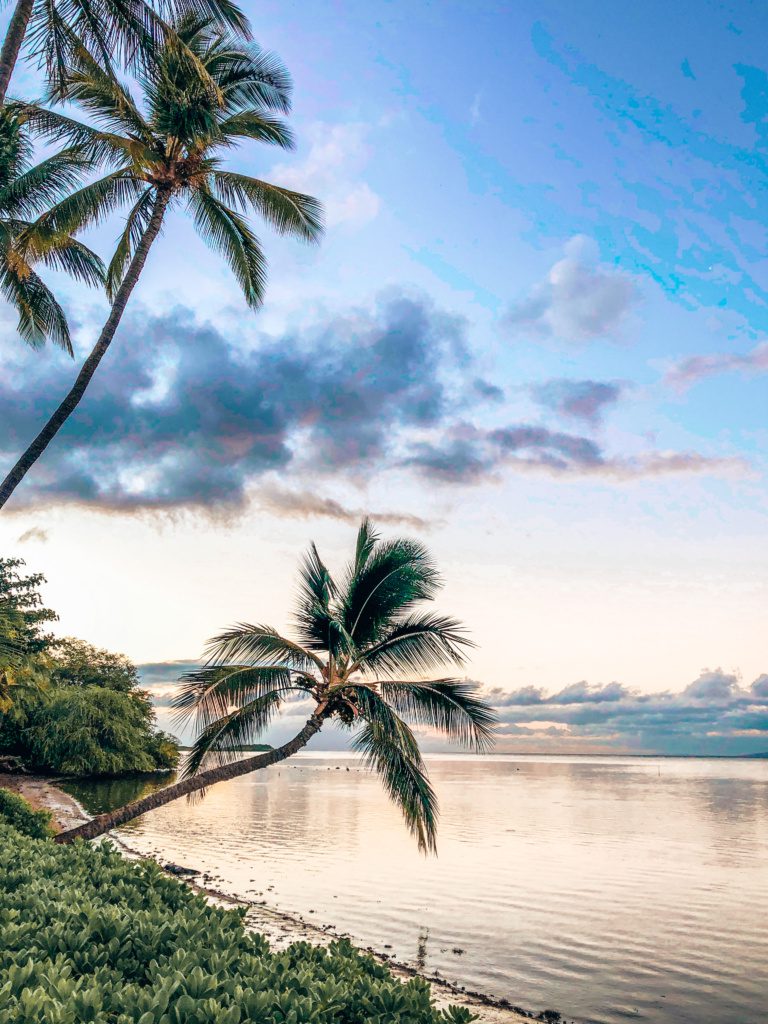 6.Maka's Corner and A Taste of Molokai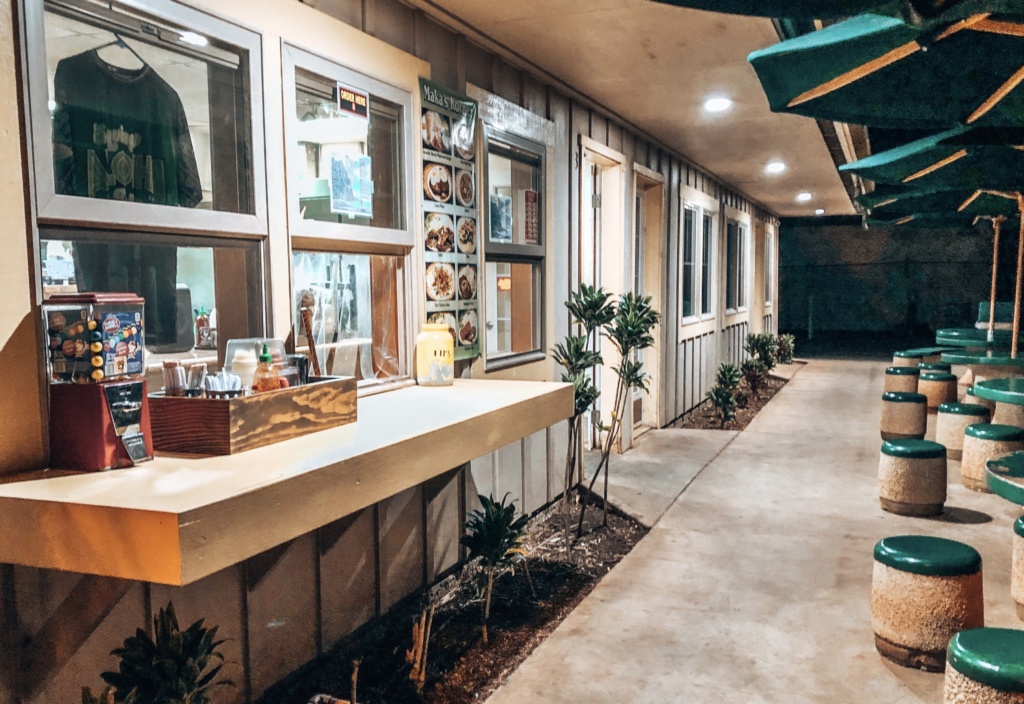 Late night or midday snacking respectively. Between the two of them it's pretty much Molokai food in a nutshell. One serves local staples like curry saimin and fish burgers, the other will satisfy your poke cravings. Choose between classic poke bowl or nachos. A Taste of Molokai also serves acai bowls.
---
You might also like: HAWAIIAN FOOD: 6 BEST PLACES TO EAT LIKE A LOCAL IN KAUAI , DINNER AT TIFFANY'S: BEST FOOD IN MAUI YOU NEVER HEARD OF , WHAT IS POKE AND WHY YOU WON'T FIND POKE BOWLS IN HAWAII