Egypt's National Dish: What Is Koshari And Where To Find The Best One
What is koshari? Carb lover's paradise, food of the gods and the national dish of Egypt, depending who you ask. Through its blend of humble ingredients, it tells the story of the country in a single bowl. Yet, it's likely you've never heard of it. In this post we explain what exactly is koshari, why you must try it on your next trip to Egypt and where to find the best one.
Accidentally Vegan
Widely popular on the streets of Cairo and throughout Egypt, koshari is believed to be at least a thousand years old. It is a distant cousin of the popular Middle Eastern dish mujadara. It is essentially a comforting bowl of basic pantry staples: lentils, rice, vermicelli, chickpeas and pasta. Various shapes of pasta can be used, such as elbows or even spaghetti. It is all combined, seasoned with cumin and coriander, smothered in a vinegary tomato sauce and topped with crispy fried onions. That last ingredient is crucial and makes all the difference! (As does the vinegar in the tomato sauce!)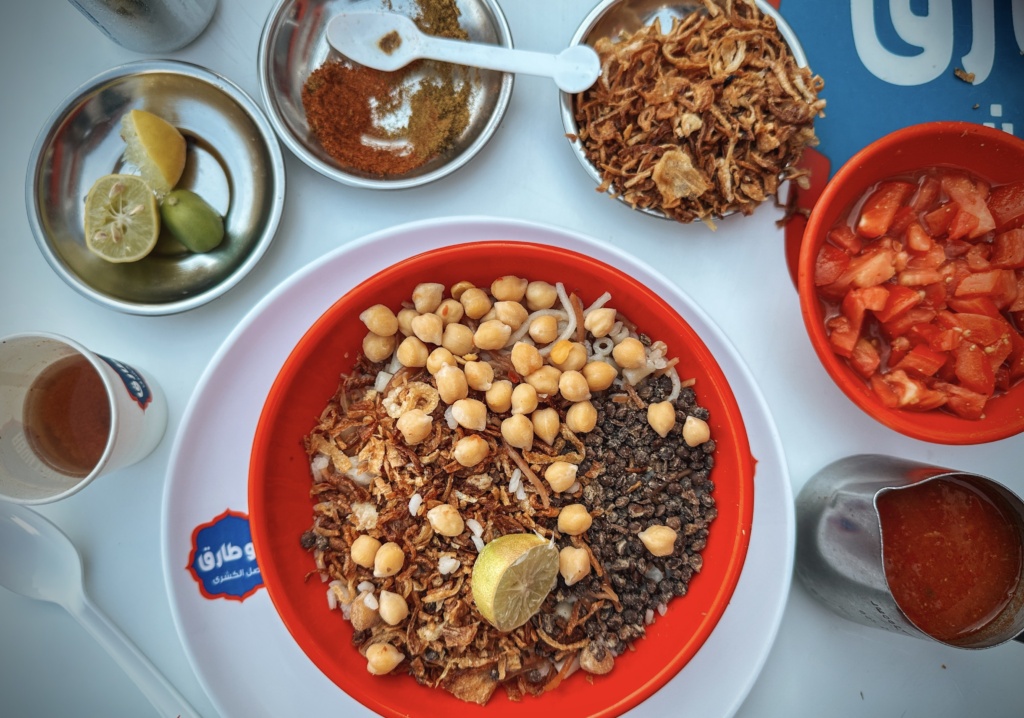 Great news for our vegan travelers and foodies: this heavenly blend of carbs and spices happens to be accidentally fully plant based! Indeed, it is surprisingly easy to eat your way around Egypt as a vegan, even though the term itself is virtually unheard of and not very well understood by Egyptians. Find out what are the 6 essential vegan foods in Egypt.
Quick History of Koshari
Back to koshari, which, by the way, is also often spelled kushari or koshary. Remember how we claimed it tells the story of Egypt in a single bowl? Yes and no. We also said the dish is about a thousand years old. Big deal for a single recipe. But Egypt's history as we know it dates back over 5,000 years. You do the math. Others claim that koshari was created as recently as 19th century. The story goes that an Indian rice and lentil dish known as khichdi was brought to Egypt from the colonies during the British rule. The Indian dish appealed to Egyptians so much that they made it their own. Either way, it would be more accurate to describe koshari as the national dish of recent Egypt.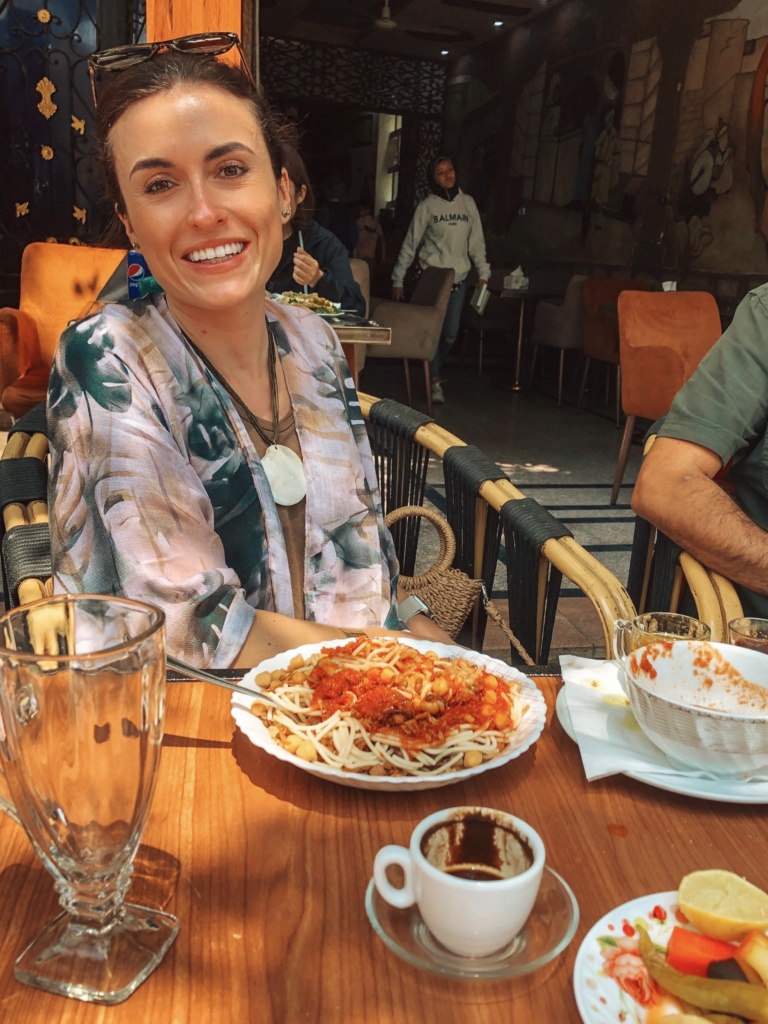 Whether it arrived with the British a hundred years ago, or made its way to Egypt via the Spice Route a thousand years ago, most food historians agree that koshari originates in India. But there's another culture whose links to Egypt are little known and whose contribution made koshari what it is today: Italy.
Egyptian Italians
Mind a quick history lesson? Aside from the obvious past ties to the Roman Empire, Egyptian history has always been interwoven with Italian. First through Mediterranean trade route, then through a sizable Italian community that formed mostly in Alexandria (alongside the Greeks). Heck, even Tony's great grandmother was Italian! You can watch "The Italians of Egypt" – an Al Jazeera-produced documentary, to find out more.
What does it have to do with koshari? Well, the Italians working in the restaurants of Egypt added – you guessed it – the pasta and the tomato sauce. As you can see this simple dish really is a melting pot of cultures that have shaped the Egyptian community as we know it today. A cosmopolitan, flavorful, comforting bowl of chaos with a dash of spice. Egypt in a nutshell.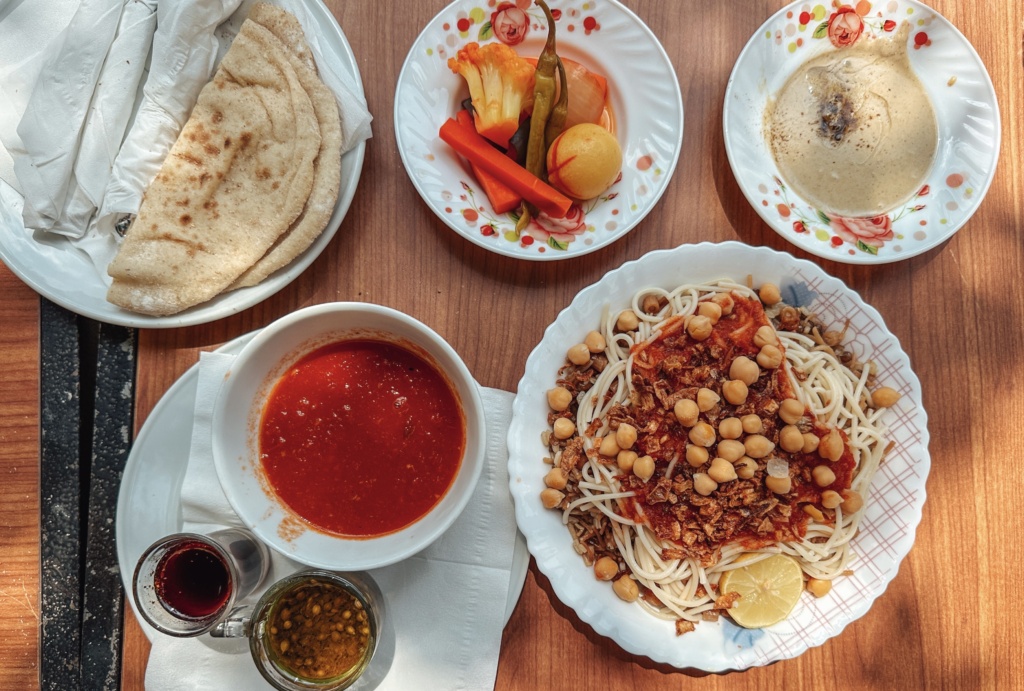 Another link to Italy? Just like the mighty pizza, koshari is yet another fine example of how poor people's food, or what the Italians call cucina povera, has birthed some of the world's most iconic dishes. Indeed, koshari is at its best when served as a street food for the masses. That's how you can typically find it when visiting Egypt. Which brings us to the next point – where to find Egypt's most delicious bowl of koshari.
A cosmopolitan, flavorful, comforting bowl of chaos with a dash of spice. Egypt in a nutshell.
Best Koshari in Cairo?
If you've been following our food travel adventures for a while, you know that our great source of inspiration is the late Anthony Bourdain. We almost always follow in his footsteps, and koshari in Cairo was no exception. We had to check out the now legendary Abou Tarek. Although truth be told, we would've ended up there either way. Pretty much everyone we asked referred us to Abou Tarek's as the best koshari in town.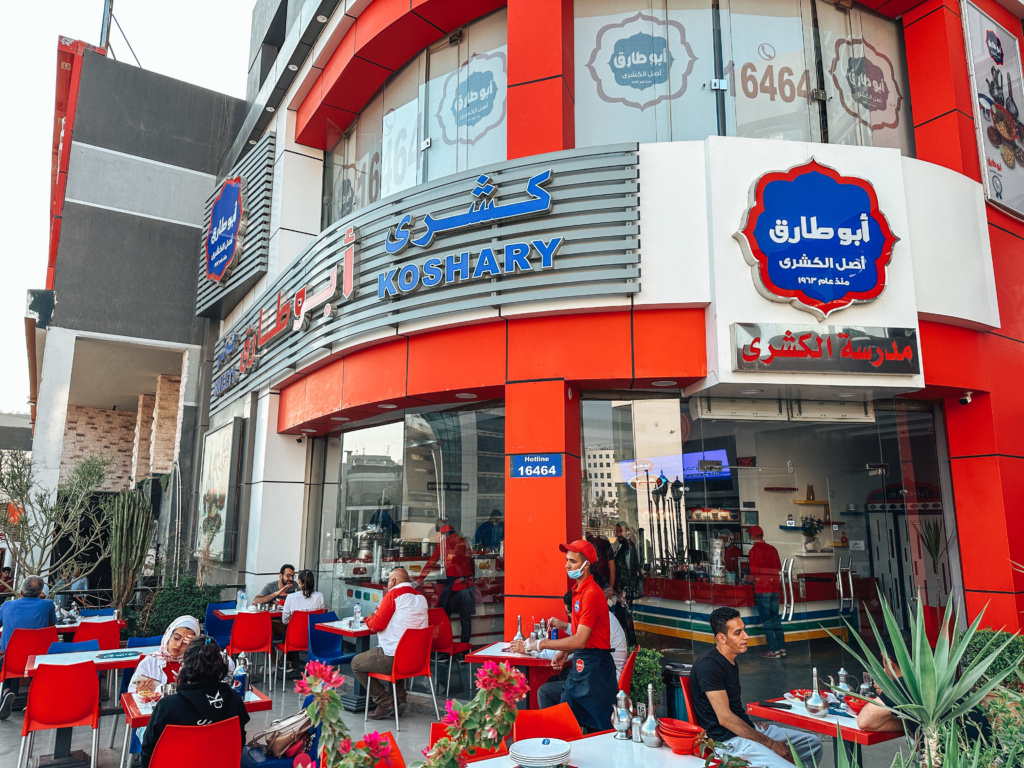 Abou Tarek is the perfect place for a first time visitor, or if you only have time to try one koshari. It represents the traditional way of eating koshari from street carts on the go, while actually being served at a comfortable and accessible sit-down brick and mortar location. Mr. Abou Tarek did in fact start off as a street vendor, and his iconic wooden cart can still be seen inside his restaurant today. It's more than a fast food restaurant. It's a story of progress, success and Egypt's transformation.
If we had more time in Cairo we would have also gone to the following, for your bookmarking pleasure: Koshary el Tahrir, Zooba (we went but ordered other things as it was breakfast time) and Koshary Al-Mo'men. Based on our reserach and local intel, these are some of the best in Cairo. If you had great koshari outside of Cairo please email us or share in the comments below so others can find it too!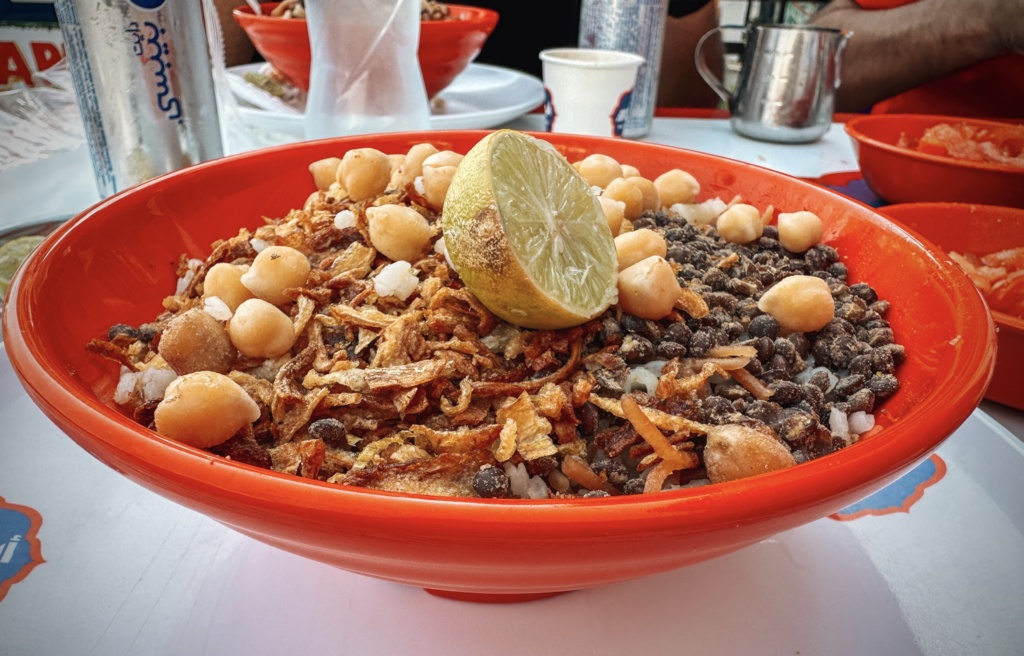 How to Eat Koshari Like a Local
The menu at Abou Tarek is short and to the point. Basically you get to choose the size of your koshari (go for small if not sharing – be warned!), then sit down and watch the magic unfold. You will receive a bowl of layered carbs (lentils, pasta, rice, garbanzo), plus several small dishes with condiments (limes, crispy onions, chopped tomatoes with cumin, extra spices etc.) and a jug of vinegary tomato sauce. In addition there will be a sharing bottle of hot sauce on the table. Add it all in (go easy on the hot sauce…), give it a stir and enjoy!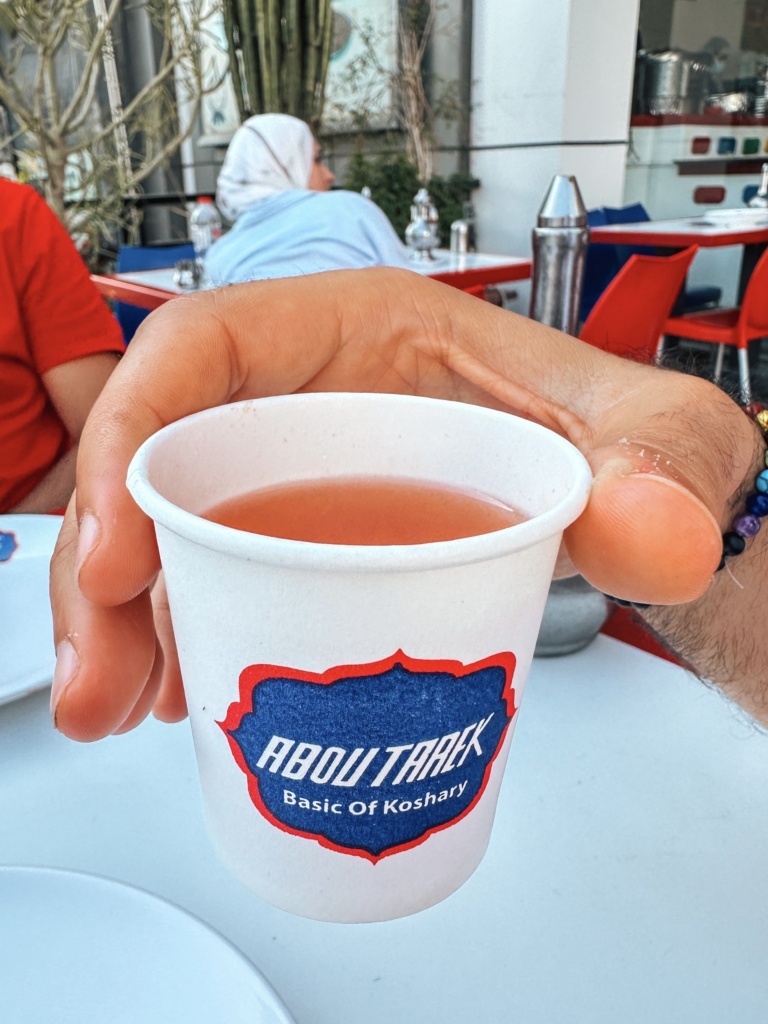 Pro tip: ask for double crispy onions!!! Tip 2: if you can, go to the much less crowded location in New Cairo. Tip 3: koshari is typically eaten for lunch, dinner or as a late night snack, almost never at breakfast time. Shout out to Youhanna and Remon, our amazing dining buddies and patient Cairo food guides who taught us how to truly savor koshari like a local!
Aside from Abou Tarek, we also enjoyed koshari in a small street cafe in Old Cairo near the Coptic Museum. We feared it would be touristy but it turned out to be as delicious as Abou Tarek's. It was freshly made in a small batch according to a family recipe and served with a very unique seasoning: a jug of oil blended with cardamom, cumin and whole coriander seeds. It made the dish extra fragrant and tangy.
Trust your senses and don't be afraid to try different variations of koshari in different places around Egypt. There are even local takes on the dish such as the Alexandrian koshari with eggs.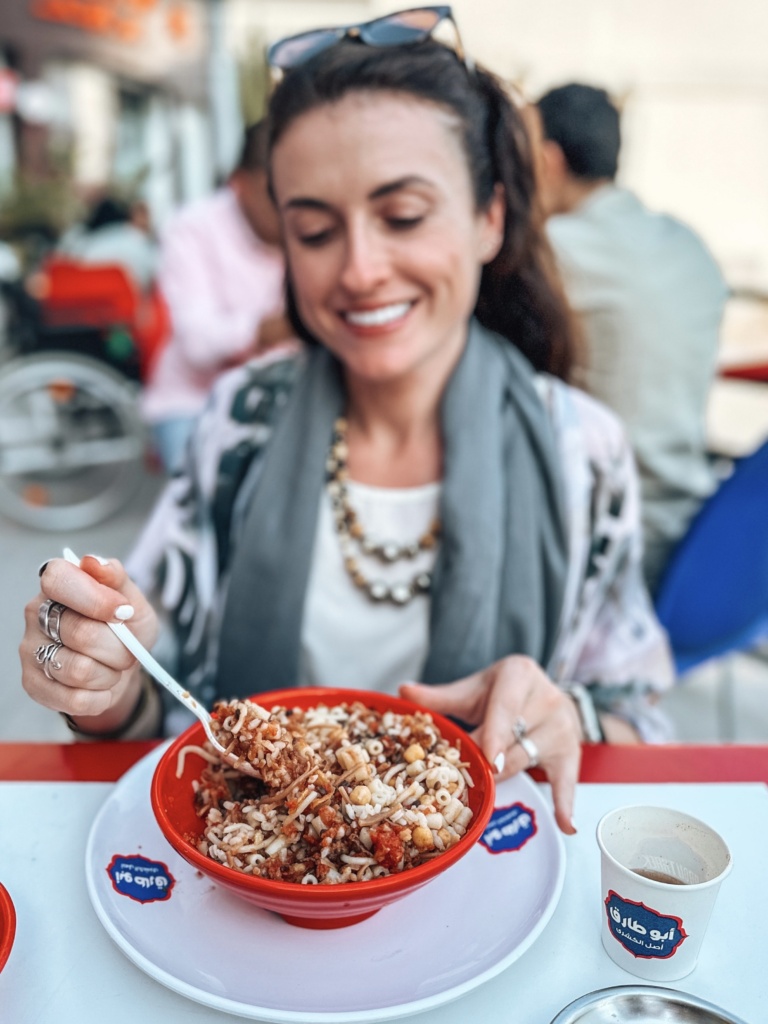 Make Your Own
Last but not least, koshari is very easy to make at home. You don't have to wait for your dream Egypt vacation to get a literal taste of this amazing culture! Make it yourself! The ingredients are available in pretty much every store. There are plenty of recipes out there. Here is our favorite koshari recipe to get you started, by our friend Chez Nermine. Nermine is an Egyptian American and her recipe is the closest to that of my mother in law Sue.
You must know that Sue's home made koshari was the very first I've ever tried. It was truly love at first bite! You can't go wrong. We've been making Sue's koshari for our friends for years and it always gets raving reviews. Even when we can't get hold of basic ingredients (hello island life in Hawaii…).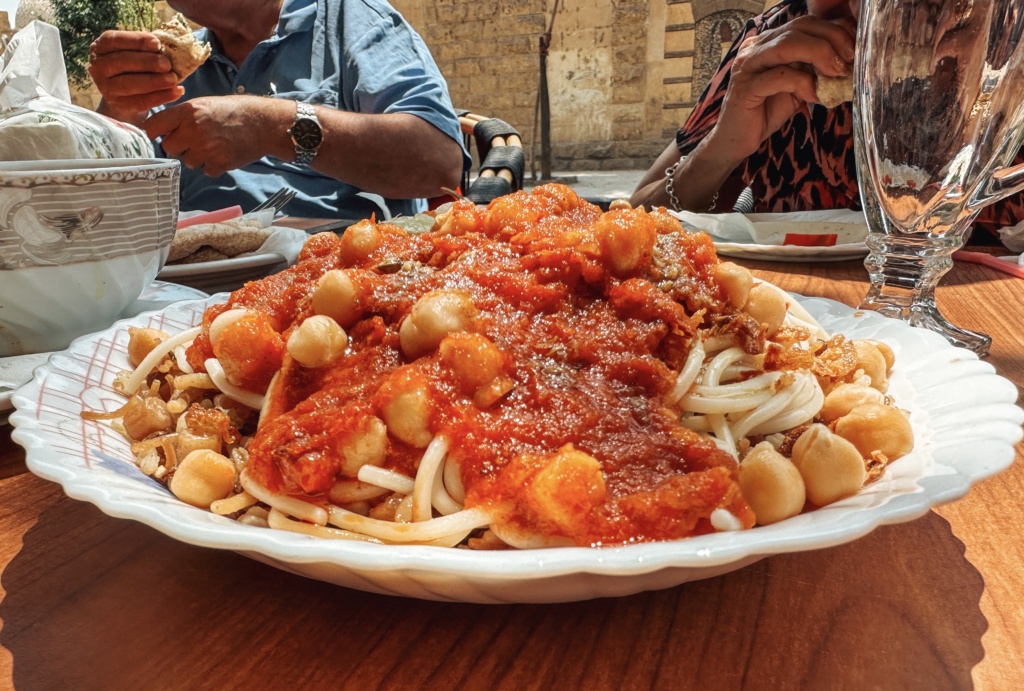 ---
This special dish is absolutely worth seeking out. Whether you make it at home or try it in Cairo, let us know how you liked your first koshari! Was it love at first bite?
You might also like: DOMINICAN REPUBLIC FOOD IN A DAY: 6 FLAVORS YOU MUST TRY, BEST VEGAN FOOD IN HILO, HAWAII: 25 PLACES YOU SHOULD TRY!, TASTE OF PARADISE: WHAT TO EAT IN THE BAHAMAS