Dinner at Tiffany's: Best Food In Maui You Never Heard Of
Looking for the best food in Maui that's off the beaten resort path? Read on.

We visited Maui right after the quarantine was lifted, which meant many well known restaurants and bars were still temporarily shut, operating on to-go basis only or with reduced capacity to comply with social distancing rules. That forced us to think outside of the take out box 😛 and search for lesser known, often locals-only venues that have remained open throughout the pandemic. As a result we have come across some true gems of neighborhood mom'n'pop businesses that cater to permanent Maui residents rather than visitors. It's the kind of food we look for when we travel anyways, but this time we had to try extra hard.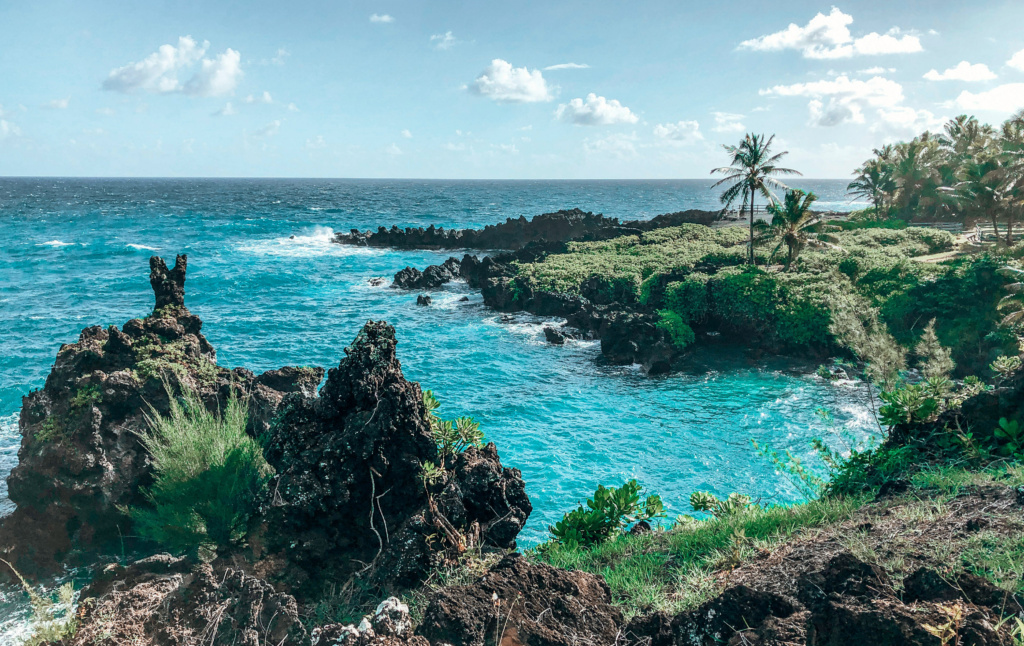 Sure, it would've been nice to check out Mick Fleetwood's namesake rooftop bar for sunset cocktails. Or Hali'imaile General Store for gourmet farm-to-table dining (plus pineapple upside down cake) beloved by Oprah and my favorite travel journalist Peter Greenberg. Or taste the famed fresh Maui seafood at Mama's Fish House. We were also really looking forward to trying squid lau lau – and of course poi – at Poi by the Pound, which unfortunately was still shut post pandemic. Maybe next time.

Instead, we discovered these 14 delicious spots and we're more than happy to share our findings:
1. Mochi Malasadas at Tiffany's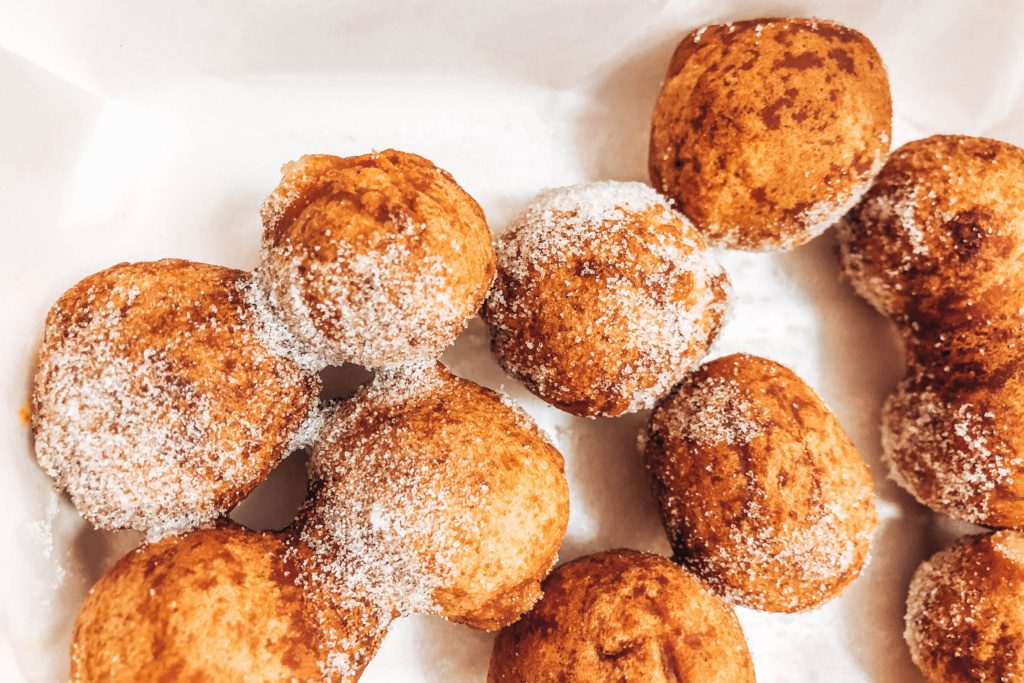 Mochi malasadas – let that sink in. If there's a more exciting fusion of foods, or a more Hawaiian desert, I have not heard of it. Tiffany's Bar and Grill is a neighborhood favorite dinner spot with an Asian flare, in business for over a decade. They serve all the classics such as seafood omelets, honey walnut shrimp, kimchi fried rice (more about that later) and cake noodles, in addition to house creations such as Korean poke. But really, it's the dessert that stole our hearts. While we were waiting outside for our take out (we had our dog Sushi with us, but they are open for dine in!) nearly a dozen patrons picked up their phone orders. This place is clearly popular and for a good reason. Check them out. Top tip: come for happy hour pupus (snacks) and beer, stay for karaoke.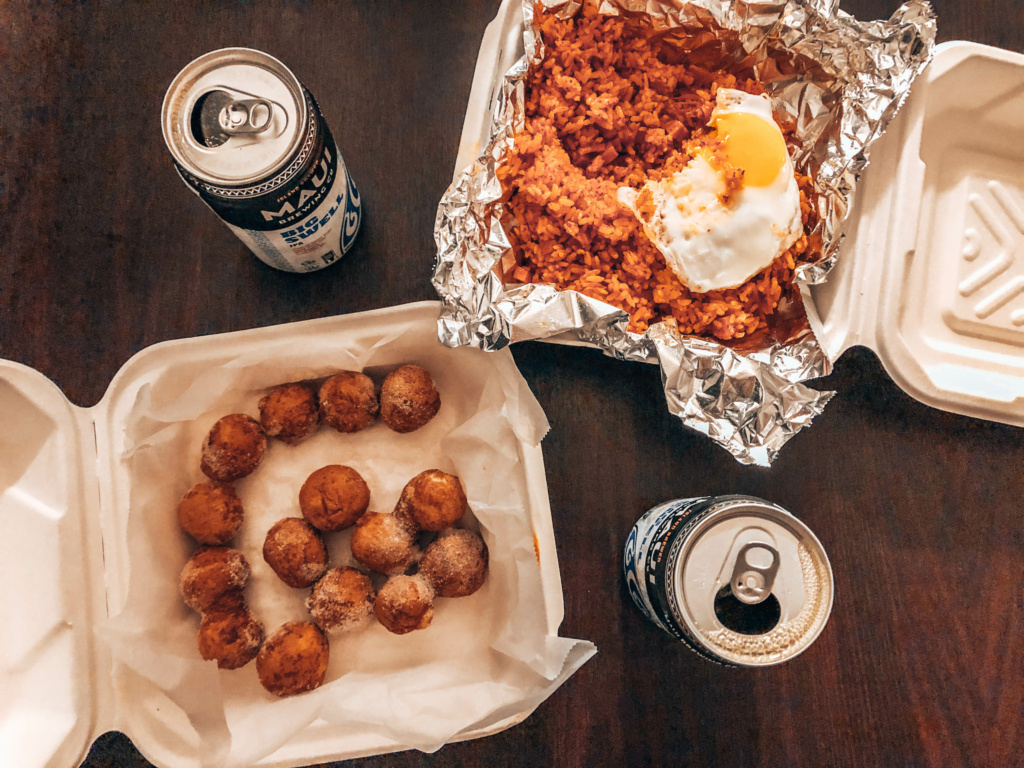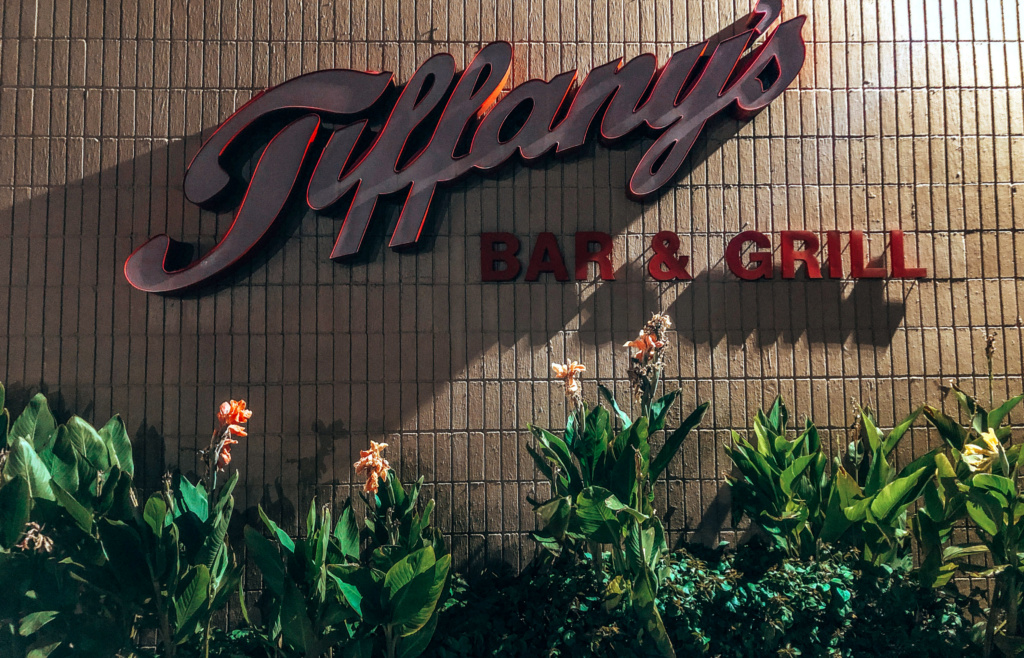 2. Dry Noodles at Sam Sato's Inc.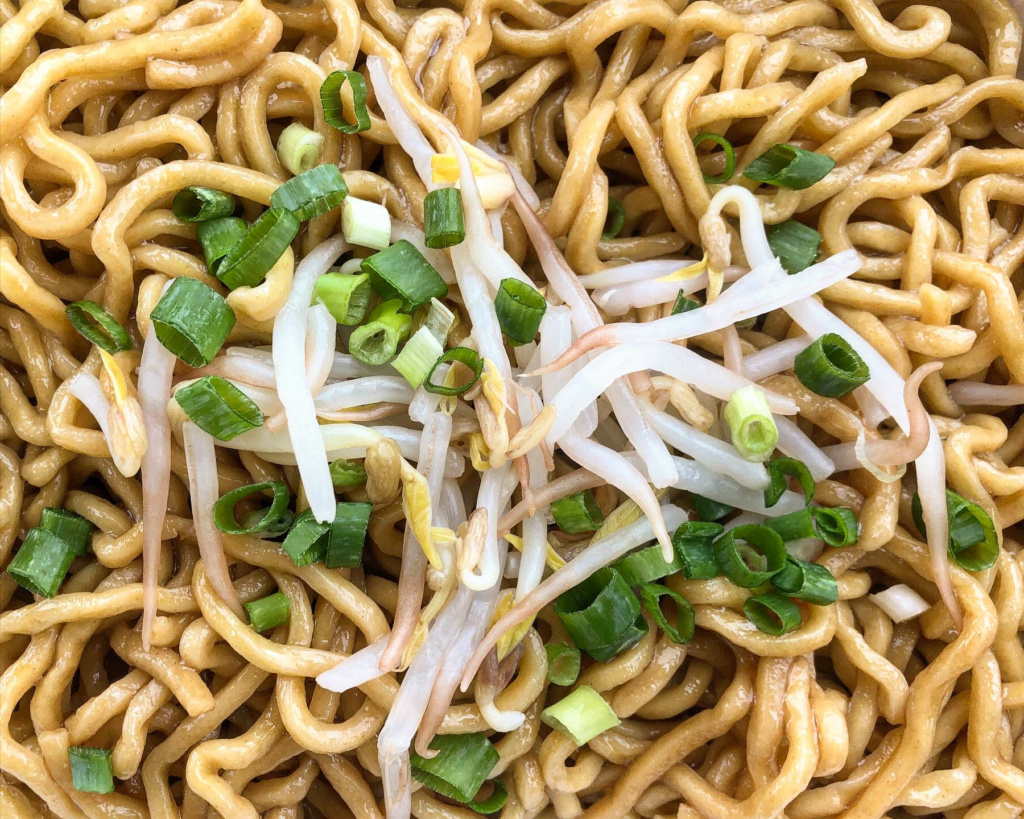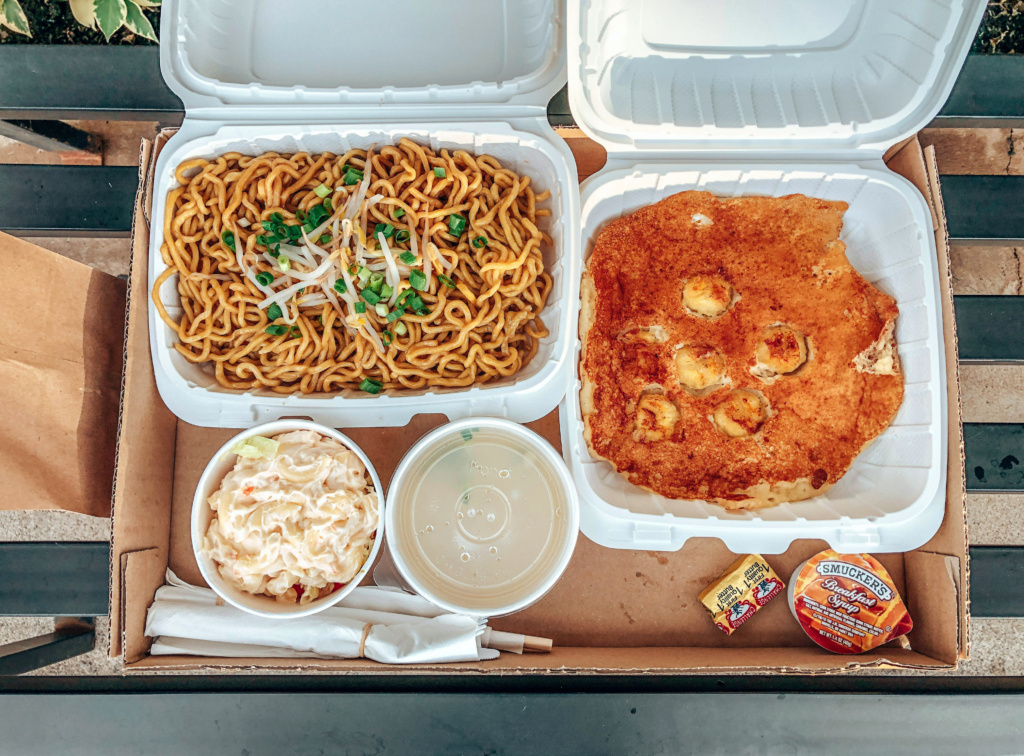 OK you may have heard of this one. Sam Sato's have been serving noodles and plate lunches for three generations and they are definitely an institution on Maui. It's their signature dry mein noodles, hand made on site each day, that steal the show and make guests line up from early morning hours. When we arrived at 6:55 AM for 7AM opening there was already a line outside. Yes, they serve noodles for breakfast. Never too early for noodles. Another breakfast favorite is banana hotcakes. For lunch, the loco moco and saimin are some of the best on the island. Don't skip the freshly baked pineapple turnovers and manju! Top veggie tip: simply ask for dry noodles with no char siu. Also, do as the locals do and order your dry noodles with a side of French fries. If the line at Sam Sato's is too long and you're getting hangry, head to Tasty Crust nearby, an equally beloved local pancake and loco moco joint.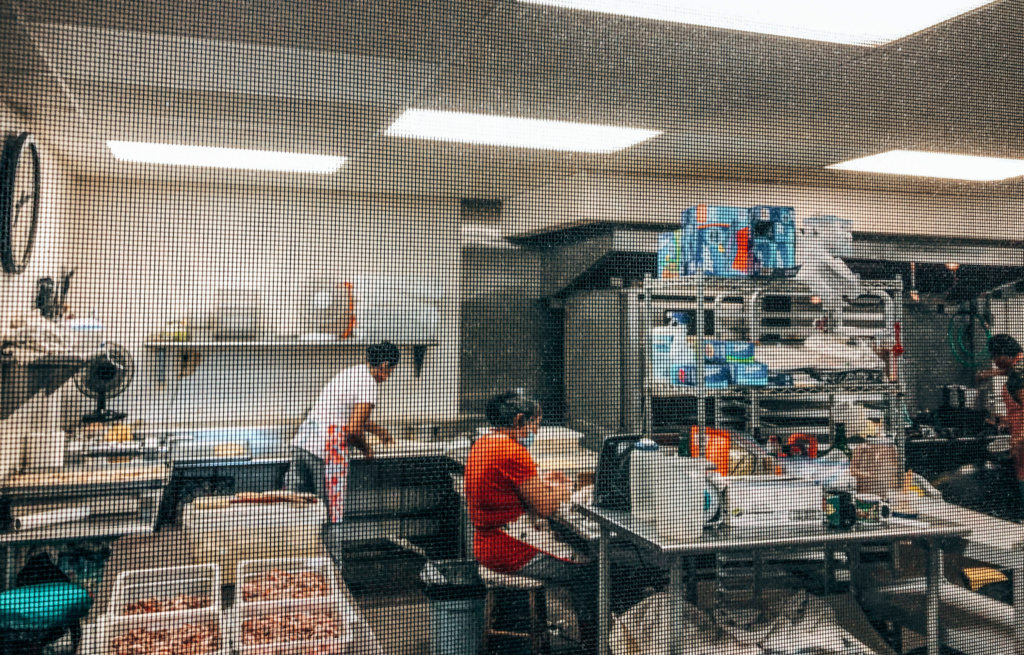 3. Ulu Mac Salad at Tin Roof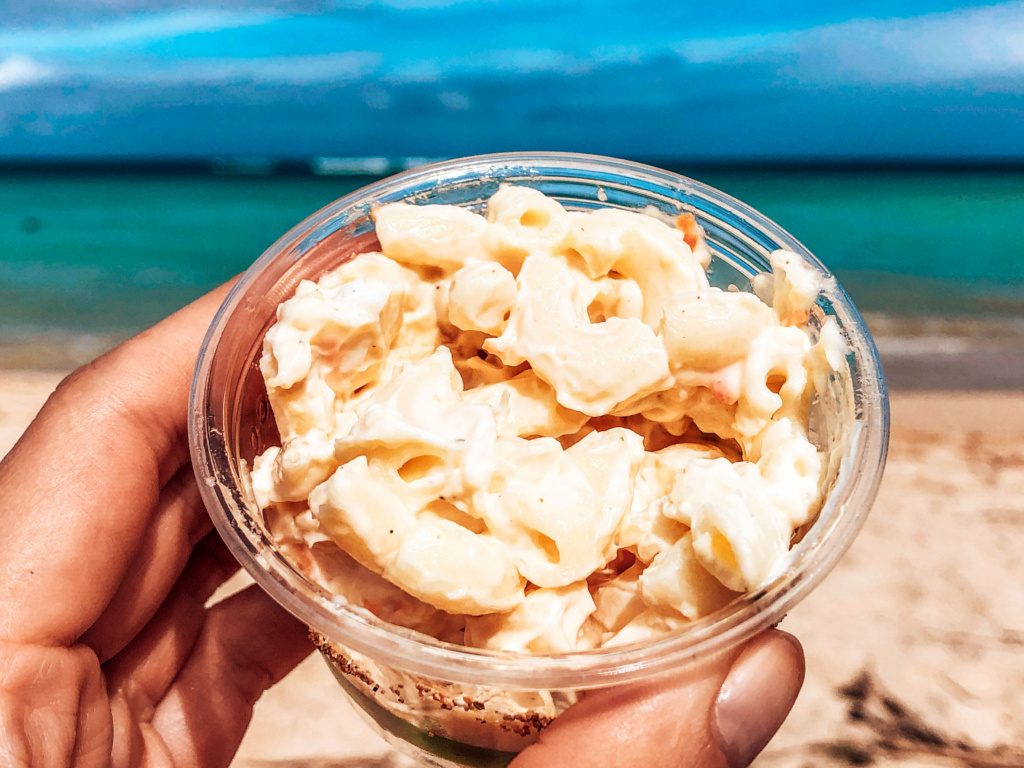 There is mac salad and there is ulu mac salad at Tin Roof. This simple yet delicious side dish with a twist is up there with the best we've tried. Of course you will be needing something to go with it. You can't go wrong with their garlic noodles or daily poke, or anything else for that matter. What really stood out though was the beet box i.e. roast then flash fried beets curly kale and garlic aioli topped with furikake. You know how much I love beets, and this must have been in the top 3 beet dishes I remember ever trying! (It can be veganized, FYI). Get the beet box with some garlic noodles and ulu mac salad to go and head to the nearby Kanaha Beach Park for a delicious vegetarian lunch with the dramatic 'Īao Valley in the backdrop. Prefect for your first or last meal on Maui since it's right next door to the airport. Fun fact: Tin Roof's founder and Top Chef alum Sheldon Simeon named the place after his home town of Hilo on the Big Island known for its heavy rainfall and popular tin roofs.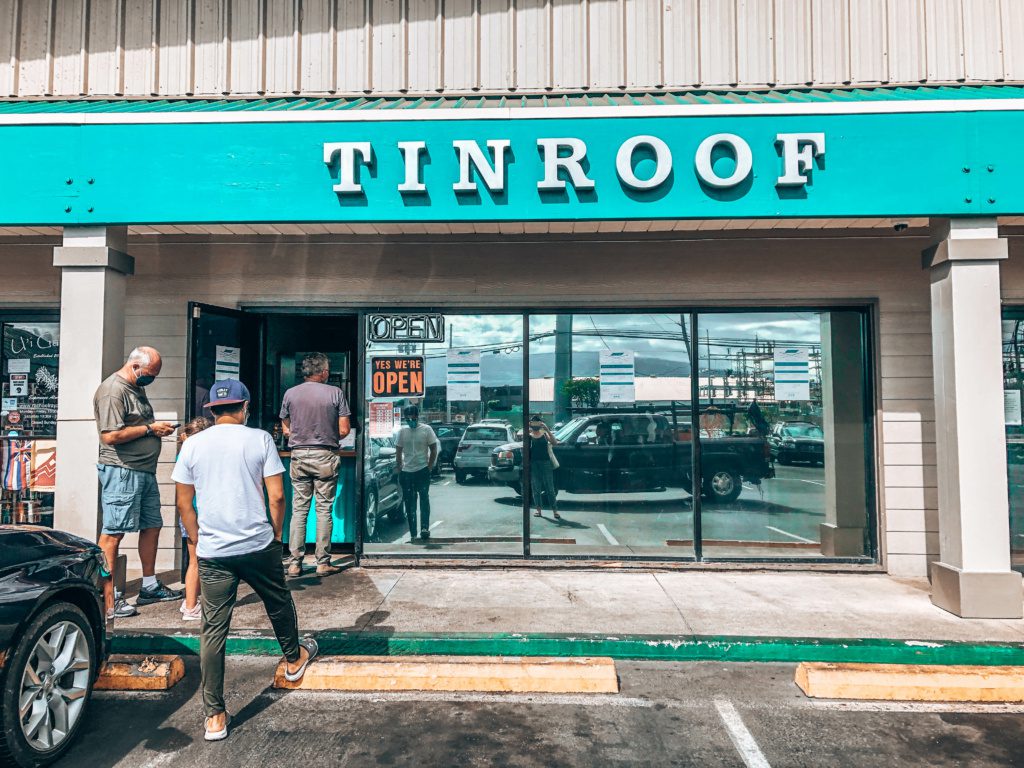 4. Mussel Poke at Haiku Market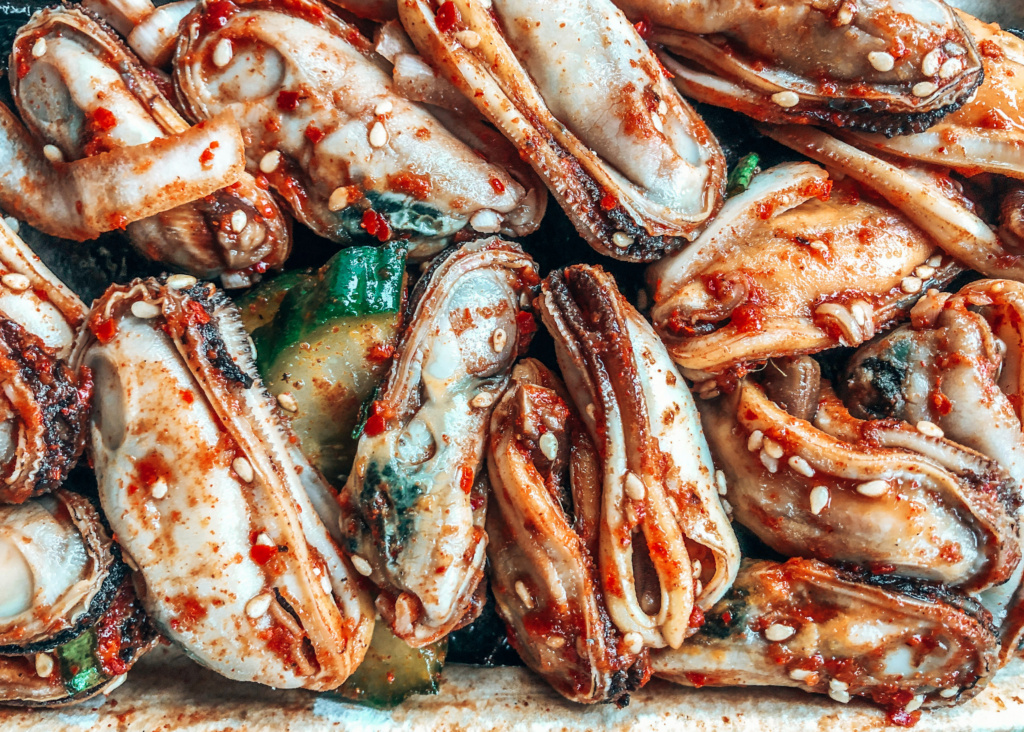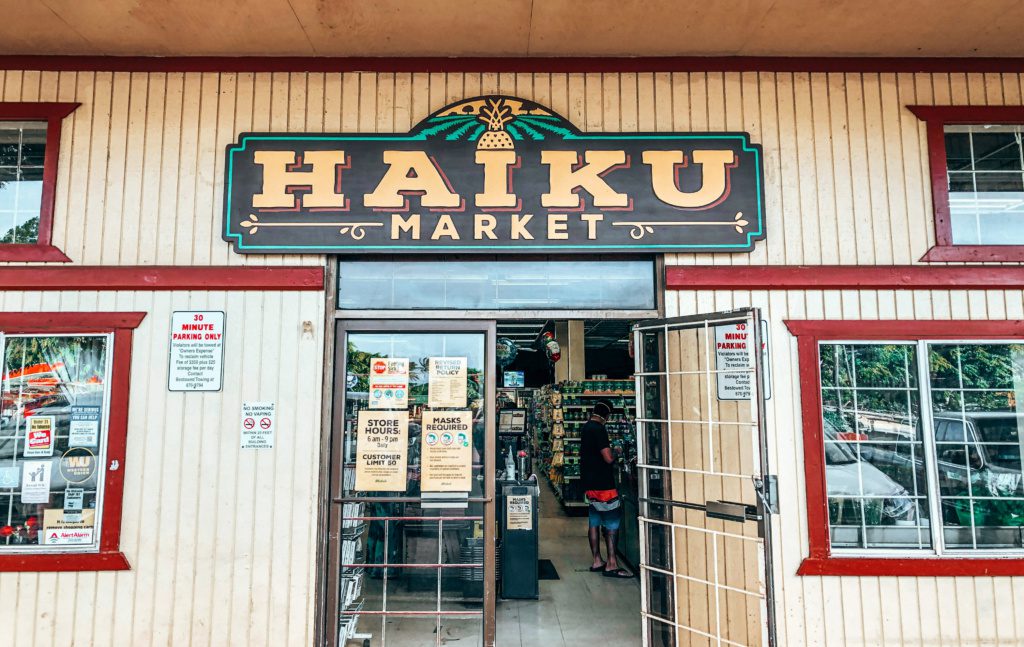 Since most of the food trucks and other venues along the road to Hana were still closed we had to stock up on road trip snacks beforehand. (We may have eaten a lot of Maui onion potato chips that day…) Haiku Market is a great spot for that. Located in the former pineapple cannery building in the quaint town of Haiku, the store is worth checking out for the location itself. But it was poke we were after – as every Hawaiian knows, best poke is often found in grocery stores. Haiku Market has a decent selection of fresh but pre-packed poke, including all the ahi classics but also more unusual varieties like taegu (dried cod) and mussels poke. They also sell warm cooked brown rice to go packed in containers and a very good range of poke side dishes like lomi lomi salmon and seaweed salad. Perfect picnic supply store. PS. Email us for a secret picnic spot on the Road to Hana! 😉 PPS. Also note Nuka in Haiku for some of the best sushi on Maui.

5. Mac Nut Pie Shave Ice at Beach Street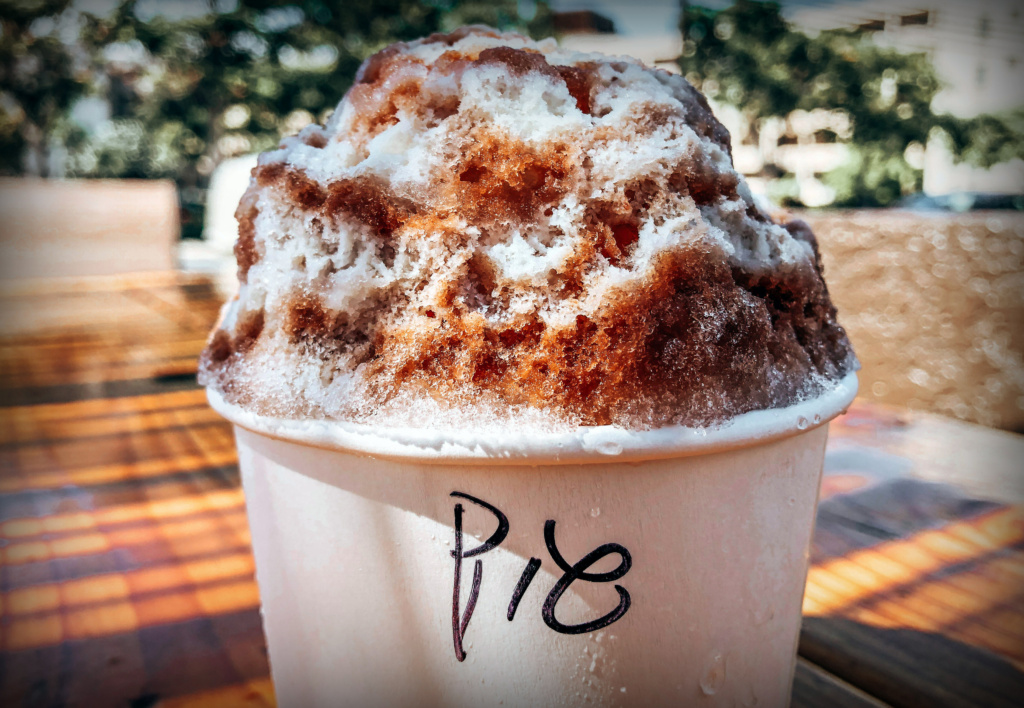 Everyone is raving about Ululani's Shave Ice while this little shop goes barely noticed. So glad we found this place, and not just because the Ululani's locations we went to were temporarily closed. Beach Street Maui is a family run business which operates with true aloha spirit. They use organic products and source locally whenever possible. I could tell our shave ice was prepared with much love. Aside from mac nut pie we also tried the Kihei Sunset special shave ice and it was equally delicious. There is also strong iced coffee should you need a mid day pick me up, and a small food menu perfect for a quick beach day lunch or breakfast. How about a Maui Sunrise Bagel with cream cheese, locally grown tomatoes and Hawaiian sea salt? Good people making good food and drinks. Support local small business and give them a try!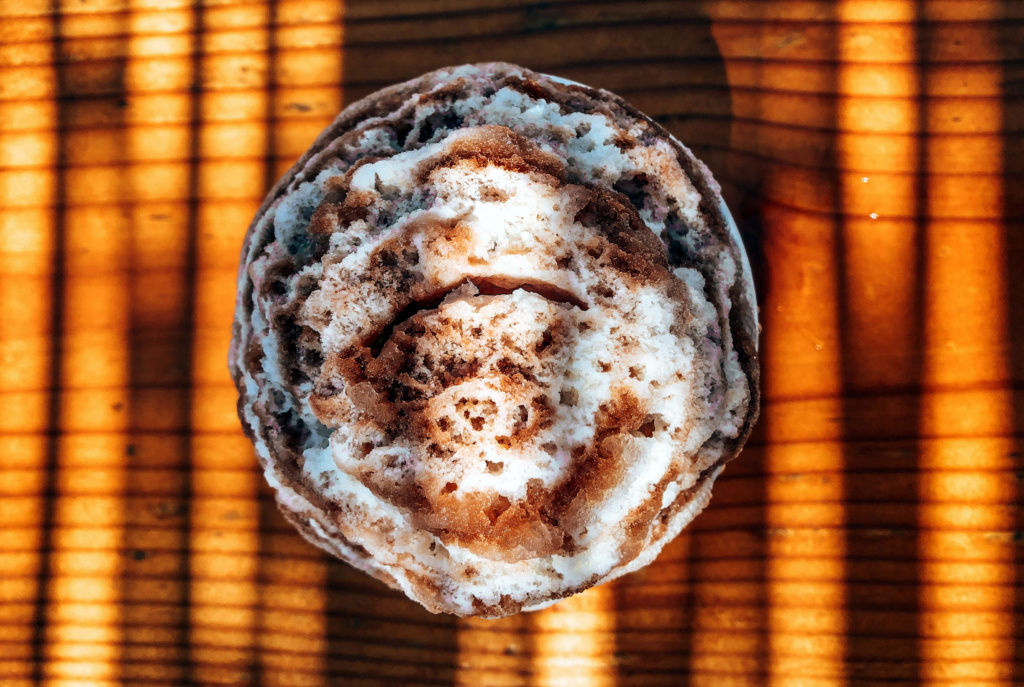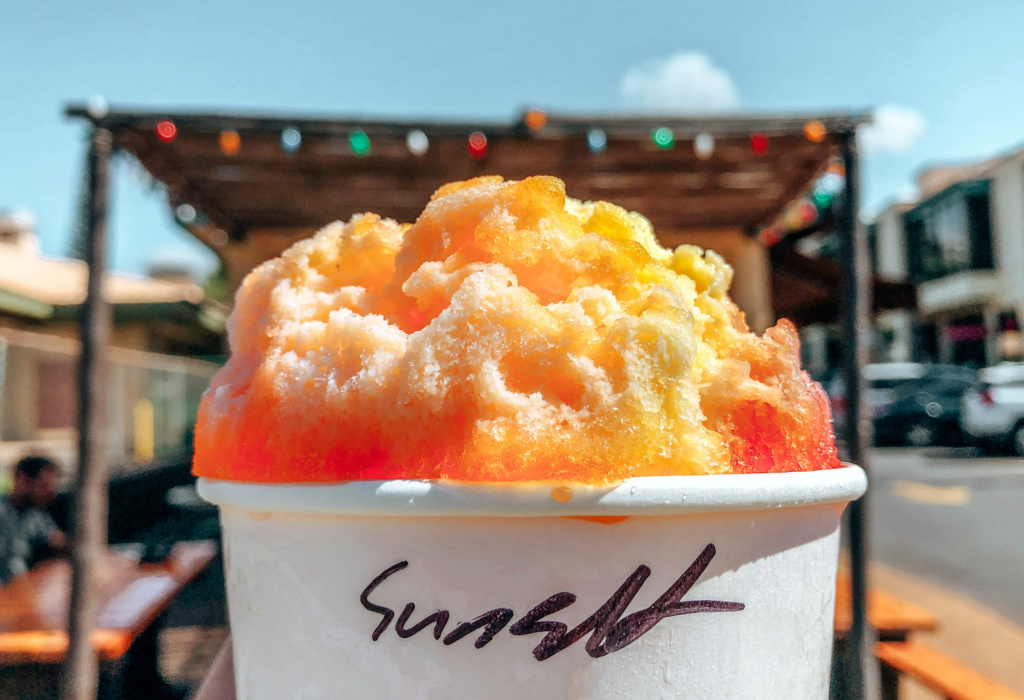 6. Kimchi Udon at Restaurant Matsu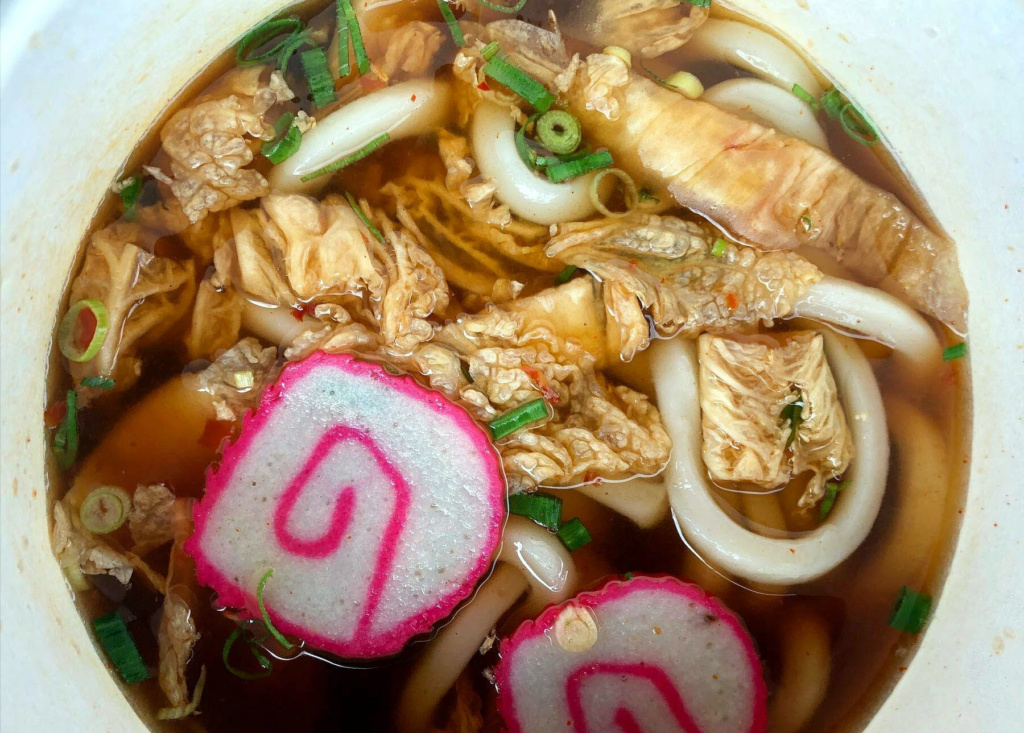 There is udon, and then there is kimchi udon. Another fantastic fusion of flavors made in Hawaii. Restaurant Matsu has been in business for over 30 years but it's still one of those hole-in-the-wall places that you can easily miss. Family run Matsu is best known for their homestyle Japanese cooking featuring bestsellers such as tempura, donburi rice bowls or miso butterfish. But it was soup weather that day. The udon with its perfect spicy broth with an added tangy kick of kimchi was exactly what we needed. Not in the mood for thick udon noodles? You can also order kimchi ramen or soba. Oh and they also have the creamiest California rolls. Top tip: their sushi rolls come in 6 or 9 pieces for extra appetites (that would be us). For dessert try manjookies (manju cookies) from a nearby bakery.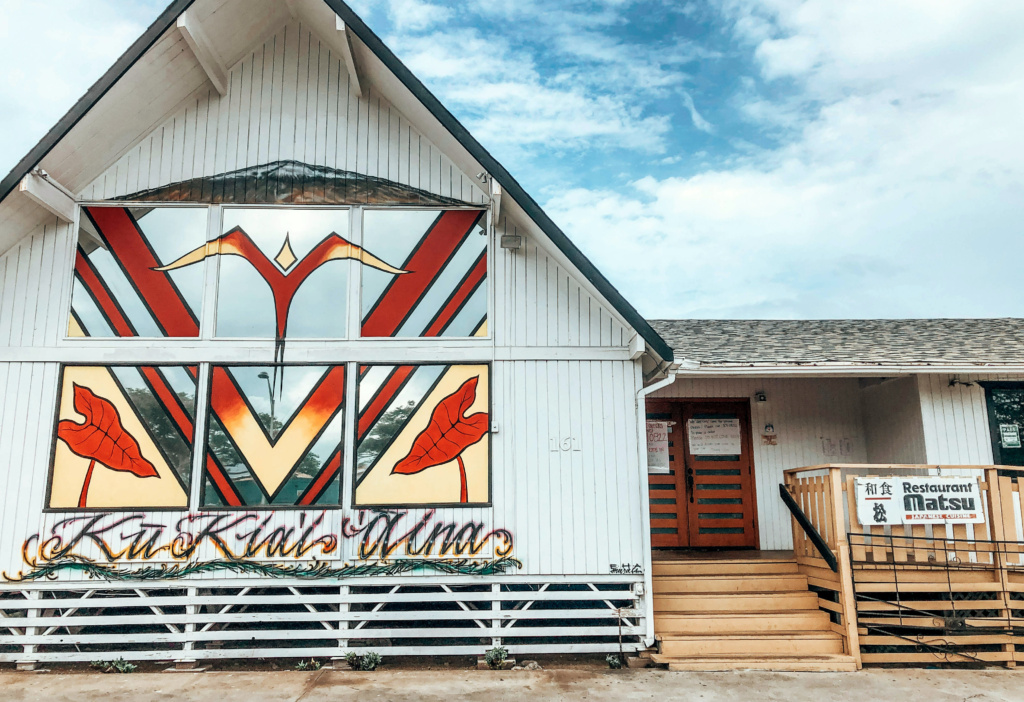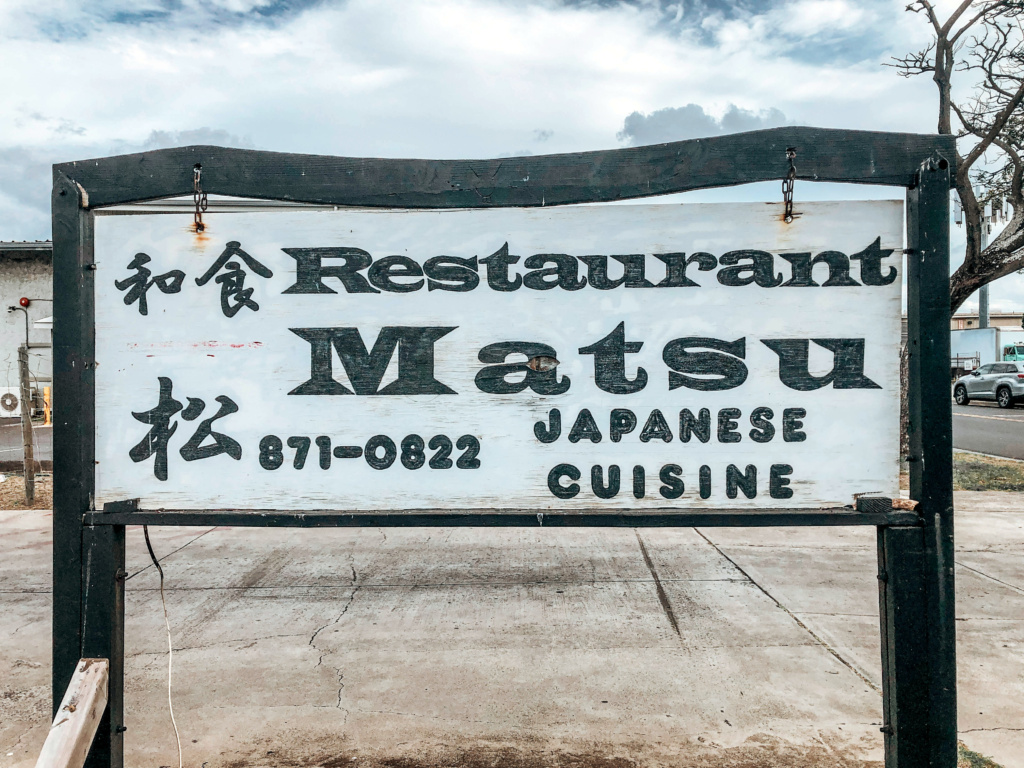 7. Lilikoi Cheesecake at Flatbread Company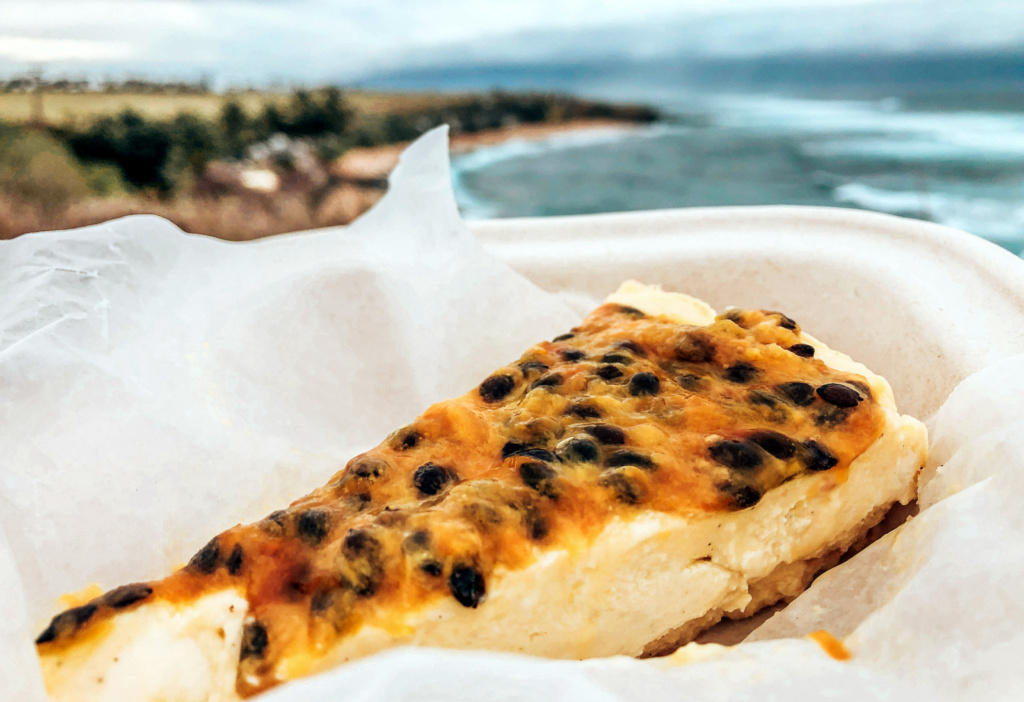 So you probably heard of Paia based Flatbread Company. Everyone has heard of Flatbread Company. Their oven baked pizzas are well known on Maui (and beyond – the company originates in Massachusetts). What you don't know is that they also have a dessert menu, and on it one of the best lilikoi cheesecakes in all of Hawaii. I don't believe they make it on site, but they sure have a good supplier. If you've been following @eightyflavors for a while, you know that we don't tend to eat pizza when traveling, unless pizza is typical for a destination, e.g. NYC slice, Chicago deep dish or of course Italy. So we didn't try their famed flatbread, though we heard great things about their Pele Pesto with macadamia nuts as a topping. You may also want to note they offer vegan options. Instead, we ordered lilikoi cheesecake to go and enjoyed it on the nearby Ho'okipa Beach while watching the legendary Maui North Shore surfers in action. The sunsets on the North Shore are not the best but it was still a great evening.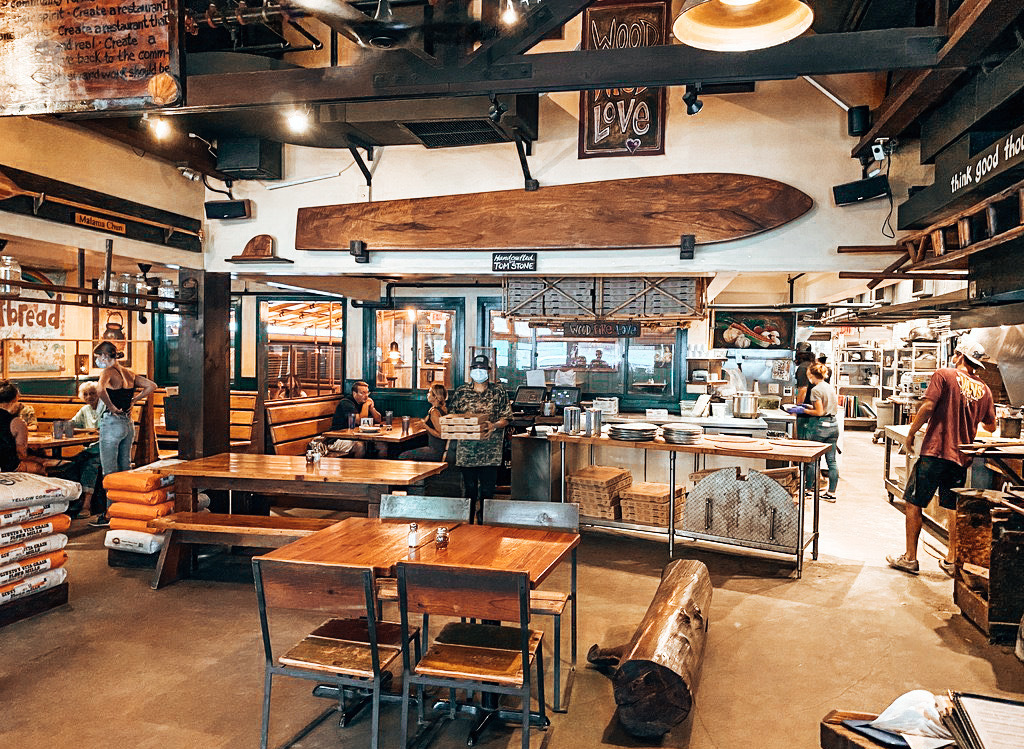 8. Taro Burger at Moku Roots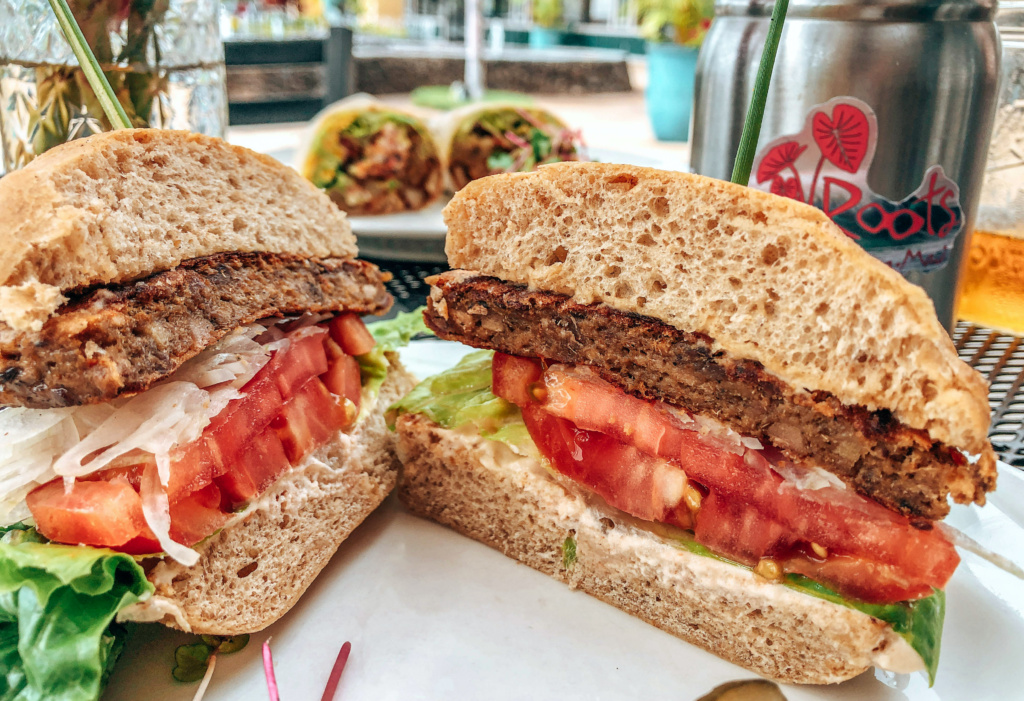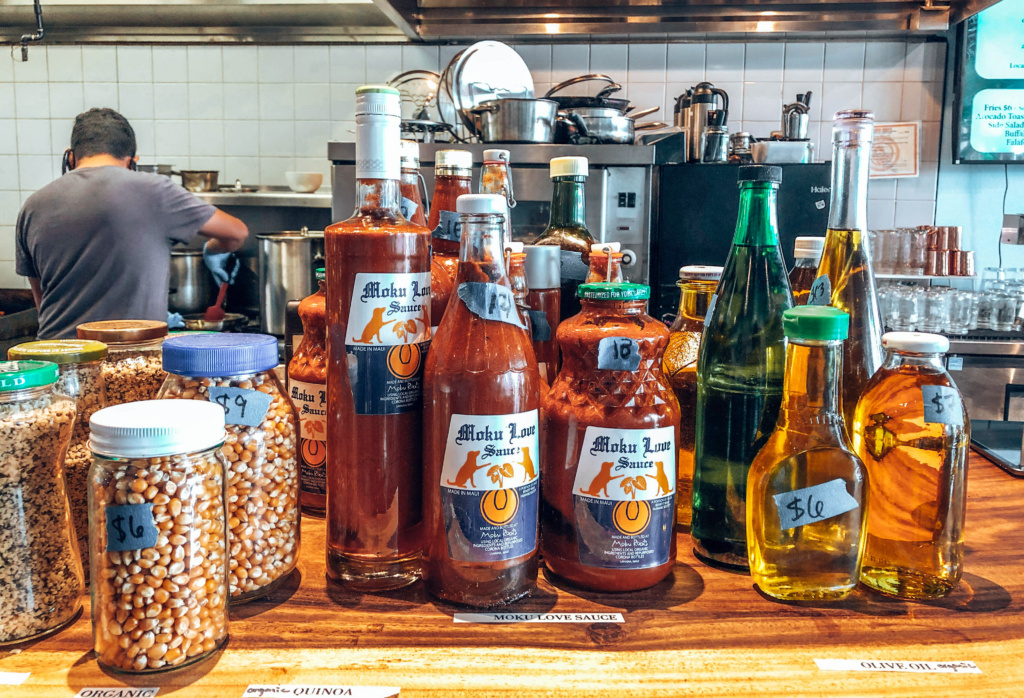 A place like Moku Roots is about so much more than serving food. It's about education and inspiration. Founders Erica Gale and Alexa Caskey created a space that's zero waste, plastic-free, features organic local produce, and is health conscious and sustainability-minded in every aspect of daily operations. Tony made a remark that Moku Roots is like a restaurant version of our Volcano Eco Retreat, or at least what we aspire to. And yes – the food at Moku Roots is delicious. The taro burger is a must. The taro California burrito was the first burrito we had since leaving Los Angeles. We also heard great things about the cauliflower wrap, eggplant Reuben and vegan 'poke' bowls. Wash it all down with fresh coconut water, Hawaiian chili chai with mac nut milk or a pint of Talk Story pale ale from the nearby Kohola brewery. They even have plant based keiki (children's) menu featuring taro fingers and vegan mac and cheese. Conscious veggie wonderland.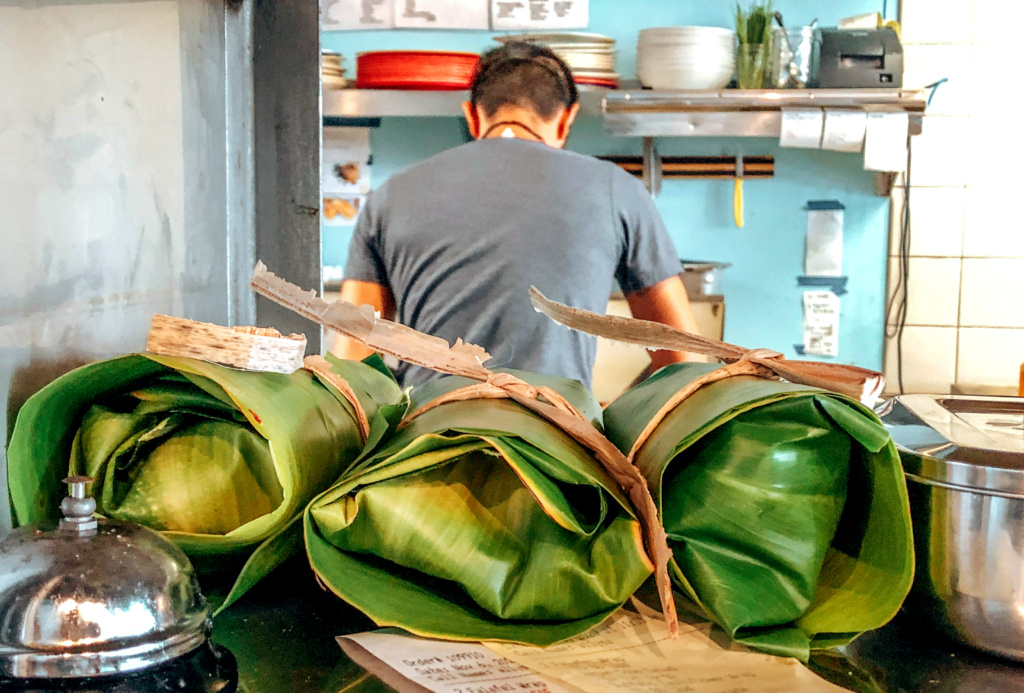 9. Sweet Potato Manju at Home Maid Bakery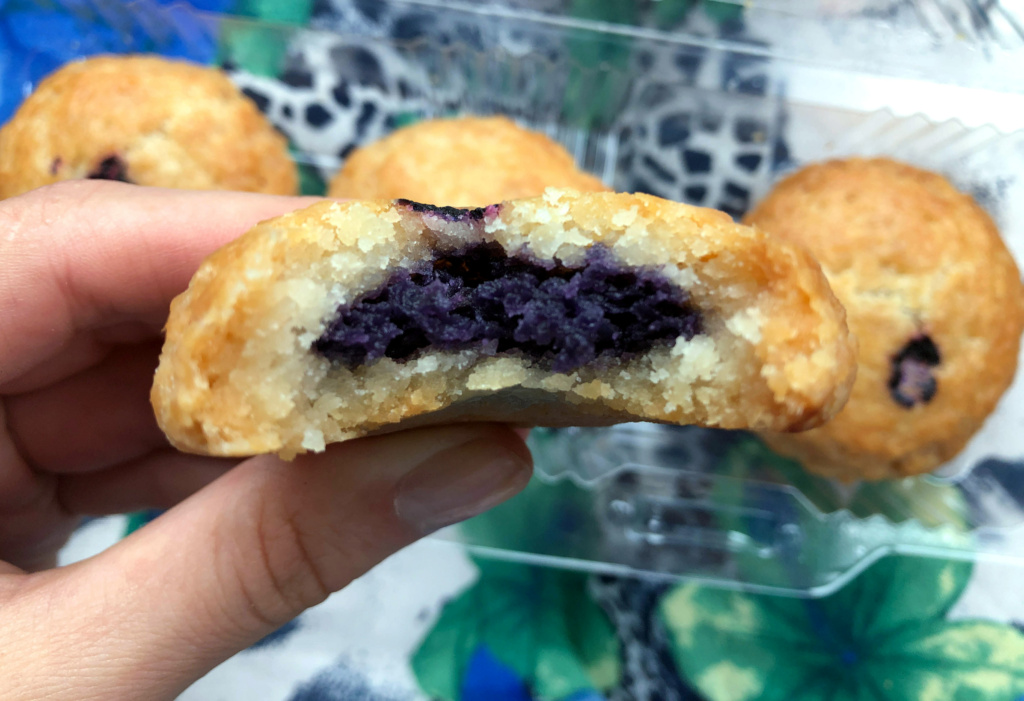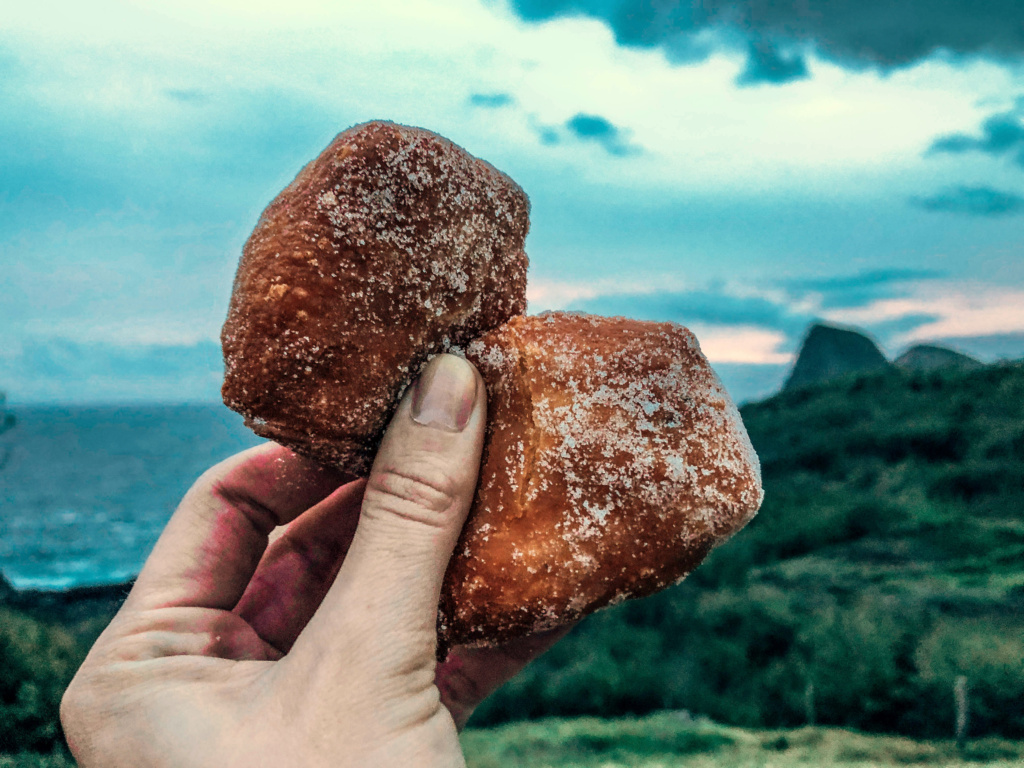 If you think the road to Hana is narrow and winding try Maui West Loop. While most people stock up on malasadas at Komoda and hit the road to Hana, we suggest an alternative morning itinerary. Grab some freshly baked malasadas and a box of sweet potato manju from Home Maid Bakery and head to Olivine Pools for sunrise. This beloved Kahului based bakery has been known as the home of crispy manju since the 1960s! It opens at 5 AM (which is how you know it caters to local crowds), so you'll have just enough time to make it to the sunrise spot. We don't recommend getting down to the pools, rather just watching the sun rise from afar and enjoying your sweet baked treats. Continue on to Nakalele Blowhole, and then all the way around to Napili for a coconut mocha from Napili Coffee Store and a second breakfast of açaí bowl from a'a Roots – see below.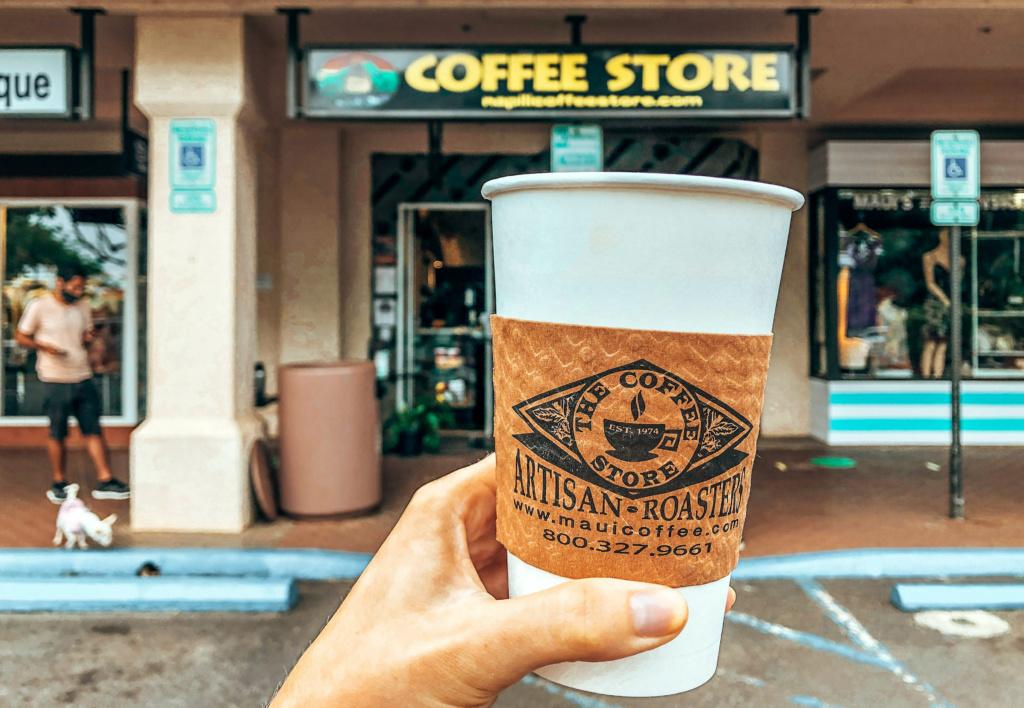 10. Lilikoi Açaí Bowl at a'a Roots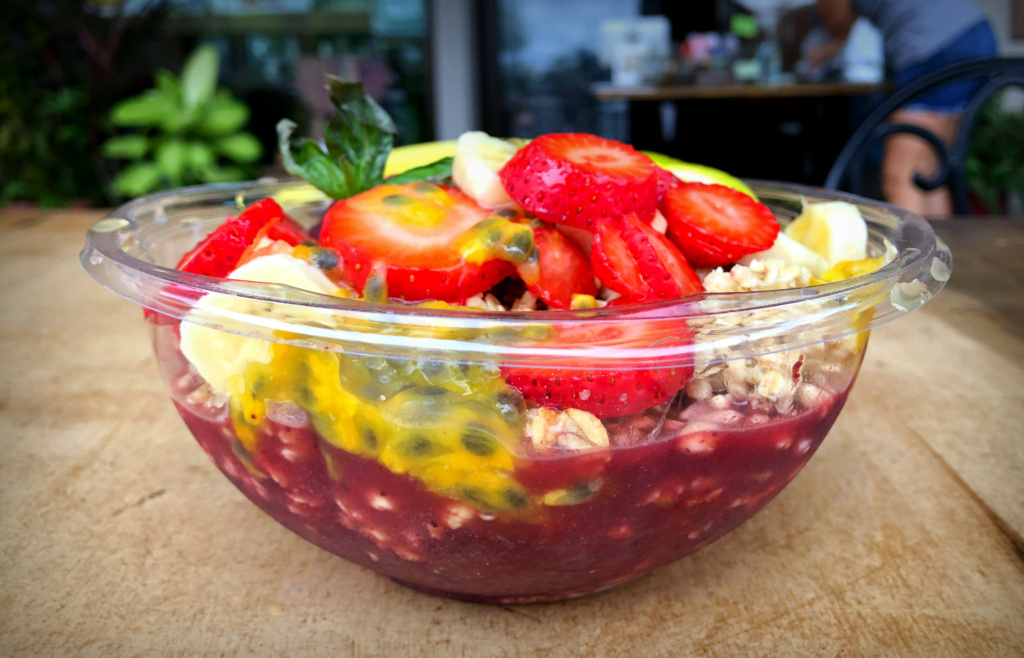 You guys know passionfruit is my favorite fruit. I'll take lilikoi anything. So when the lovely lady from a'a Roots said they have a lilikoi açaí bowl that's not on the menu it was an easy choice. We also enjoyed a delicious Piña-Kale-Ada kale and coconut smoothie. A much needed boost of fruit and veg after all the sweet treats earlier that day. What a lovely little health conscious and eco-friendly café. The only 100% vegan café on Maui, in fact. Aside from açaí and smoothie bowls they also have light but filling plant based snacks such as wraps and burritos. The best part? They are super pet friendly. Sushi not only got a tasty treat and a water bowl, but also the cutest little pink sweater which she has worn proudly ever since. Thank you a'a Roots, Sushi is one happy puppy!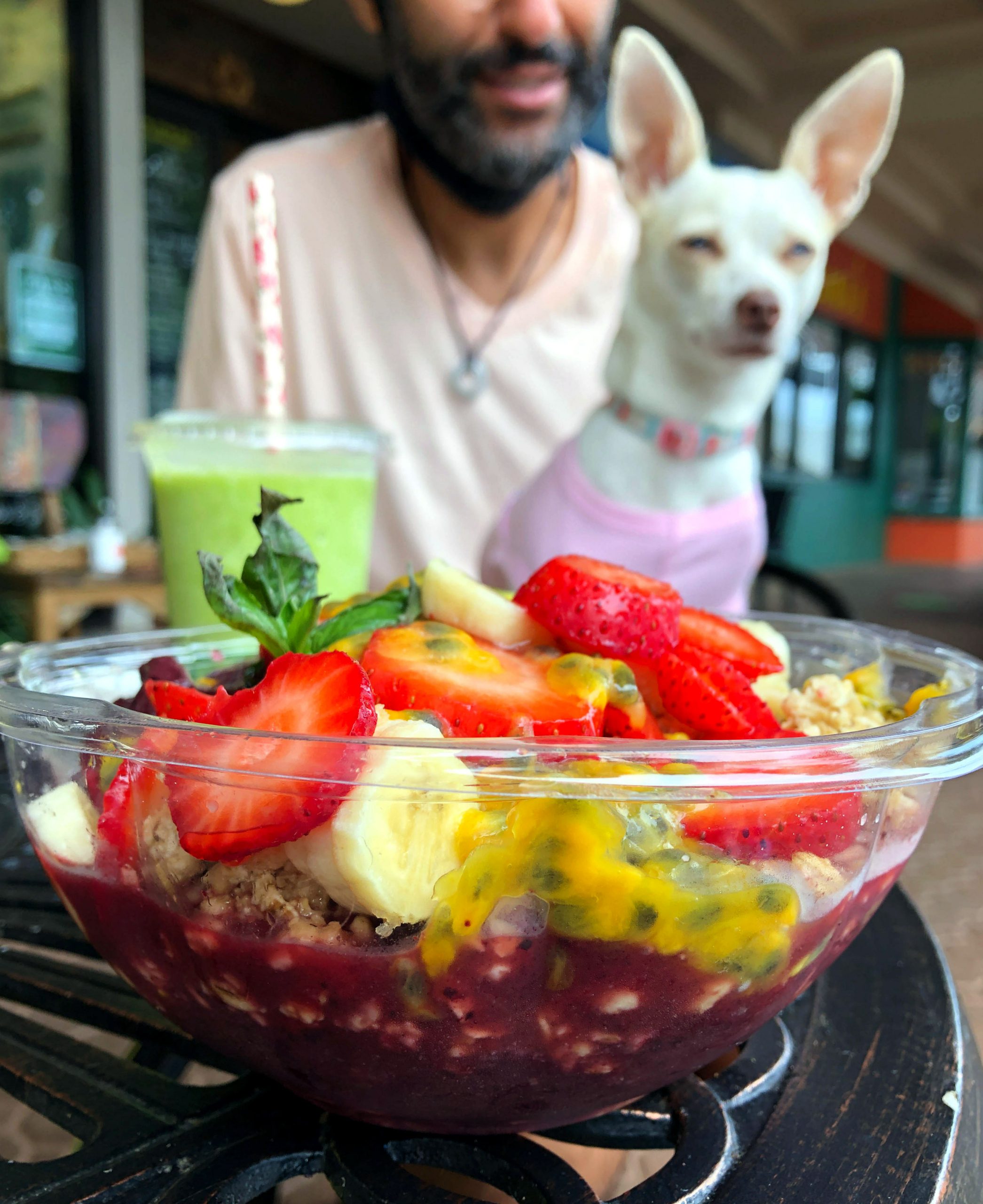 11. Obama Burger at Paia Fish Market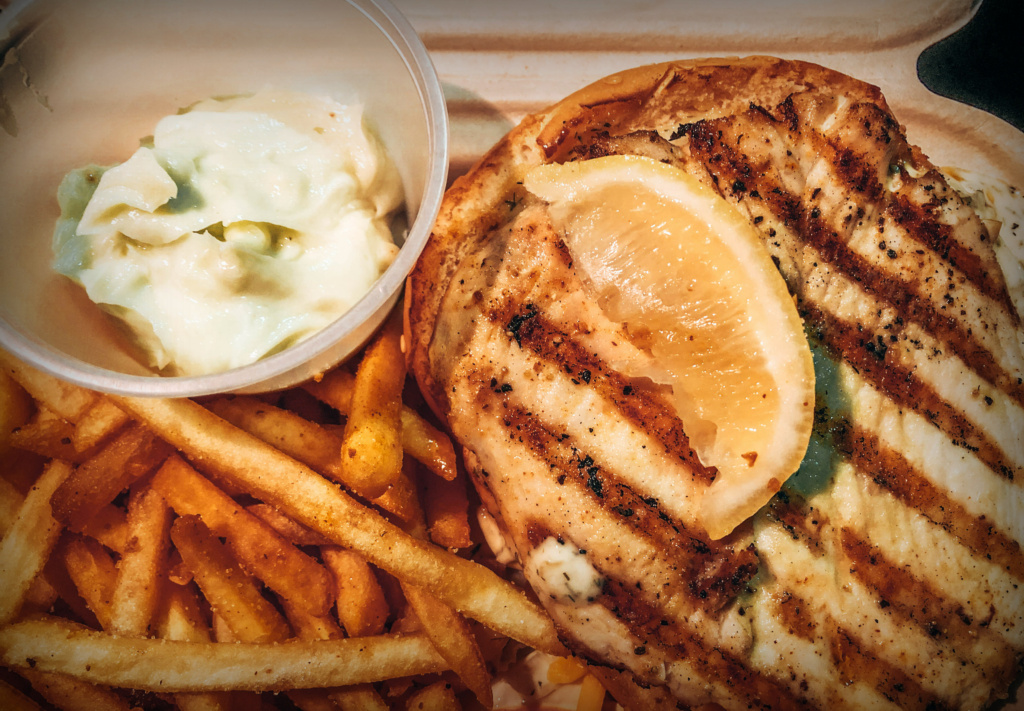 If you've searched Google for fresh fish on Maui, you will have surely come across Paia Fish Market at some point. With additional locations in Kihei and Lahaina, this seafood restaurant is a firm favorite among locals and tourists alike. Their motto is "fresh fish with aloha" and we confirm that's exactly what you can expect. However, what Google doesn't tell you is that there's a secret menu item known to insiders as the Obama Burger. Ask for Obama-style burger and you'll receive a delicious grilled Cajun-style ono burger with the key secret ingredient – house made wasabi butter! Not really sure where the name originates, but this fish burger is so good Mr. Obama can be proud!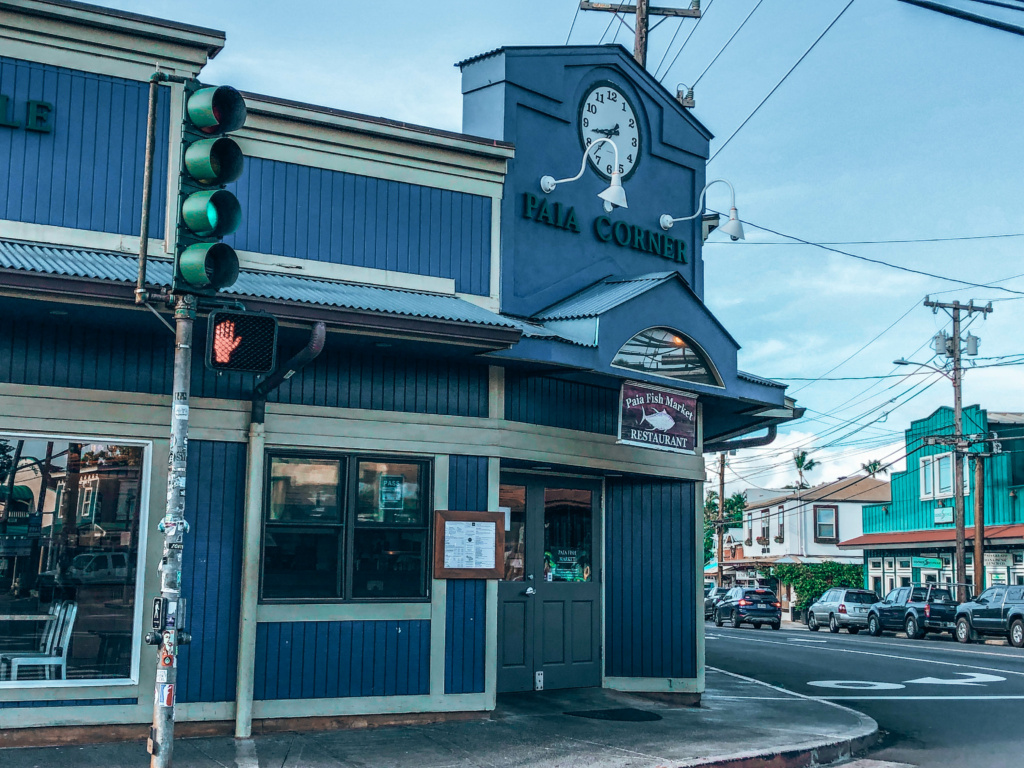 12. Pineapple Garlic Shrimp at Geste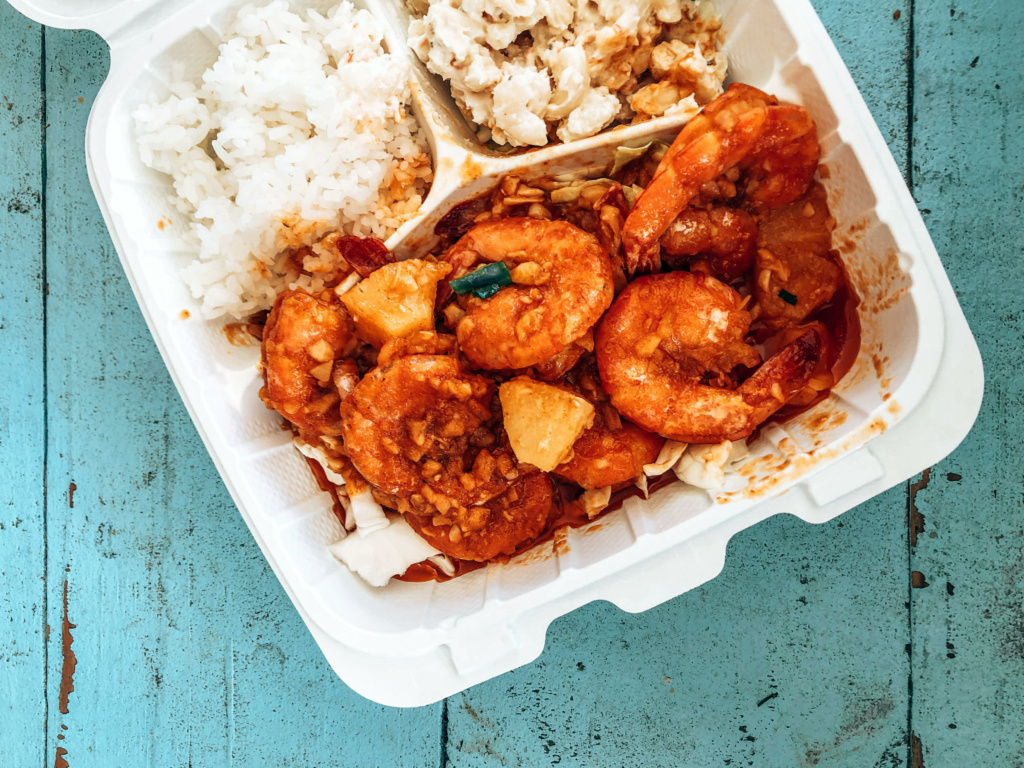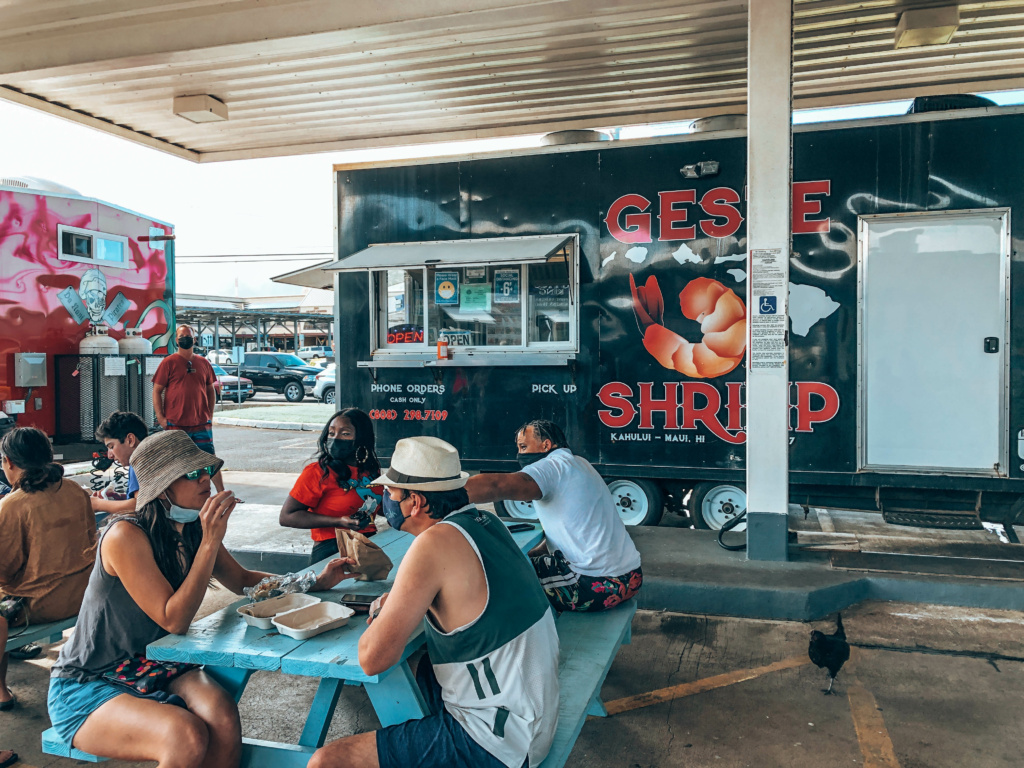 Speaking of fresh seafood, Giovanni's garlic shrimp on Oahu's North shore is gathering world fame. Meanwhile on Maui, a humble food truck Geste Shrimp quietly cooks up not just equally awesome garlic shrimp: it's Spicy Pineapple Garlic Shrimp with Crab Mac Salad. Take that, Oahu. 😉 Head to the mini food truck park set up on site of a former gas station on Dairy Road in Kahului during lunch time to enjoy this place at its best. And to make sure they don't sell out of shrimp, which they do. Choose between shrimp over rice with crab salad, i.e. plate lunch style, or shrimp over cabbage pupu platter style. Aside from Geste's fab shrimp, you will also find Shaka Tacos, Hawaiian Thai fusion, Sparky's plate lunch and a truck serving local coffee. Also don't miss Earth Aloha Eats, a 100% vegan food truck serving plant based delicacies such as phish and chips, beyond meat California burritos, aloha burgers and vegan creme brulee!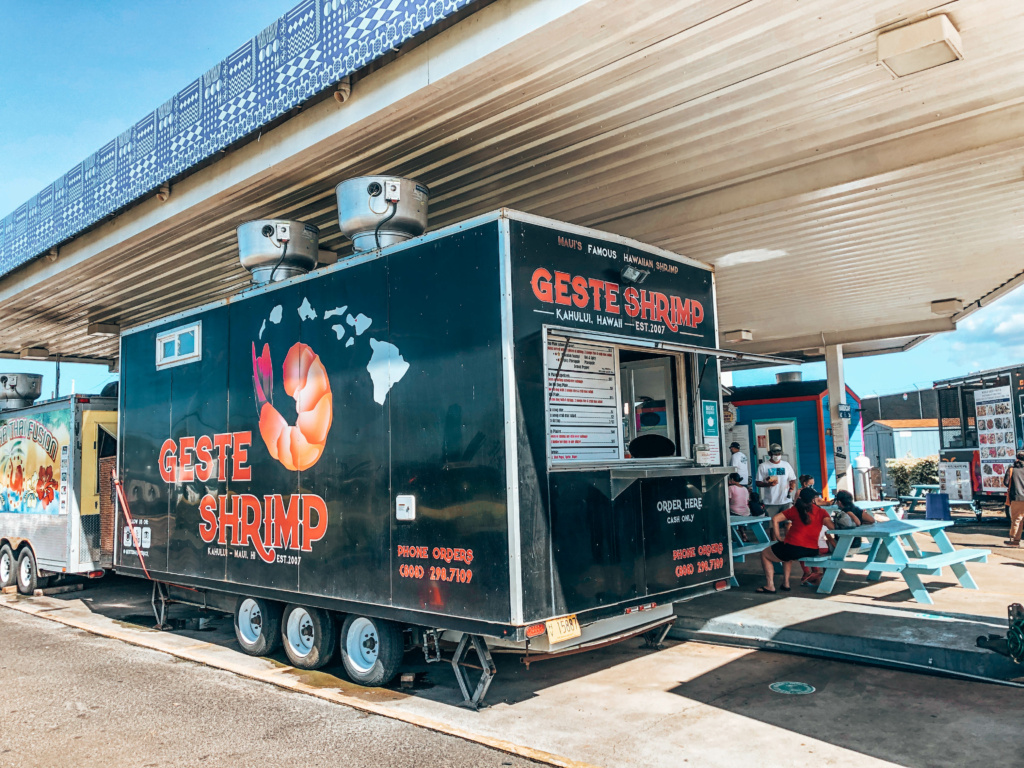 13. Coconut Shrimp and Coconut Porter at 5 Palms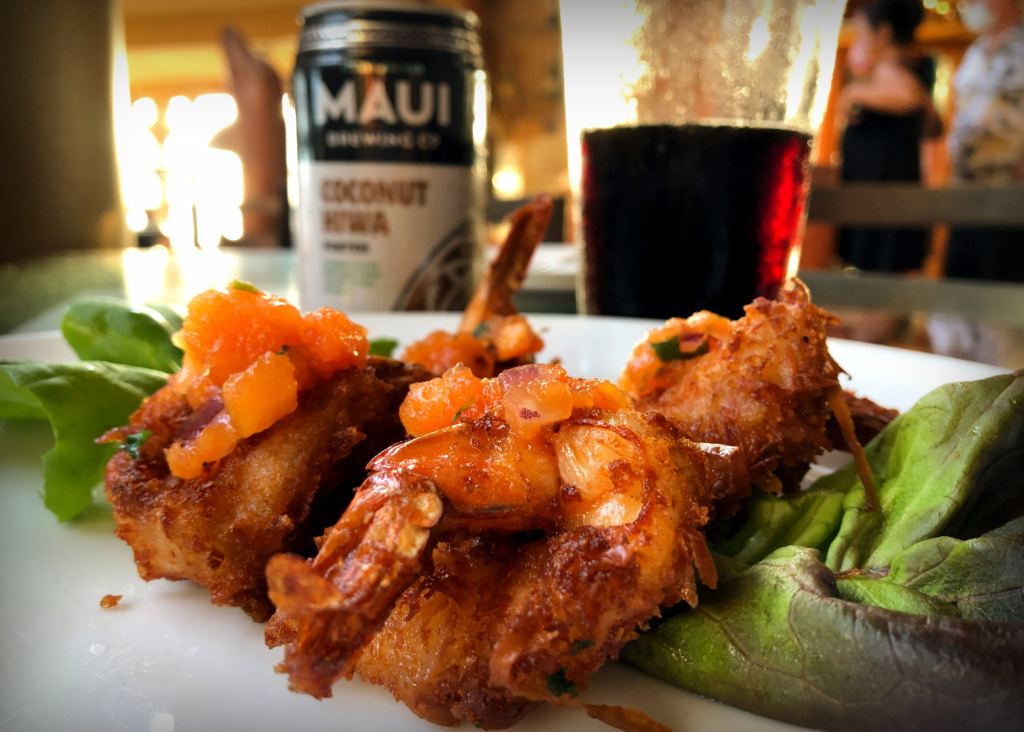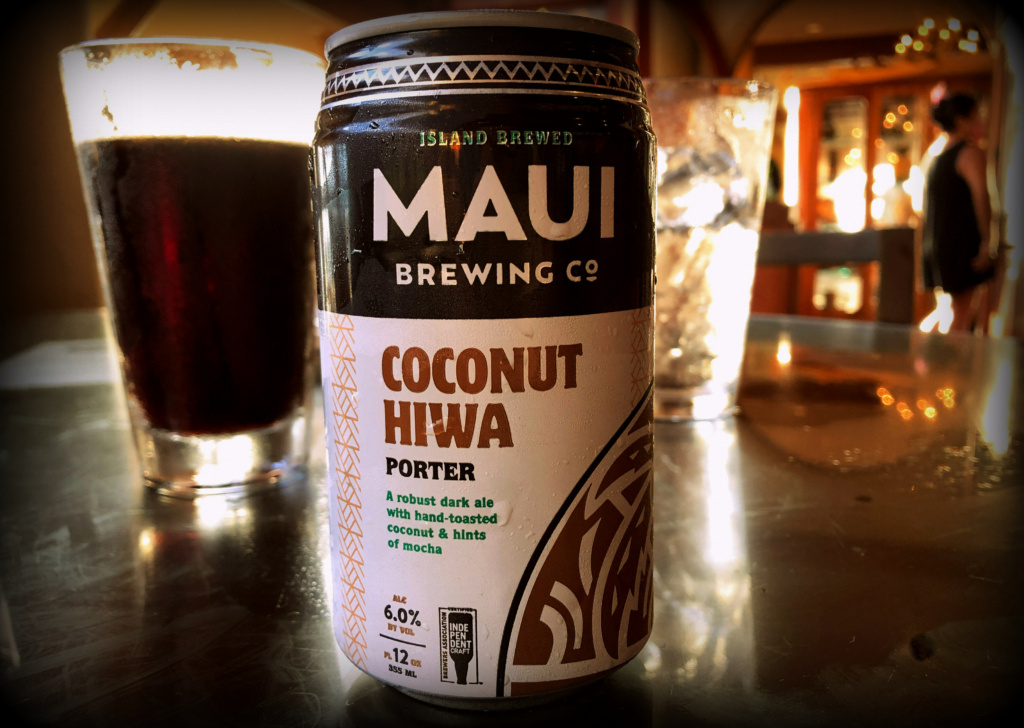 We really wanted to try Maui Brewing's coconut porter and since the actual brewery doesn't allow dogs despite their large patio, we had to find a different place. We stumbled upon 5 Palms Restaurant totally by chance while walking along the beautiful Keawakapu Beach. Their breezy patio was so lively we had to see what was all the buzz. Turns out they have a popular Happy Hour and on it Maui Brewing coconut porter. And they are dog friendly! And they source their ingredients from local Maui Upcountry farms! That was our sunset drinks sorted (Keawakapu Beach is one of Maui's best sunset spots). We also tried their happy hour coconut crusted shrimp with mango salsa. How's that for a food and drink pairing made in Hawaii?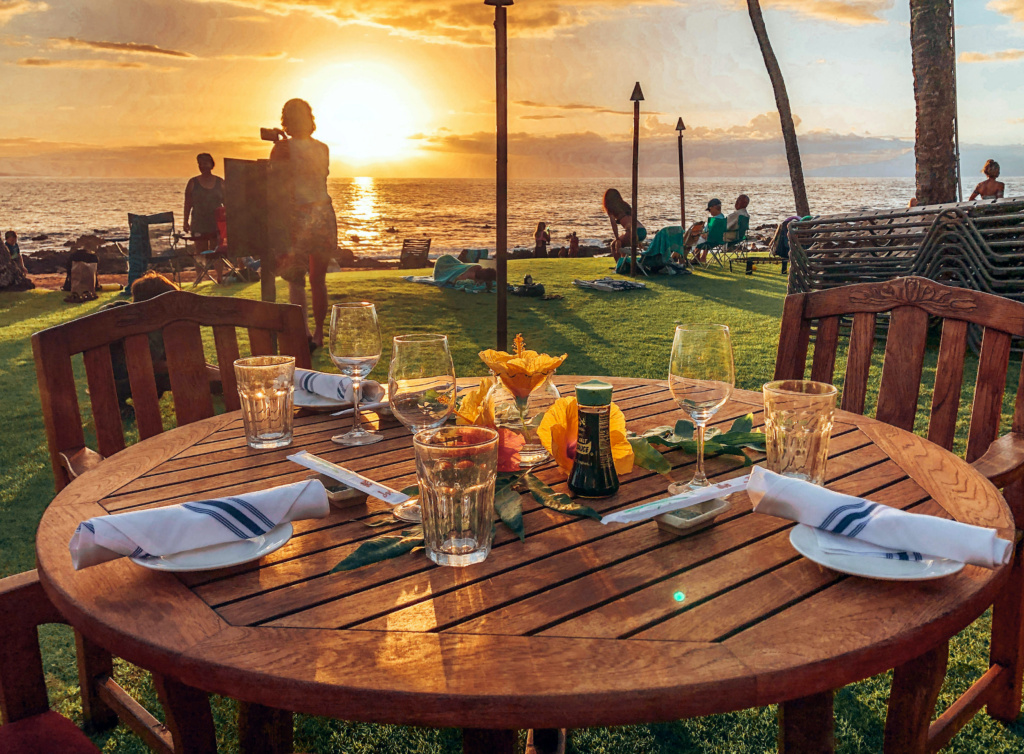 14. Kimchi Fried Rice at Vanta Coffee Hub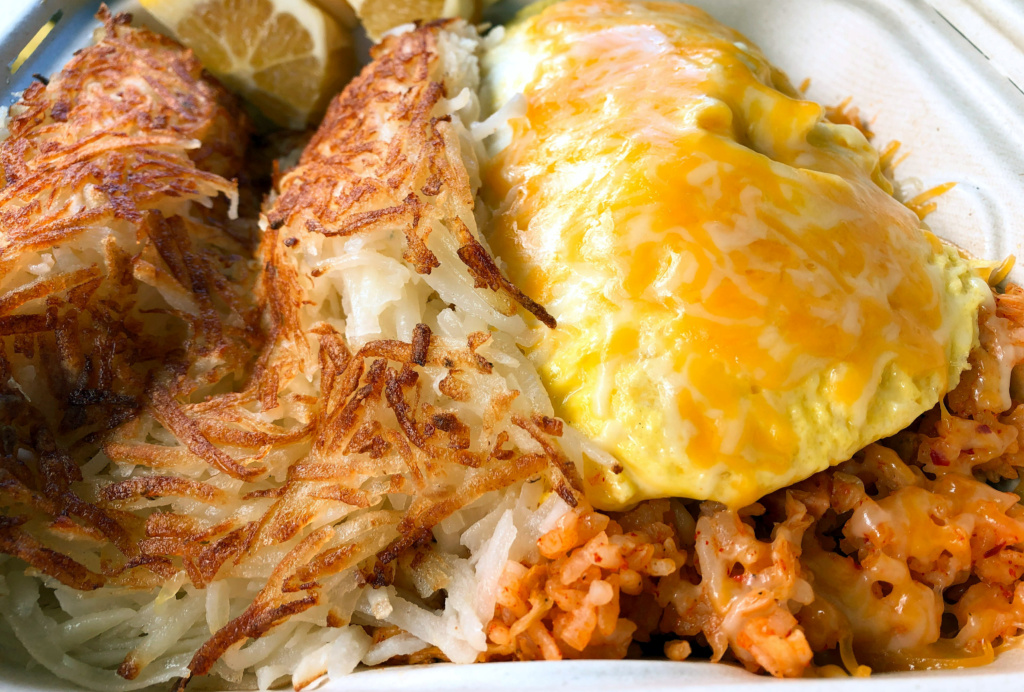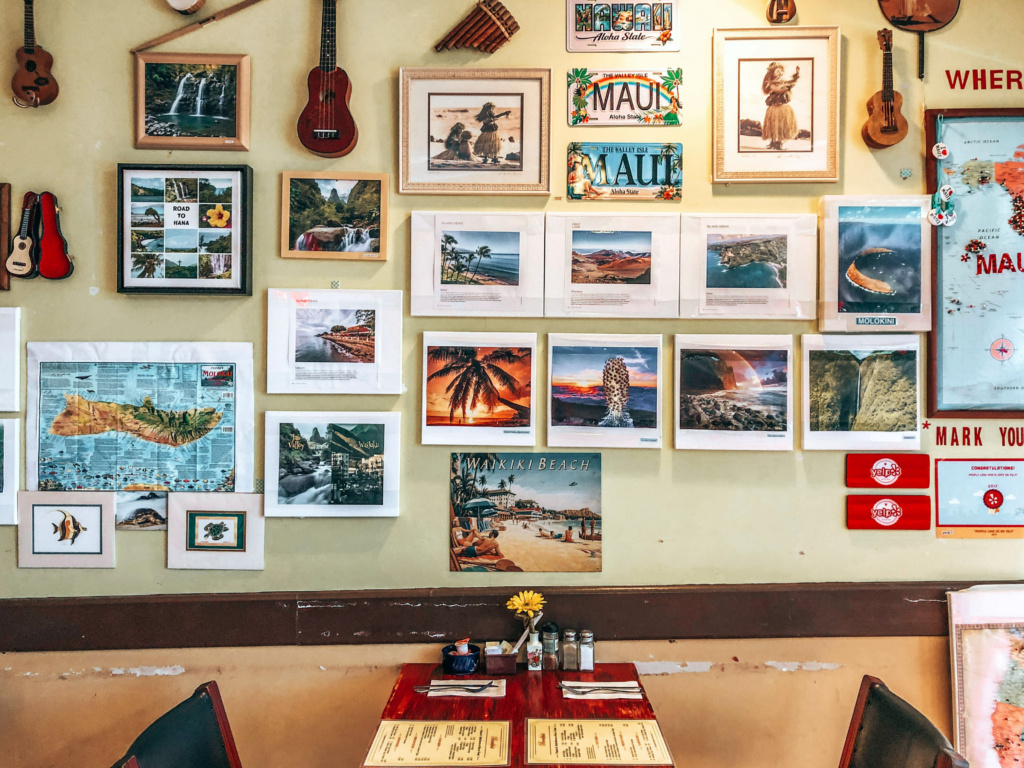 You may have already seen Vanta's kimchi fried rice omelet on my Instagram. It was one of the highlights of our visit to Maui. Billy and Jinny, of Korean decent, make what we declare the best kimchi fried rice in all of Hawaii. To say that Vanta Coffee Hub, tucked away in an industrial neighborhood of Kahului, is underrated, doesn't quite describe it. Even their drip coffee is stronger than elsewhere. They open at 6AM which means you can grab a hearty breakfast here before hitting the Road to Hana. Although be warned, when we came at 6AM Billy was just beginning to prepare a fresh batch of kimchi fried rice for the day. So you may want to visit a little later if that's the dish you're after, and it should be. Typically served with generous two fried eggs, you can also have it as an omelet – somewhat of a secret menu thing. Their freshly made potato hash rocks too. Mahalo Billy and Jinny, we'll be back!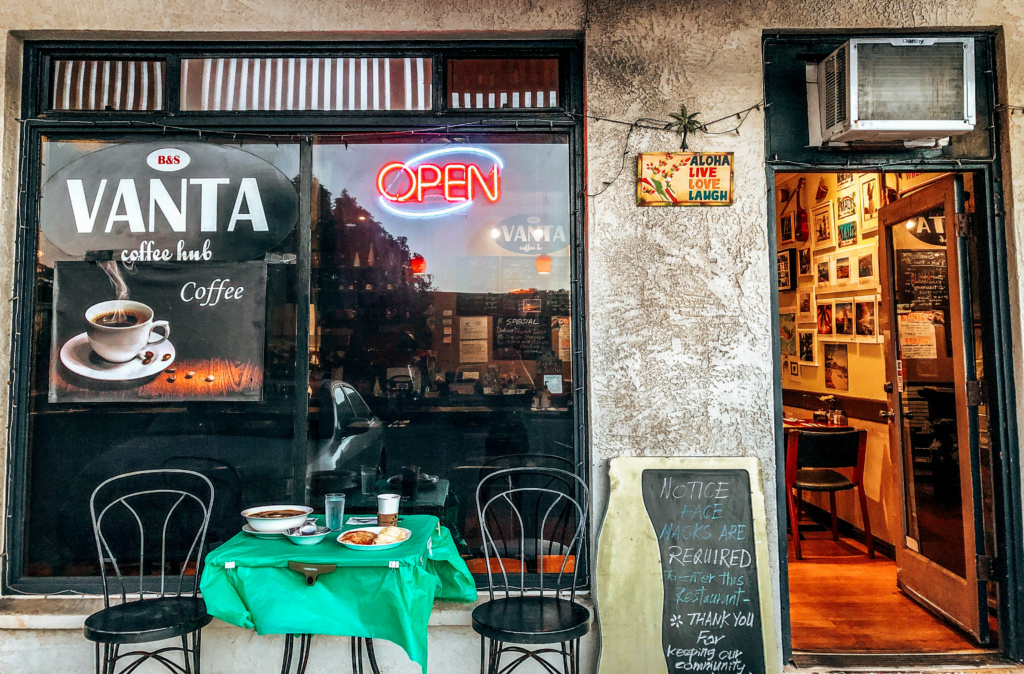 ---
Do you have any other recommendations for Maui eats? Comment below! Did you enjoy any of the above? Tag @eightyflavors on social media!
You might also like: WHERE TO EAT MALASADAS IN HAWAII – OUR 5 FAVORITES