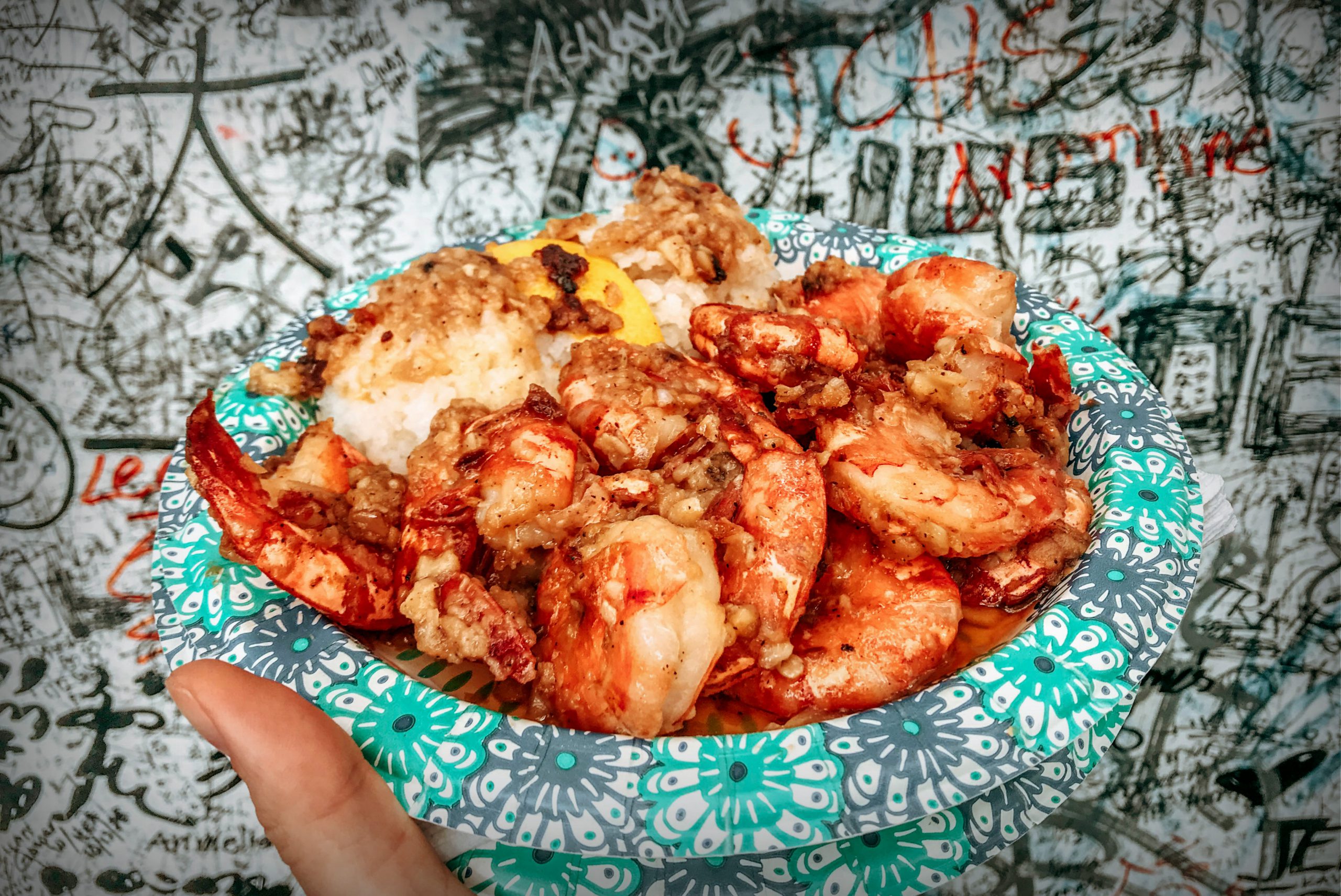 Best Garlic Shrimp in Hawaii: Top 5 Shrimp Shacks You Should Try
Hawaiian garlic shrimp is one of the state's most iconic dishes. No trip to Hawaii is complete without a visit to a shrimp shack. Buttery, rich and garlicky, its decadent taste will have you longing for Hawaii long after you return home. Every island has several great shacks or food trucks serving this seafood delicacy, and every local has their favorite. Here are some of ours:
1. Giovanni's Shrimp Truck, North Shore, Oahu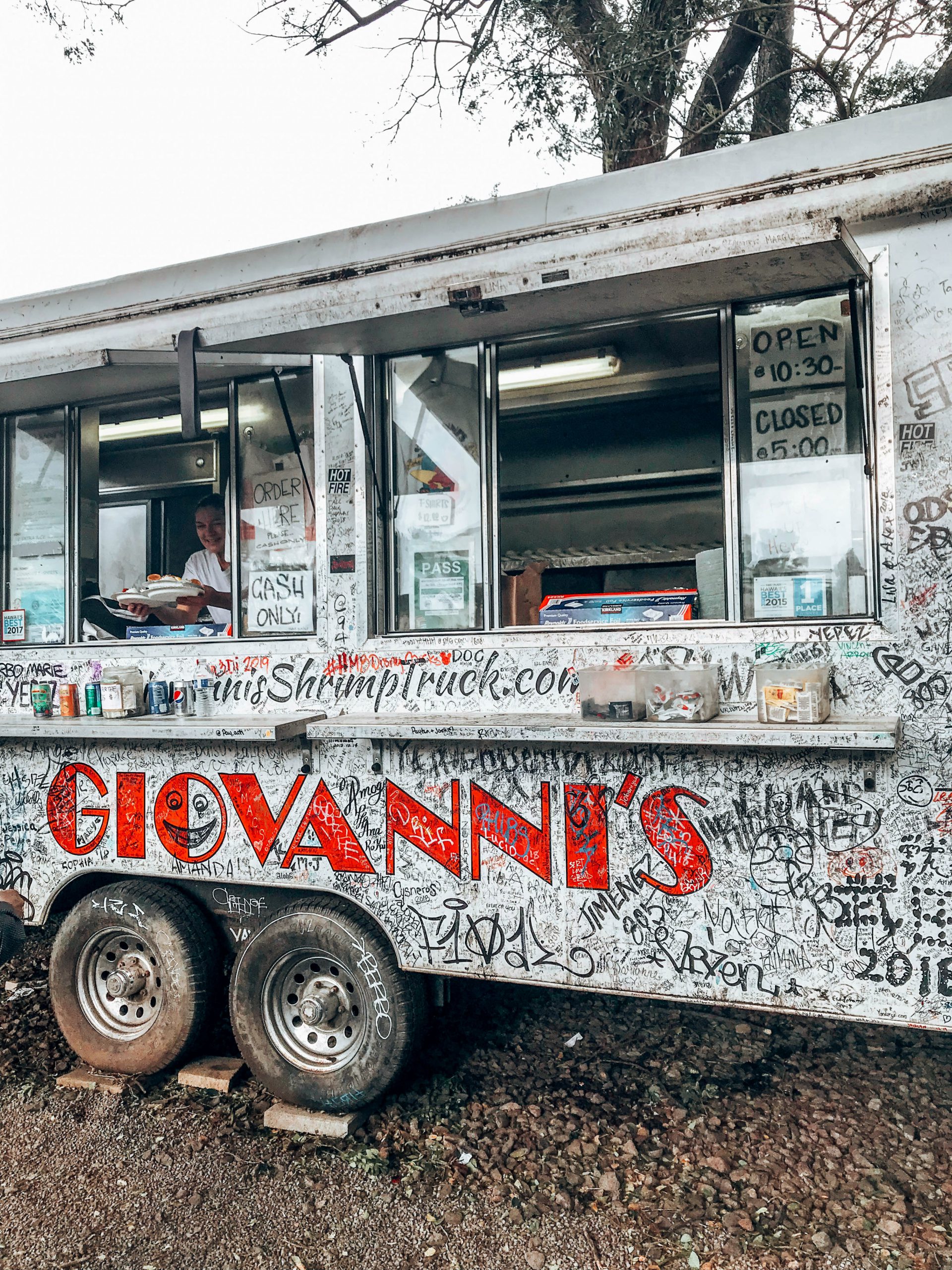 With over 5,000 Google Maps reviews Giovanni's Shrimp Truck is somewhat of a local shrimp sensation. We feared it may have become a victim of its own success and perhaps cut corners here and there. But no, Giovanni's garlic shrimp is just as good as they say. I wish the mac salad came with the shrimp plate, you have to get it as an add on. Top tip: you can get half portions. This way you can sample more of their shrimp – aside from classic garlic scampi they also do lemon butter and hot & spicy. You'll just have to decide whether it's worth your time to stand in the long line. If not, head over to the nearby Big Wave Shrimp.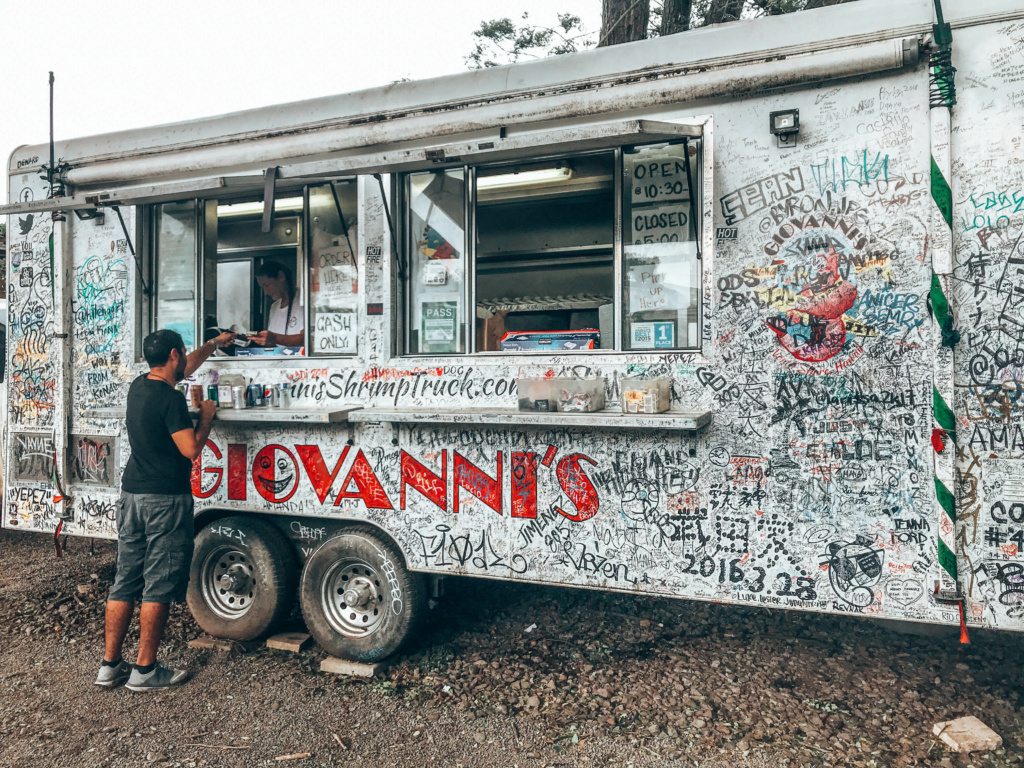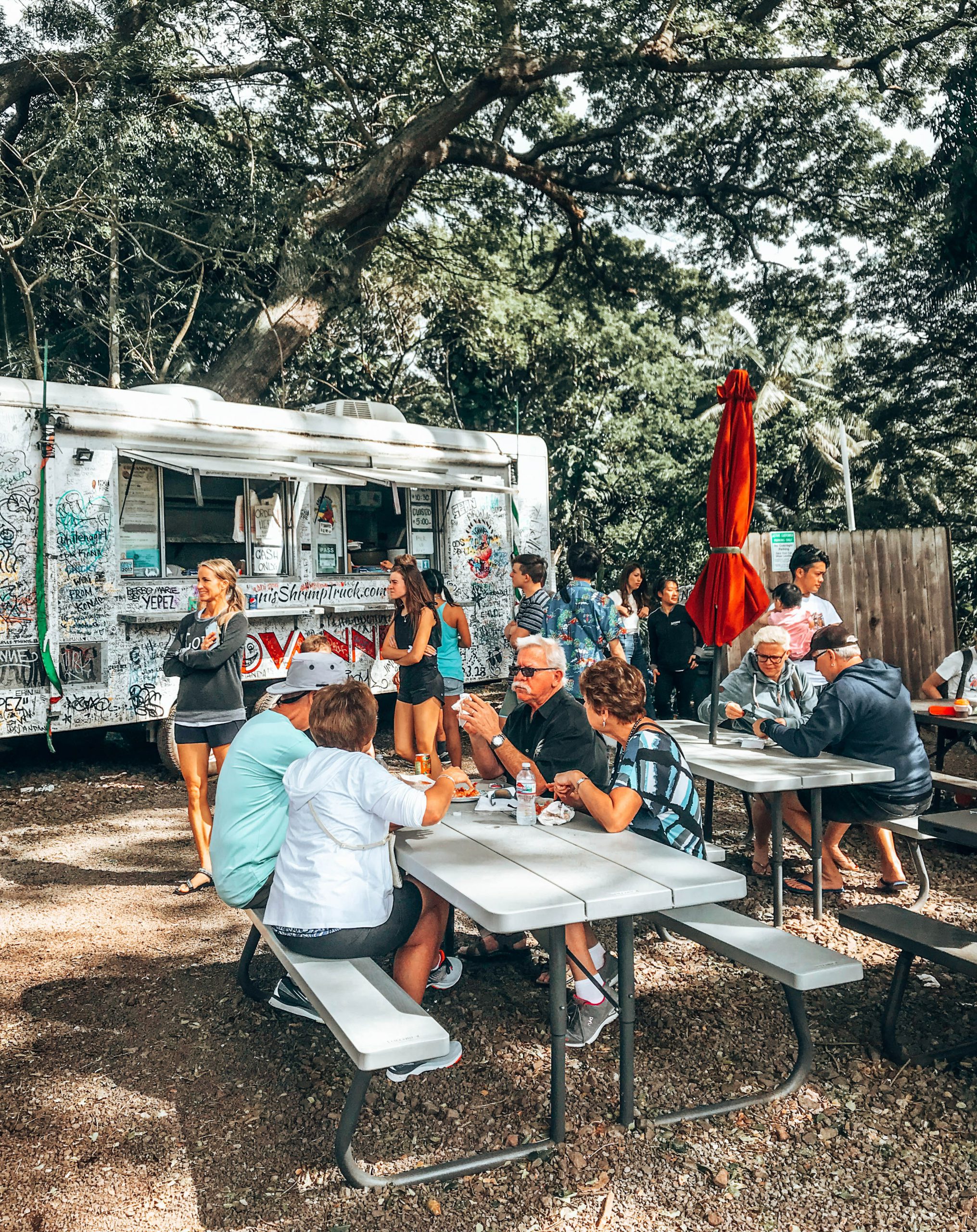 2. Big Wave Shrimp, North Shore, Oahu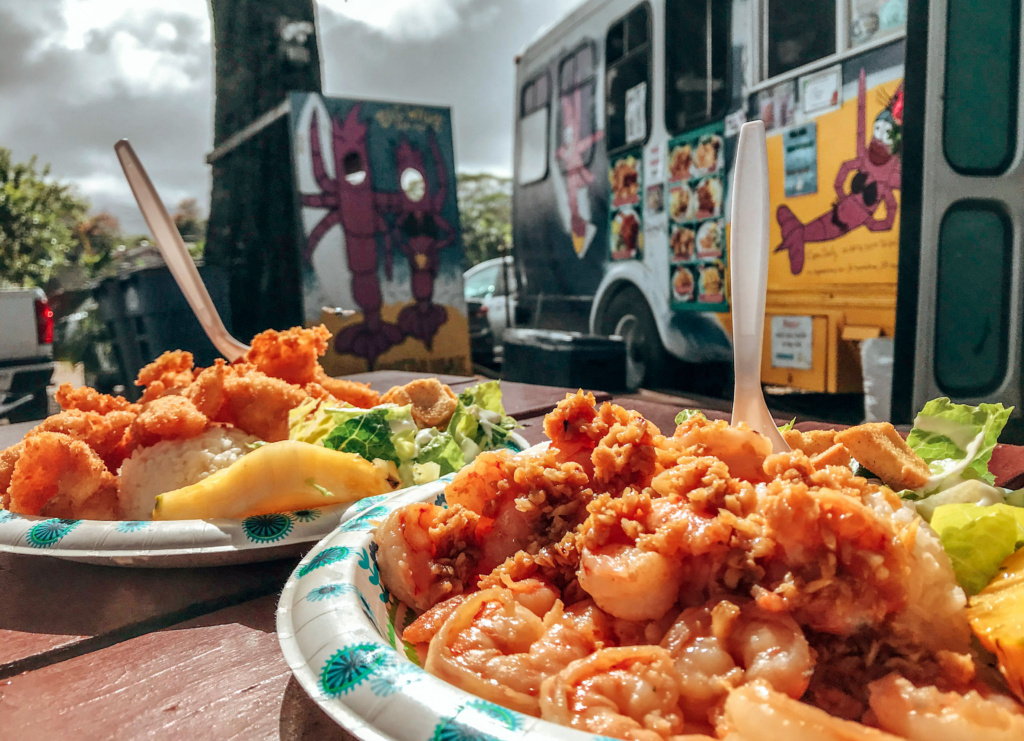 We got a plate of garlic shrimp at both Giovanni's and Big Wave for comparison and they were just as good. At Big Wave Shrimp you can select between peeled and unpeeled shrimp. You can also try their onolicious coconut and lemon pepper shrimp. Each plate comes with rice, green salad and a chunk of fresh pineapple. There are ample tables to comfortably enjoy your shrimp and parking is much easier than at Giovanni's too. Extra points for sunscreen available for use for patrons unprepared for the relentless North Shore sun.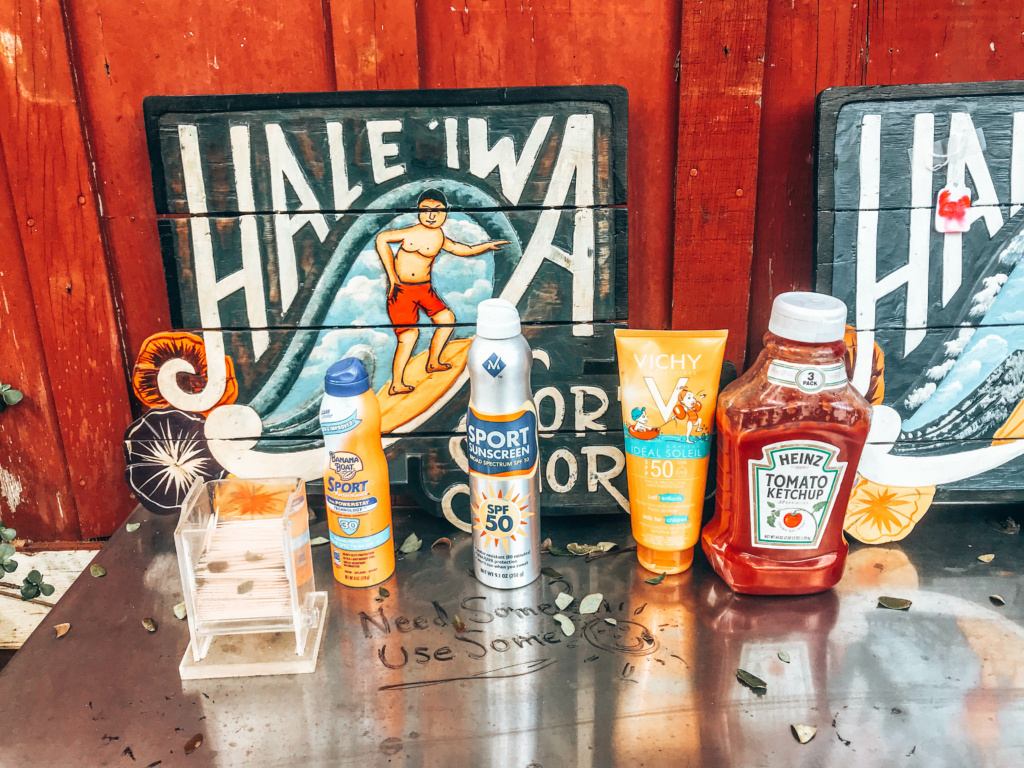 We also heard great things about the nearby Fumi's Kahuku shrimp truck and Aloha Shrimp, but didn't get a chance to try the garlic shrimp at either. Let us know what you think in the comments if you've had it!
No trip to Hawaii is complete without a visit to a shrimp shack.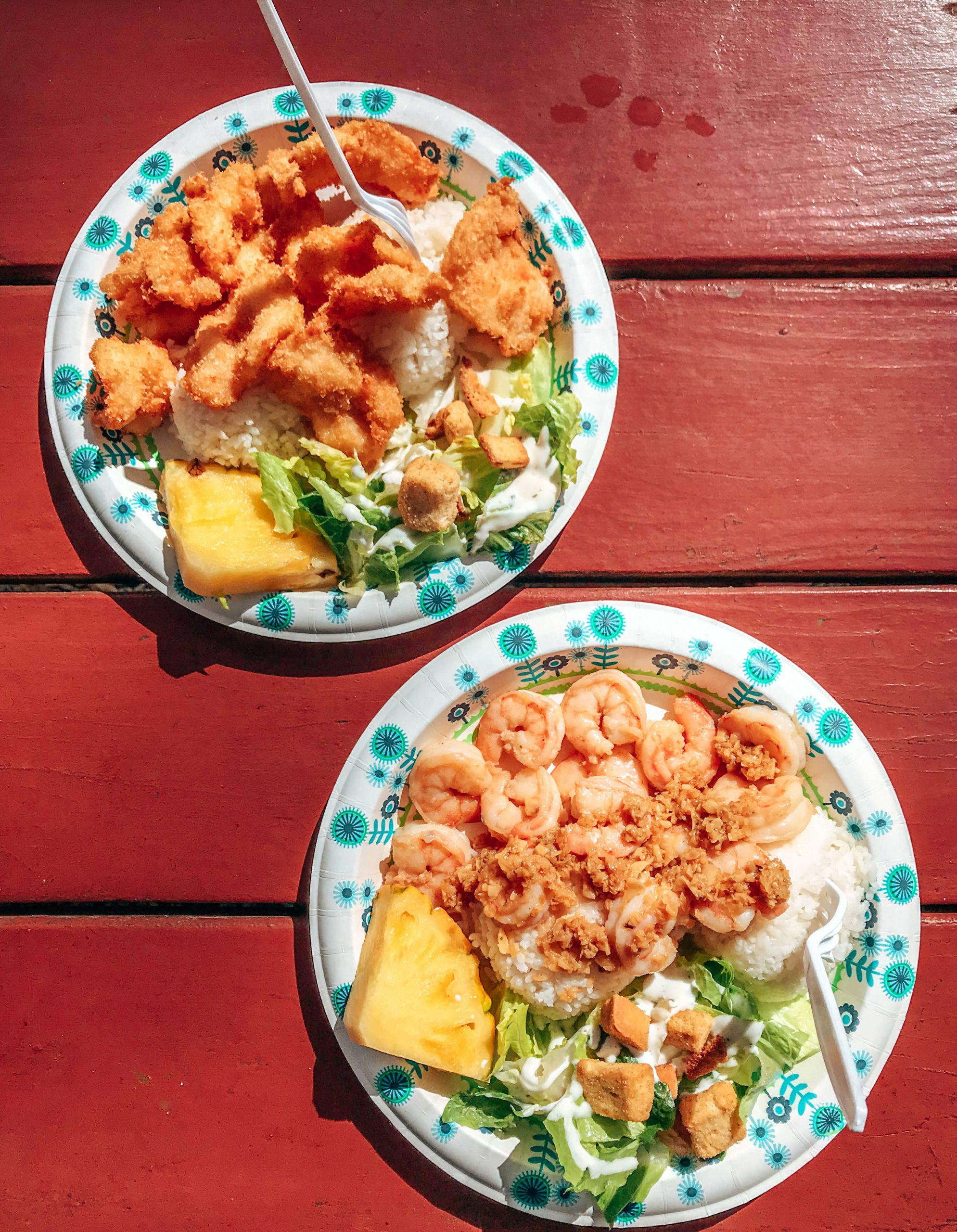 3. Geste Shrimp, Kahului, Maui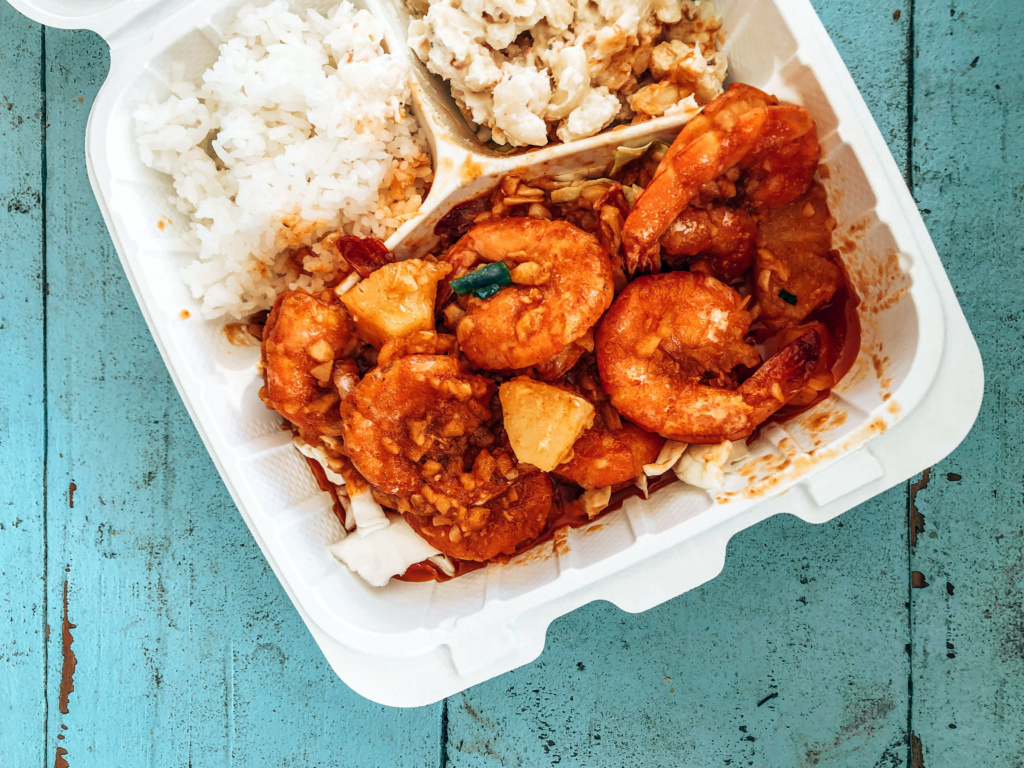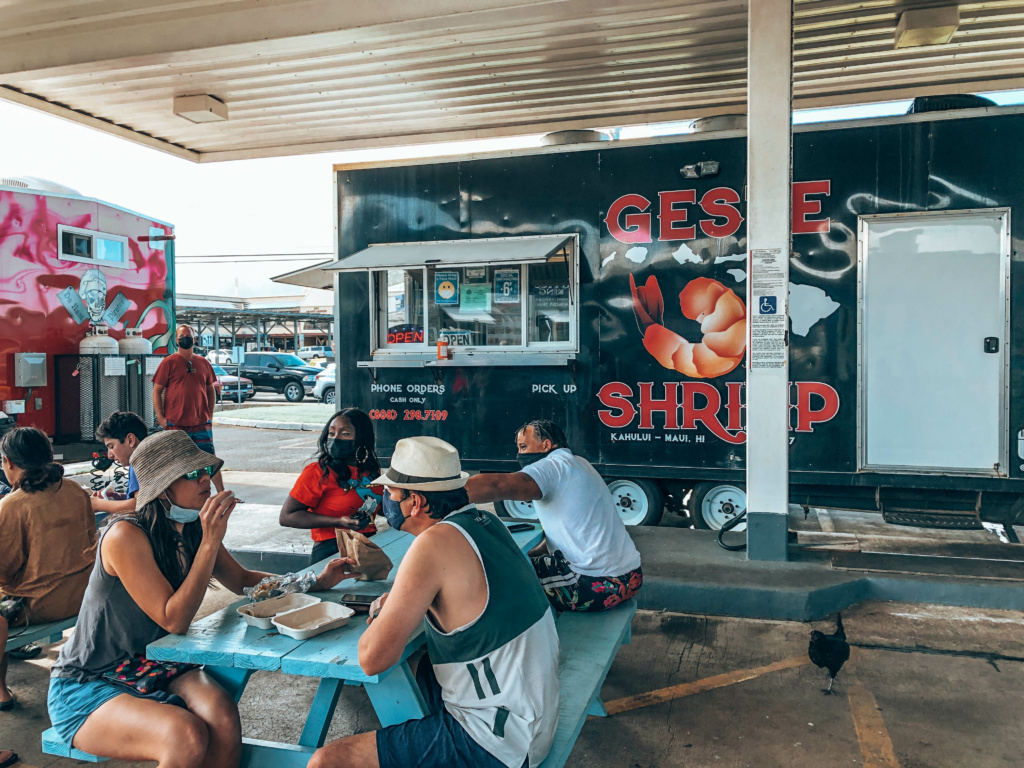 While Oahu's North Shore is stealing all the limelight, over on Maui Geste Shrimp has been quietly serving up not just garlic shrimp. Geste's specialty is spicy pineapple garlic shrimp with crab mac salad! Take that Giovanni😉 You can also have their garlic shrimp as a pupu shrimp platter (appetizer) rather than plate lunch style with rice and mac salad, if you're watching your carb intake. They are located in a mini food truck park in a former gas station. A very cool place popular with locals and buzzing from lunchtime to dinner. Definitely some of the best garlic shrimp in Hawaii.
You might also like: DINNER AT TIFFANY'S: BEST FOOD IN MAUI YOU NEVER HEARD OF, BEST POKE ON THE BIG ISLAND: 7 PLACES YOU SHOULD TRY
4. Hawaiian Shrimp Co., Hilo, Big Island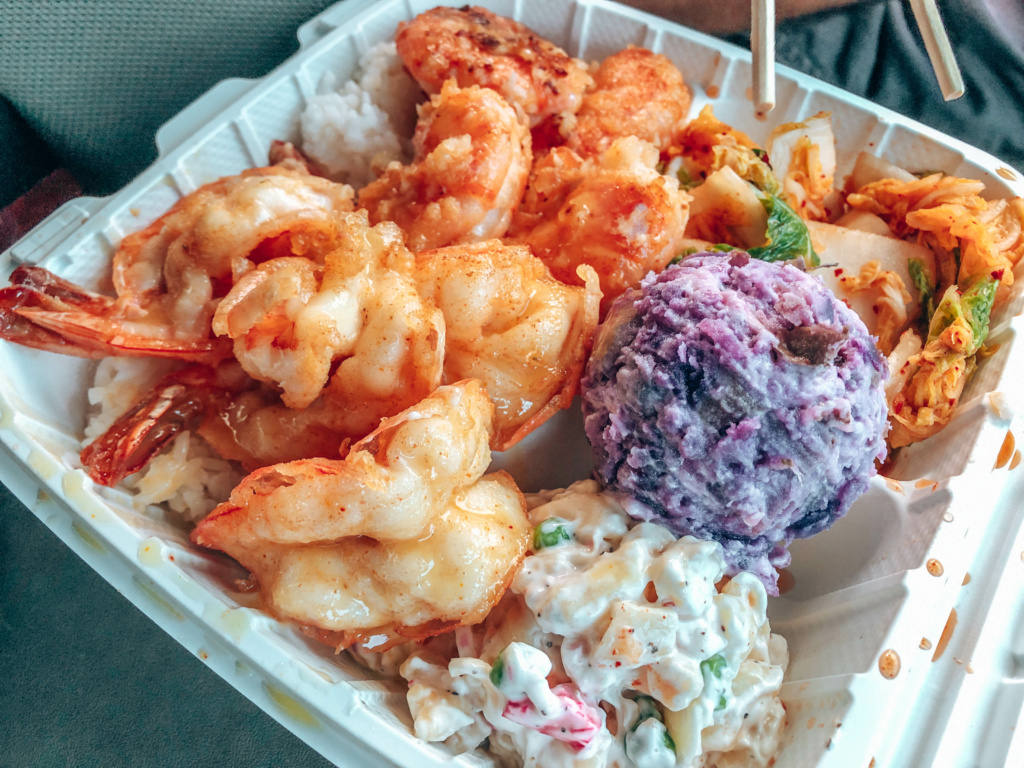 Listen up my friends: lilikoi shrimp! That's right, aside from garlic shrimp Hawaiian Shrimp Co. also serves lilikoi shrimp and it's scrumptious! I guarantee you'd never find this joint tucked away in a food court next to Walmart in Hilo. It's top secret local knowledge, though even locals tend to miss it. The way to go is half half lilikoi and garlic shrimp combo. The lilikoi flavor is just subtle enough to give it the extra tanginess without overpowering the buttery shrimp. Your shrimp will be served with a generous choice of three sides. We recommend purple sweet potato, mac salad and kimchi for a colorful, flavorful and filling plate lunch.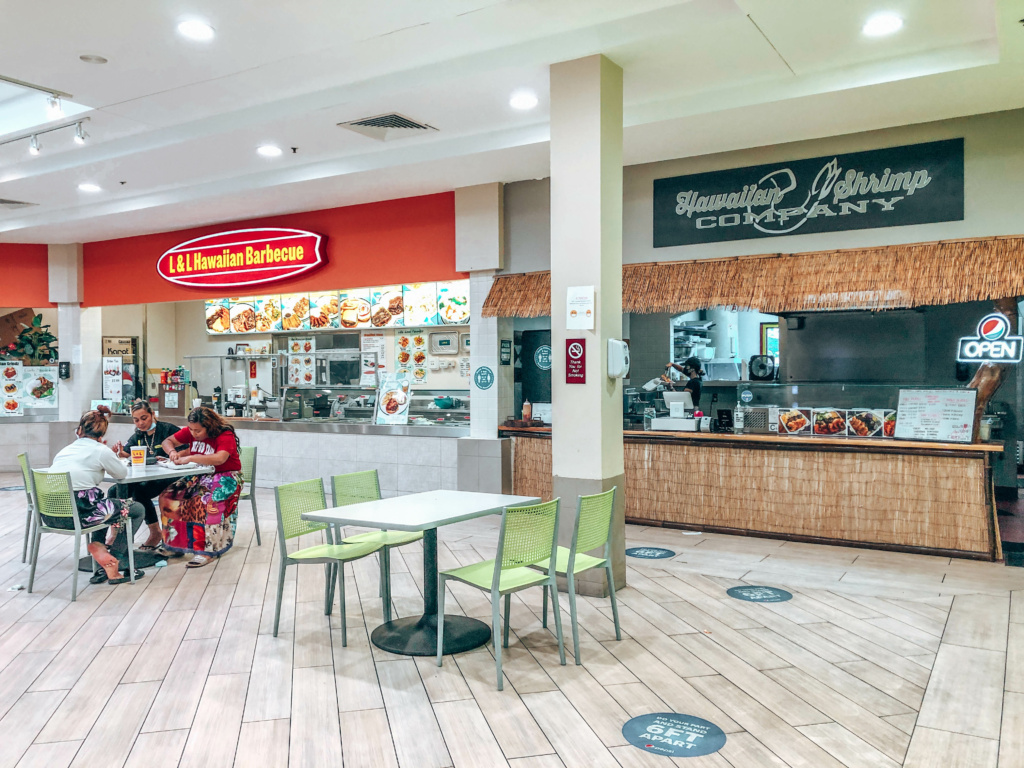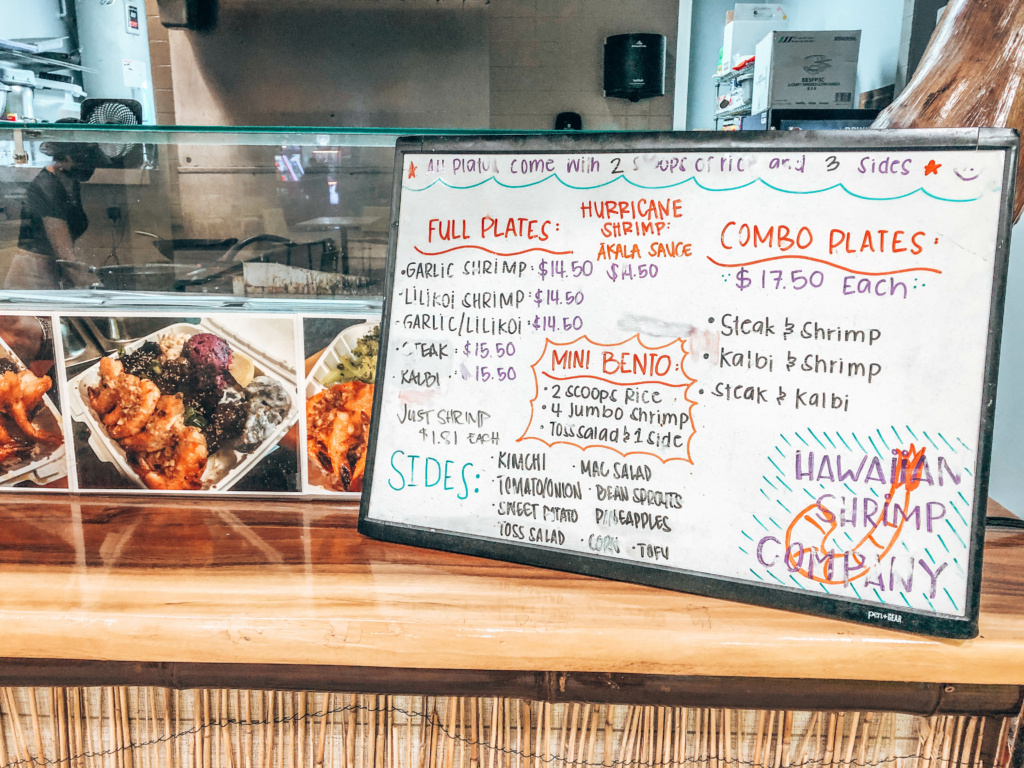 5. Rainbow Cafe, Kona, Big Island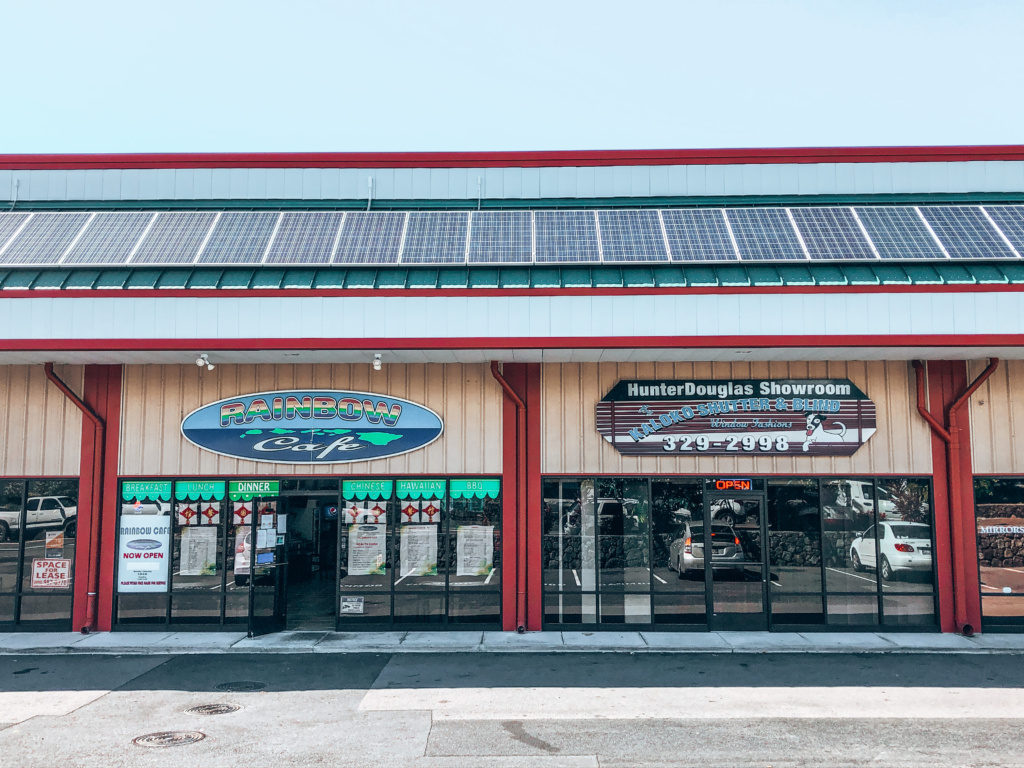 Another Big Island gem hidden behind a mall – you'll find Rainbow Cafe next to Kona Costco, of all places. This family run joint serves predominantly Chinese fare with many Hawaiian favorites on the menu. Including garlic shrimp. It may not be the best garlic shrimp in Hawaii but it's more than decent and one of the cheapest anywhere. They also have a "health foods" menu with several interesting veggie options and you can have your shrimp with brown rice. Bonus tip: Do not miss their freshly fried mahi mahi musubi, it'll blow your socks off!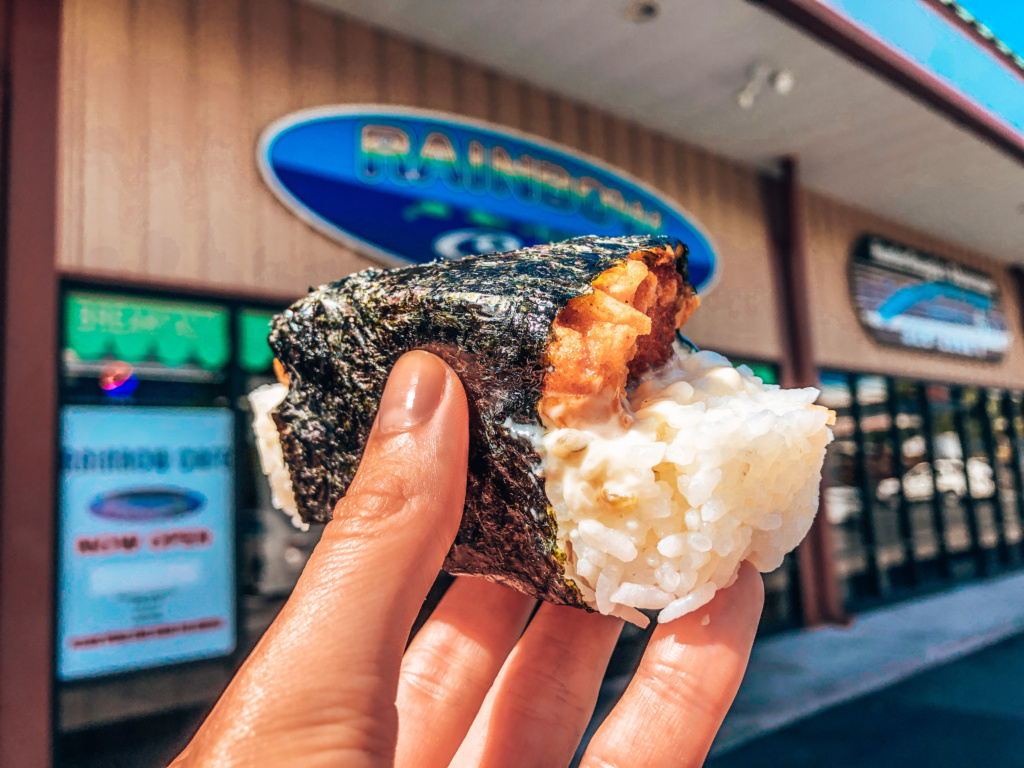 Bonus: L&L Hawaiian Barbecue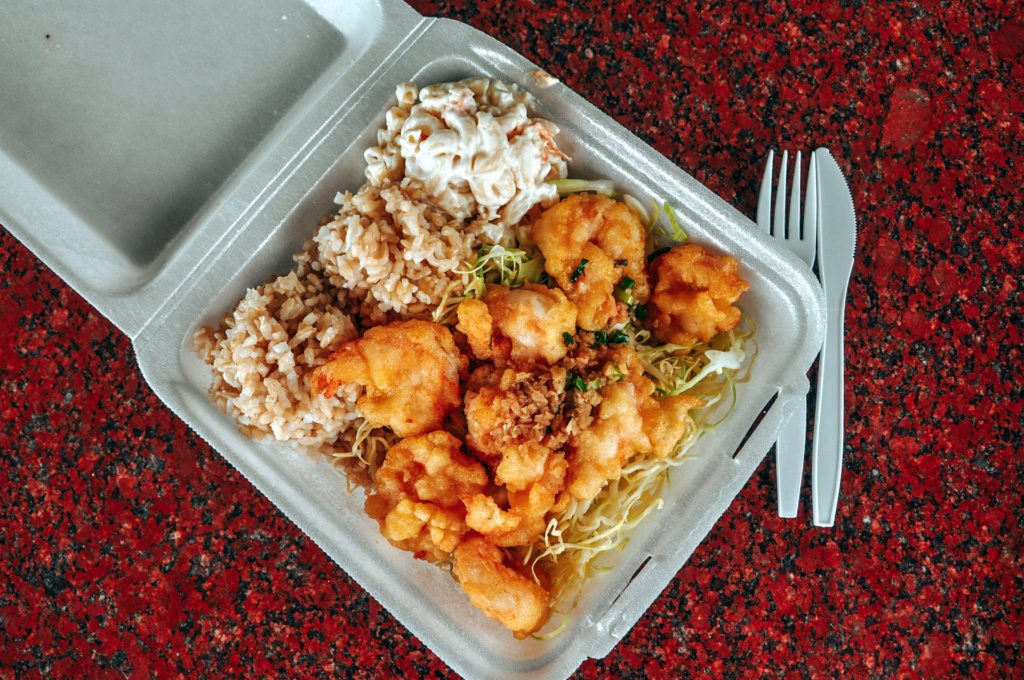 The plate lunch franchise chain L&L is ubiquitous in Hawaii. You will most likely end up there at least once on your visit, be it by choice or necessity. The food can be hit or miss but I'm delighted to tell you that our garlic shrimp was a hit – we had it at the L&L in Kohala, in the northern part of the Big Island, for the record.
The chain, founded in the 1950s, is a big part of the local community and it's actually a very Hawaiian food experience. Prices are definitely on the low end, and quality to price ratio is more than adequate. Catering to such a large part of the Hawaiian population comes with responsibility, thus L&L makes an effort to provide healthier options. As a result it's one of the few places where you can have your garlic shrimp with brown rice. You can also choose between heavier mac salad and lighter tossed green salad.
---
What was the best garlic shrimp in Hawaii for you? Have you had it anywhere else that's not on the list? Have you had awesome shrimp on Kauai? (We haven't been yet). Let us know in the comments below and/or tag @eightyflavors on social media! Enjoy!