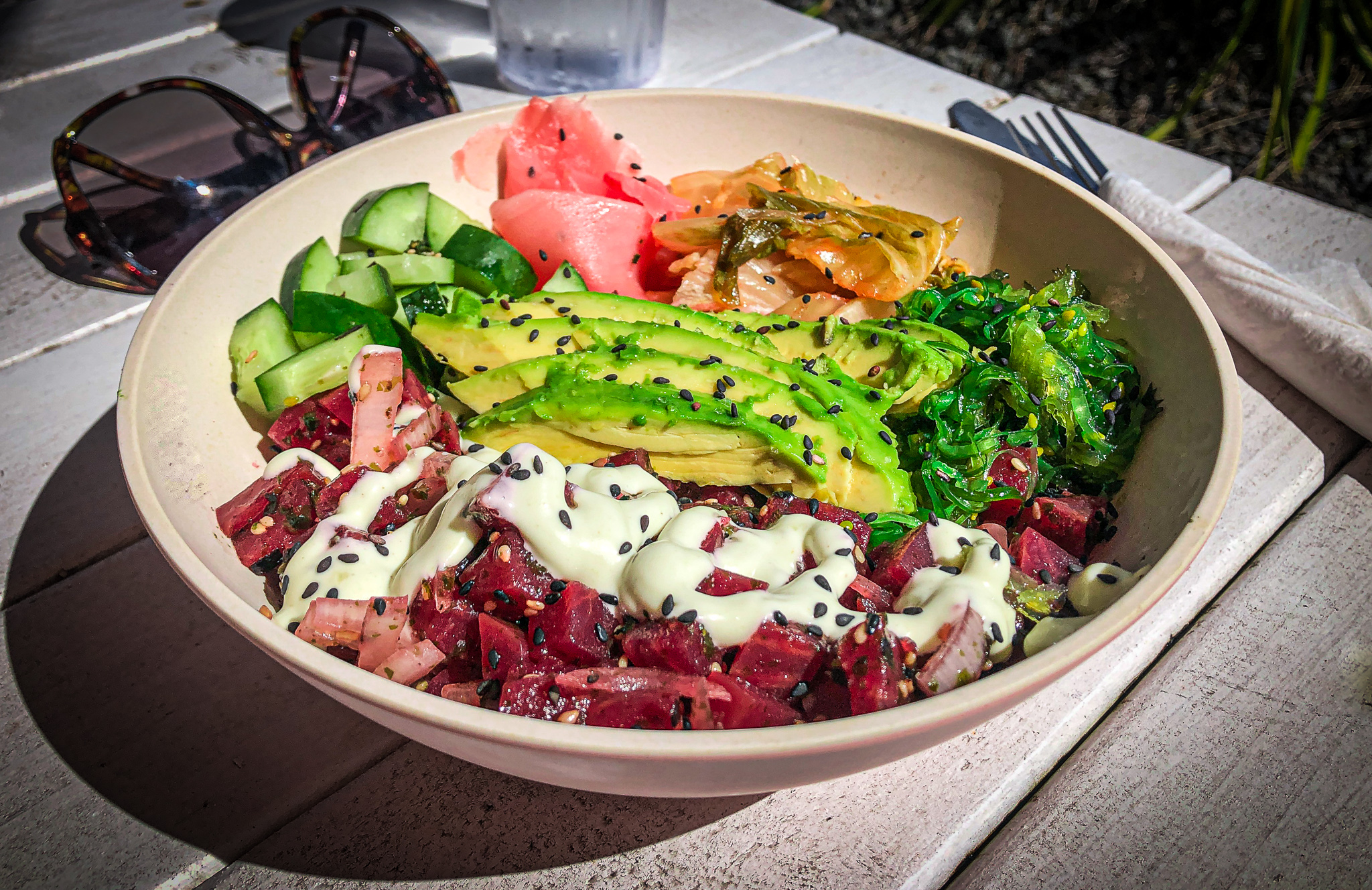 Best Vegan Food In Hilo, Hawaii: 25 Places You Should Try!
Searching for the best vegan food options on the Big Island? There is so much vegan food in Hilo friends – you just need to know where to look. And we're here to help!
Root for the underdog
We've said it before and we'll say it again: Hilo is such an underdog when it comes to foodie destinations! Hawaii's second biggest city after Honolulu, Hilo is a world apart from Waikiki, in the best possible way. It's not an obvious tourist destination, which means most of the local restaurants, with a few exceptions, cater primarily to local residents who return over and over again. We don't have to tell you that this means they have to try harder! And – despite catering mostly to Hawaiian palates – there is plenty of delicious vegan food to be found in Hilo.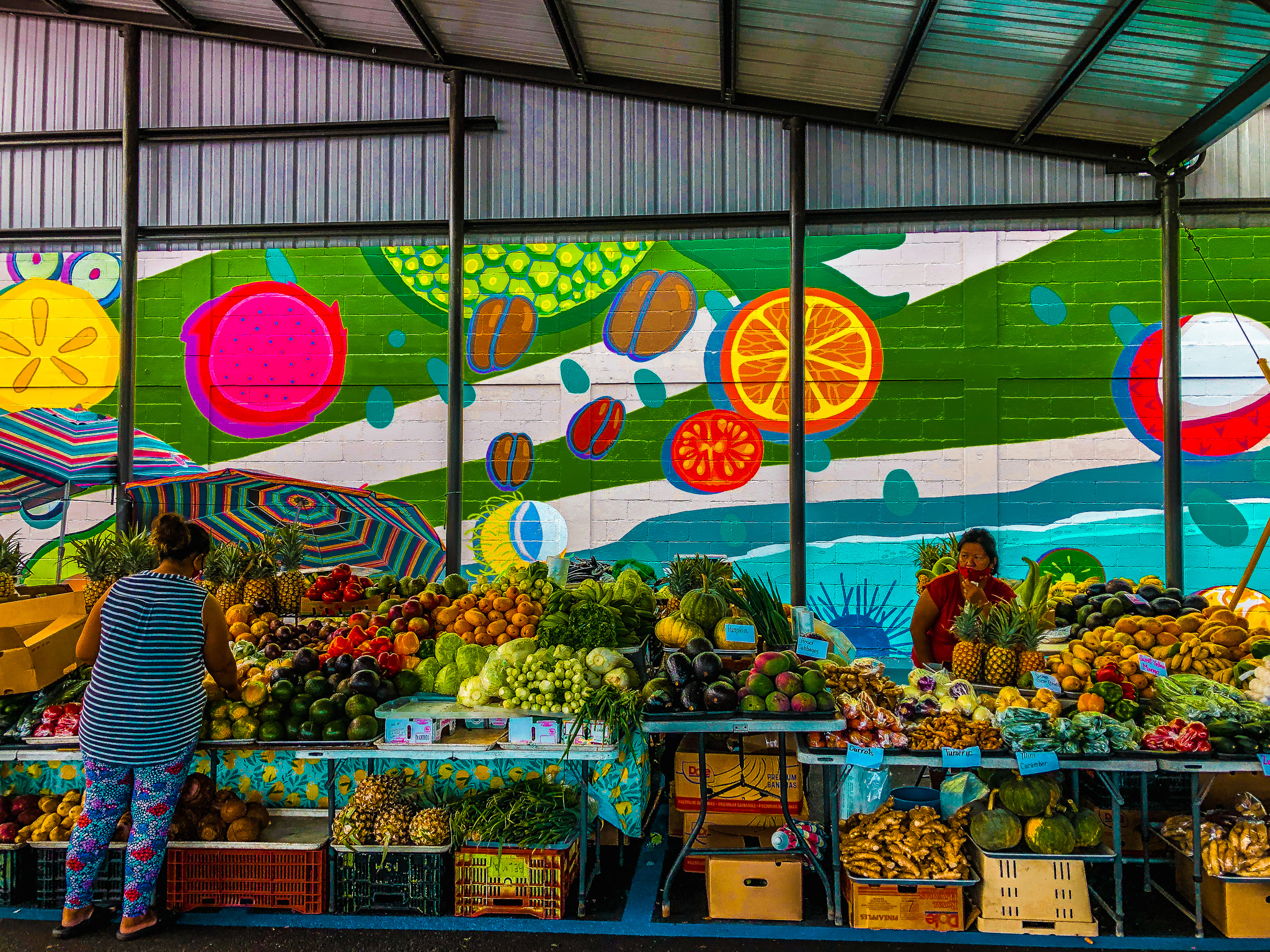 Sure, modern day Hawaiian food is largely based in fish (poke, garlic shrimp), pork (kalua, lau lau, spam), chicken (huli huli, katsu), beef and eggs (pipikaula, kalbi, loco moco). But Hilo is also home to long time residents of Asian decent as well as the nearby famously plant forward community of Pahoa which has resulted in a curious fusion of cuisines and flavors.
And let's not forget the good old okazuya (Japanese style deli counter), so unique to Hawaii. An inseparable and essential part of the Hilo food culture, okazuyas stem from Big Island's plantation era and are often described as culinary time capsules. Since the idea is that you can mix and match what you put in your take out box, and there is always an array of veg dishes, okazuyas are perhaps Hilo's best kept vegan secret!
Vegan Hilo
Here are our recommendations for where to find the best vegan food in Hilo, Hawaii. Always check opening times and plan accordingly, especially for dinner. Hilo is definitely a breakfast and lunch spot, not so much dinner. Also, these are mostly locally owned small businesses. If you visit be sure to leave them a review on your favorite review site. It really helps them out. Mahalo nui loa! Here we go, in no particular order:
Sidenote: As usual, bear in mind that even though we often choose and recommend plant based options, Around the World in 80 Flavors is not strictly vegan. We do not vet venues for aspects such as separate preparation areas, vegan sugar, beer and wine made with vegan fining agents etc. Please inquire independently.
1. Vibe Cafe
The only fully vegan loco moco on the island. Actually it's the only vegan loco moco in the Aloha State, as far we know. And what better place to have loco moco than in Hilo where the famous Hawaiian post-surf dish was invented! (At Cafe 100 a stone's throw away, though they don't have a vegan option at the moment). We also recommend Vibe's vegan beet poke bowl. Then there are crowd pleasers like pizzas and nachos. Outdoor seating makes it pet friendly but if you're after that instagram shot you'll want to hang out inside – Vibe Cafe is by far the most instagrammable venue in town.
2. Sweet Cane Cafe
Whether you're vegan, vegetarian or an omnivore Sweet Cane Cafe is a Hilo community favorite. Choose from cane juice, cane slushies, cane juice based smoothies, elixirs, vegan and gluten free baked goods, sandwiches, salads, soups and more. Everything is made with as many local and organic ingredients as possible. In fact, most ingredients are sourced from the cafe's family farm or from its network of dedicated local farmers. How about vegan poke generously topped with furikake? Or cassava pizza washed down with organic lilikoi cane juice? There is also a delicious taro burger with homemade patty and lots of goodies to go – stock up on house made pickles and hot sauce! They also offer a catering menu in case you're looking for a made to order vegan lilikoi cake for your special occasion.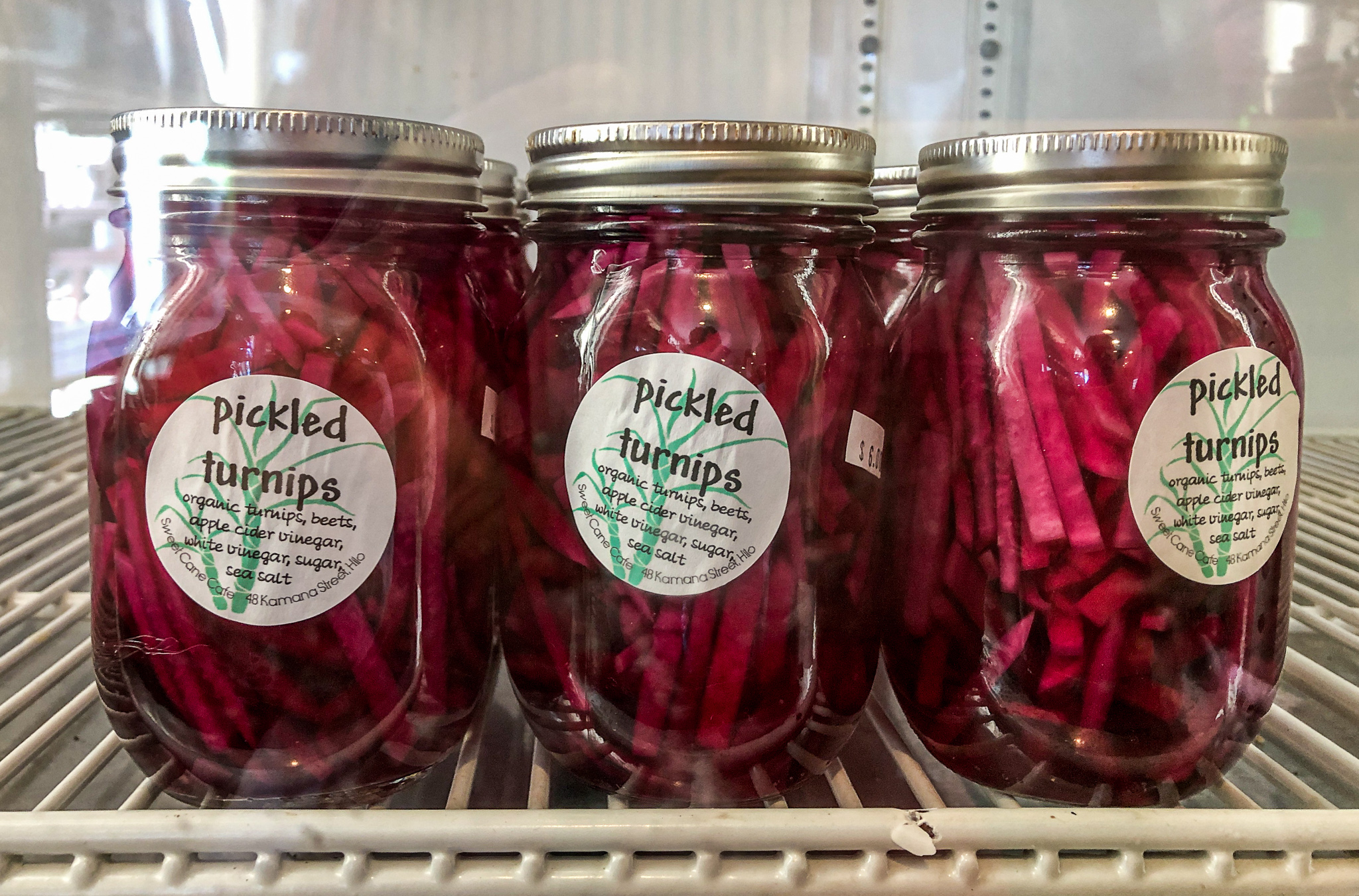 3. Kula Shave Ice
Not only is it the best vegan shave ice in Hilo – it's the best shave ice in Hilo, period. Even though they couldn't be located in a more busy and touristy spot in town, Kula Shave Ice takes great care of their ingredients and pride themselves in serving quality desserts to the Hilo community and visitors alike. Their handcrafted syrups are made without dyes and preservatives, they make their own ice creams and toppings, and reduce waste and encourage their customers to BYO bowls! Not everything is vegan but just ask the friendly servers and they'll guide you through the menu. There are also acai bowls and the lesser known but oh-so-Hawaiian poi bowls. Poi, aka fermented taro paste, is super nutritious and packed with probiotics, give it a try!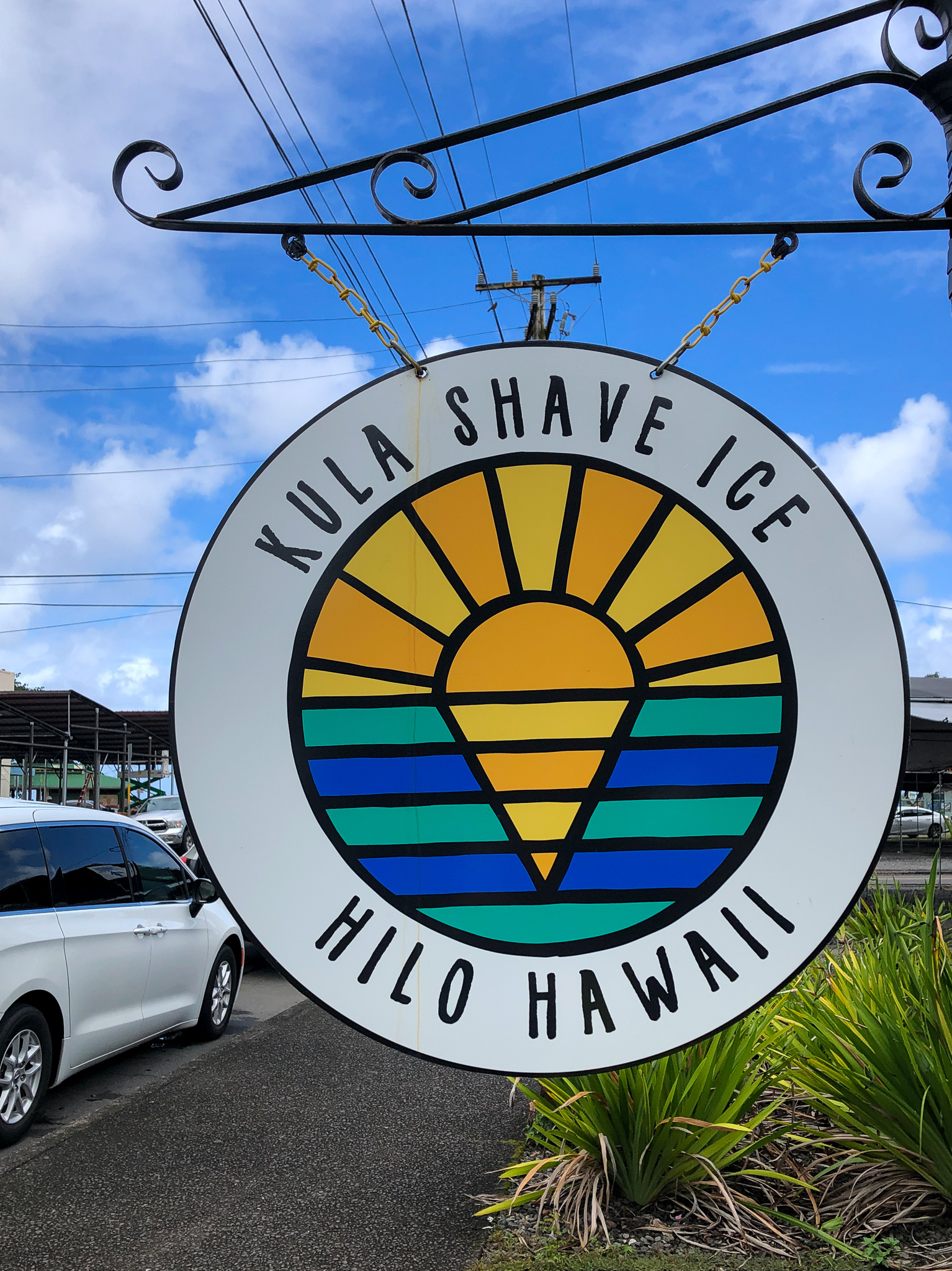 4. Hilo Bay Cafe
Best view in Hilo, be sure to get an outdoor table overlooking the water, especially if you're going to be there at sunset. If you're lucky you may even catch a glimpse of Mauna Kea on a clear day. Hilo Bay Cafe serves Pacific Rim cuisine with a local twist and using organic ingredients where possible. Must try dishes: warabi sushi roll, house made taro quinoa burger, Hamakua mushroom poke with taro chips and the Aina bowl. The menu tends to change but get anything with the local Hamakua aka King Oyster mushrooms, taro or warabi (fern shoots) and you can't go wrong. It's the one fairly upscale dinner spot in town that has decent and thoughtful vegan options on the menu. They only open Wednesday to Saturday so plan accordingly and be sure to reserve a table in advance. You don't want to miss this one.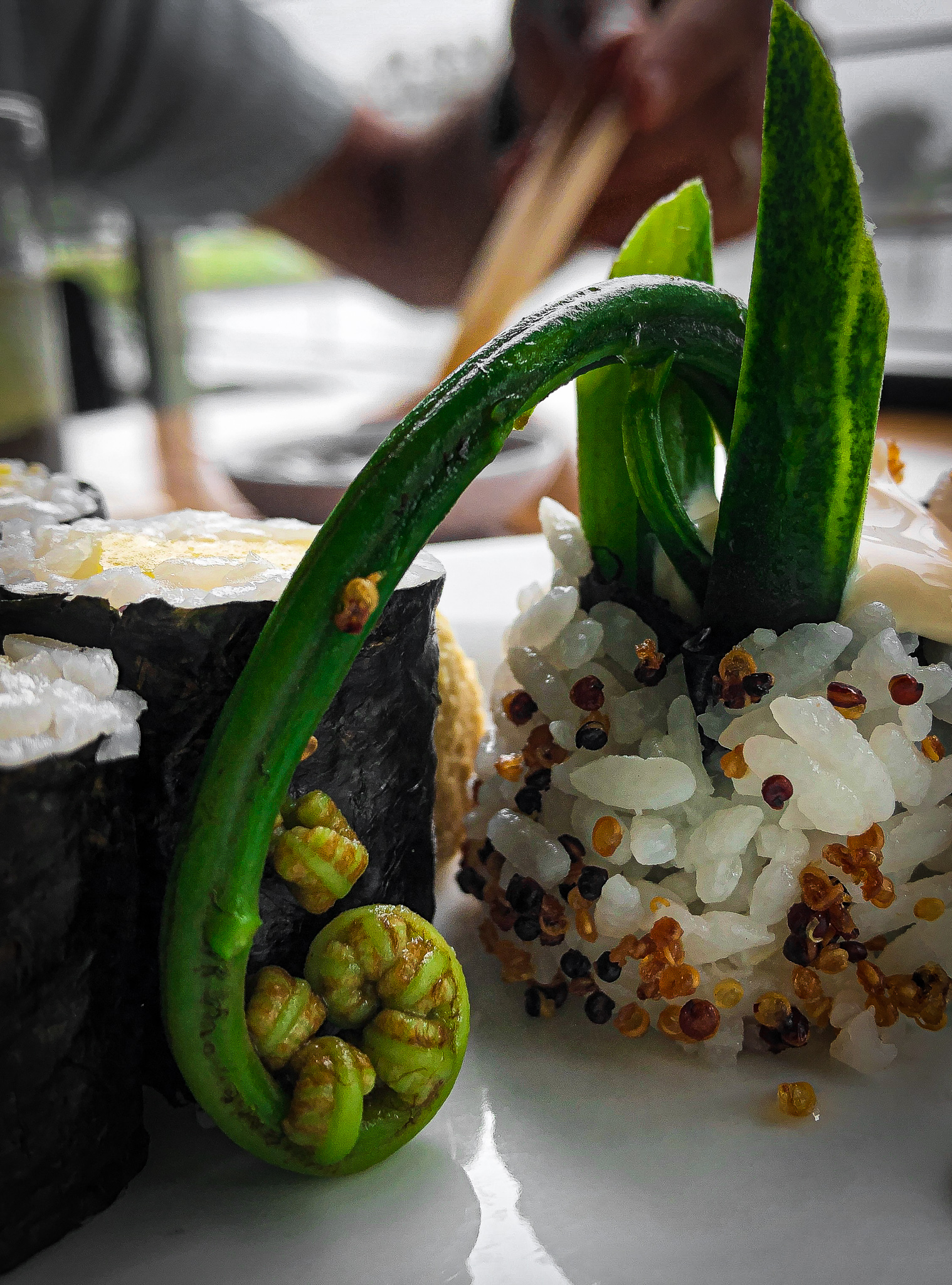 5. Ola Brew
One of the most happening venues in town. Ola Brew is a community and employee owned Big Island brand with a surprising selection of vegan food options and excellent brews to wash it down with. We loved their mouth watering fried tofu sandwich, Japanese curry fries and mushroom tacos. Ola's Lilikoi Milkshake IPA is our favorite beer in all of Hawaii, but the seltzers and ciders in local flavors such as hibiscus and jaboticaba (a type of Hawaiian berry) come highly recommended too. We're yet to try the hard tea range. All drinks are "Aina inspired and crafted with pride" so you can't really go wrong. Their mission is to encourage Hawaii's agriculture growth by purchasing and incorporating local ingredients into their beers and ciders. Extra points for the dog friendly patio! Be sure to check out the original Kona location when visiting the other side of the Big Island.
6. Tina's Garden Cafe
DO NOT leave the Big Island without trying Tina's coconut mango sticky rice! Promise?! The plant forward and creative take on Thai dishes at Tina's Garden Cafe is very refreshing in a town where traditional Thai food options abound. She even invented her own "Thai pizza" which is available in a plant based version with tofu. It's not really a pizza though, more of a calzone meets quesadilla with a Thai twist. And when it's soup weather (Hilo is America's most rainy city afterall) go for the ultra comforting creamy Tom Kha soup. Trust us! FYI a bowl of Tom Kha with a Thai pizza and the sticky rice for dessert fed two people with leftovers so go hungry! Also check out New Chiang Mai a few blocks away for lots of classic vegan Thai dishes and vegan ice cream for dessert.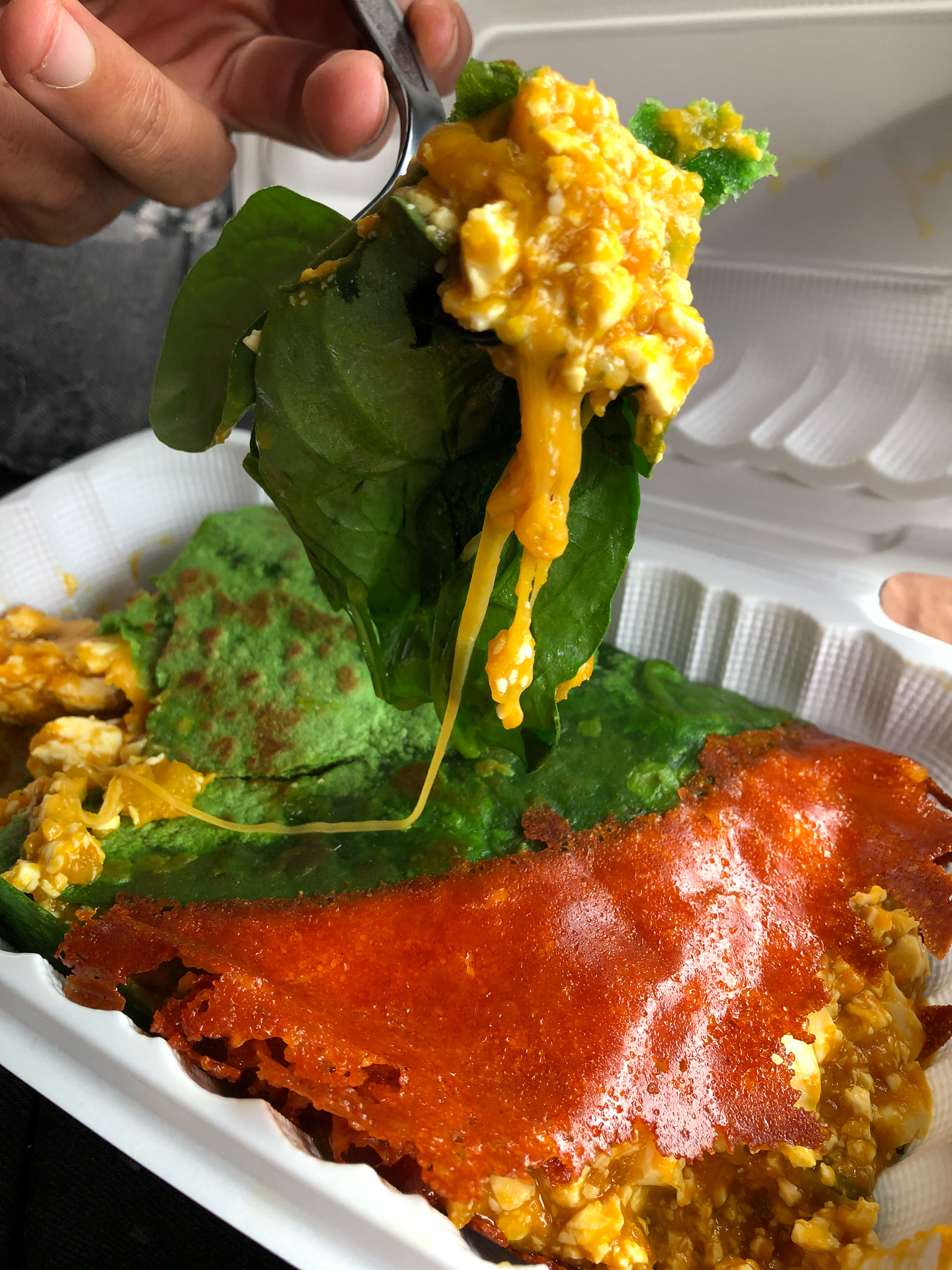 7. Kawamoto Store (& other okazuyas)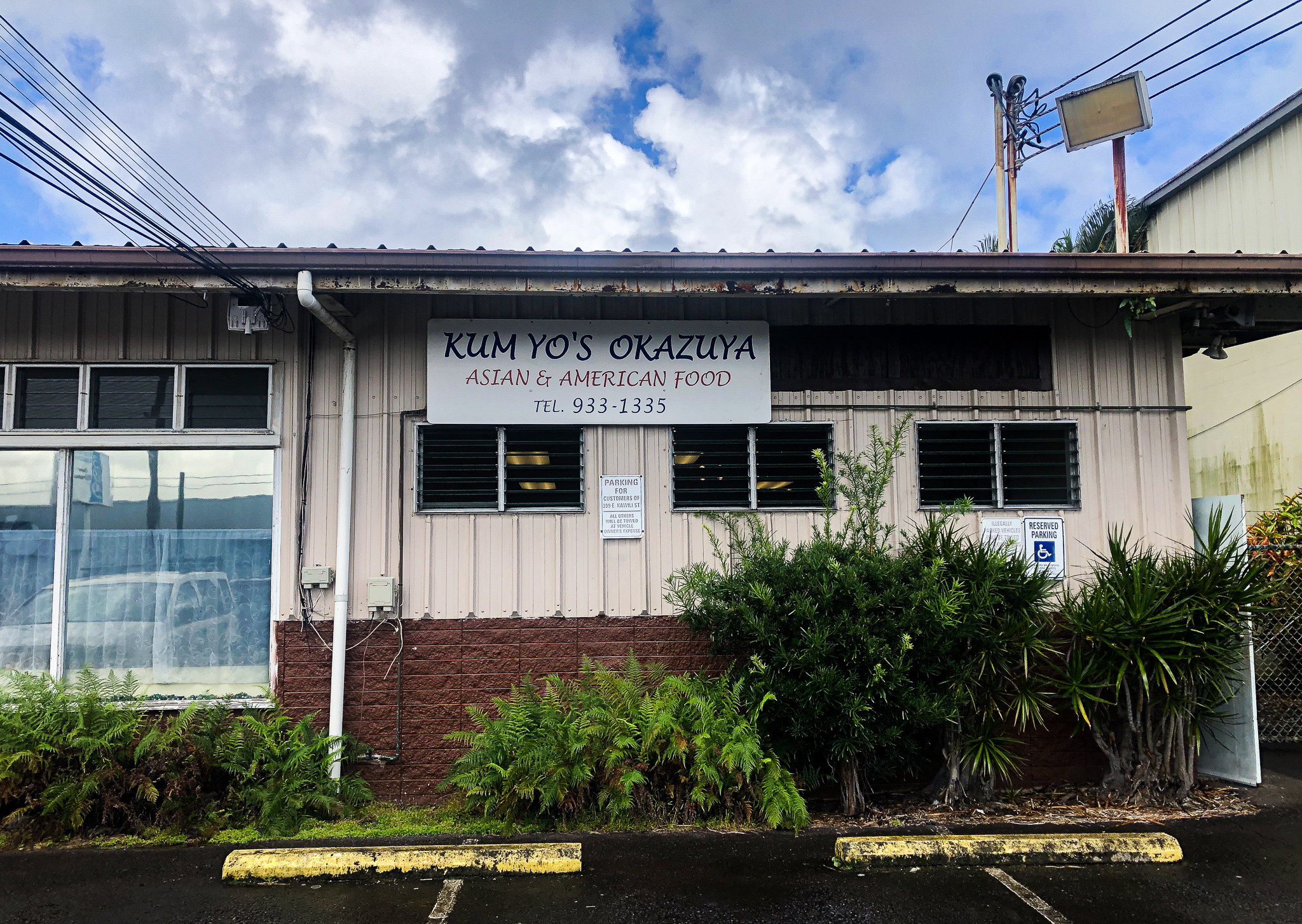 A Hilo institution, Kawamoto store has been family owned and in operation since 1947. Seriously, if you can only have one meal in Hilo to learn about the town, its history and present day culture, make it a breakfast or early lunch at Kawamoto. Their old plantation style food is as beautifully varied as the Hilo community: whether you're craving Japanese, Filipino, Chinese, or Hawaiian food, they have something that will hit the spot. Admittedly, vegans are not spoiled for choice but you can just fill up on various veg tempura pieces (don't miss Okinawan purple potato!) with a side of tofu or namasu salad. As most okazuyas and beloved Hilo bento shops, Kawamoto opens at 6am and closes at noon.
Another two okazuyas we love: Hilo Lunch Shop and Kum Yo's Okazuya, both in the industrial part of town and well worth the detour. The latter has more Korean influences so expect more kimchi and other probiotic rich pickled veg.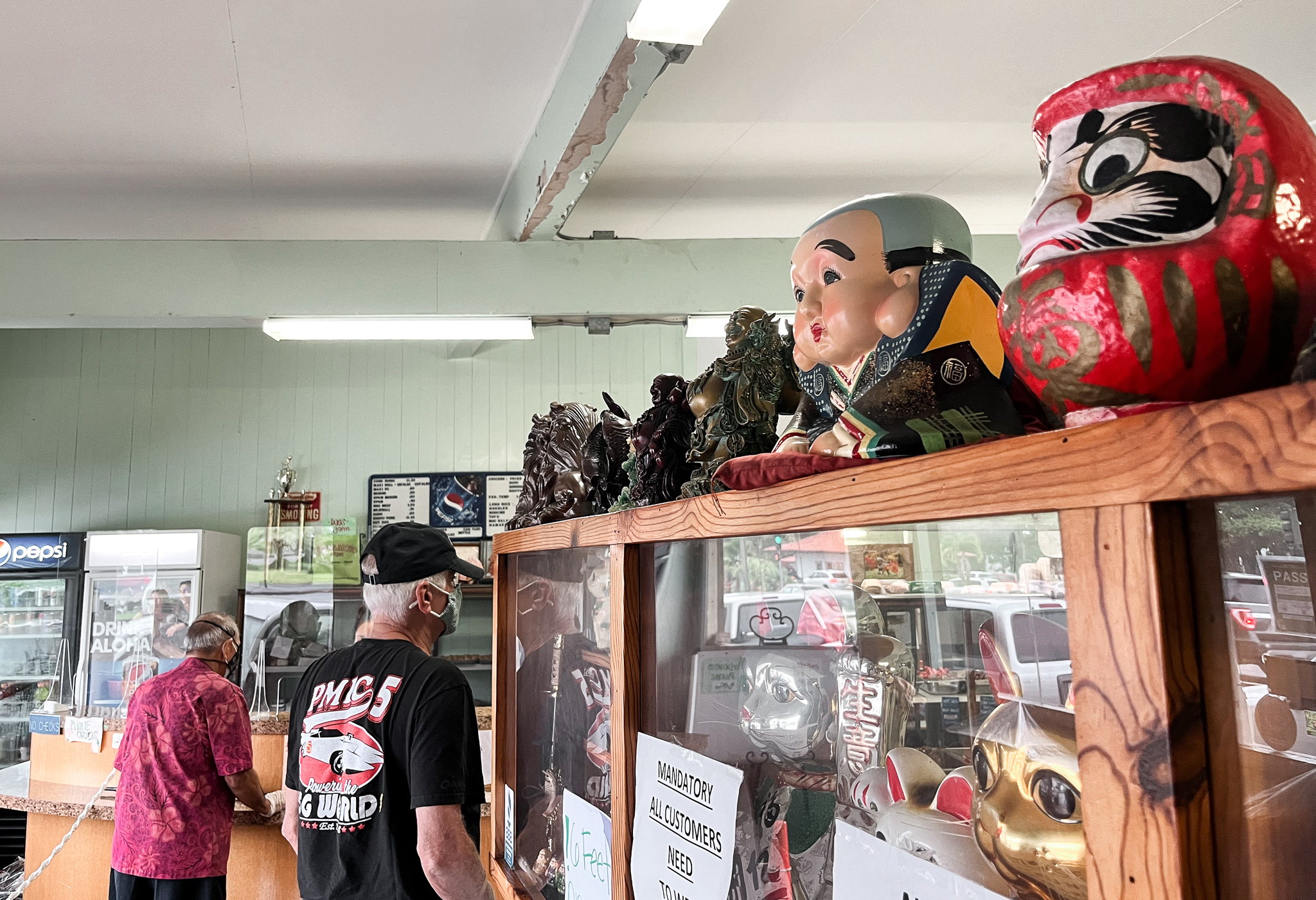 8. Two Ladies Kitchen
Another Hilo institution. You will not find better or fresher mochi anywhere in Hawaii. If you do please tell us! Don't expect fast food at Two Ladies Kitchen – you will first stand in line and then they'll take their time preparing your mochi to order which may take about half an hour. You can grab a pre packed variety box but it's their fresh fruit made as you wait mochi that's the star of the show. Fruit choices change depending on seasonal availability. Correct us if we're wrong – mochi is generally vegan, unless you go for certain obvious kinds such as butter mochi. There is a broad selection in store so just ask the cashier lady, she'll be happy to guide you.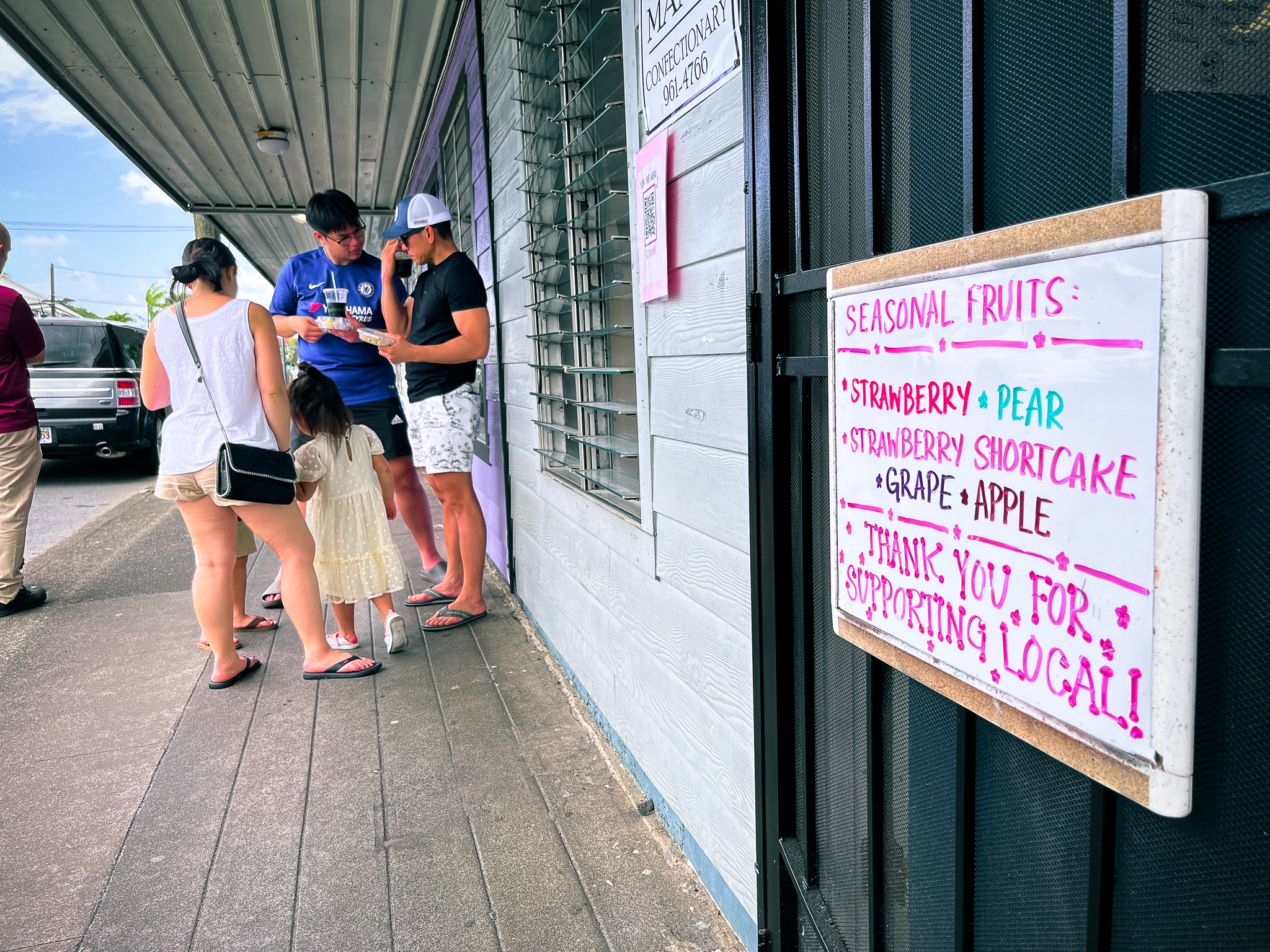 9. Nicoco Hawaiian Gelato
Fantastic vegan gelato in inventive local flavors such as macadamia nut, Kona coffee or strawberry hibiscus. Just listen to their story: "Nicoco is a testament to resilience, sustainability and positive social change. We believe that with each scoop of gelato, each fresh rolled waffle cone, each hand packed pint, sandwich and shake, we are working to make Hawaii and the world a better place. Nicoco is dedicated to Hawaiian Sovereignty, animal rights, and equality for ALL. Sure, there are other non-dairy desserts out there, but let your choice count for something bigger than a sweet treat. Let your choice count for people over profits. Use your voice for something bigger than us all. With love, Ohana and a sprinkle of vegan fairie majick, we can make anything possible!" ❤️ Locations in Pahoa and downtown Hilo.
Also try Hawaiian Licks – another delicious local vegan gelato. Available as take out tubs from the freezers at KTA stores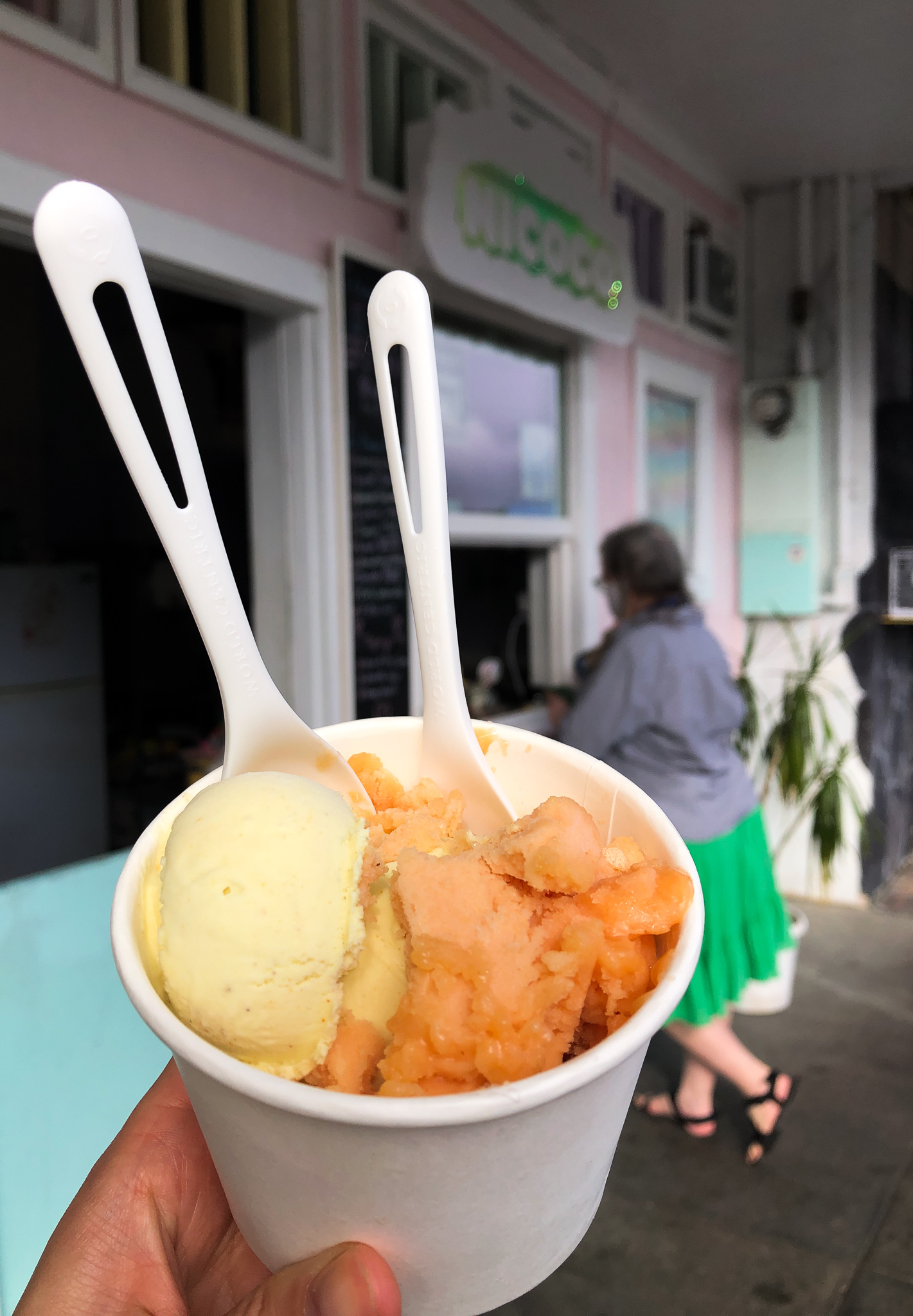 10. The Booch Bar
Vegan options at this colorful art filled joint include tempeh tacos, mushroom bibimbap – if you leave out the egg, and Puna beet salad. We thought the tacos were somewhat bland but we give 10/10 for their vegan (Nicoco) gelato kombucha floats. Our favorite thing is their yummy house made sauerkraut (try the sampler!) and, as the name suggests, locally made Big Island Kombucha on tap. We didn't try it but they have a pretty extensive breakfast/brunch menu with several plant based options. The Booch Bar has dog friendly outdoor seating and gluten free options.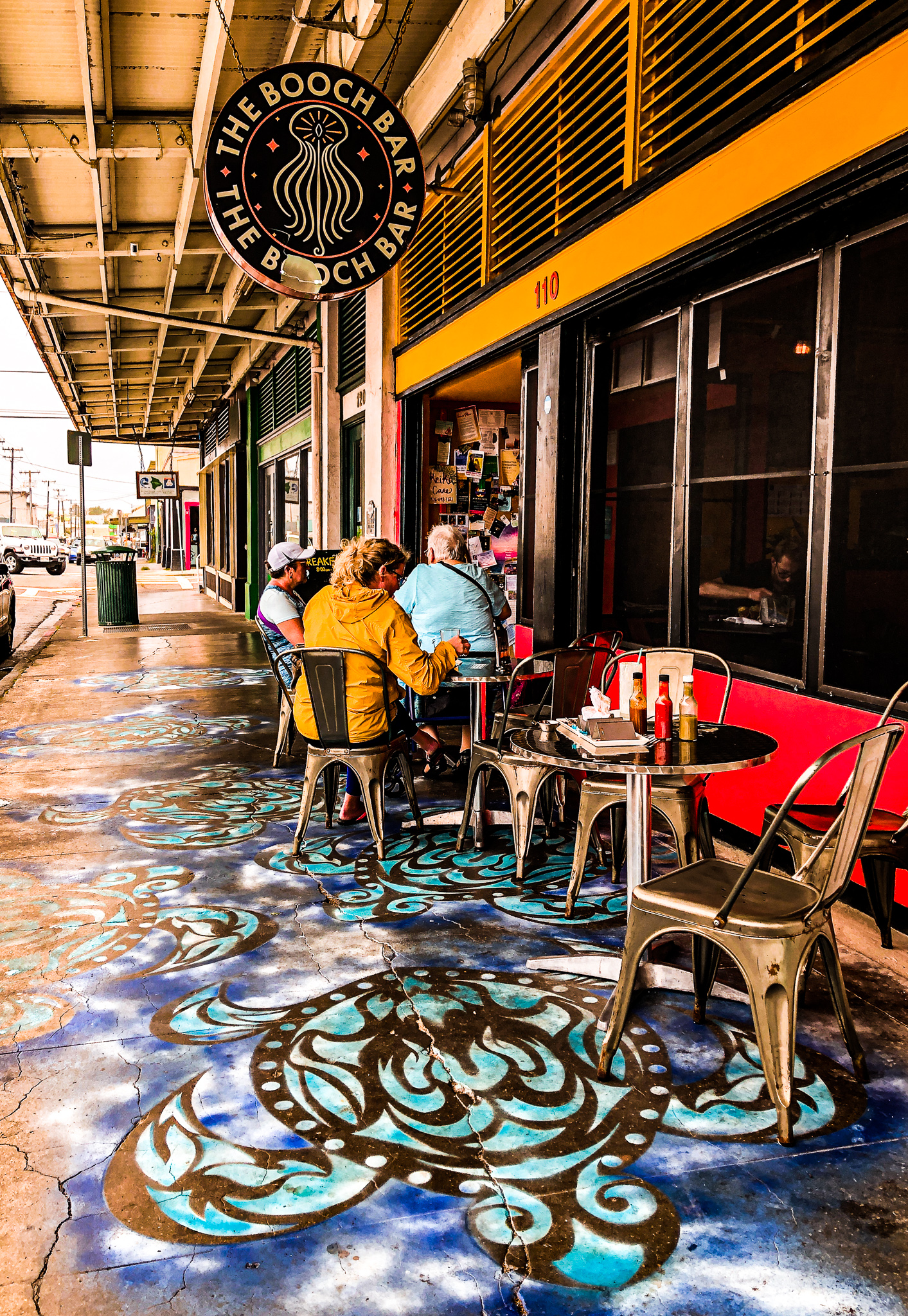 11. Dragon Kitchen Sushi
This tiny husband and wife spot inside of a busy food court is the epitome of mom'n'pop. All sushi at Dragon Kitchen is made using brown rice and thus on the more wholesome side. Try the warabi (fern) or sweet shiitake rolls. Top tip: pre order and go explore the farmers market or the nearby shops. They make their sushi with love and really take their time. Inside seating is limited and hectic so why not have a picnic at the Queen Liliuokalani Gardens nearby? For dine in on a rainy day try Ebisuya Sushi – another local favorite sushi spot with a decent selection of veggie rolls (try the avocado pineapple roll for a taste of Hawaii).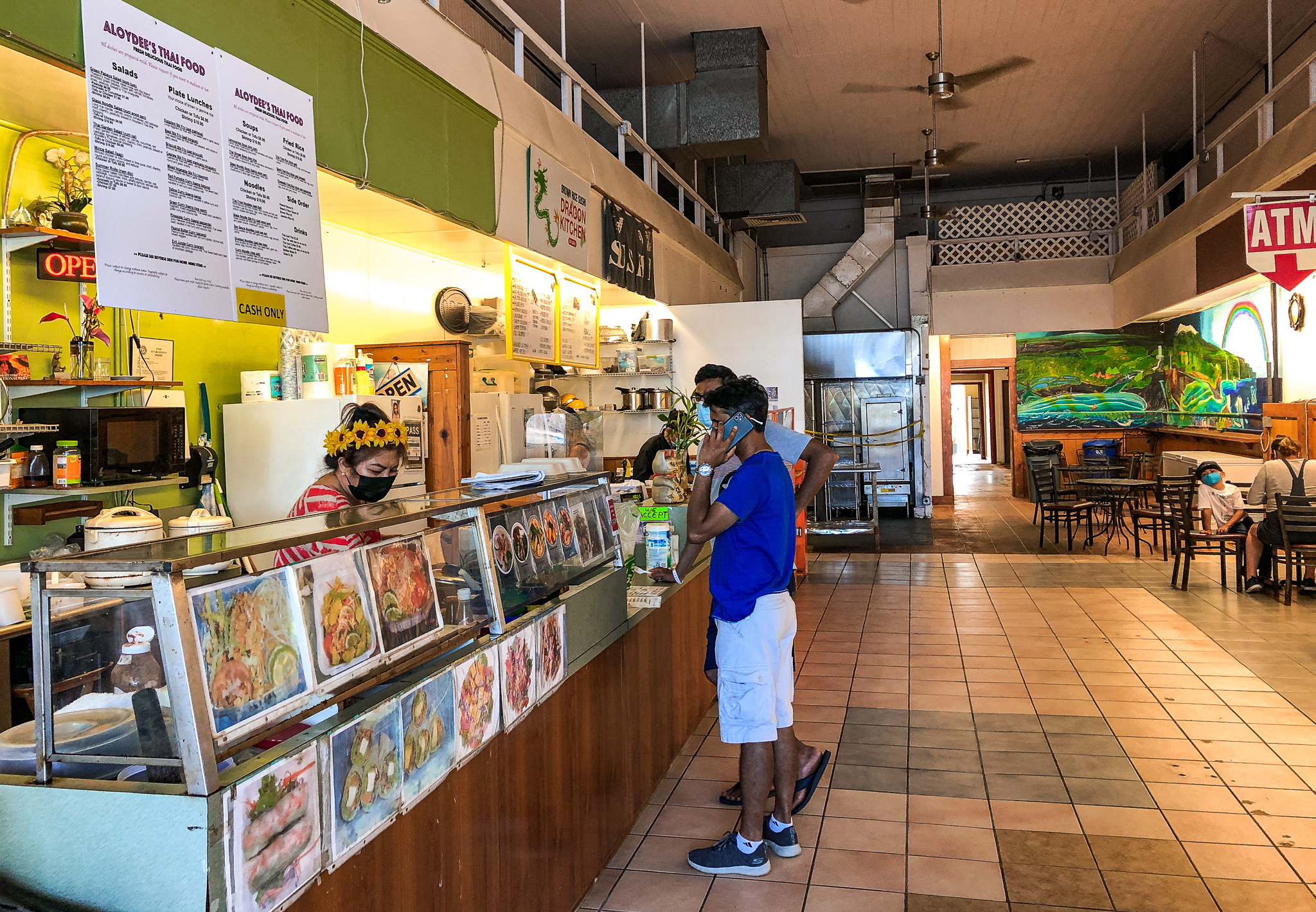 12. Le Yellow Sub
There is a fairly strong Vietnamese community in Hawaii which of course means you can safely satisfy all your Vietnamese food cravings. In Hilo our favorite thing is lemongrass tofu bahn mi prepared fresh by the lovely ladies at this off the beaten path food truck. It's full of flavor, the bread is freshly baked and packed with cilantro and veggies for extra crunch and nutrition. As an added bonus they never use MSGs. Take it to the nearby ocean side park, find a picnic table, sit back and enjoy the laid back rhythm of Hilo Bay. No website so check out their Yelp. Top tip: it's cash only. Also check out Pho 99, we've been told they make awesome tofu bahn mis as well!
13. Nector Cafe
If you fancy a nice cream, a cup of ceremonial cacao, Maui Muggle (their version of butterbeer -#iykyk) or Mermaid Latte, head to this unicorn or chakras (or both – we can't tell) themed coffee shop. As per their website, Nector Cafe doesn't just sell drinks. It creates "uplifting concoctions that start with the sweetest intentions, combined with the best ingredients, using the highest quality tools, infused together in the most magical space and lovingly mixed up by heart centered baristas, resulting in a one of a kind, high frequency, mind, body and heart expanding cafe experience." Doesn't get any more Hilo than that.
14. Ratana's Green Papaya Salad
It's all in the name. Ratana's Green Papaya Salad is a literal hole in the wall that serves up the best papaya salad in Hilo and one of the best outside of Thailand. Get the combo papaya and cucumber salad and be sure to ask for peanut topping! Summer rolls with avocado and tofu are simple deliciousness. The tofu is made locally at Oshiro Tofu in Hilo. Pineapple curry is highly recommended as are the other curry dishes. They all come with brown rice and can be made vegan by opting for avocado or tofu. We wish we could have tried Ratana's coconut soup! Top tip: when in season they sell locally grown avocados to go at the best price in town.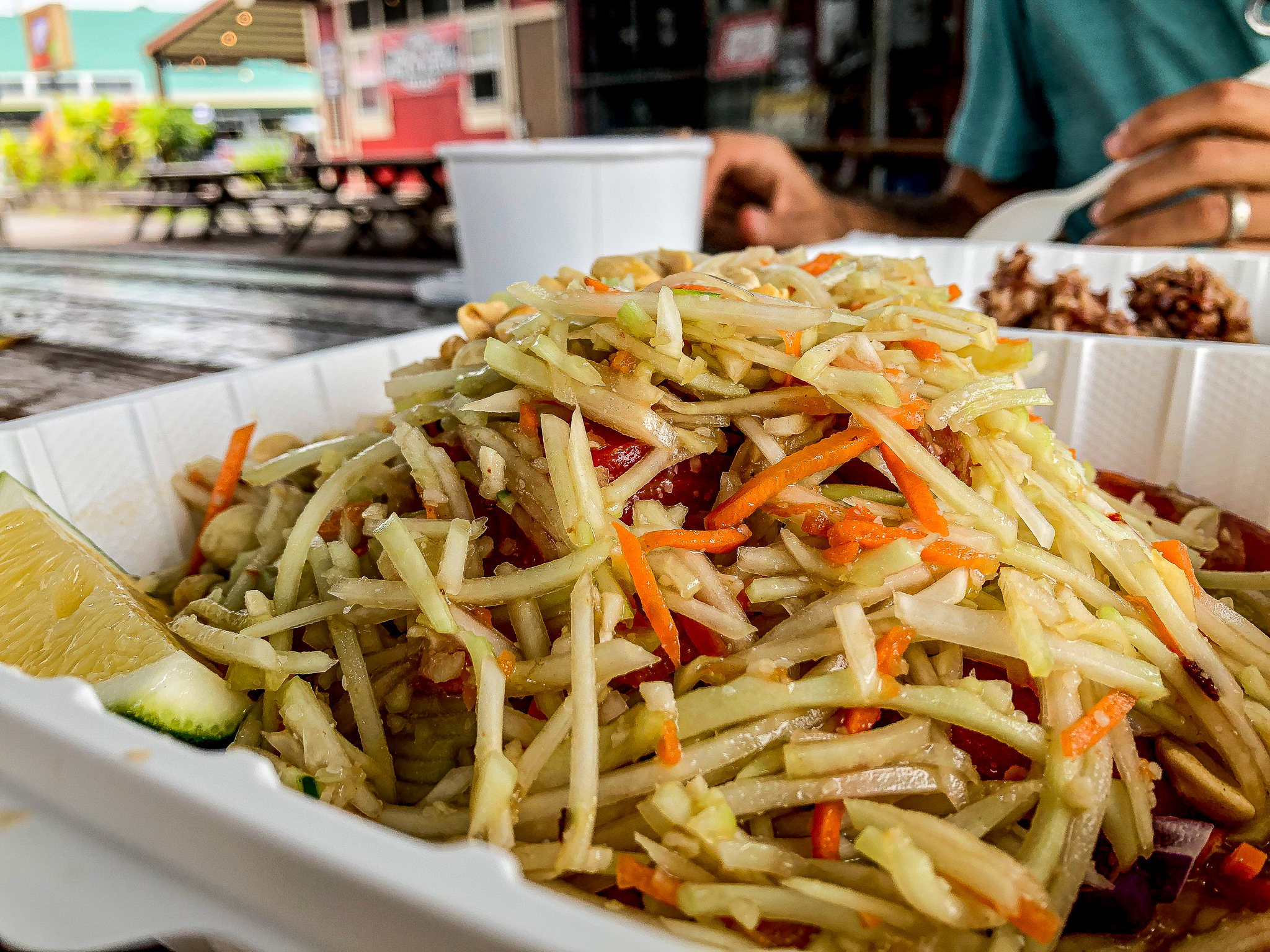 15. Teaspresso
If unicorn lattes at Nector sound like too much, Teaspresso is your best bet for coffee, tea and other hot and iced beverages. Choose from organic lemonade, matcha frappes, local take on smoothies (taro or avocado smoothie anyone?), just to name a few. Founded in 2014 with a vision of bringing healthier drink alternatives to the islands, the Teaspresso chain was one of the first in Hawaii to offer organic specialty coffees, brewed to order boba teas and vegan options. The Hilo location is owned locally by 4th generation Hilo kama'aina. We love that they let you decide the level of sweetness for every order. Give them a try and don't miss the taro milk tea!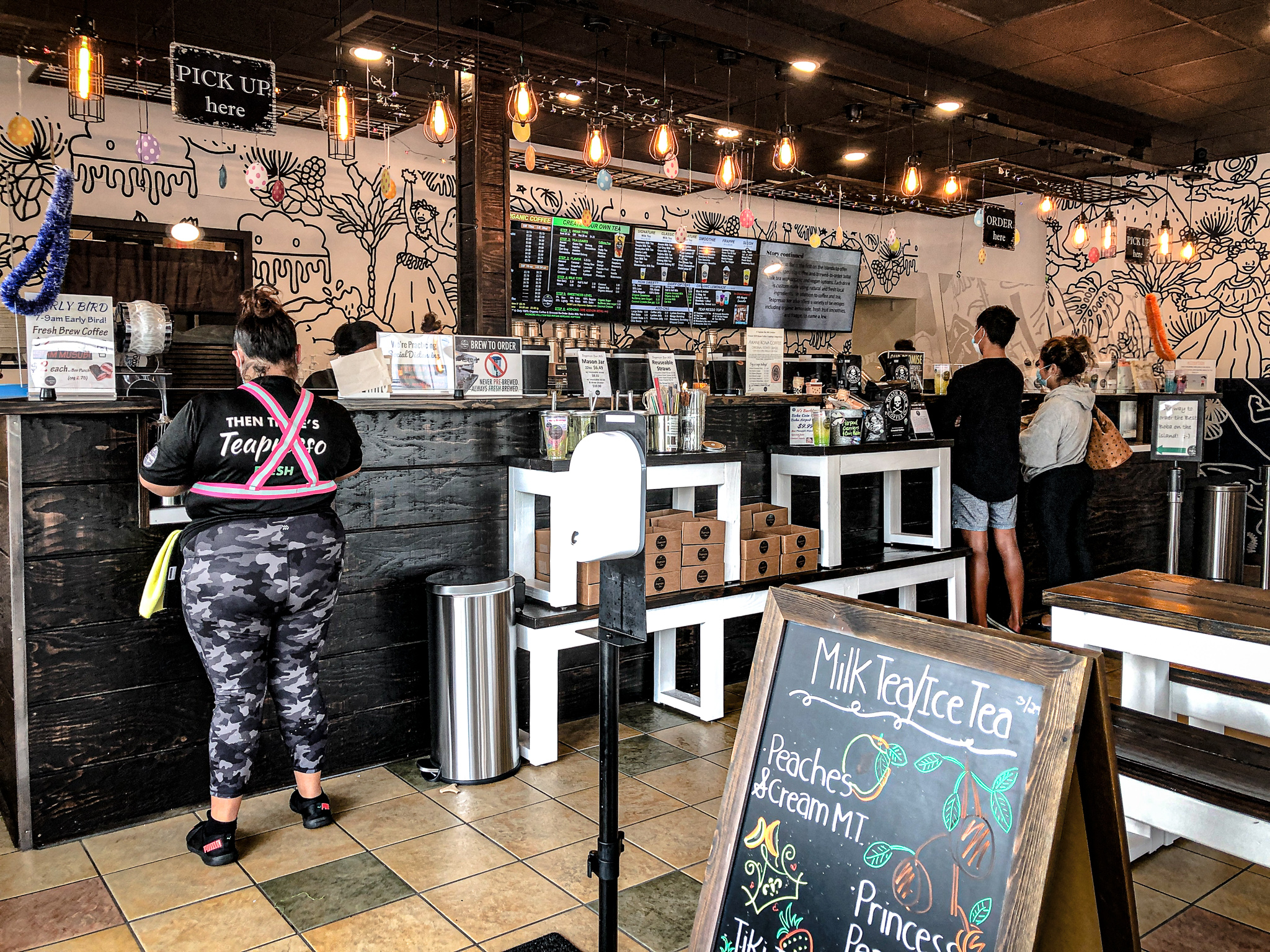 16. Miyo's Restaurant
Honest homestyle (very home style- as per their tag line) Japanese food can be found at this chill classic Hilo izakaya. Nothing is clearly marked as vegan but there is plenty of plant based choices both on the bar and restaurant menu. Think miso glazed edamame, sizzling hamakua mushrooms, tofu steak (with locally made tofu), veg don or sauteed eggplant, among others. Miyo's also serves our favorite vegetable tempura on the Big Island. Miyo Harumi, the chef and founder, grew up in Tokyo and has been serving the Hilo community since 1987 thus you can expect her food to reflect both authenticity and a local touch. Which brings us to our favorite cocktail at Miyo's – Shi-So Passionate. Sake and lilikoi (with a dash of gin, yuzu and shiso) is the perfect pairing of Japanese and Hawaiian flavors, if there ever was one!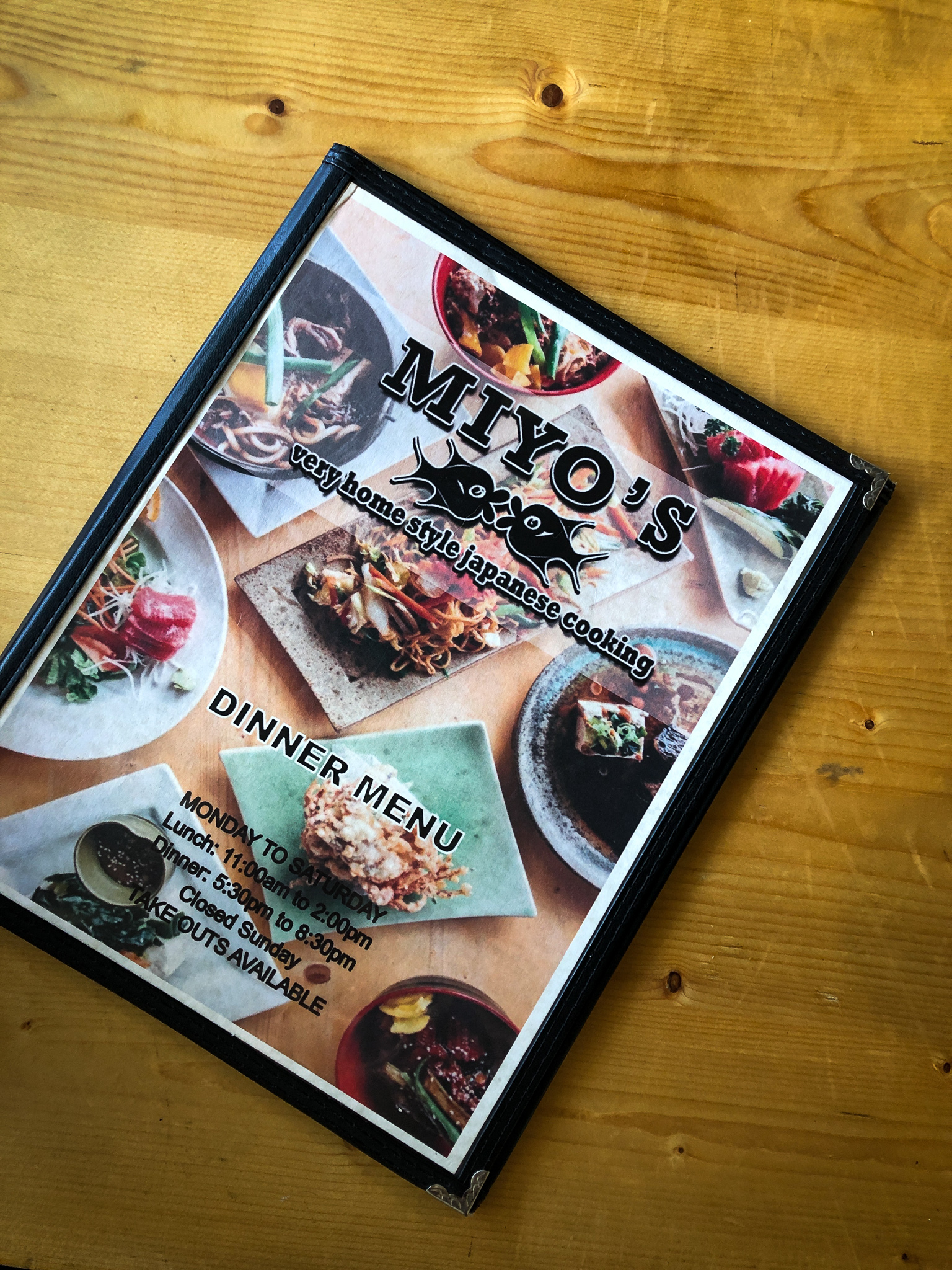 17. Vegan Shop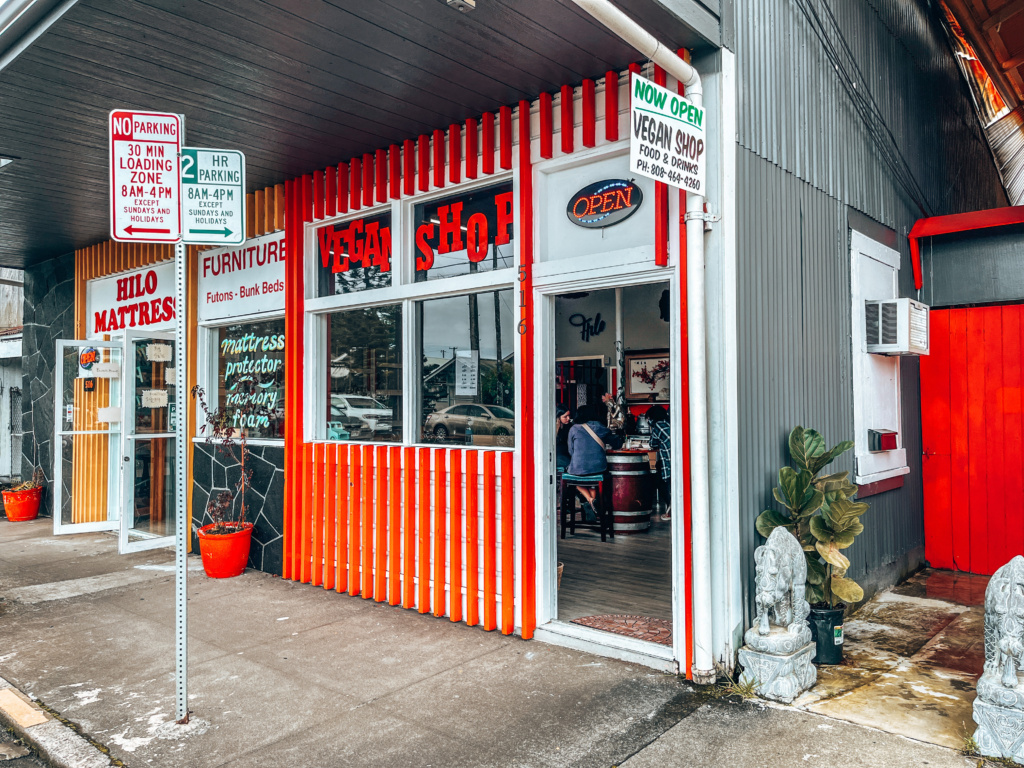 This one should really be much higher up the list, even though it's in no particular order. Vegan Shop is what happens when a neighborhood mattress store has too much space left over and the owner has passion for healthy plant based cuisine. Whether you're vegan or an omnivore, the plate lunch at the Vegan Shop are some of the most delicious in Hilo. And some of the best value for money too, proving those claims that vegan food is pricey wrong. Aside from daily mix and match plate lunches, there are also yummy egg rolls, banh mi sandwiches and usually a curry dish. Everything is lovingly made fresh with local ingredients and pays homage to Hilo's most beloved flavors – veganized. Don't miss the glass noodles, the eggless egg patty and the char siu "pork belly" on your plate lunch, pure comfort food!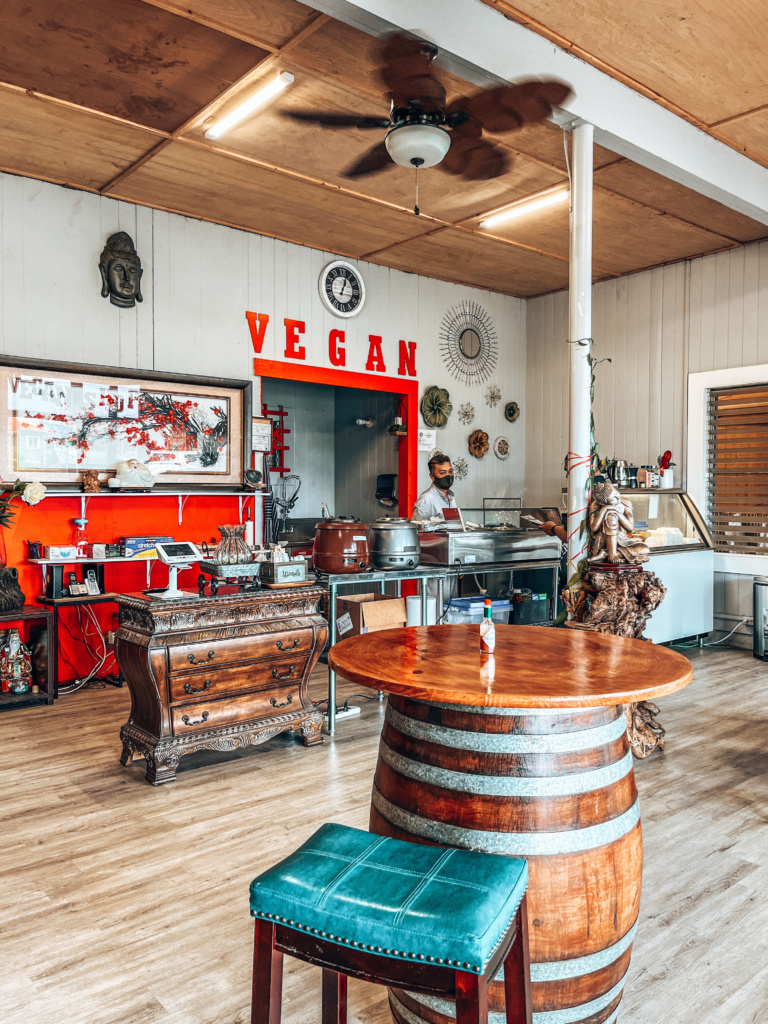 18. Tamari Lunch
A mere block away from the bustling Hilo Bay Front hides the cutest little take out store! Tamari Lunch is tiny, and so is the menu. Expect mix and match plate lunches, curries and wholesome side dishes. We love the veggie curry, marinated tofu and broccoli salad and tsukemono pickles. Look out for tofu yakisoba stir fry and vegan musubi options! This is a one man operation which only opens between 9am and 2pm in a typical Hilo manner. It's cash only. Top tip: call in advance to check when he's making his famous veggie lasagna as it's only available once or twice a week!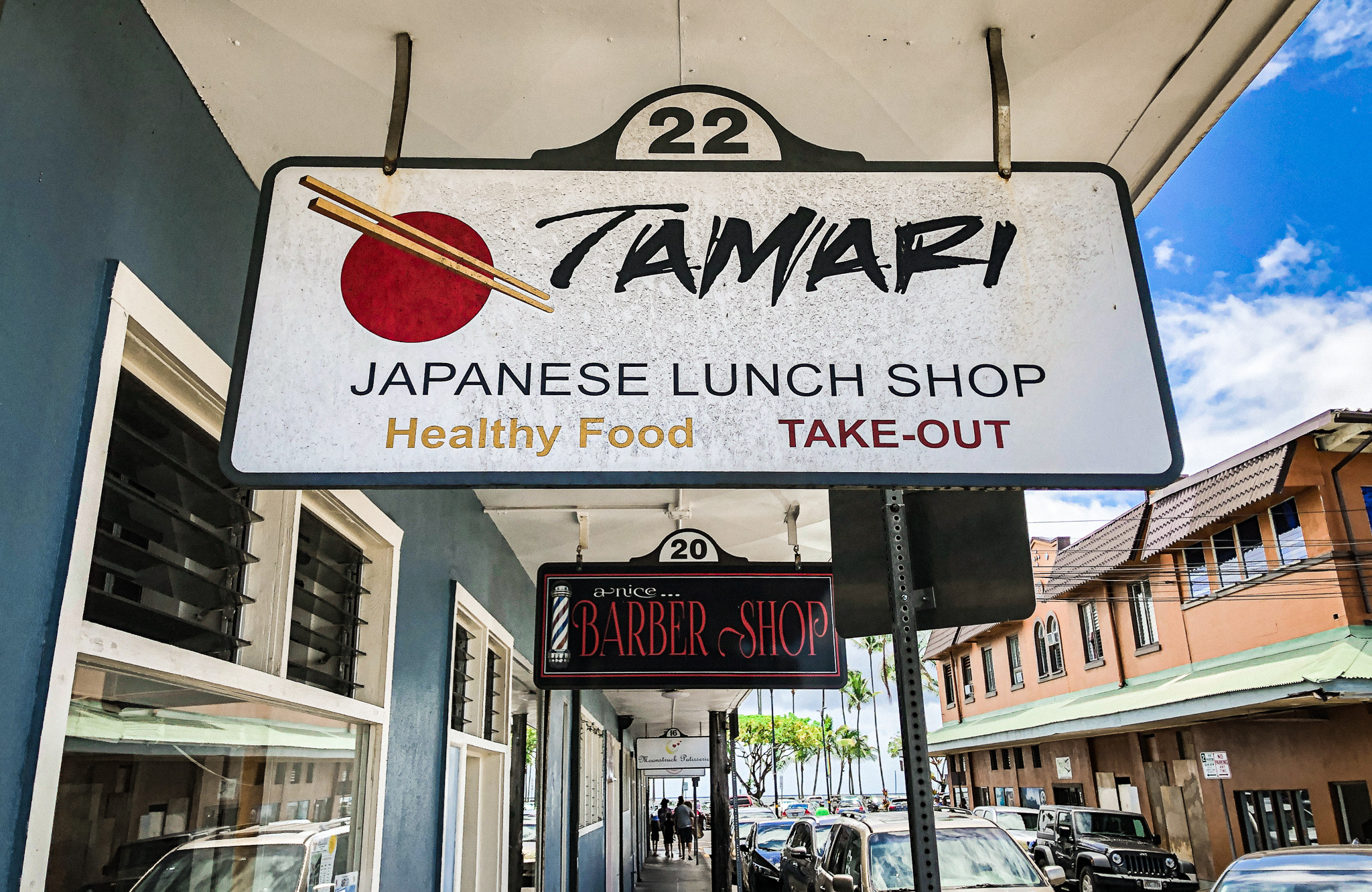 19. Pineapples
Full disclosure, we didn't actually get a chance to dine at Pineapples in person. It's always so packed with tourists from the nearby farmers market it's hard to get a table. But they went into the effort of creating a dedicated vegan friendly menu and even highlight on their homepage that there are vegan and gluten free options. They also have a very decent happy hour and frequent live music. The vegan menu includes: kabocha (local pumpkin variety) curry, sauteed local Hamakua mushrooms, portobello mushroom sandwich with house made edamame hummus, and chopped spinach and local avocado salad. We also wouldn't mind trying the stir fry with seasonal veggies, Hilo-made tofu and lemongrass ginger glaze. Overall good effort. We're hoping to visit soon and find out if those three thousand positive Google Maps reviewers were right.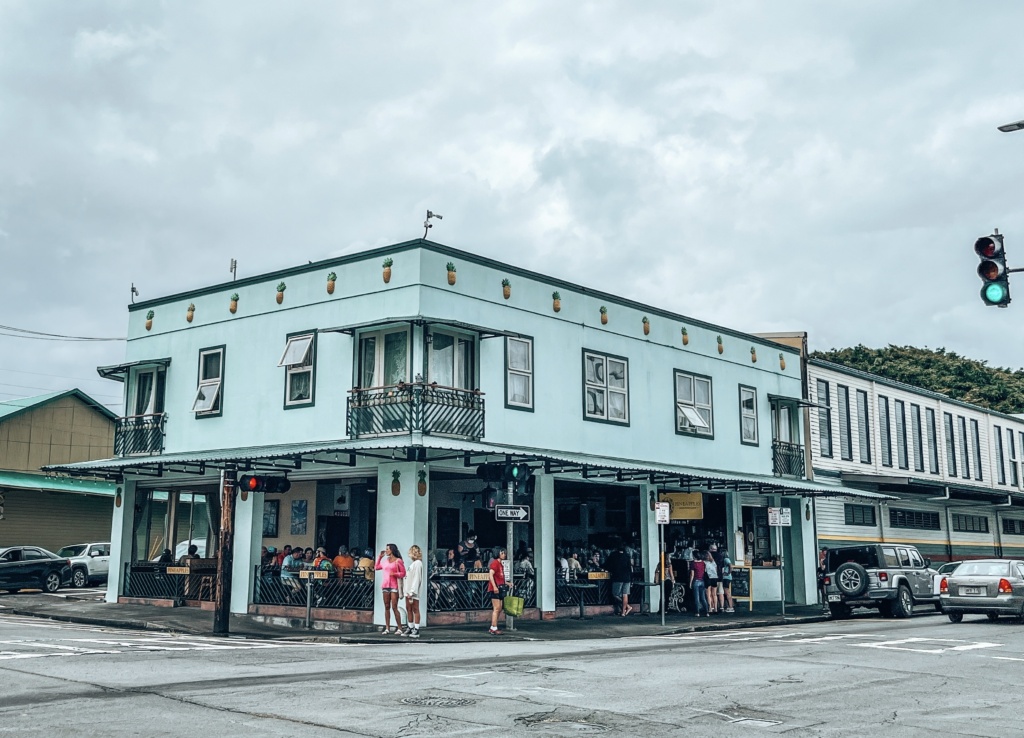 20. KTA stores
Don't forget an abundance of Hawaiian foods can be found at the locally owned super stores chain KTA. You can find one right in Hilo town center (a smaller branch) opposite Pineapples restaurant, and another one on the outskirts of town going towards Keaau (much bigger). And no, it's not all about their famous fresh poke counter. Both locations stock deli foods prepared by the long standing local restaurant Nori Saimin and Snacks. Admittedly, Nori is not exactly the most vegan friendly venue in town, but their to-go options at KTA often include tofu poke, seaweed salad, purple potato salad, various cold noodles etc. Read the individual labels for exact ingredients. Ask a staff member to help you locate them in store, especially the larger one. On the same note, check out the local health food store chain Island Naturals and Hilo's Abundant Life store.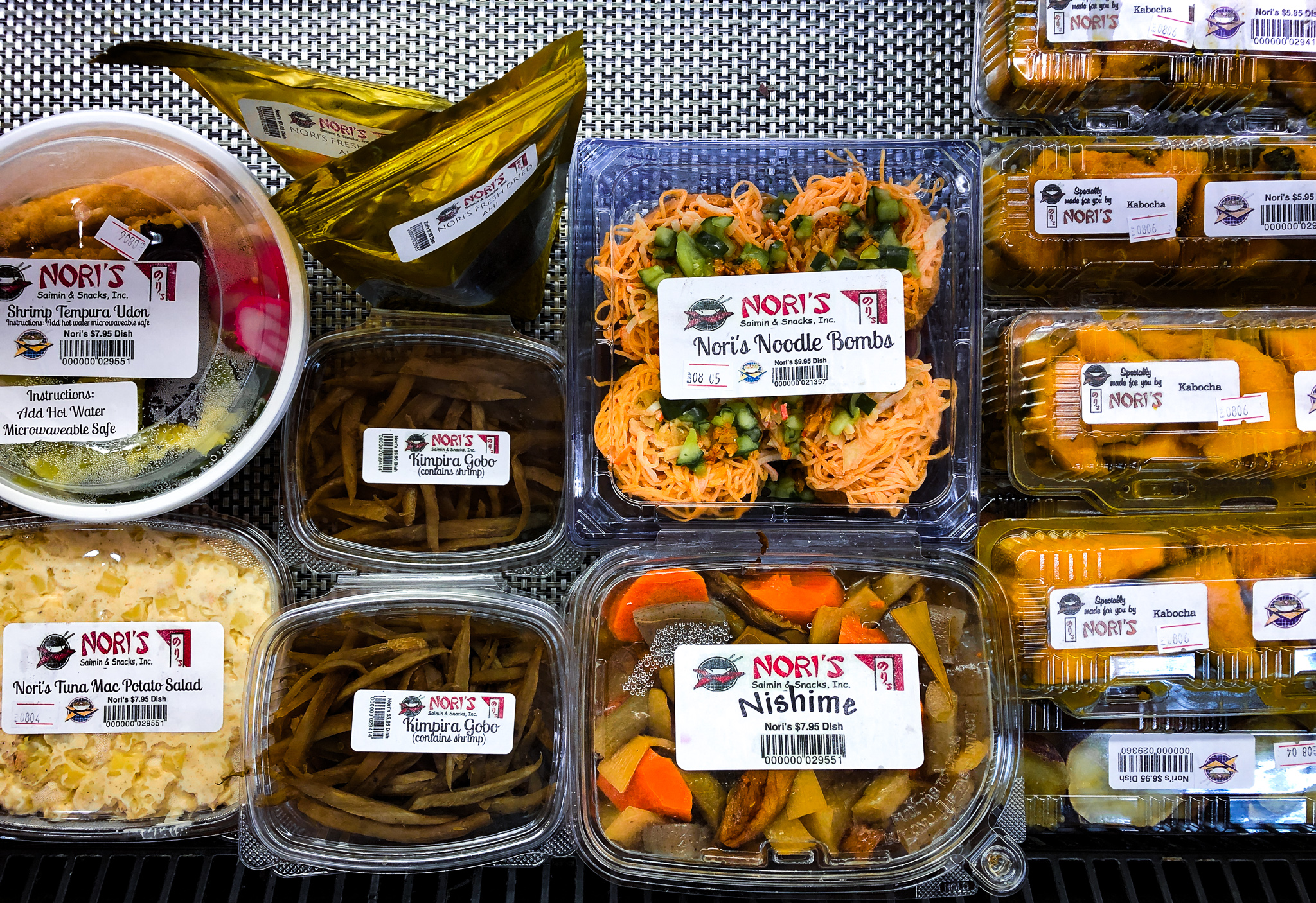 ---
Honorable mentions:
21. Puka Puka Kitchen and Tabaraka
They are both known to serve decent falafel. Unless you live in Hilo permanently we do not advocate having Middle Eastern food while on a trip to Hawaii. There are simply too many local flavors to enjoy and get to know the local culture through them. Same goes for Kamana Indian restaurant.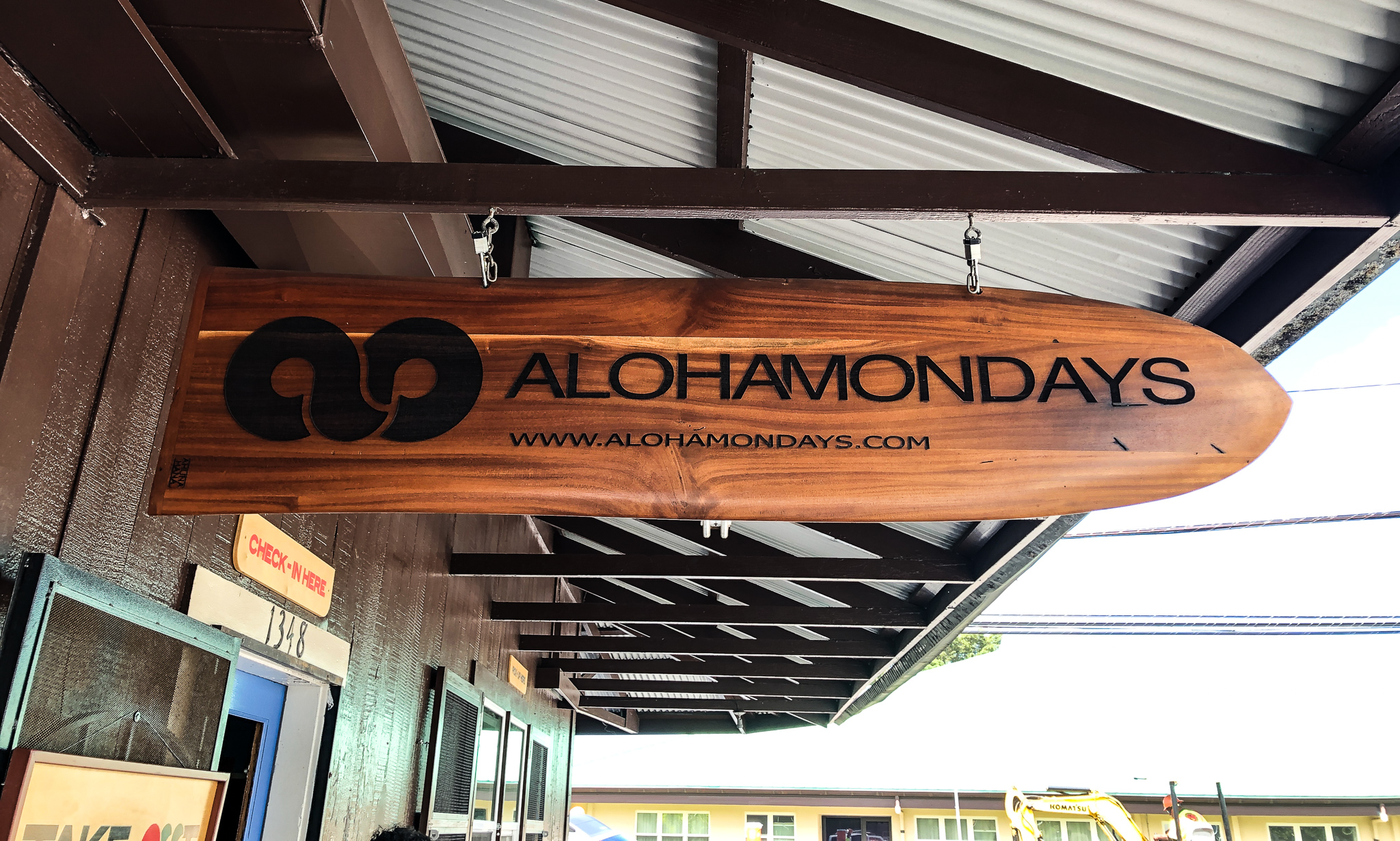 22. Aloha Mondays
The menu at the beloved local take out joint Aloha Mondays changes weekly. They tend to have at least one vegan friendly option (as part of the Blue Zones initiative). When they do – go for it, their food is delicious, locally sourced and made with aloha. Soba bowl with spicy eggplant is a recent example. Ironically they are closed on Mondays.
23. Roots Time Vegan Wagon
Not sure what happened to Roots Time Vegan Wagon food truck but keep an eye out for it, or better yet check their social media for updates. If you do happen to come across them you'll be in for a treat. Think plant based Hawaiian Jamaican fusion! Moringa stew?! BBQ hibiscus patties?! Black eyed peas fritters?! Let's hope they have not gone out of business. If you have any updates please let us know.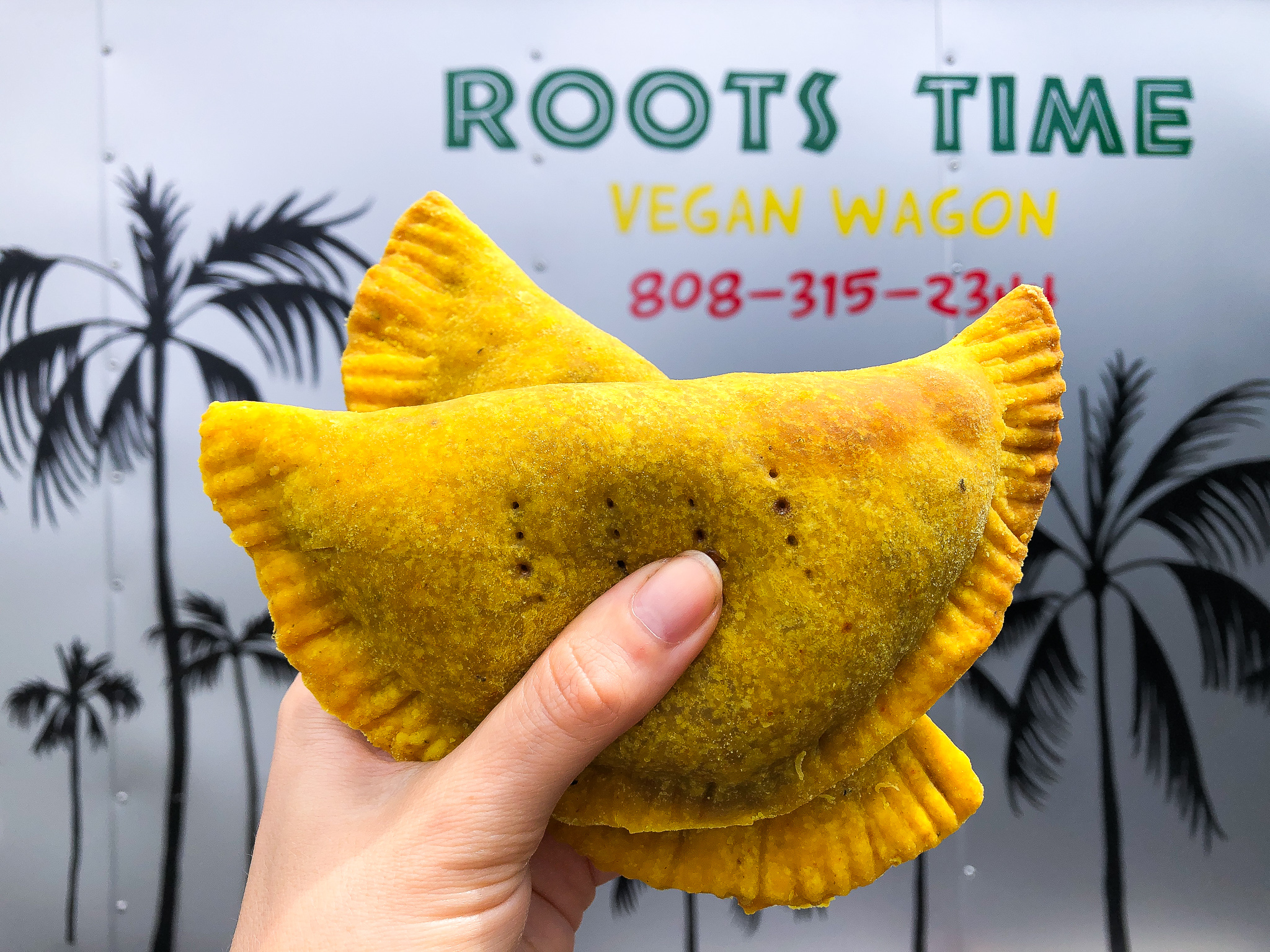 24. Tetsumen
Tetsumen ramen shop offers hiyashi chuka cold noodle bowl with kombu broth as well as veggie Korean style jajangmyeon with bamboo shoots and green onions. Then there's always three kinds of tofu dishes and potato croquettes on the pupu (snacks) menu.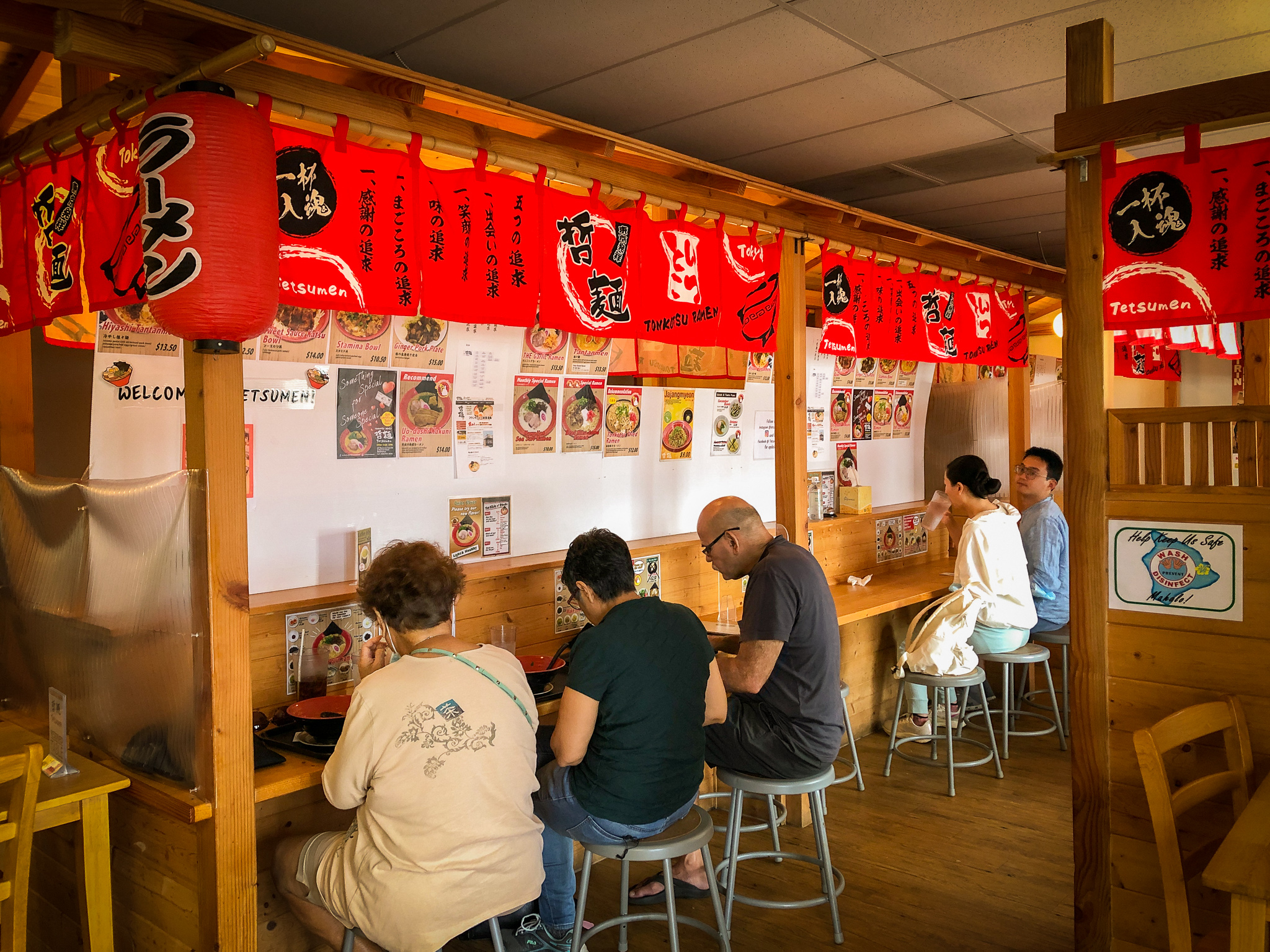 25. Alii Ice Popsicles
No walk in the beautiful oceanfront Queen Liliuokalani Park is complete without grabbing fruit popsicles (paletas) from Alii Ice. The nondescript magazine-like building hidden behind the majestic banyan trees is where you'll find some of Hilo's best dairy free sweet treats!
---
Bonus options nearby:
Tuk Tuk Thai, Volcano
Tuk Tuk Thai food truck is your best bet for vegan food near Volcanoes National Park, we love their pumpkin curry and freshly made spring rolls! Alternatively try Cafe Ono. We haven't been but heard good things about their simple cafe food like soups and salads made with locally sourced ingredients. Check opening times before visiting.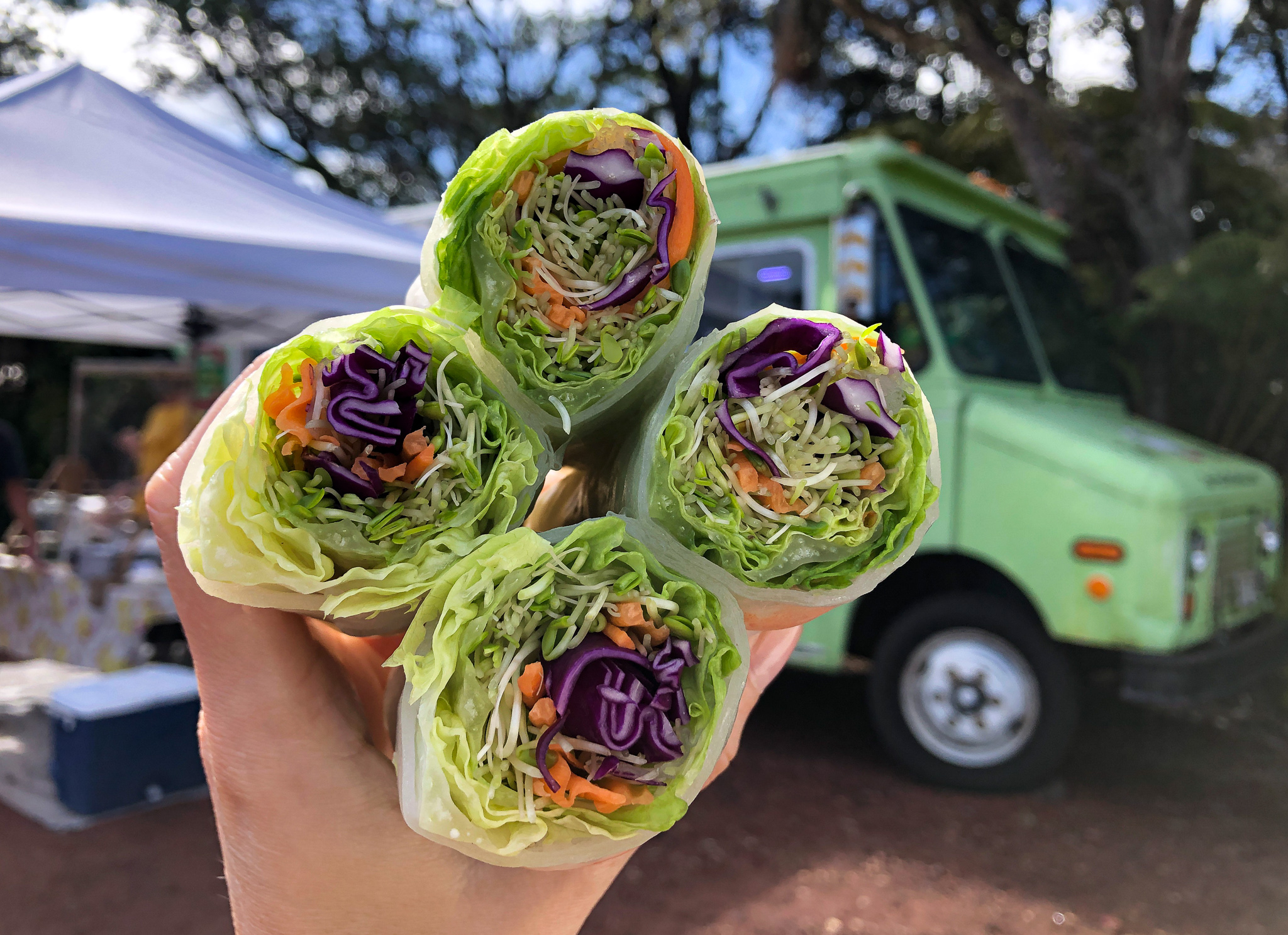 Pele's Kitchen, Pahoa
Quintessential Puna. Pele's Kitchen is a colorful farm to table organic cafe with a good selection of vegetarian and vegan as well as gluten free options. Try the mac nut pancakes or the Kalapana salad with locally sourced veggies and lilikoi dressing. Top tip: ask them about their Puna Gold Cacao and Coffee farm tours personally guided by their chef!
---
Have you had delicious vegan food elsewhere in Hilo or Puna? Be sure to share the love and let us know in the comments so others can try it too! Aloha!
Also see: MEATLESS HAWAII: 6 PLACES TO FIND THE BEST LOCAL FOOD ON MOLOKAI , HAWAIIAN FOOD: WHERE TO EAT IN WAIMEA, BIG ISLAND , HAWAIIAN FOOD: 6 BEST PLACES TO EAT LIKE A LOCAL IN KAUAI , WHERE TO EAT MALASADAS IN HAWAII – OUR 5 FAVORITES