Egyptian Food Guide – What To Eat In Alexandria, Egypt
Wondering what to eat in Alexandria, Egypt? Seafood lovers rejoice – you have a new destination to add to your food travel bucket list. If Alexandria is not on your radar yet it should be! The famed Egyptian port city invokes images of ancient wonders, battles and the world-conquering emperor Alexander the Great, but what does it offer in terms of cuisine?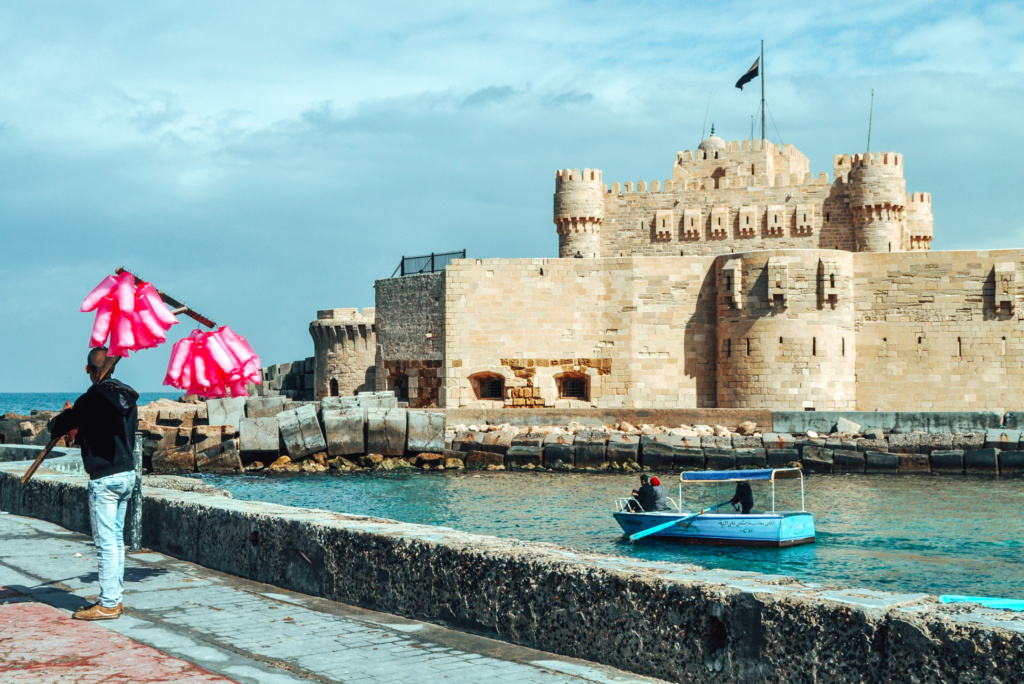 Culinary Influences In Alexandria
While Cairo might be the new hot foodie destination, Alexandria on the northern coast of Egypt takes the crown as the hot spot for seafood connoisseurs. With miles and miles of Mediterranean coastline and a thriving fishing industry, Alexandria boasts access to not only abundant fish and shellfish, but also a myriad of traditional local recipes to cook up a feast using all that catch.
Vegan and vegetarian travelers, check out VEGAN EGYPTIAN FOOD: 6 ESSENTIAL DISHES TO TRY ON YOUR TRIP
You see, Alexandria was, for years, the largest city in the world, second only to Rome. The largest ethnicities were Greek, Egyptian and Jewish – each bringing great variations in food and cooking techniques. Through wars, invasions, and migrations, Romans, Ottomans, Persians, and Arabs influenced the Alexandrian diet.
As a result, the cuisine of Alexandria has been shaped by some of the world's greatest culinary powerhouses. The Greeks, the Italians, the French, the Lebanese and the Arabs have all made their mark. Modern day food is reminiscent of its past while also drawing influences from neighboring countries countries like Lebanon and Syria.
The cuisine of Alexandria has been shaped by some of the world's greatest culinary powerhouses.
What To Eat In Alexandria, Egypt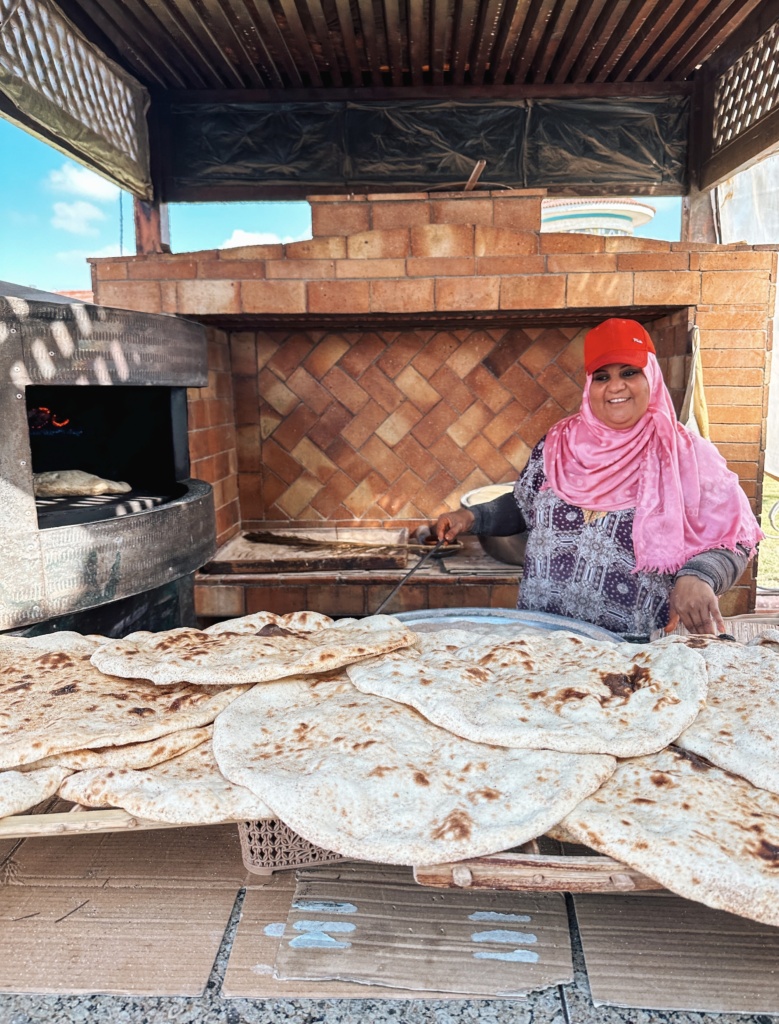 In Alex, as the locals affectionately call it, traditional tajines from North Africa blend with spiced versions of Greek moussaka and Italian-inspired macaroni béchamel. Besarya, i.e. fried white bait, transports your taste buds to summer afternoons in Malta, Sardinia or elsewhere in the Mediterranean.
Sayadeya, or seafood rice, might just be a distant cousin of Spanish paella. The famous (not famous enough if you ask us) Alexandrian cheese foundue is most likely tied to the French foundue tradition. See venue notes below for where to find the best one.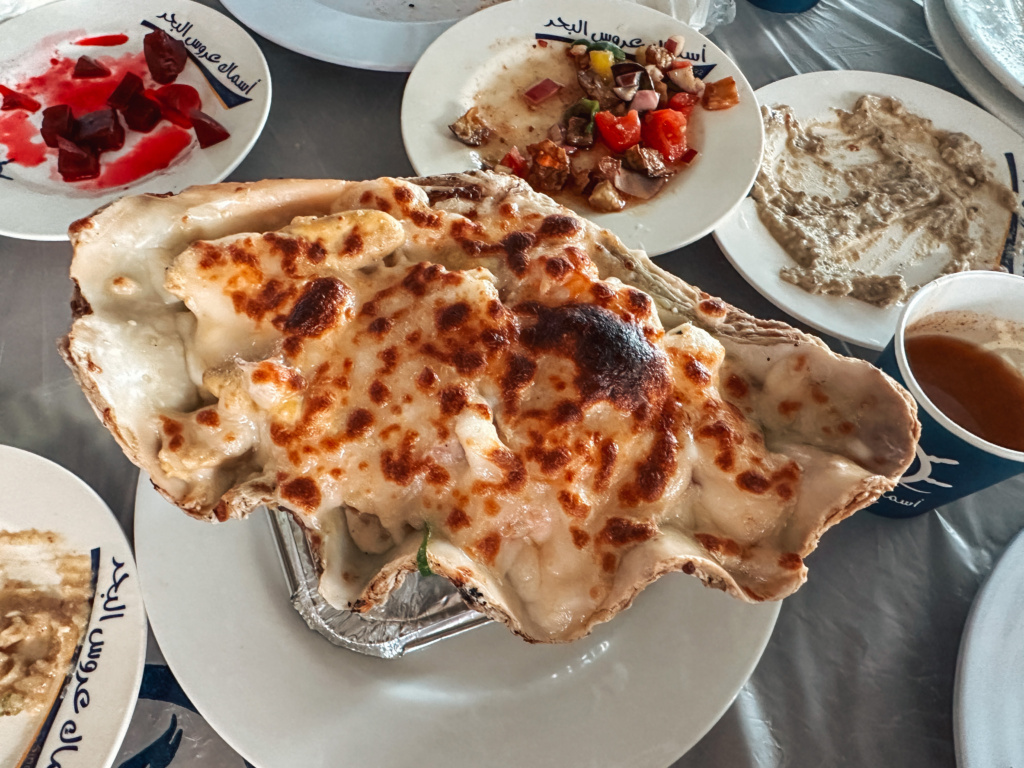 Simple foul medames gets an upgrade with bell peppers and tomatoes (look for Foul Eskandarani aka Alexandrian Foul). And then there is gelato, locally known as gelatee. Some of the best Egyptian ice cream can be found in Alexandria, thanks to the sizable Italian community that once called Alex home.
You might also like: EGYPT'S NATIONAL DISH: WHAT IS KOSHARI AND WHERE TO FIND THE BEST ONE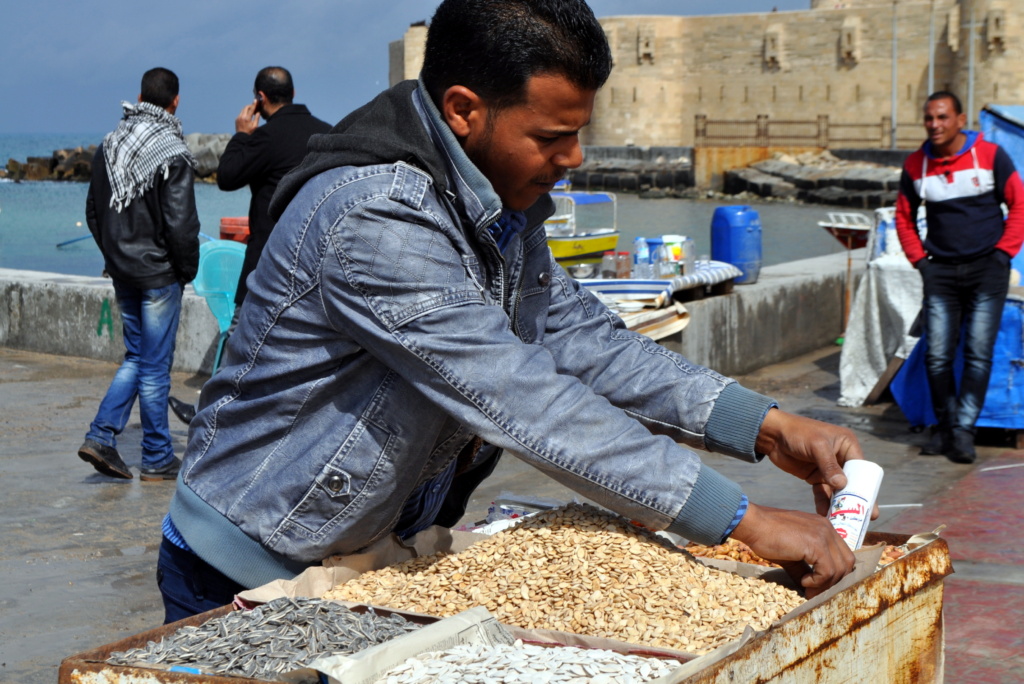 Alex Is For Seafood Lovers
Anyhow, back to the fish… Despite the abundance of spices and herbs, simplicity is key when it comes to cooking seafood in Alexandria. Gambari mashway, grilled prawns, and samak mashway, lightly seasoned grilled whole fish are only two of the numerous dishes that are the backbone of the modern Alexandrian cuisine.
The star of the show though is singari fish (samak singari). It could be any type of fish (samak), cooked in tomatoes with cilantro, cumin and chili (singari way). If you can only eat one thing while in Alex, eat singari fish! Here's a somewhat simplified recipe for how to make your own samak singari at home.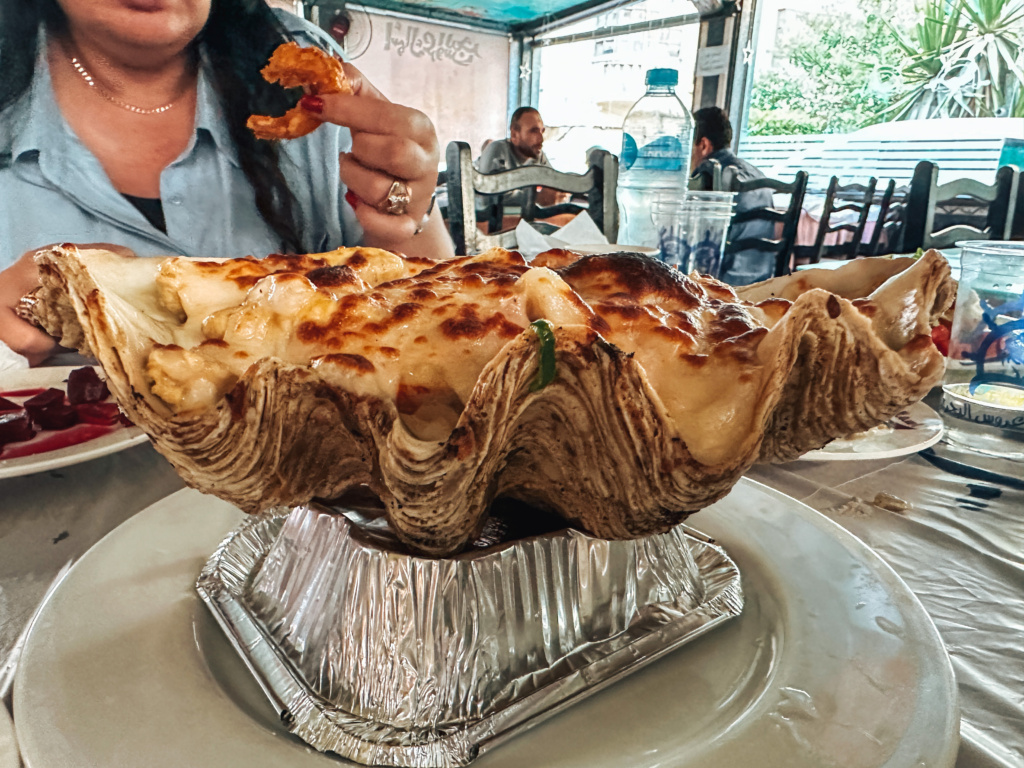 But the most exciting part of eating seafood in Alexandria is that you can have it cooked absolutely any way you want it. The way it works in most seafood restaurants is that you walk up to the fish counter to see what's the catch of the day and what takes your fancy.
You pick your fish, squid or shrimp, and you select what way you'd like the chef to prepare them for you. You typically pay for the fish and for the chef(s) cooking fee, which is usually very modest.
Egyptian Hospitality At Arous Elbahr
Then you sit back, relax, and watch the plethora of side dishes and mezze that you didn't even order appear in front of you. Alongside freshly baked bread. The bread basket at our restaurant, Arous Elbahr, was never empty. There were seemingly unlimited top ups and it was always fresh out of the oven!
That's only one of the reasons we would wholeheartedly recommend Arous Elbahr. This restaurant is definitely off the beaten path. It doesn't have sea view, a fancy website, social media, or even a menu for that matter. But what it does have is a daily selection of the freshest local fish, patient servers and a team of skilled, passionate chefs.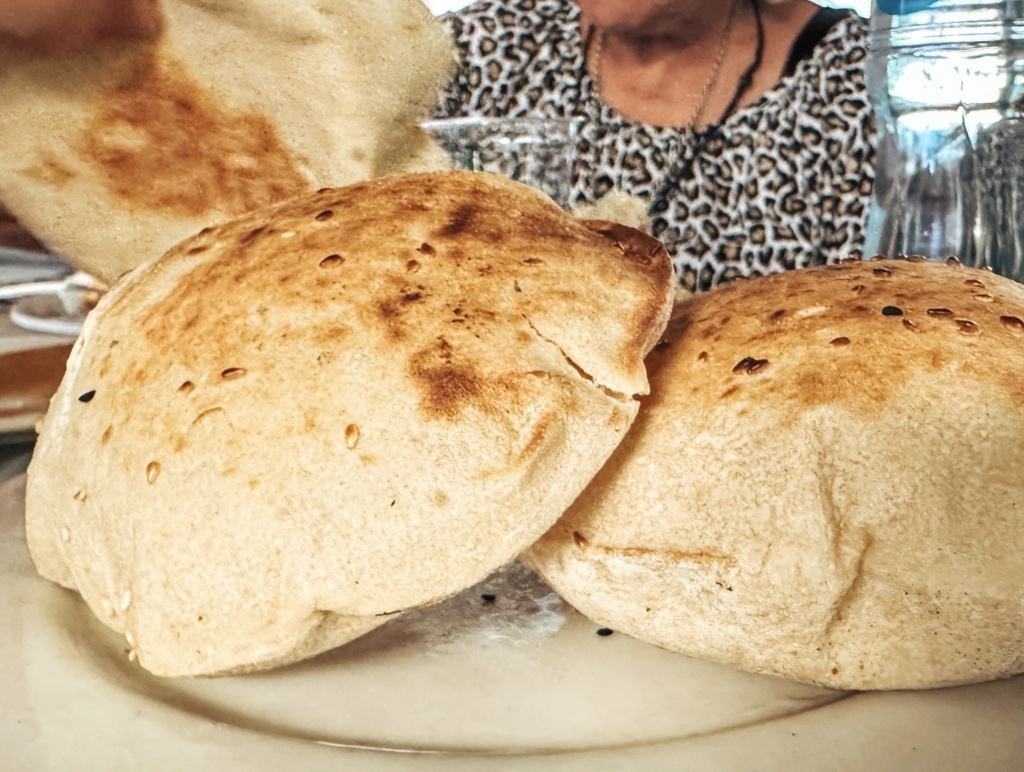 The team at Arous Elbahr were the nicest people and truly showed us what Alexandrian – and Egyptian – hospitality is all about. As for the food, we could barely finish the mezze let alone the fish entrees! It was an incredible feast. Shout out to Ashraf and Rania for taking us to this gem of a restaurant!
We could barely finish the mezze let alone the fish entrees. It was an incredible feast.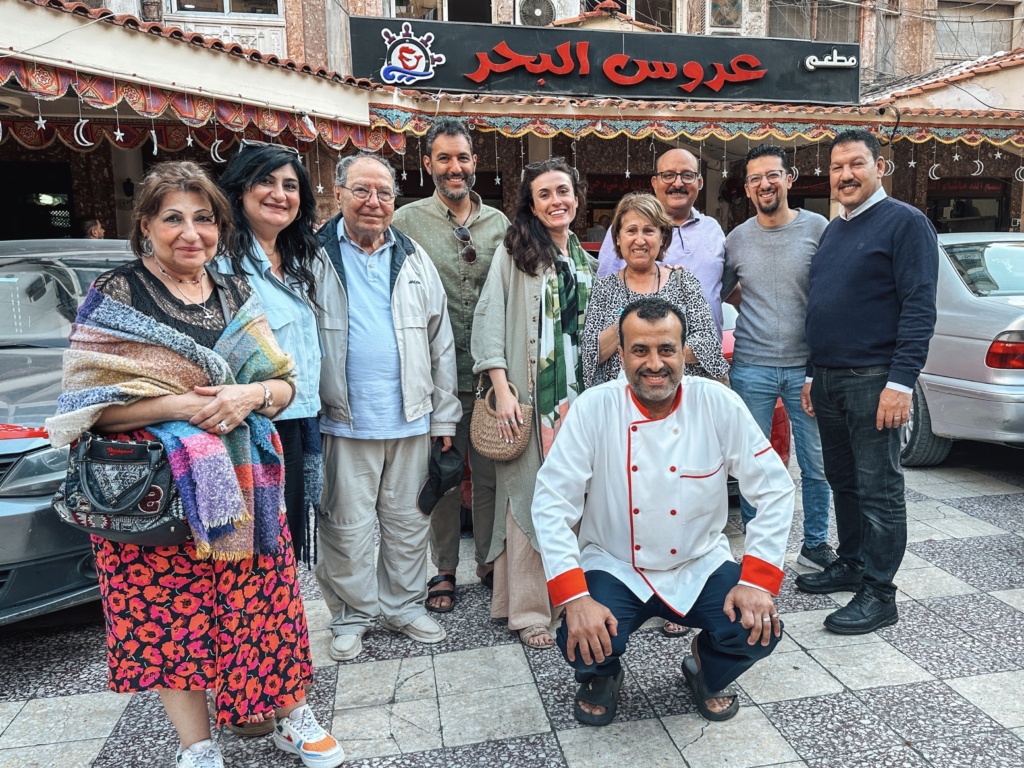 How To Get To Alexandria
It's about a three hour trip by car on the relatively new, fast and safe highway. Alternatively you can take the train from Cairo. For foreigner it's about 60$ each way. (The price differs vastly for Egyptians). The train journey takes about 2 hours. You will need transport in the city itself to move easily between various attractions (ahem…various restaurants). Therefore we prefer the car option.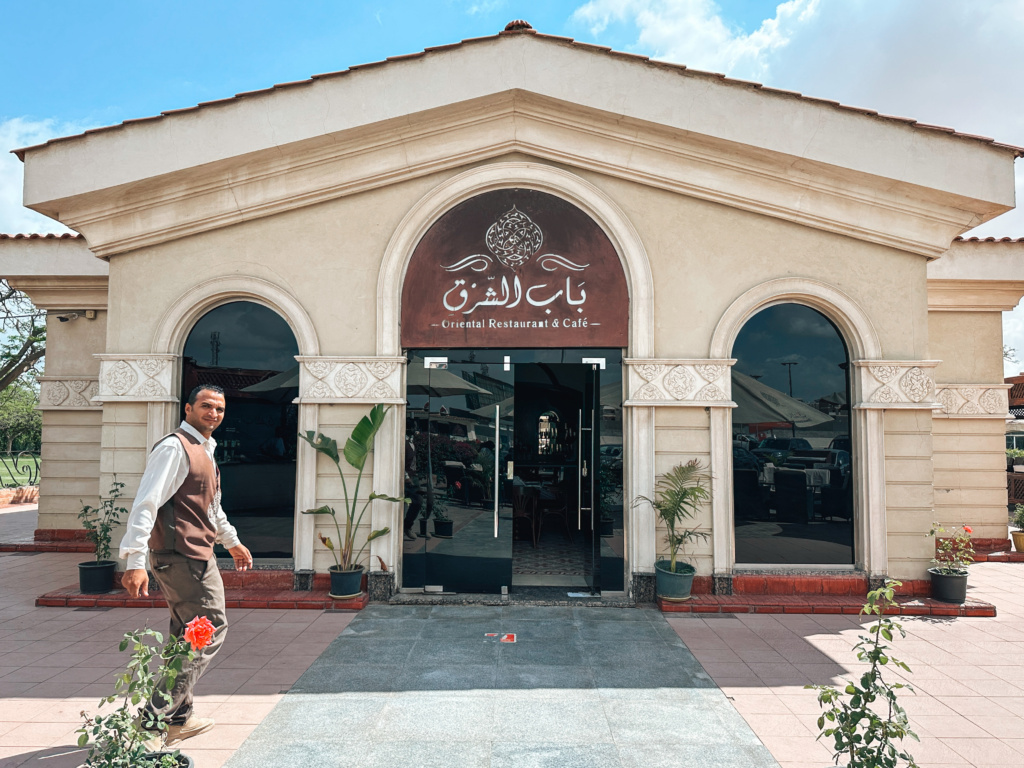 Another added bonus of traveling by car is that you can make a pit stop along the way at Master Rest House. About half way between Cairo and Alex, this little known cafe/restobar serves some of the best food we had in Egypt. Just be careful not to fill up too much – there is plenty to eat in Alexandria!
Expect all the usual breakfast suspects like tameya and different kinds of foul (including Alexandrian), but also molokheya soup, Egyptian style sandwiches, koshary and more. The show stopper there though is the feteer meshaltet bread freshly baked in their outdoor oven, and pita bread also baked fresh on-site.
Where To Eat In Alexandria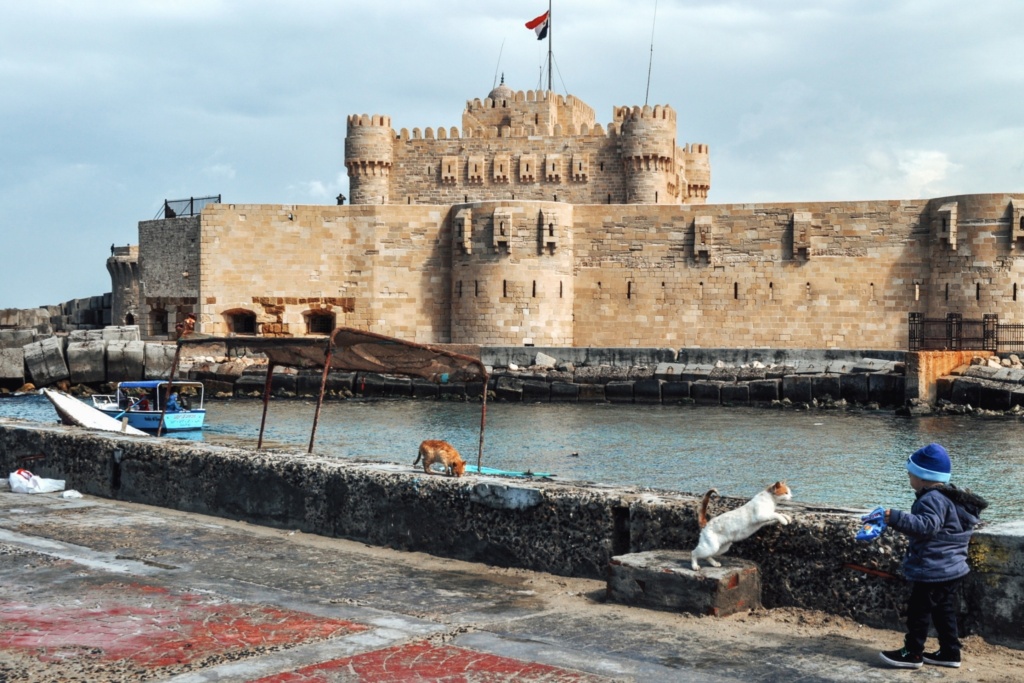 Now that you know what to eat in Alexandria, Egypt, mark the following venues for where to eat it:
Arous Elbahr for best off the beaten path fish and seafood
Alban Swesra for the cheese foundue (expect lines, get the seafood one if you don't eat meat)
Mohamed Ahmed for Alexandrian take on breakfast/brunch, including Alexandrian foul
Cecil Hotel for an evening drink in a historical setting (Agatha Christie sipped cocktails there)
Uncle Zaghloul for tameya stuffed with cheese (!)
other seafood restaurants: Fish Market Marina and Abo Noura
White & Blue Greek Nautical Club for Greek-Egyptian food and sayadeya rice with sea views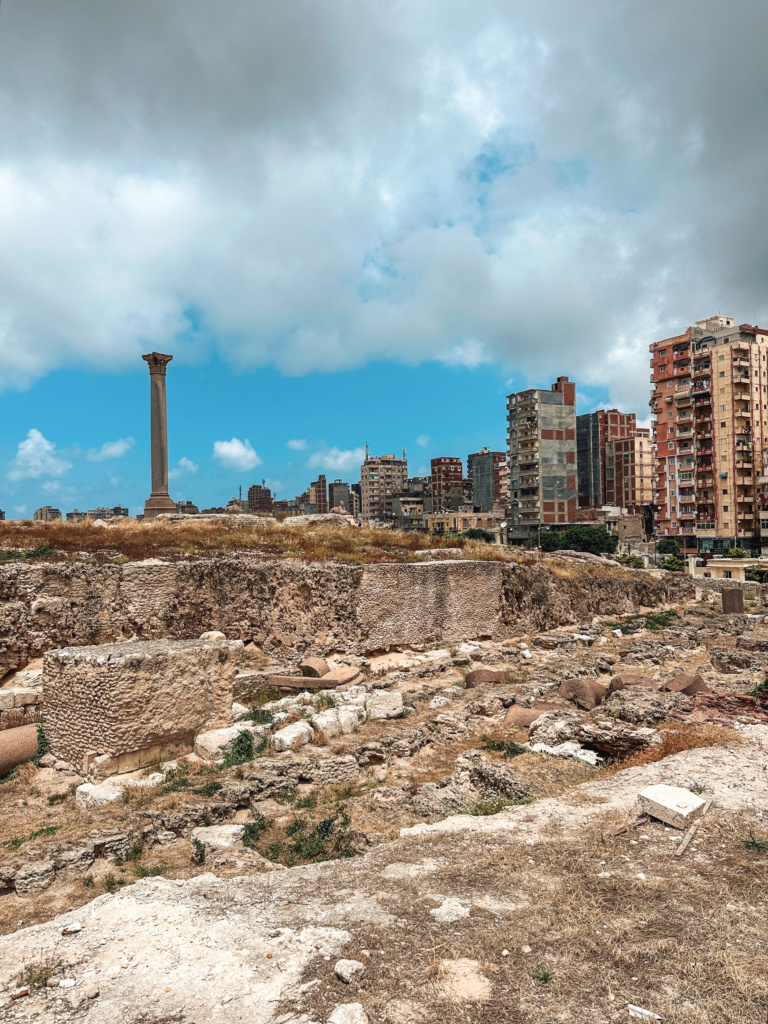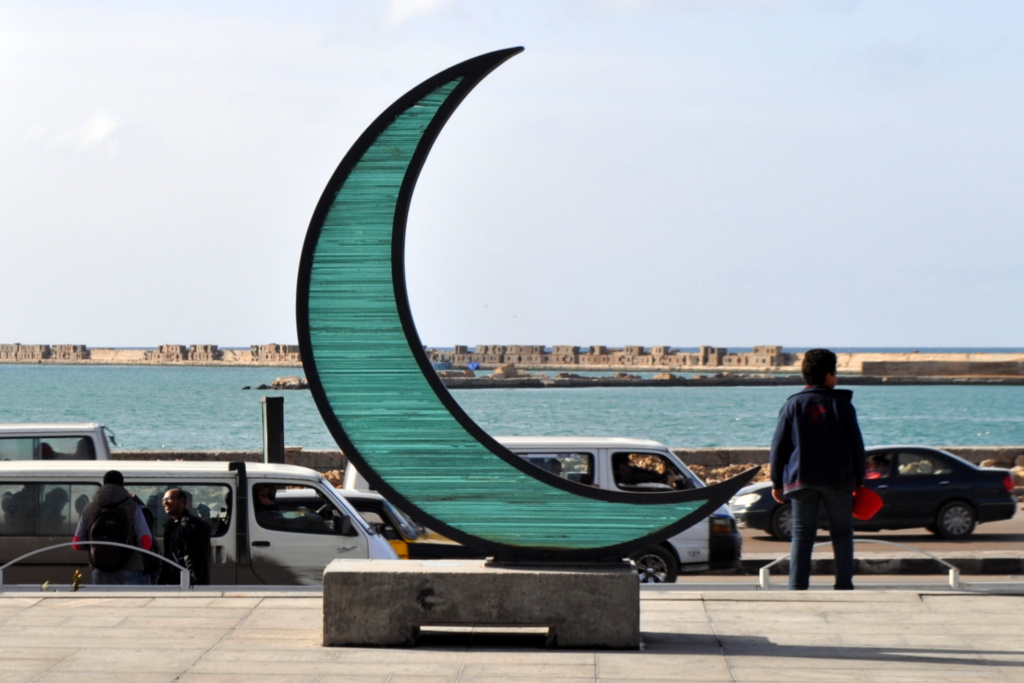 ---
Have you been to Alexandria, Egypt? Did you try any of the above dishes? Would you add any other restaurants to the list of recommendations? Comment below and let us know! We love hearing from you!
You might also like: WHERE TO EAT IN ASPEN, COLORADO: 8 RESTAURANTS THAT LIVE UP TO THE HYPE., TASTE OF PARADISE: WHAT TO EAT IN THE BAHAMAS, VEGAN EATS IN NEW YORK CITY: BREAKFAST, LUNCH AND DINNER