Where To Eat In Aspen, Colorado: 8 Restaurants That Live Up To The Hype
To be honest, with so many restaurants overpriced and overhyped, where to eat in Aspen, Colorado took us a good amount of research. But we've managed to narrow it down and ate our way through the list. Some lived up to the hype some did not.
After a day of skiing, hiking and other outdoor adventures, sitting down for a hearty lunch, apres ski or dinner in Aspen is not only a special treat but an integral part of the Aspen experience. This Colorado ski resort town is home to an array of restaurants serving what's become known as traditional American Alpine cuisine.
In addition, you can easily find contemporary American, Japanese, Italian American, French, Mexican and other flavors and fusions. Several of the names known among the jet setting circles have their outposts here – think Catch (beloved by Instagrammers), Matsuhisa (Nobu's mother ship) or Betula (sister restaurant of Bonito in St. Barth). We avoided those as we wanted to try something truly local.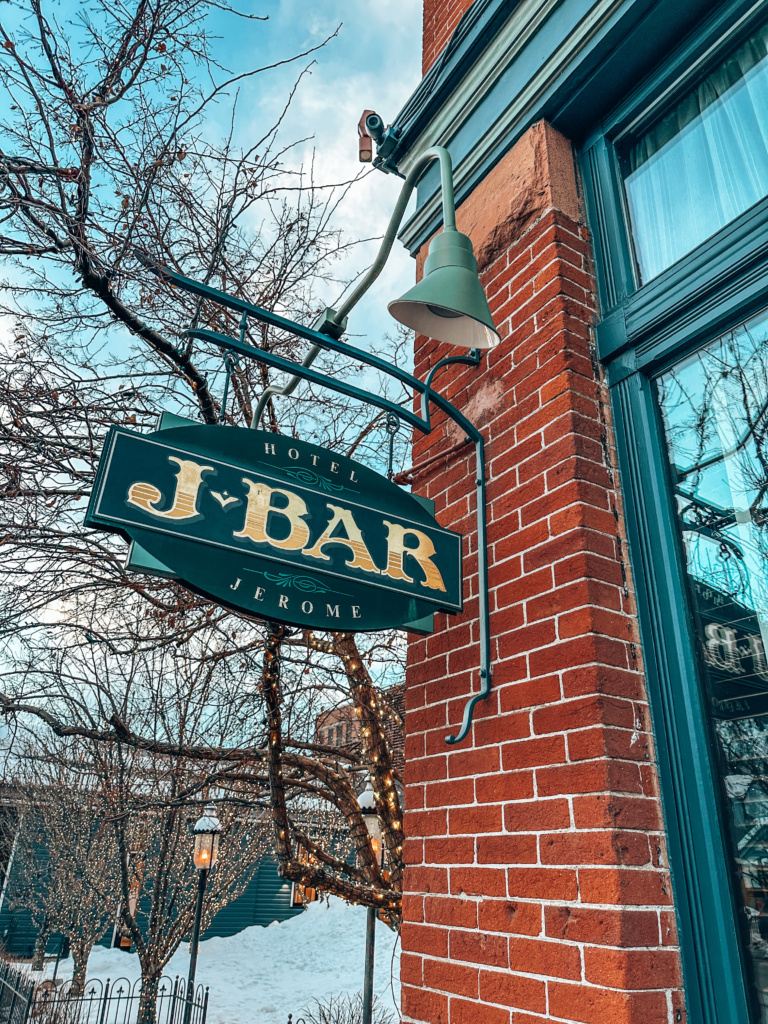 Does quality meet the price tag?
Many Aspen chefs are genuinely blazing the trail in culinary sustainability, highlighting locally sourced natural and organic ingredients. We're still so bummed we didn't get to try Chef Barclay Dodge's tasting menu at Bosq. It was top of our list but we didn't get a reservation – be warned and plan well ahead! We sure have an excuse to go back.
On the other hand, a number of venues are looking to make an easy buck on the affluent Aspen crowds tipsy on fresh mountain air and espresso martinis. It's not that the town is outrageously overpriced, be it lodging or dining. It's that the Aspen price tag is not always (in fact rarely) on par with the quality. Trust us, there is a lot of mediocre Italian and French food in this town… So it really did take us a lot of local intel to find the legit and honest local restaurants we truly wanted to support.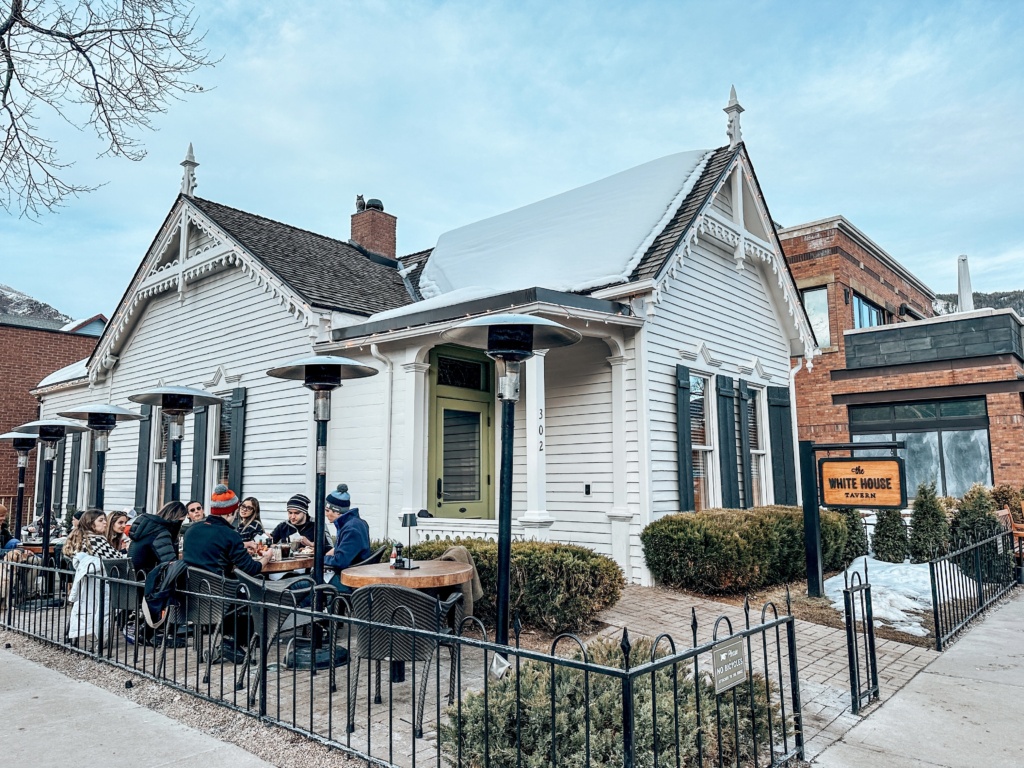 As a result of our extensive research, here are our recommendations on where to eat in Aspen, Colorado:
1. Mawa's Kitchen
You had us at Black History Month specials Chef Mawa! Dinner at Mawa's Kitchen was singlehandedly our favorite meal in Aspen. We're suckers for a restaurant that tells a food story rather than merely existing for profit. James Beard finalist Mawa McQueen grew up in the Ivory Coast and got her culinary education in Paris. Mainly while living in the Parisian ghetto (and cooking for her 10 siblings) amongst North African immigrants, influenced by the vibrant cuisines of Morocco, Algeria, Egypt etc.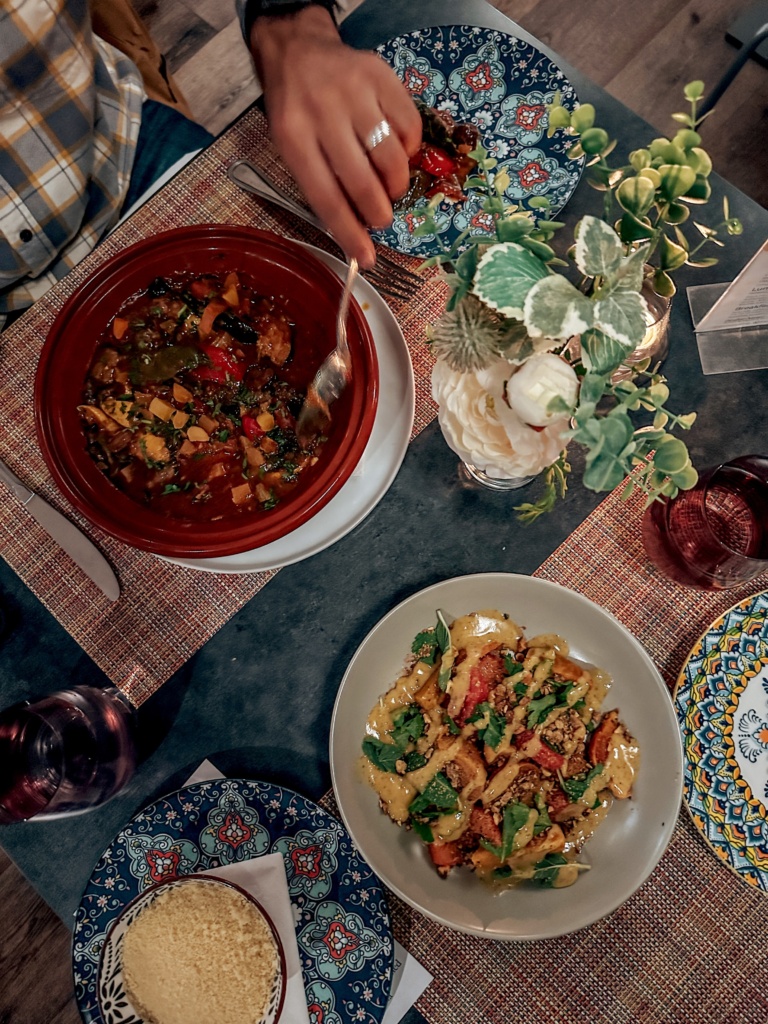 She made her way all the way to the US where her award winning Mawa's Kitchen is a refreshing addition to the otherwise predictable Aspen dining scene. Her menu pays homage to the flavors and ingredients of various African cuisines (suya, jollof fonio, maffe, tagine), as well as African-American classics such as gumbo or grits.
Mawa's Kitchen is the only Black-owned restaurant (or any business for that matter) in Aspen. As impact entrepreneurs ourselves, we love a good entrepreneurial success story (especially female!). Moreover, we absolutely love venues such as Mawa's that not only aim to feed but also educate and inspire their customers to taste something outside their comfort zone. The place is slightly off the beaten path (near the airport) so please don't miss it when visiting Aspen. You won't regret it.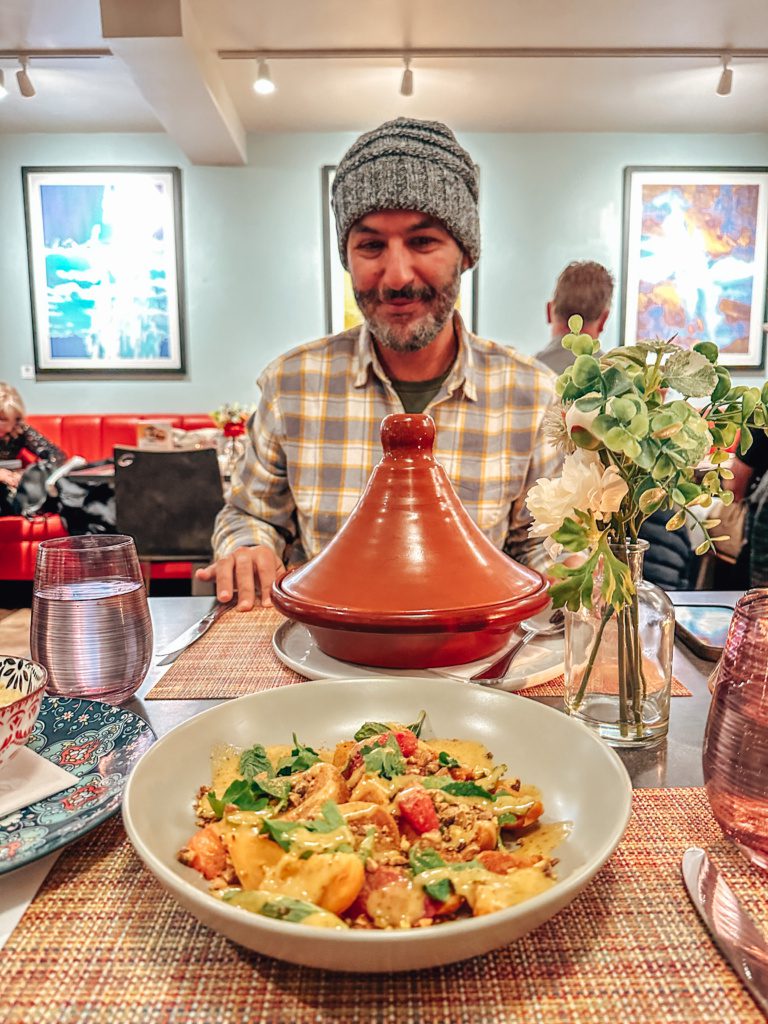 Pro tip: we went for dinner but heard that weekend brunch is the most happening time to be there. Mushroom croque forestiere or butternut squash hash anyone? We'll be back!
2. Pine Creek Cookhouse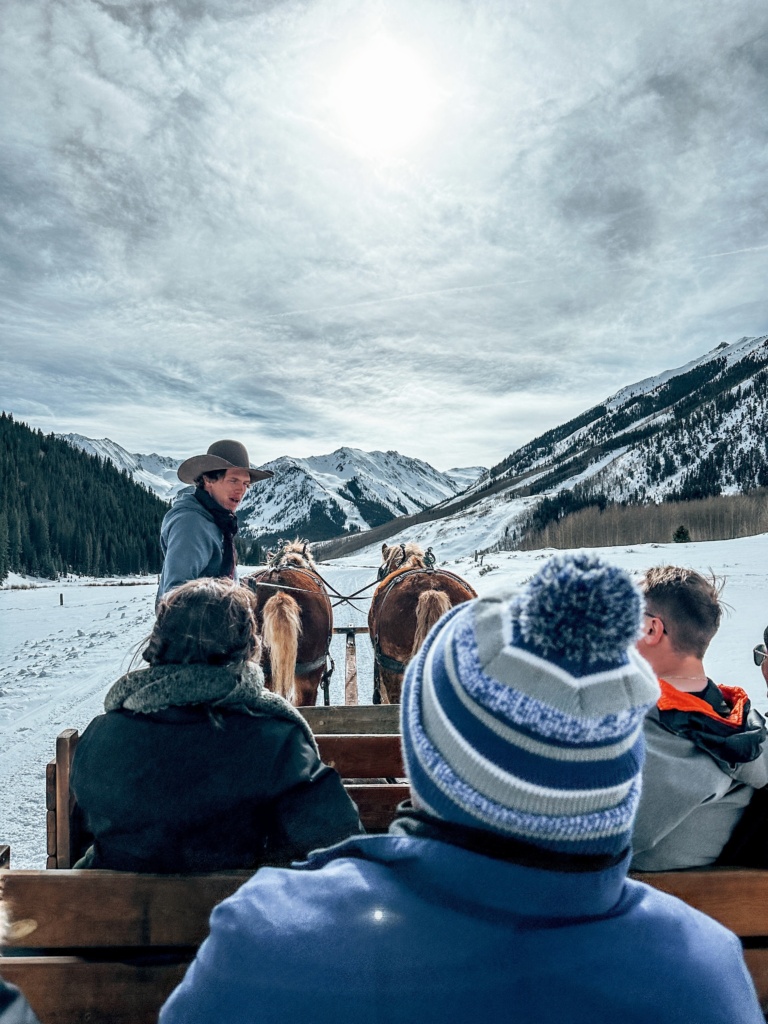 Pine Creek Cookhouse was our second favorite meal. Not least because of the setting and the experience of getting to the restaurant itself. In winter, the rustic restaurant can only be accessed by horse-drawn sleigh or by a guided cross-country ski or snowshoe tour. It is located near the old mining ghost town of Ashcroft, at the base of the majestic Elk Mountain Range in Castle Creek Valley. This charming one-of-a-kind venue serves traditional American Alpine cuisine made from seasonal, locally sourced ingredients.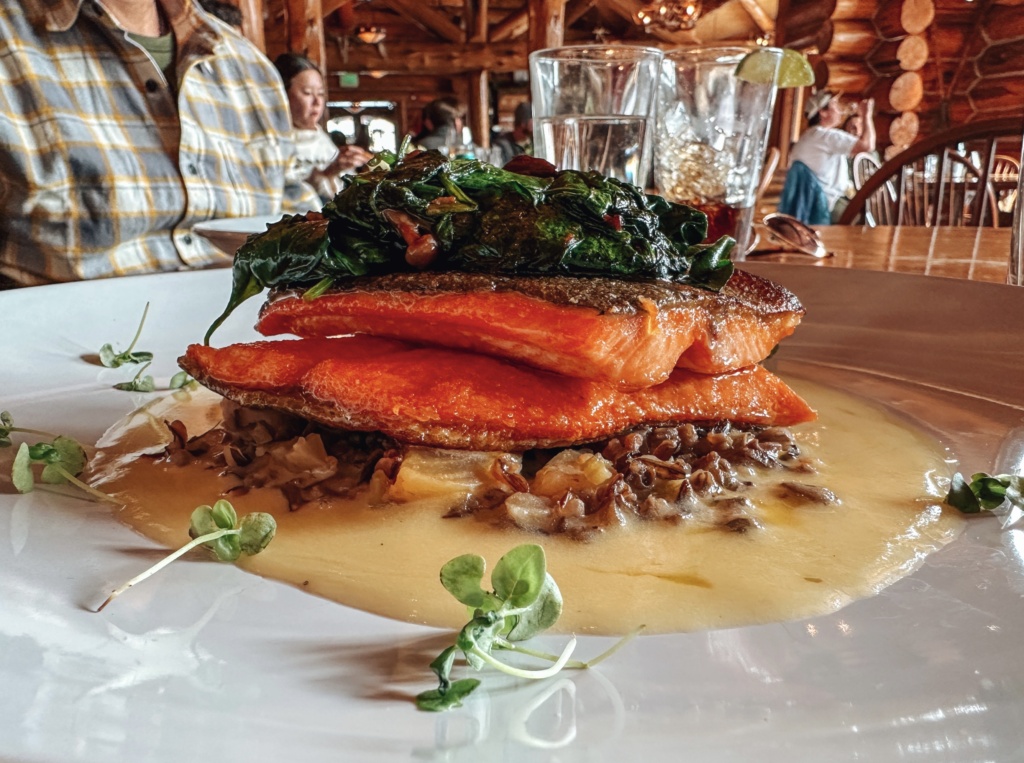 Enjoy mouth watering creative dishes such as the local Rocky Mountain trout, pan roasted cauliflower steak with smoked onion soubise or delicate wild seasonal mushroom crepes. Executive Chef Chris Keating leads the kitchen at Pine Creek, which was established all the way back in 1971. Note that this is a seasonal set menu that changes slightly from lunch to dinner.
Pro tip: go for lunch in the winter to take advantage of the stunning mountain views in the daylight hours.
3. Clark's Oyster House
For the best happy hour in Aspen head straight to Clark's Oyster House. Clark's is quite likely the only place in the country, if not in the world, where you can get away with pairing oysters with espresso martinis… Located in the former premises of the historic Little Annie's restaurant, some of the original charm has been retained thanks to the restored mahogany bar which now serves at the coveted oyster bar. Oyster lovers can rejoice – the menu includes at least 8 different varieties to sample and yes, they are available at happy hour prices.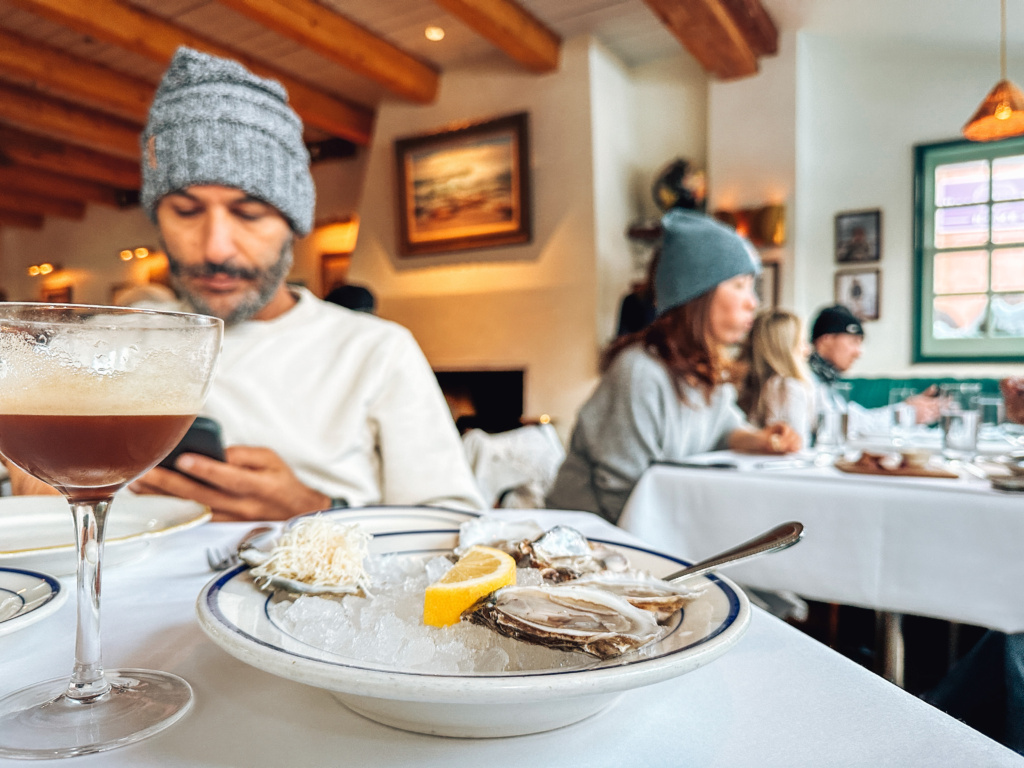 The espresso martini is made using Stumptown espresso and is, in our humble opinion, the best in Aspen. That's saying a lot in a town where we encountered someone asking for an espresso martini mixer in a wine shop… True story. Anyhow, if you can snag a table during the busy afternoon hours, indulge in an oyster platter, freshly baked sourdough, and perhaps a bowl of warming chowder. Happy hour runs from 3 till 5pm on weekdays.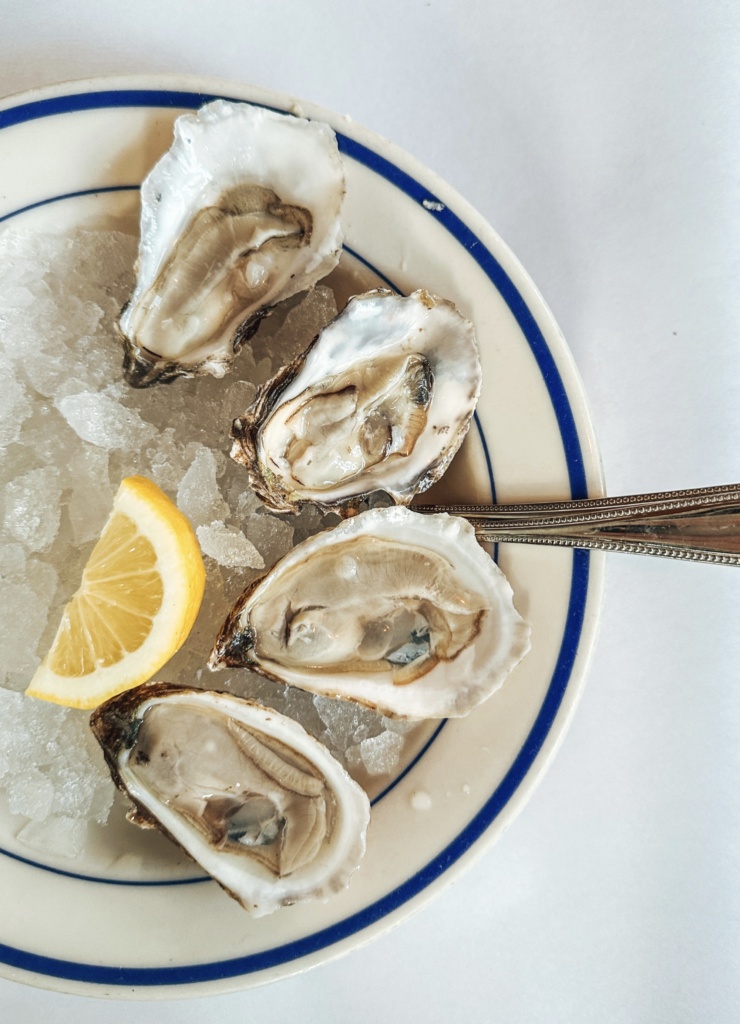 Pro tip: all martinis are half price during HH. Aside from the outstanding espresso martini, we're still talking about the subtle creme de violette-based aviation martini. Do not miss it!
4. French Alpine Bistro
We are always apprehensive of bistros in the US trying to replicate the European vibes (why not embrace what's local?), but French Alpine Bistro proved us wrong. What used to be La Creperie Du Village, a low key French-style bistro frequented by the locals, is now French Alpine Bistrot, Aspen's only fondue restaurant. Sample signature dishes such as the raclette or hearty crepes. Don't forget a bowl of warming onion soup. For a lighter meal, the truffled honey goats cheese salad is an excellent choice.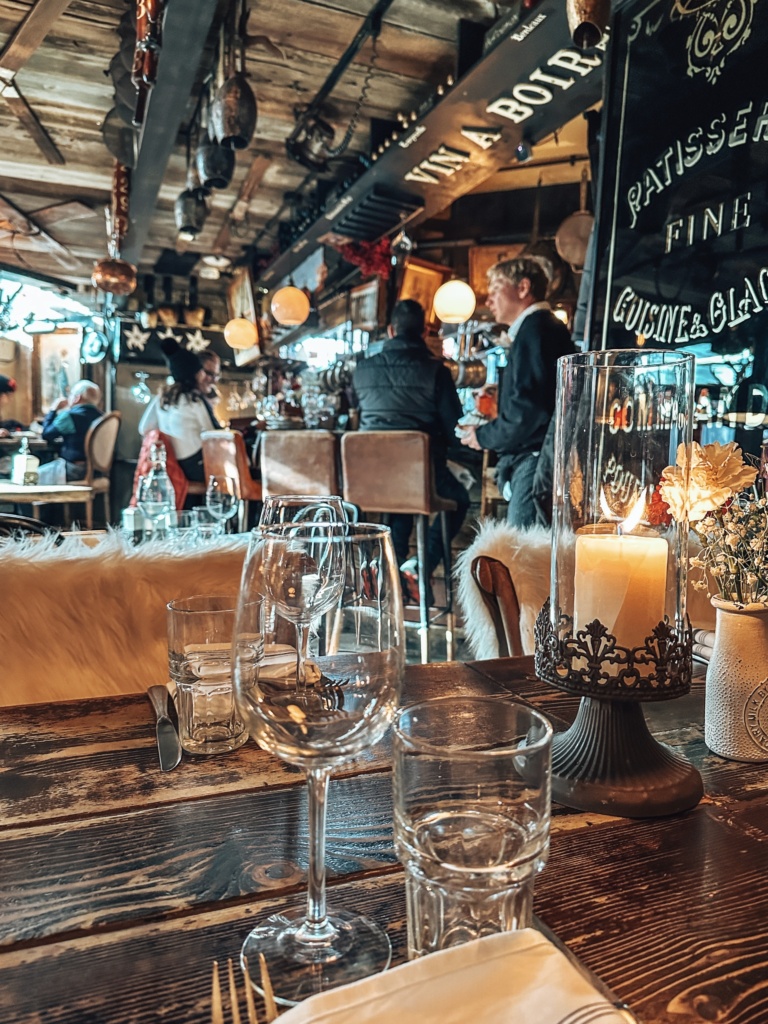 Marseille-born Raphael Derly, an avid skier, first opened the restaurant in 2011. He has brought in Chef Andreas Neufeld to head operations in the kitchen. Despite being nestled in the heart of Aspen's "Restaurant Row", the ambiance at French Alpine Bistro is admittedly, well, French. And Alpine. Between the brick-a-brack heavy decor, cozy wooden furniture, baked cheese aroma permeating the room, and the under-bearing yet professional staff, they somehow got the French feeling just right.
5. Crepe Schack, Snowmass
Any list of places to eat in Aspen, Colorado, must include Snowmass. Another operation by Chef Mawa McQueen – we stumbled upon the Crepe Shack in the heart of Snowmass Village. It kind of reminded us of a hipster LA burrito shop, except instead of flour tortillas the ingredients are enveloped in freshly made crepes. And it's Aspen so the price point is slightly different…
Huevos rancheros in a crepe? Yep, you can have it here. Margarita? Smoked salmon? Yogurt and granola? You name it. There are several exciting vegetarian choices and one very decent vegan option. The latter includes hummus, mushrooms and caramelized onions on a buckwheat crepe.
Speaking of granola, you can stock up on Mawa's own grain free granola packets to go here. It's also the perfect spot to warm up in between gondola rides with a cup of hot cocoa, chai latte, spiced apple cider or our favorite – lavender matcha. Chef Mawa keeps impressing!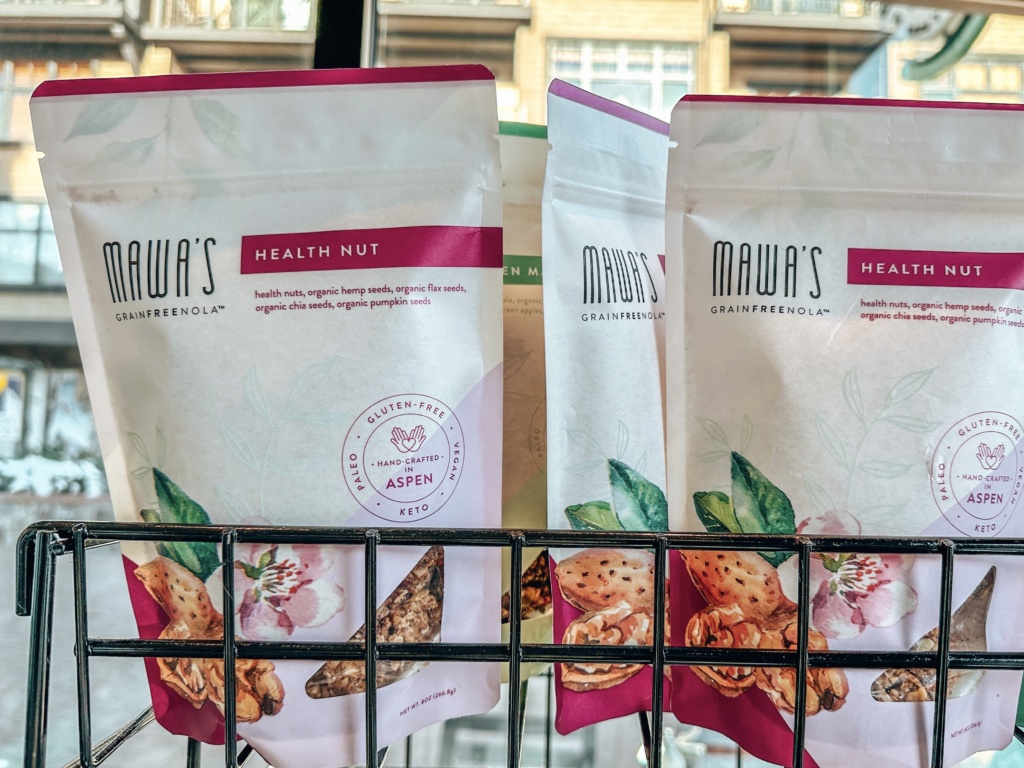 6. Meat and Cheese
Wondering where to eat plant based in Aspen, Colorado? Unexpectedly, Meat & Cheese offers some of Aspen's most exciting vegan and vegetarian options in town. Whether you're looking for plant based creations or, well, meat and cheese, the restaurant serves inventive farmhouse cuisine made from seasonally available, locally sourced, and sustainably raised ingredients.
Think chickpea stew with house made harissa, braised leeks and fennel, or roasted root vegetables with vegan cashew dijon. Even the dessert menu is more thought through than most. Expect sweet treats such as black sesame mochi cake or earl grey chocolate cake with bruleed grapefruit.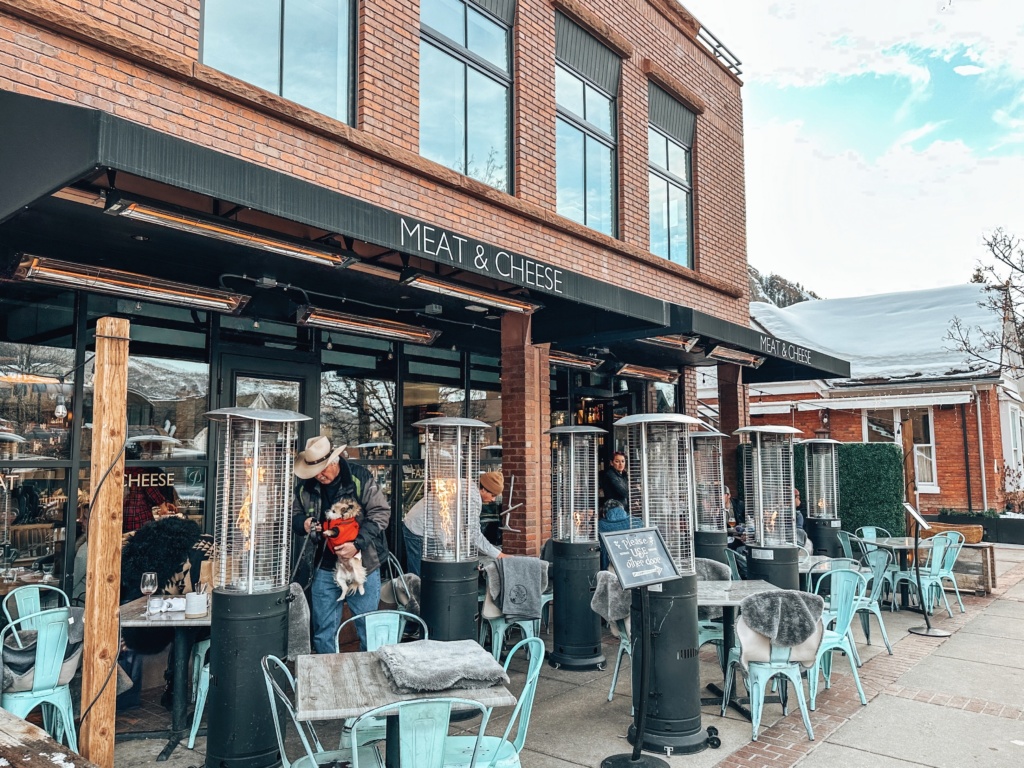 The wine list and craft beer selection are some of the most eclectic in Aspen. Although it's their handcrafted cocktails that impressed us most. Do visit their sister speakeasy Hooch Bar downstairs – one of the most exciting cocktail menu we'd seen in a while!
Wendy Mitchell founded Avalanche Cheese Company in 2008 and expanded it to include the Meat & Cheese restaurant and retail shop in 2014. She brought in Executive Chef David Wang to lead operations in the kitchen. Pro tip: they don't take reservations.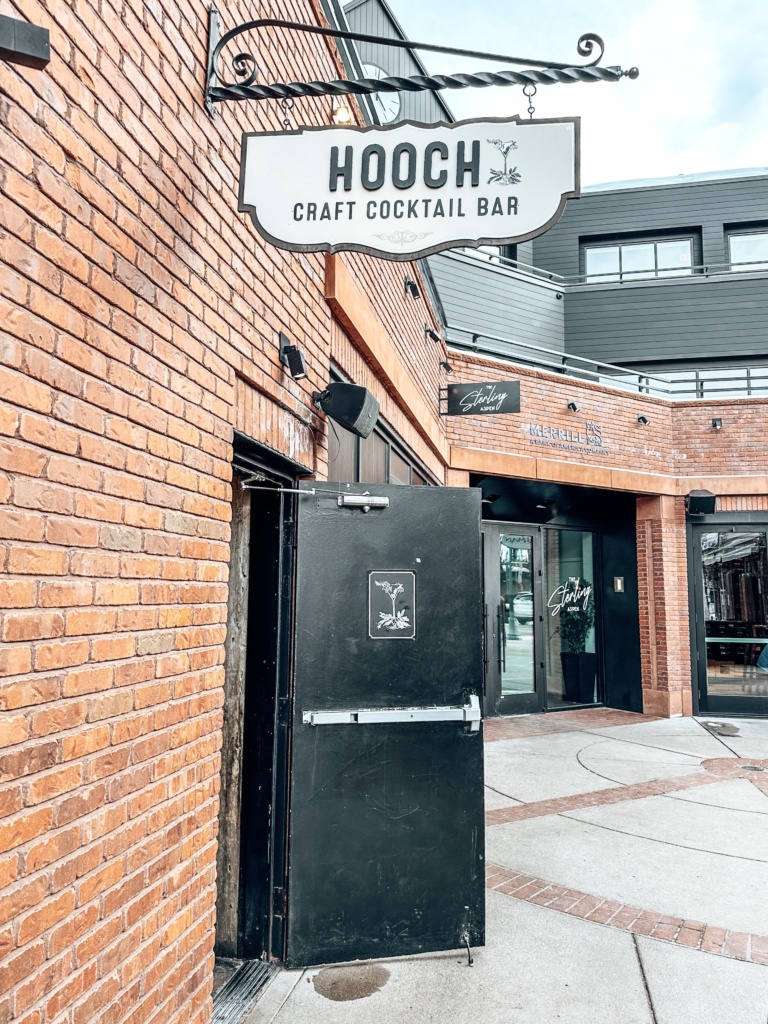 You might also like: VEGAN EATS IN NEW YORK CITY: BREAKFAST, LUNCH AND DINNER, WHAT IS POKE AND WHY YOU WON'T FIND POKE BOWLS IN HAWAII
7. Paradise Bakery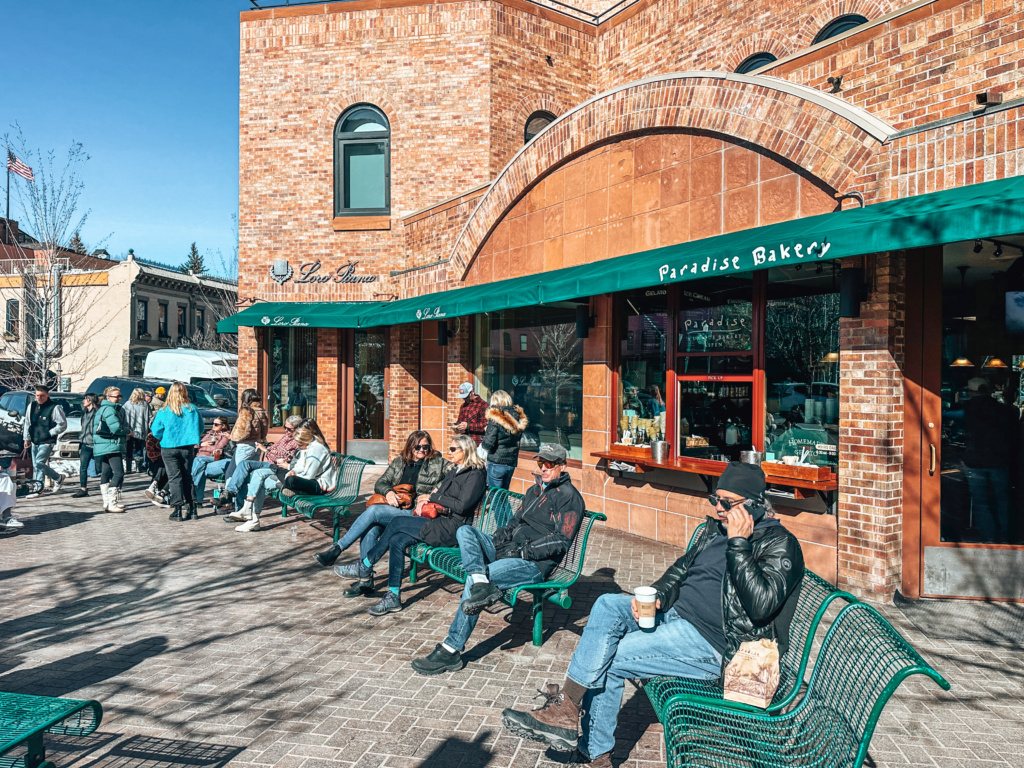 A list of places to eat in Aspen, Colorado wouldn't be complete without this favorite Aspen hangout. When you're tired of espresso martinis, why not stop by Paradise Bakery for an espresso ice cream sandwich. It's an off menu item, so let it be our little secret! Locals know the bakery for their freshly baked cookies in about a dozen varieties, as well as their ice cream. Therefore an ice cream sandwich is a no brainer, isn't it?
That said, we did not care for the breakfast sandwich much and thought it was rather bland. It's definitely a great spot for tea and coffee on the go though. Alternatively, for a sit down cup of matcha or craft latte, check out Local Coffee nearby.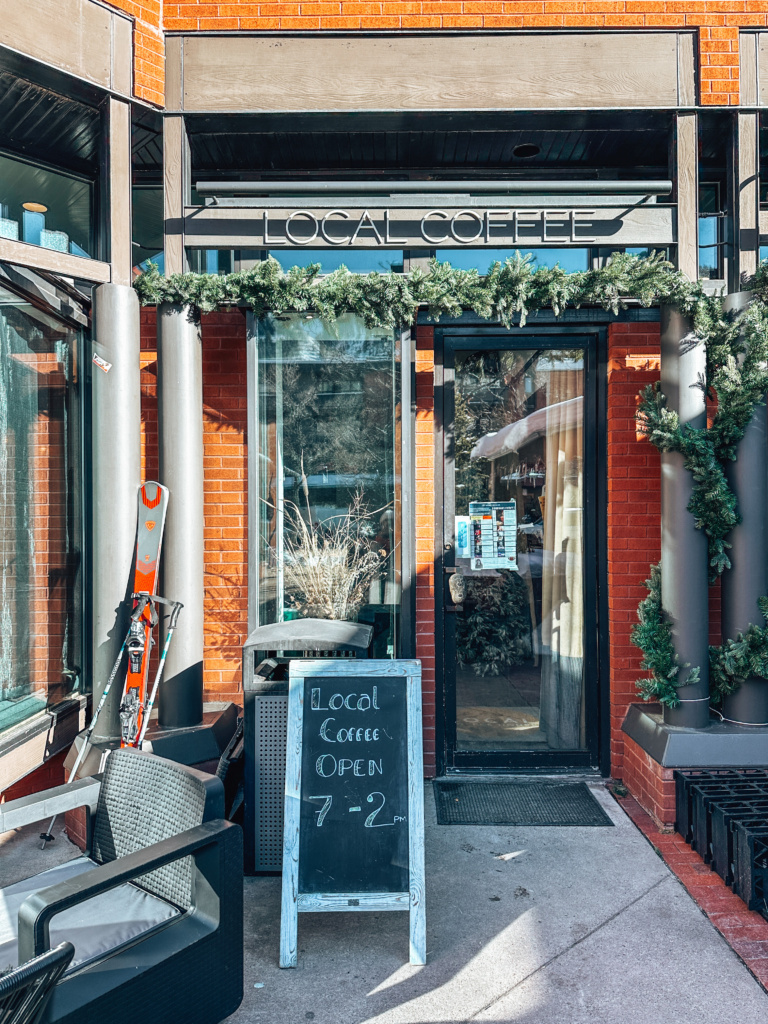 8. Ajax Tavern
Lastly – the most vibey apres ski and weekend brunch in town. Ajax Tavern serves traditional American tavern fare in a casual setting inside the luxury Little Nell hotel. (For the hotel's fine dining check out Element 47. Sadly we run out of time to dine there.). Enjoy the views of the slopes and Silver Queen Gondola. Don't miss the famous Ajax truffle fries.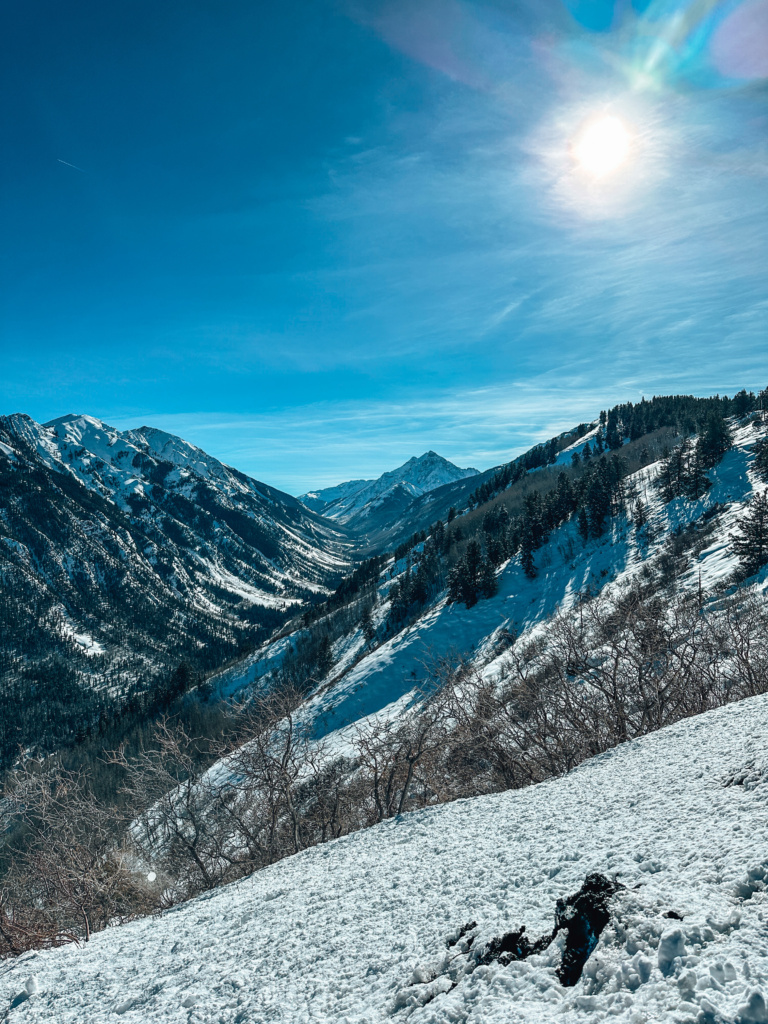 Although, to be perfectly honest, ours were a bit too oily and therefore not crispy enough on the outside nor fluffy inside. Perhaps we came on an off day, because everyone seems to be raving about those fries. And beware – it's a sharing size! They were so bit we ended up just sharing the fries and the delicious plant based seasonal entree of roasted acorn squash.
A glass of Mendoza malbec from their extensive wine list was the perfect pairing. Local microbrews and handcrafted cocktails are also available. Chef de Cuisine JD Baldridge is at the helm of the kitchen at Ajax Tavern.
Bonus: Village Smithy, Carbondale
Technically it's not in town but we can't talk about where to eat in Aspen, Colorado, without mentioning Village Smithy. We had one of our most enjoyable breakfasts at Village Smithy in nearby Carbondale. The town is quaint and charming and definitely worth a visit for a short stroll on the main street. Why not make brunch at Village Smithy an excuse to visit? It's just a busy, warm and vibrant community cafe.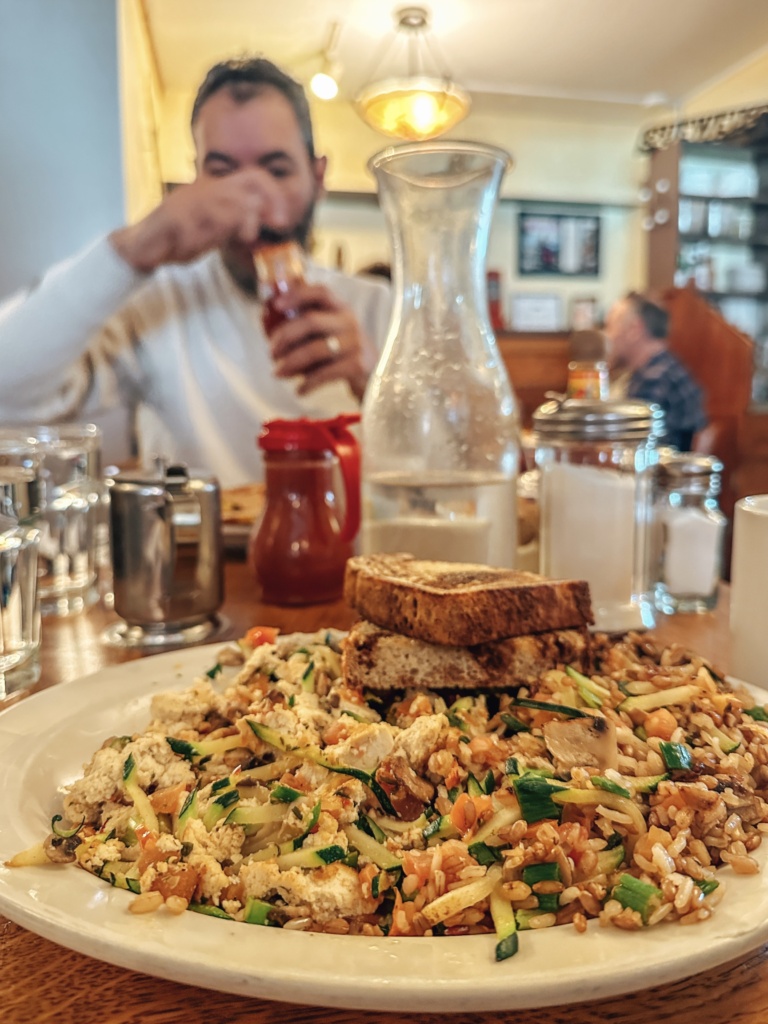 Moreover, they make all the food with love and hearty, local ingredients. We opted for veggie breakfast quesadillas packed with spinach, as well as the tofu scramble with a house mix of grains and veggies. The portions were generous, the salsa homemade, and the coffee freshly brewed and supplied by a local Carbondale based roastery. They've been in business since 1970s and we can clearly see why.
Pro tip: Check out the separate menu for burritos to go – perfect for a day of hiking or skiing!
On our list to try next time:
Tasting menu at Bosq (!!!).
J Bar for bar snacks (we did go but had a drink only – a very decent if somewhat rushed espresso martini).
Cauliflower tacos and truffle quesadillas at Mawita, Snowmass.
White House Tavern for the kale salad with their famed roasted peanut vinaigrette.
Rooftop Cafe at the Aspen Art Museum – for a farm to table seasonal menu lunch with some of the best views in town!
Woody Creek Tavern for Hunter J Thompson memorabilia.
Kenichi for plant based specialty rolls (Aspen's best kept vegan secret!)
Mountain Social at the St. Regis for apres ski.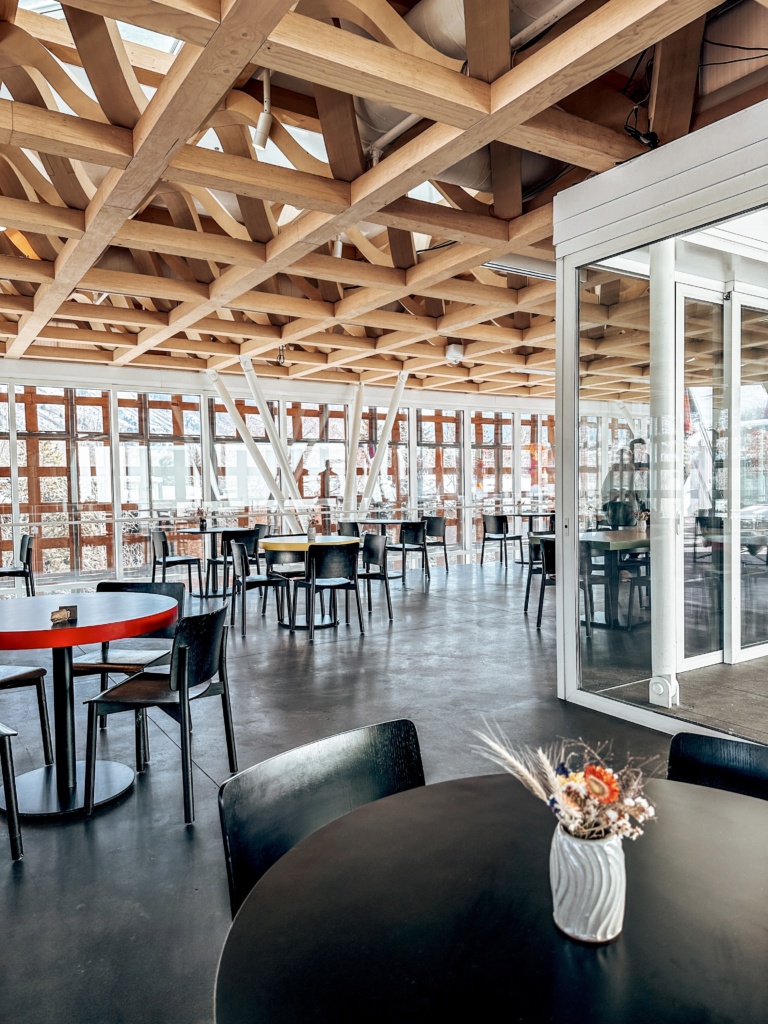 ---
We hope we made it a little easier for you to decide on where to eat in Aspen, Colorado! Did you eat at any of the above restaurants? Do you think there is a venue we should check out when in Aspen next? DM us on Instagram or leave a comment below!
You might also like: DINNER AT TIFFANY'S: BEST FOOD IN MAUI YOU NEVER HEARD OF, WE ATE ALL THE VEGAN CURRYWURST IN BERLIN SO YOU DON'T HAVE TO