Where To Eat In Rosarito, Baja California in 2023
Wondering where to eat in Rosarito, Baja California? Here is a list of 8 of our favorite venues for best fish tacos and more!
Last updated: June 2023
Rosarito Beach is spring break central. A small resort town on the coast of Mexico's Baja California peninsula, it is well known as a nightlife destination for American college kids and bachelorette parties due to its proximity to the border.
But Rosarito, just half an hour south of Tijuana, had been popular well before that. Back in the prohibition era of the 1920s the area became a place to be seen for the Hollywood rich and famous. Today, you can still feel the old school glamour when you step foot into the Rosarito Beach Hotel. Regular guests included Rita Hayworth, Orson Welles, Marilyn Monroe, Ava Gardner, Gregory Peck and Katharine Hepburn, among others. If only those walls could talk!
Hollywood is still present in Rosarito – at Baja Studios. Originally built by Twentieth Century Fox for the reconstruction of RMS Titanic in the epic 1997 film (they have the largest water tank in the world), the studios were the birth place of many other notable films such as Pearl Harbor. It is now an independent Mexican-owned film studio that is still for rent for major motion pictures.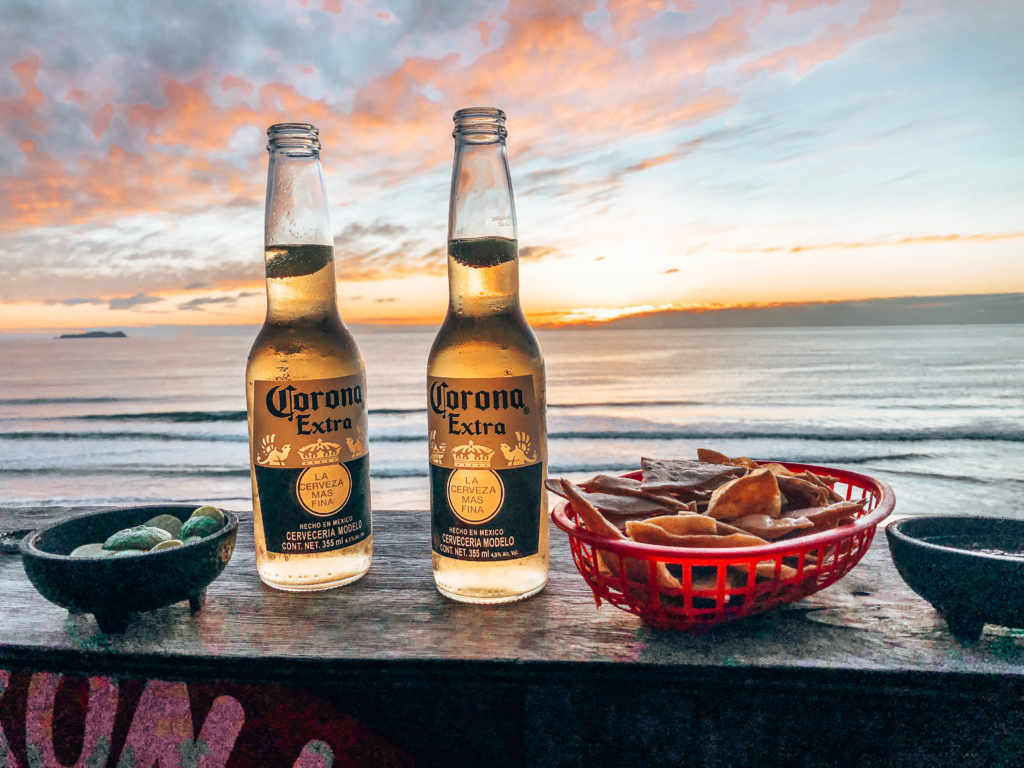 That said, today the town is less glitz and glamour and more 2-for-1 margaritas, shots by the dozen and dubious quality pizza near the beach. That said, just as anywhere in Mexico (yes, even in Cancun), you can find some incredible authentic local fare.
Just steer away from the main tourist drag. Not only will you please your taste buds and enjoy a freshly cooked regional meal, but you'll be supporting a small mom'n'pop business.

Here's where locals eat in Rosarito, Baja:
1. Mariscos Los Cabos
If you can't make it to Ensenada to try their legendary fish tacos, head to Mariscos Los Cabos – one of our favorite fish taco place in Baja. I don't even know where to begin recommending specific tacos because there are many and they are all finger licking good. Some of them come so heavy with toppings they actually double the tortillas! The best suggestion would be to go in a larger group and order one of each 😀 Whatever you do don't miss tacos de camaron enchilado!
PS. Next door to Mariscos Los Cabos is La Guelaguetza en Rosarito with their famous house-made mole and Sunday Oaxacan buffet. Local knowledge at its best!
2. Langosta La Guerita
Similarly, if you can't make it to Puerto Nuevo to try their famous lobster at the source, the next best thing can be found at Restaurante de Langosta La Guerita. Lunchtime is peak lobster feast, especially at weekends. Order a medium sized Puerto Nuevo lobster, and for an appetizer try the freshest lobster and/or shrimp ceviche. Their oysters are a real treat too, and you can have them prepared four ways. They also serve a very satisfying nopales omelette if you're looking for a tasty breakfast spot.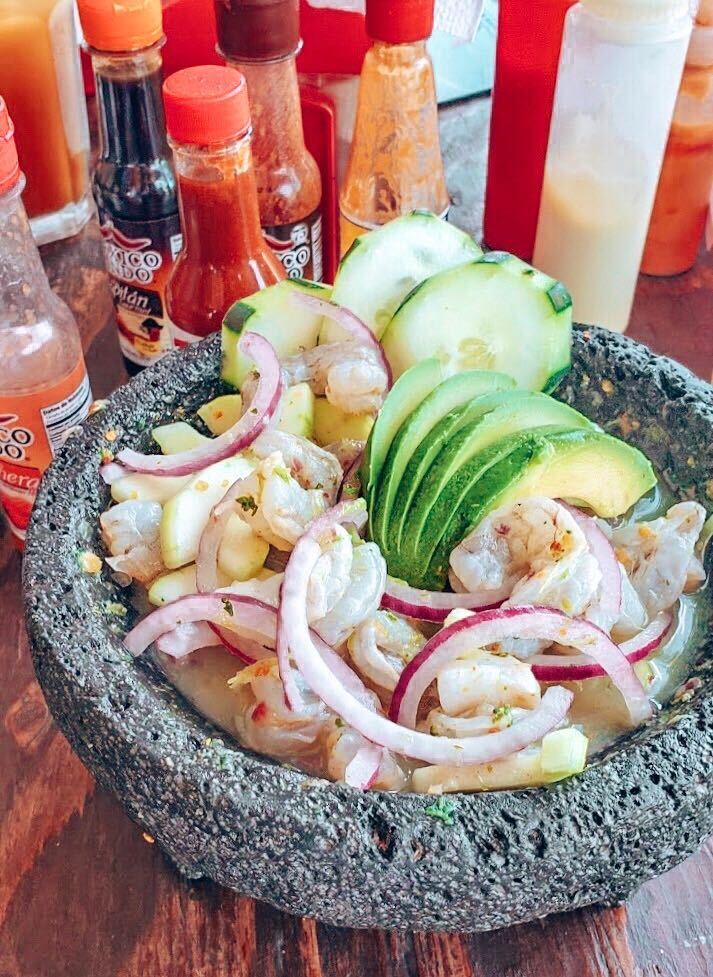 3. Tito's Mariscos
Aguachiles, molcajetes, ceviches and sky-high tostadas de mariscos await you at the beloved Tito's Mariscos. Also available are creative fish and seafood tacos, featuring sumptuous calamar enchilado (squid in spicy chili sauce). Tito's picture-perfect tostadas are an indisputable star of the show though, with crustaceans such as chocolate clams, snails and scallops piled high and totally insta-worthy. Mariscos La Vikinga is yet another hidden gem for seafood lovers – I promise you'll be craving their famous aguachiles for months to come.
4. Rosarito Beach Hotel
Meanwhile at the Rosarito Beach Hotel, your dining and entertainment options are as extensive as the coastline that stretches dramatically to our north and south. Enjoy a meal in the warm Old World setting of the Azteca, or sample a traditional Mexican buffet at a folkloric ballet show (though I'm not a fan of those) in the Salon Mexicano. Then end your night with a cocktail in the historic piano or Beachcomber bars, Rosa & Rita saloon or looking out over the star-lit sea from our dramatic 17th-floor rooftop lounge. Probably not as frequented by locals but still worth a visit for the historic value.
5. Rancho Las Ilusiones
Talk about a hidden gem! Literally hidden in-land away from the hustle and bustle of downtown Rosarito (but still boasting great ocean views!) is Rancho Las Ilusiones. Only open on Saturdays and Sundays, this working ranch with numerous animals on site is the perfect weekend brunch spot. Locals rave about their chilaquiles, but among other meatless options you can also indulge in huevos rancheros, omelette de espinacas (spinach) accompanied by frijoles, or their popular hot cakes. This is a venue with personality. They open at 8am and by 9 the place is nearly full. Cash only.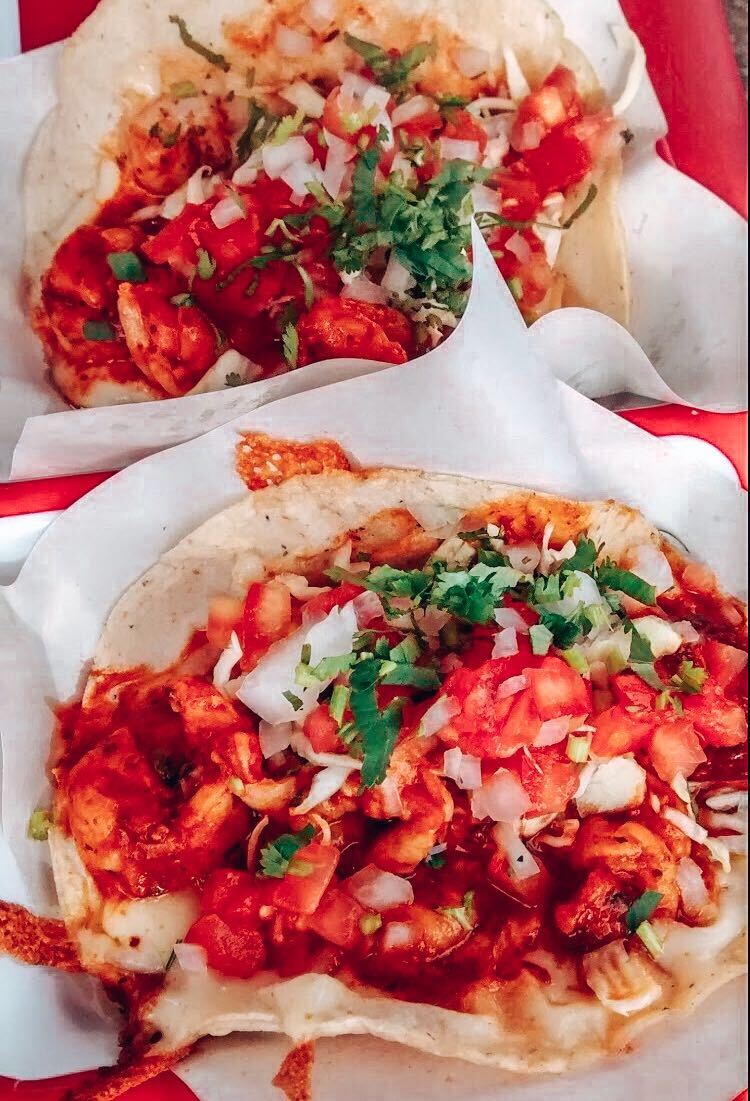 6. Kilometro 38
If you're into surfing, you probably already heard of K38, a world-famous surf spot named after its location – kilometro 38 – on route 1D. We don't surf ourselves (yet), but we couldn't resist the octopus tacos at Tachos K38 Tacos. (Next door to the popular Taco Surf which specializes in meat tacos). Don't miss the chipotle shrimp and crab tacos! They even have a vegetarian option. We haven't tried it ourselves, but as one reviewer said of their spicy shrimp burger, "I would remarry my ex wife for it." Also at K38 you'll find Charly's Place. This beloved eatery will satisfy most cravings from hearty Mexican breakfasts to shrimp and fish served in every conceivable way such as burritos, quesadillas, ceviches, tacos, and even fish soup on a cooler day. Popular happy hour.
7. Popotla
Half way between kilometro 38 and Rosarito lies Popotla, a fishing village that basically consists of a fish market and beachfront seafood dining galore. Point at the exact spider crab or Baja spiny lobster you want and you'll have it cooked to your liking – we suggest simple garlic sauce (al mojo de ajo) to bring out the best of the fresh catch. There are a number of formal sit-down restaurants on the cliff above the beach but the no-frills plastic tables in the sand, Anthony Bourdain style, is probably the most fun option. If it's good enough for Tony it's good enough for us. 🙂 If you do want to sit indoors, Marsicos Popotla Jr. is an excellent choice. Be sure to try their shrimp flautas and seafood-stuffed coconuts! Tip: they have a kids menu featuring shrimp nuggets. Who knew a nightlife-central like Rosarito can be family friendly!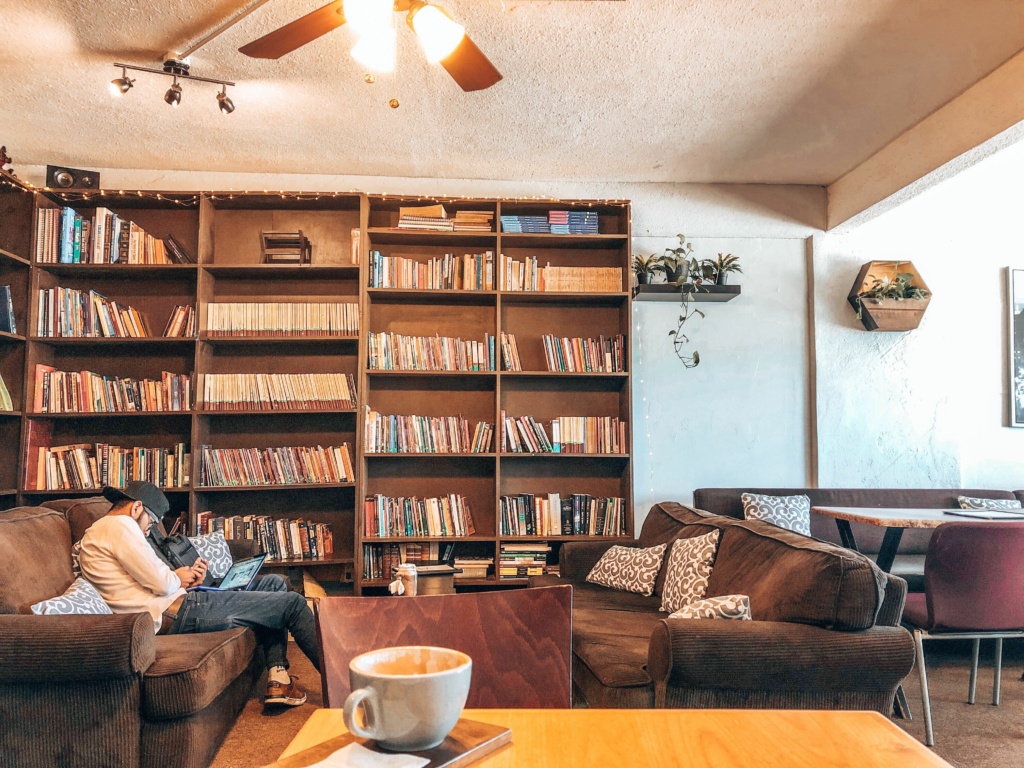 8. Breakfast and Coffee
Lastly, local meat lovers swear by carnitas tacos at El Yaqui ("If you haven't had Tacos El Yaqui, you haven't been to Rosarito Beach") and dinners at El Nido. The latter is a steakhouse which is why we recommend it reluctantly, but they do also have the most impressive breakfast menu in town (omelette with seasonal farm vegetables anyone?), local seafood options and a wine list featuring the best of Valle de Guadalupe.
Speaking of breakfast, a reliable all day breakfast spot is Roble De Raíz A La Mesa. Try their chilaquiles  "a los 4 chiles" or buttermilk pancakes and wash it down with Oaxaca mocca. That plus a beautiful patio shaded by an imposing tree will sort out any one-too-many margaritas hangover. Should you need even more caffeine later in the day, head to Cafe Monociclo or Lola Sabor y Cafe Bistro for a strong cappuccino (or lavender latte!) and a light pick-me-up. 
You might also like: 5 BEST FISH TACOS IN ENSENADA, BAJA CALIFORNIA , PUERTO NUEVO LOBSTER: A MEXICAN FISHING VILLAGE LIKE NO OTHER
---
Have fun in Rosarito! If you eat at any of the above restaurants please tag @eightyflavors on social media, we love seeing you guys enjoying local flavors! Do you know of anywhere else to eat in Rosarito, Baja? Comment below!