Colombian Food: What To Eat In Cartagena De Indias
If you're wondering what to eat in Cartagena de Indias you've come to the right place. Below are the 5 most traditional Colombian foods you should try when visiting the stunning colonial town of Cartagena.
First though, let's talk about Colombian food in general. Because, as you're about to find out, the food on the Caribbean coast is vastly different from the cuisine of the rest of the country.
Colombia boasts not only one of the most biodiverse landscapes on the planet, but an array of historical influences. Latin, Spanish, African, Creole and even Arabic flavors have all made a dent on Colombian cuisine. Therefore, it's no surprise so many unique recipes incorporating rich colorful ingredients have come from Colombia.
From the Mountains to the Sea
Inland, especially in the mountain cities like Medellin or the capital city Bogota, meals are typically very meat-heavy. Most menus are dominated by the beloved national dish of Colombia – bandeja paisa. It's essentially a big mix of various meats, such as chorizo, beef and/or chicharron. It's accompanied by beans, rice, plantains and avocado. There are also hearty soups and stews, like sancocho or ajiaco.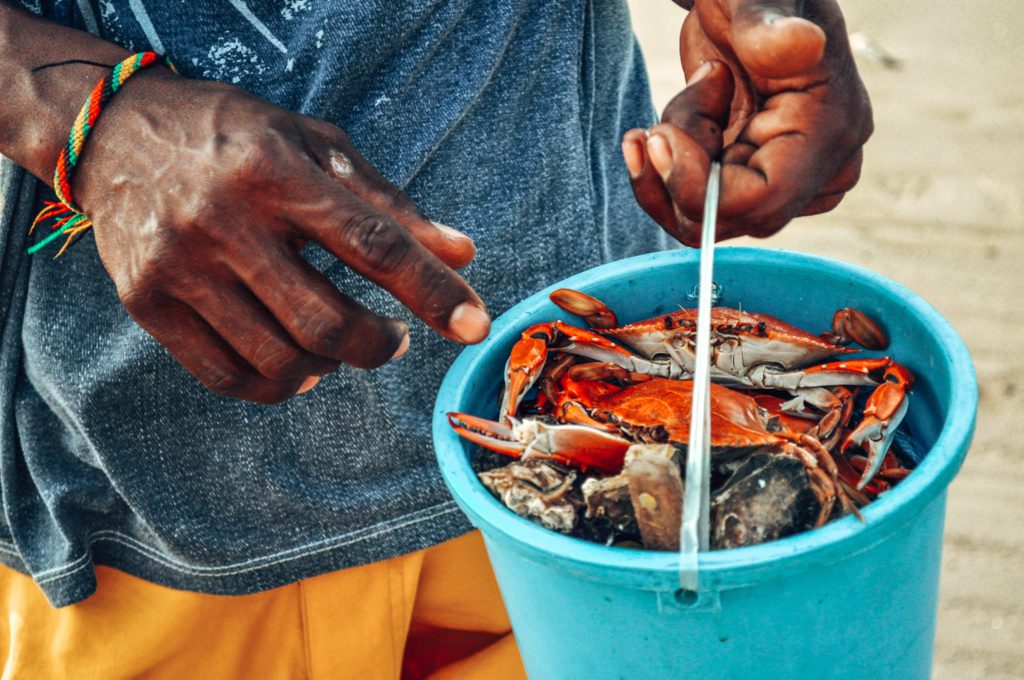 Meanwhile, on the sunny and tropical Costa Caribe, you can expect mostly lighter fare like fish, exotic fruit and all things coconut. Unsurprisingly, as Colombia's Caribbean coast spans over 1,000 miles from its eastern border with Panama to Venezuela in the west.
What to Eat in Cartagena
As you might suspect, traditional fishing industry still thrives off the coast of Cartagena. In fact, you can take a stroll along La Boquilla beach and if you come at the right time of day, you might just be able to enjoy the freshest catch almost straight off the boat.
Without further ado, here is what to eat in Cartagena de Indias to sample the best of Colombian food – Caribbean edition. Spoiler alert: it includes fish!
1. Grilled Fish with Arroz de Coco
Arroz de coco, Cartagena style, should get its own entry in itself. It's DIVINE. Unlike any other coconut rice we've tasted anywhere else in the world. Sorry, Thailand. We still don't fully understand how they make it. You have to try it to believe it.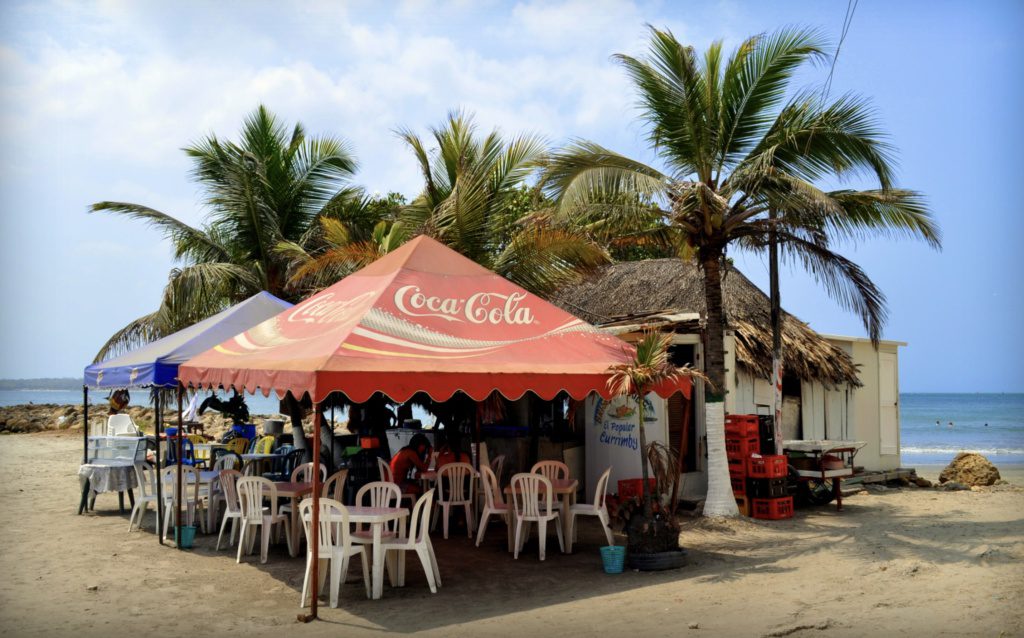 As for the fish, like we mentioned above the best place to try it is to just walk along La Boquilla beach east of the town and pick one of the chiringuitos there. Make no mistake, they look unassuming but they serve some of Cartagena's best food. Some of our most enjoyable pescado frito meals were at La Perla Negra and Restaurante San Basilio de Palenque. Wash it down with a cold Aguila beer and enjoy the sea breeze.
The fish is served whole, lightly fried, and it's most typically pargo rojo (red snapper) or mojarra (tilapia). It could be any fish that's freshly caught that day though. It will be served alongside a scoop of arroz de coco and patacones (Cartagena's take on tostones aka fried plantains).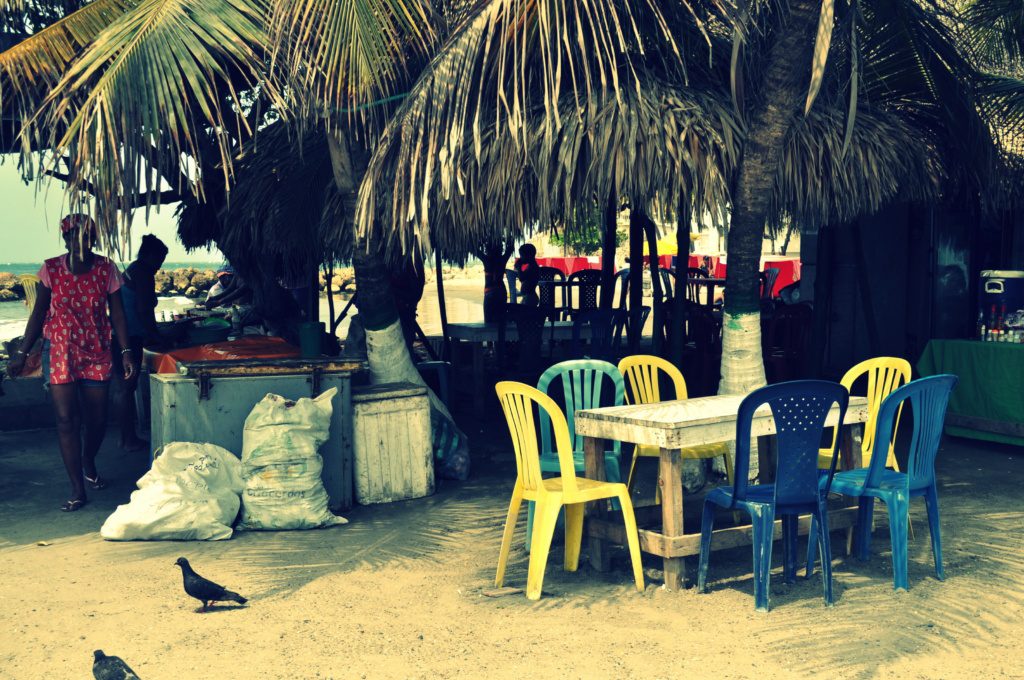 While we're on the subject of local seafood, you should also be on a lookout for garlic shrimp (camaron al ajillo), arroz caldoso, cazuela de mariscos (seafood soup), and seafood rice – kind of like a Cartagena style shellfish paella. Yum!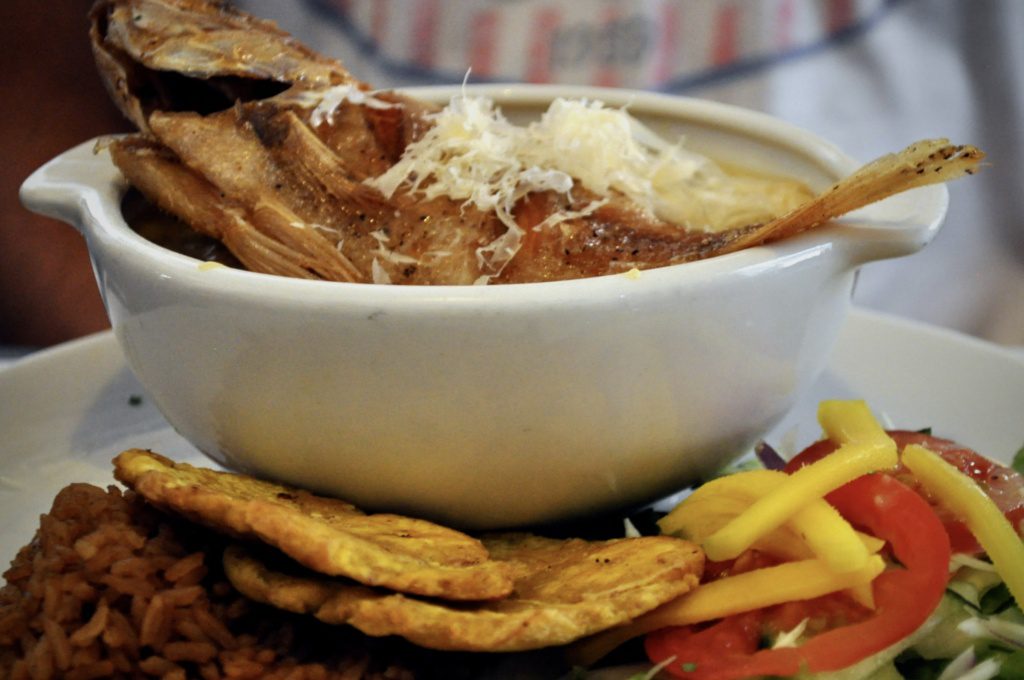 Where: The chiringuitos along La Boquilla beach – for lunch during daulight hours, La Pescaderia (Calle 70), Palo Santo in the Old Town for a nicer dinner.
2. Ceviche and Cocteles
If you watched Anthony Bourdain eat his way around Cartagena de Indias, you might remember La Cevicheria. However, there is great ceviche all over Cartagena.  Nearly every restaurant serves at least one variation, and it makes for a great appetizer.
Although for a foodie experience unique to Cartagena, we would recommend grabbing a simple ceviche in a plastic cup from one of the beach vendors. There is always a plenitude of snacks available on Cartagena beaches, and ceviche is a firm favorite among the locals. If you want a true cartagenero take on it, look for one that includes suero (sour cream) and/or coconut milk. Look for ceviche coco y limon!
Alternatively head to one of the tree-lines squares around the Walled City where ceviche carts abound. We liked the ones served near the Getsemani district. Best local vibe!
You can't go wrong with El Sombreron Ostreria – a seafood kiosk dressed up as a giant sombrero hat. Yep. They hold a Guinness World Record for the biggest shrimp cocktail. Not the best ceviche in town, but quite possibly the best ceviche experience…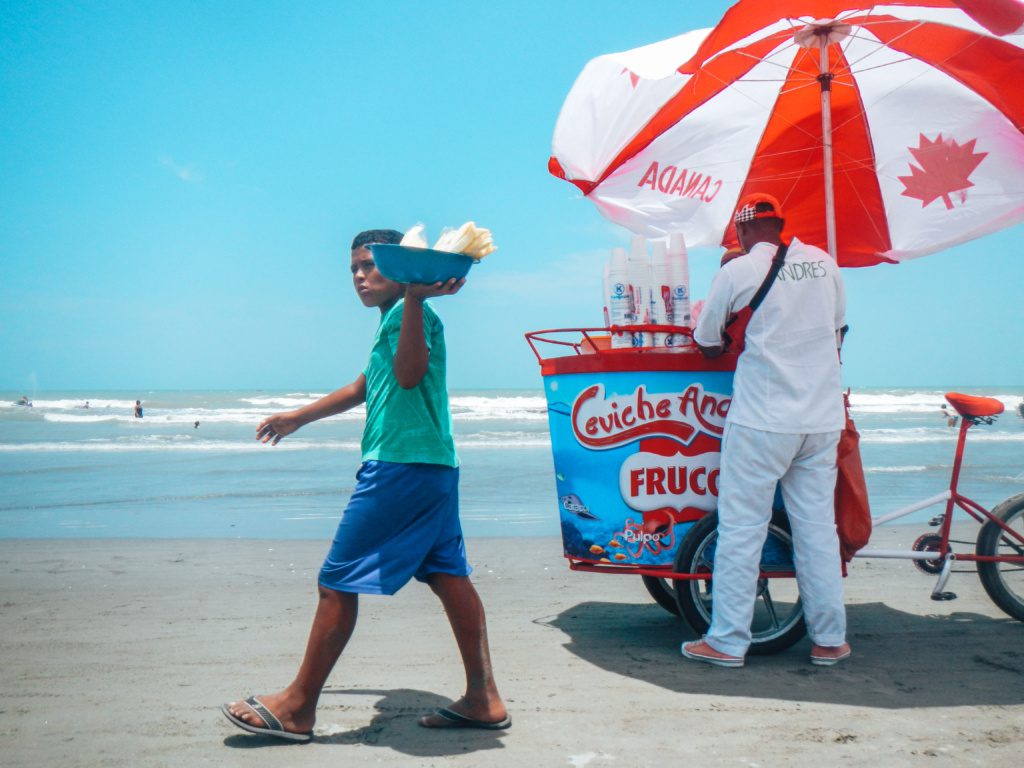 Where: Directly from one of the beach vendors, from the carts at one of the city squares near Getsemani, El Sombreron Ostreria, La Cevicheria and La Vieja Guardia. Pro tip: If you're looking for a vegetarian ceviche (made with mushrooms and zucchini), head to Sr. Miyagi Sushi Bar!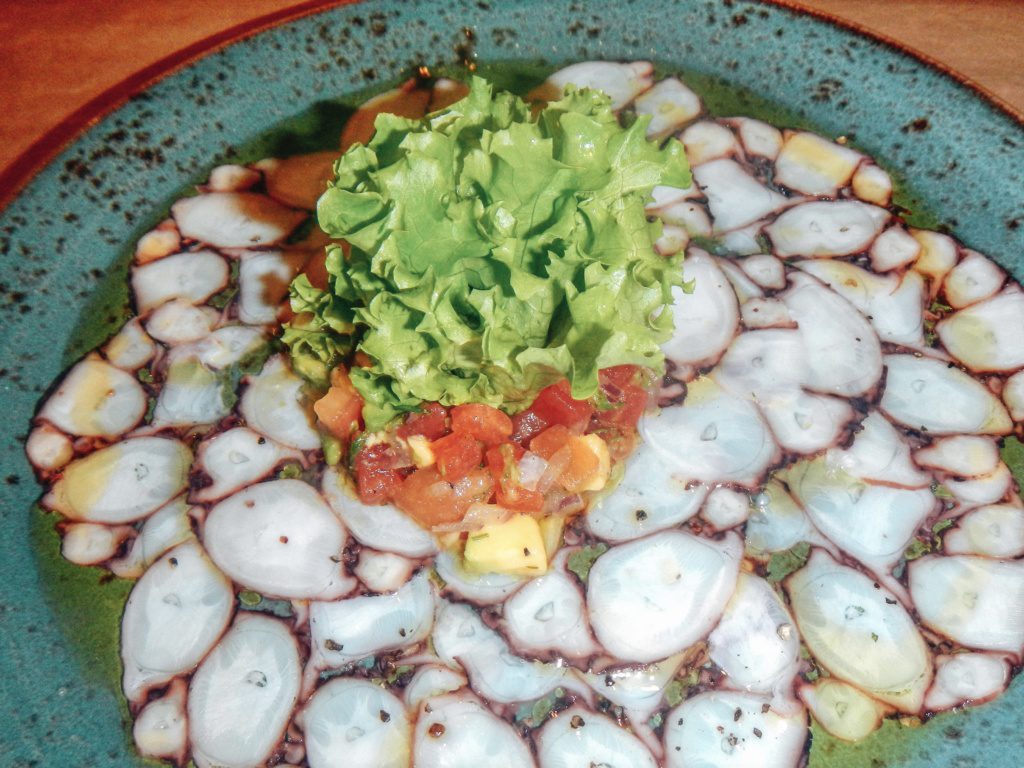 You might also like: DOMINICAN REPUBLIC FOOD IN A DAY: 6 FLAVORS YOU MUST TRY, TASTE OF PARADISE: WHAT TO EAT IN THE BAHAMAS
3. Arepas con Huevo
Arepas, grilled or fried corn meal patties, are common all over Colombia. They date back to well before the Spanish conquest. Most people argue they originate in Venezuela, but Colombians have put their own spin on the arepa, especially along on the Caribbean coast.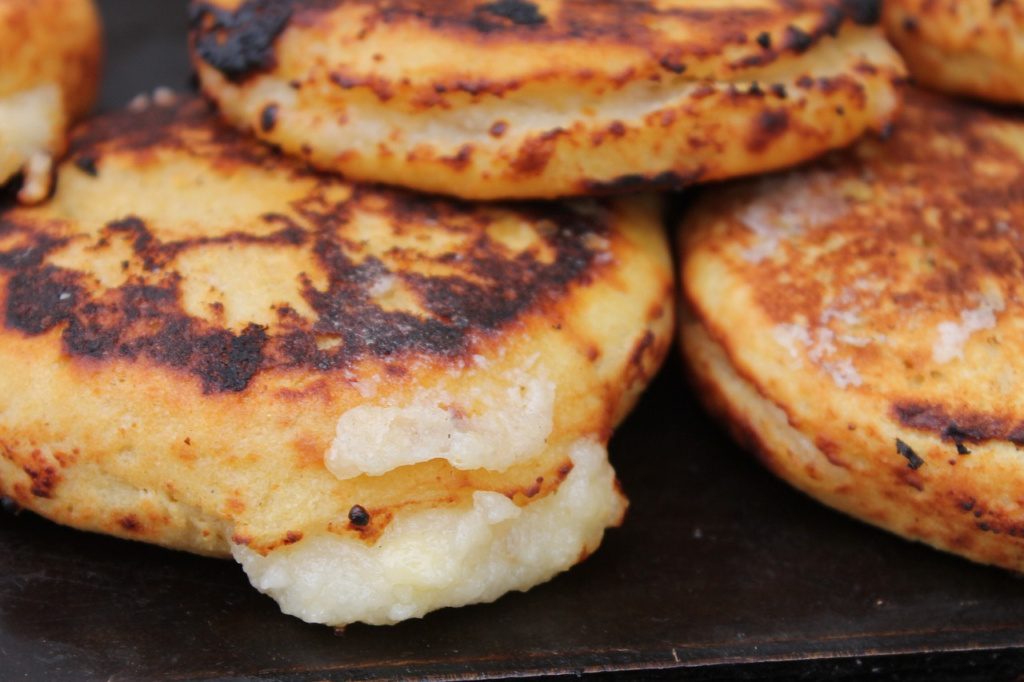 Before being thrown into the frying pot, the arepa is stuffed. Usually with ground beef and an egg. For a vegetarian option you can ask for just the egg inside the arepa, or even have an arepa con queso (cheese). The finished product is a golden brown, crunchy, greasy, comforting, stuffed corn patty. Finger licking good! An egg or cheese arepa like that is perfect for a quick breakfast on the go or an afternoon snack.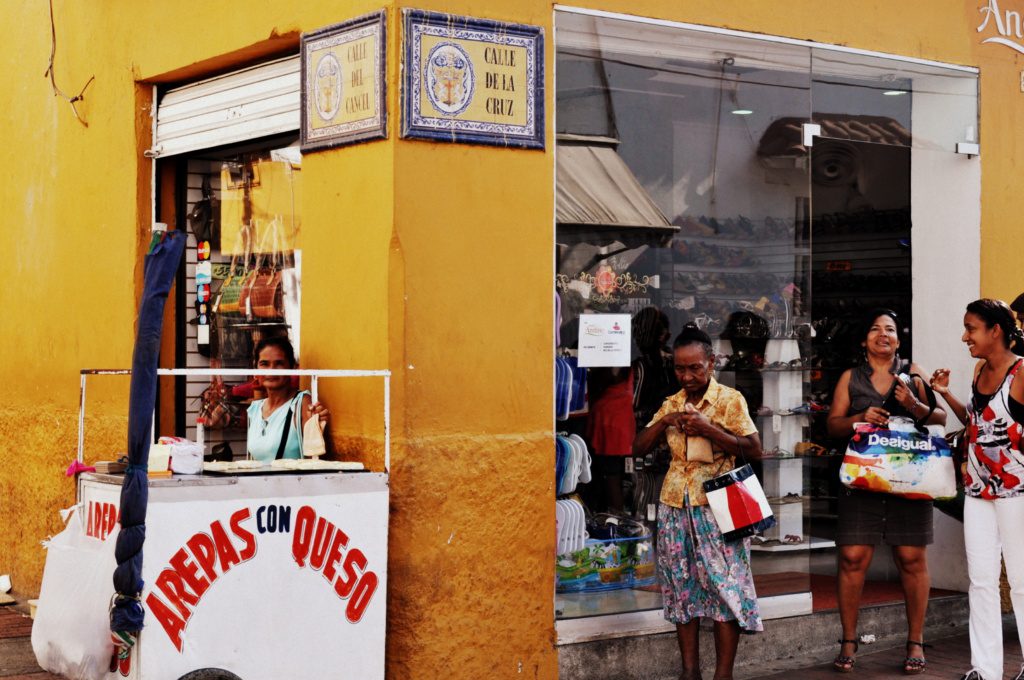 Where: You need to experience at least one arepa from the arepa carts all around town. Then, for a sit down arepa we recommend Quero Arepa or Donde Magola.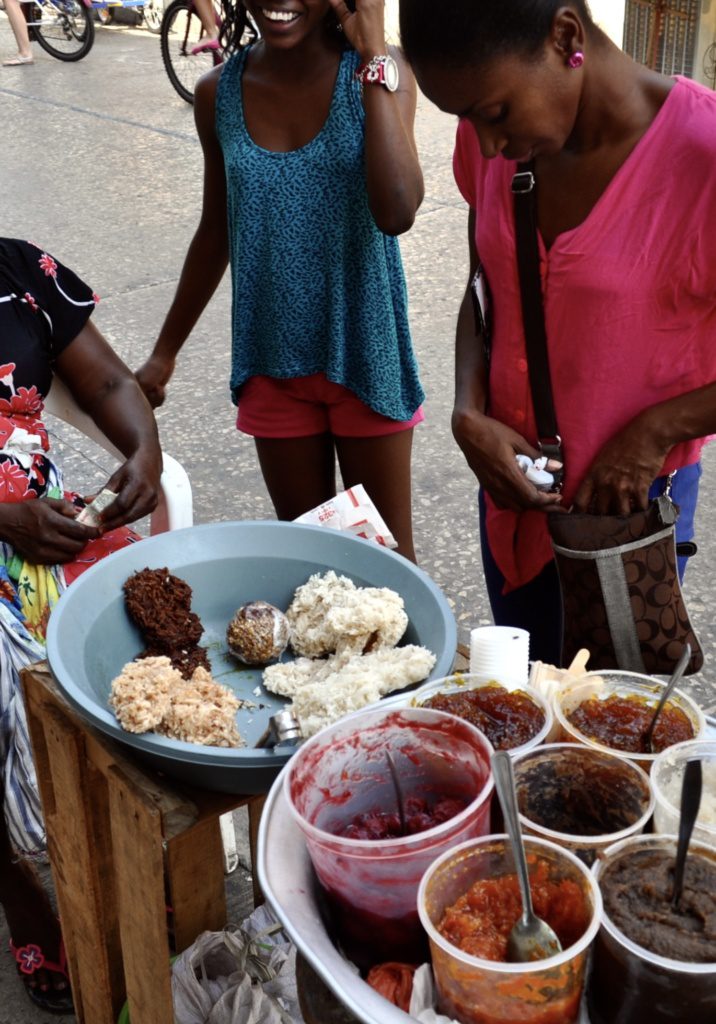 4. Lulo (and Other Fruit)
In your time in Cartagena you will surely notice an orange-looking fruit that isn't an orange. Say hello to lulo, which comes from the Quechua language. In other Latin countries it's mostly known as naranjilla. It's part of the nightshade family and grows mostly in central and northern Colombia.
Lulo is one of those fruits that you might not be able to try elsewhere. It's easily damaged, which makes it hard to ship far. It doesn't grow in the United States – it's been attempted unsuccessfully. So you'll just have to try it in your time in Colombia. Eat it ripe with a spoon or make a lulada drink!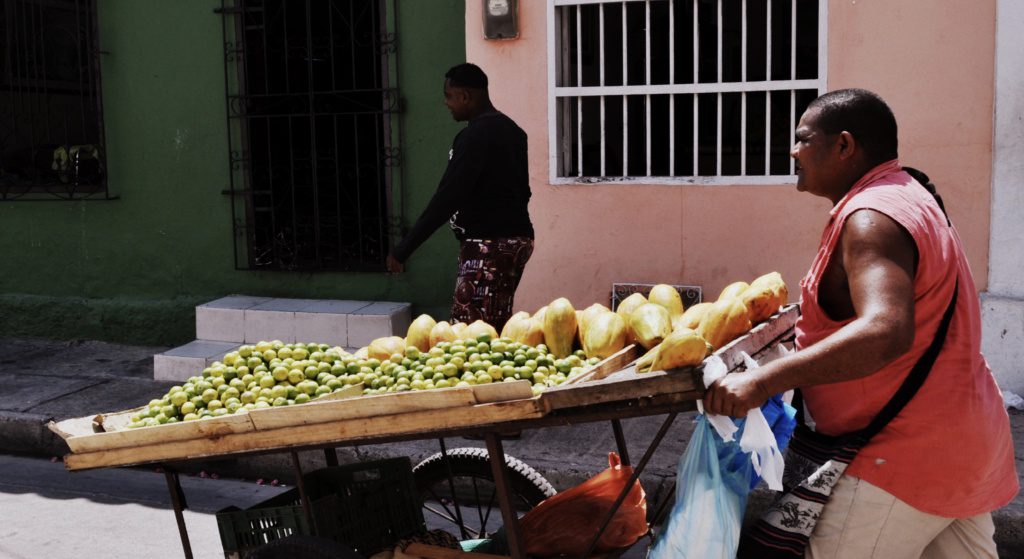 Aside from lulo, you will want to fill up on fresh fruit sold all around Cartagena, both at markets and by street vendors. the latter will have it cut up and ready to enjoy on the go. Bananas, mangos, watermelons, pineapples, papayas, passionfruit, juicy guavas – they all taste so much better here than what you're likely accustomed to. Enjoy your Colombian fruit feast!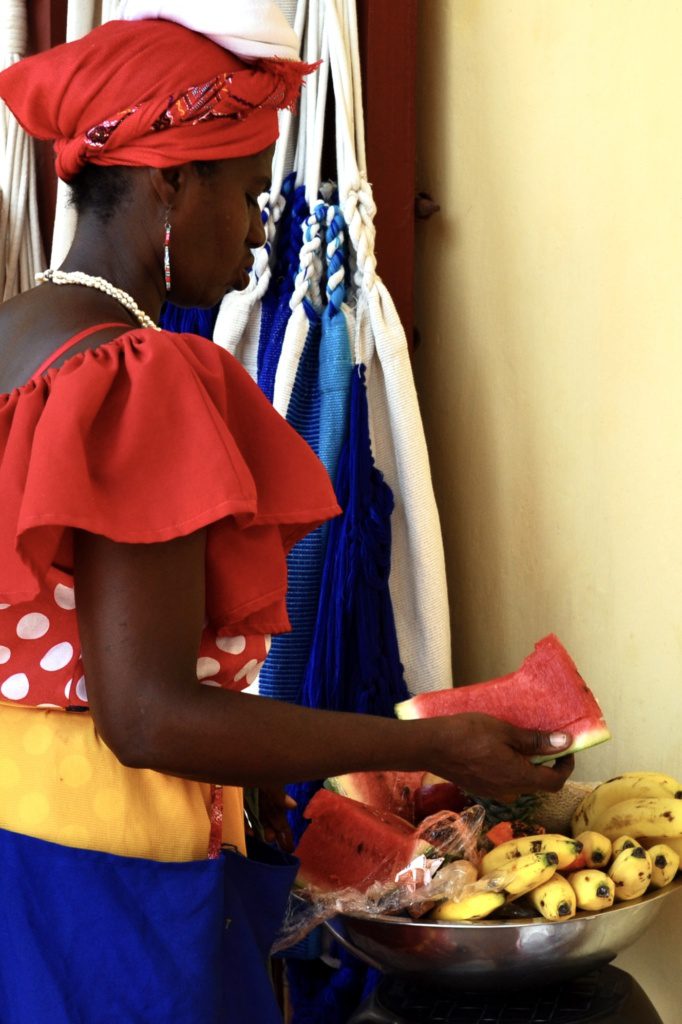 Where: get your fruit in bulk at the Bazurto market – also visited by Anthony Bourdain fyi. Or enjoy freshly cut fruit on the go on the beach or from the numerous street vendors.
5. Limonada de Coco
Yes, we're supposed to be advising you on what to eat in Cartagena. Just for a minute though let's talk about what to drink… Make no mistake – this is no ordinary lemonade. Colombian limonada de coco is more like a coconut and lime smoothie.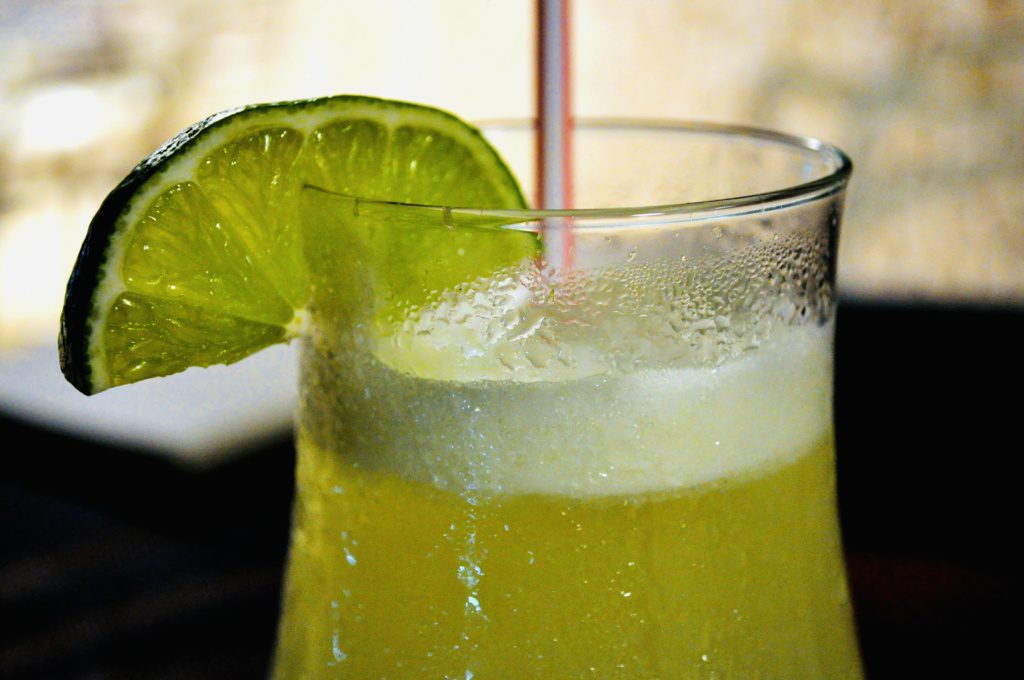 It's incredibly simple – all you need is fresh lime juice, coconut milk, sugar and ice – but the end result is heavenly. We still crave it all this time later.
Think of it as frozen liquid key lime pie. Need we say more? Cold and frothy and rich, with just a touch of sweetness and tangy lime, it's perfection. Pro tip: in the evenings it goes perfectly with a shot of rum. Indeed, spiked limonada de coco may just be the best cocktail you'll drink during your time in Cartagena!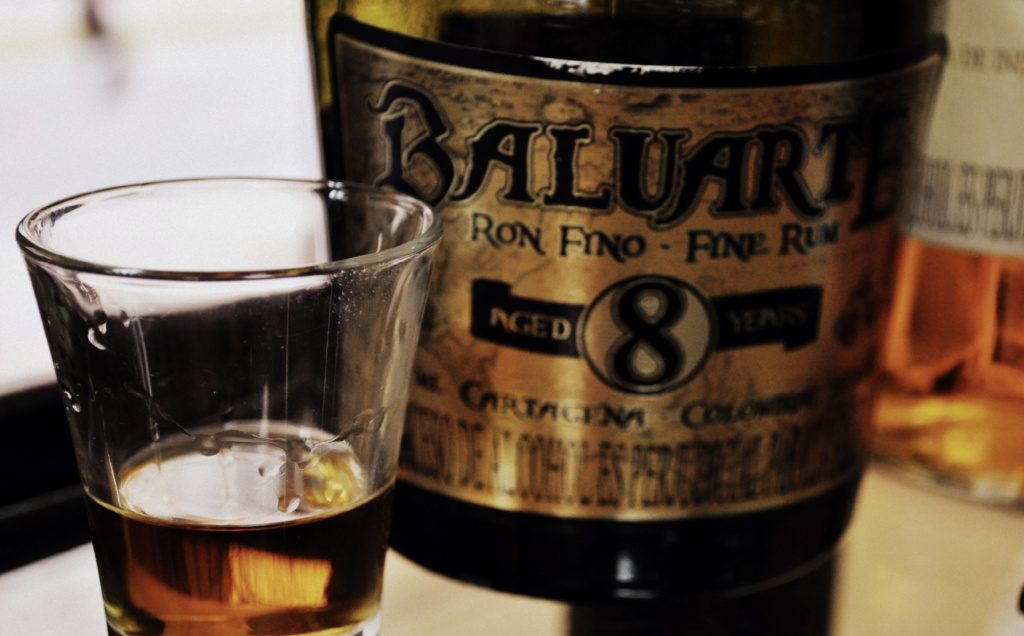 Where: Hotel Santa Clara and La Mulata were our favorites, and Cafe del Mar serves limonada de coco with the best view -by far. But honestly there is amazing limonada the coco to be found all around Cartagena.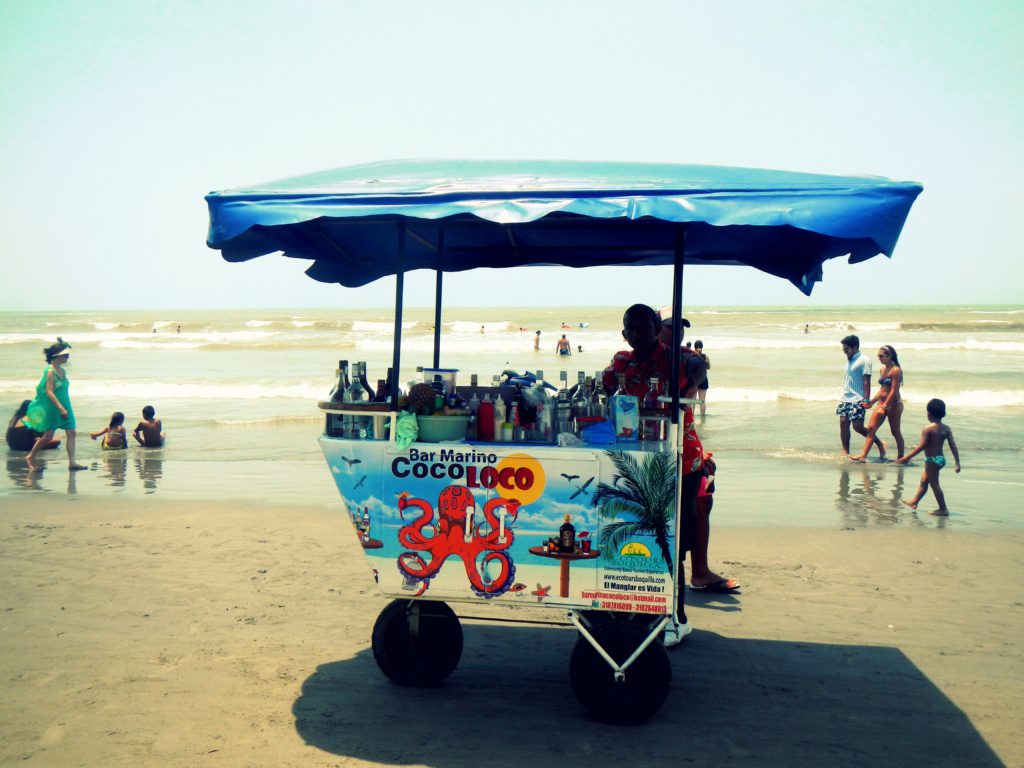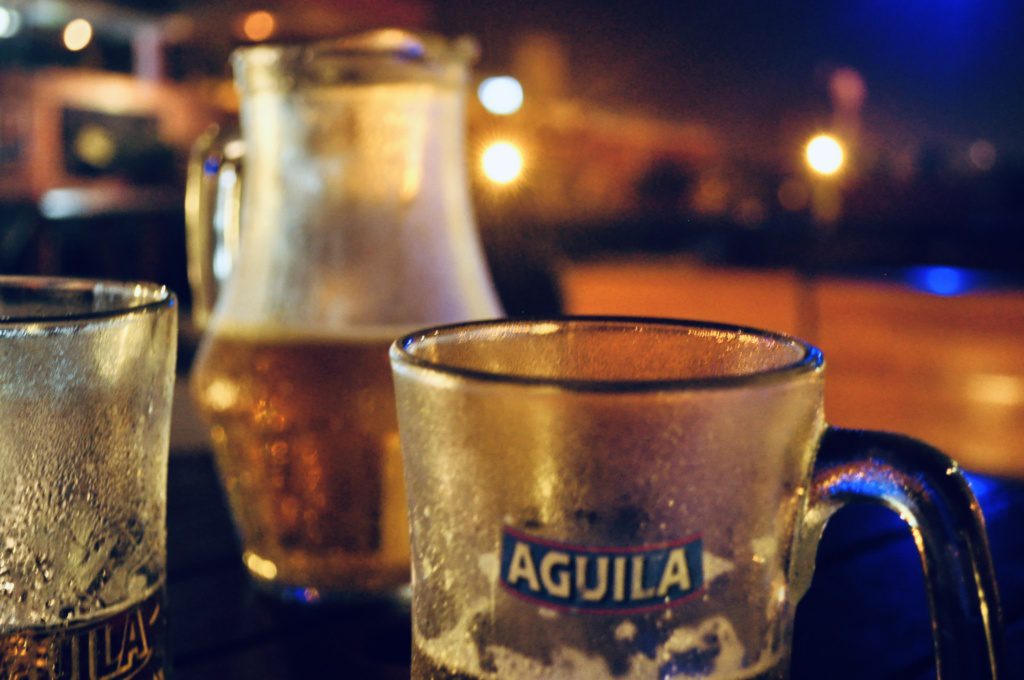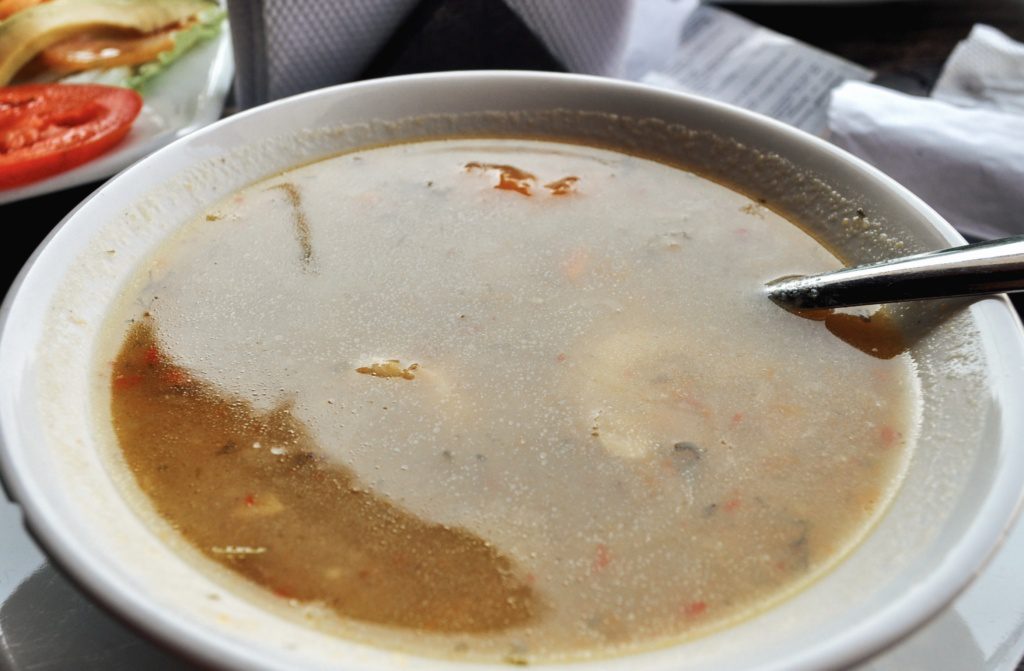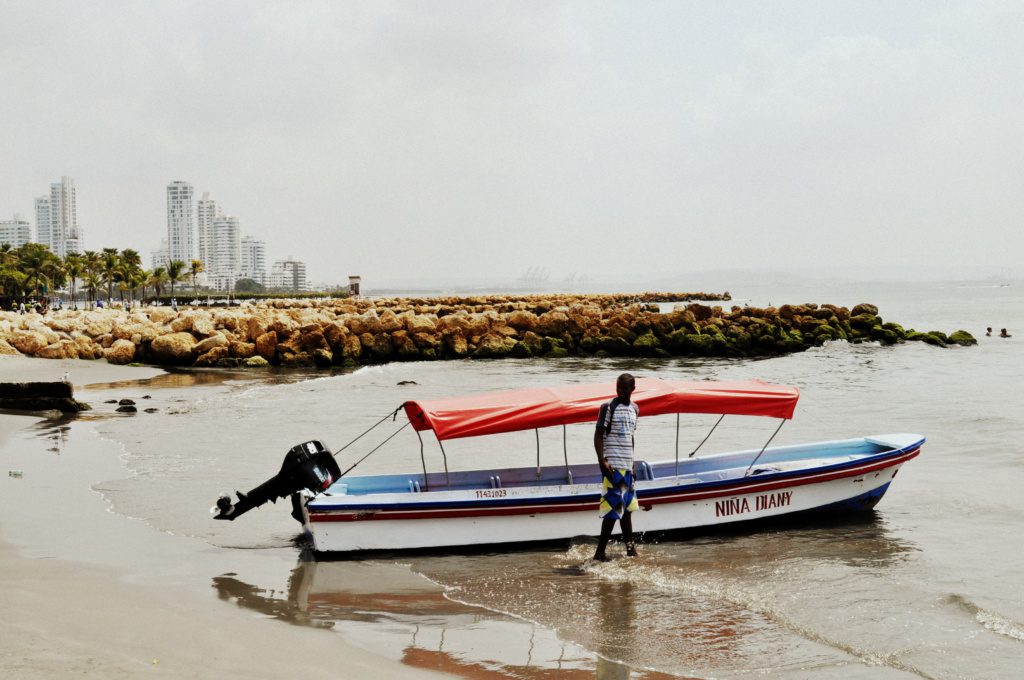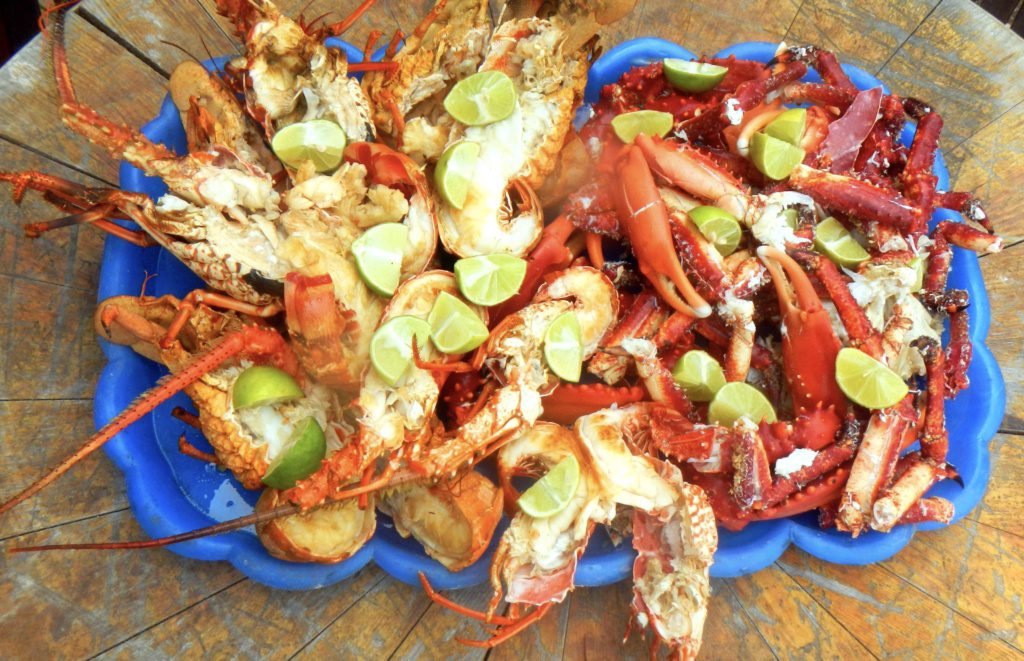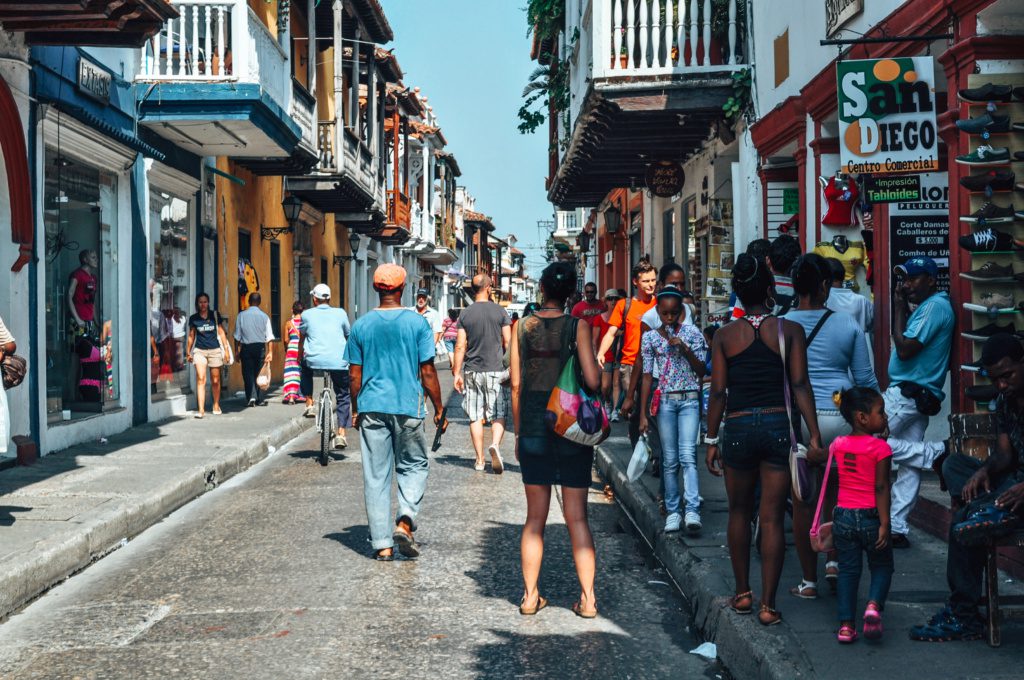 ---
Do you have anything to add to the list of what to eat in Cartagena? What's your favorite Colombian food? Comment below! We'd love to hear from you!
---

You might also like: WHERE TO EAT IN MALLORCA, SPAIN: 8 BEST PLACES TO TASTE MALLORCAN CUISINE, WHERE TO EAT IN ASPEN, COLORADO: 8 RESTAURANTS THAT LIVE UP TO THE HYPE., PLANT BASED HAWAII: 10 BEST VEGAN EATS IN KONA, BIG ISLAND