8 Essential Vegetarian Eats in Zakopane, Poland
In the city where restaurants mark salmon and herring as "vegetarian option", a meatless life can be hard. And vegans will most likely live off of protein bars and the occasional dill pickle… Zakopane is fueled by lamb shanks, beef tenderloins, mutton kebabs, duck legs, pork knuckles, spare ribs, sausages and "mixed grill platters for 4".
But fear not, we have eaten our way across town to find the most delicious vegetarian options for you. As expected, there are not that many spots where you can enjoy traditional local vegetarian specialties. (Pizza, pasta and the likes don't count, we only included what's unique to the Tatra region). Here are the lucky 8:
Grilled Oscypek with Cranberry Preserve
A true taste of the Tatra Mountains! This smoked sheep's cheese is unique enough to be protected by the DOP (roughly 'designated origin protection' depending on where you are in Europe) which means two things: one – that it cannot be made anywhere outside of the region, and two – its production methods are strictly enforced by the EU. The latter also means that there are a lot of counterfeits in town so be sure to double check the origin of your cheese before ordering. Read more about that here.
You'll find it everywhere in Zakopane, as it can be eaten both as street food and a sit down meal – the latter usually served as an appetizer with cranberry or lingonberry jam/preserve. A very good one can be found at Halka or at the somewhat touristy but vibey Bąkowo Zohylina Wyźnio inn (don't try to pronounce it…).
Pierogi with Bryndza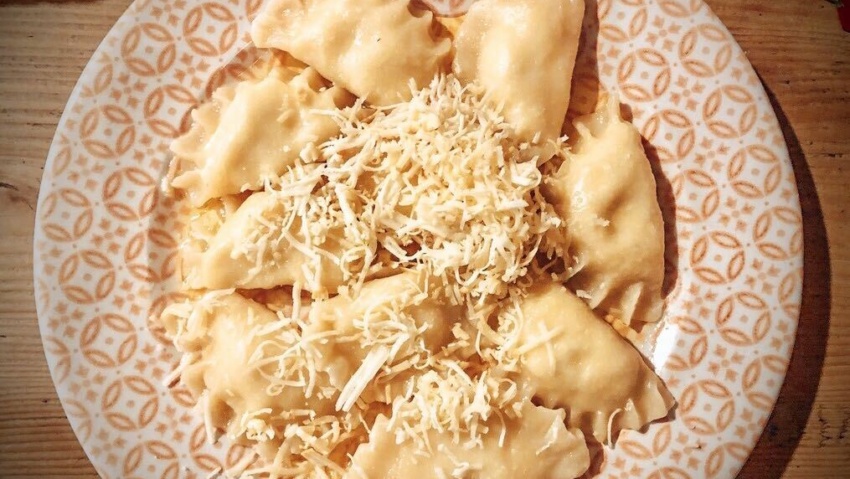 Sheeps milk is obviously a big deal in Podhale (what the surrounding area is known as in Poland). Another local specialty it's commonly used for is bryndza, which is a strong tasting, salty, crumbly cheese that's not quite cottage cheese nor ricotta-like and not quite spreadable either. I guess there isn't really an equivalent in texture. But it sure is delicious and – just like ricotta for ravioli – bryndza makes a great pierogi stuffing! Because of its sharp taste it doesn't really need much more, and your pierogi will typically be served with a simple topping like butter, olive oil, or…more sheep's cheese, crumbled or grated. Finger licking good! Be sure to try it as you almost definitely won't find it anywhere else outside the region.
We had this scrumptious plate of bryndza pierogi at the local favorite Gazdowo Kuźnia where you can also enjoy regional live music. A more gourmet version can be found at Restauracja Zakopiańska.
Bryndza Crepes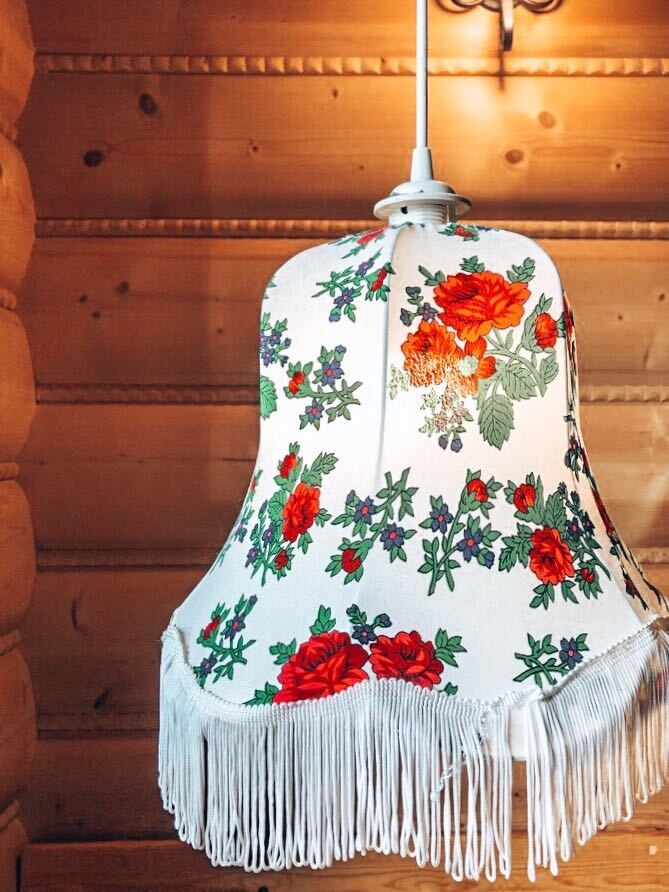 Noticed a pattern yet? Sheperds have been an inseparable part of the Tatra Mountains history for millennia and the "góral" (mountain men) culture is still going strong. They understand, respect and protect both the sheep and the environment more than many so called animal and environmental 'activists' I've come across, hence Zakopane is not the time and place to ask for cashew cheese. Let's eat what's local. Anyways…
Those cheesy salty crepes with creamy wild mushroom sauce is one of most hearty meatless plates of food you'll find in town. Save that one for after a long hike or a day on the slope. We had it at the generically named Bar Mleczny milk bar on Krupowki Street near Watra brewery and can highly recommend it there but I've also seen them on other menus across town.
Kwaśnica Saurekraut Soup
If you like sauerkraut you will absolutely love this thick, tangy, warming soup, typically served with a basket of sourdough bread. And if you don't – you should still try it because the sauerkraut becomes much less, well, sour, once cooked. It's one of the star dishes from Zakopane and has even been featured in regional song lyrics and poems.
While you can find it virtually in every restaurant and diners in town, the traditional recipe includes not one but several kinds of meat, from sausage chunks to short rib topping. But don't despair, there are a few places where you'll have the option to have your kwaśnica served meat-free, and the number one for us both for taste and ambiance was at the mountain refuge by Morskie Oko lake.
The challenge is you'll have to hike for two hours each way to get there but hey, you'll have an excuse to have an extra bowl 😉 (Plus, as you may have heard, Morskie Oko is one of the most spectacular spots in the Tatra Mountains.)
Garlic Soup, or Any Other Veggie Soup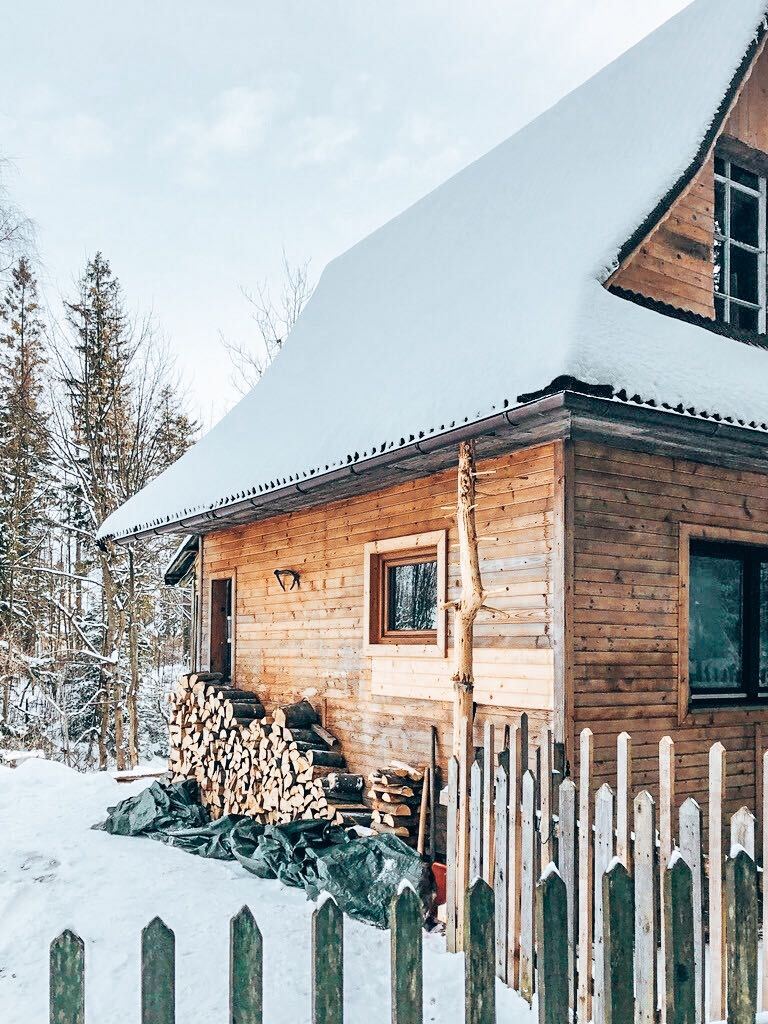 Soup will save you when looking for meatless options in the Tatra Mountains (and anywhere in Poland for that matter), especially in cold weather. Garlic soup is always a yummy option and one of the best is served at Obrochtówka – a legendary restaurant open since the 70s.
You will also commonly see barszcz (the lovely burgundy-colored beet soup), tomato soup – curiously served with noodles or rice, bean soup, mushroom soup – look out for wild porcini soup! and zurek. The last one is a delicious sour rye soup that's hard to explain but whoever tries it once gets hooked (ask for your sausage to be left out).
Often you'll see soups optionally served in a bread bowl, like San Francisco clam chowder 🙂 That's a great way to make it more hearty and the bread in Poland is so good I'll take every opportunity to sneak it into my meal!
For a special treat, head to the stunning Góralska Tradycja which is a welcome fine dining addition to the Zakopane culinary scene, and indulge in their inventive bryndza soup (here is sheep's cheese again) with pickled parsley juice. (PS. Don't miss their mind-blowing house-made meringue cakes!)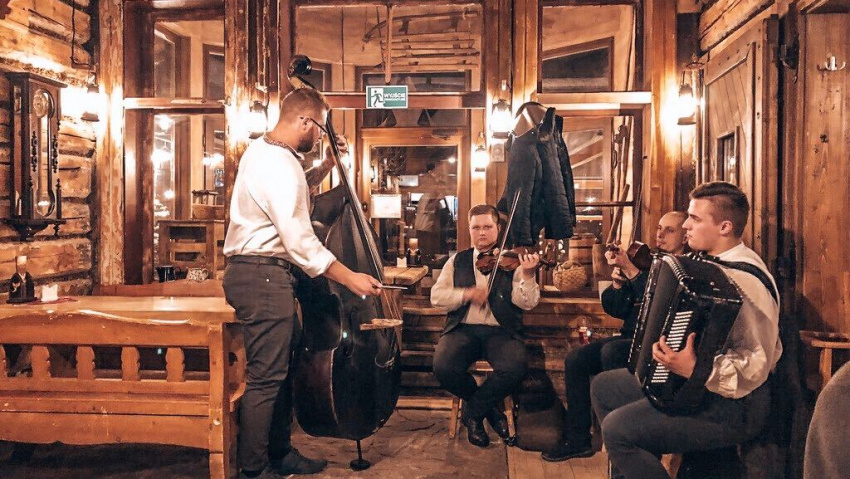 Potato Pancakes
You'll find these all across Poland but the locals in Zakopane have a special take on them, and even a special name – moskol – with house made garlic and/or herb butter. Try those at which was recommended to us by a local. They are such an important part of the local cuisine that some people call them 'mountain bread'. Traditional recipe is used to make 'moskols' at Żabi Dwór, a traditional wooden inn somewhat curiously decorated with frogs.
Alternatively, there are also the more common potato pancakes typically found outside of Podhale (as in the photo above). While the most common way features beef stew (placek po zbójnicku), they can also be served with delicious vegetarian toppings such as sour cream, melted cheese and/or spinach or my personal favorite – wild mushrooms, especially when mushrooms are in season (fall).
Pro tip: Both kinds are featured on the menu at Obrochtówka and both are excellent there – it's a good place to compare them.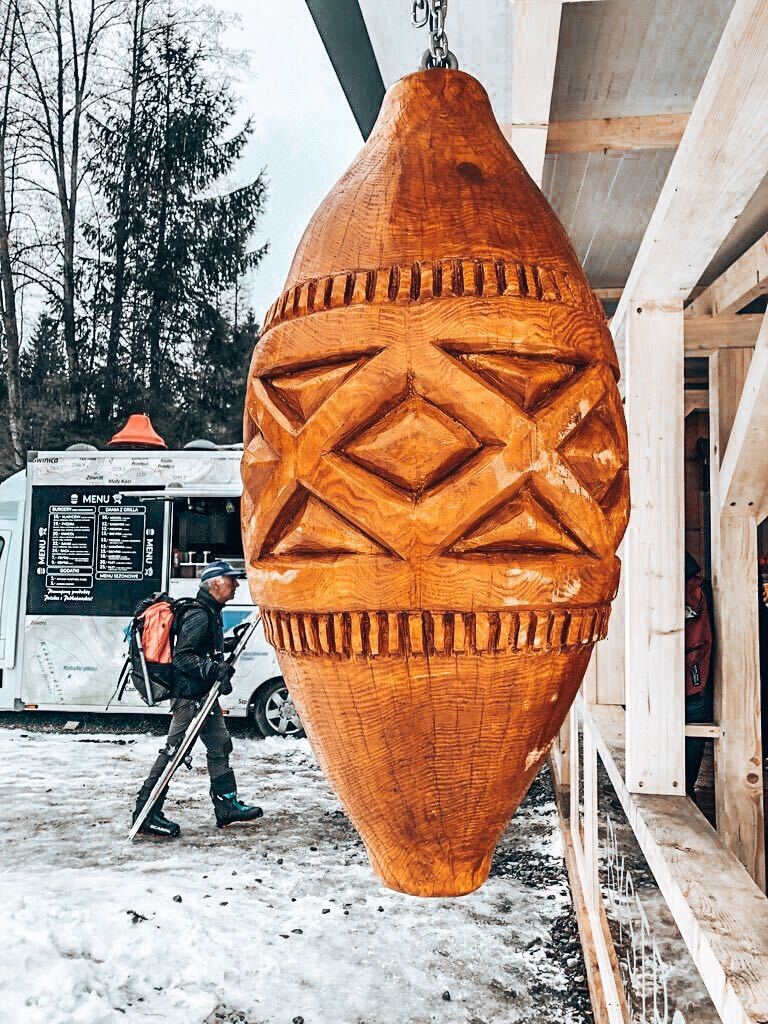 Anything Vegetarian at Restauracja Zakopiańska
Did you know that Joseph Conrad, the author of The Heart of Darkness, was born as Józef Konrad Korzeniowski and didn't speak English until his twenties? More importantly though 😉 he used to dine at what is now Restauracja Zakopiańska, which was a hub for Polish boheme. This restaurant is still a gem, and a hidden one at that as it's located on one of the side streets. Its understated elegance will make you feel looked after yet cozy, which is basically Polish hospitality in a nutshell.
Chef Tomasz Gut has put together a remarkable vegetarian menu that features the best of local ingredients and proves that you can have a beautiful meal in Poland without necessarily ordering a roast leg of something. Think red pepper tartare, pearl barley gołąbki with beet sauce, or baked beets and lentil salad with – you guessed it – sheep's cheese. There is also fantastic oscypek with a twist, served both cold with green apple and hot with red onion jam.
Your only vegetarian problem at Restauracja Zakopiańska will be what to choose. Whatever it is, wash it down with a glass of rare yet reasonably priced Polish wine. There is noteworthy breakfast too – start your day with Viennese style free range eggs, freshly baked challah bread or pancakes with cottage cheese and peach.
Blueberry Pierogi at Marzanna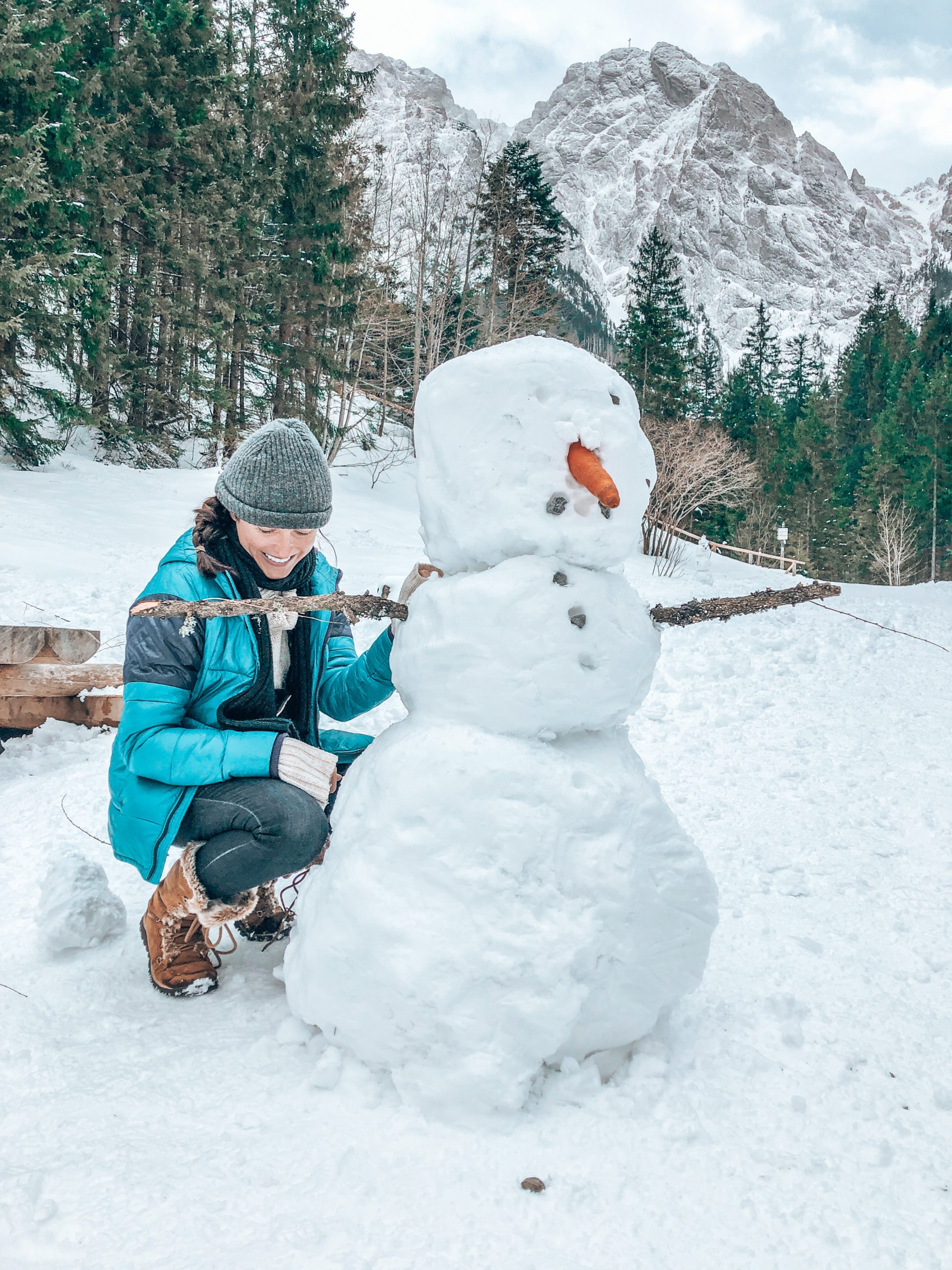 Yep, more pierogi. Blueberry pierogi are not a dish specific to that part of Poland but you must eat something at Marzanna and that's the only item on the menu that doesn't involve meat. This place has something of a cult following and you can see why as soon as you walk in.
The owner Richard is the server and his mother-in-law is the cook. This duo has been feeding hungry skiers and hikers for many years now and I suspect the venue hasn't changed a bit since they first opened. It's practically a living museum of everything from Zakopane folklore to Polish rock, American blues and Route 66.
Definitely worth a visit but bear in mind it gets packed at peak times and that they don't serve alcohol (I assume to keep the table turnover flowing?). A word of advice, wear dark clothing as the pierogi will be literally bursting with blueberry juice. Say hi to Rysiek from us! And don't be put off by his grumpiness, it's part of the Marzanna experience. 😉
Honorable mention: Dobra Kasza Nasza
This small local chain offers a uniquely Polish take on fast food – bowls of buckwheat and pearl barley oven-baked with toppings of your choice, with a wide vegetarian selection. It's hearty, it's cheap, it's a wholesome meal and – as most foods in Poland – it's delicious.
Choose from tempting veggie options such as broccoli and corn with garlic sauce, spicy carrot and ginger, or ripe tomatoes with aromatic herbs. Served on thick wooden boards, the bowls are also a great photo op.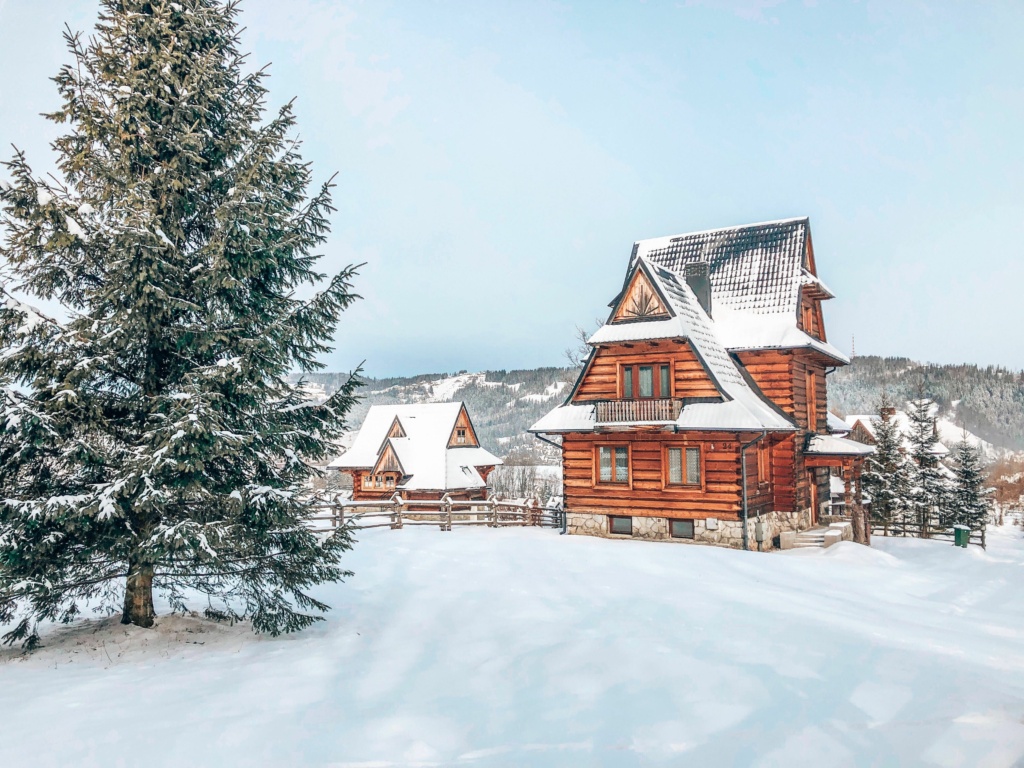 Not-so-honorable mention: Drukarnia Smaku Cristina
This place is one of the most talked about venues in Zakopane at the moment. Unfortunately they don't offer a single vegetarian item on the menu at the time of writing, other than the cheese board and some side dishes. But the menu changes to feature seasonal produce so check what's on when you're there. Their house-made bread and butter is reportedly a must try as are the desserts. But seriously, zero vegetarian options? In 2020? At the supposedly most progressive restaurant in town?
Have you been to Zakopane? What did you think of the food? Did we miss any other vegetarian-friendly spots? Let us know in the comments below!