Best Poke on The Big Island: 7 Places You Should Try
Looking for the best poke on the Big Island? You've come to the right place.
When it comes to poke recommendations for travelers to Hawaii, Oahu tends to steal all the limelight. There's the excellent Ono Seafood, Ahi Assassins, or Maguro Brothers tucked away in an obscure Chinatown market. Sure, being 10 mins away from Honolulu Fish Auction might give you an advantage. But fear not, Big Island's poke is on par with Oahu's excellence.
You might also like: WHAT IS POKE AND WHY YOU WON'T FIND POKE BOWLS IN HAWAII

Here are 7 top places on the Big Island to indulge in this traditional Hawaiian delicacy:

1. Suisan Fish Market, Hilo Bay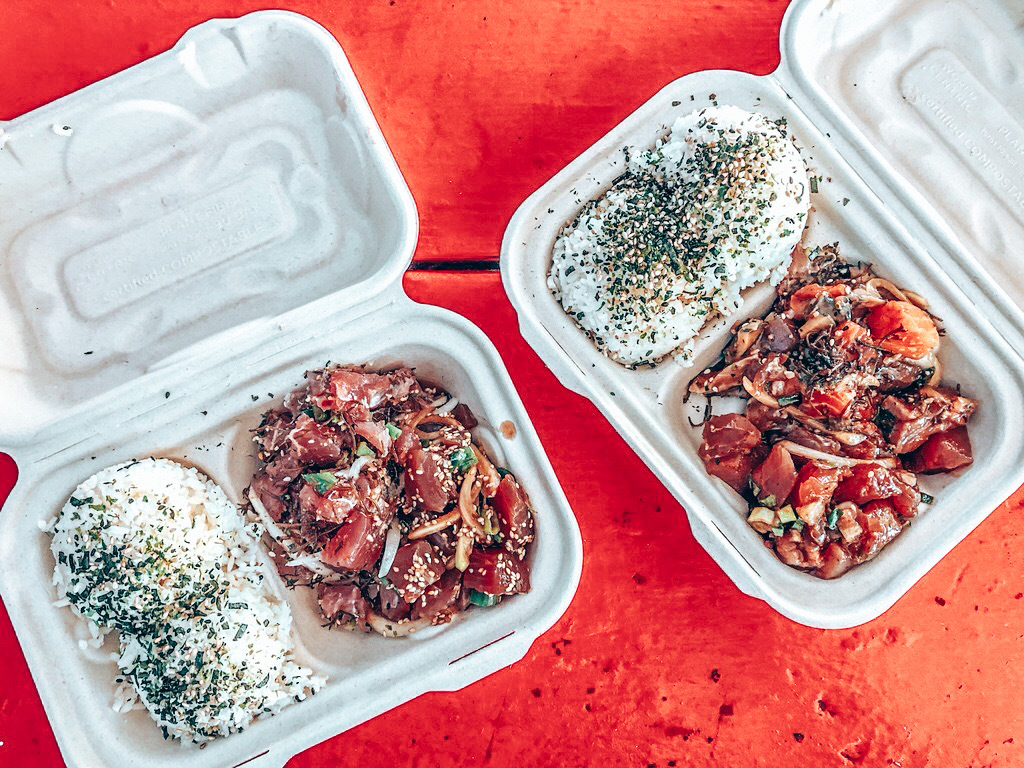 If you can only have one poke meal on the Big Island make it Suisan Fish Market in Hilo. This mini fish market that also happens to serve take out poke is an institution in Hawai'i. They've been serving the community for over 100 years, since its founding in 1907 as a cooperative Sui San Kabushiki Kaisha. The market was destroyed by not one but two different tsunamis, suffered a fire and was taken over by the military during World War II. Despite devastating setbacks, Suisan found a way to not only move forward but thrive. Today the poke there is still excellent and the fish super fresh. The site itself is very pleasant too, nestled between the picturesque Hilo Bay and the majestic banyan trees in the park across the street. There are a few tables to eat outside. Alternatively just take your poke box to Hilo Bayfront or Lili'uokalani Park and eat overlooking the water.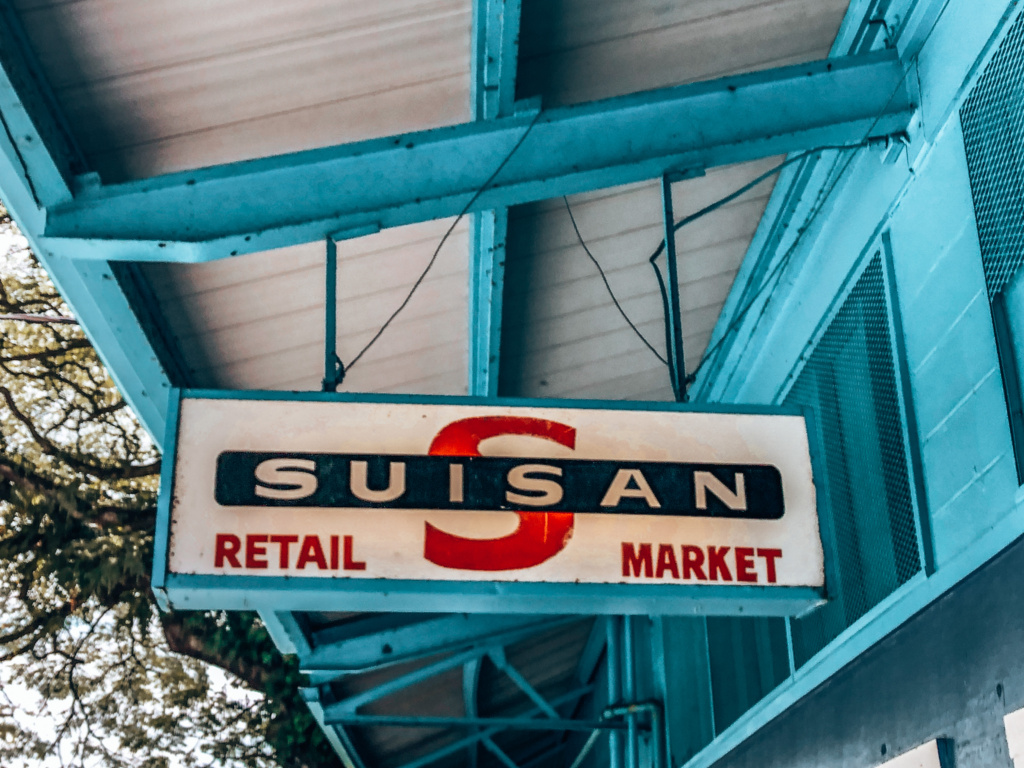 2. Pau Hana Poke, Kailua-Kona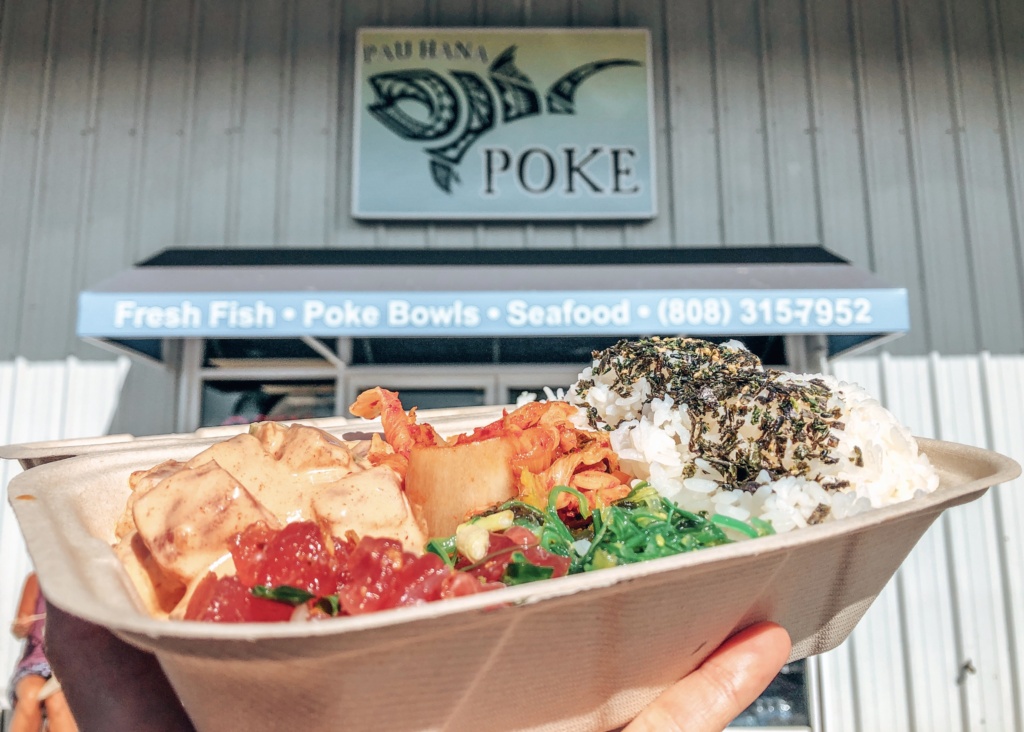 Probably our favorite poke spot on the island, no mean fete. Pau Hana Poke is hidden behind Kona Costco – certainly not a touristy spot. What they lack in location they make up for in taste and quality. Their selection of both poke types and side dishes is wide enough to keep it attractive yet manageable to ensure daily turnover and top freshness. There is tako (octopus) and shrimp poke for those who'd like to try something more than ahi. Although the classic spicy or shoyu ahi is one of the best anywhere. When available, you can also indulge in limu marlin from Royal Hawaiian Sea Farms, abalone or oyster poke. We love their hearty tofu "poke" side dish – which also makes this place veggie friendly. Don't miss their house made onolicious desserts. We're talking butter mochi cake, ube rice pudding, haupia pumpkin crunch mochi, and more.
3. Poke Market, Downtown Hilo

Another one of our absolute favorites, Poke Market is so tiny that it's window service only, kind of like a food truck. Run by a former NY-trained Chef Ernie Gray Jr., Poke Market is about more than serving fish on rice. As they say on their website, "Poke is life, Poke Market is a lifestyle". Poke Market represents the so called Third Wave of poke, where "tradition is recognized, ingredients are elevated and dishes are crafted with the same care and reverence of a fine sushi establishment." Their specialty bowls The Angie and Everyday Joe Bowl feature ingredients such as unagi truffle sauce and picture-perfect purple Okinawan sweet potato salad. For a smaller snack try their onigi razu (rice sandwiches) and poke parfait. If you live on the island be sure to take advantage of their catering service. Poke cake anyone?
Poke may seem confusing to a first time visitor to Hawaii, especially if you come expecting colorful Instagram-friendly poke bowls.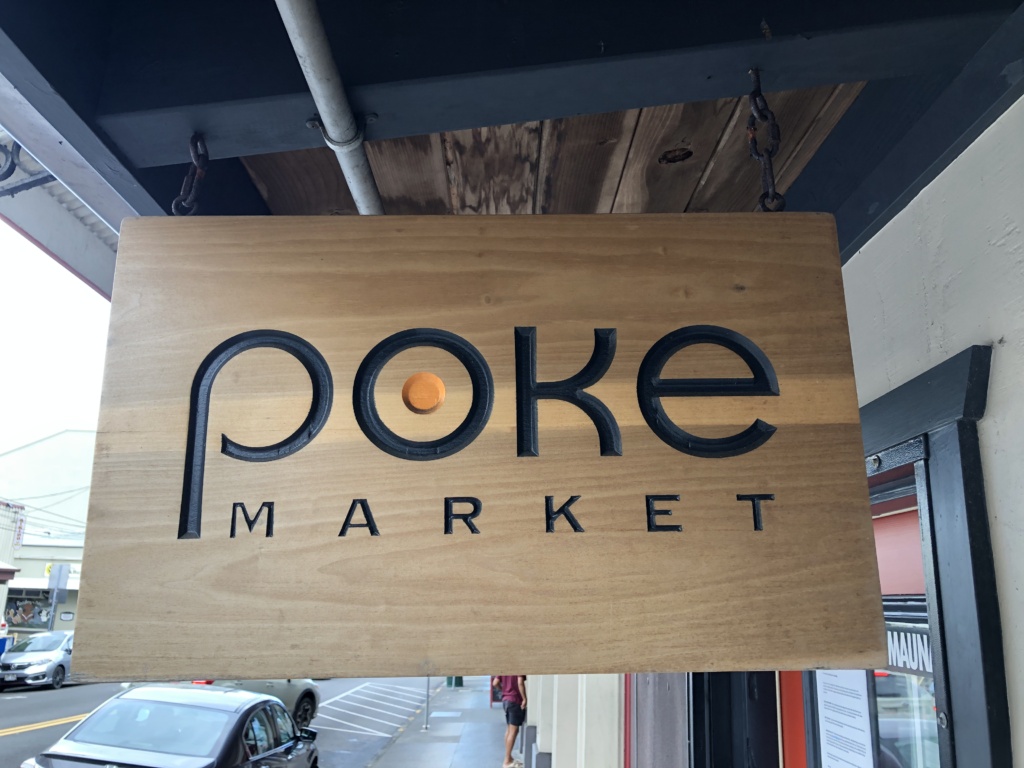 4. Da Poke Shack, Kona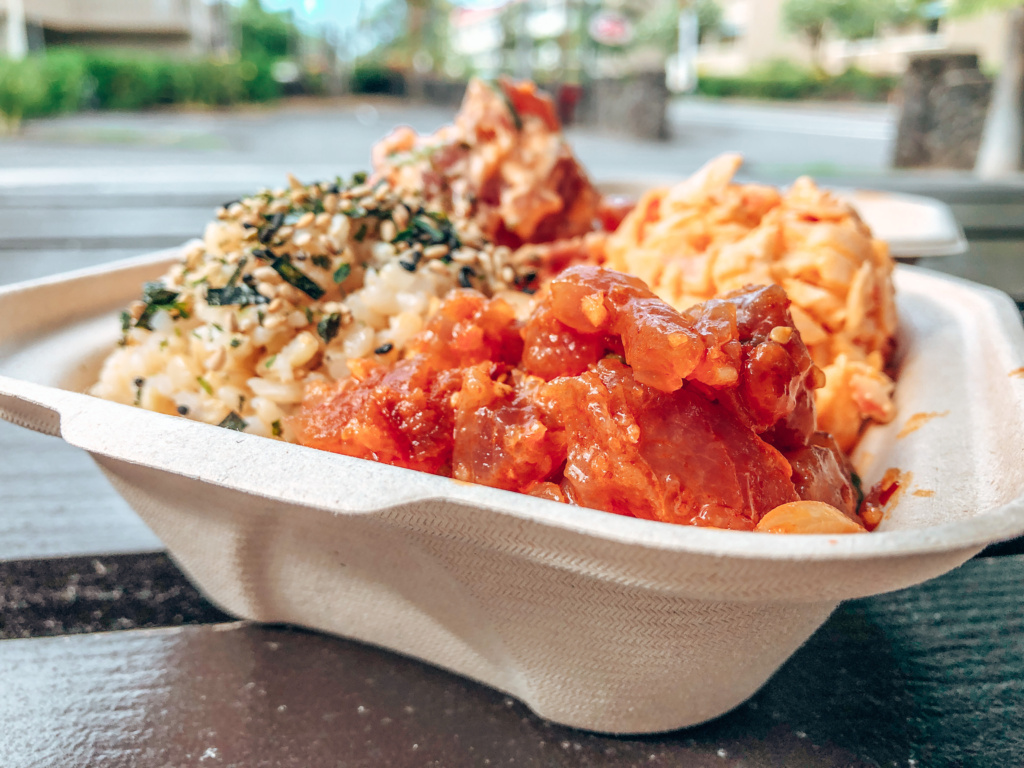 It's as good as they say. They as in Anthony Bourdain, Andrew Zimmern, and 1,200 Google Maps reviewers. Da Poke Shack offers the widest selection of both poke types and sides on the Big Island. In addition to interesting flavors of tako (octopus) and shrimp poke, they have their own take on classic ahi poke marinades such as Pele's Kiss (with Hawaiian chili peppers aioli), Wet Hawaiian, Dynamite or our favorite – Spicy Garlic Sesame. Creative sides at Da Poke Shack go well beyond the seaweed salad and include delicacies like spicy crab, kimchi mussels, edamame with wild rice or hajiki and quinoa salad, or California roll salad. You can also taste the popular among Hawaiians but rarely seen in poke shops taegu aka dried cod with Korean influences. They guarantee their poke is always fresh and never frozen, so come early because they do tend to sell out, especially the more popular kinds. Extra points for vegetarian poke, gluten free options and brown rice at no extra charge!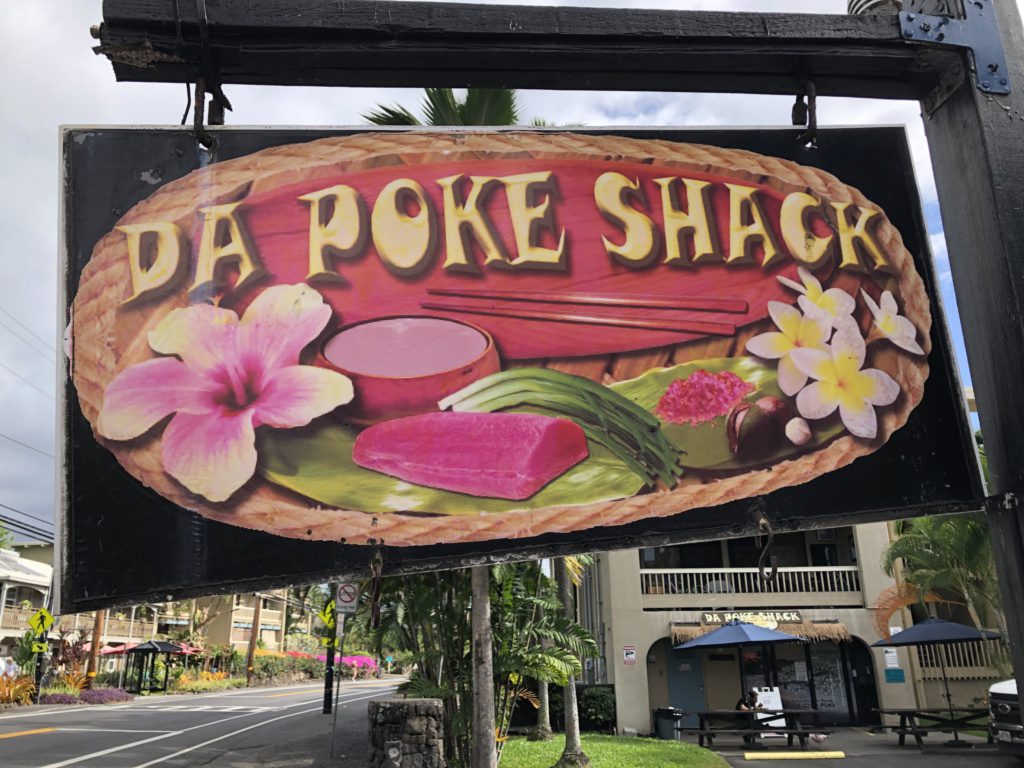 5. Umekes Fish Market, Kona

Remember how I said there are no poke bowls in Hawaii? Let me take that back for a second. Much loved by locals and tourists alike, Umekes Fish Market not only serves poke bowls – the word 'umeke' actually means bowl in Hawaiian. But it's a far cry from the appropriated poke bowls on the mainland. Just like Hilo's Poke Market, I guess you can describe Umekes as third wave poke. Poke that respects Hawaiian culture and highlights the best of local cuisine while elevating local ingredients. Owner and head chef Nakoa Pabre prides himself on preserving the Aloha spirit in his food and providing guests with the most exciting menus the Big Island has to offer. Indeed, Umekes is a proper sit down venue with a large menu of fun poke things such as their famed poke-topped nachos. An alternative to a traditional poke bowl is Umekes Salad with noodles, seaweed and lomi lomi salmon topped with a scoop of poke of your choice. Don't miss house signature Hottie spicy ahi! They also do keiki (children) sized poke bowls. We love their vegetarian poke bowl too, beautifully named Aina Poke.
6. Poke to Your Taste, Hilo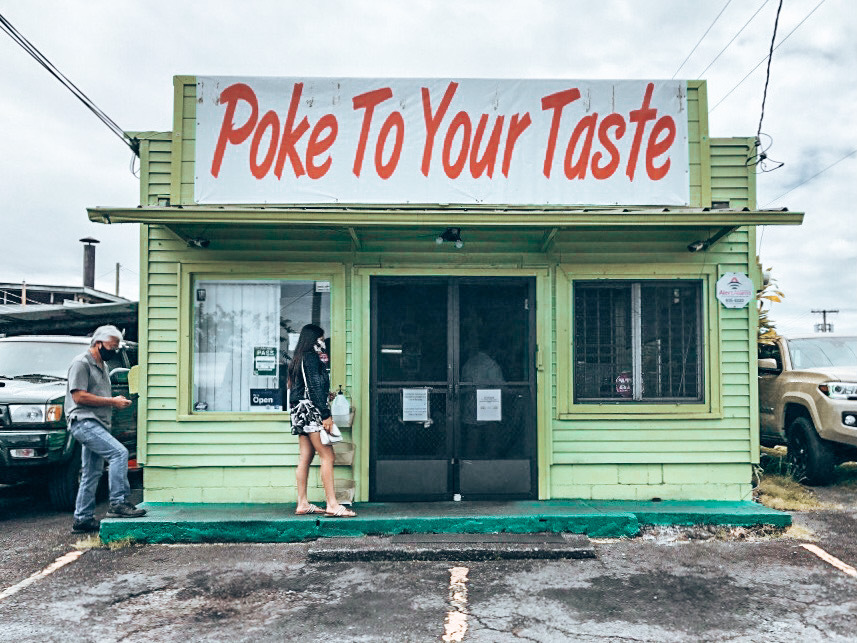 Blink and you'll miss this tiny green shack on the road lined with car dealerships. Poke to Your Taste is definitely Hilo insider's knowledge. Completely aimed at local customers, this family run joint opens as early as 5:30am on weekdays (closed weekends), and has been known to sell out by noon. The selection here is no frills and features only the firm favorites. Which means it's a great place to sample exactly what a simple traditional Hawaiian poke box should be. You won't even find brown rice here, just the freshest poke with the simplest side dishes. Take your box to one of the beautiful beach parks tucked away behind Hilo airport – another local secret. Aside from the popular Carlsmith snorkeling spot, there is also the leafy Keaukaha, Onekahakaha and Richardson Ocean Park.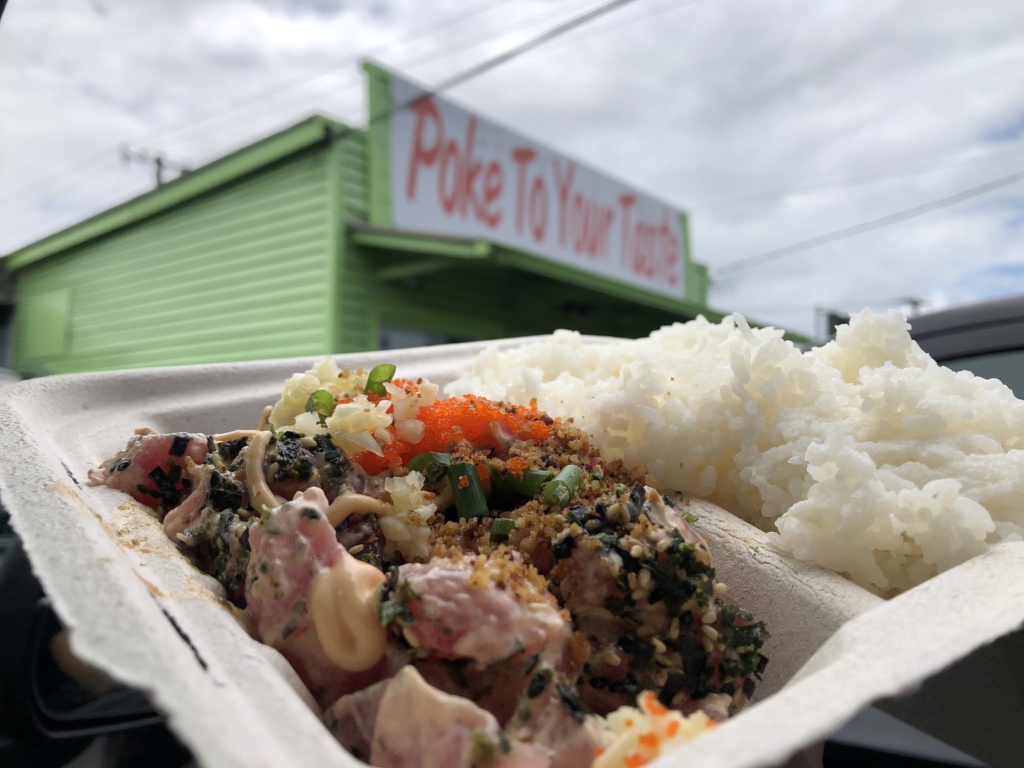 7. Foodland, across the island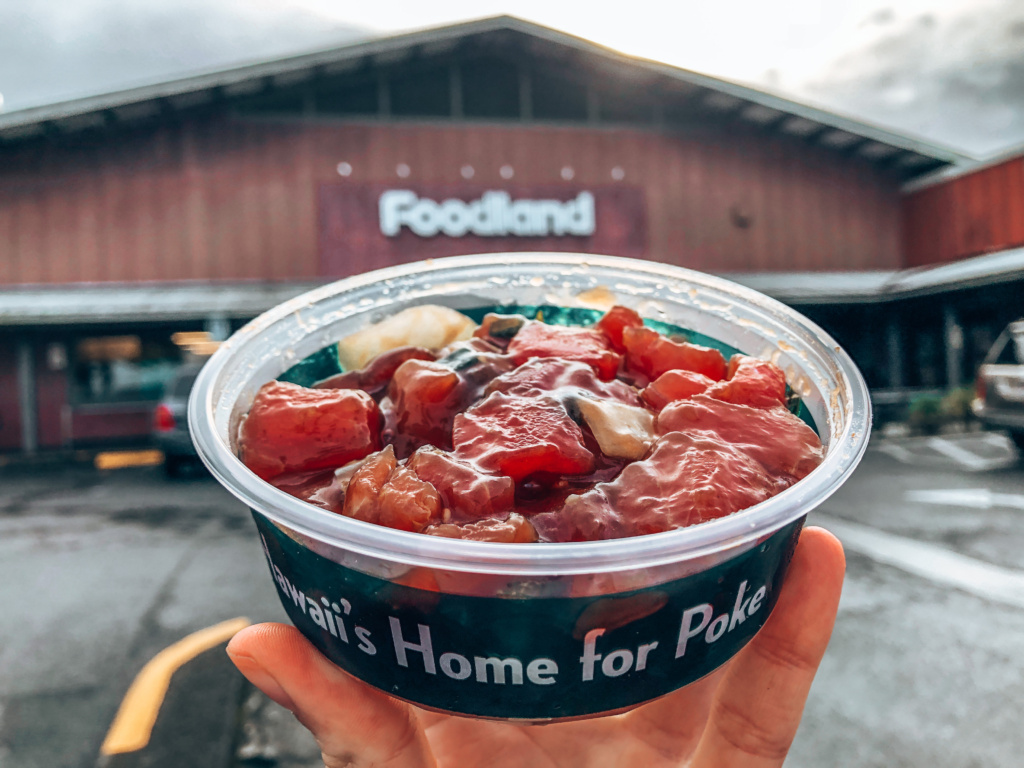 Who knew. This locally owned supermarket chain makes award winning poke that's super popular with locals. So popular in fact that it's been voted Hawaii's best poke 9 years in a row, according to their website anyway. And now you know, too. If you're after a deli container poke by the pound that's fresh and very reasonably priced, head to any of the Foodland or Foodland Farms locations across the Big Island. That's a major advantage – they serve communities with few other poke options, such as Waimea, Kea'au, and even the Mauna Lani resort. They also teamed up with Pepsi to offer meal deals of a poke bowl (still not the mainland-style bowl, just poke on rice) with a soft drink of your choice. How's that for a happy meal. For the same deli-style poke check out also KTA stores and Mālama Market in Pahoa.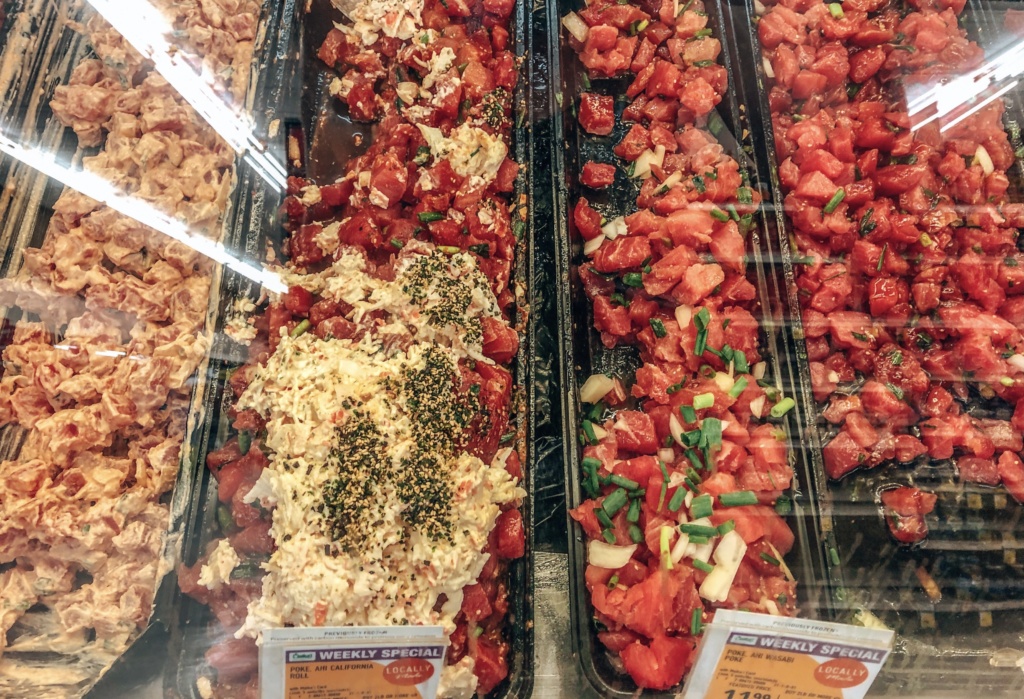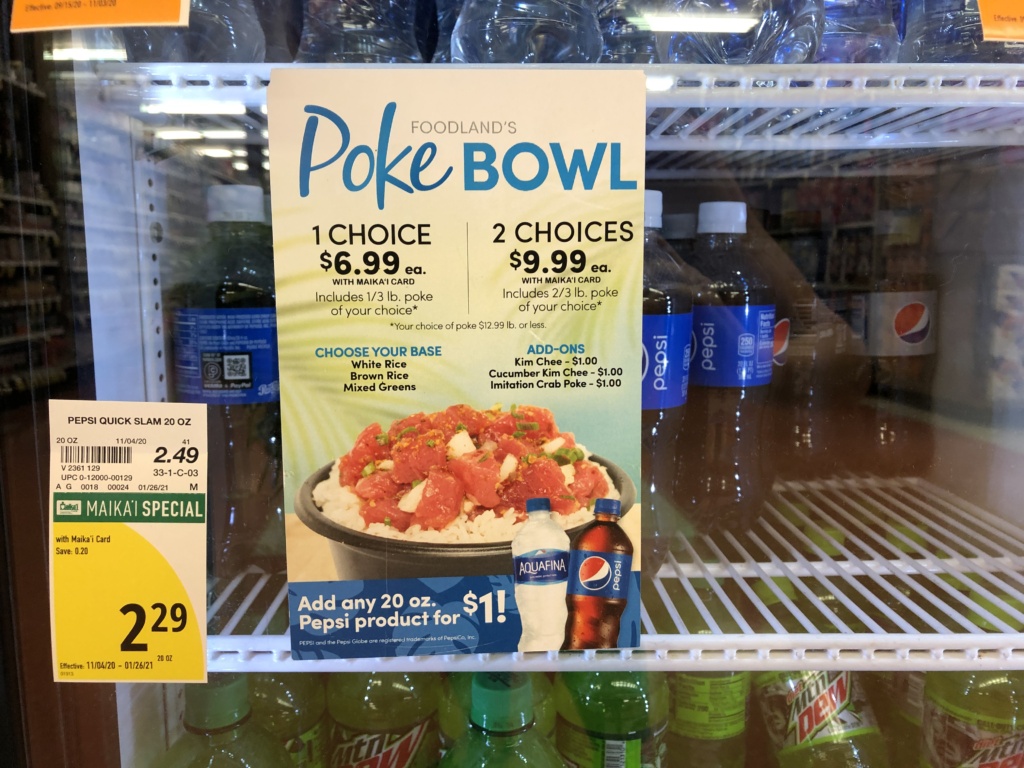 Final tip: Wherever you choose to eat your poke, don't forget to ask for furikake topping on the rice. Nanea i kāu pāʻina! Enjoy!
---
If you had poke at any of the above spots tag @eightyflavors on social and/or comment below and let us know how you liked it!
---
You might also like: DINNER AT TIFFANY'S: BEST FOOD IN MAUI YOU NEVER HEARD OF, WHERE TO EAT MALASADAS IN HAWAII – OUR 5 FAVORITES