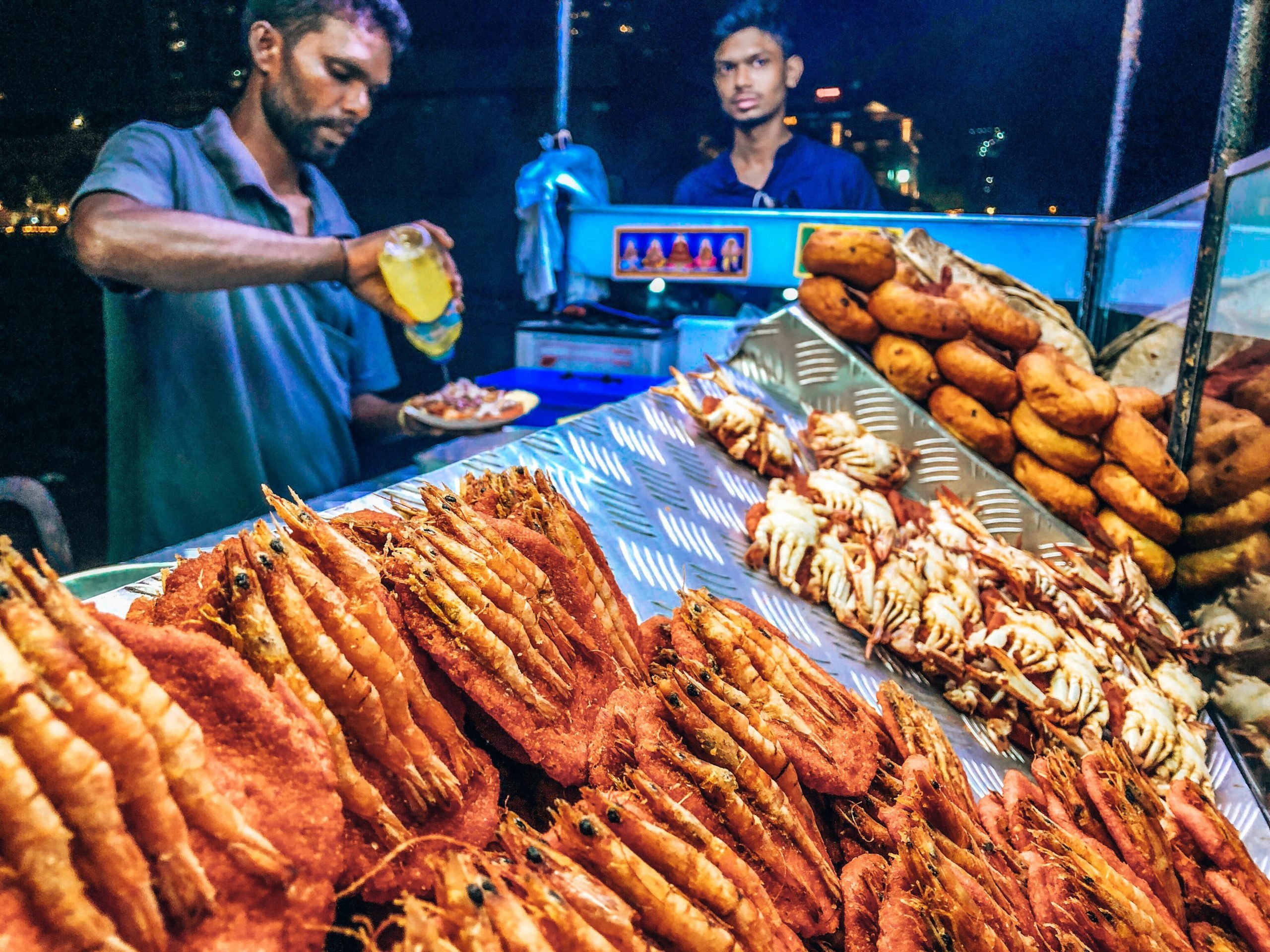 What to Eat in Colombo, Sri Lanka
Colombo is too often overlooked by visitors to Sri Lanka and treated merely as a departure or arrival point that's too chaotic to hang out longer. True, it's a bustling metropoly with perhaps a few tuk tuks too many. But just as most bustling metropolis it has some amazing foodie treats in store. And precisely because not too many tourists seek them out, they may be some of the most authentic foods you'll try anywhere in Sri Lanka. Here are our top picks:
Street food along Galle Face Green
For a street food experience you are unlikely to repeat anywhere else in Sri Lanka head to this beloved seaside promenade in Colombo. Every day after 6pm street food vendors set up their stalls and evening air is filled with the aroma of deep fried goodies and pungent spices. While every cook will add their own twist to the recipe, there are several classics you should be trying at Galle Face Green.
First and foremost, deep fried dahl cakes topped with shrimp aka isso vadei (sometimes spelled vada or vade or several other ways). I christened it Sri Lankan falafel and it's one of my favorite foods in Ceylon. Some vendors will top them with deep fried crab.
Then there is spiced pickled fruit aka achcharu. Acquired taste to a Western palate, Sri Lankans love their combination of fruity and spicy (think Mexican chilli mango). Along Galle Face Green you will find a variety of achcharu pickles such as mango, olives, gooseberries or pineapple.
I christened vadei Sri Lankan falafel and it's one of my favorite foods in Ceylon.
You will also see spiced cassava chips and all sorts of fresh seafood served as skewers. Eat where the line of local customers is the longest to ensure high turnover and top freshness.
Top tip: Galle Face Green connects two historic hotels – Galle Face Hotel and the Kingsbury. Why not start the walk with an aperitif arrack cocktail at the Ce La Vi rooftop bar at the Kingsbury, walk down the promenade sampling all the street food, and end with a cold beer and the sunset ceremony at the Galle Face Hotel.
Crab Curry
Sadly we didn't get a chance to visit the northern part of Sri Lanka on this trip. I would've loved to explore the cuisine of Jaffna and try their famous Jaffna-style crab curry. Colombo is your best bet to get a taste of it without heading north.
The famed Ministry of Crab is an obvious choice, although take my advice and book well in advance. While we were there, the daily crab catch was limited by the ocean conditions and thus they could only serve a very limited amount of diners. Fear not as there are plenty of alternative venues in the capital that specialize in this northern classic.
Colombo is your best bet to get a taste of Jaffna style crab curry without heading north.
Some of the best include The Station Restaurant and Bar, The Fat Crab and Beach Wadiya. Then there's the local institution Upali's, which aside from their famous Black Pepper Crab is also known for delicious Sri Lankan breakfast, home made ginger beer and traditional dried fish curry. The Kingsbury Hotel's on-site seafood restaurant Ocean is also a great place to try Sri Lankan crab curry. Choose from lagoon crab, mud crab and blue swimmer crab prepared in your choice of 6 traditional ways such as chili or pepper sauce. Similarly, The Lagoon at the Cinammon Hotel won't disappoint whether you order their crab or any other fresh catch. For budget-friendly casual crab curry head to New Banana Leaf (see #5).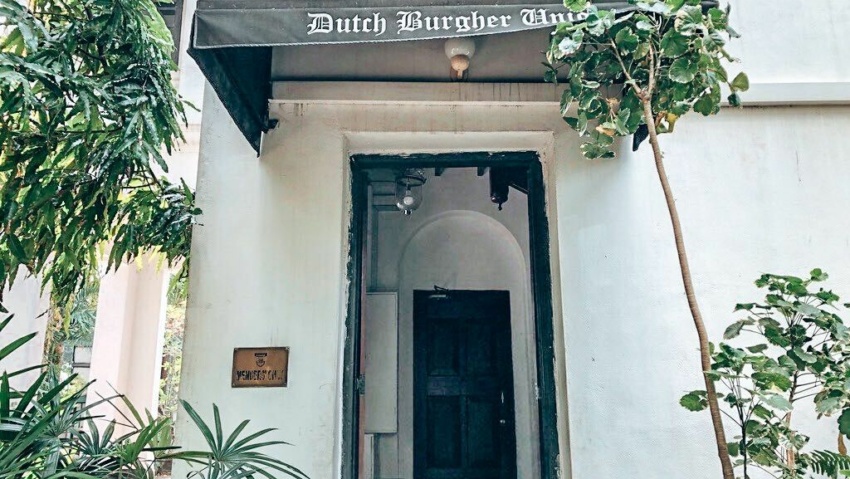 Lamprais at the Burgher House
One of Sri Lanka's classics – lamprais. As the name suggests, it's basically a lump of rice, wrapped in banana leaves together with a choice of protein and very specific small side dishes. The banana leaf bundle is baked together until the aroma of the leaf infuses into the rice. Since the dish's origin is actually associated with the Burghers, no one in Colombo (perhaps all of Sri Lanka?) does it better than the historic Burgher House.
Don't forget to order a glass of house made ginger beer, it's the best on the island, according to my mum!
The Dutch Burgher Union of Ceylon social club has been housed in the same grand colonial building since 1908 (the Dutch Burghers are an ethnic group in Sri Lanka, of mixed Dutch, Portuguese Burghers and Sri Lankan descent). Nowadays the club has a laid-back eatery known as VOC Cafe with pleasant outdoor seating on a leafy patio.
Lamprais is the signature dish there and is served strictly during lunch which is frequented by locals in the know. We made a mistake of going outside of lunch hours and unfortunately couldn't enjoy this famous specialty 🙁 Luckily their menu is packed with other traditional dishes like rice and curry, hopper set meals, Sri Lankan style French toast (with chillies and onions), or another Burgher tradition – delicious veggie asparagus rolls. With the exception of the famous Lamprais, which is outsourced to a Burgher lady (naturally!), all other items on its main menu are made in-house.
Don't forget to order a glass of house made ginger beer, it's the best on the island, according to my mum!
South Indian Dosai
Unsurprisingly, there are significant Southern Indian influences in Sri Lanka. One of the most explicit of them is the availability of authentic dosai cafes, and some of the best one can be found in Colombo. As an added bonus, they tend to be all-vegetarian or even vegan so you can order safely without understanding everything on the menu (and you probably won't).
If you visit the floating market of Pettah, check out the nearby Sriyani Cafe. Head right up the stairs as that's where the locals hang out, and go for the classic dosai (how about an onion or masala dosai?). Don't over order as you'll be served a complimentary tray of very filling snacks. After your dosai arrive at the table, a waiter will follow up with a tin or two of various curry 'gravies' to pour over your 'pancake'. They also serve wood apple juice, inquire if it's in season. A substantial meal for three with fresh juice, tea and tip set us back around $5!
Unsurprisingly, there are significant Southern Indian influences in Sri Lanka.
In other parts of town look for New Saraswati Cafe, Sri Vaishnavi Vihar, Dwaraka Indian Vegetarian, and finally Amirthaa Restaurant – one of the oldest in the city.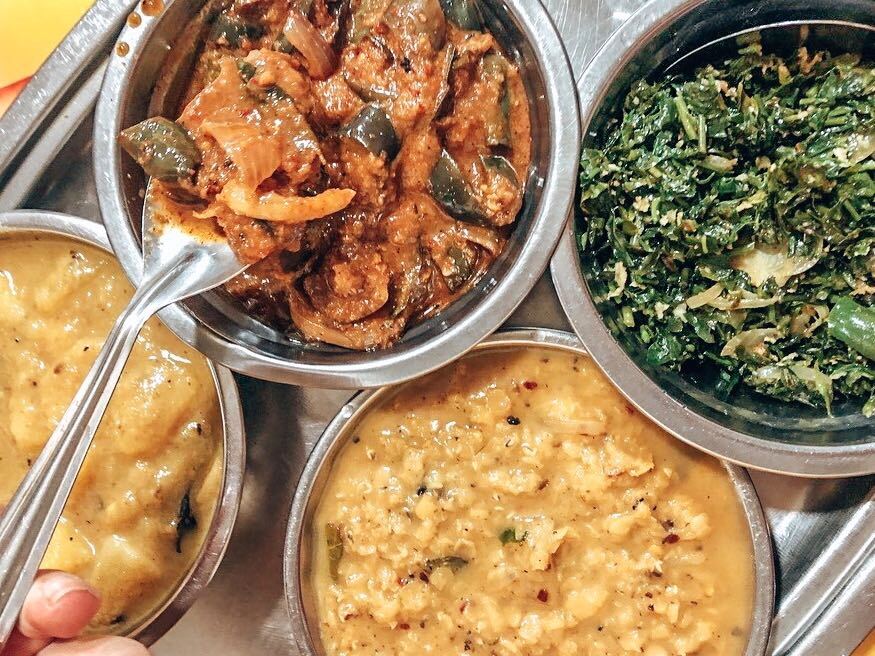 Rice and Curry
You'll inevitably have Sri Lanka's national dish – rice and curry – over and over again on your trip and it's the easiest to find everywhere you go on the island. But should you have a craving while in Colombo, there are two places I'd recommend above others.
First, a local favorite for all things rice and all things curry – New Banana Leaf. The vegetable option is served with four different types of curry and there are delicious other meatless choices: cuttlefish (squid), shrimp or egg. They even have crab curry if you're after a budget no-frills version of this dish. And then there is the whole section on the menu dedicated to biryani (did I mention I'm obsessed with biryani?!), served Sri Lankan style with hoppers. Be prepared to be the only tourist there and to eat with your hands. When in Rome, right?
You'll inevitably have Sri Lanka's national dish – rice and curry – over and over again on your trip.
Secondly, a tiny and somehow as of yet undiscovered curry shop near the Kingsbury Hotel called Vits Food – if it's good enough for Anthony Bourdain it's good enough for you and me! For an upscale rice and curry check out Palmyrah Restaurant at the Renuka Hotel. Oh and as I already mentioned there is some very good rice and curry (both veggie and fish options available) to be had at the Burgher House as well.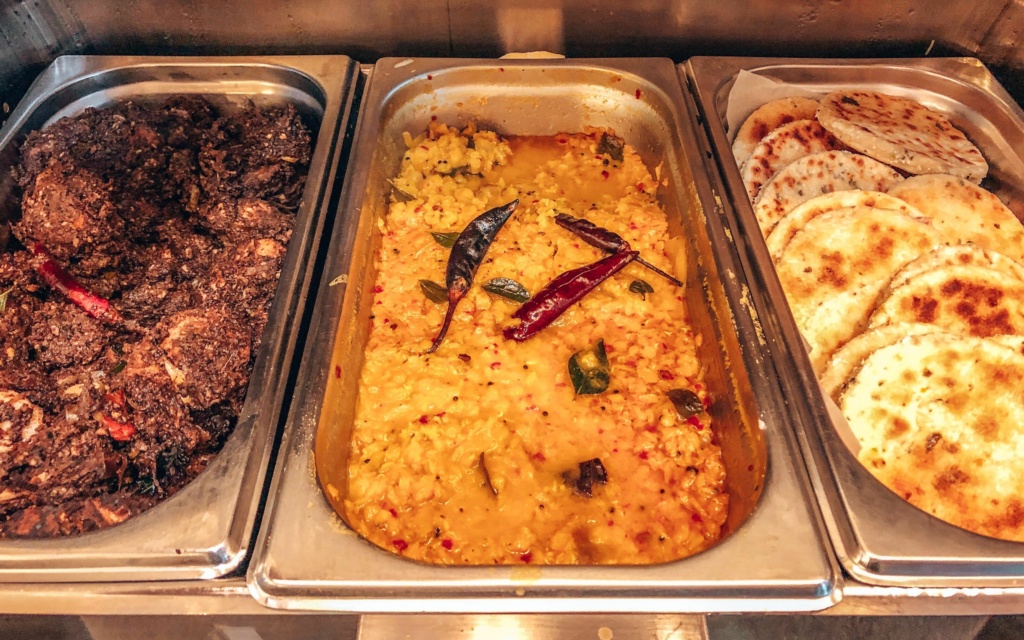 Colombo Buffets
Whether you just arrived in Sri Lanka and are ravishing after a long flight, or are about to hop on a flight back home and want the last taste of…everything, an all-you-can-eat buffet with all the Ceylon specialties may be a good option. Some of them are housed within large hotels which may also be a nice way to ease into local flavors within a familiar setting, and perhaps without the usual amount of heat – I know for many of you spicy food takes some getting used to.
Here are some of the better buffets in Colombo that will actually serve traditional local flavors rather than pasta salads and chicken wings: Curry Pot (lunch buffet, evening a la carte), Raja Bojun (locals rave about it, long established venue with plenty of choices), Nuga Gama at the Cinnamon (charming setting under a banyan tree), Galle Face Hotel dinner buffet (amazing setting in the gardens of this colonial property), Curry Leaf at the Hilton.
Bonus: Very off the beaten path 250 LKR (around $1.30) all you can eat lunch time curry and rice buffet – YMBA Canteen. You're welcome 😉
Honorable mentions:
kottu roti at Hotel de Pilawoos (but note the best kottu roti we had was in Galle so you may want to save you appetite)
samosas (for snacking on the train) from Bombay Sweet Mahal or one of the vendors at Pettah Train Station
hoppers from Green Cabin, Grand Oriental Hotel or Cafe on the Fifth
fresh seafood in one of many fish restaurants along the beach in Mount Lavinia
pani pol (sweet coconut pancakes) in the Dehiwala and Wellawatta area around Galle Road
Have you been to Colombo? What was your favorite thing to eat? Let us know in the comments below!