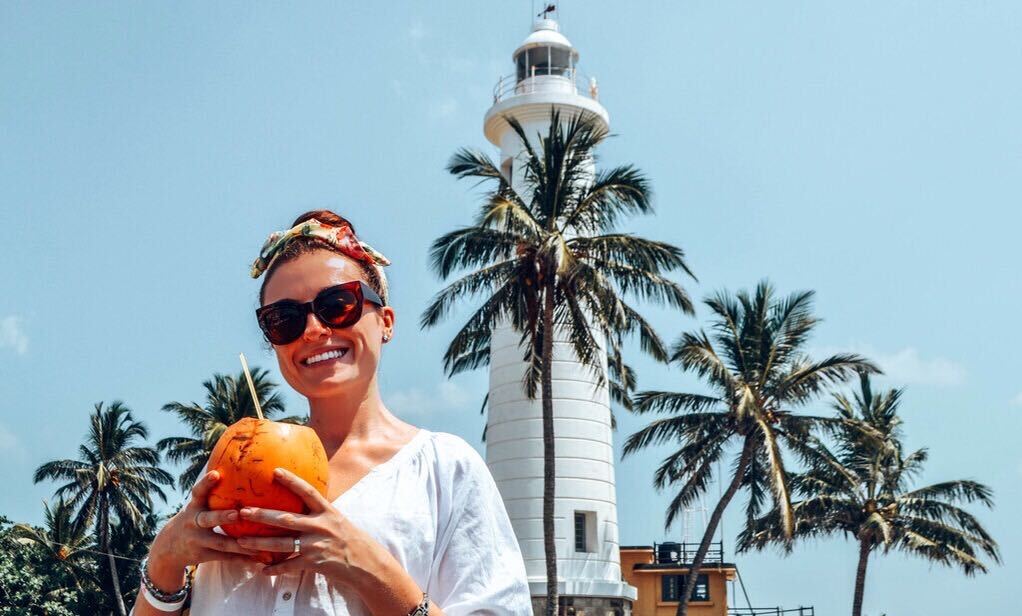 Where to Eat in Galle, Sri Lanka
There is no Sri Lankan travel itinerary that doesn't include Galle Fort with its iconic white lighthouse. At some point of your visit to Ceylon you'll find yourself wondering the narrow colonial streets of the Dutch-built Galle Old Town. You may even base yourself there for several nights to explore the nearby beaches such as the popular Unawatuna.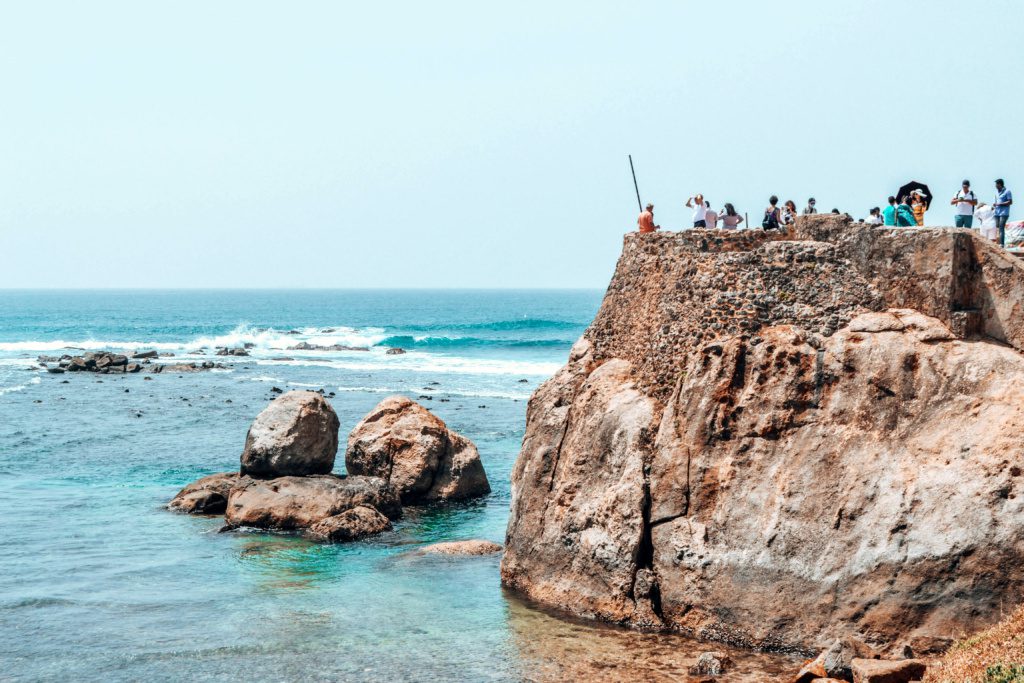 Regardless of the length of your visit, you'll want to sample the best of what Sri Lankan cuisine has to offer.
To be honest, we found Galle to be quite a hard place to find decent local food. Until we got out of the Old Town, that is. That's because that part of Galle exists purely for visitors, no surprise there.
Sure, you'll find roti and rice and curry in the Old Fort of Galle, but it's going to be double the price and likely half the size as the ones outside of the Fort walls where it's made for the locals.
Nothing wrong with splurging on the right meal, or letting savvy local entrepreneurs earn some tourism dollars. But I'm not an advocate of patronising a tourist-only establishment. Not least because you're eating exclusively alongside other travelers instead of experiencing a meal from a local's perspective.
Don't despair. Despite the large tourism presence, Galle is first and foremost a thriving town with life as usual. Get comfy shoes ready or download the tuk tuk hailing PickMe App – you're about to explore the real Galle. Here's where we found the most delicious local bites:
Kottu Roti at Tiny Hotel
On our first night, after more than two hours of searching for the right place to eat in the Old Fort, desperate for an authentic local dinner experience, we eventually approached a tuk tuk driver and begged him to take us to his favorite dinner place.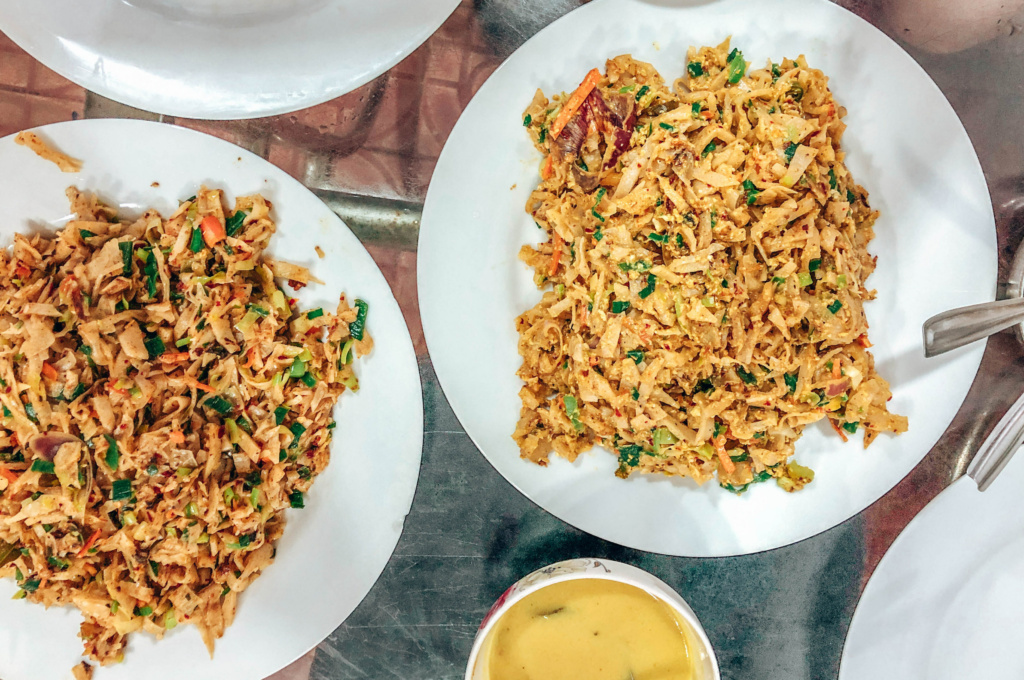 Boy were we glad we did. We never would've found this literal hole in the wall without him. And I wish you could have seen the pride on his face – he was SO happy that tourists wanted to not only explore his side of town, but trusted his food expertise instead of sticking with other tourists where it's "safe". Likewise, the shop manager/cook was surprised by our visit. "Can I see the menu?" "Sorry, no menu ma'm."
Needless to say, it was our best kottu roti in all of Sri Lanka. The place has no name on the outside ("tiny hotel" in Sri Lanka translates roughly to tiny cafe), but it does come up on Google Maps, in the hospital district. Right next door are New Priyani Hotel and Mihiri Hotel, which we're told are also very good.
All three cater to local hospital staff and visitors which means they are the real deal. Just point at what you want or order a vegetable kottu roti – house specialty.
Edit: We were told by a local source that there's another venue near Tiny Hotel worth checking out called Comida Restaurant. I would normally be wary of a menu with such an international mish-mash that includes Mexican and Italian, but they do cater to locals and you can try a typical Sri lankan rice and curry and the somewhat elusive but oh-so-Sri Lankan lamprais.
Hela Bojun Hala
For our next day's lunch we did the same thing – asked a local about his favorite place to eat. This time we ended up at the most amazing all-vegetarian cooperative. Hela Bojun Hala is where local women are gathered under one roof and incentivized by the Sri Lankan government to cook delicious foods with freshly harvested ingredients.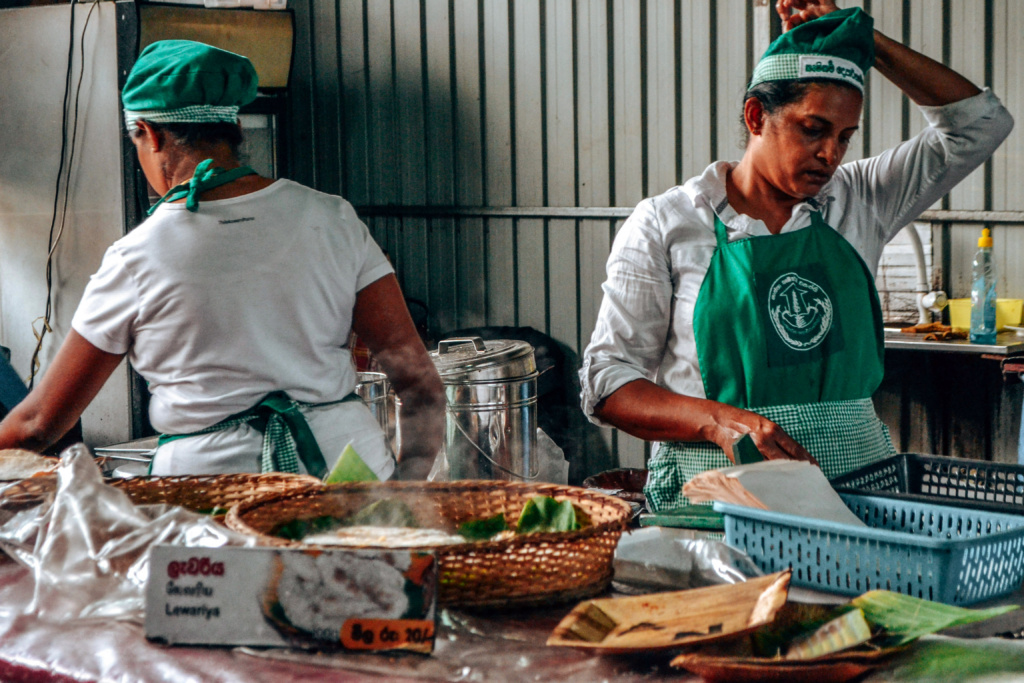 Go check for yourself just how incredible is the result of this project. Not only will you be supporting local women that don't otherwise benefit from the tourism dollars, but you'll get a chance to try unique home cooked dishes rarely featured on menus elsewhere. All for an unthinkably low price since they really do cater to the local community.
Yes it's a good 15 minute tuk tuk ride but it's totally worth it. Go as early as possible as they tend to run out of popular items. Near Labuduwa Farm Shop and Rice Research Station. Cash only.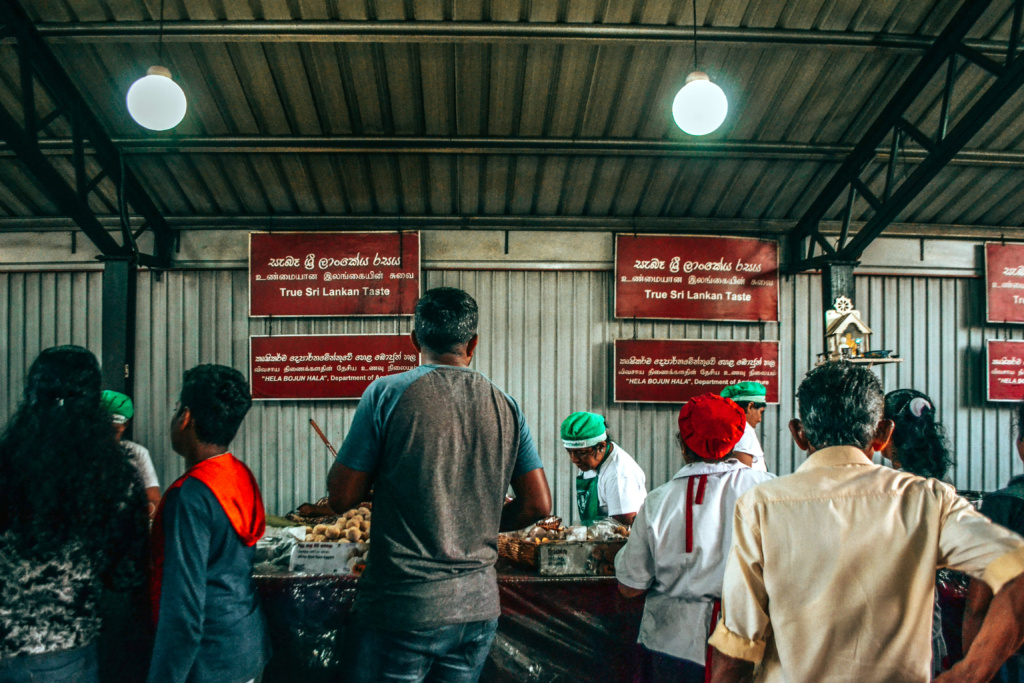 PS. Hela Bojun Hala is a nationwide project so look out for those wherever you go. The one in Kandy is very good too and right by Kandy Lake, no need for a tuk tuk.
He was SO happy that tourists wanted to not only explore his side of town, but trusted his food expertise instead of sticking with other tourists where it's "safe".
Short Eats at Sahana
You'll see short eats in Sri Lanka everywhere from train stations to beach side shacks. They are basically Ceylon equivalent of fast food, or snacks on the go, and usually mean cheap bites such as samosas, egg rolls, fish rolls, triangular stuffed rotis and other tasty morsels. Sahana is an indisputable local favorite in Galle.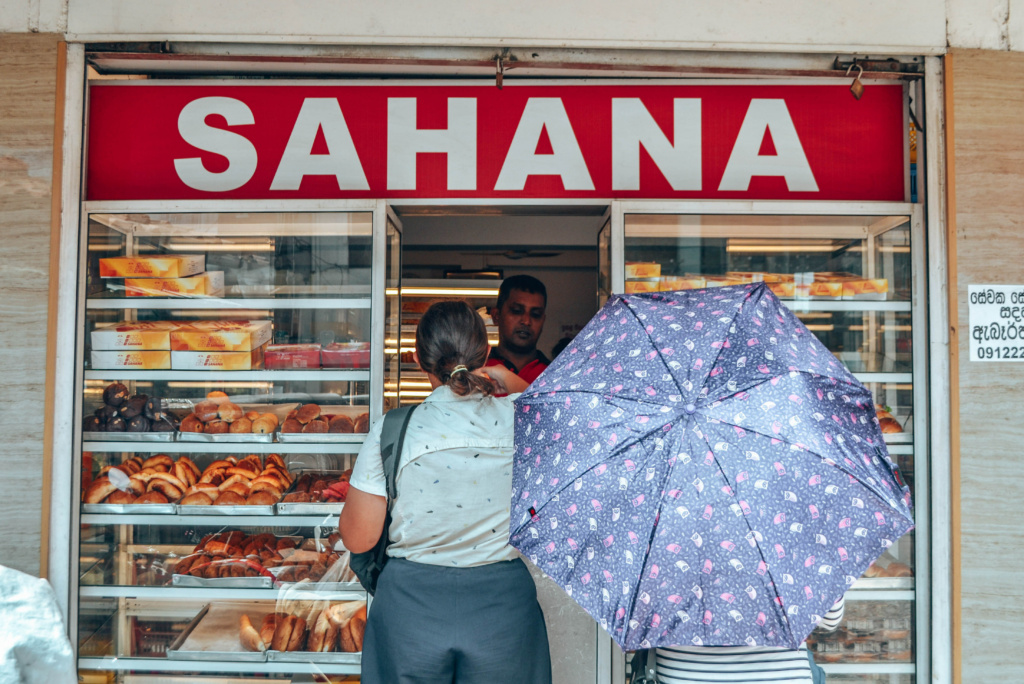 An added bonus of Sahana is the location right at the entrance of the historic Green Market housed in an old colonial Dutch market hall that's worth the walk from Galle Fort in itself. (If you follow @eightyflavors on Instagram you know we're obsessed with food markets when traveling!)
As for the short eats at Sahana, our favorite were the egg rolls, fish buns and potato samosas. Plenty of meatless options available. Take it to-go or enjoy on-site on the second floor and wash it down with a cup of milky Ceylon tea.
In vicinity of Green Market, we were also recommended but didn't get a chance to try: Aluroma for higher end fare including seafood, and Welle Kade for locals-only quick sit down meal. If you've been to either let us know in the comments!
For short eats in Galle Fort note Mayura Cafe and Wonder Cafe next door to each other managed by the Sri Lankan Army. Expect all the classics like egg rolls, omelette buns and coconut roti, as well as hoppers, wade and fresh fruit juices. Located on Rampart Street adjacent to Army Camp Animal Park. Great local experience. No indoor seating, cash only.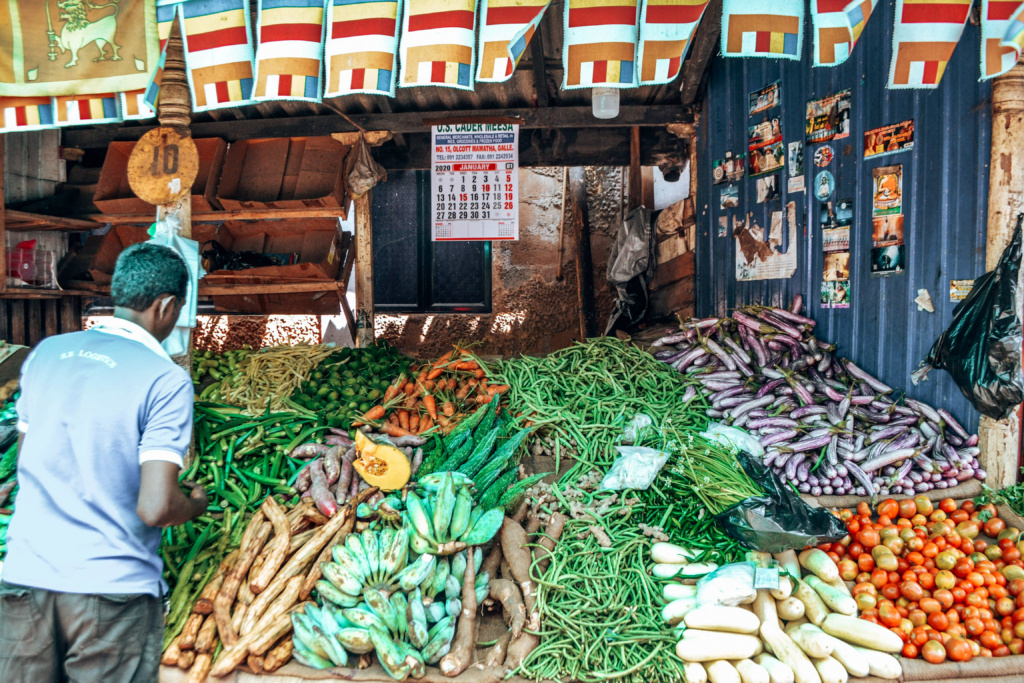 The Tuna and The Crab
If you're in the mood for a more upscale meal, The Tuna and the Crab is the most coveted venue in town. Second venture by the founders of Colombo-based Ministry of Crab – come here if unable to snag a reservation in Colombo. You can expect excellent seafood with a strong Japanese influence, including a Japanese take on rice and curry.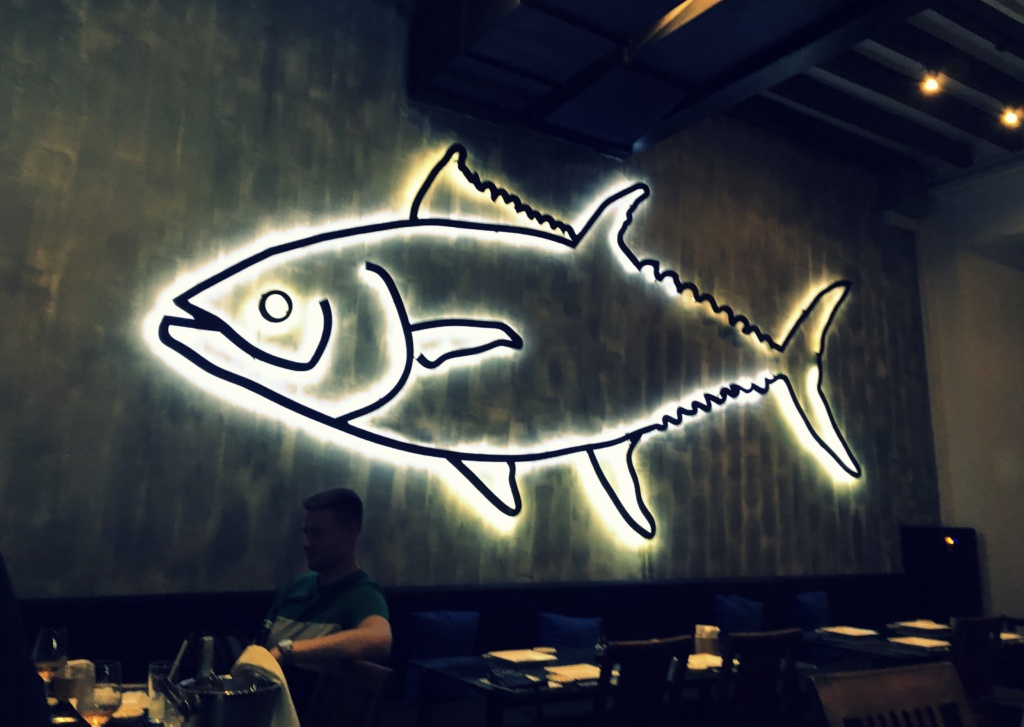 And of course, there is crab. You'll find the traditional pepper crab, in addition to crab meat maki, crab pasta, or the much instagrammed crab salad stuffed into an avocado. As for drinks, hey had me at fresh passion fruit juice! (No alcohol available).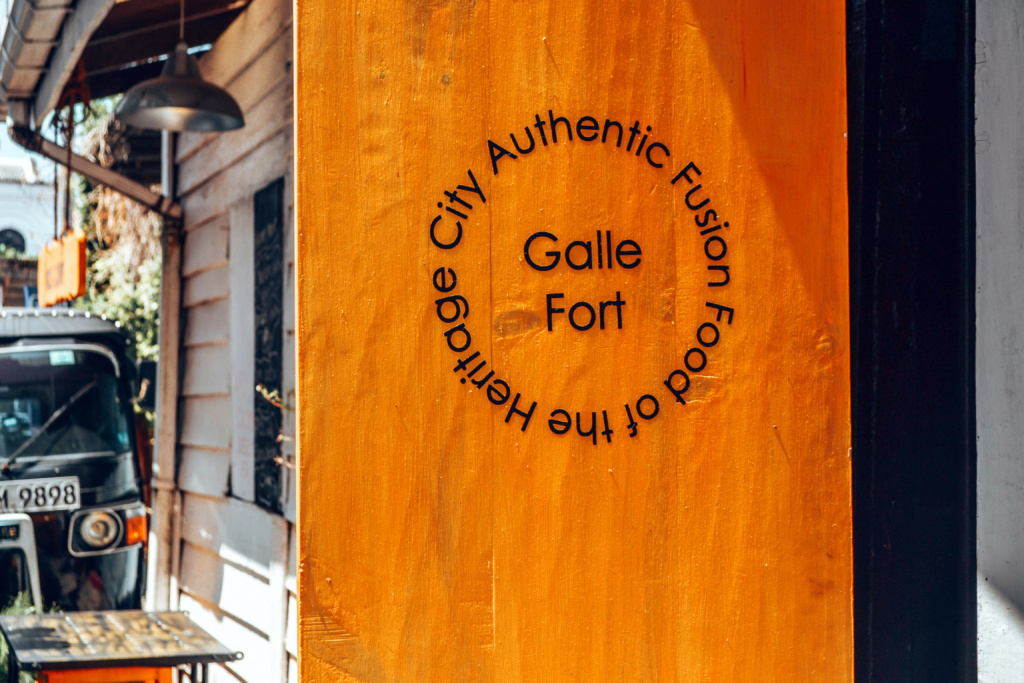 Hoppers at Hoppa
Possibly your best bet within the Old Fort for a casual meal that's typically Sri-Lankan, albeit touristy. Choose from a set hopper meal – their specialty as the name suggests – or arrive at lunch time for rice with five curries. They also have a selection of stuffed rotis and sambols including my beloved pol sambol (shredded coconut) and a more rare seeni sambol (braised sweet onion).
If you didn't make a pit stop in Colombo to try the famous street food along Galle Face Green promenade, Hoppa is your chance to try isso vadai i.e. deep fried lentil patties topped with shrimp. They also have an impressive dessert selection featuring the best of Sri Lankan ingredients, such as woodapple mousse with coconut cream.
What was your favorite thing to eat in Galle? Let us know in the comments below!