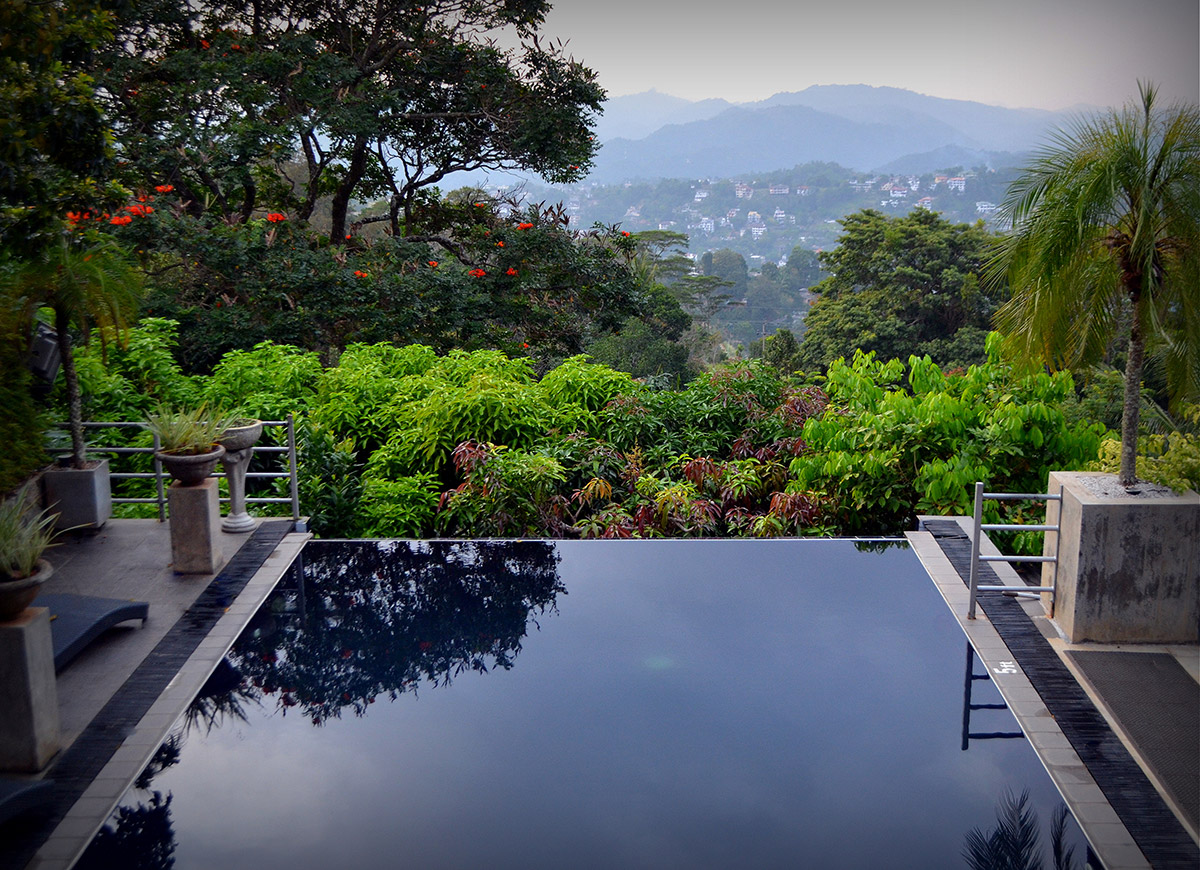 Top 4 Hotels in Sri Lanka for Food Lovers
Let's talk about top hotels in Sri Lanka focused on dining!
The "Teardrop of India" may be much smaller than its northern neighbor but it sure offers no shortage of amazing things to do, see and EAT! Paradoxically, this relatively small island can get overwhelming, especially when most visitors tend to pack as much sightseeing and activities into a single trip as possible.
Choosing accommodation in Sri Lanka is crucial as the right hotel will provide you with much more than a place to rest. Many hotels in Sri Lanka go above and beyond in helping you make the most of every day. And every meal. From sleeping at historic tea estates to packed lunches for your adventures and on-site curry cooking classes, a Sri Lankan hotel can truly be a (culinary) experience in itself!
Here are our top picks of Sri Lankan hotels for the food-focused traveler:
The Kingsbury Colombo
You'll likely be starting your Sri Lankan adventure in Colombo and there is no better place to rest your jetlagged head than the historic Kingsbury Hotel.
Their extensive breakfast buffet will be a great introduction to all the Sri Lankan classics. There's even crab curry and a made-ro-order hopper station! Speaking of crab curry — the on-site seafood restaurant Ocean is one of the best places in the city to try this famed delicacy. Choose from lagoon crab, mud crab and blue swimmer crab prepared in your choice of 6 traditional ways such as chilli or pepper sauce.
And to beat the afternoon city heat treat yourself to the Kingsbury's famous Afternoon Tea — what better place to enjoy this British tradition than at the source right??
Moreover, The Kingsbury is conveniently located right next door to the famed Ministry of Crab inside the charming Dutch Hospital building, as well as walking distance from all the yummy street foods Galle Face Green oceanside promenade and the Pettah market.
Top tip: Grab a sunset beer at the Galle Face Hotel (another historic Colombo property worth checking out) at the opposite end of the promenade. Then walk back to the Kingsbury tasting all the different seafood delights along the way. End your evening with an arrack cocktail from master mixologists at the Kingsbury rooftop bar Ce la Vi. I recommend Ceylon Sake Citrus Swizzle — this tongue twister is a delicious blend of local Ceylon arrack with Nigori sake and yuzu puree, among other ingredients.
Theva Residency Kandy
The cultural heart of Sri Lanka, Kandy is an obligatory stop on every traveler's itinerary. With its world-famous Tooth Temple, Buddha Statue, spice gardens and numerous museums, the city can get hectic. Enters Theva Residency . A mere 10 minute tuk tuk ride but a world away sits this oasis of calm overlooking Kandy down below.
Hop into the stunning infinity pool as the sun starts setting down after a day's worth of intense sightseeing. Regenerate and restore your energy for sunset drinks and dinner at Theva Cuisine — one of the best restaurants in Kandy, if not all of Sri Lanka.
With advance notice executive chef Bogahalanda and sous chef Herath will be happy to prepare their signature dish — traditional Sri Lankan rice and curry with no fewer than 17 accompanying dishes! One more delicious than the other. Come hungry!
And save space for dessert. Their sweet treats include modern versions of traditional Sri Lankan flavors — think jaggery and burnt coconut pudding or cinnamon poached pears. Wash it down with expertly made award winning arrack cocktails.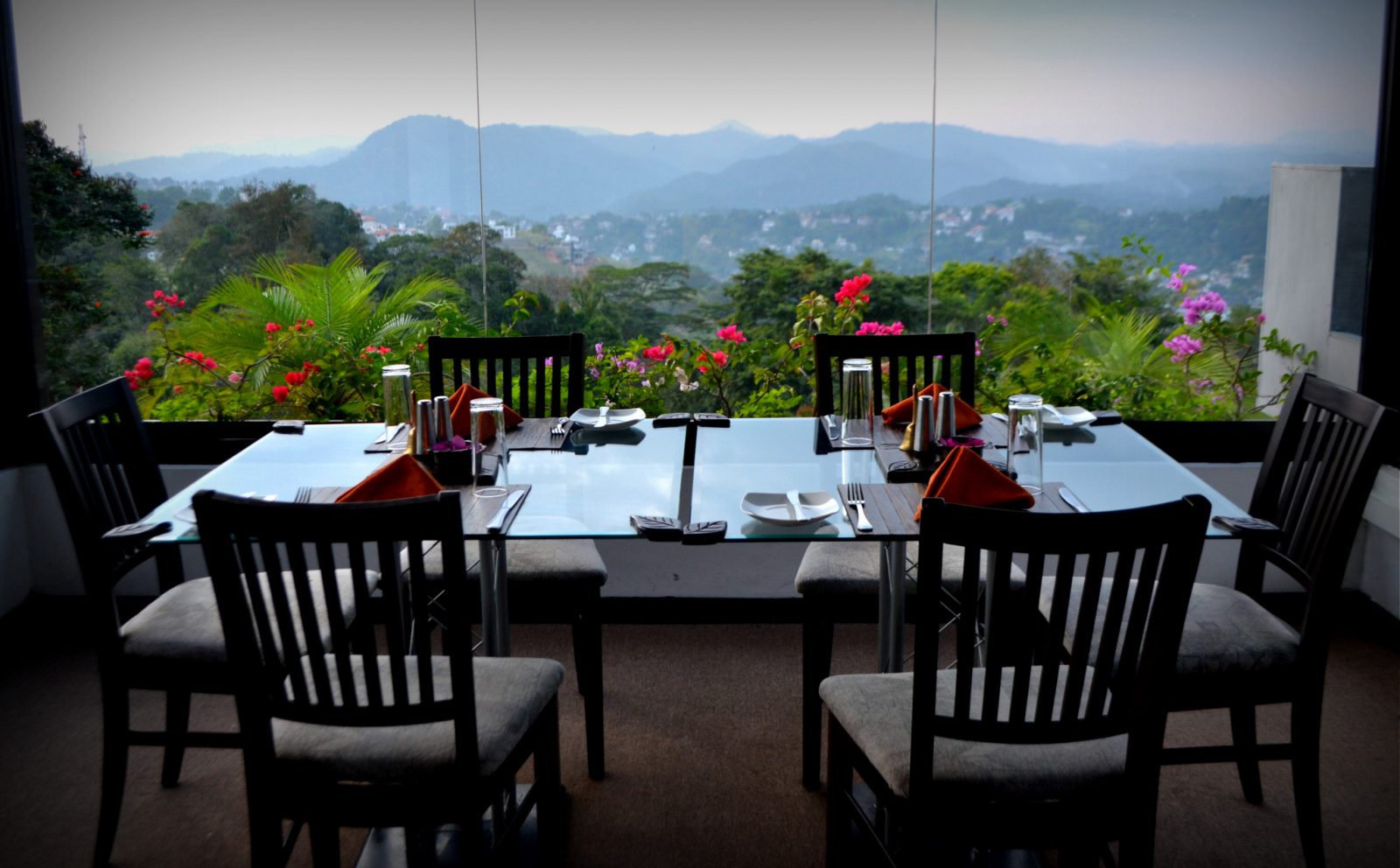 Breakfast at Theva Residency is yet another affair to write home about. Not only is it served at the gorgeous terrace overlooking Kandy hills, but the full Sri Lankan breakfast is by far the most comprehensive we tried anywhere.
You'll be treated to fresh seasonal fruit followed by egg hoppers, pol roti and string hoppers with all the trimmings — pol sambol, dry fish sambol, your choice of curry, dhal etc. I promise you'll struggle to finish it all!
Thotalagala Haputale
On your visit to the Tea Country of Ceylon you shouldn't skip the quaint town of Haputale. Many people do but for me it was one of the highlights of the trip. In fact, I highly recommend staying here over Ella if you have to choose. Sunrise at Lipton's Seat is an experience you'll never forget. One of the best bases you could ask for is the historic tea estate turn luxury boutique hotel — Thotalagala.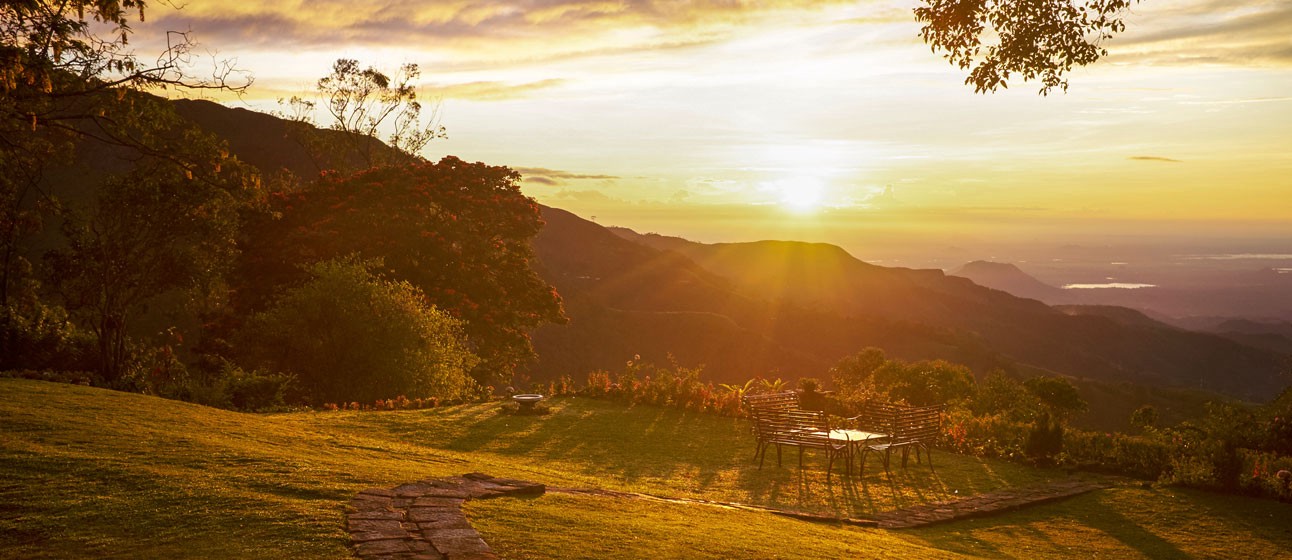 You don't have to be a tea afficionado to marvel at the hotel's setting among over a century old tea estate. It must be one of the most breathtaking views on the island.
Nevertheless, tea lovers will appreciate the fact that the adjacent Dambatenne is one of the very few estates in the world that Sir Thomas Lipton planted himself! In fact, the term "Ceylon Tea" was coined here! At Thotalagala you can have a cup of Lipton tea in your Sir Lipton suite surrounded by Lipton tea plants. Say no more.
The accommodation is a lovingly restored to its former glory 19th century tea planters' bungalow. You'll be treated to an indulgent experience of traditional British 'board and lodging'. (That's bed with meals included for all you Gen Zers and younger millenials out there 😉 ).
Thotalagala is also a working estate. You can immerse yourself into the lifestyle of a tea planter from the by-gone era. It includes traditional hearty plantation fare served in an elegant dining room. Of course the on-site chefs cater to vegetarian and vegans too. Work up your appetite for dinner in the endless tea gardens on the estate.
Or how about breakfast on the lawn with tea served in delicate period fine bone china? If you don't like tea, I swear — after staying at Thotalagala — you will!
Elephant Stables Weligama Bay
When you've had enough of the Tea Country move down south for some fresh coconuts and explore the beaches. A perfect base is Weligama Bay and specifically the impressive boutique property Elephant Stables.
This luxury beach hotel will treat you to some of the most hearty breakfasts on the island. It's one of the best places to try the delicious kiri bath aka milk rice. You'll also be treated to fresh fruit snacks such as jackfruit and papaya. During Sri Lankan fruit season which runs from May to August you can enjoy local delicacies like mangosteen, rambuttan, and my all-time favorite — passion fruit. Extra points for seasonal produce!
Speaking of produce, all their ingredients are sourced at the local market (and later used to prepare your traditional Sri Lankan 4-course dinner). Their fish and seafood come straight off the boats (Weligama is a traditional fishing village afterall).
They are so proud of their fresh catches! You can even enjoy all the delicious crabs and cuttlefish right by the beach in the exclusive Seafood Lounge! For lunch you can sample a traditional Sri Lankan rice and curry or a Dutch style 'lampries' wrapped in banana leaves.
Most importantly, Elephant Stables caters to many meal requirements including vegetarian, vegan and gluten free. Almost anything else can be arranged with advanced notice to the chef. There are fun cooking classes and culinary demonstrations to be had on site too! Oh and did I mention they have a beachside Hopper Hut?!
Bonus: Their sister property in Elephant Stables Dambulla will even arrange a delicious breakfast picnic for your Sigiriya climb! It's a great first stop between Colombo and Kandy.
Incidentally, there's a mini Ceylon itinerary for you right there!
Have you stayed at another noteworthy Sri Lankan hotel with great local dining? Let me know!