Heavenly Delight: Exploring the Magnificent Polish Meringue Cake
If you like pavlova, wait till you try the Polish meringue cake! At Around the World in 80 Flavors we're low key obsessed with tort bezowy, as it's known in Poland.
We'll take a wild guess that you've never heard of it, and another guess that after this post you'll be adding the Polish meringue cake to your foodie bucket list!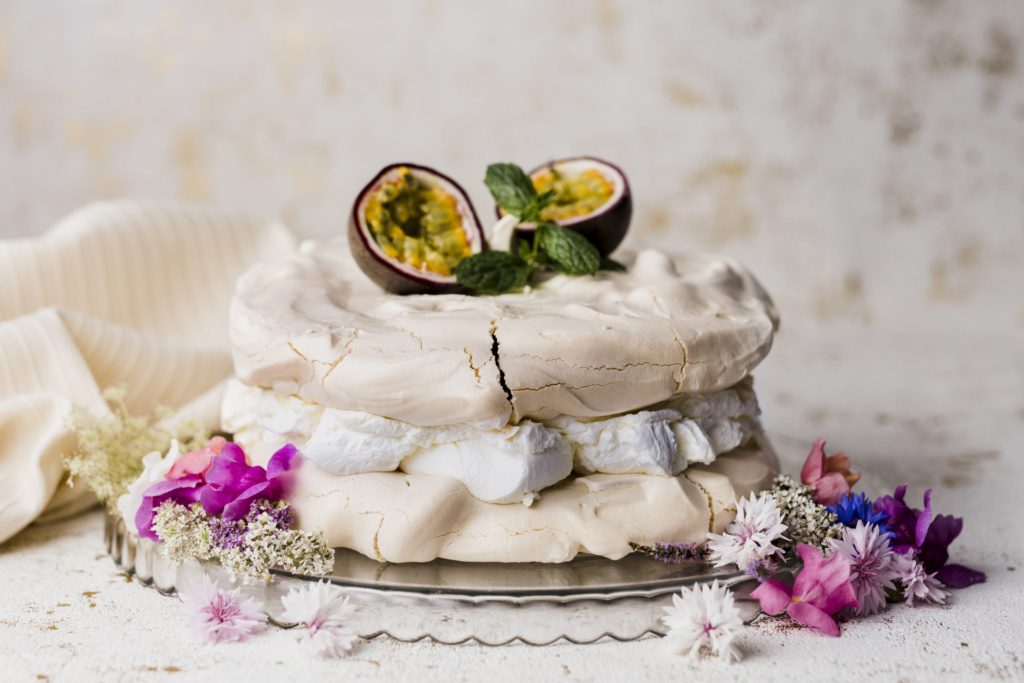 In today's post, we'll take you on a delightful journey through the origins, preparation, and everything else you need to know about the heavenly Polish meringue cake.
Meringue Cake Connoisseurs
Since we have family in Poland and get to visit relatively often, we've been on a hunt for the most perfect meringue cake over the last few years. For research (ahem) we've tried dozens of different meringue cakes. Mostly by the slice, in our defense… Safe to say we've become Polish meringue cake aficionados!
Let me tell you – it takes SO MUCH skill to make a good meringue cake. Perfectly crunchy on the outside and heavenly fluffy on the inside. With just the right amount of freshly whipped cream in between delicate layers of meringue. And just the right type of tangy fruit or other filling, to break down the sweetness.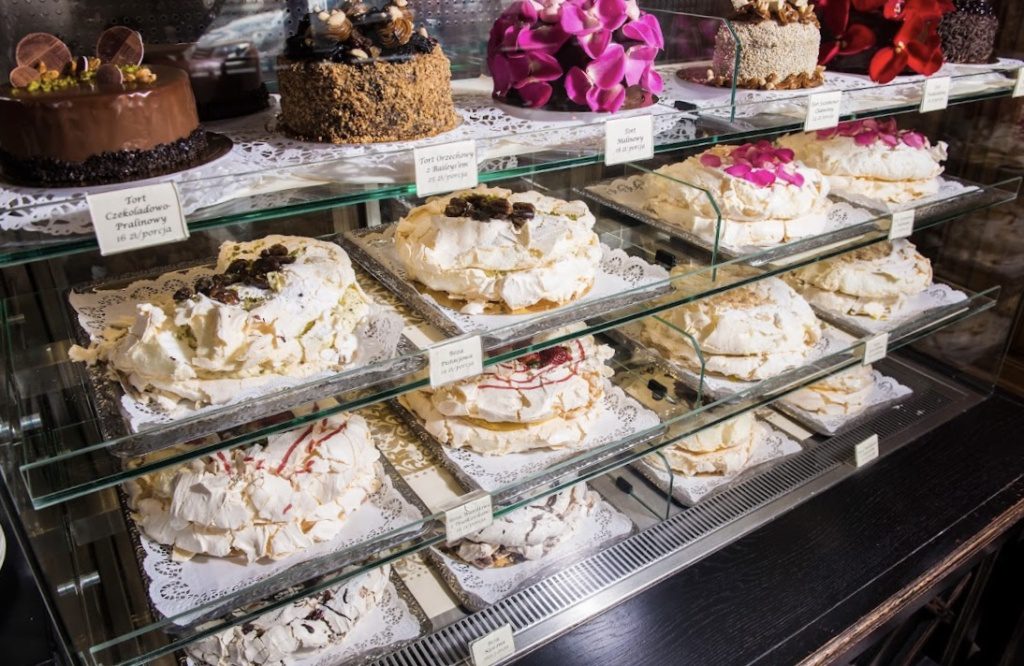 As you can imagine, despite only having a few ingredients, a lot can go wrong. Its simplicity belies the artistry and skill involved in its preparation, making it a testament to the highly underrated Polish craftsmanship.
A Brief History of Polish Meringue Cake
Poland is a country renowned for its rich culinary heritage, where traditional recipes have been passed down through generations. Among the country's delectable desserts, the meringue cake stands out as a true gem.
The meringue cake, known as tort bezowy in Polish, has its roots deeply embedded in Polish culture. Although the exact origins of this dessert are uncertain, it is believed to have emerged in the 19th century.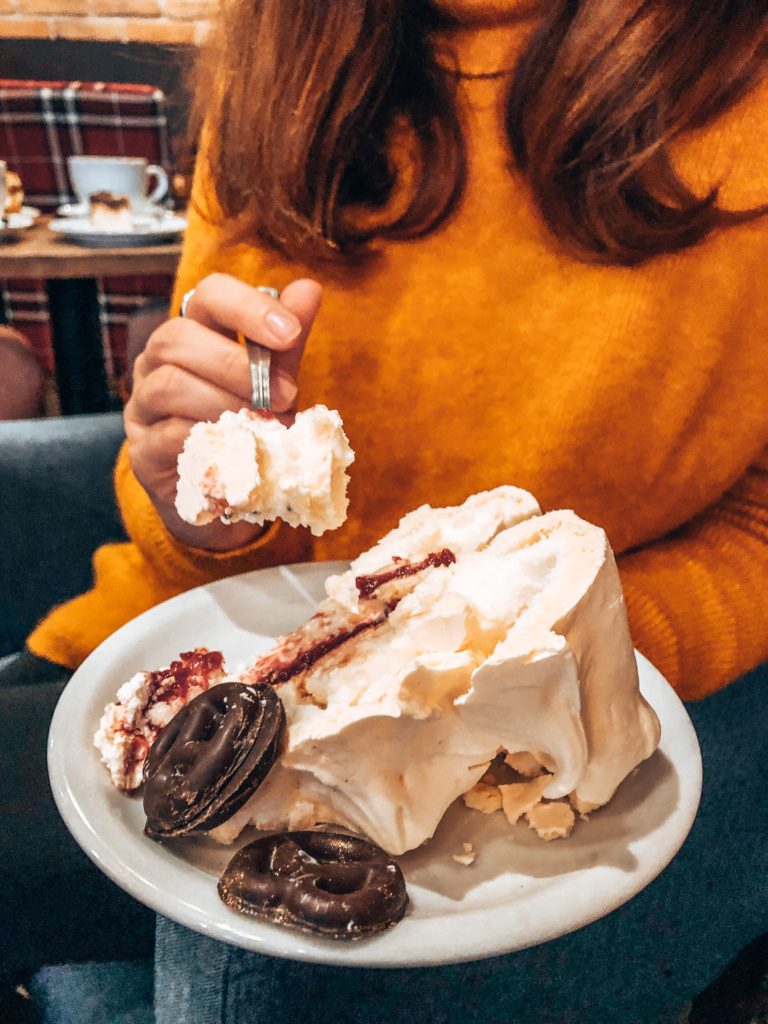 Since then, the Meringue Cake has become an integral part of Polish culinary traditions, particularly during celebrations and festive occasions. This heavenly creation is taken so seriously in Poland that you can find it made with three distinct types of meringue: French, Italian and Swiss. Who knew!
Meringue Cake Ingredients and Preparation
The meringue cake is a masterpiece of simplicity and elegance, requiring only a handful of ingredients that come together to create a harmonious symphony of flavors and textures. The key components of this delightful dessert include meringue, whipped cream, and a variety of flavorful toppings.
To prepare the meringue cake, bakers start by whisking egg whites until stiff peaks form, gradually adding sugar to create a light and airy meringue. The mixture is then baked at a low temperature until the meringue is crisp on the outside and chewy on the inside.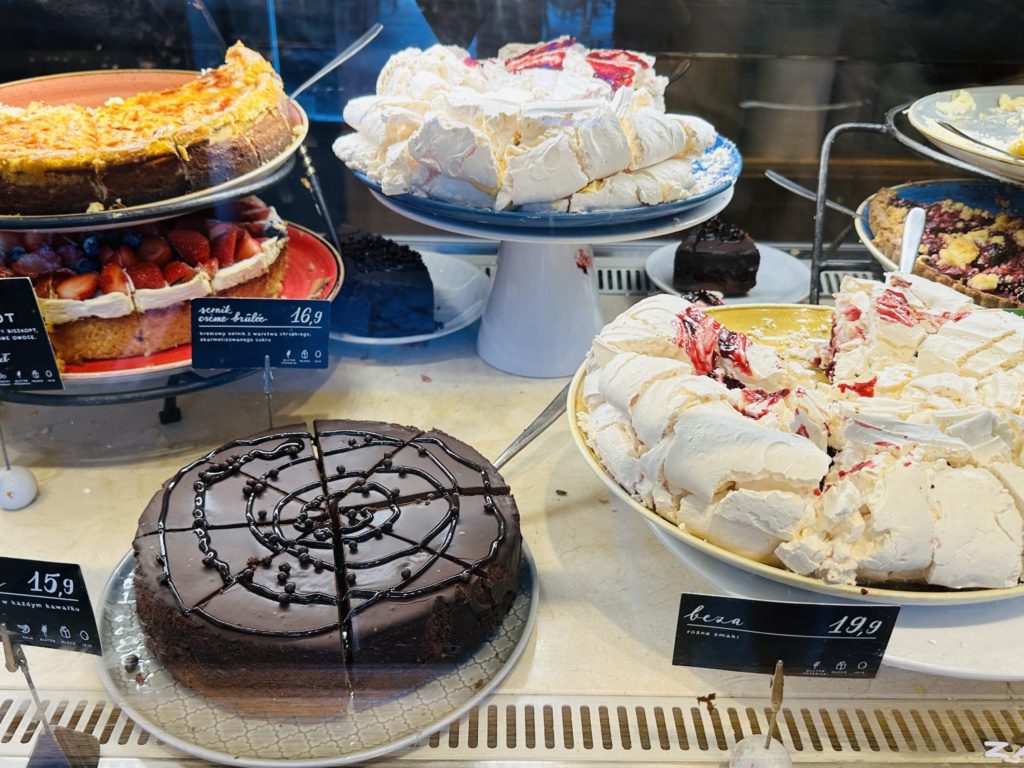 Once cooled, layers of meringue are sandwiched together with generous amounts of whipped cream, often infused with flavors such as vanilla, chocolate, or fruit extracts. Finally, the cake is elegantly decorated with fresh fruits, nuts, chocolate shavings, or drizzles of sweet sauces.
Regional Variations
While the basic concept of the meringue cake remains consistent throughout Poland, there are regional variations that add unique twists to this beloved dessert.
In some parts of the country, bakers incorporate crushed nuts, such as almonds or hazelnuts, into the meringue mixture, adding a delightful crunch.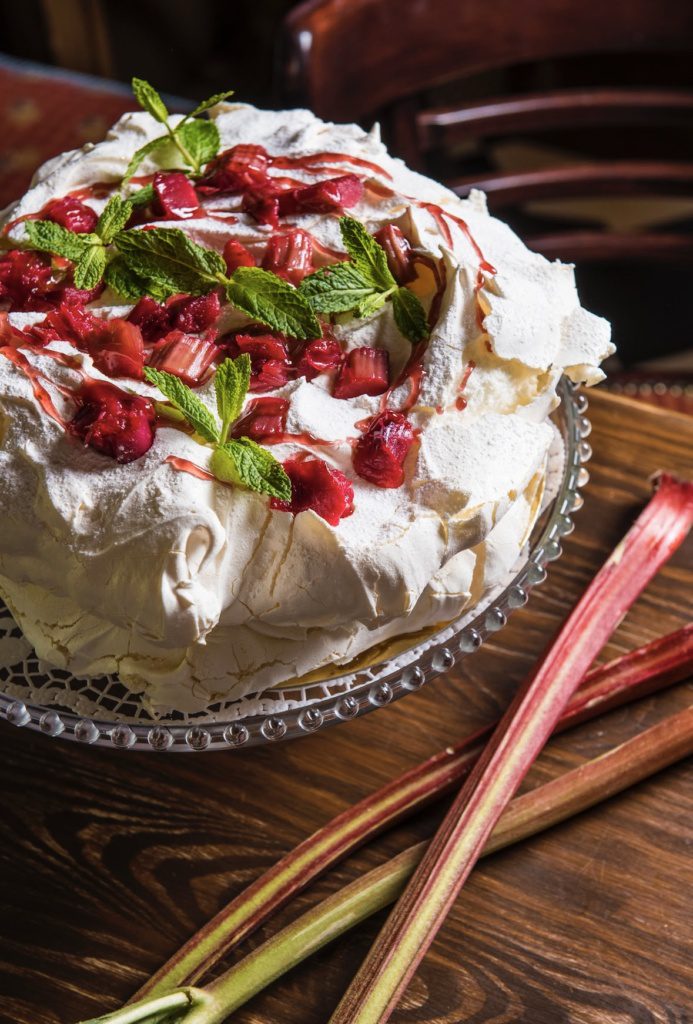 Other variations may include layers of fruit compote or jam, lending a fruity tanginess to balance the sweetness of the meringue and cream.
Celebrating with Polish Meringue Cake
The Polish meringue cake is a centerpiece of joyous occasions and festivities in the country. Whether it is a family gathering, a wedding celebration, or a birthday party, this decadent dessert holds a special place on the dessert table. Its delicate appearance and heavenly taste make it a crowd-pleaser, leaving guests craving for more.
One of the most popular times to enjoy meringue cake in Poland is during the Easter holiday. Families often prepare the cake as part of the traditional Easter meal, where it symbolizes the arrival of spring and new beginnings.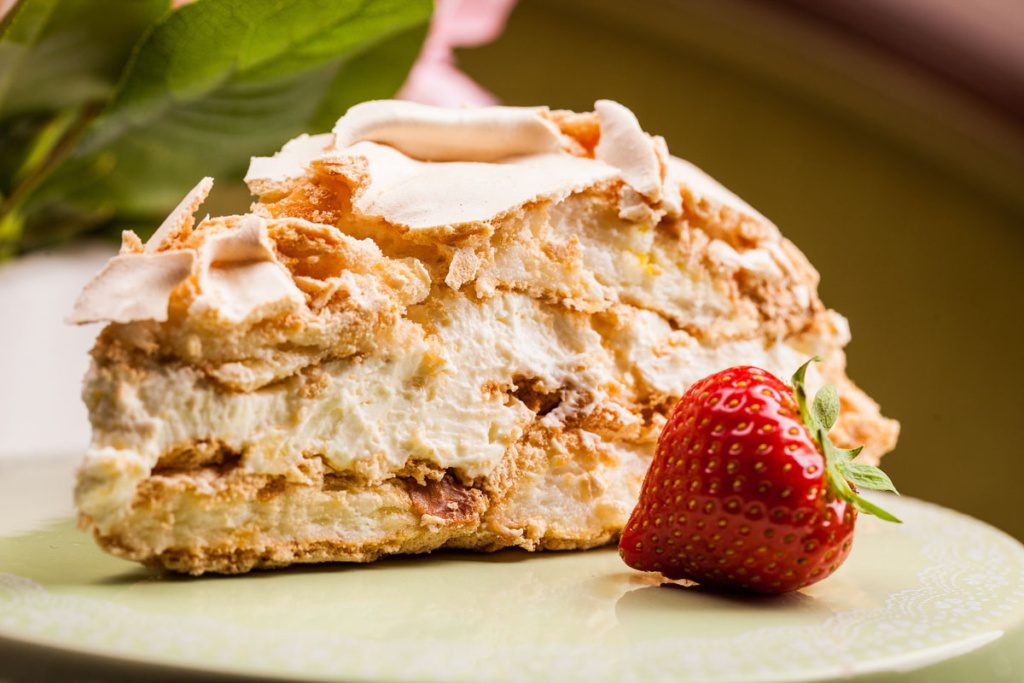 With its light and airy texture, the meringue cake perfectly complements the festive ambiance of this joyous occasion. Plus, Easter is all about cooking with eggs in every possible variation.
More Than a Pavlova
Polish meringue cake, with its delicate meringue layers, sumptuous whipped cream, and delightful toppings, is truly a dessert fit for royalty. There is a reason an ordinary pavlova dessert is never used as a cake alternative.
We've seen bespoke made-to-order meringue cakes offered for weddings, Holy Communion and other milestone events in Poland. It seems that everyone has a favorite meringue baker and guards their business cards with their lives!
Pro tip: Many patisserie shops in Poland (cukiernia) serve meringue cakes by the slice. You'll find the selection of toppings/fillings changes with the seasons, so don't look for raspberries or strawberries outside of summer months. That's one of the charms of eating in Poland.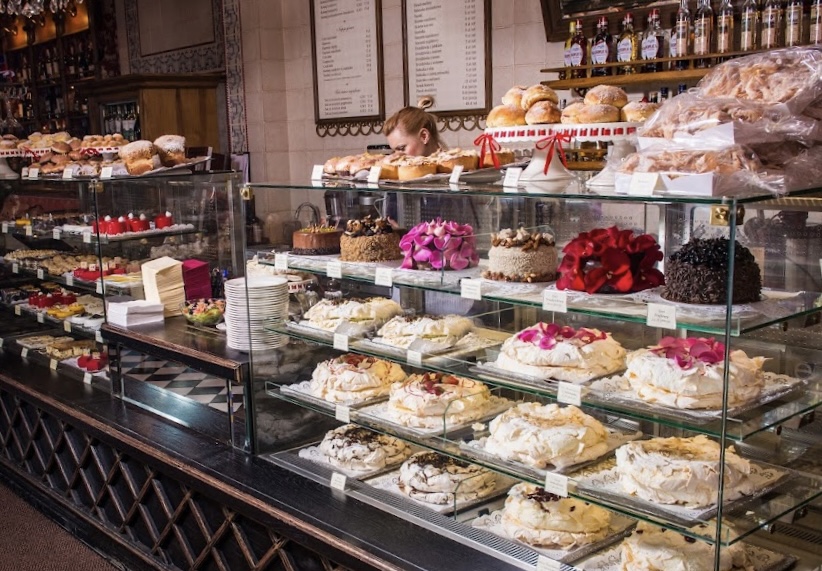 Also, many restaurants serve meringue cake by the slice as part of their dessert menu. The best ones offer a cake cart, where you can pick whatever makes your mouth water the most. (See below.)
You might also like: VEGETARIAN FOOD IN POLAND: 5 THINGS YOU SHOULD EAT
Best Meringue Cake in Warsaw
Here are some of our favorite meringue cake makers in Warsaw:
An offshoot of the legendary restaurant Stary Dom. The patisserie was founded in 2012 to enable Varsovians and travelers alike to experience the traditional flavors of Polish pastries. among them the Polish meringue cake. Pastry Chef Mariusz Palarczyk makes sure all confectionery is made in house and treated as real works of art. We confirm!
Without a doubt the best dessert trolley of all Warsaw restaurants. And yes, it includes a wonderful meringue cake, or even two in different flavors if you're lucky. This place is an institution.
We recommend going for a weekend lunch or a romantic dinner. Goes without saying – save room for dessert! Reservations are a must, ideally well in advance.
If you're staying at the H15 or Nobu Hotel (we highly recommend both), this will be your closest patisserie. Their passionfruit meringue cake was among our absolute favorites. And the slice size among the most generous.
We heard they do creative meringue flavors such as violet and mojito. Smaki Warszawy (Flavors of Warsaw) is confectionery craftsmanship at its best. If visiting in early summer be sure to try their blueberry buns (jagodzianki) too.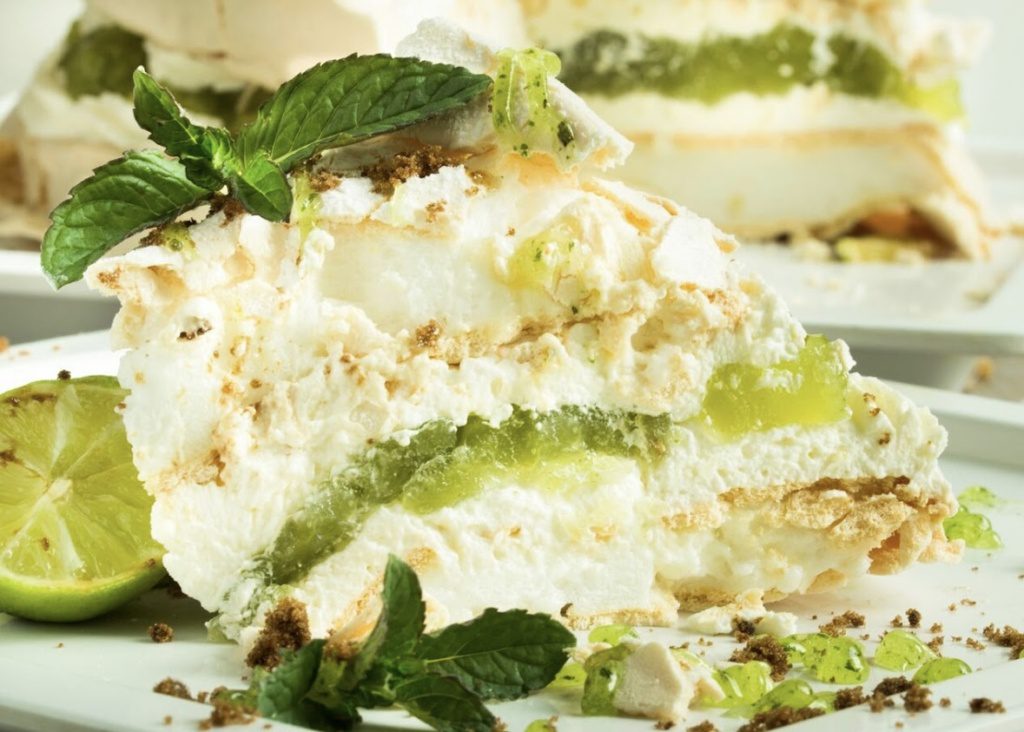 If you're looking for the perfect founding story here it is. Their first meringue cake was the one made for the founder's daughter's birthday. It was so good they started getting orders!
Today they are one of the best meringue cake makers in Poland, in some of the most delightful flavors. Think walnut and caramelized pear, pomegranate and mango, or pistachio and raspberry mousse. Plus their fresh flower garnishes are a feast for the eyes.
Founded in 2005, Muffia is an eatery, bakery and patisserie all in one. On one hand a modern concept cafe, on another everything is made according to age old traditional Polish recipes.
Home cooking – and baking – in insta friendly surroundings. We didn't try it ourselves but heard amazing things about Muffia's coffee flavored meringue cake. Don't miss their sourdough loaves, too!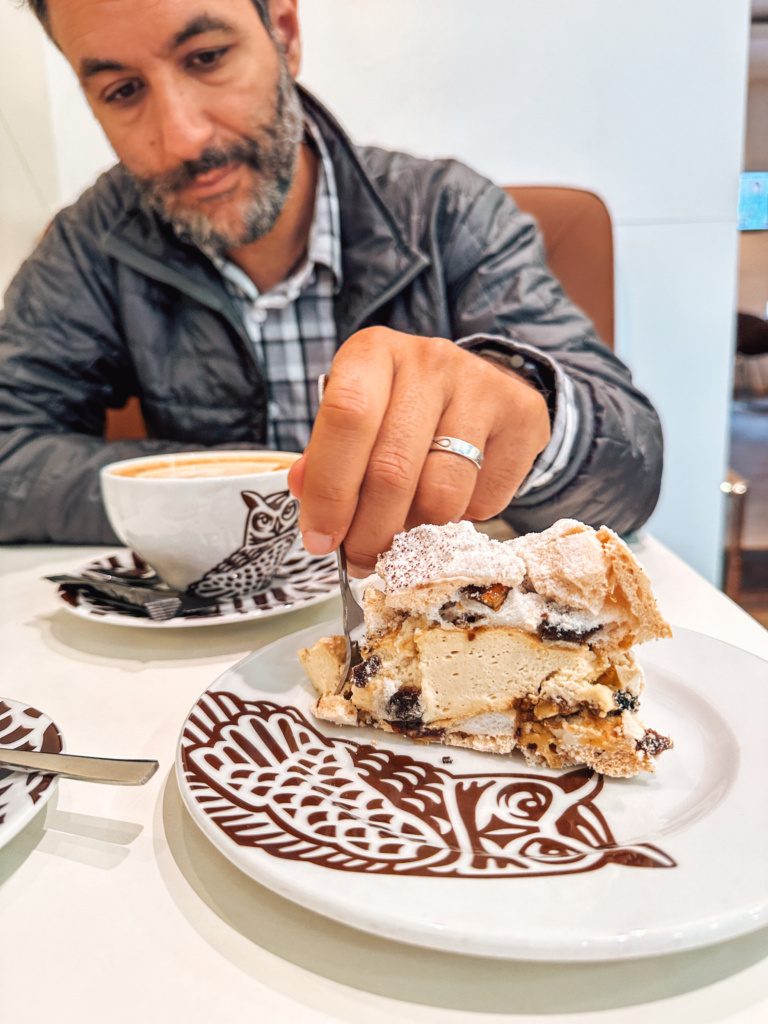 So good they recently opened a branch in London and they have their own Wikipedia entry. No wonder. Sowa was founded amidst the Soviet regime, back in 1946, and is still going strong today.
Their meringue cake (Tort Dakłas) with dates, walnuts, nut cream and mascarpone stole many hearts over the decades! You will also find their locations in other major Polish cities.
Their meringue cakes can be ordered online. Here is their fabulous looking passion fruit meringue cake. They also do tangy blackcurrant and tart cherries, among other fruit. But their show stopper is the Baileys cream meringue cake!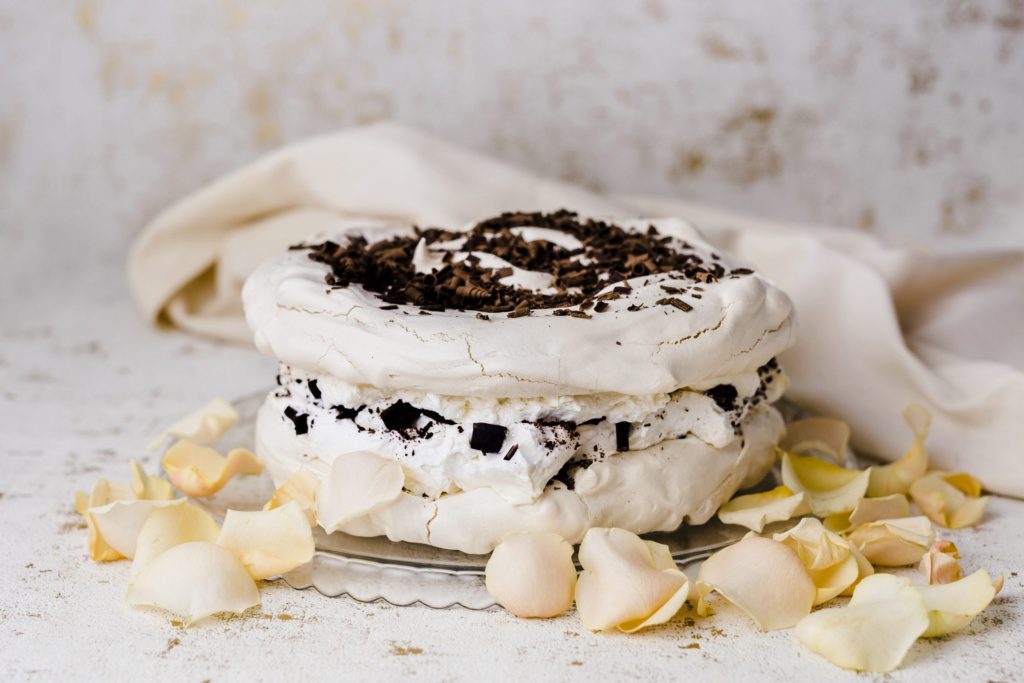 Not the best but very decent. We had to include their meringue cake because it's simply the most widely available. There seems to be a Caffe Nero on every other street corner in Warsaw. If you really can't venture far to find the other meringue cakes – try this one!
Also try: Biocake & Cukiernia Małgosi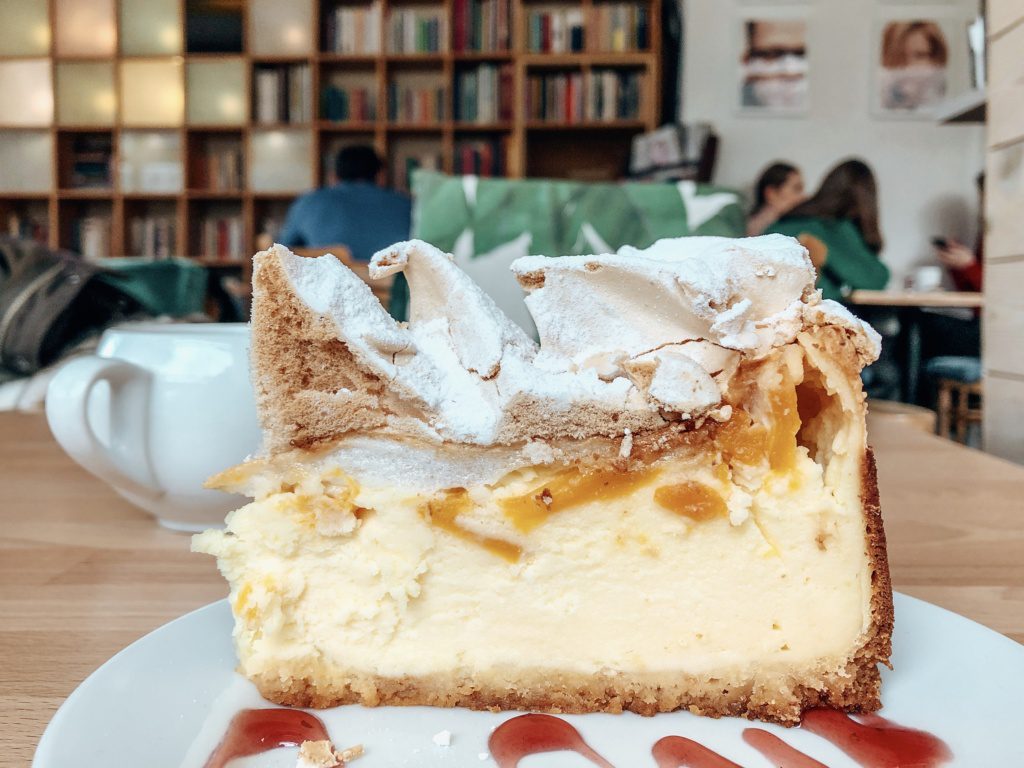 The Polish meringue cake continues to captivate locals and visitors alike, offering a taste of pure bliss with each heavenly bite. So, if you find yourself in Poland, don't miss the opportunity to indulge in this divine treat that is sure to leave a lasting impression on your taste buds.
---
Did you have the pleasure of trying the Polish meringue cake? Let us know how you liked it in the comments!
Images: Gaby Aziz, Cukiernia Stary Dom, Różana Restaurant and Słodki Drań