Paris Street Food: Three Nights, One Couple, Way Too Many Crêpes
Yes, Paris street food – you heard that right! Paris is not the most obvious destination that comes to mind when you think of street food, is it?
Don't know about you but we think Mumbai, Hong Kong, Thailand, maybe pintxos in San Sebastian. The French capital is mostly associated with bistros, cute cafes and fine dining.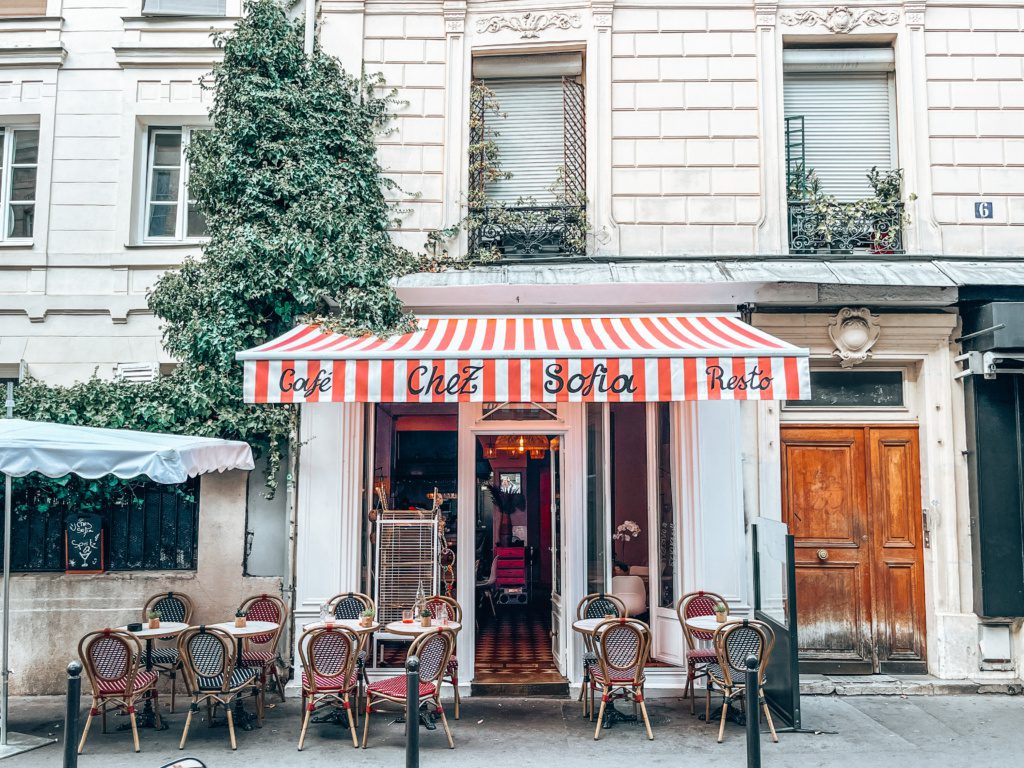 But on our recent trip to the City of Lights we were very short on time and wanted to try as many local foods as possible. We were also there very spontaneously, meaning we couldn't get reservations at most coveted restaurants in the city.
Therefore we had to think outside the box (somewhat of our specialty by now). We pretty much had one proper sit down dinner. Read about our vegan French food feast at Le Potager du Marais here. Pretty much everything else was quick snacks on the go.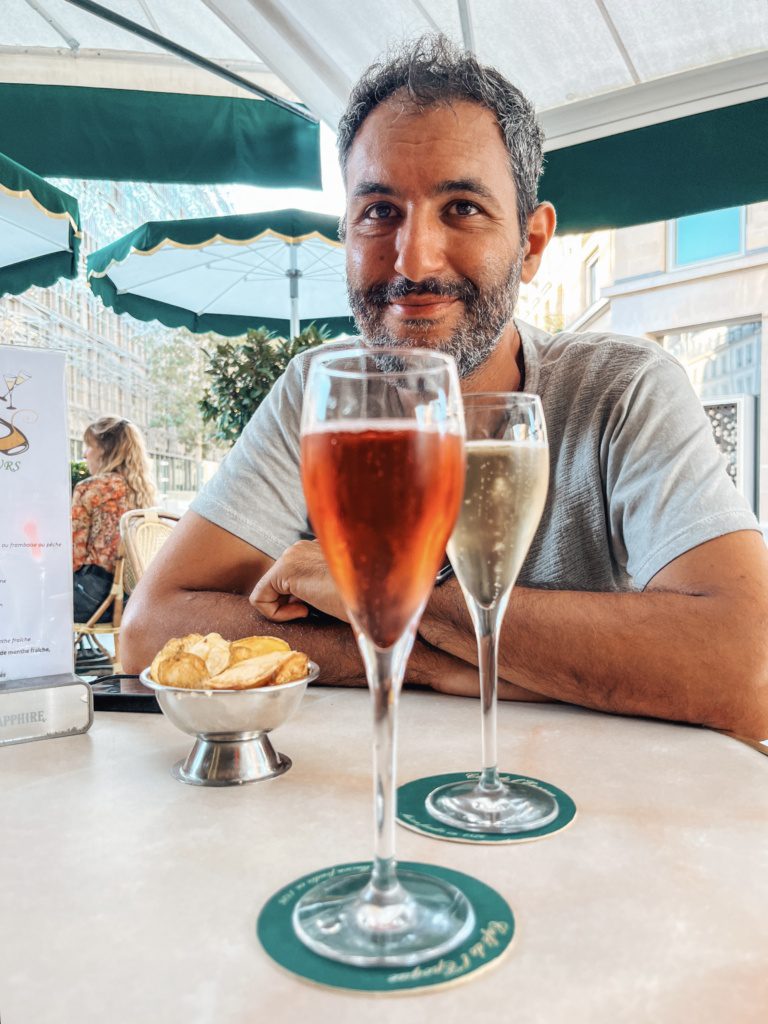 So, if like us, you're short on time in Paris, or simply want to complement your dinner reservations with smaller meals throughout the day, here are some ideas.
As usual, nothing we ate was accidental – we had done some heavy duty research beforehand. Life is too short for bad crepes, right?!
Without further ado, this is the breakdown of what our Paris street food weekend consisted of. (And yes, it includes sitting down in street cafes for quick meals on the go. It's not cheating, it's just street food French edition…)
We hope it helps you create your own Paris street food map!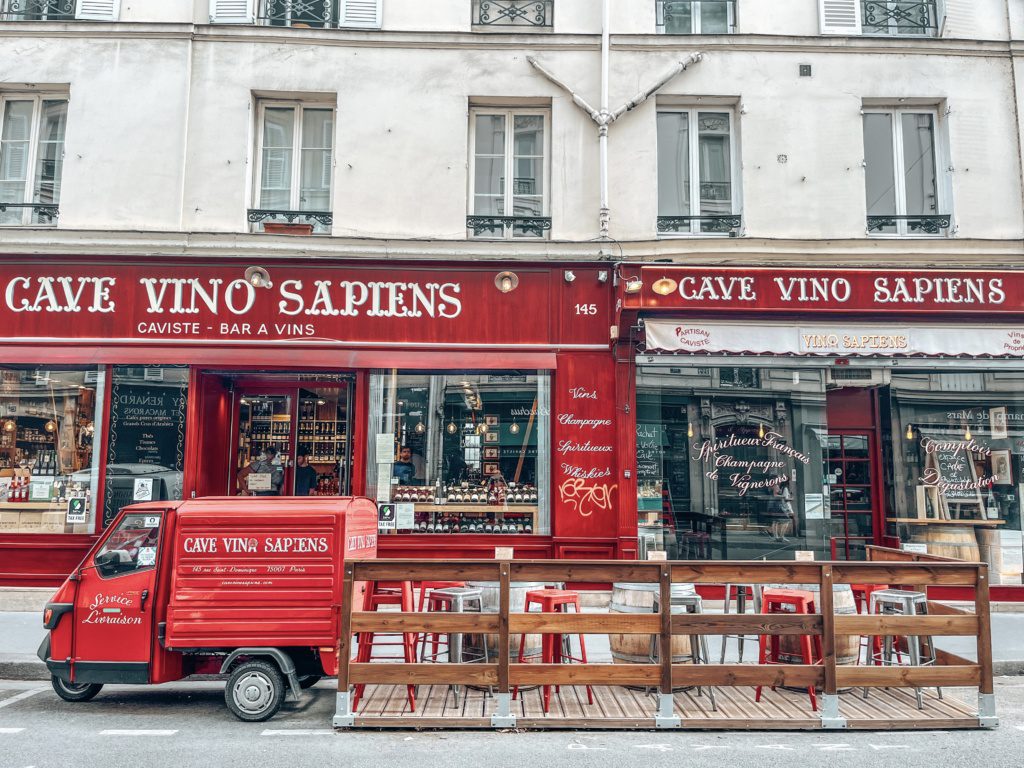 Crepes at Breizh Café
So. Many. Crepes. We couldn't stop. The French just do them so freaking well. Even the simplest crepe with a squeeze of fresh lemon juice and a sprinkling of sugar is like folded poetry!
It was Tony's first time in Paris and we just couldn't get enough. We had them sweet and savory (known as galettes), plated and hand-held, simple and complex, more and less budget friendly.
For the best street crepes fully street style where you grab them to go we recommend heading to Rue Mouffetard, near the Pantheon in 5th Arr. At Crêperie Genia and others like it you'll get a crepe for about 5$. It's close to Sorbonne university which explains the student prices.
Pro tip: get your crepes and head for a picnic at the nearby Jardin du Luxembourg.
For the best sit down street cafe version check out Breizh Café. Many Parisians swear by them and so do we. Breizh Café, which features the best of Breton gastronomy, is committed to the development of organic, local and sustainable agriculture. They really take great pride in Breton agricultural life, from the land to your plate.
The crepes are all made of buckwheat. In France all buckwheat comes from Brittany. In their Tokyo outpost – that's how good they are – the buckwheat is grown locally in Japan. (Presumably the same quality buckwheat that's used to make Japanese soba noodles).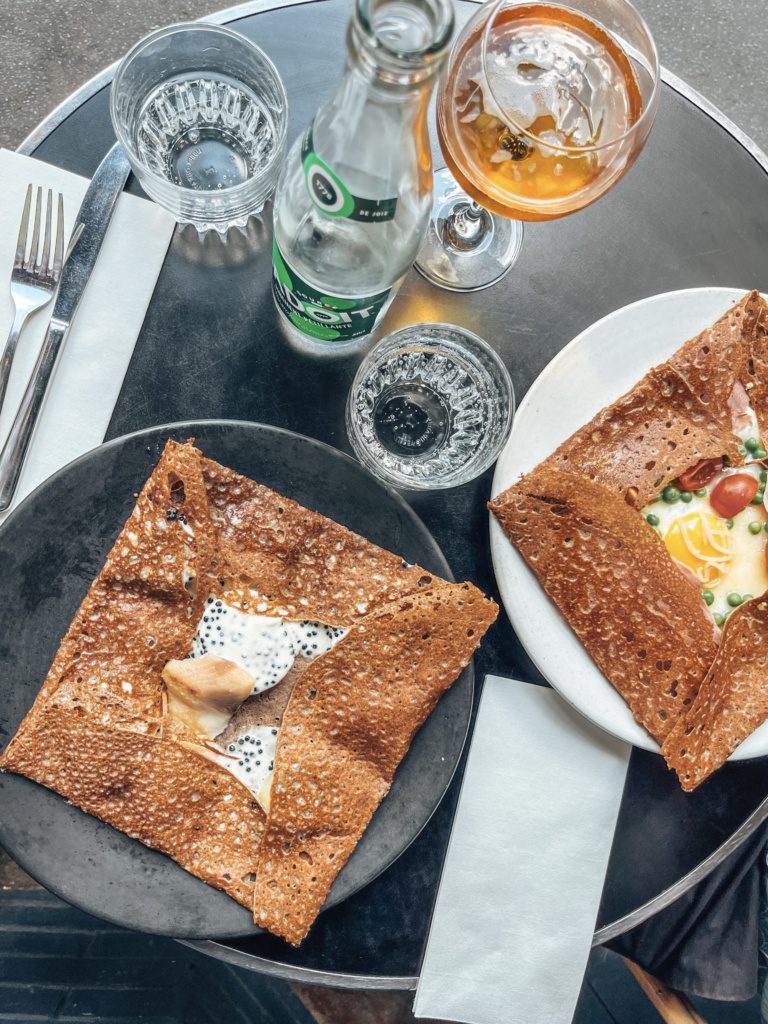 In recent years they even planted several hectares of buckwheat and thousands of apple trees in Brittany. The company passes down the know how of traditional crepe making by training artisan crepe apprentices every year.
We love their approach and only wish we could've tried more crepes. The menu is so elaborate. We could hardly believe all the fancy crepe and galette toppings and fillings! But not to worry, we will be back!
Pro tip: during lunch hours there is a great value set menu which includes a glass of cider from Brittany.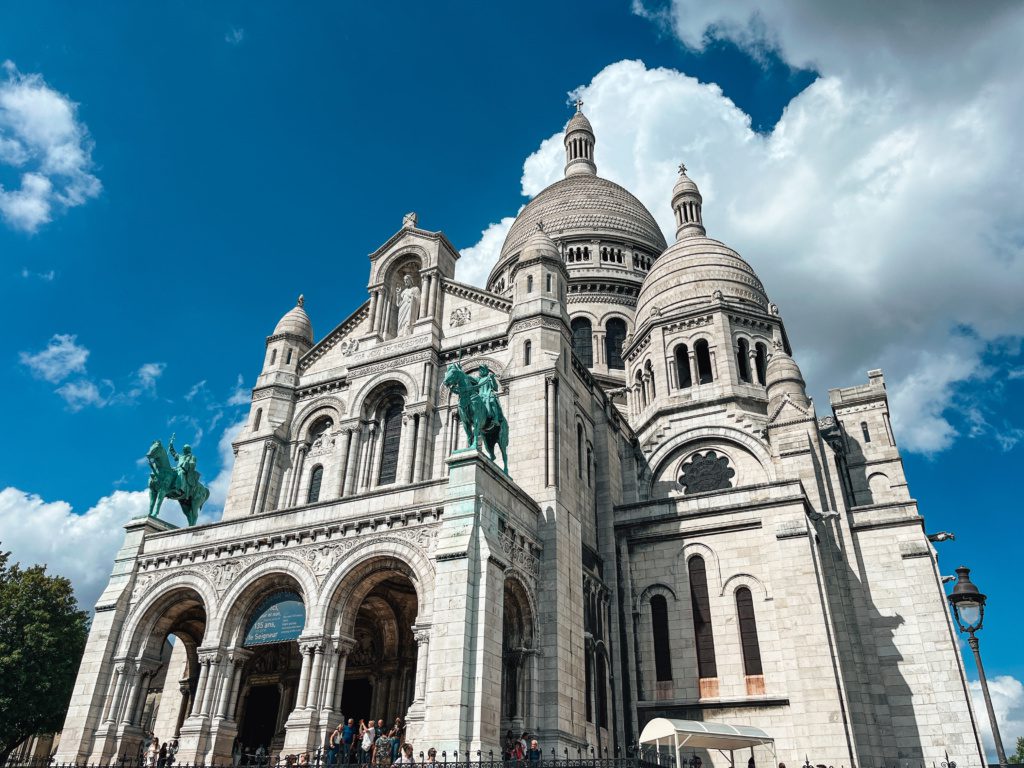 Croque madame at Café Joyeux
Technically a bistro type food but we had to include this one. We would also normally tell you to steer clear of a tourist drag like Champs Élysées. But Café Joyeux is just so special and a very unique exception to the rule.
Café Joyeux is the first chain of cafes to employ people with disabilities, mainly autism and Down syndrome, for whom employment would otherwise be out of out of the question.
In France, 700,000 people are diagnosed as having autism spectrum disorders and 65,000 are with Down syndrome. Only 0.5% of people with intellectual disabilities have a job. Café Joyeux intends to bridge the gap.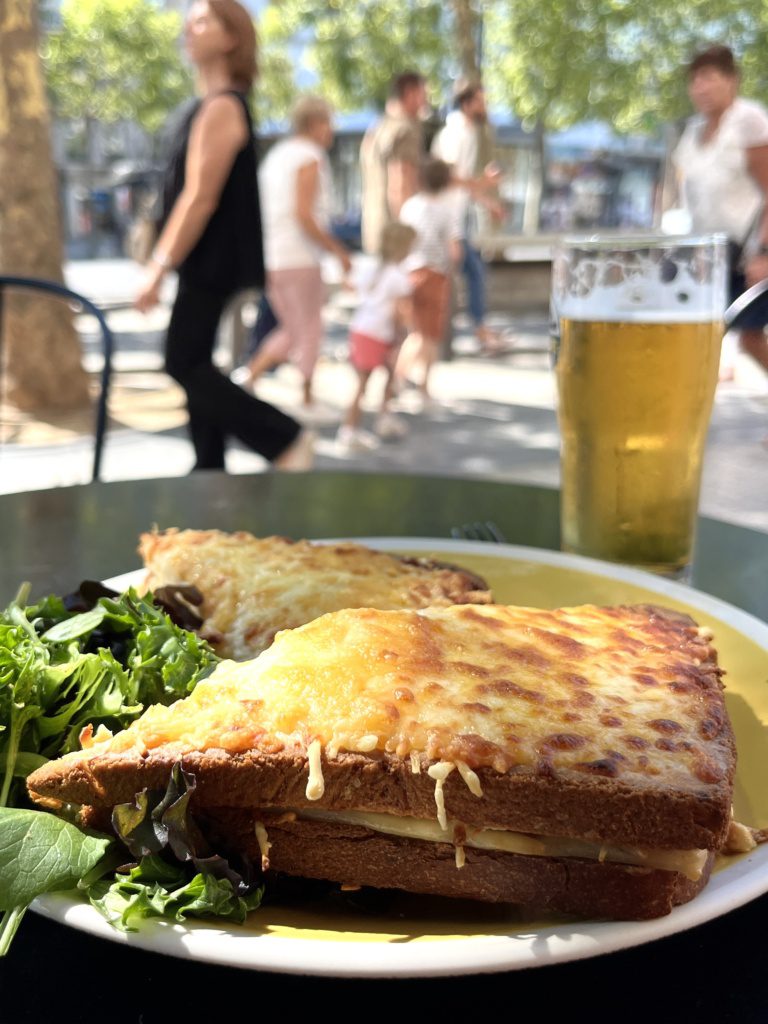 In 2017, the first solidarity restaurant Café Joyeux was created, employing and training people with mental and cognitive disabilities. All of their profits are reinvested in opening new coffee shops. They now have a dozen in France and two abroad – in Belgium and Portugal.
And the food is delicious! Everything is made from scratch daily on premises using fresh organic ingredients. It's accompanied by some of the best coffee in Paris, too, which makes for the perfect pit stop during your busy day exploring the city.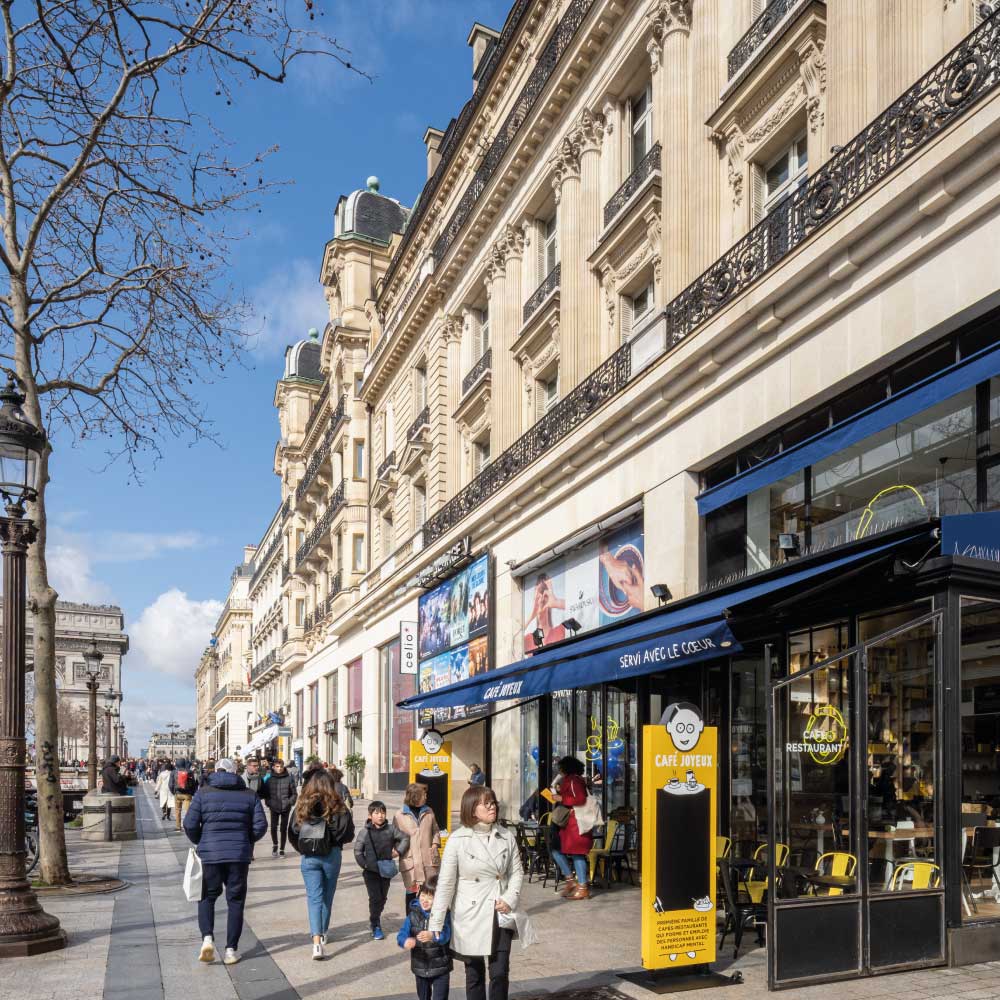 Needless to say, the coffee is fair trade and ethically sourced. You can also buy a pack to go to support their mission further.
The croque madame, in its simplicity, was truly the best we've ever had. Who knew we'd find such a Paris street food gem right in the heart of Champs-Élysées!
Pro tip: also check out Fric Frac for an incredible offering of various takes on croque madame and monsieur, including vegan.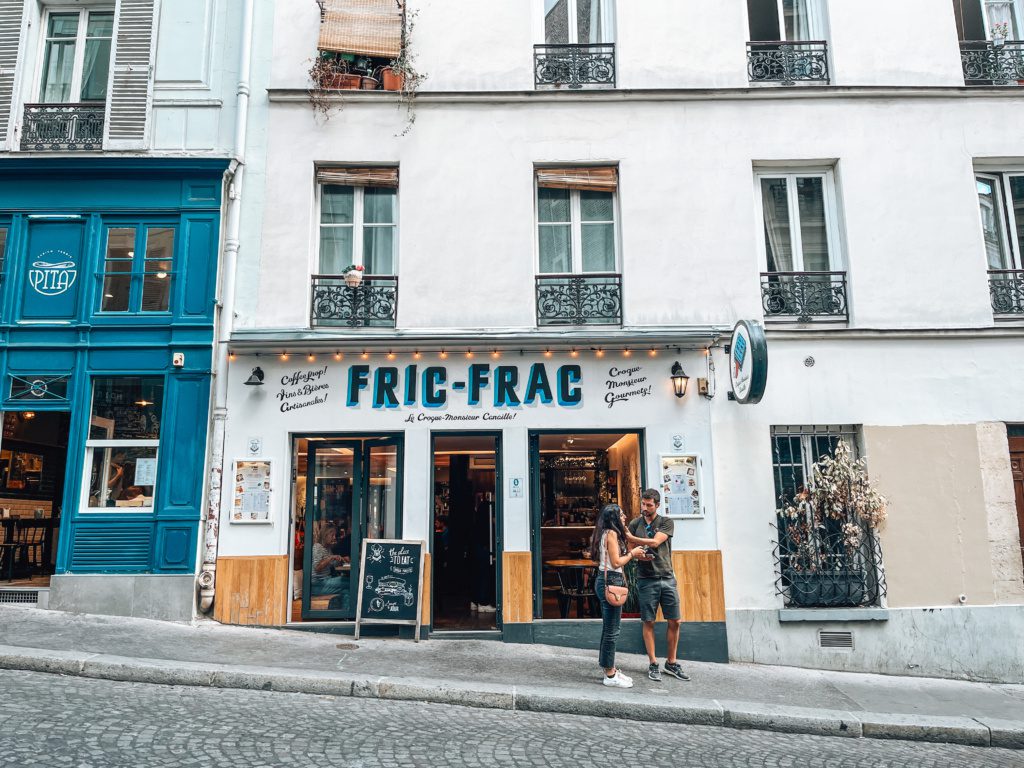 Macarons at Pierre Hermé
Unpopular opinion: we don't have a sweet tooth and we don't really understand the whole obsession with macarons. There. We said it… Lovers of savory foods show your solidarity in the comments please!
That said, the quality of some of the freshly baked Parisian macarons almost had us join the craze. Plus, when in Rome, right?
While the origin of the macarons isn't 100% clear, many believe they arrived in France from Italy in the 1500s together with Catherine de Medici and her pastry chefs. However, it wasn't until the 18th century that macarons gained popularity.
As with so many foods and drink types in Europe, they were popularized by the nuns. During the French Revolution, Carmelites baked and sold simple macarons (no fancy fillings back then). They became known as the macaron sisters.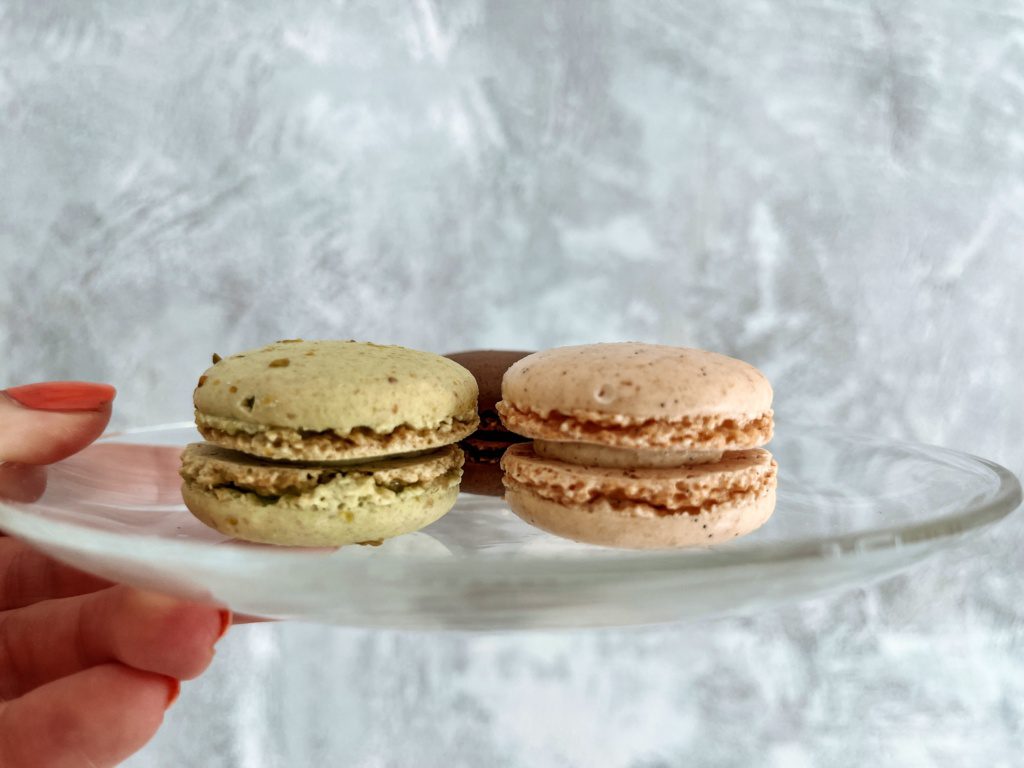 Today's macarons are anything but simple. Walk into a Ladurée, Carrette or a Pierre Hermé store and be enchanted by a rainbow of colors and flavors.
Just listen to these Pierre Hermé flavors: Mogador (milk chocolate and passion fruit), Infiniment Vanille de Madagascar, Salted Butter Caramel, Basil Flower, Honey Bergamot, rose with Lychee and Raspberry, and more. Treat yourself to a box of beauty!
Pro tip: the hardcover book Pierre Hermé Macaron: The Ultimate Recipes from the Master Pâtissier makes an excellent gift for the foodies back home who couldn't make it to Paris with you!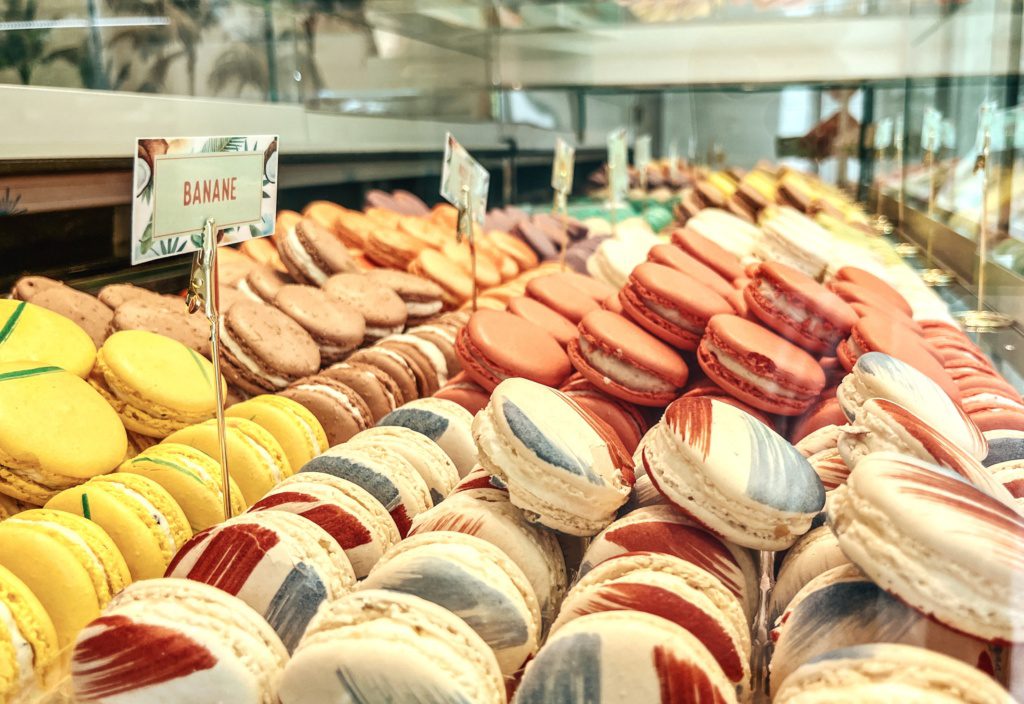 Ice Cream at Glace Bachir
Tell us a better immigrant success story than a Lebanese organic ice cream chain in Paris. We'll wait. It all started in 1936 in Bikfaya, a small village north of Beirut in the Lebanese mountains. There, two brothers, Maurice and Edouard Bachir, marry two sisters.
Together, they set up a family business that has prospered over the years, and has since extended its branches to Paris: an artisanal Lebanese ice cream shop. If you think the story sounds like a fairy tale, just wait till you taste Bachir's ice cream!
Glace Bachir is the first ice cream parlor in Paris to offer 100% organic ice cream made with Lebanese know-how. Not to mention secret family recipe. There is no egg or cream in the ingredients which makes them super lights.
Go check out their famous achta ice cream coated with crushed pistachios! We loved hamoud (lemon), laouz (almonds), festouk (pistachio) and farawla (strawberry).
You'll find them conveniently located a stone's throw from the Center Pompidou and the Halles-Châtelet in the 3rd arrondissement of Paris as well as at the foot of the Sacré-Coeur funicular in the 18th arrondissement.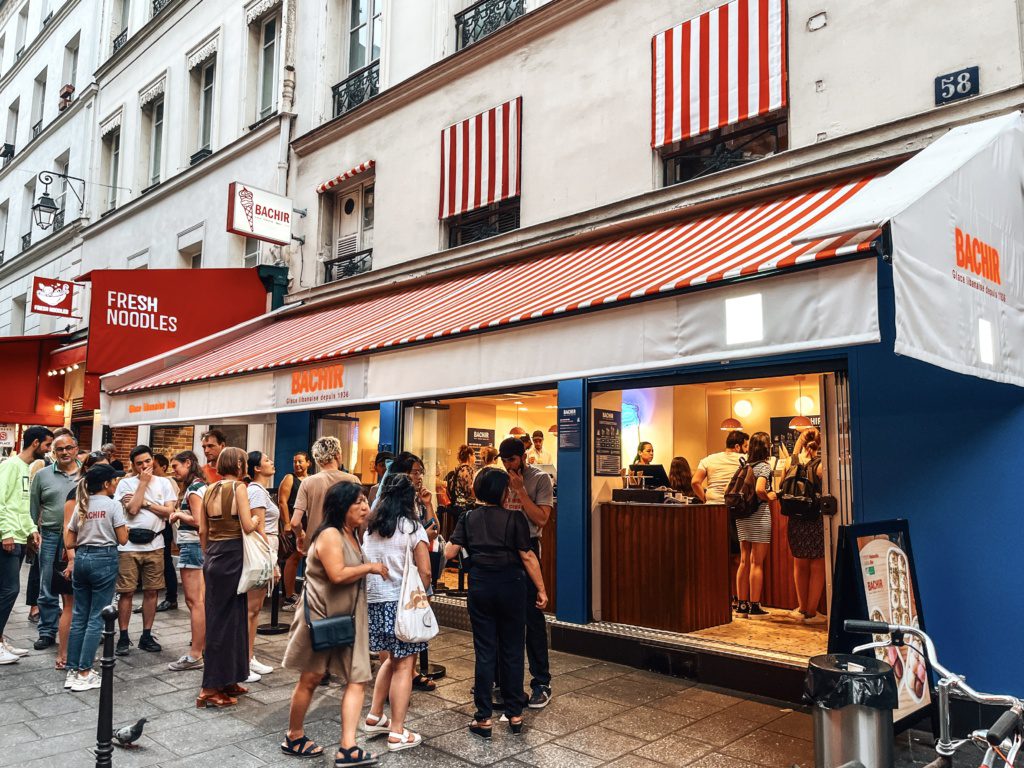 Boulangeries: Baguettes & Croissants
We don't have to explain why this is a whole separate category of street food in itself, do we? The French, and Parisians in particular, treat their boulangeries (i.e. bakeries) like temples.
Not only does everyone have their favorite baker that they support with their business, often their entire life. There are even city wide contests and prizes for the best baguette, sourdough bread, croissants and more.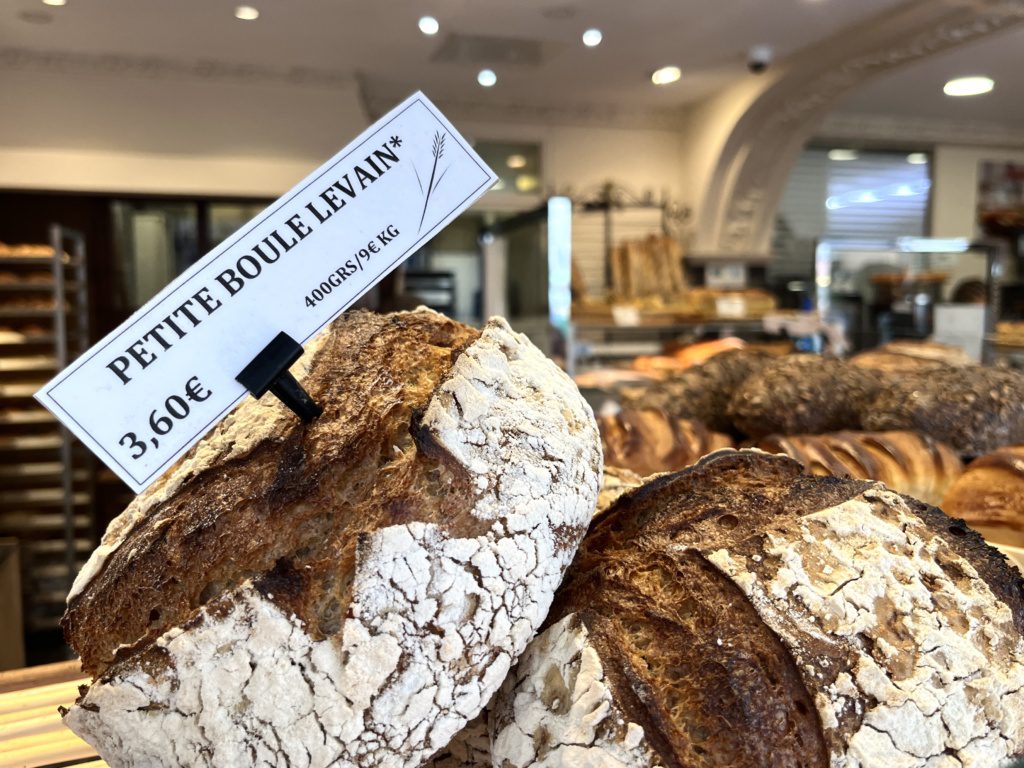 Sadly, we didn't make it to the bakery which won the latest first prize for the Best Baguette in Paris. We run out of time to make the trip to that neighborhood. If you get a chance to go please do let us know! The place is called Les Boulangers de Reuilly and it's located in East Paris in 12th Arr. We made up for it by tasting several other well regarded baguettes and pastries.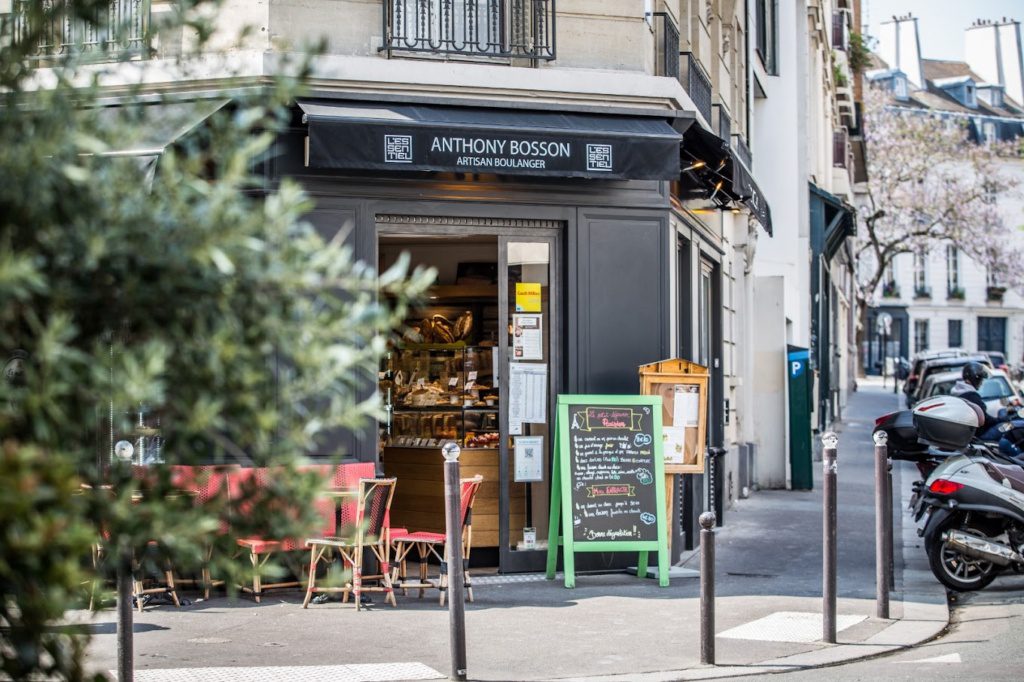 This is by all means not an exhaustive list as Paris is brimming with world class bakeries and produces some of the best pastries and breads on Planet Earth. That said, based on our research we would recommend:
Boulangerie L'Essentiel Anthony Bosson (near the Latin quarter), Boulangerie Raphaëlle (Montmartre), Boulangerie de Quartier "Mamiche" and Sain Boulangerie (both near Canal Saint Martin).
Pro tip: pick up a selection of cheeses and some fresh grapes at the local grocer and have a sunset picnic by the canal or by the Seine! And yes – you're allowed to drink BYOB wine in public.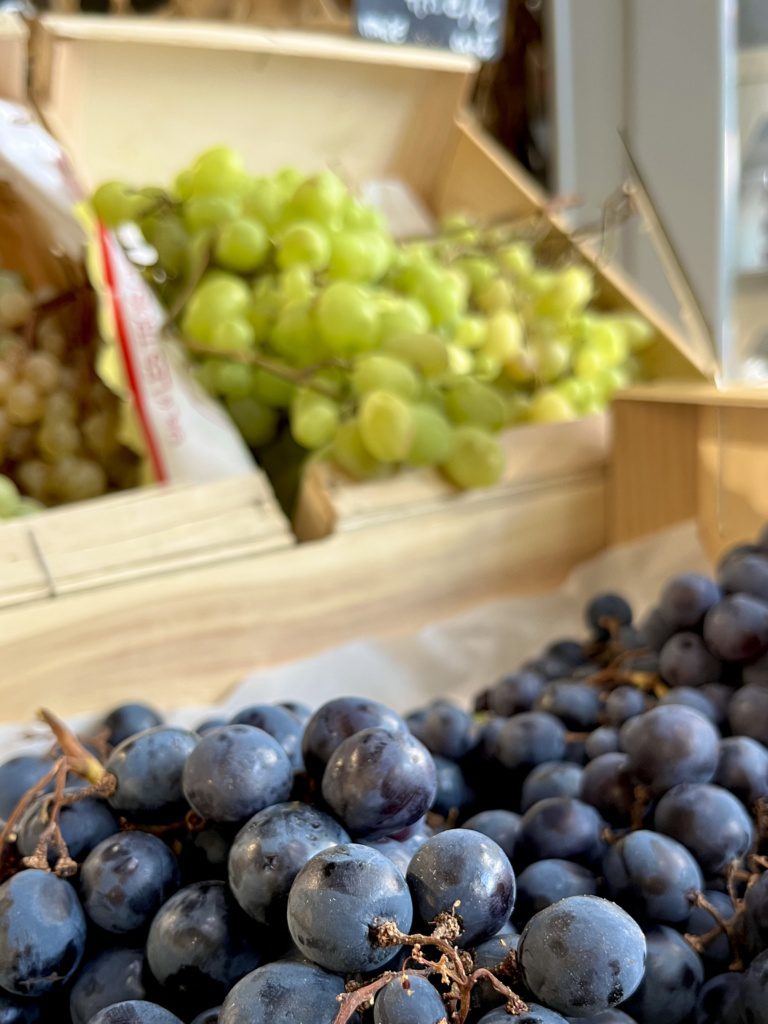 Patisseries: Tarts, Eclairs and More
Now for dessert… Remember how we said we don't have a sweet tooth? Ignore that for a second, because somehow this rule does not apply to baked goods at French patisseries.
All the beautifully decorated tarts, delicate eclairs and masterful cakes are just a different category. Maybe it's because they aren't actually that sweet!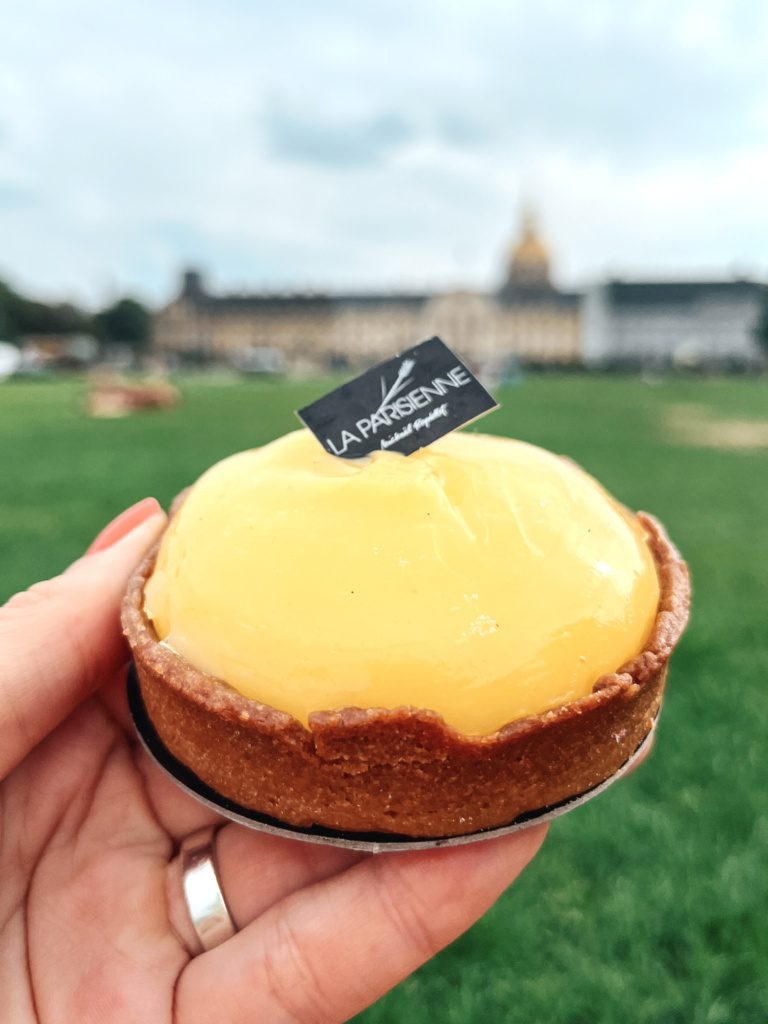 Think citrusy lemon or tangy raspberry tart. Yuzu or black sesame eclairs. Balanced green tea and matcha. All kinds of seasonal fruit. Sweet but not really. Especially compared to baked goods back over in the US. We could eat at Parisian patisseries every darn day!
Some of our favorite places for your Google maps starring pleasure: Pâtisserie Artisanale "Utopie" (Canal Saint Martin), Sadaharu Aoki (near Eiffel Tower) – also for macarons, shout out to our friend Mijune Pak for the recommendation!, La Parisienne, Fou de Pâtisserie Boutique Pigalle (near Pigalle), Maison Aleph (in Marais) and Patisserie Yann Couvreur (near Canal Saint Martin).
Let us know which one was your favorite and what did you get! We love to hear all the details!!!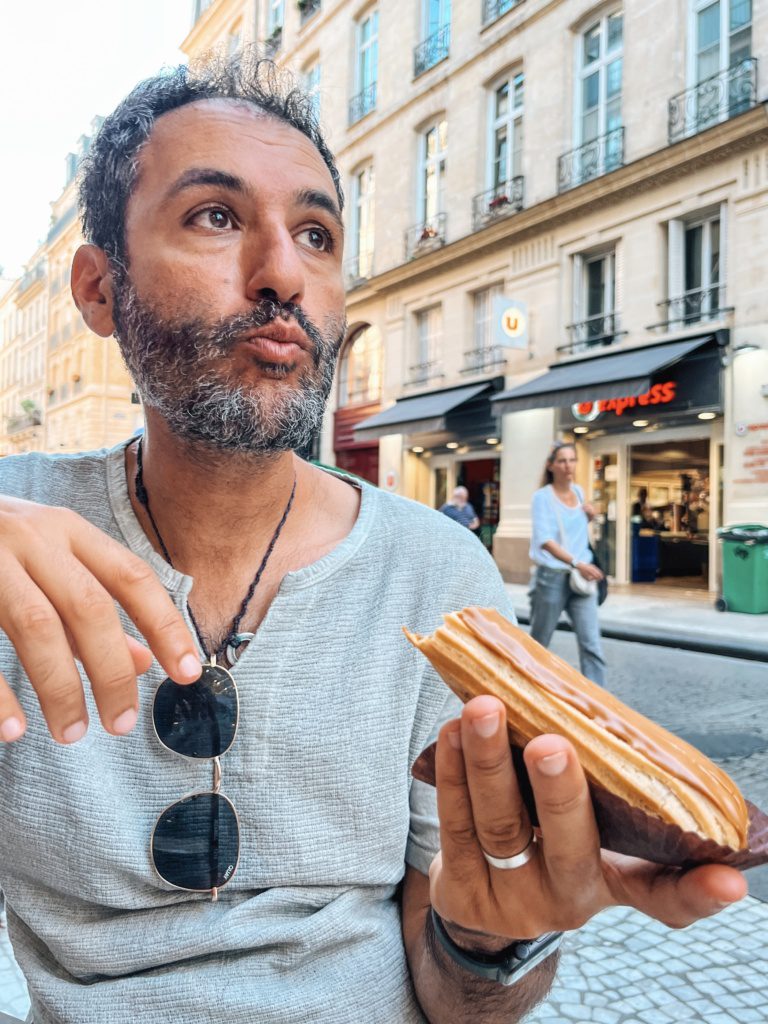 Did you have any exciting Paris street food that's not on the list? Let us know in the comments or tag @eightyflavors on Instagram! Bon appétit friends!
You might also like: TOP 3 VENUES FOR AN UPSCALE VEGAN DINNER IN BERLIN , BEST RESTAURANTS IN MALLORCA, SPAIN: 8 PLACES TO TASTE MALLORCAN CUISINE
---
Disclaimer: This blog includes affiliate links which give us a small cut if you make a purchase. This comes at no cost to you and allows us to continue running this blog! Thanks for your support!