Best Vegan French Food in Paris: Le Potager du Marais
If you're looking for the best vegan French food in Paris where you can try classic traditional food – we've got you covered!
Is vegan French food still… French?
With the recent explosion of veganism in France it's relatively easy to find vegan options in the City of Lights. You will not starve when visiting Paris, that's for sure. What's way more challenging is finding great vegan food in Paris that's actually French. In other words, traditional local recipes, veganized.
(Is it still "traditional" if it's veganised? Would love to hear what you think in the comments!)
Sure, you can have wraps, veggie pasta and falafel on every street corner of Paris. But are you really tasting the true flavors of the destination you're visiting? At Around the World in 80 Flavors we're all about seeking out the most local recipes and ingredients. Even if that means skipping the duck and the foie gras.
Le Potager du Marais
After a lot of research and eating our way around the French capital (on an admittedly short trip), we finally came across Le Potager du Marais. This charming and unassuming small venue is hidden away in Le Marais district, as the name suggests, specifically in the Village de Saint-Paul.
We were delighted to find out that they specialize in vegan interpretations of classic French dishes. Exactly what we were looking for as it was Tony's first visit to France. We were after classics, and boy did we find them there! French onion soup, savory crepes, paté (made with mushrooms), bœuf bourguignon (made with seitan) – we found it all there.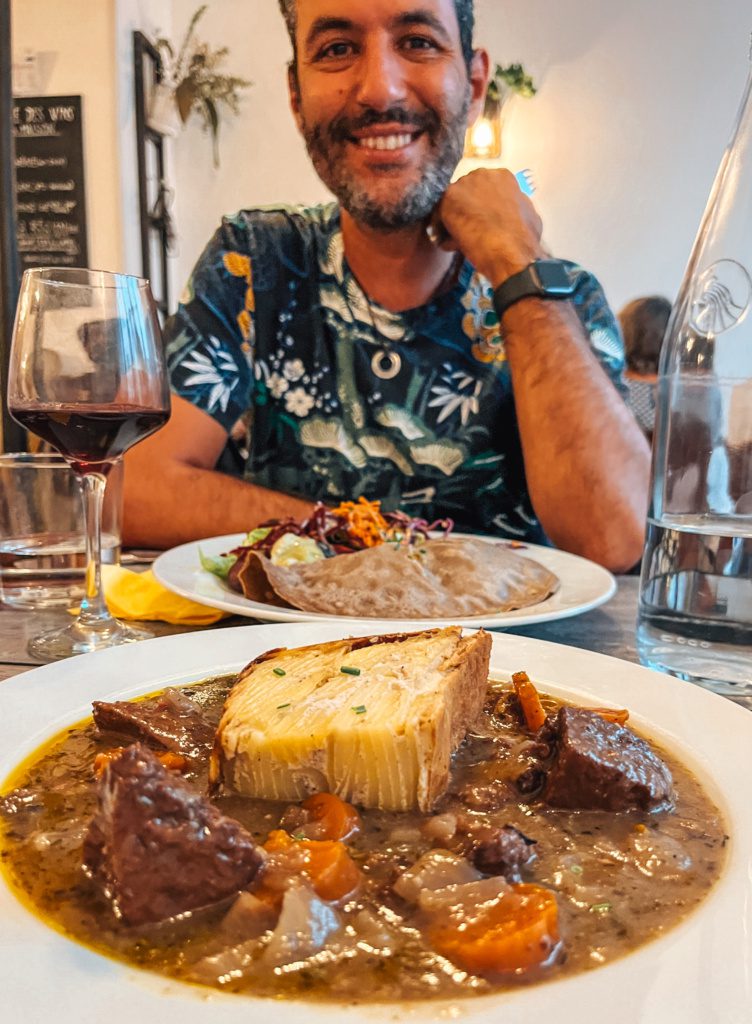 It was really wonderful to be able to enjoy vegan versions of traditional French recipes. And be able to choose from a full menu for once. The side dish of dauphinois potatoes was especially delicious, as were the classic desserts. (Think crème brulée and tarte tatin). They also have a rotating selection of local wines by the glass to pair with your meal.
Best vegan French food in Paris?
Le Potager du Marais is a perfect place to wind down after a day of exploring the Beaubourg and Marais districts with a lovely home made dinner. It's within short walking distance of Centre Pompidou and countless art galleries, antique shops, bookstores and boutiques.
The space is cozy, rustic and unfussy. If you're coming for dinner we highly recommend making a reservation – there are only 26 seats. Staff speak fluent English and were most helpful and charming. The whole experience was just delightful.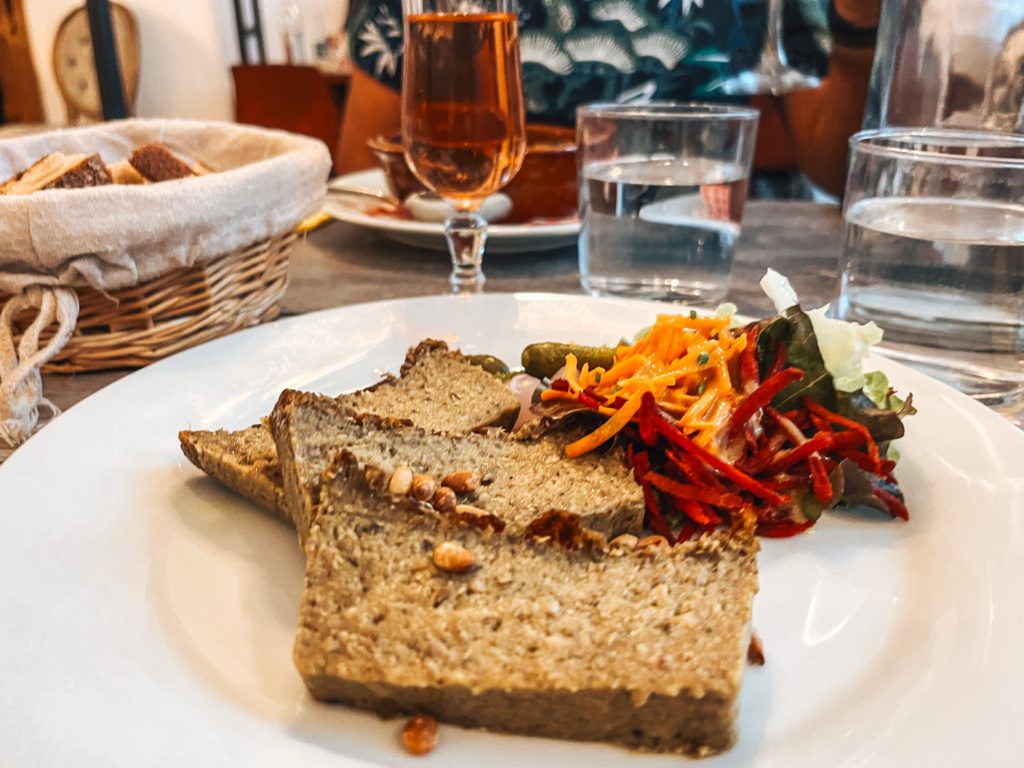 Pro tip — in French, vegetarian is végétarien; vegan is végétalien. A subtle difference, but might be an important one for you as some of the dishes at Le Potager du Marais are vegetarian. Be sure to double check with the friendly staff.
Looking for the best vegan restaurant in Parish to taste traditional French food? Be sure to put Le Potager du Marais on top of your list! Bon apetit!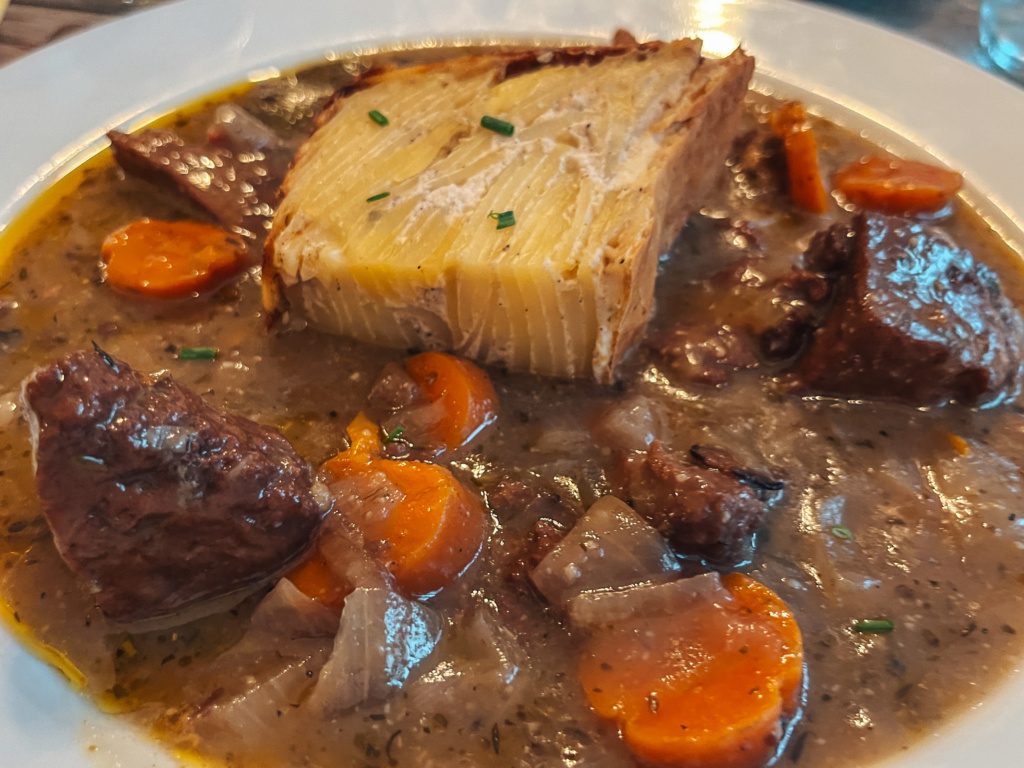 ---
What do you think is the best vegan French food in Paris? Have you had a great vegan French meal in the City of Lights? Comment below or send us a DM on @eightyflavors!
You might also like: TOP 3 VENUES FOR AN UPSCALE VEGAN DINNER IN BERLIN . VEGAN EGYPTIAN FOOD: 6 ESSENTIAL DISHES TO TRY ON YOUR TRIP . VEGAN EATS IN NEW YORK CITY: BREAKFAST, LUNCH AND DINNER .