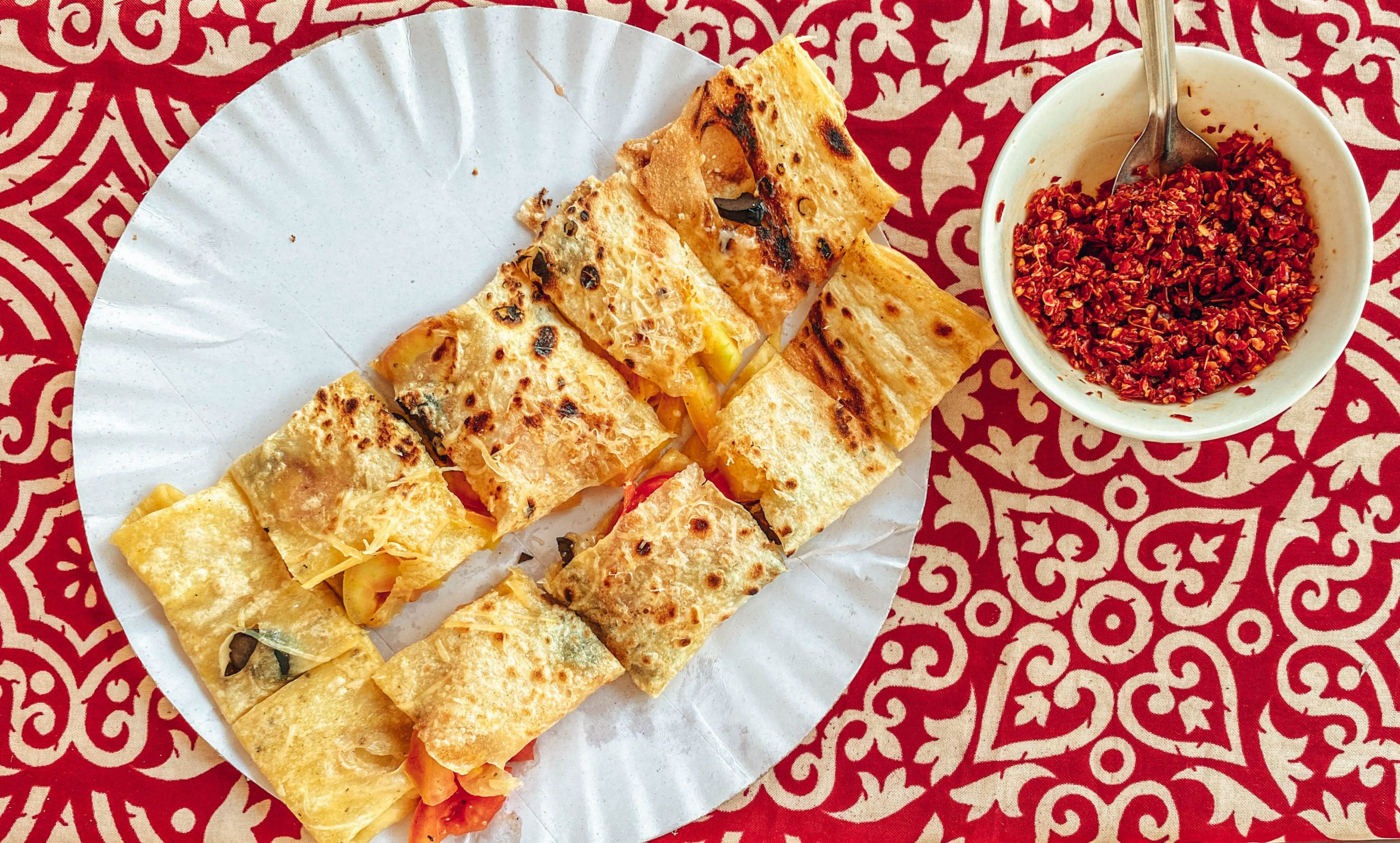 Where to Eat in Unawatuna, Sri Lanka
Sri Lanka has some of the most beautiful beaches in that part of Asia. Unfortunately few of them are undiscovered. Especially in the south-western part of the country, which forms the so called 'tourist triangle' and includes the popular beach villages of Unawatuna, Weligama and Mirissa.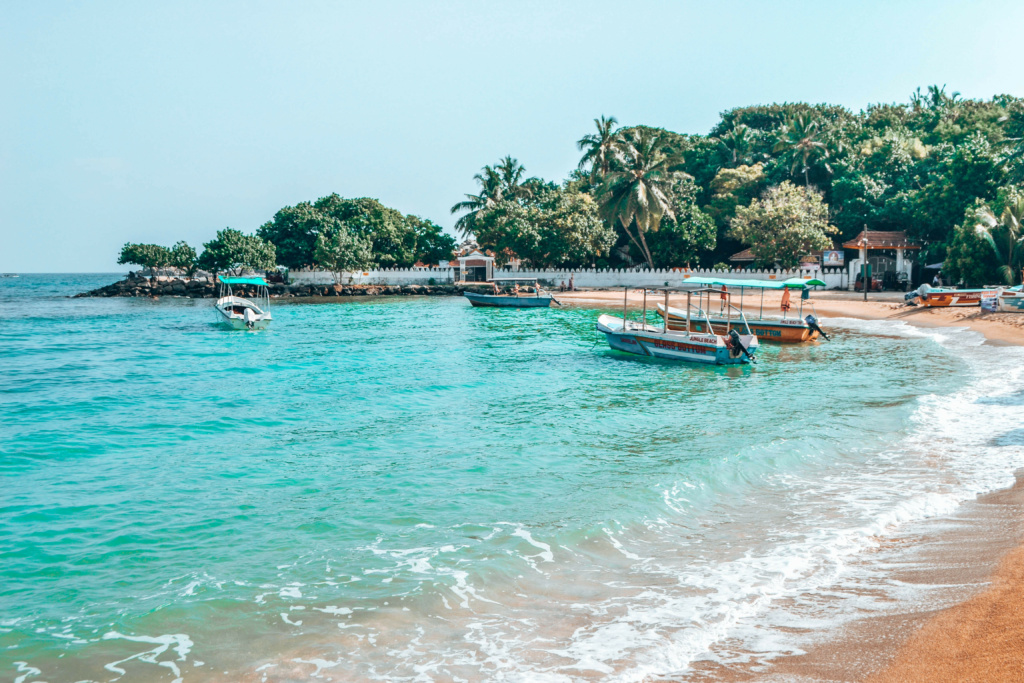 That of course is reflected in the food. Beach side venues in Ceylon, not unlike in other parts of the world, capitalize on their location and cater largely to foreign visitors rather than local citizens.
Unsurprisingly, cafes and restaurants price their offerings accordingly and feature international crowd-pleasing dishes instead of, or at best alongside, traditional local fare. Yes, there sure is rice and curry near the beach in Unawatuna, but on the same menu you'll more often than not also find penne carbonara with bacon of dubious origin.
Don't worry though, you can still find delicious eats in Unawatuna if you look hard enough. Here are the places we found the most worthwhile:
Mahesh Roti Shop
Probably the most appropriately priced roti shop in Unwatauna that offers the best price-quality-experience ratio is this two-men operation at a roadside shack. The place is small, clean, cozy, and the menu short enough to believe they focus on what they know best. Think of a roti shop as a Sri Lankan equivalent of a French creperie. Choose between sweet, savory and kottu roti.
A classic cheese and tomato roti will set you back R300. Vegetable kottu roti is R350 and like most kottu comes with a bit of a theater while it's being cooked. (To make it vegan ask for no egg and no cheese.) The sweet rotis resemble crepes the most with toppings such as lemon and sugar, pineapple and chocolate or coconut honey.
Mettha's Home Cooked Meals
A humble place for vegetarian rice and curry. Home cooked to order. Very reasonably priced despite being close to the beach. The widest selection of vegetable curries to choose from in that part of Sri Lanka – no fewer than 17 types. (Your set rice and curry meal comes with 4 veggie curries of your choice). Most of the 17 curries are vegan, without even calling it that. How about cashew, banana flower, mango, papaya, pumpkin or green brinjal curry?
Finish your lunch with traditional Sri Lankan house-made curd and treacle dessert. If you're looking for a small mom'n'pop restaurant where you directly contribute to the family's livelihood, Mettha's is your place.
Skinny Tom's
Three words for you my friends: eggs benedict hoppers! Talk about a Sri Lankan/Western fusion! There are also shakshuka hoppers, chia pudding with Sri Lankan curd and french toast loaded with local bananas, passion fruit and coconut cream. Skinny Tom's also has the best coffee in town and is probably the most instagrammable. Yes, it's pricey but for once in Unawatuna it's actually justified. Lot's of love goes into each dish.
As for the eggs benedict hoppers, you can have them in a pescatarian verison with smoked salmon or my personal choice – vegetarian with grilled halloumi. Wash it all down with fresh pineapple ginger juice or iced coconut: coconut water blended with coconut cream. Yum!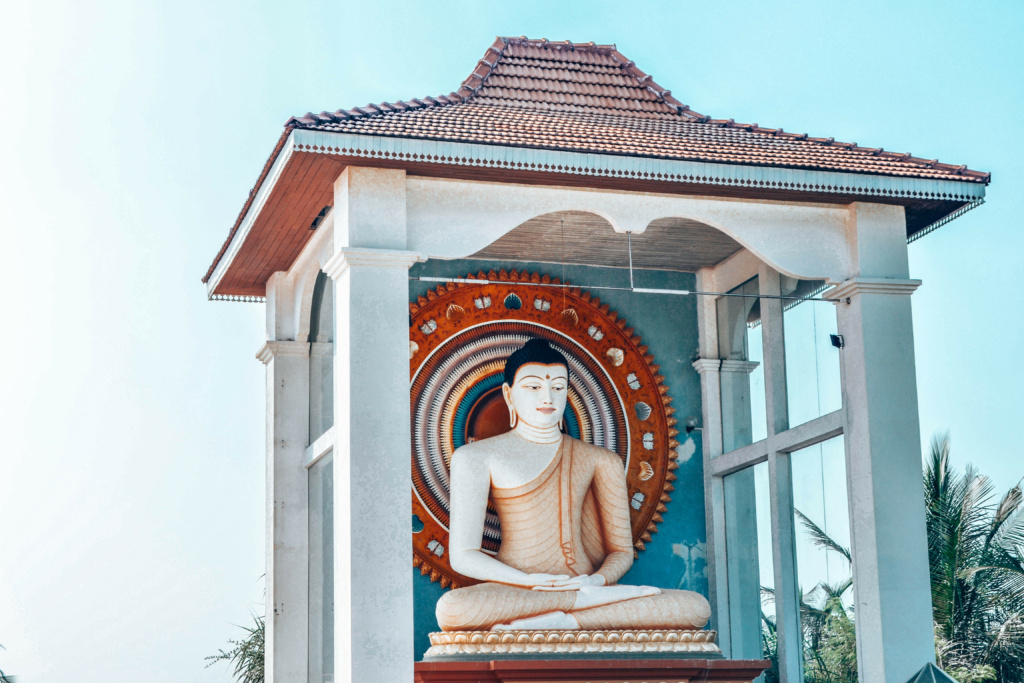 Note: If you're reading this and you're based in the Unawatuna area, Skinny Tom's is open for business and is offering take out and delivery at the moment. It's a great time to try out their foods while supporting a small business during quarantine.
Jina's Vegetarian And Vegan Restaurant
Away from the main beach drag sits this family run unpretentious veggie cafe. I wouldn't usually recommend a place with an all-over-the-place menu like theirs (think Greek mussaka, pizza, lasagna and Mexican burritos), but during lunch time they offer a Sri Lankan rice and curry set meal. Not only is it freshly made (just for lunch that day), but it's also one of the most reasonably priced rice and curries in town. Also a selection of thalis and other Indian set meals available all day, plus vegan chocolate cake made with beets.
As long as you stick to the Indian and Sri Lankan options for entrees rater than the international mish-mash you shouldn't be disappointed. Don't go in a hurry, it's slow food. There is a book exchange.
Love Gelato
Right next door to Skinny Tom's is this small artisanal gelato place. Flavors change regularly according to what's in season which is testament to high quality. We were lucky enough to taste their mango gelato but just a few weeks later an instagram follower reported they didn't find mango at Love because the Sri Lankan mango season had ended. More gelato shops like that please!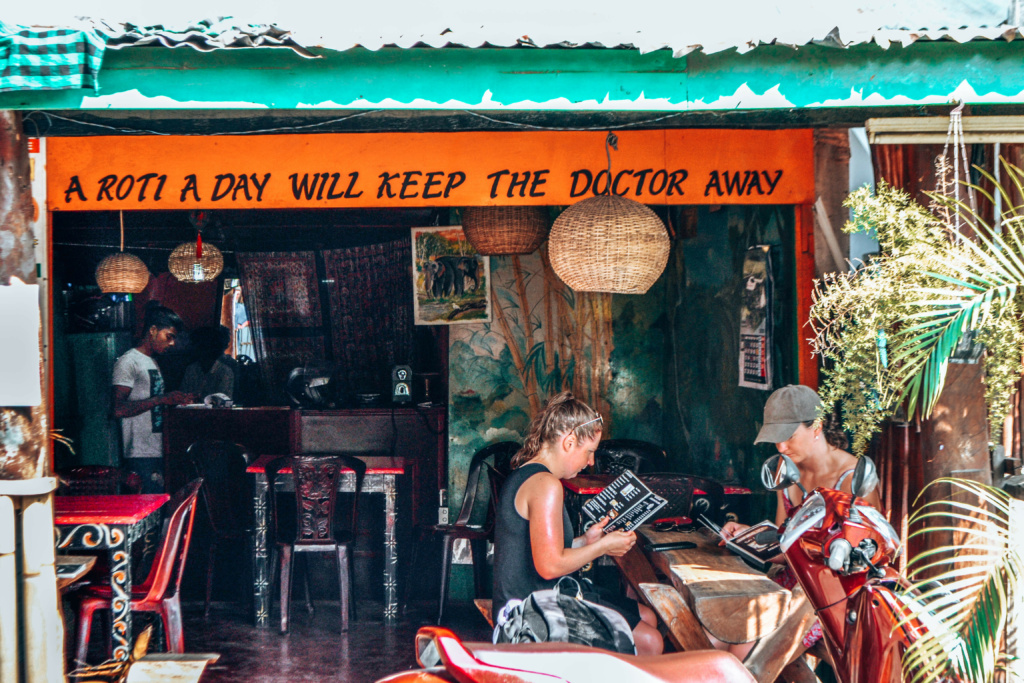 Wijaya Beach Bar
For an ice cold Lion beer on the beach hop into a tuk tuk and head 10 mins out of town to this popular spot. Sri Lanka's national beer while watching one of the island's unforgettable sunsets is a must and a great way to end the day. One place where you'll find both a bar and great sunset viewing include the tiny but charming Wijaya Beach near Unawatuna.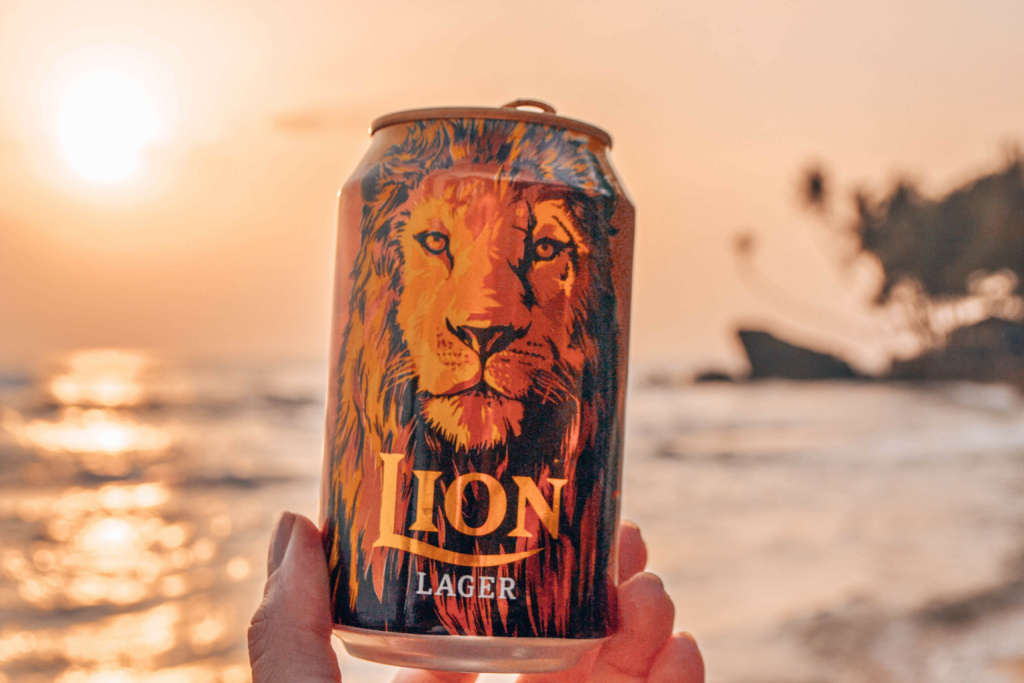 The beach itself is so small it tends to get very crowded but the Wijaya bar has plenty of seating, both on the sand proper and on their elevated terrace. The food is unfortunately mediocre and touristy to say the least so just stick to the beer or delicious fresh coconuts that grow literally above your head.
Turtles have been known to swim in the Wijaya beach waters which explains the beach's popularity. If they make an appearance while you're there give them plenty of space and approach responsibly.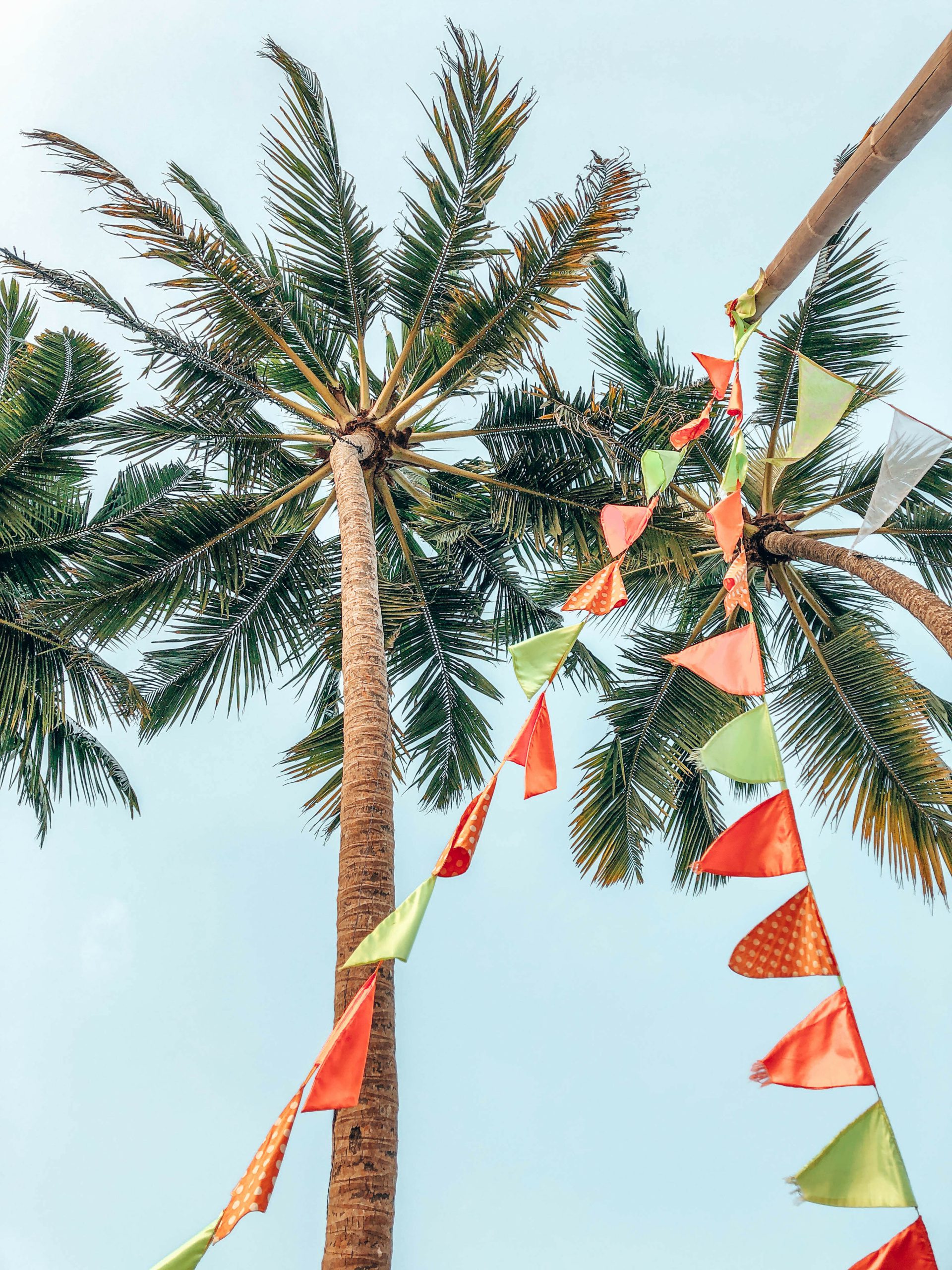 Did you have a delicious meal in Unawatuna? Let us know where! Comment below or share this post and comment on social!