Eco Las Vegas – Fact or Fantasy? A Guide to Going Green in Sin City
Sure, with its giant resorts, glitzy casinos, over the top nightlife, all-things-excessive and 40 millions annual visitors, sustainable tourism in Vegas sounds like an oxymoron. But from hotels implementing cutting edge energy-saving technologies and environmental policies, to world class vegan and locally sourced food options, there is a green side to Las Vegas that few know about.
Turns out it is possible to leave behind your daily routine without also ditching your environmental values for the weekend. The key to a responsible visit to the City That Never Sleeps, and making the most of it without doing harm to the planet, is balancing the temptations, knowing your options and making the right choices.
If Vegas is all about cash then this is voting with your dollars at its best.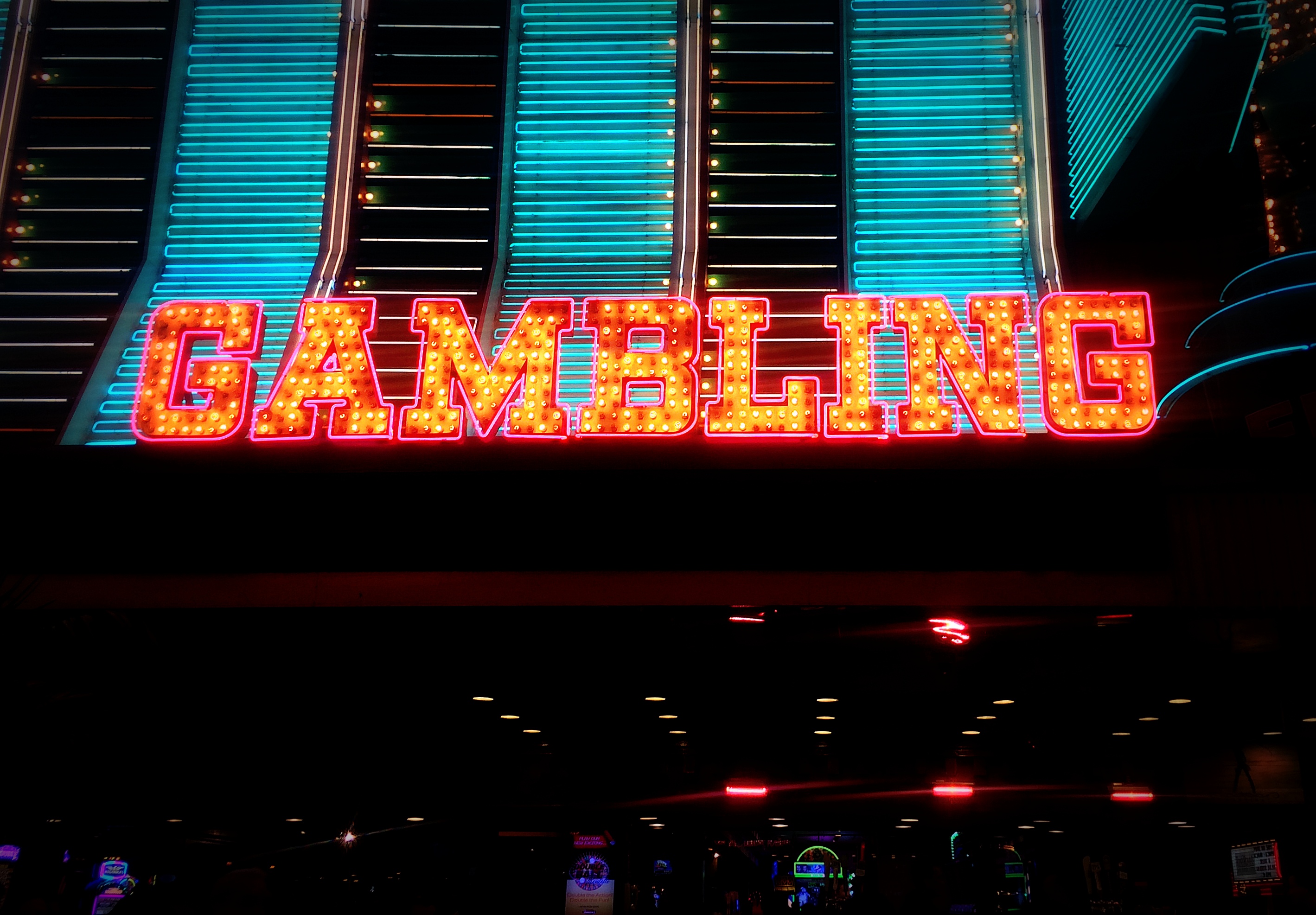 Find a place that fits both your budget and lifestyle at one of the energy-efficient LEED (Leadership in Energy and Environmental Design) certified properties, or enjoy a delicious meal at a restaurant that serves up organic, locally grown foods.
Minimize your carbon footprint by booking lodging that focuses on recycling, upcycling and composting, preserves water, limits food waste and treats their employees fairly. Explore the land of excess by day, then retire to your room and rest assured the hotel you've chosen is a truly responsible one.
Sleep
On our recent trip to Vegas, we were surprised to find out that the CityCenter by MGM Mirage hotel group, co-designed by Daniel Libeskind, is one of the world's largest environmentally sustainable developments.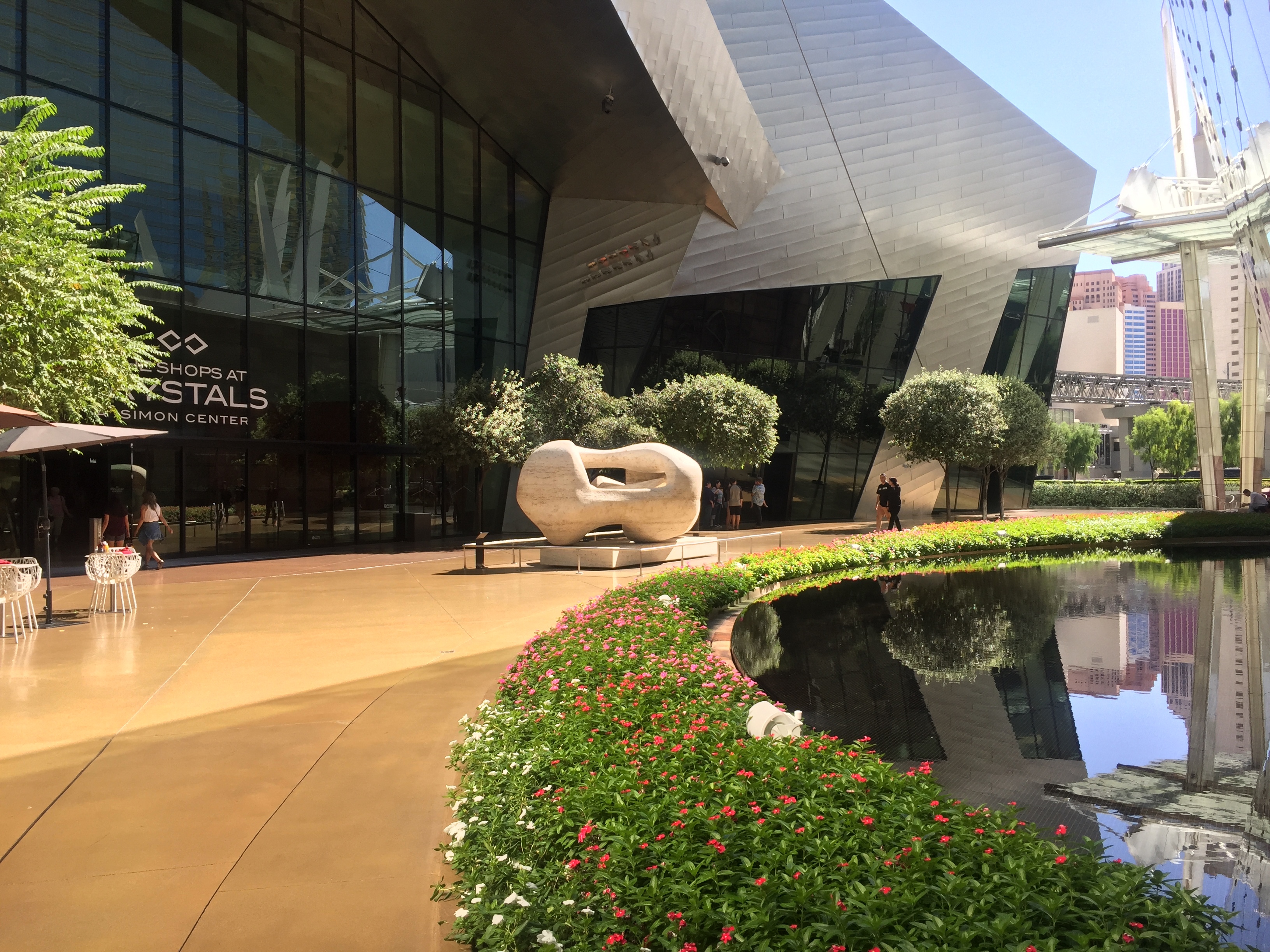 This massive 76-acre LEED-certified complex (of which there are four levels: Certified, Silver, Gold and Platinum) consists of five properties including Aria, Mandarin Oriental, Las Vegas and Vdara Hotels, as well as the Shops at Crystals shopping center, all of which have been awarded LEED Gold by the U.S. Green Building Council. In fact, the casino-free Mandarin Oriental is the first of the chain to be LEED-certified at all.
Most impressively, the boutique Vdara Hotel & Spa, which is also a casino-free property, even has a non smoking policy throughout! (If – like me – you're sensitive to cigarette smoke, even a short stay in Vegas can truly test your limits…)
Adjacent to Vdara is the equally environmentally friendly partner property – Aria Hotel, which is the largest single building in the world to receive a LEED Gold certification to date. The impressive hotel and casino has been designed to achieve more than 30 percent improvement in energy efficiency and saves an estimated 117 million liters (31 mln gallons) of water each year.
The hotel has used LEED certified building materials, but what's really outstanding is that even the slot machines are sustainable, since their bases double as air conditioning and ventilation units, cooling the casino from the ground up.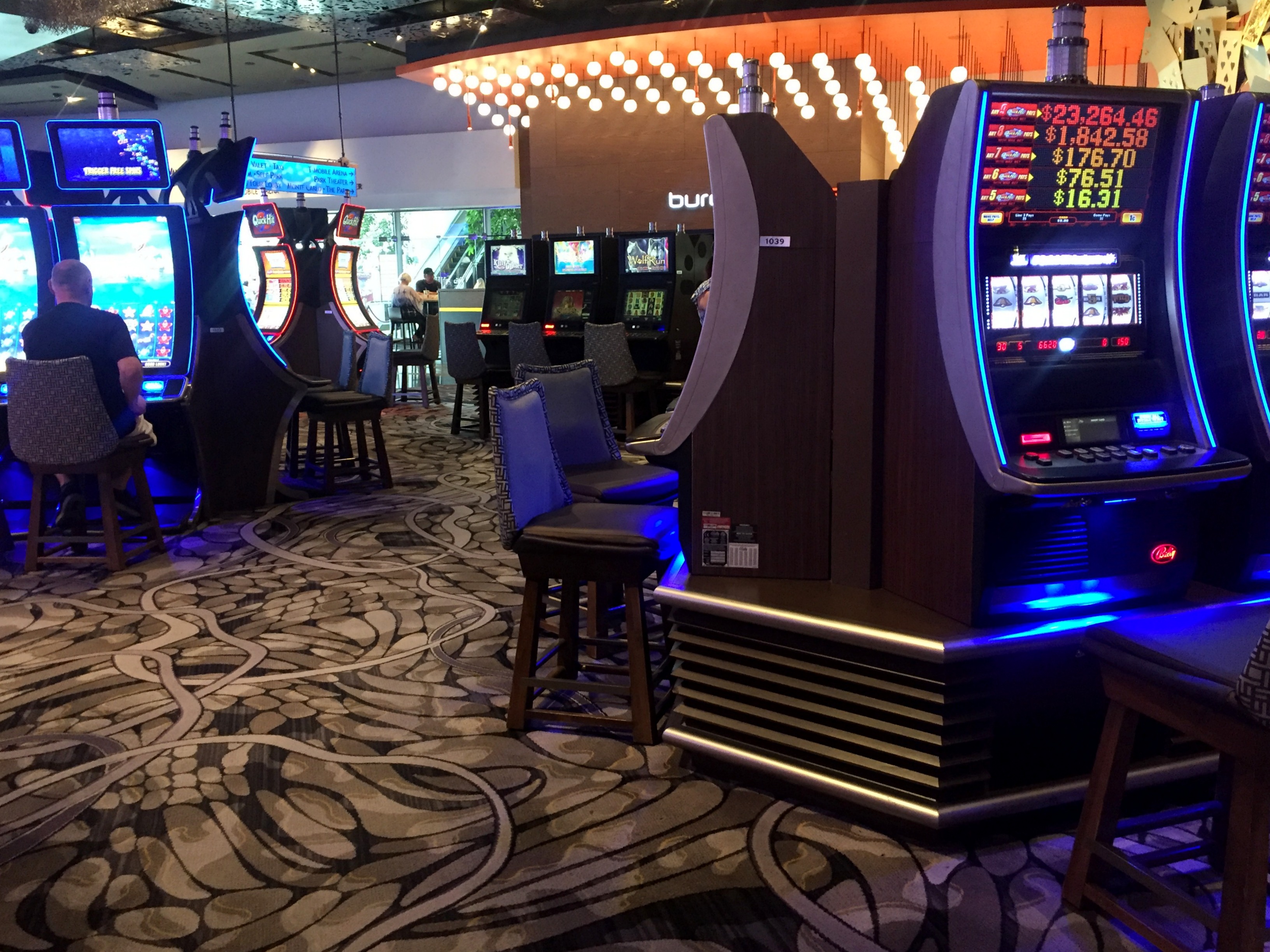 While the newer properties strive for the highest level of eco-friendly practices from the very foundations of each project, the older hotels are also making necessary updates. For instance, slightly up the street, the MGM Grand (home to Emeril Lagasse's amazing creole food and foundation), offers guests upgraded wellness rooms.
In fact, MGM Grand's entire 14th floor is known as the Stay Well collection, promoting non smoking, allergy-friendly, rejuvenating environment. Think no fewer than 171 rooms with 16 different wellness features, such as aromatherapy, anti-jet lag Long Wave Night Lighting, all-natural mattresses made without harmful toxins, in-room air and water purification systems, and my personal favorite – a Vitamin C infused shower head.
Even the slot machines are sustainable, since their bases double as air conditioning units.
Meanwhile, Caesars Entertainment Group, one of the largest hotel corporation in the city, has been on the leading edge of progressive policies around human rights. In the midst of the debate on the hotel industry's involvement in the issue of modern day slavery and forced labor, Caesars has undertaken a number of initiatives focused on enhancing the company's commitment to creating an environment in which all employees are treated fairly and are part of a company that values them and their contribution.
Indeed, just last week they scored 100 percent on the Human Rights Campaign 2018 Corporate Equality Index. The group has also just announced a commitment to achieve gender equality among its leadership ranks by 2025.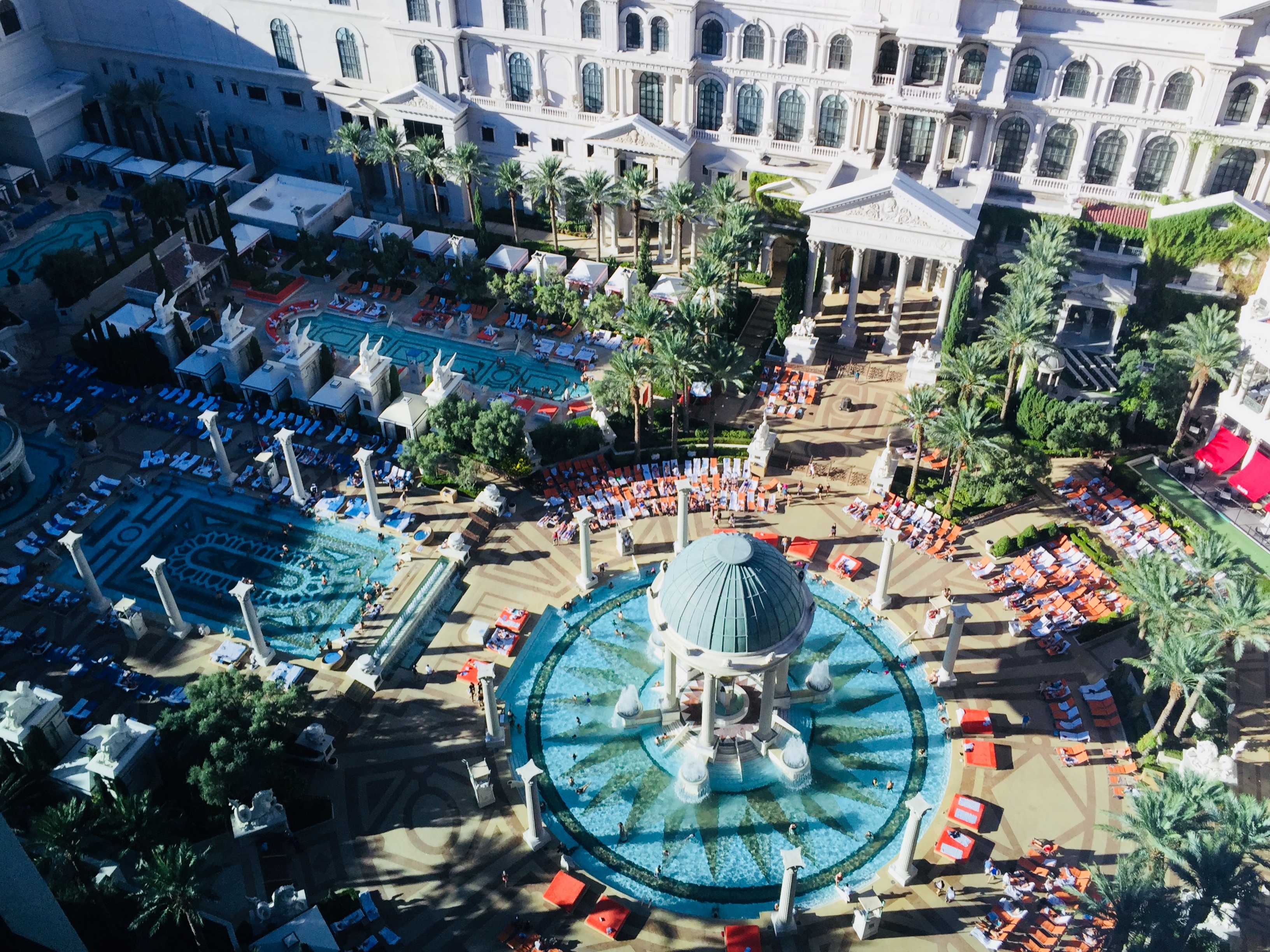 Las Vegas hotels are also top collaborators with the Florida-based Clean the World foundation. Clean the World has a two-part mission: collect and recycle soap and hygiene products discarded every day by the hospitality industry, and through the distribution of these products to impoverished people, prevent millions of hygiene-related deaths each year.
Depending on the size of the hotel, we're talking about hundreds … most likely thousands of soap bars daily. For example, Harrah's and Paris hotels have both donated more than 30,000 lbs (close to 14,000 kg) of soap bars. Clean the World will give those discarded soap bars a second life – genius.
Eat
Is healthy eating in Vegas a total fantasy? The city is home to indulgent all-you-can-eat buffets, bottomless mimosas, countless steakhouses, and the infamous Heart Attack Grill with its motto "Taste Worth Dying For!" and the Guinness World Record for the world's unhealthiest restaurant…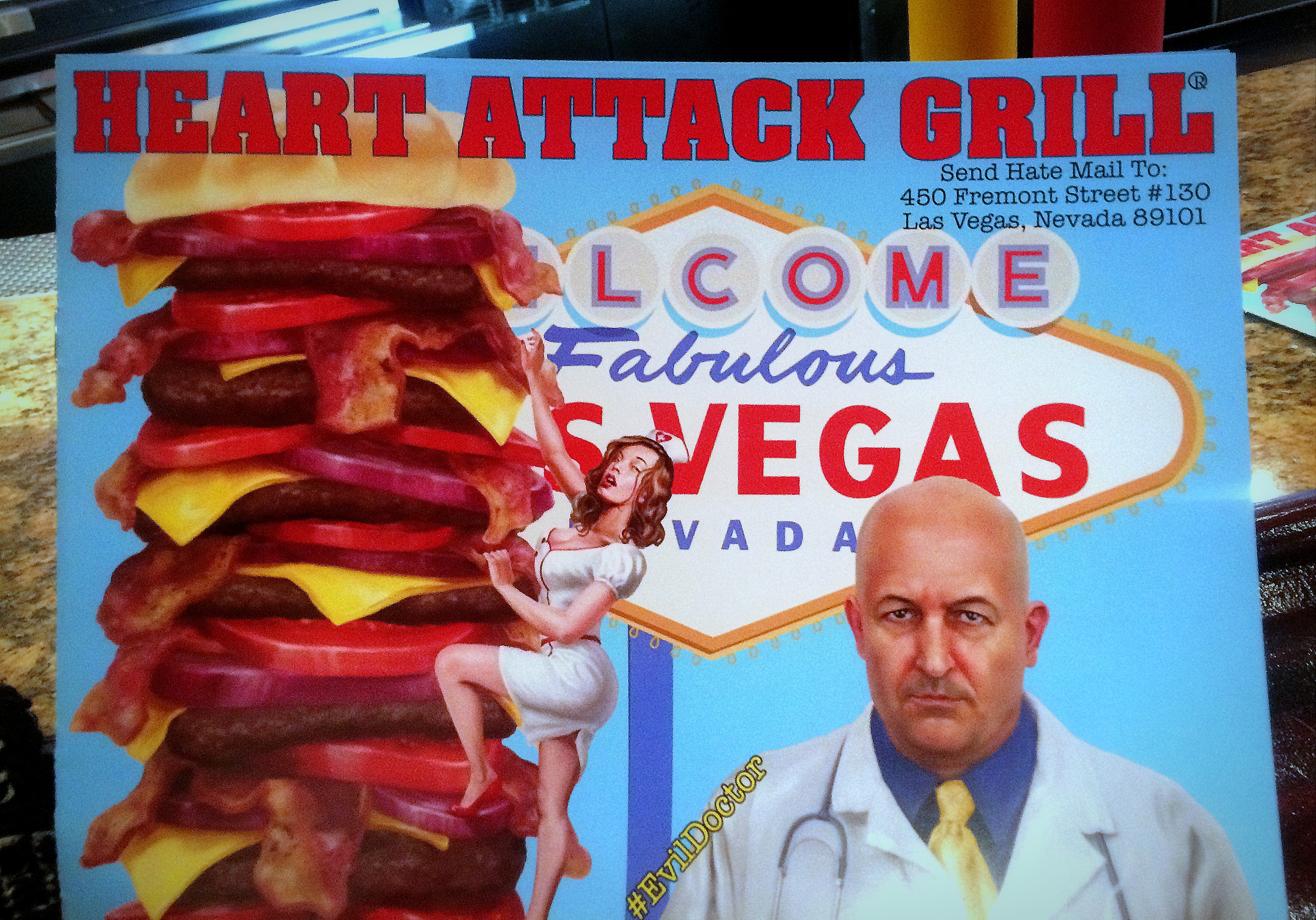 If your arteries are clogging just thinking about it, fear not. Vegas has been slowly undergoing a plant based and local-produce-focused revolution. World-renowned restaurants are starting to realize what a a huge draw healthier options are for locals and tourists alike, and making necessary adjustments to their menus.
Even some long-standing traditional diners like Komol (authentic Thai), Panevino or Paymon's Mediterranean now offer plenty of greener options.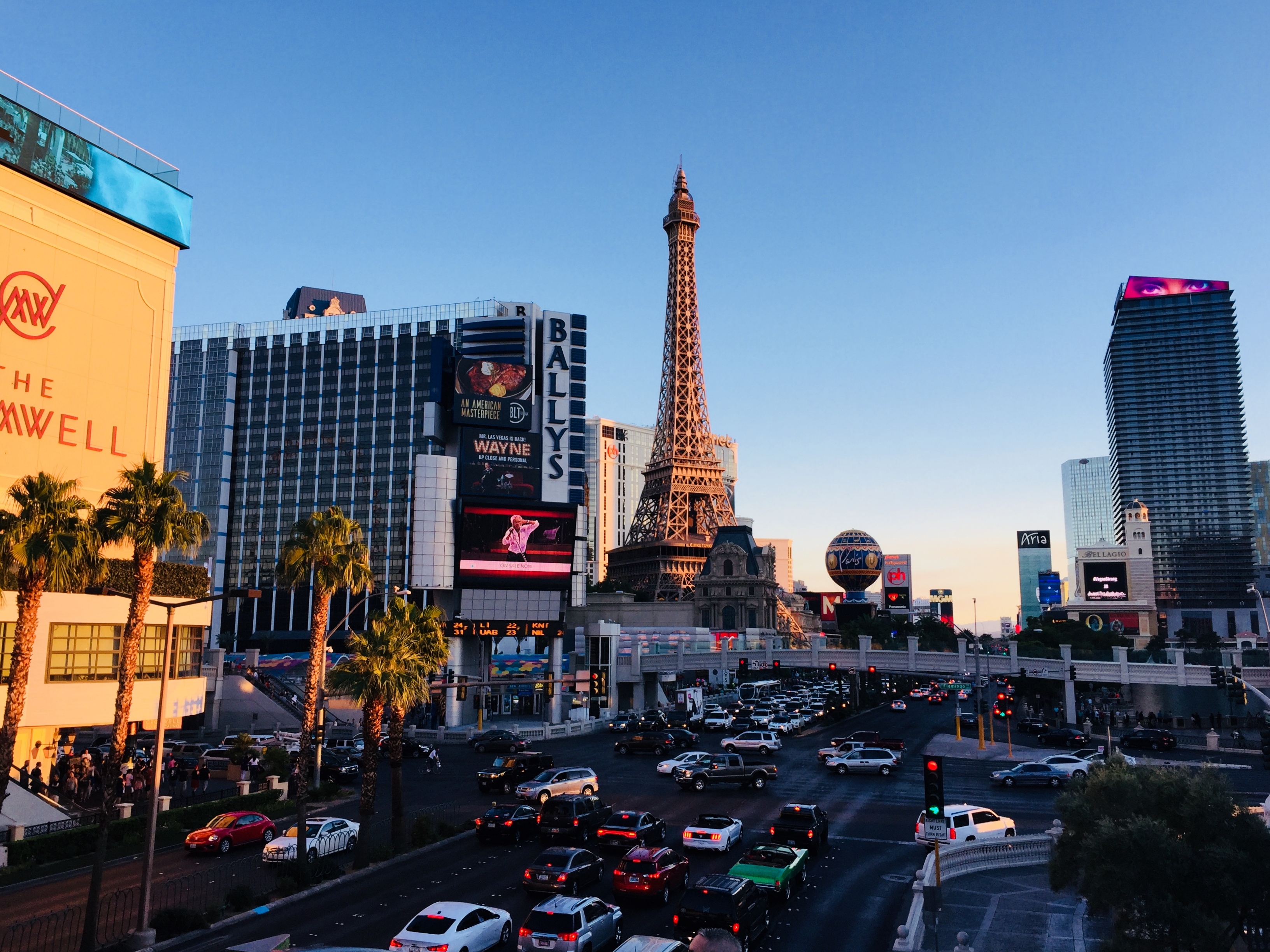 Committed to environmental stewardship with its company-wide Code Green program, Caesars hotel group continues to encourage team members to get involved in global conservation. Chef Katherene Brookshire embraced the challenge by planting an organic garden in the courtyard of the Flamingo hotel, and uses it to teach fellow chefs and employees about food sustainability.
Vegas has been slowly undergoing a plant based and local-produce-focused revolution.
Giada at the Cromwell next door serves cocktails crafted from ingredients sourced from local farmers. Giada will also accommodate all your dietary requirements, from meat-free to allergies, just let your server know and they'll guide you through the menu options or whip you up something special, house-made gluten-free pasta included! Top tip: ask for a window table for the best view of the Bellagio fountains in the city.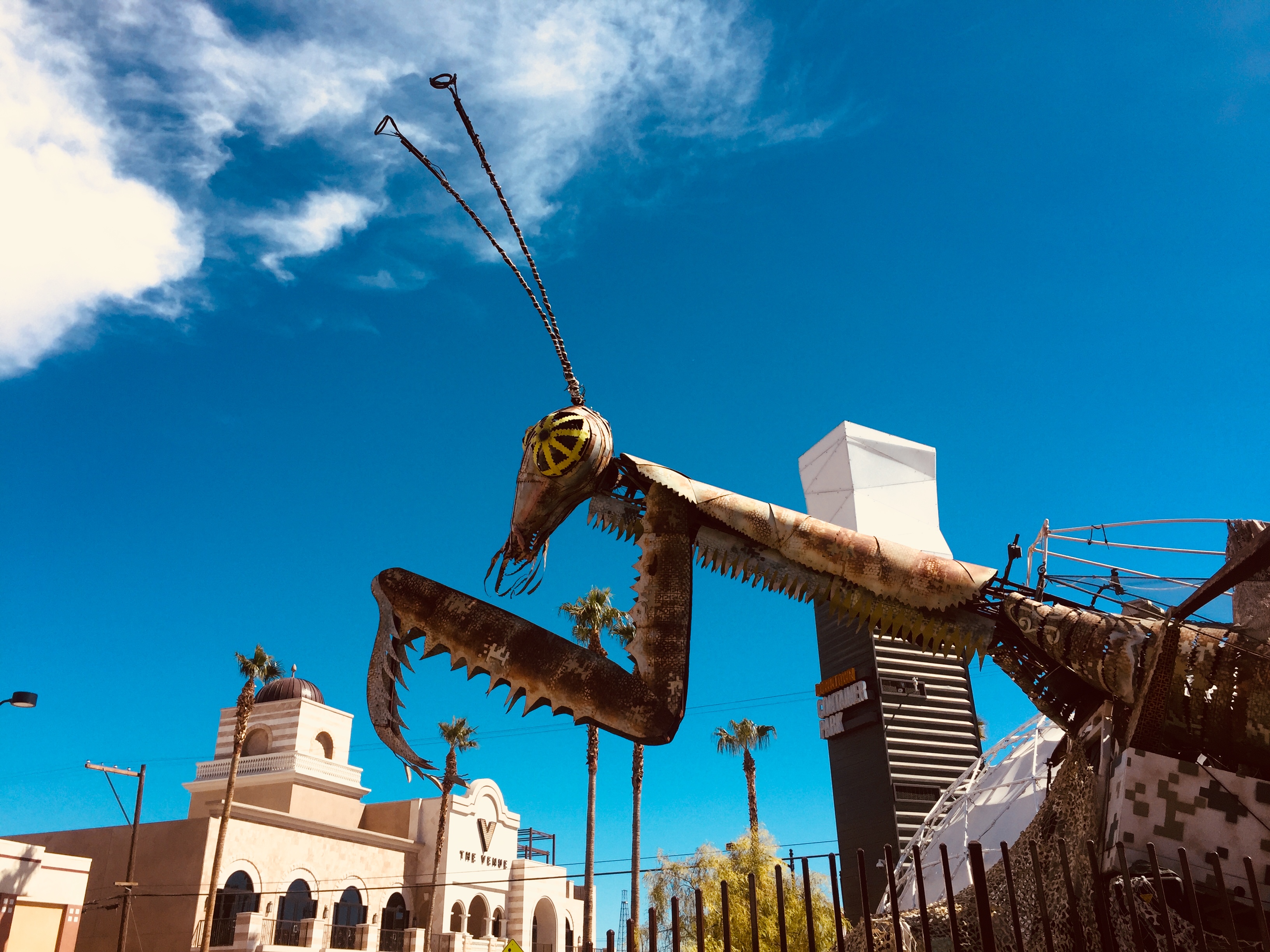 For vegan travelers, whether you're after a bargain or a luxury dining experience, there is an abundance of vegan-friendly restaurants both on and off the Strip. The hip Downtown area in particular is the new hot spot for more budget vegan eats. Check out places such as Vegenation (which also hosts pop-up community yoga and art shows) and the Donut Bar with their awesome creme brulee vegan donuts.
At the very cool Container Park, worth checking out in itself, is Cheffini's with their meatless hot dog options, JoJo's vegan cactus jerky, and Simply Pure by the amazing chef and nutritionist Stacey Dougan, specialist in gourmet vegan and raw foods. Worth going off the Strip for are also Violette's vegan cafe (do not miss their 'egg' & 'cheese' breakfast muffin!) and Panchos Vegan Tacos menu, totally proving you can go meatless with Mexican food without losing any of the traditional flavors.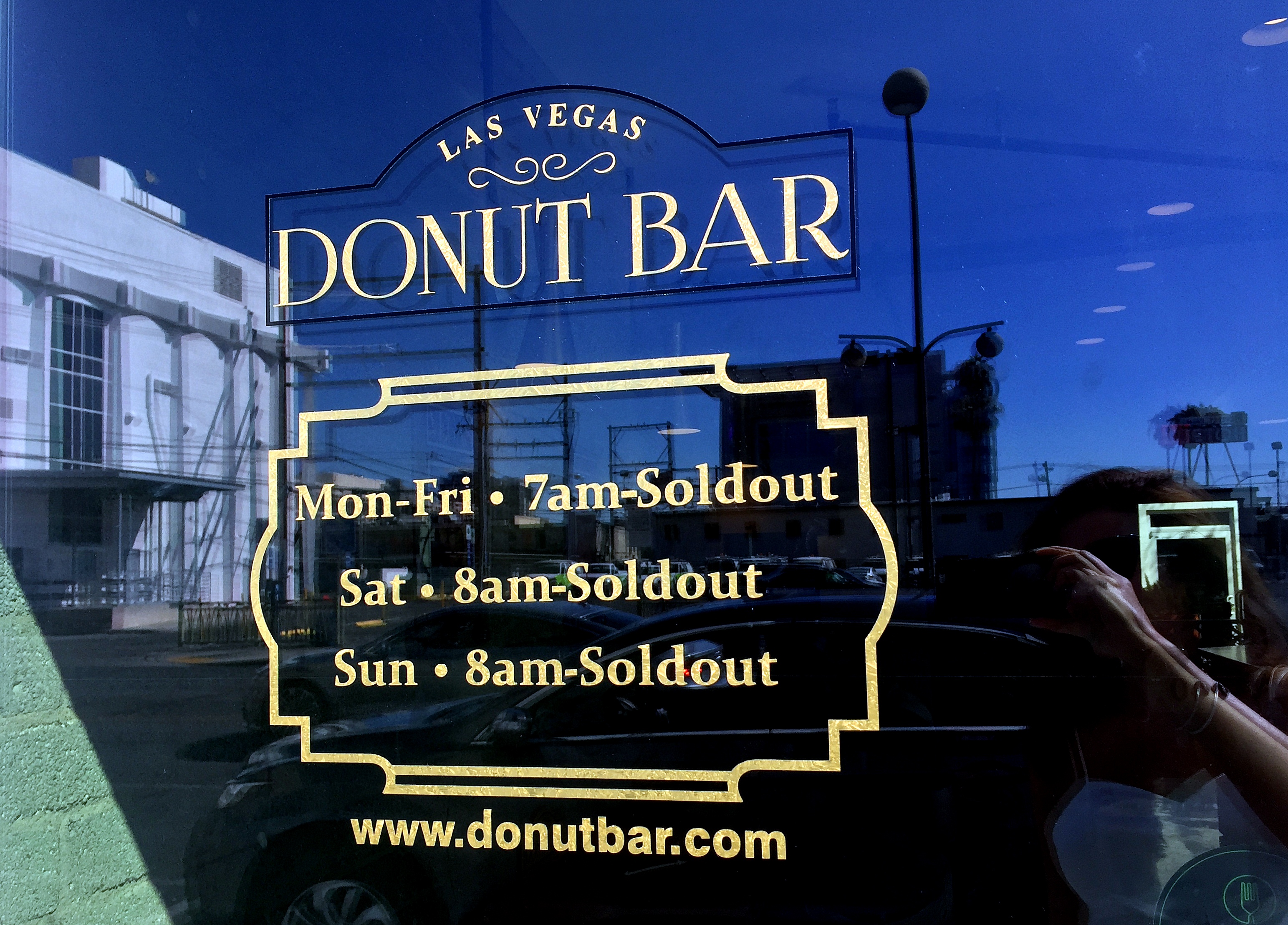 Nacho Daddy (two locations – Downtown and Strip) has a plant based equivalent of almost all their classics, including breakfast items. Why not was down a plate of awesome loaded vegan nachos with their infamous scorpion tequila shots if you dare.
There is also a brand new very promising kid on the block (two blocks from the Hard Rock Hotel to be exact) – The Modern Vegan. With an array (100) different plant based items on their breakfast and lunch menu, it's a safe place to bring your meat eating friends. Surprise them with a planet-friendly fried chick'n or veggs benedict 🙂
For something more upscale, you can safely head to any of the restaurants on the grounds of the Wynn and Encore hotels. Every one of their property venues offer 'secret' plant-based menus. They've paired up with celebrity vegan chef Tal Ronnen to design and prepare the same caliber vegan and vegetarian alternatives as any of the signature items served.
The highest quality meat-free ingredients are used to create flavor combinations so delicious you won't even know what's 'missing'.
The highest quality meat-free and dairy-free ingredients are used to create flavor combinations so delicious, you won't even know what's "missing". You'll find unique and healthy fare to be enjoyed at any time of the day. Chef Joseph Elevado's Andrea's is a safe choice for a special occasion (also home to the Impossible Burger ). Make sure to ask as the alternative menus may not be offered by default. If you've ever hesitated about ordering a meatless dish, a plant based meal at Wynn and Encore is an experience not to be missed.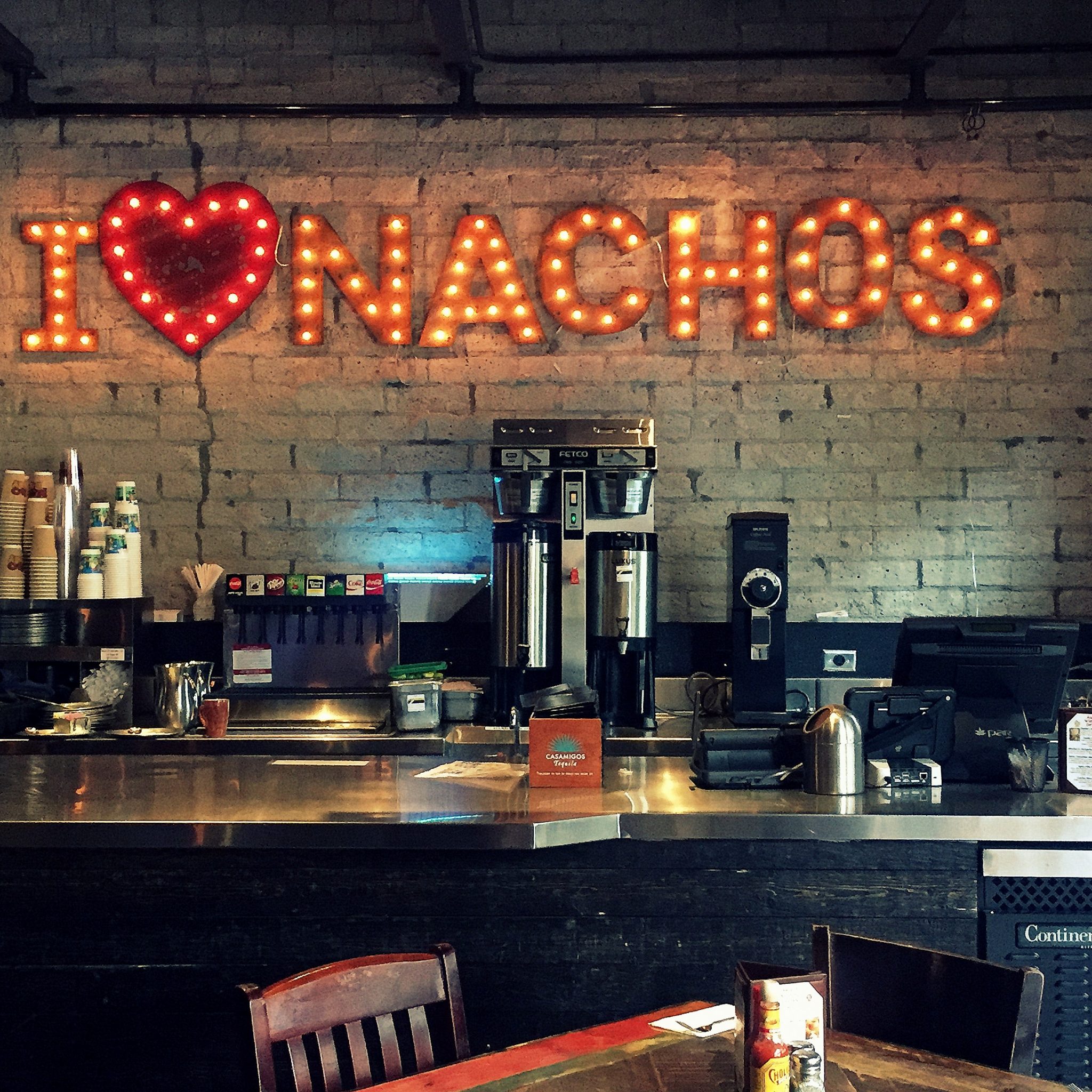 Still hesitant? How about trying it out in the dark. Launched in the summer 2017 by owners Rachel and Avi Levi, who also run the nonprofit One Family Animal Sanctuary in Las Vegas, Blackout Dining in the Dark at the Rio Hotel will take you on the most unique sensory journey you have ever experienced. When the sense of touch, hearing, taste and smell are heightened, food, drinks and dinner conversation become a brand new adventure.
During your dining experience, you'll feel your way through a four to six course prix-fix mystery menu, one course at a time. Each deliciously robust dish offers a symphony of flavors and has been beautifully created to entice the taste buds and awaken the senses. The menu, which is organic when possible, rotates using seasonal produce, and can be made entirely plant-based upon request. Viva Las Vegans.
Meet
There is also good news for eco-friendly conventions, meetings and events organizers. At the state of the art Aria Convention Center, for example, all attendees' kits are made from recycled paper, and staff uniforms in the convention area are woven from recycled polyester.
The MGM Grand's convention center is completely non-smoking, and awarded a Five Green Key certification, aimed at properties that exemplify "the highest standards of environmental and social responsibility in relation to their meeting and convention facilities". MGM Grand proudly forms the elite group of only six hotels in North America to receive this recognition.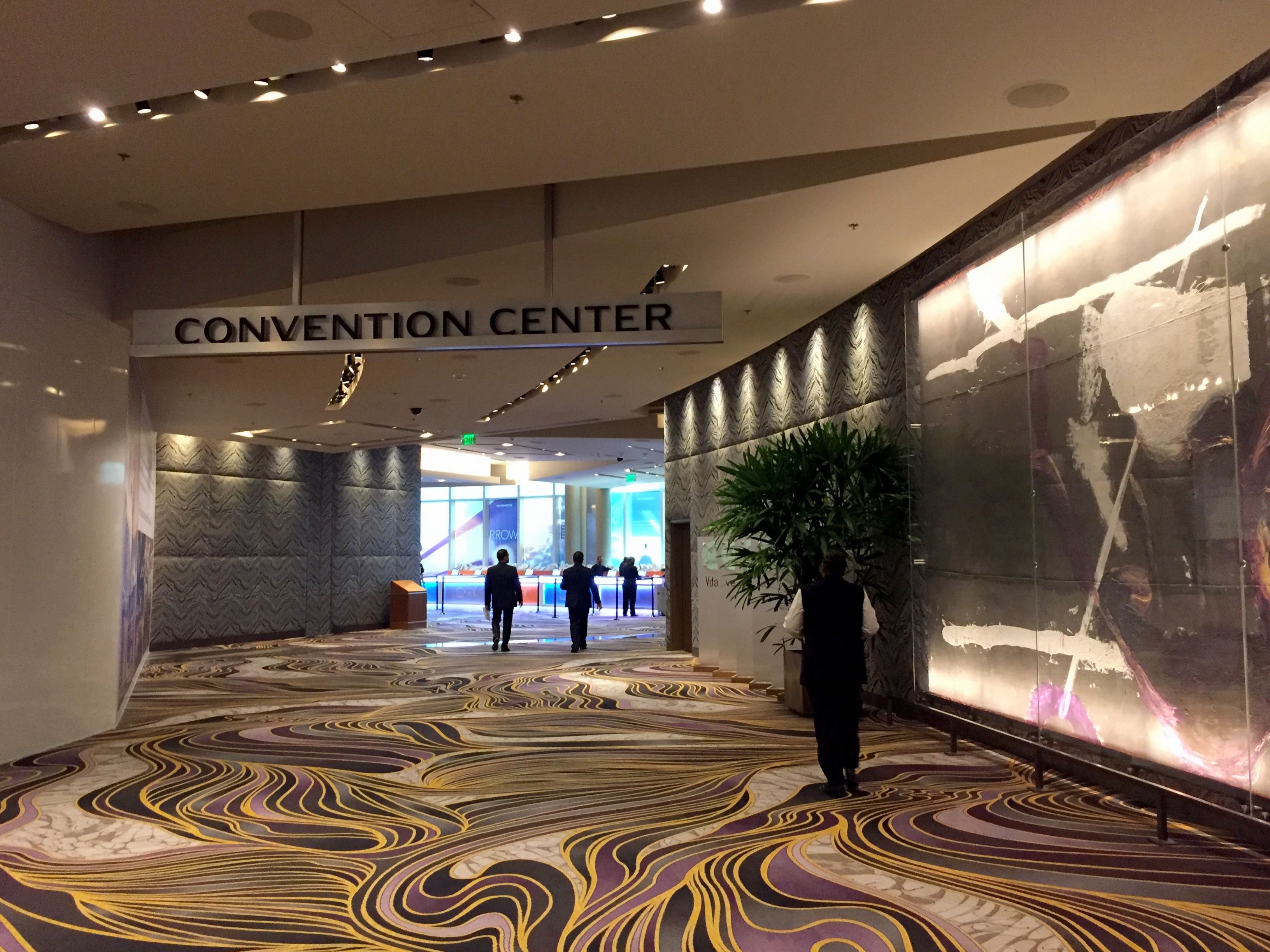 The Stay Well Meetings program at MGM Grand is one of the most comprehensive wellness meetings experience in the world, offering premier meeting spaces, a state-of-the-art air purification system, and other incredible green and rejuvenating amenities to help enhance the wellness of attendees. With support from world-renowned wellness guru Deepak Chopra and nutritional direction from Cleveland Clinic, Stay Well promotes both a more productive events and a more sustainable event space.
Infused water is strategically placed to encourage attendee hydration. They even go as far as to incorporate Circadian Lighting, engineered to 'emulate the properties of natural light, enhancing productivity and energy', chromatherapy (dynamic color design), aromatherapy, and guided meditations narrated by Mr Chopra.
Get pampered
Home to both organic services and sustainable practices, Aminah's Organic Skin Spa offers a totally green approach to skincare in Las Vegas for men and women. They don't just go above and beyond to cater to the individualized needs of their clients, but also to contribute to a greener planet. Aminah's mission is to provide an organic approach to skincare through their services, products (all of which are non-GMO, never tested on animals, free of parabens, sodium lauryl, and other harsh ingredients) and green practices. In fact, they are the only certified "eco-friendly" spa in Las Vegas.
Not only do they offer vegan spa options, recycle, use a paperless booking and receipt system, and green cleaning products – they even plant a tree for every product purchased! Treat yourself to their signature Eminence facial or to a product from this truly organic line (produced with wind and solar power energy!) and the company will plant a tree in collaboration with over a dozen green initiatives. Feel good about your skin while doing good for our forests.
Feel good about your skin while doing good for our forests.
Alternatively, book yourself a morning-after pampering treatment at the tranquil and oh-so-green Vdara Spa, the first one in Las Vegas to join the Green Spa Network. The exclusively all-natural products used are from the leading natural skincare brand ESPA, ethically sourced and made in their dedicated UK-based factory, which is accredited as one of the best natural manufacturers in Europe.
All products are free of harmful ingredients and incorporate minimal outer packaging. The spa also uses recycled paper and their minimal decor of wood paneling is made of wood sustainably harvested from the African sapele tree. Their on-site hair salon use sulfate-free hair products, and there is a vegan treatment line for the nails.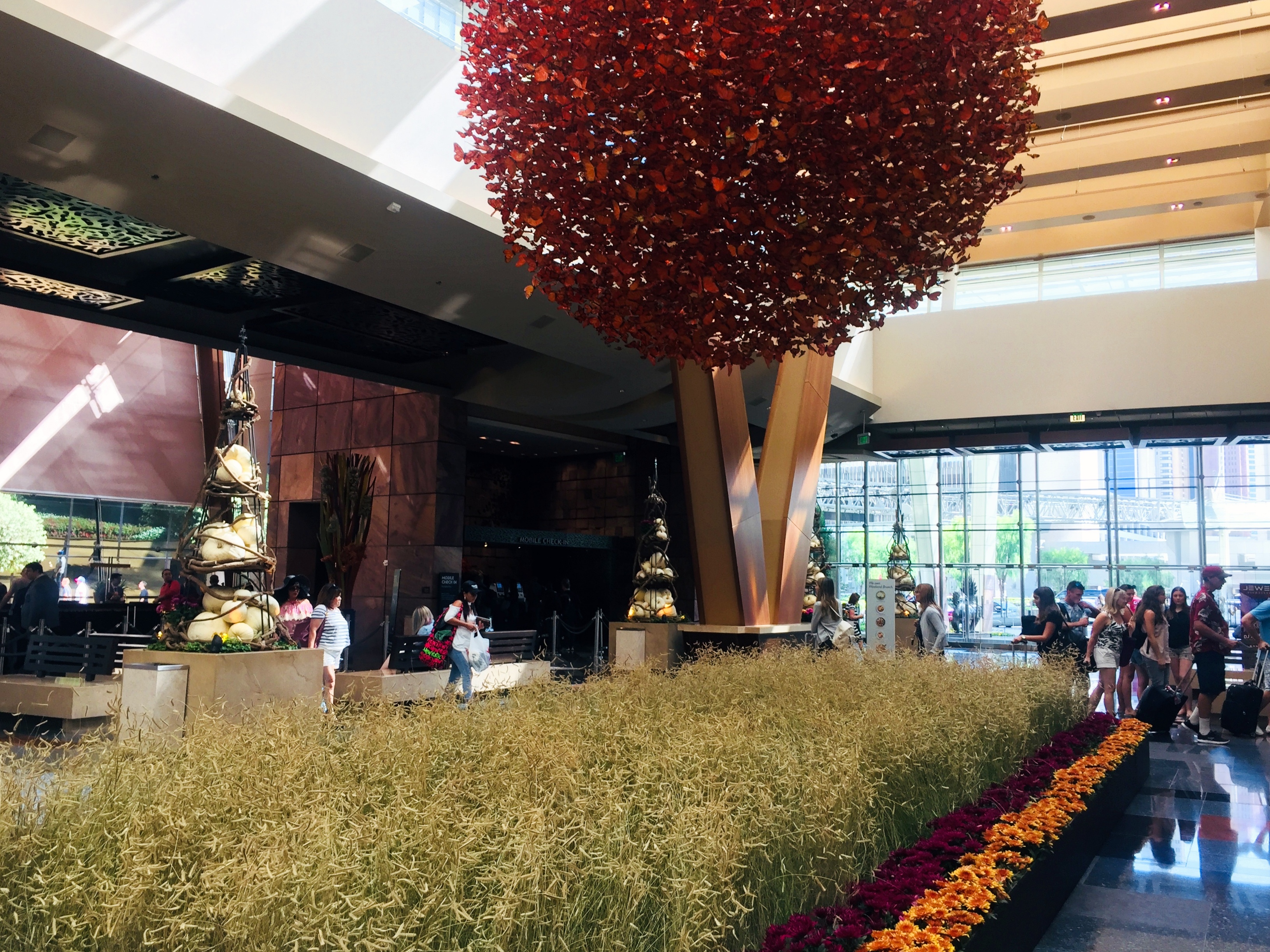 Get Active
With just over 600,000 permanent residents (who, in the aftermath of the recent tragic events at the Route 91 Harvest festival, proved to be incredibly resilient, and their community spirit truly praiseworthy), Vegas has beautiful suburbs and a small town feel with plenty of things to do away from the Strip.
The dry desert climate means the outdoor activities are easily accessible year round, with stunning trekking and biking trails (Red Rock Canyon!) a stone's throw away from the hustle and bustle of the Strip. Get kayaking on the Colorado River, hiking in the Valley of Fire or cruising on Lake Mead. Golfers are kept busy with an array of world-class courses, while adrenaline junkies can zip line in Bootleg Canyon or try dune buggy racing in the dessert.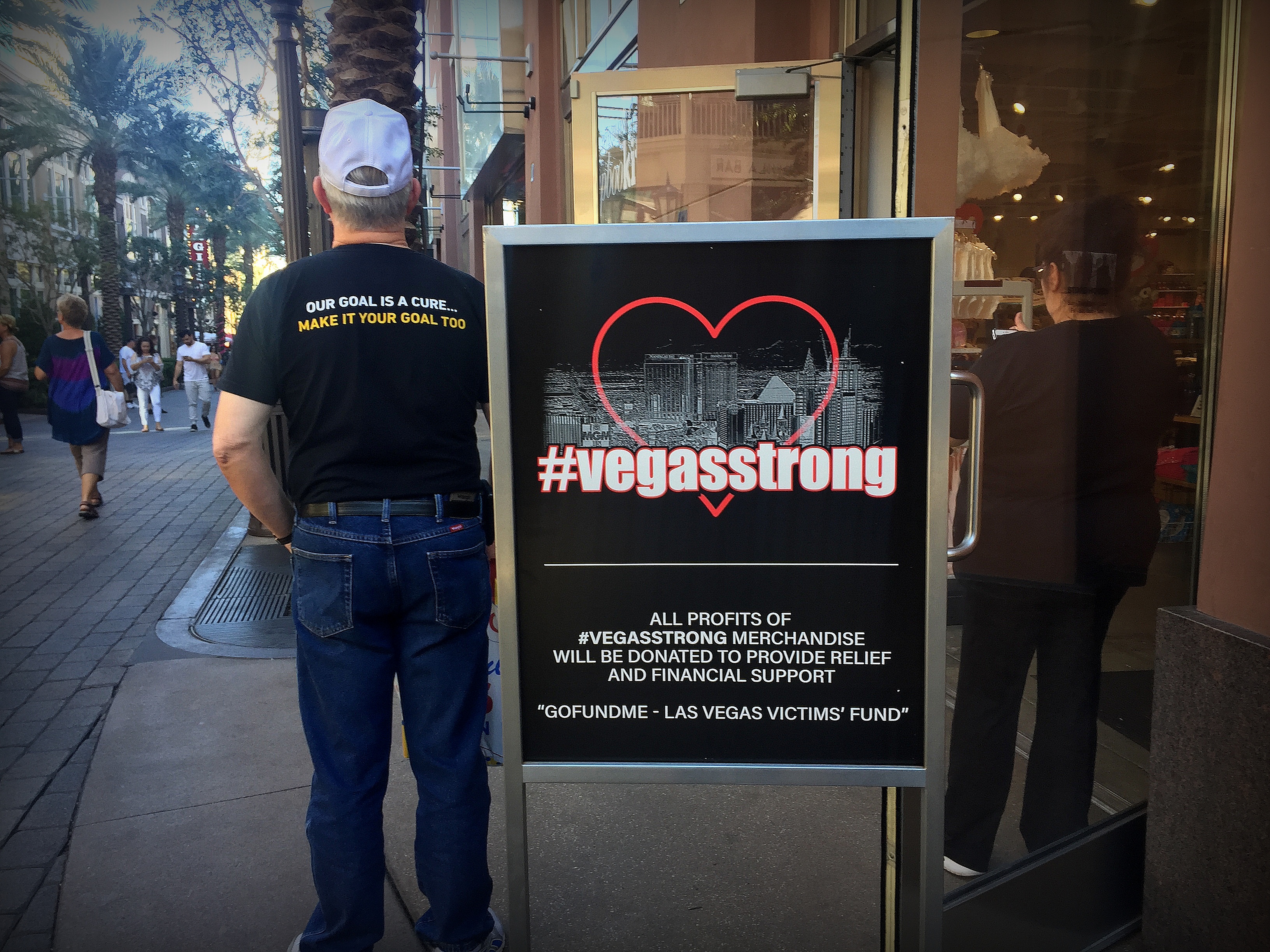 To escape the summer heat, locals frequently make the quick drive west to the mountain town of Mount Charleston, which can be significantly cooler than central Las Vegas, and even has skiing and snowboarding options during the winter months.
And then there is the relative lack of traffic – off the Strip, that is – and an efficient inexpensive system of environmentally friendly public transport consisting of the monorail and buses, benefiting locals and visitors alike.
Who would have thought a decade ago that Las Vegas would find itself in the midst of the sustainable hospitality movement. Perhaps not at the forefront just yet, but making a significant effort – and, at such scale – every little helps.
Hopefully what we're seeing are not just trendy buzzwords but a long lasting mindset change that will lead the way for other tourist hot spots worldwide. All eyes are on you, Vegas – let's make Green the new Glitzy!
Photos by Gabriela Sijer